Will the Office Survive the Pandemic?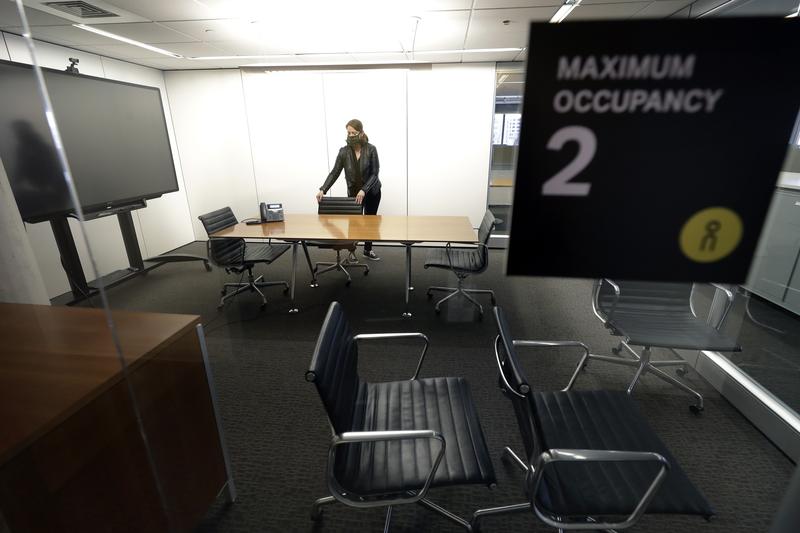 Transcript
Interviewer: The number of people leaving their jobs voluntarily, the quit rate, hitting all-time high this year. That phenomenon is now known as the "Great Resignation" and it's shaking up industry after industry, from office jobs to restaurant work. The repercussions of the pandemic and how and where we work are going to play out for some time to come. Helping us understand all this is Cal Newport.
Cal writes our column Office Space. He teaches computer science and he's also the author of the book, A World Without Email. Lately, Cal Newport has been thinking about an idea that was all the rage not so very long ago, The 4-Hour Workweek. Your main work is, as an academic, as a professor, how has this transformation, which is obviously inextricable from the pandemic so far, affected your own work as a teacher, as a writer, as a researcher?
Cal Newport: Well, I think one of the obviously biggest short-term transformations was this experiment we've been forced into over the last year and a half into, what if we shut down offices? What if we make work remote? This has had an impact, of course, on academia. My university, Georgetown University was effectively shut down for most students and faculty for over a year.
I felt this was a hard period. I'm happy now that I can actually be back and seeing my students. It was an interesting experimentation in trying to figure out in higher education what's valuable and what's not. There was prognostications early pandemic that we would all realize that we don't need physical universities because, technically speaking on paper, you could deliver classes via Zoom.
We were all going to see that and that would be the demise of the university. The opposite happened. Students hated it and there was a rush like, "How can we get back?" That's a theme that comes up a lot in this work, by the way, is that there's a lot of transformations that make sense on paper. The tech exists for this groundbreaking change to how we work and then we try it and there's a lot more complicating factors that rear their head.
Interviewer: You recently wrote a piece for The New Yorker revisiting something called, "The 4-Hour Workweek." Not 4-Day Workweek, The 4-Hour Workweek. Then that was an idea that was popularized by Tim Ferriss 14 years ago. What brought him to the idea of The 4-Hour Workweek and what does it really mean?
Cal: He was in that early period, the first decade of the 2000s after the first dot-com boom followed by a bust. There was this big growth period where Web 2.0 really picked up speed, Google picked up speed, social media emerged. Silicon Valley became a heroic sector of the economy. There, it was this whole culture of overwork that Silicon Valley was permeating out to the rest of the country and Tim was an overworked entrepreneur. I should say now "executive."
He worked at a company, became an entrepreneur, was overworked, stressed out, and basically ran a lot of radical experiments and realized, "I can run my company in about four hours a week if my goal is just to live an interesting life and not to become a hecto-millionaire." He wrote this book about it and he went to South by Southwest in 2007. It was the center of this Silicon Valley overwork culture and gave a talk where he told the people in the room, "You're working too hard. Give up on this goal of becoming rich with your stock IPOs. Live a more interesting life," and they were wrapped-
Interviewer: -and then wrote a best-selling book called The 4-Hour Workweek, which provided him the economic cushion to propagate the idea of a four-hour workweek, but it doesn't work for everybody. How can it possibly work for everybody? What's wrong with working really hard if you have a goal, if you have some sense of ambition beyond the normal?
Cal: I asked him about that when I talked to him for the article and he's still highly connected to Silicon Valley. He was quick to say, "There's nothing wrong with it." He says, "If you're trying to grow a startup, for example, you have to work 80-hour weeks. That's just part of the game if you're a professional athlete." He mentioned there is certain standards of training that's going to take up a lot of your time and that's fine. What he thought he was doing was trying to introduce another option into the conversation that just trying to-- his model of trying to work Intel retirement hard.
You said that's good for some people, but there's these other options that he felt that technology was just making available. What was interesting to me about that is that it was, in some sense, a warning shot in that today, post-pandemic or in stage of pandemic, lots of people are rediscovering the same ideas. "Oh, I can work remotely. I can have different arrangements with my work. I can also focus on other aspects of my life." It was actually quite pressing that some people might want to try something different. We weren't really ready for that message in 2007. However, today, I think it's resonating a lot more.
Interviewer: When we talk about a four-hour workweek, are we being serious? That's it, four hours? That sounds like not a hell of a lot.
Cal: The idea was, and I think, literally, that everyone should work four hours, but he would say in the book and he is quick to say if you talk to him in-person that the bigger point is question the assumptions about what work means, question about what you should actually be spending your time on, what's important, what's not. That actual hour will probably really differ depending on what you do. Tim has said many times, he works way more than four hours now, but the point is, I guess, having that flexibility. Though I'll have to say, I like that idea. Four hours a week sounds about right to me. Maybe we should make that the standard.
Interviewer: You recently wrote about how plans to go back into the office are creating a lot of tension all around, for office workers, for managers alike. You said that ambiguous plans are somehow good for executives but bad for employees. Why is that?
Cal: When you come out and say, "We have a tentative date, but I'm not going to tell you anything about what we're looking at and why we're looking at it. I'm not going to tell you, 'Here are our goals in reopening and these are the metrics we're looking at,' to see whether or not we've hit those goals," you have two issues. One is the transparency issue. I don't know, as an employee, what your goals are and whether I agree with them.
I think the employee should know, what is your standard? What are you looking for? Is it we should have no COVID spread in the office? Is it that we shouldn't have an undue burden on hospitals? Is that we shouldn't have undue burden on parents who have kids in school? Like that should be clear. Then the second issue is predictability. If I don't know how these decisions are being made, you get this Groundhog Day-style setup where then the executive can emerge, look around and say, "No, we're going to close for two more months."
It makes it very hard to predict what is actually going to happen. My argument was that, in part, this strategy of ambiguity is good for those making the decisions because you can read the tea leaves and get a feel, "Am I going to get backlash? Where are the people? Where are the culture?" You can minimize basically your headache as an executive. That becomes the symptom that you're minimizing, but it's not necessarily good for all the people who have to live under it.
Interviewer: Without a doubt, but isn't the problem, the pandemic itself? In other words, what we hope that a vaccine will do-- and now, we're talking about the specific time that we're in. What we hope a vaccine will do is create a situation in which COVID is endemic. That means people will have breakthrough cases. It's not as if people won't get sick just as they get sick from the flu and people do die from the flu. There are cases where breakthrough cases can become more serious, although the vast, vast majority are not. Is there a cut-and-dried way to go back to work in your view?
Cal: No, I don't think there's any clear answer beyond clarity itself should be part of the answer. This was really the view of Monica Gandhi from UCSF who I interviewed for this piece. She was saying, "Clear off ramps from a public health policy perspective. Have a lot of good value." That doesn't mean you're going to have perfect predictability. You're absolutely right. You could say, "This is what we're looking at." These two numbers put into this formula and you could be watching those numbers and say, "We're doing great," and then you get two weeks away from it and something happens that we didn't predict. We've learned not to predict this pandemic, but clarity should be a part of the mix.
Interviewer: You said that work in some way is fundamentally broken. What do you mean?
Cal: When it comes to knowledge work in particular, we have a real tendency towards the improvisational and the haphazard. Unlike other sectors of the economy, I think when we looked at knowledge work, we put a lot on the worker themselves to figure out how you organize yourself, how you say yes or no to assignments, how you plan your day, how you communicate and collaborate with people.
We tend to place this on the individuals themselves. Management by objectives is the leading approach. We give you objectives and incentives, you figure out how to do the work. I think this has caused a lot of problems. It's led to this haphazard approach to work where we're on email all day. We can't get away from Zoom. We're bothering people back and forth constantly, "Can you do this? What about this?"
Interviewer: When we say "knowledge work," what does that mean?
Cal: There's a million little definitions, but basically, I'm using my brain, not my hands. Most of the work is happening in your brain and between your brain interacting with a computer. This digital-era knowledge work, I think, is the sub-sector where we're seeing the biggest changes to what work means. The way we are working in knowledge work, I think, is far, far from where we could be in terms of worker satisfaction and productivity because we're not thinking about this at a systemic level of what's the best way to actually do this work. We make it too individualized.
Interviewer: Well, there's a history to this, isn't there, Cal? There's a history of this notion of needing to be at work, the notion of the office as a factory. What's behind it?
Cal: Obviously, there's an arbitrary aspect to the 9:00 to 5:00, we're in a building, we're there from 9:00 to 5:00. This came directly from negotiations about work hours from factory workers. We have to remember that knowledge work emerged in an industrial context. We use the factory as the main paradigm. It also gives us an element of surveillance that makes it easier to just say, "Be here and work."
At least I know you're working. That saves me from the trouble of actually having to figure out what work means, how we structure work, how we track work, how we assign work. We can get away with not having to do that type of managerial effort if we instead just say, "Be in this building when I can see you. Answer my emails when I send them and we'll just rock and roll."
Interviewer: [chuckles] We're talking as if this is a universal dilemma. Obviously, there are lots and lots and lots of jobs in this country and beyond that this is not relevant. Already roughly 13% of US workers remain remote. That's it, 13%. Is the battle with the office as a factory already over to some extent?
Cal: I think the battle is going to be lost in the short term, but the war is going to be won. My prediction is that in the next year or so, we're going to see a pretty large-scale retreat back to what I would call "largely in-person work." I think there will be a more extensive granting of one, maybe two days a week that you're not at the office, but you still have to live near the office and come to it every week.
I think that's going to happen because the friction of remote work will become too strong if we don't do significant other efforts to restructure how work happens, but I also think there's other economic dynamics that have already begun. That means in five or six years, we're going to see a much more widespread return to more aggressive remote policies. I think the pandemic planted the seeds for figuring out how to do that. Those plants, these metaphorical plants are going to grow. Five or six years from now is going to be a vastly different workplace than it's going to be, let's say, next year.
Interviewer: Is that related to what we've been seeing in terms of what's known now as the Great Resignation, the huge number of people who have quit their jobs?
Cal: The real force, I think, that's at play here, and I'm drawing this from an entrepreneur named Chris Herd, who I interviewed. He thinks startups that are starting right now, especially in the tech sector, are figuring out how to make remote work actually work because they are starting as native remote companies. They were forced to start in a period where they couldn't have an office building, so they're innovating. He thinks that innovation is going to then spread.
Once they figure out how to do remote work properly, they will have an advantage. No long-term leases and they're going to have access to more talent for more geographic areas. That advantage means they'll dominate and then the knowledge they learn will spread from these startups to bigger companies out of tech to other sectors. I think that's actually the economic force that's going to cause a lot of changes. Companies are going to make more money once they can figure out how to do this and that wisdom is being forged right now in the startup culture.
Interviewer: Though you hope that the vision that's offered by Chris Herd, the entrepreneur in your piece, is correct, show me exactly what that vision entails.
Cal: In that vision, there would be no central office for the company you work at. There would be no constraint on where you live because there's no long-term lease they hold on any sort of building. In that vision, however, once every month to two months, you would be in person with key people that you work with from that company. The location would differ, depending on the purpose of the meeting.
Are we brainstorming? Are we getting to know each other? Are we trying to push through an initiative? Are we doing a post-mortem? You would have some connection. Chris does make it clear that the office would not be the primary source of your social relationships, that this would be a world in which you then turn to the local or you turn to other types of communities as your main source of social support. It would be a different relationship for a lot of adults with work.
Interviewer: Who do you think will be for that and who will be against it?
Cal: Well, I think, ultimately, if that vision is correct, most companies will be for it because it's more profitable, which tends to be what the forces I bet on in the end much more sore than the forces of cultural change to Great Resignation. Ultimately, the forces that make massive changes at scales that dwarf any other sources when it comes to the commercial sector tends to be, this is more profitable.
If you do not have a long-term lease, your overhead per employee is lower. If you can access talent without geographic constraint, your return on talent investment is going to be much higher. It's economic Darwinism at that point that if that works, that model is going to take over because those companies are going to be more profitable than their competitors.
Interviewer: It's simply the money saved on not having to buy or lease an office or building?
Cal: Well, at the talent access, I think that's going to be huge. If I can access talent all around the world, not just in the metro area where my office is built, that's going to be a huge advantage compared to competitors that don't have access to those same markets.
Interviewer: You don't think there'll be more discussion about offshoring talent?
Cal: When you go to a hyper-competitive, globalized, digital marketplace for talent, there's a lot of downsides that come with that. As with most of these transformations, they're rarely all positive. If there's money to be made, they tend to be quite powerful.
Interviewer: Cal Newport, thank you so much.
Cal: Well, thank you.
[music]
Interviewer: You can find the writing of Cal Newport at newyorker.com. He writes our column called Office Space.
[music]
Copyright © 2021 New York Public Radio. All rights reserved. Visit our website terms of use at www.wnyc.org for further information.
New York Public Radio transcripts are created on a rush deadline, often by contractors. This text may not be in its final form and may be updated or revised in the future. Accuracy and availability may vary. The authoritative record of New York Public Radio's programming is the audio record.