Jon Stewart: "That's Not Cancel Culture"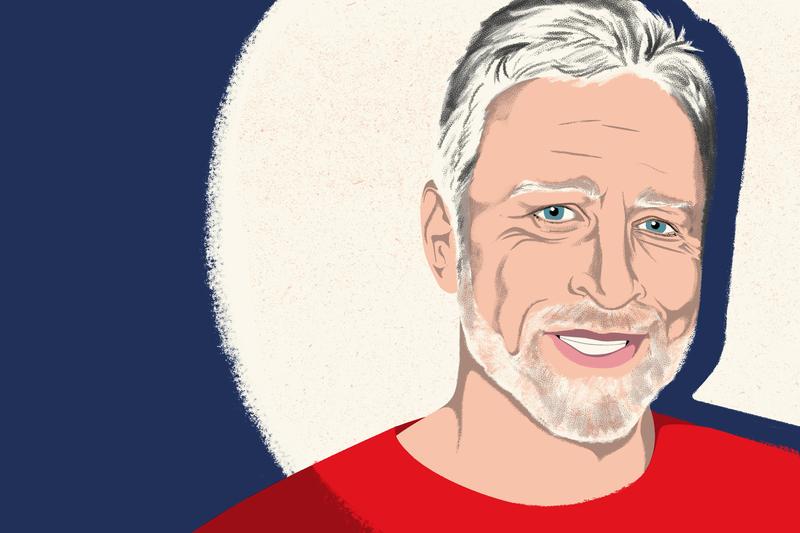 Transcript
David: Today I'll be talking with Daniel Craig about No Time to Die, his last James Bond film. Let's start here.
Speaker 1: This is The Daily Show with Jon Stewart.
David: From the 2000 election to 9/11 and the Iraq War, right up until Donald Trump rode that escalator in the Republican campaign, The Daily Show with Jon Stewart often drove political conversation in this country. Stewart's approach to political entertainment has proliferated all over from John Oliver, to Samantha Bee, to Trevor Noah, and more. His new show on Apple TV+, The Problem with Jon Stewart is out now. I spoke to Jon Stewart the other day at the New Yorker festival. Now, where you've been what's your life been like? You cut out in 2015, there were a lot of disappointed people, but things come to an end.
Jon: Well, it was interesting, it was funny when I went back to do the show that we're doing for Apple. The first day that we were there, you have an audience interaction generally before the show. You'll go out and just say hello, and you'll introduce yourself to everybody and take some questions. One of the questions somebody said to me, it's, "You've missed so much over these last five or six years." I had to remind them, "I am alive." I haven't been on television, but I too had to take precautions during COVID and suffered the stress and frustration, and anger of the Trump years. You live all that.
David: You know what they're asking. You were a nightly presence for 15, 16 years, and then not. How did your life change?
Jon: I did a tremendous amount of puttering. I have half a melon, and then I jazzercises.
David: [laughs]
Jon: It is remarkable. No, it's, oddly enough for me personally, the way I experienced life was fuller. I'd spent so much time singularly focused on The Daily Show, which is a very eccentric process, and one that is-- I don't want to say rote because it certainly wasn't rote, but it was redundant.
David: What you're describing is boredom in a sense or not?
Jon: I think that is in a sense, but it's also boredom based on narrowness of field. There was a certain adolescent joy to that feeling of like, "Oh my God, I've been looking through a cardboard tube."
David: You had time to think about the impact of your show. You're surrounded by people and fans all the time telling you about how you eviscerated or annihilated one thing or another, whether it was Fox News or-
Jon: As a destroyer of worlds.
David: Exactly.
Jon: I was the Attila the Hun of topical comedy.
David: I think it was the next to the last show you had, you came out and you showed a montage of all these things that you'd supposedly destroyed. There they all were, though you said, the world is demonstrably worse.
Jon: [laughs] David, the interesting point about what you bring up is, and it's a great discussion about perception and reality. You said something in there that I thought gets to it, which is you're surrounded by people who are saying you annihilated or they're big fans, and I'm not. The truth is, I'm surrounded by staff, and we're all working to make this product. The internal barometer that you create with each other has to be strong enough to withstand this outside noise, but you can't think about that. You can only think about in this room with these people, are we clear enough in our intention? Are we being funny enough? Is it smart? Is it relevant? Is this the best iteration of that idea? Are there other things that we could do to articulate it that's less strident? This is too didactic. Let's pull it down.
All those things are happening internal, so the external noise to the best of your ability has to be blocked out. It's still just television.
David: You left the show a year before, I don't know what the number of months was, before Trump is starting to appear. You grew up in this area. Trump was a comic figure on the joke scape of New York. He was on the cover of Spy Magazine regularly, he was a real estate bozo. Were you taken by surprise as soon, as somebody from Jersey from New York who was very familiar with Trump, that he would connect as viscerally as he did with so much of the country? Did that take you as much by surprise as nearly all of journalism?
Jon: Yes. I thought he disqualified himself at every tun. For those of us who've been in New York, we probably saw, if nothing else, dude's resilient. Very few people can bankrupt that many things, and still continue on with that kind of success. I think what was, for me, more difficult was it affected a larger, maybe more naive worldview on my part. That was that I was raised on an ethos of the Emperor's New Clothes. When you get into comedy or satire, I think there's a certain part of you that goes back to that old fable, and you're not prepared for the child saying, "The emperor has no clothes."
You're not prepared for the crowd to go, "You're the enemy of the people. You're fake news, and you run a pedophile ring out of a pizza place." You're in that moment, when naming the hypocrisy, and the contradiction and the absurdity doesn't do anything. You really are left with a sense of, "Oh, shit, now, wait a minute. I didn't bring anything else. I'm not sure what to do now."
David: Did you have the temptation or even the vanity to think, "If I'd stayed longer, if I'd been here through 16, 17, 18, that The Daily Show would have been the effective means of pointing out the emperor has no clothes?"
Jon: No. There were a ton of really talented people doing the thing that I do, and doing it every night, and doing it really well. What I'm saying is the lesson I learned from The Daily Show, that it's that cultural power isn't power. It has an effect, it's not nothing, but I think the narcissism of media, and I include myself in that, is that we believe that the halls of pontification are actually the halls of power, and they're not.
David: Jon, one more Trump question.
Jon: Sure.
David: In four years, Trump proved himself a colossal liar and admirer of authoritarians, and his incompetence during the pandemic, was what it was. Since January 6, was supported by him and pretty self-evidently an attempt to illegally reverse a democratic election, and yet he persists. He's quite likely to run in 2024. I think to underestimate his chances seem incredibly foolish at this point.
Jon: Are people underestimating his chances?
David: I think people do. I think people think he's too old, he's finished, everybody's exhausted with him. How do you feel about it?
Jon: I think he's got a very good chance. I remember the people saying like, "This is not normal. Corruption has been-" If anything he's done as a favor. I think he's peeled back the facade that our economy and that our government run on a higher-minded principle. If we don't address that in a real way, then we are much more vulnerable to authoritarian takeover, which, by the way, is happening everywhere. One of the reasons that it's happening is the overwhelming firehose of stimulation and information that fires into people's synapses in a way that has never occurred before is disorienting, and in moments of disorientation people look to the captain to say, "Follow me. I have the answer, and I will lead you forward." You see it around the world.
David: Let's talk about your new show. The first episode, which I thought was remarkable, was about a theme that's been very close to your heart for a long time. The specifics of it was about the use of burn pits where the military disposes waste in an incredibly toxic way, and it's had terrible effects on the health of all kinds of soldiers now. Then it's followed up by an examination of the really woeful lack of health care that comes their way. You have a interview at the end of this after a panel discussion with veterans which was very moving.
This is an interview with the Secretary of Veteran Affairs, Denis McDonough, who had been Chief of Staff under Obama. He agrees with you that these burn pits are terrible and so on, but then he wants more proof, which you find an incredibly, let's say, insufficient answer. You've often said you're not a journalist. How are you not a journalist in this program?
Jon: Maybe that's what that is. I guess it's based on the idea that, having not really studied it, I don't know what does that mean. My frustration with the media conversation in general is processes like the one that you're talking about, because what they're focused on, "Is what was that? Are you a journalist now or are you still a comedian?" A lot of the stuff I read about it was that it was simply based on like, "What is it? You just want to at some point step back and go like, "I don't know, but I thought it was compelling, and interesting and relevant."
Few of the people that talked about the show talked about what actually it was, and in some ways a lot of it was gatekeeping on whether or not I should still be allowed. You're gatekeeping a shitty restaurant. It's like being a bouncer at a Sizzlers. You know what I mean?
David: [laughs] I won't hear anything bad about Sizzlers.
Jon: Have you seen TV? As long as I'm not doing more episodes of Kitchen Nightmares, how is this not-- I just find the whole conversation so odd. "We have a show once a week on HBO that does a satirical look at issues, so what makes you think--" I'm like, "How many fucking CSIs are there? What are you talking about?"
David: [laughs] Let's talk about who's in that room. It's really interesting to me that your showrunner is not a comedy writer at all. She's a journalist from CBS, I think in ABC.
Jon: Brinda Adhikari.
David: Then you have a head writer who is a comedian I think.
Jon: Chelsea Devantez.
David: That's a huge thing, how you assembled the room. Who did you want in there and how'd you go about doing that and with what intent?
Jon: I wanted people who were really expert in what they did, but who were also open to translating a different intention. If we threw them all into the room, and Chelsea, in terms of the writings, there's two sides of it. There's the writing staff and then there's the production staff. There's video and research and all those other areas. It's built probably similar to a newsroom. The bar of entry, especially for writing, is insane. Oftentimes, writing samples for shows are almost like hazing. Like, "Here's what you're going to do, you're going to write three sample scripts and then when you're done with the sample scripts, I'd like you to just pick and invent eight new words and I'd like them to be popularized."
It's fucking, like they just come up with these insanely robust, like it's somehow, it's got to be an Ironman triathlon. Chelsea said, "Let's create something that's doable. One page of jokes." Here's the truth of it. We've been doing this a long time. It doesn't take me very long in reading somebody or I go-
David: Or the other. John, the second episode is called Freedom and it's about division in the country, especially when it comes to the pandemic. It invokes everyone's favorite person, Adolf Hitler.
Jon: I see the problem. You think the government taking public safety measures to combat COVID is like Hitler and we think COVID is like Hitler. It looks like we got ourselves a good old fashioned Hitler off. Once and for all let's find out what's more Hitler. Wait. I believe you were supposed to chant that with me so we're going to try that again. What's more Hitler. By the way, do you think that's how Hitler started? "They really like chanting the name Hitler.' Shit's getting dark fast, isn't it?
David: What were you setting out to do in this episode?
Jon: If you were to boil it down to one thing, it's that their reluctance to go along with sacrifice oftentimes is painted as a virtue. If wearing a mask is what Hitler did, and the joke is like, 'Well, Hitler did Institute's with mandates but it's not what he was known for." We do a bit called What's more Hitler, COVID or the mask painting? It's just being like, body count wise I'm going to say it's COVID. That's more Hitler than mask mandates. The thrust of the episode is if we have a freedom that no longer is connected to meaning then anything that happens can be viewed as oppression.
David: A lot of voices now, Jon, are like Bill Maher, for example, when it comes to the culture wars. He expresses his frustration over and over again, "I can't say this, we're limited in saying that, we have to wear a gag," this kind of expression. Comedians are talking all the time about, "Well, I feel I can't do this, I can't say that."
Jon: No.
David: How do you come down on this?
Jon: All of the people who talk about cancel culture, here's a nice absurdity. People that talk about cancelled culture never seem to shut the fuck up about it. There's more speech now than ever before. It's not you can't say, it's that when you say it-- Look, the internet has democratized criticism. What do we do for a living? We talk shit. We criticize, we postulate, we opine, we make jokes. Now other people are having their say. That's not cancel culture, that's relentlessness. We live in relentless culture. Look at what's happening with Chappelle right now, so many conservatives now.
David: Is this just the critique of him about transgender jokes?
Jon: Yes, just his thing. Leaving all that aside, what's interesting is to watch right wing Twitter and the internet grab him and hold him up now and weaponize what he's going through and what he's doing as a way of further pushing their political. "We're free speech warriors just like Dave Chappelle." Right. What would happen if Dave took a knee at a football game? Still there?
David: Yes. It always struck me throughout all the years of The Daily Show that there was also an innate optimism to your view of things. Where resides your optimism?
Jon: In the resilience of the human species to move forward. I came of age in the late '60s and early '70s when the best people this country had to offer we're all killed. The Vietnam war raged, and the President of the United States was a liar. It exposed certain realities of power structures. I don't look at today as uniquely flawed or uniquely troubling. I look at it as all of the time periods that have come to pass. My parents came of age in the Depression and World War Two. The greatest threat to our mental health, I think, is probably loss of perspective and nostalgia.
Who knows what incredible inventions and progress and intelligence will spring forth from this shit show, but it will. Not in a linear fashion and it may be down the road maybe. It's the point I'm always trying to make, which is, we're complicated and dangerous, and amazing, and lovely, and horrible. All the things that we do to progress, oftentimes in unseen ways, come back to destroy, but that's not the intention. The intention is generally to better. I've always believed that, maybe naively so, but I always believe that. Again, don't confuse that with, "So I think we should just wait."
[laughter]
David: How can we not be optimistic with Jeff Bezos in space, as you've featured on the show?
Jon: He's a wonderful man. You know what I always feel like saying to him? I met him once, but I think what I would say to him now is I would meet him, and then I would shake his hand and I would lean in and I say, "I want you to know, death will be victorious. I don't care how fast you go into space, I don't care how far you run, death will find you as he finds all of us."
[laughter]
David: Jon Stewart, thank you so much. Thank you for everybody for making this festival possible and thank you to everybody who put it together.
Jon: Thank you, and thank you for the free subscription. Is that what I get?
David: Yes, that's coming your way.
[music]
David: Jon Stewart at the New Yorker festival. His new show is called The Problem with Jon Stewart and it can be found on Apple TV+.
[music]
Copyright © 2021 New York Public Radio. All rights reserved. Visit our website terms of use at www.wnyc.org for further information.
New York Public Radio transcripts are created on a rush deadline, often by contractors. This text may not be in its final form and may be updated or revised in the future. Accuracy and availability may vary. The authoritative record of New York Public Radio's programming is the audio record.