The Comedian Hannah Gadsby on "Nanette"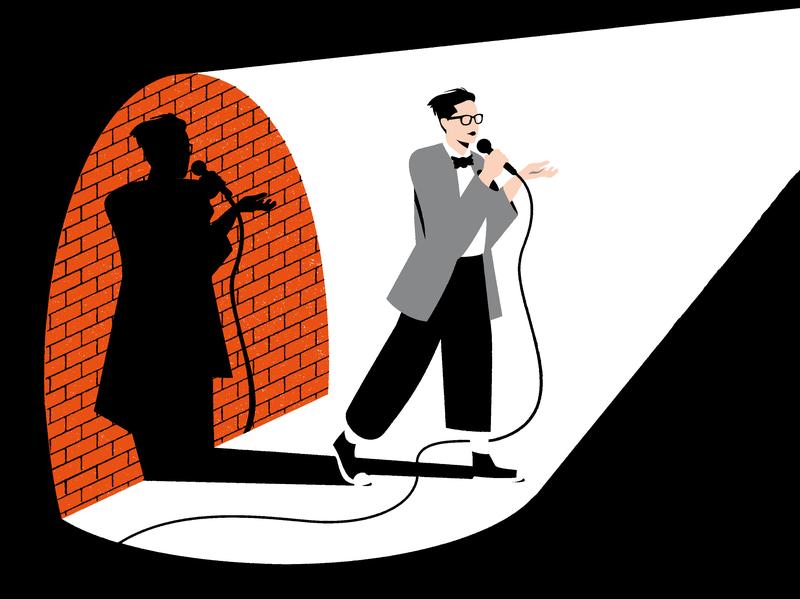 Transcript
Announcer: The comedian Hannah Gadsby has been touring this summer with a show called Body of Work and she's appearing in Minneapolis and Chicago this month. She came to wide attention a few years ago with a Netflix special called Nanette. It was a standup show that gave a critique of standup comedy and in it, she says that comedians have to distort personal experience for the sake of a joke and she threatened to quit comedy altogether. In fact, she didn't quit. She recently published a memoir about her breakout moment called Ten Steps to Nanette.
Hannah Gadsby: I've built a career out of humiliating myself. I'm putting myself down in order to seek permission to speak to take up space in the world. I have decided I don't want to do that anymore. I will not do that anymore. Not to myself. I mean, I'm not starting a rally, I'll finish the show as a comedy but thank you.
Announcer: The New Yorker's Emily Nussbaum talked with Gadsby back in 2018 when Nanette had just been released.
Emily Nussbaum: Hannah's show is very carefully structured doing different things to the audience at different points. Soothing them, making them tense, engaging them, shocking them. There are stories that weave through the show. They start out as jokes and Gadsby gradually unfolds them like a paper fortune teller to reveal that they aren't jokes at all. They're very serious stories about prejudice, power, and assault but they're never polemical or simply pedantic. They have complicated unsettling things to say about the kinds of relationships that people have with one another. Hannah told me that early on in her career her outsider status in many different ways helped her to be funny.
Hannah: I'm a very difficult human to categorize. I'm a larger woman and I'm from Tasmania, which is the small state in Australia. I'm a lesbian and these come with stereotypes that I subvert. Tasmanians are supposed to be stupid but I'm quite cerebral. I don't play to that. Then also, with my being over a weight, I'm not jolly, I don't make fun of my weight and then lesbian, which means you're very angry. This is when I started particularly. Of course, that's opened up a lot more, and I'm quite a gentle sensitive.
That really helped me early in my career because when you disrupt, that's instant tension so that's actually handy, but as my career evolved, it became a real block. Ultimately, what this show is and I don't say it in the show at all, I don't make any reference to it at all, but essentially, this show is about having autism and late diagnosis. Instead of saying, "This is what I have," I decided to show what this brain can do, which is a real clear acknowledgment of how emotion works and how I feel it.
Emily: It's really fascinating because I actually was thinking that that is one of the most powerful things about the show is that I've seen cerebral comedy shows and I've seen emotive ones and it is both a cerebral and a deeply emotional show. That combination is a very potent thing. One of the things that's just beautiful in the show is that you explain the limits of standup while you're doing standup. You do this kind of seductive magician revealing their trick thing. You make the audience self-conscious of the power that goes back and forth.
We're going to play just a little clip of a section of the show in which you talk about how comedy works how jokes work.
Hannah: Let me tell you what the joke is. If I boil it down, so it's absolute big component. A joke simply needs two things. A setup and a punchline. It's all it needs. It works in the same way as a question and answer. You ask a question, the anticipation is the tension and the answer diffuses the tension. With the joke, the answer is a surprise so you laugh, so you're, "Oh, I wasn't expecting that." There you go. Listen over, it's an easy job. I'll be replaced. Not everybody will miss me. What a joke is in this situation is a question that I've just artificially inseminated with tension.
That's all I do. I manipulate it. I make you tense and I make you laugh over and over again. You're like, "Oh, thank you. I was feeling a bit tense," but fucking hell guys. I'm making you tense over and over again. This isn't an abusive relationship.
Emily: I love that part because it's a very deep insight but it also has this dirty joke in it. Your bigger point that you're making though is that there's something harmful about jokes and there's something harmful specifically about stopping at the punchline, the perpetual stopping at the punchline. Can you describe a bit what you think that harm is?
Hannah: It's the harm of the joke is the only reason to speak. The point is only to make people laugh and that troubled me after a while. I've always told stories and that whole idea that laughter is the best medicine is not what I believe in. I believe laughter is the honey that sweetens the medicine story, really.
Emily: It allows you to listen to the story.
Hannah: Yes.
Emily: Here, you're talking about storytelling as a psychological tool, one we use to understand our own experiences by turning them into narratives.
Hannah: It's about also the live experience because standup comedy has the potential to be such an amazing cultural gift because it is one of the rare occasions where a group of star strangers get to sit in a room, sharing an experience, and I think that is a very potent human thing to have. I really am passionately concerned that story gets downplayed and dismissed. Essentially, what art is, any art, it's not special, it's story. Stories are brilliant and they're wonderful and they're so important. If the story really does in the traditional sense need three parts. A beginning, a middle, and an end.
The end, the third part is so important, and that is what elevates you. That's where catharsis lives. That's where hindsight sits. That's where you get to look back through a narrative with a perspective wisdom and experience of someone other than yourself. Comedy doesn't do that. We stop short, set up punchline, beginning, middle, there it sits. There's a very good reason it's called a punch line is because it deals with tension. Hence, it feeds trauma. We need tension in the room in order to get a laugh. Then, we don't out after. We just leave it there.
This is why this is all these comedians going up and down the country triggering people and getting all confused. It was like, "Whoa. Urgh." It was like, "Yes, you just keep saying the same thing and it hurts."
Emily: There's an ongoing debate about what is it and what is not an acceptable joke. For instance, is a joke about rape ever actually funny? Is it okay to make a genocide gag? Chris Rock has this idea that if people laugh, it means it's funny. You disagree with that, I would assume.
Hannah: I do. I've been in the audiences and I've laughed at horrific things. I've also stood side the stage while comedians are doing material I find absolutely horrific, making people believe violence against women is funny. I hear audiences laughing and I don't think that they would want to. You can make anyone laugh if you make them tense enough because they want to get rid of the tension.
Emily: About about 20 minutes into Nanette that the show shifts and you tell personal stories on stage. A lot of it has to do with painful and traumatic personal experiences. I was wondering how it felt on stage for you when you were first forming the show to have people crying or silent, your person who's used to getting laughs, what was that for you as a performer?
Hannah: Strictly what I was doing there is I was using one of the best tools in a particularly longer form comedy show and that's called back. It works on the premise of a shared joke. In comedy, often I do, that's what I do. I work through an hour standup and eventually, we have shared jokes and I love that. They make an average joke. Brilliant. In this show, I subverted that. I used to call back to drop them into a huge hole, and not give them the laugh. To go against my instinct, it was really incredibly hard to not break the tension.
The palpable silences in the show and my instinct as a comic is to make people feel better and make a mark. That was difficult in the first and also I was getting really horrific heckles in the first.
Emily: I was wondering, did people heckle you?
Hannah: Yes, because now there's no room. It's really tight now but when I first was doing it, it was a lot of room. The structure was different. It was always guys and always after I'd just told my audience that I'd been sexually assaulted always at that point.
Emily: That's amazing to hear.
Hannah: Yes, and so then I'd get men's back from the audience.
Emily: I have to say having seen the show and you really do have control over the audience, you critique the control back and forth, so people would shout cruel insulting things to you.
Hannah: This has evolved. This control has evolved pretty much out of that because I'm like, "Well, I don't want this to happen. I can't keep doing this show if this is going to happen." I learned from that but it was really devastating because when I do that, when I am genuinely vulnerable, and it felt violence to get heckled at those moments. I think I really learned from that and was like, "Gosh, that is violence." That's what comedy promote, and so it really drove the show toward a more technical show because I wanted to show people what that is, that violence, and what it feels like.
Emily: You're obviously an extremely, technically a great standup comic. Are there specific skills that you've picked up from doing this different kind of show?
Hannah: No, this is a showcase almost. What's interesting about the show is I'm high status. I've never been that in a show, but I discovered that voice, doing-- I had to do a spinoff at some festivals where I do comedy art lectures. I've done one on the Virgin Mary, the one on the nude and marginal.
Emily: Just to clarify, you have an artistry background?
Hannah: Yes. When I did those shows, I discovered I had more authority. I could talk about interesting things and there wasn't that resistance going, "Where's my laugh?"
Emily: This is actually a great part for us to play this other clip that is actually partially about art and partially about an incredibly timely subject sexual trauma, misogyny, art, and the Me Too movement.
Hannah: Honestly, I can draw a straight line from Pablo Picasso to Donald Trump by way of Roman Polansky, Woody Allen, Louis CK, Bill Cosby, they're all cut from the same fucking cloth, and I am sick of it. These men control our stories. They control our stories if they have a diminishing connection to their own humanity. What the fuck are we doing? Hindsight is a gift. Unwrap it. I keep getting told, just separate the man from the art. You got to separate the man from the art. All right, grow up, calm down. Don't get emotional. It's art.
You got to separate the man from the art. How about I don't? [laughter from the audience] I will not separate the man from the art, and even if I did, the shit sticks.
Emily: I got to say I loved this part of the show. It was also the part that, because I'm an arts critic, was the most challenging to me because it is the thing that I have been wrestling so much in the people who've influenced me, the people that I've written about. I have my own ambivalent relationship. Are there artists that are basically like shitty guys, who've done bad things that are important influences on you? What do you do with that stuff once you don't separate it?
Hannah: I believe art is important. I don't believe artists are important as individuals. My favorite comedian has been Bill Cosby, always. He's funny. I like his rhythm. I liked what he talked about, but I found it very easy to let go of him. Very easy. I don't feel easy listening to his comment anymore, but I'd be lying if I said it didn't influence me, but I let go of the man.
Announcer: That makes a lot of sense. Comedian Hannah Gadsby talking about her show Nanette in 2018 with staff writer, Emily Nussbaum. Gadsby's show is touring now, and it's called Body of Work.
Copyright © 2022 New York Public Radio. All rights reserved. Visit our website terms of use at www.wnyc.org for further information.
New York Public Radio transcripts are created on a rush deadline, often by contractors. This text may not be in its final form and may be updated or revised in the future. Accuracy and availability may vary. The authoritative record of New York Public Radio's programming is the audio record.