Amid a Pandemic, Catharsis at Seven O'Clock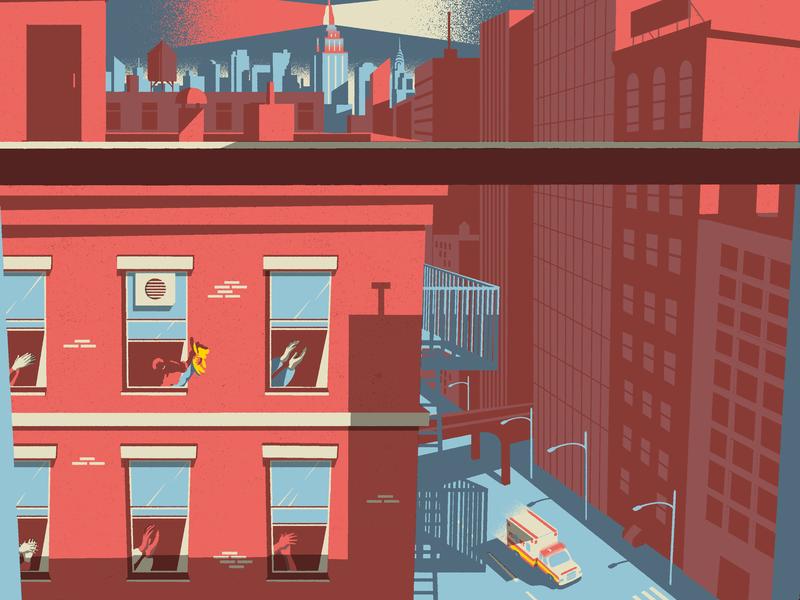 Transcript
David Remnick:
This is the New Yorker Radio Hour. I'm David Remnick. In this time of pandemic, the streets of New York City now, are so desolate, you have expect tumbleweeds to blow along the pavement. Where cars and cabs once clustered. You hear the wheeze of an empty bus rounding the corner. The flutter of pigeons on the fire escape. The wail of an ambulance, unnervingly frequent. For weeks as the pandemic too cold, a sax player who stakes his corner outside a dress shop on Broadway, was still there. Playing my favorite things and all the things you are.

David Remnick:
Now he's gone too. The spectacle of New York without New Yorkers, is the result of a social pact. We've absented ourselves from the schools and the playgrounds, the ballparks and the bars, the places where we work, because life now depends on our withdrawal from life. The vacancy of our public spaces is antithetical to the very purpose of the city. Which is defined by its encounters, their constancy, and their poetry, but the vacancy of the city, is what's needed to preserve it. So you stick your head out the window of an apartment that you have not left in days. You see a single scurrying soul, her arms full of groceries, she's wearing a mask and walking with the urgency of a thief.

David Remnick:
She quickens her step as she crosses Broadway. Past Magnolia's blooming on the traffic divider. Like all of us, she's trying to outrun a thing that you cannot see. E. B. White wrote in the summer of 1948, "On any person who desires such queer prizes, New York will bestow the gift of loneliness, and the gift of privacy." But these prizes, are now a public health requirement. We chafe at the solitude, we try to overcome it with technology, we text, we Zoom, we send links about virology. We are all immunologist now. We watch televised briefings as long as art house movies.

Speaker 5:
They're not descending on us from heaven, right? It's our [inaudible 00:03:18].

David Remnick:
But then something happens. Joy comes at 7:00 or, is it sheer catharsis? At seven o'clock in neighborhoods across the city, cheering breaks out as though the Yankees had clinched the World Series. It spills from the stoops and the sidewalks. From apartment windows and rooftops. We take out our smartphones and start recording the roar, the clapping, the whooping, the tambourines and the wind chimes. The vuvuzelas. The guy across the street is a master of the cowbell, and we don't mind. Before it all dies down, we've sent the recording to a loved one, who works in an ER.

David Remnick:
And We send it to others who are sick in bed or out of range of our dense and canyon city. The city described on the news, as the epicenter. The cheering is for all the nurses, orderlies, doctors, EMTs. It's for the courage of professionals who may work without the protective gear that they need. Some of them have seen their salaries cut, some have fallen ill. Other soon will. We're applauding Anthony Fauci, who must spend nearly as much mental energy trying to finesse the ignorance and ego of his commander in chief, as he does in assessing the course of the virus. We're cheering researchers in labs all over the world, who are at work on treatments or vaccines.

David Remnick:
We're cheering people who make the city work at their peril. Grocery clerks and ambulance drivers, sanitation workers, pharmacists and mail carriers, truckers, cops, firemen. The delivery man who shrugs off the straps of his knapsack and jabs at the intercom buzzer, with a gloved finger. We cheer those who provide straight information, and look out for the most vulnerable among us. The poor, the aged, the incarcerated. And we cheer the artists who have lost their gigs but are posting paintings on Instagram FaceTiming their soliloquies. Singing into iPhones.

David Remnick:
We know the limits of this release this cheering, there's a feeling of helplessness reflected in it too. But it's what we have in a dark time. Even the President has appeared to bow before the reality, that as many as one or 200,000 of us, could die in this pandemic. These coming weeks are and will be demanding, in ways that few of us could have anticipated. If New Yorkers are in hiding, the virus is shown in knack for seeking. But with time, time and discipline, life will return to the city. Our city and your city. The doors will open, and we'll leave our homes. We'll greet our friends face to face at long delayed Easter services and Passover Seders.

David Remnick:
Children will go to class with their teachers. Sidewalks and stores and theaters will fill. One day remnants of the crisis will be tucked away, out of sight, and out of mind. A box of gloves, a bag of makeshift masks, containers of drying Clorox wipes. We'll forget a lot about our city's suspended life. But we'll remember who we lost. We will remember, the terrible cost of time squandered, and we'll remember the sound of seven o'clock.

Speaker 4:
[inaudible 00:07:07].

David Remnick:
This is the New Yorker Radio Hour, I'm David Remnick. On first glance, COVID-19 seems to be indifferent to who we are. Princes and prime ministers, musicians and Hollywood A listers, NBA players, all sorts of prominent people, have made headlines for contracting the virus. But when we look at the numbers of illnesses and fatalities, we see something else distinct emerge. We see the inequality that's part of the American healthcare system. We find the kinds of disparities that cause worse outcomes in many different ways, for people who are disadvantaged.

David Remnick:
Keeanga-Yamahtta Taylor has written for many publications, including the New Yorker about racial inequality. He's an assistant professor of African American Studies at Princeton, and the author of Race for Profit. I reached her last week. Now, Professor Taylor, there are some really alarming numbers coming in from all over the country which show that minorities, particularly African Americans, are succumbing to COVID-19 absolutely staggering rates. In Louisiana, African Americans are 33% of the population, but accounted for 70% of the deaths from coronavirus. This is all of the places, Chicago, in Mississippi, in New York.

David Remnick:
What factor, or combination of factors contributes to this shocking disparity.

Keeanga-Yamahtta Taylor:
So I think that there are a few things. The first thing is that, it is almost too easy to point to the underlying conditions that African Americans are particularly vulnerable to. Whether that is hypertension, whether it's obesity, asthma, really all of the long term diseases of disinvestment, under employment and in some cases, poverty. Pre existing conditions don't necessarily make people more vulnerable to the virus, but it means that if you get the virus, that it can have deadly effects, and then we can talk about the inability to practice social distancing. I think as a prerequisite for effective social distancing, you need to have a safe sound and comfortable housing.

Keeanga-Yamahtta Taylor:
You need access to the internet. You need access to computers. So I think because of the ways that black people are overrepresented in professions that don't allow for working at home, only 19% of black people have the ability to work at home, because of the types of jobs that they are employed in. Jobs that are typically low waged and degraded, which now ironically, are seen as essential work like magnets to pull people away from the safety of social distancing. So, African Americans in New York City, you still must get on the subway to get to work. So, social distancing is critical but, you have to have a certain income and class position really to be able to fully engage that practice.

David Remnick:
How does this manifest itself in terms of our healthcare system? In terms of institutional racism and our healthcare system?

Keeanga-Yamahtta Taylor:
Well, there I think you say, both the dynamics of class but also race. I think it's important to say that 10% of African Americans are uninsured. Then there have been several reports of black women in particular with health insurance who show up to the hospital with the now classic symptoms of COVID, and are turned away repeatedly, and are only getting tested at the very final hours when it's much too late. So there is a legacy within healthcare practice of not believing black patients when they talk about pain, not really taking seriously the complaints from black patients.

Keeanga-Yamahtta Taylor:
So I think that that is a way in which racial issues transcend the obvious class problems in a for-profit health care system.

David Remnick:
Do we know how testing for coronavirus is being deployed in poor and minority neighborhoods?

Keeanga-Yamahtta Taylor:
I'm not sure if we have a full picture. There was a scientist at Drexel University in Philadelphia. He found that in zip codes with higher incomes, testing was six times higher than in zip codes with lower incomes and lower rates of insurance. There are these drive up testing facilities that have been created in cities around the country, but it assumes that you have a car to be able to use that. But given the dearth of tests that are available, I can imagine that for the poorest people, those who are most disconnected from the networks where one might find out about where to go to get tested, how to get tested, that the numbers are even lower than they are for the general public.

David Remnick:
I want to ask a question about housing. I've read your really excellent book on race and housing. In looking at this crisis, and the shocking infection and death rates for minorities, do you see the legacy of redlining there, and how so?

Keeanga-Yamahtta Taylor:
Well, I think there's so many overlapping issues. I think with redlining, we know that residential segregation cuts people off from good jobs, from high paying jobs, from the opportunities that could actually improve life chances. So I think segregation is not just about the relegation of African Americans to a particular city or suburb, it's about the consequences of that. Also, somewhere like Philadelphia, there are literally thousands of apartments in this city. I'm in Philadelphia, that have been legally designated unfit for human habitation, by the City of Philadelphia.

Keeanga-Yamahtta Taylor:
But the city does nothing to act on that because to close these apartments would be to exacerbate a crisis of homelessness that already exists. But part of the reason for many of these places why they are considered unfit for human habitation is because they don't have proper plumbing. They don't have proper access to water. So, that is of even more critical importance right now. We think about people in Flint, Michigan, we think about people in Detroit, thousands of black people whose water access to potable water has been shut off at a time when we're being told to wash our hands, as much as humanly possible, and we're are being told to practice good hygiene.

Keeanga-Yamahtta Taylor:
So, all of these issues are intersecting in the most destructive and catastrophic way that we could imagine.

David Remnick:
It's very hard to talk about hope on days when the death count is so high in New York and around the country and around the world too but, particularly the United States. But does the fact that this has laid bare so many inequalities in this country, does it give you any hope that when we get around the corner of this, that the discussion about inequality and about race will change in any profound way?

Keeanga-Yamahtta Taylor:
First of all, this is not the first time that the horrors of American inequality have been exposed to people. In 2005, the catastrophe of Hurricane Katrina, as Danny Glover said, revealed a third world country in the midst of the United States. I think even in the 2008 financial crisis, in the ways that some people were more devastated than others, also created important insights into American poverty. Things that under normal circumstances go completely ignored. So just knowing about it, is not enough. I think social crises almost always provoke a social response.

Keeanga-Yamahtta Taylor:
It's complicated to imagine what that will look like right now because of social distance. So we can't all just go to City Hall and shake our fists. We can't all just mobilize and take buses to Washington DC, to express our outrage at the sclerotic pace of aid for people on the ground. So for me, I do have hope, I have hope not based on some cheap religiosity, but hope that is rooted in an understanding of history and the history of ordinary people, really leading the way to find solutions to the social dilemmas of whatever period or circumstance that they emerge in.

Keeanga-Yamahtta Taylor:
We can see the very basic gestures of solidarity, whether it is the selfless acts of healthcare professionals, people who are trying to procure food and other resources for the elderly. There are all sorts of examples that we can point to, that show the basic decency of regular people in this society. So that's where I do have hope.

David Remnick:
Professor Taylor, thank you so much. Keeanga-Yamahtta Taylor is a contributor to The New Yorker, and she's an assistant professor of African American Studies at Princeton. Her most recent book is titled Race for Profit: How Banks and the Real Estate Industry Undermined Black Homeownership. This is the New Yorker Radio Hour, more to come.

Rebecca Carroll:
I was in high school the first time a white friend asked me, "Why is everything about race with you?" And I said, "Because everything is about race." It's still true, especially in this election year. For a lot of folks, that's just too uncomfortable to talk about. But I'm talking about it. I'm Rebecca Carroll, check out my new podcast Come Through from WNYC Studios, and listen wherever you get your podcasts.

David Remnick:
This is the New Yorker Radio Hour, I'm David Remnick. Yiyun Li's short stories have appeared in The New Yorker for more than 15 years. Lee is also a professor of creative writing, at Princeton University. Are you in Princeton now? Is that right?

Yiyun Li:
I am. Yeah.

David Remnick:
The campus is empty, everyone's gone home?

Yiyun Li:
The campus is empty. The city is quiet. It's different. It has a different feeling, and it's a good time to read War and Peace.

David Remnick:
A good time to read War and Peace. Tolstoy's 1200 page epic about Russia during the Napoleonic Wars. When the coronavirus outbreak began, that was the book Yiyun Li reached for.

Yiyun Li:
So novel started with Annette having a cough. She said she was sick, she couldn't go out to parties. So she invited people to her house for a party and everybody came. I have read it novel so many times, this is the only time I thought, "Oh a cough really means something." These people really should be careful about life.

David Remnick:
Around the time that we're all retreating into our homes last month, Yiyun Li launched a project called Tolstoy Together. It's an online book club. The New Yorker's Josh Rothman is a Tolstoy fanatic. He recently talked with Yiyun Li, about the new project. What was it about Warren Piece that made you think this is the book that I want to be reading now?

Yiyun Li:
One is, it's a long book, and I thought ... I do think there are people who have always meant to read it, but who have not picked it up. So this is a good time. The other thing I really like about Tolstoy is he's such a solid writer. Warren Piece has this reliable structure, peace and War and Peace and war. I feel like I can just put my trust into Tolstoy's words. In other moments of my life, when I was really agitated that I would [inaudible 00:21:26] hand coffee, War and Peace in a passage that I love, just to keep the hand moving or keep the mind moving. It has that support for a mind.

Yiyun Li:
So I thought I would go back to War and Peace, and I thought I could use 5, 10 people to read with me like a book club. A lot of people responded and people really loved it. So it became a bigger thing than I originally imagined.

David Remnick:
How many people are reading it with you now?

Yiyun Li:
Our estimate is on an off maybe about 3000 people. From, we counted probably 20 countries, all the continents, except Antarctica.

David Remnick:
That's so cool. And so how does it work?

Yiyun Li:
So I calculated I thought, we probably will be stuck for two or three months, just looking at the data from other countries. If we read 12 to 15 pages a day, which takes about 30 minutes, that will take us about 12 weeks to finish the book. Now we'll be in the summer, and my hope is by then, we will all be free to walk around and enjoy life. So that's how I propose we're just going to read 12 to 15 pages a day. At the beginning of the day, I would post three thoughts from me. These happened on Twitter and Instagram.

Yiyun Li:
Then for the rest of the day, people would chime in, people would question. So their questions were observations. So it's quite like a big party. At the beginning of War and Peace, everybody's talking.

David Remnick:
It sounds great. You and I know this is a crazy question, because we're in pieces, like the world's biggest book. Could you try to just give us a summary of what it's about for people who haven't read it?

Yiyun Li:
Well, it's about the war between France and Russia during the Napoleon time. The peace part is about Russian families living through actually the war. And the war part is really about the war between the two countries. So that's a very bad summary of the novel.

David Remnick:
Do you have a favorite character?

Yiyun Li:
I love Pierre. I have such a soft spot for him. The first time when he was introduced, there was a sentence said, "He did not as they say, know how to enter a salon and still less did he know how to leave one." So he has that awkwardness and reminds me of Winnie the Pooh. When Winnie the Pooh went to Rabbit's house, ate too much and got stuck in the rabbit hole and he has that endearing quality, a little bit awkward. But he also had deeper spiritual quality so, I think he's one of the characters ... He always offers comfort to me.

David Remnick:
The thing that I remember finding most surprising about War and Peace when I started it, was to me War and Peace had always been a joke of a book. If you had to choose out of the air, the name of a really heavy book, you would choose War and Peace. That's the book I was [inaudible 00:24:57] when I was a young person before I actually read Tolstoy. Then as soon as you start reading the book, it's just almost immediately obvious, that it's going to be incredibly suspenseful and entertaining and that also very, obviously, about things that are important and meaningful to you.

Yiyun Li:
The book has a bad reputation. I love a lot of books, but I never get bored reading War and Peace. Every page, there's something new. There's something that engages my curiosity or something makes me laugh. I would just read the page I'm on today. This is when the Russian army went to war with France for the first time. So do you mind if I read a lot to you?

David Remnick:
Go ahead.

Yiyun Li:
Yeah. So, "At the band of the Danube, one could see boats and an island and a castle with a park, surrounded by the waters of the ends, falling into the Danube. One could see the left bank of the Danube, Rocky and covered with pine forest, with a mysterious distance of green treetops and blueish gorgeous. One could see the towers of a convent looming up from the pine forest, with its wild and untouched look. And far away on a hilltop, on the other side of the Ames, one could see the mounted patrols of the enemy." It has this beautiful long shot of the scenery.

Yiyun Li:
Almost like the untouched mysterious thing. Then all sudden, we actually saw the French controls just inside. Tolstoy certainly is the best seer and he sees everything.

David Remnick:
I was thinking, there's times when things happen in the world like 911 comes to mind I guess, but there's many other times when, it just seems hard to think about other things or hard to make room for certain types of emotions or certain types of thoughts. It's like the world gets compressed down to this narrow stream of concerns. One of the things that I always like in Tolstoy, and I think this is especially true in War and Peace is that that never happens. So then even though the war is happening, people still are falling in love. They're singing songs. They're living in nature.

David Remnick:
I'll never forget there's the scene where Andrei, he's visiting the Rostov family.

Yiyun Li:
Oh, yes.

David Remnick:
And there's an oak tree, this gnarly, old looking tree. I think he stays the night in the house. You'll remember better than me-

Yiyun Li:
Yeah, he stayed in the Rostov's house. Yes.

David Remnick:
Yeah. Here's Natasha singing from the room below, I think. And It's just beautiful. It's not about war, and it's just a beautiful song. Then on the way out, he goes by the same tree and he sees its flower.

Yiyun Li:
Yes.

David Remnick:
But it's about the world continues. There's still youth and beauty and nature and everything.

Yiyun Li:
That is such a good example, when he was listening to Natasha, there was the moment his window was shattered. So he opened the shutter, and the moonlight rushed in that moment. I just thought it was, yes, people are still living their lives during that war.

David Remnick:
For me, and maybe for other people, it really feels like we're living during history.

Yiyun Li:
Yeah.

David Remnick:
And that we're alive during this this time that is the type of thing that ... people will read about later.

Yiyun Li:
Yes, I think you're right. There are a lot of resonance between the novel and what we have been through the panic, the anxiety and the uncertainty of course. We have to live through this pandemic, we have to live through this history, just as we have to live through that war, we have to read through that war part of the book.

David Remnick:
I have to say what we're doing now, just talking about this book, it's incredibly enjoyable. It makes me think about what role talking about art has at a time like this. You've convened to this group of people who now have a time of their day set aside to communicate with one another about art and literature.

Yiyun Li:
In a way, I realized there's so much comfort. People around the world, they all feel stuck, and if they can read slowly, 12, 15 pages and they all talk about these 12, 15 pages, it just offer something for people to talk about, other than what's happening outside. I think whether it's a distraction or it's just a mitigation of the anxiety, it's really bringing people together. There are people who would say, "I still looking forward to tomorrow's pages."

David Remnick:
Absolutely, thanks so much Yiyun, this was incredibly enjoyable.

Yiyun Li:
I enjoyed it so much. I hope we can meet someday.

David Remnick:
The writer Yiyun Li, talking with the New Yorker's Josh Rothman about Tolstoy's War and Peace. If you want to participate in Li's project, Tolstoy Together and maybe you can catch up with them, you can find the information on our website newyorkerradio.org. This is the New Yorker Radio Hour, stick around. This is the New Yorker Radio Hour. I'm David Remnick. Around this time of year would have been a joyful one, the start of baseball season. Not the worst casualty of this pandemic by far, but for a fan, the loss of baseball is a bitter pill. The deprivation of a really beautiful distraction. There's talk that maybe the season will open in June, but that's really, impossible to know.

David Remnick:
Until then, I wanted to revisit a conversation I had with the great baseball writer Roger Angell, who is now 99. A few years ago, I brought Roger to the studio to talk about his long and remarkable career at the magazine. In more than seven decades, he's contributed fiction, movie reviews, comic poems, essays about aging and loss, there really isn't a genre that he hasn't touched. But on the subject of baseball, there's no greater writer than Roger. No one. For this he was inducted into the Baseball Hall of Fame in 2014.

Roger Angell:
So this is a thrill for me as well as an honor. The roster of spanked honorees is stuffed with old heroes of mine, like red Smith and Tom meany. With baseball writer friends who have also been models and heroes, folks like Jerome Holtzman and Peter Gammons and Bill Madden, who were so quick to put me at my ease, in the clubhouse and to fill me in whenever I turned up again. My gratitude always goes back to baseball itself, which turned out to be so familiar and so startling, so spacious and exacting, so easy looking, and so heartbreakingly difficult, that it filled up my notebooks in seasons in a rush. A pastime indeed.

David Remnick:
That was an amazing day Roger, I just wonder a year and a half later, looking back at what it meant to you, you've been writing about baseball for a long time since the early '60s.

Roger Angell:
I was extremely anxious beforehand, and I was anxious about what so many friends of mine who are coming up this enormous distance, I thought was not going to be very good. I actually was using a little Maalox near the end and I lost some weight. But the middle I got there it was just terrific.

David Remnick:
But you had to invent a voice for this. You had to figure out a way of covering baseball. God knows that baseball ... Especially when you began was the focus for sports riders ... In fact in the '50s, the prestige sports were boxing-

Roger Angell:
The best sports guys were in-

David Remnick:
In baseball.

Roger Angell:
Yeah, in baseball. Yeah, I approached it with sheer terror. I didn't know what I was doing. I was a baseball fan. I'd been a writer but I had not written about baseball only a little bit. I was very self conscious talking to the players, really quite scared.

David Remnick:
Why is that?

Roger Angell:
Well, I felt that they would know more than I did. "What's this guy doing here?" I was shy and a little bit nervous. So what I did was to sit in the stands at first. Because I'd felt I didn't realize that nobody was writing about the fans, and I was a fan, and I could sit in the stands and be a fan and also be a writer.

David Remnick:
Is the press box a bad place to cover things from?

Roger Angell:
No, I don't think so. But once you get used to it, but I wasn't at ease in the press box yet.

David Remnick:
One of the things that always amazed me about your baseball writing is that you have a tone of a happy man. Of someone who's going at this at his leisure. That all the difficulty of writing, which we know to be the case, is somehow way out of the frame. That there is this voice of someone just in love with what he's watching. That's hard to achieve.

Roger Angell:
Well, it developed over the years. I didn't really plan it in advance. It was just it was some me.

David Remnick:
What was the sports writing that you couldn't stand? What were you trying to avoid?

Roger Angell:
Actually when I started, Shawn said-

David Remnick:
William Shawn the editor of the magazine for decades.

Roger Angell:
William Shawn my editor said, "Why don't you get on spring training and take a look." He said, "We don't want to be sentimental, and we don't want to be tough guys." Those are two things to avoid-

David Remnick:
Did Shawn know anything about baseball?

Roger Angell:
Nothing, nothing. My first piece, he came into my office carrying the galleys, my first piece from that spring training, and he pointed to a place on the on the page and he said, "What's this?" I looked and I said, "That's a double play bill." He said, "What's the double play?" And I explained it to him and his cheeks clawed with excitement. It was something new.

David Remnick:
Did you find it harder to talk with players as time went by, as you got a little older? Did you gravitate more toward coaches and managers than players?

Roger Angell:
Once they call you sir, you're in big trouble.

David Remnick:
Yeah.

Roger Angell:
I gravitated toward good talkers, as I've said before.

David Remnick:
But did they thin out was what I mean? Did the good talkers become less and less numerous?

Roger Angell:
Yes, I think so. When I got over 80 it was impossible for me to talk to players really because they would say sir and also, as you said, the habit of talking openly as a person, not as a very well paid celebrity, a semi celebrity ballplayer, is pretty well gone.

David Remnick:
It's because it's a big difference when the ballplayers are making about as much as a solid orthodontist and now they're making as much as an older [crosstalk 00:36:35].

Roger Angell:
Sure. But you did pay attention I thought that I would carry notes and write endlessly like long notes and keep my ears open and listen for something. I remember being outside the office of Jim Frey, the Kansas City Manager after his great start George Brett had another extraordinary day at the play. And I'm waiting to go into see the manager and there are two old coaches at their lockers just outside the door in their underwear and clogs talking a couple of country guys, and one of them says the other, "Everything that George hits, goes through the infield like a stream of milk." And this country image ... And I wrote it down. I wrote it to down. Wow, thank you.

David Remnick:
You wait days for things like that. In the nonfiction game. Roger you practice nonfiction, as it were by night, and fiction by day.

Roger Angell:
Yeah.

David Remnick:
For years and years you were a fiction editor of the New Yorker To this day, you read short stories for us and in the fiction department. Was this bread in the bone with you? I think some of our listeners will know that your mother, really had singular responsibility for introducing serious fiction to the New Yorker. Katherine White was the person who brought real fiction to the New Yorker. You must have grown up hearing about this process and knowing this process.

Roger Angell:
Yeah. My stepfather was E. B. White and writing for the magazine every week and my mother and stepfather's house was full of galleys and pencils and razor rubbings and conversation about the magazine and about Harold Ross and about the writers of the day and sure I paid close attention, but I wasn't planning to be a New Yorker editor or to be a New Yorker writer. I was-

David Remnick:
What were you planning?

Roger Angell:
I was hoping to be maybe a [inaudible 00:38:26] naturalist or herpetologist, with my first name. But I did pay attention and my mother was editing Vladimir Nabokov and people like that [crosstalk 00:38:36]-

David Remnick:
How did Nabokov take editing?

Roger Angell:
I was his [inaudible 00:38:39] usual hot he [inaudible 00:38:40] the famous Nabokov editing was by the great New Yorker founding editor Harold Ross who loved clarity above all and was not classically or much educated but loved clearness. And in the middle of some terrific Nabokov member ... I think part of his peak memory pieces, his wonderful memories about his family. There's a line at the dinner table and somebody says, "Past the Nutcracker." One of Harold Ross's endless queries he always had about 20 or 30 queries about every piece of copy, he said, "From the evidence we've been given so far, I would have assumed that the Nabokovs were more than one nutcracker family." So ...

David Remnick:
Roald Dahl.

Roger Angell:
The famous-

David Remnick:
I was looking through some letters that came to Harold Ross and Roald Dahl, who wrote all those great children's books but also a number of things for the New Yorker and memoir pieces for the New Yorker wrote a scathing letter to Ross complaining about the editing and the number of commas that had been injected into things. He says, "As if you would take a great comma shaker and sprinkled commas around my copy."

Roger Angell:
Well that was our style, yeah. But it's lightened up a little bit.

David Remnick:
Roger what does age do for your writing? How does it affect things? How does it either deepen your work or make it more difficult? What's the effect of time on a writer's life?

Roger Angell:
I'm not sure. I'm aware of my waning powers, I really am. But I'm not writing long pieces. I'm not going out there and writing another 10 to 12,000 word baseball piece. I'm not sure-

David Remnick:
And that's a matter of what? Getting up and down stadium steps or-

Roger Angell:
Well, getting up and doing the interviewing and doing the traveling and taking the time. A lot of hard work and it's hard for me to get around, it's hard for me to see, it's hard for me to hear a little bit. I'm doing much, I'm very happy to fall back and do posts and blogs.

David Remnick:
But, this is the amazing thing. You are in your mid '90s I hope you don't mind me saying.

Roger Angell:
No.

David Remnick:
I think you're perfectly aware of it. Yet sentence by sentence, you're as funny and as touching and as good a writer as you ever were. You've taken to the internet in a way a lot of people resisted. You took right to it.

Roger Angell:
Well, I like the brevity of the blog, you can make it quite short. Or you can just go on as long as you want to go and then just stop. It's like making a paper airplane. No, it's about ... I used to love to make paper airplanes. I made great paper airplanes, and you throw it out the window, and it goes a little ways, or it turned the [inaudible 00:41:23] beautifully, and then goes out of sight and is forgotten forever. That's like a blog. It's [inaudible 00:41:28].

David Remnick:
Do you like the immediacy of the internet?

Roger Angell:
Yeah.

David Remnick:
You're putting up a post and it's six o'clock, it's there and bang, you're getting a ...

Roger Angell:
Well, it's taking me through the middle of the afternoon sometimes but-

David Remnick:
Fair enough.

Roger Angell:
But no, I can see the end when I'm started, which is not bad.

David Remnick:
Tell me about this new book, you've put together an enormous range of things. You've got in here some obituaries that were published in the New Yorker online. You've got a couple of long sustained essays that we'll talk about. Some baseball writing ...

Roger Angell:
Letters.

David Remnick:
The book is called, This Old Man by Roger Angell, All in Pieces.

Roger Angell:
It's This Old Man Roger Angell, All in Pieces. Well, I'm a little tired of the Joke in the title already.

David Remnick:
But tell me about the book itself.

Roger Angell:
Well, I wrote the piece This Old Man. I started the piece in 2013 I think like late in the year and I think he handed it to you long about February or something like that.

David Remnick:
It came as a complete surprise to me, just plopped it on my desk, done.

Roger Angell:
Well, I wrote it in different pieces. I didn't quite know what I was doing and it was about physical debility and it starts off with a description of my arthritic hands and-

David Remnick:
Which you say the tips of your fingers look like they've been the subject of torture by the KGB.

Roger Angell:
Yeah, if I point my forefinger at you like a pistol and aim for your nose, I'll hit you in the knee.But I describe some of the everyday debilities of age. I didn't quite know what I was doing. But I knew that loss was at the middle of this, so I had lost my wife. We'd been married for 48 years. I lost a daughter and a beloved dog of Carol's and mine. Went out the fifth floor window in the middle of a [inaudible 00:43:27] in panic, jumped out the window of the fifth floor and was killed. Losses for people my age are common. Ed Hersey wonderful poet, lost his son and wrote a great book about it last year.

Roger Angell:
He says that anybody over the age of 65 has a 100 pound bag of cement of loss on his shoulders. He writes about the loss of his son and he says, "You can't make a story out of it. You can't do that with a life." So I didn't know how to touch on these subjects. I didn't know if I wanted to even. I did so, I actually through the loss of the dog, I'd written a piece about losing my wife losing Carol called Over the Wall which began this process and I waited six months and just after the first Obama election she died in April, and I said she didn't know this news, and she didn't know about the hurricane that fall and nothing she didn't know.

Roger Angell:
And I said, "The dead don't know what's happening the dead leave quickly." And I quoted a Kenneth Koch poem saying, "Les morts vont vite, the dead go quickly." And there's a line in that which says, "No more seeds in the bedroom, no more waiting in the hall waiting to say hello with mixed feelings." Perfect line. I described the death of Harry's, his dog and then threw in that Carol and I, we couldn't get over weeping for him, and he lay in our bathroom between us on the floor and we [inaudible 00:45:01] Kleenex back and forth, and I said, "We're also weepy for my daughter Kelly who had committed suicide a couple years earlier."

Roger Angell:
The events that we knew we couldn't just get our minds around in any way, but it was for both. But I don't want to dwell on this. I just want to make much of this because everybody's experienced loss, and there are many changes of moods through this piece, I patched the thing together and a lot or some of the sad or little moments paragraphs that are hard to take off and followed by a joke or a lighter moment. There's some actual jokes in there and is okay because I like to take jokes I count on jokes myself. I'm known to tell jokes.

David Remnick:
And there's also the opposite of loss. There's new love.

Roger Angell:
Yes, and this was happening. I'm always finding someone new in my life. My present wife, Peggy and this was going on and-

David Remnick:
And desire.

Roger Angell:
... I wanted to say that and time was going by and I was still engaged in life and I said that old people are like everyone else, we need connection, we need love, we need intimate love.

David Remnick:
And a hand on the shoulder. I mean there's sex, the piece ends with, in a sense, life against all other things and-

Roger Angell:
Against all odds. Against all odds, yes. But I wanted to say what was happening with me which happens with other old people. Old people fall in love, old people they have a love life, have intimate connections, they have sex lives, and people don't like to admit this, mostly their children but-

David Remnick:
Because they're somehow revolted by it. Or-

Roger Angell:
But I think people are getting over this because it's now known. It's not something to be repelled by, it's something to be grateful for. This brings up something else which I've noticed with writers that I've dealt with. Now and then, if a writer lives long enough, this didn't used to happen much with American writers was the famous thing about American writers was, there are no second acts in American lives for writers but, writers that go on and on, often go back as updated, go back to the same subjects again and again.

Roger Angell:
I went back to his mother, to the sandstone field farmhouse, to his father, to his teenage courting years and did the same story really again and again, but much better each time with increased feeling. Some of the very best stories he wrote for us were at the very end. The same thing happened with another writer of mine that I edited over a period of 40 years V. S. Pritchett, the great British writer. In his middle '80s suddenly got in this amazing hot street, writing some of the greatest stories of his life. Full of life, full of sex, full of more and adventures and comedy and childhood things all rushing out him.

Roger Angell:
I think that all of us do this at any age because we basically go over the same material in our minds again and again. The stories that really mean a lot to us. It's not we're trying to get them right. We're not trying to change the outcome, but we're trying to keep them or to say, "Was this the way it was?" And psychologists and experts on the subject say that this is what the memory is. It isn't just a defensive thing to protect us from falling out of a tree when a tiger's passing by, but it is trying out of a scenario again and again, because it may be of use. That's what memory is.

Roger Angell:
This is why the same scenes occur. After I wrote scenes, a lot of this personal stuff, I used to have dreams about I think about over and once I put them down and got them published, I don't think about them anymore. It's very strange. It goes away.

David Remnick:
When you go back and read your earlier stuff, do you recognize it? Does it feel like you?

Roger Angell:
Not the very [inaudible 00:48:56] no, it feels like Hemingway.

David Remnick:
And can you relate it all to a decision like Philip Roth's to stop writing?

Roger Angell:
Well, I haven't got there yet. I'm thinking of not blogging anymore, because I don't think my blogs are quite up to what they were. But-

David Remnick:
I'll be the judge of that, keep going.

Roger Angell:
All right. Well ...

David Remnick:
Please keep going.

Roger Angell:
No, I don't want to stop. I like to have it still going on a bit. Then this way, once again, I think I'm extremely lucky. I'm 95 and still writing my goodness. I'm startled and very happy.

David Remnick:
I'm happy to be here with you always Roger. Thank you very much.

Roger Angell:
Thanks. Thank you, David.

David Remnick:
The great Roger Angell. He's the author of many books on baseball, and the essay collection, This Old Man, All in Pieces. Our interview was from 2015. I'm David Remnick and that's our program for this week. I want to thank you for joining us. Wherever you are, I hope you're healthy, and I hope you stay that way. See you next time.

Rebecca Carroll:
The New Yorker Radio Hour is a co production of WNYC Studios and the New Yorker. Our theme music was composed and performed by Merrill Garbus of tUnE-yArDs. With additional music by Alexis Quadrado. This episode was produced by Alex Barron, Emily Botein, Ave Carrillo, Rhiannon Corby, KalaLea, David Krasnow [inaudible 00:50:22] go and [inaudible 00:50:24] Louie Michel, Michele Moses and Steven Valentino. With help from Alison MacAdam, Mengfei Chen and Emily Man. The New Yorker Radio Hour is supported in part by the Charina Endowment Fund.