Joshua Yaffa on Evan Gershkovich, a Colleague and Friend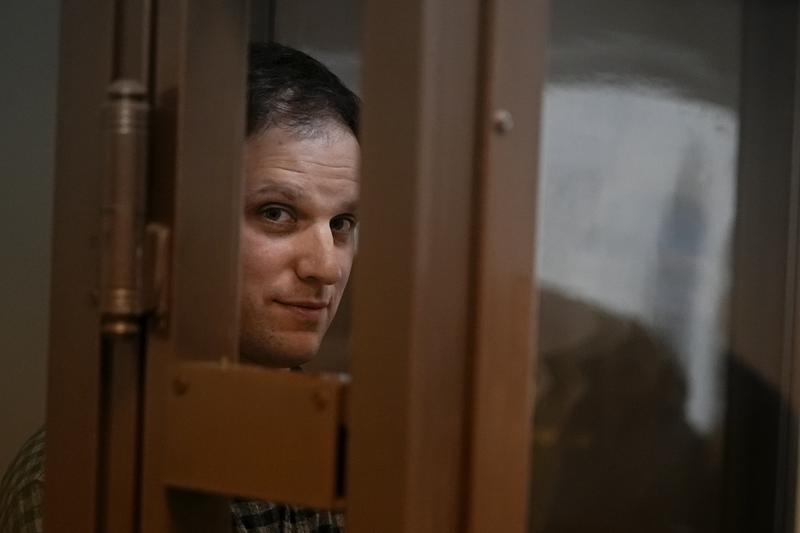 Transcript
David Remnick: Joshua Yaffa has reported from Russia for a decade. He covered the country's tragic slide toward dictatorship under Vladimir Putin. Recently, Josh filed a piece that was quite unusual for him, a very personal story. The Russian government arrested a friend of his, Evan Gershkovich, a fellow journalist who was reporting for The Wall Street Journal.
Announcer: Russia's security agency says it has arrested a US journalist working for The Wall Street Journal in Moscow on charges of espionage.
David Remnick: The charge against Gershkovich was espionage, quite obviously a false charge. For years, Putin has been suppressing Russian journalists, closing down one outlet after another, even as foreign correspondents were still able to report the news freely, but the arrest of Evan Gershkovich is the first time the Kremlin has imprisoned an American reporter supposedly for spying since the 1980s.
What was once a tactic of Cold War politics has returned under Vladimir Putin. I spoke last week with Joshua Yaffa. Josh, when did you first hear this horrible news about Evan?
Joshua Yaffa: It would have been, I guess, the day after. We now know he was arrested in Yekaterinburg. I woke up to the news going around telegram channels, Twitter that American reporter had been arrested in Russia. Quickly became clear that American reporter was Evan, and then began the frantic texts with friends, colleagues, our circle of people who know Evan or close to him from Moscow and beyond, trying to figure out frankly what the hell had happened.
David Remnick: Now, the first time Evan was seen publicly after that was a few weeks later when he appeared in court with his lawyers.
Joshua Yaffa: Yes. Because it's Russia, he was brought to something called the aquarium, this kind of glass cage where defendants are held during court proceedings. There were these pictures and video of our friend Evan in the aquarium. It was painful and outrageous, frankly, to see him that way, but also, it was just so surreal.
How many times has Evan? How many times have I? How many times have we all been in a courtroom with our notepads out, looking at someone in the aquarium and writing our story about yet another political case, yet another act of political repression against the Kremlin's enemies?
David Remnick: It always seemed to me that there is a similar closeness and competitiveness and a kind of community among the pretty few foreign correspondents that are there. Just what was the life like in Moscow and what was your relationship with Evan like?
Joshua Yaffa: I moved to Moscow in 2012. Evan came in 2017, full of ideas, energy, ambition. A really fun guy, nice guy, really into journalism, really into Russia. He has this legacy, family legacy from his parents who emigrated to the US in the 1970s and so he emigrates--
David Remnick: Did he grow up speaking Russian in the house?
Joshua Yaffa: -Yes, he spoke Russian in the house. A kind of funny Russian, a bit frozen in amber that he had to dethaw. He's much more a student of Russian slang. Maybe it's the fact that he's a few years younger than me, hung out with a younger, cooler crowd of people in Moscow, but I envy how quickly he integrated.
David Remnick: Where did people hang out?
Joshua Yaffa: Gosh, that's the thing about Moscow too in these sort of late pre-war period, is that it actually had the trappings in a quality of life sense as like a fun, happening, almost European city or the illusion of that was really available. You had great bars, great parks, like a food scene that was really developing. The Michelin Guide had a event in Moscow launching the first ever Russian rankings of Michelin restaurants in Russia. There were these people making exquisite Michelin food with Sakhalin crab and caviar and reindeer from Karelia.
David Remnick: Fantastic.
Joshua Yaffa: It's not that Evan and I were eating reindeer every night, but still, the point is Moscow, especially for a young, funny-happening, smart, charming guy like Evan in your late 20s, was just a cool place to live. He was excited about being there, not just because he liked banya and bars, but because he had this--
David Remnick: Banya being steam baths where you get hit by eucalyptus branches and all the rest.
Joshua Yaffa: -Right, where you have to go clean out those toxins after a night in Moscow bars. I remember understanding early on, for me, this is before even Evan came to town, that Moscow might be my kind of town, when shortly after I arrived, I was invited to a press breakfast, and the hour that it was called for was noon.
David Remnick: [laughs] But that's typical.
Joshua Yaffa: Right. It's also the place where people are still working at 09:00 PM, meet for dinner and drinks at 10:00 PM.
David Remnick: Josh, what was Evan reporting in those years as the Putin government was moving more and more toward autocracy?
Joshua Yaffa: Well, I think he had a really deep and nuanced sense of Russia. He was very clear-eyed, as we all were, about the big macro level political trajectory of Russia. He covered the story of protests in the summer of 2019 in which people were chased around the streets of Moscow by riot police. He was both deeply embedded with the opposition, but knew people across Russian society. He was covering that story and knew all about it, but he also had found the time or rather found the interest to find other stories.
Like going to Udmurtia, a region I still can't pronounce apparently all that well in Russia, where he wrote about dying languages. The last speakers of some indigenous languages in remote parts of Russia and the way that these people were fighting after the Soviet legacy and the Putin one, to keep these languages alive at great difficulty and cost themselves. That, I remember, is just such a great Russia story.
Anyone can come and do the Moscow protests story, the big political story, Navalny and so on, but you have to know the place, care about it and have this vision is the word that keeps coming to mind for me of being able to sort of scan the horizon and see, "Oh, that's happening and that's a story, and I know how to do it."
David Remnick: Were you ever in a competitive story with Evan?
Joshua Yaffa: I remember-- This would have been the summer, I guess, of 2021 when there were big, huge wildfires in Yakutia for a while. This was the story of the moment, of course, [crosstalk]
David Remnick: In the war east, yes.
Joshua Yaffa: Yes, deep in Siberia. This was like the big story in in Russia, these incredibly destructive forest fires with huge implications, actually, just not for Russia, but for the planet. I was working on a story set in Yakutia at the same time. My story had more to do with permafrost, also affected by fire, but not quite the same thing, but Evan was really dedicated to writing about these fires and their impact on local communities.
You have to have a specific idea of fun to think that going up in Soviet era, like propeller planes flying through wildfire smoke is like a good time that you're jealous on having missed out on, but Evan was up there with the firefighters, landing at these remote airstrips, camping in the fields with them, actually, under incredible heat with smoke. I remember at the time I was also in Yakutia, but here I am looking at ground that's taking a millennia to thaw.
It's not the most dramatic thing to look at a bunch of soil that supposedly, the implications or they are quite dramatic, but it doesn't have the same adrenaline. It's not just about adrenaline. He got really visceral, important first-person journalism.
David Remnick: Josh, eventually, like you and a lot of other journalists who were based in Moscow, Evan ultimately had to leave Russia, but he still did some reporting from inside the country during the war.
Joshua Yaffa: Yes. He went back over the summer for a reporting trip. He went back for another reporting trip. That's the way he and others in the Western press corps who continued to report from Russia worked. Going in on reporting trips and writing stories that were really deep and revelatory and tactile and I think brought to light in a way that I just, as a reader, found really interesting. I remember a story he did from Pskov in northwestern Russia, a town that is home to a number of military units that suffered extraordinarily heavy losses in Ukraine.
He found a city that was scared and traumatized, but also in a very macabre way, had come around to convince itself of the merit of the war that was telling itself a narrative about the war's virtue, its importance. Evan wrote a really moving and dark and disturbing but important story from Pskov, and he was able to do that kind of work. Evan was not sanguine or Pollyannaish or naive about the context in which he was working. He understood this was a very different Russia than the one he had arrived to in 2017.
He understood that the climate for journalism had become much more fraught but still, within that, there was no reason to think that foreign journalists would be targeted by Russian law enforcement. We could cover them the Navalny protests. There was even some cases where foreign journalists were swept up by the riot police and thrown in a police van from the streets covering these protests, but usually, by waving a foreign press card at the police, you were let out and you could go on your way.
It felt like, rightly or not, it was almost kind of an uncomfortable privilege to have. For all that time, the precedent held that somehow, Western reporters were safe. The worst thing that could happen to them was their visa might not be renewed. They would be kicked out of the country or barred from entering Russia to report. This clear violation of precedent, a really escalatory step obviously contains a very strong message of political intent on the part of the Kremlin and I think Putin himself.
The rules have changed. We're still left guessing at what this all means and what we're supposed to understand by it, but this is such a dramatic break from precedent that it doesn't happen accidentally.
David Remnick: I was the same age he was when I was in Moscow. I can't imagine the fear that my parents would have felt if I were in the fort of a prison, a notorious prison. There's your son in the midst of this horrific political situation in which Putin is using your son as trade bait. You've talked to Evan's parents, I know. What is their life like? What is their sense of what Evan's life is like inside of the fort of a prison?
Joshua Yaffa: Of course, it's fear, a fear of the unknown, fear of what does Evan's life, like right now, in this very second? How is he doing? How is he feeling? Will there be a trial? How long could that take? Will there be a trade what everyone is pointing to and speculating about? How long can that all take? I think that all of that uncertainty, of course, is really crushing or can be for a parent. I also want to say that they have real dignity and bravery and courage in facing this and doing what they can to support their son and try and get him home and to keep themselves sane and strong in the process.
David Remnick: Josh, if you could get a message to Evan, what would you tell him?
Joshua Yaffa: Well, I do. I hope to get messages to Evan. I've been sending him letters. I tell him how proud I am of him, of course, how worried I am about him, but mainly how impressed, if that's the right word, I am in how he's handling the situation with dignity, courage, humor of all things. Somehow, the strength of Evan's character is such that he's finding ways to crack a smile, even crack a joke.
All I can do and that's what I've also told Evan in these letters, is to just talk about him wherever I can on this podcast for The New Yorker. A piece I wrote the day after Evan was arrested and keep his name in people's minds, in the minds of people in Washington so that everyone knows and Evan knows that we're waiting for him to come home and hopefully that in some way, gets him home a little bit faster.
David Remnick: Josh Yaffa, thanks so much.
Joshua Yaffa: Thank you, David.
David Remnick: Joshua Yaffa is a contributing writer at The New Yorker. This is The New Yorker Radio Hour with more to come.
[music]
Copyright © 2023 New York Public Radio. All rights reserved. Visit our website terms of use at www.wnyc.org for further information.
New York Public Radio transcripts are created on a rush deadline, often by contractors. This text may not be in its final form and may be updated or revised in the future. Accuracy and availability may vary. The authoritative record of New York Public Radio's programming is the audio record.