William Barber on Faith and Politics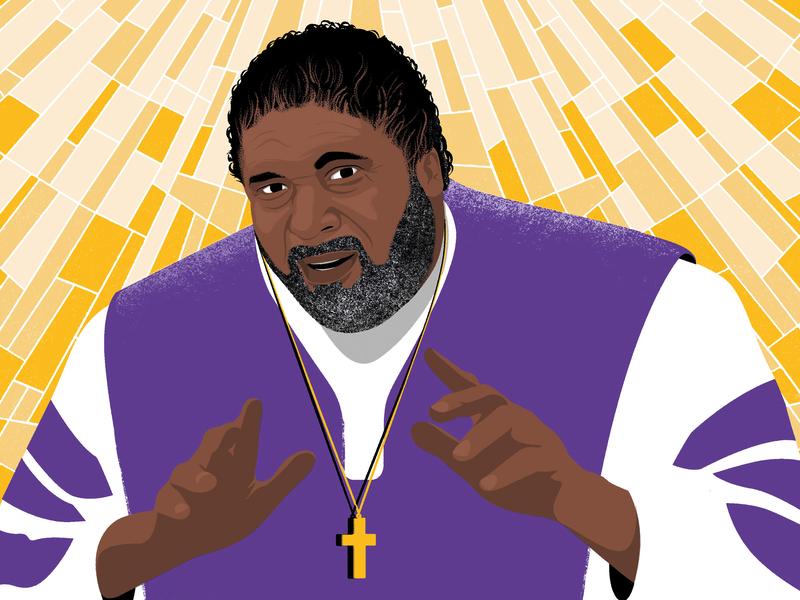 Transcript
New York Public Radio transcripts are created on a rush deadline, often by contractors. This text may not be in its final form and may be updated or revised in the future. Accuracy and availability may vary. The authoritative record of New York Public Radio's programming is the audio record.
Reverend William Barber: Well, we are in a jam today. Trouble is real and whether we like it or not, we are in this mess together as a nation. When this word of the Lord came to Isaiah, his people were also in a jam.
David Remnick: The morning after the inauguration of Joe Biden and Kamala Harris, the Reverend William Barber delivered the homily for the inaugural prayer service. The prayer service usually at the National Cathedral follows the inauguration every four years. It's a given, part of the whole ceremony, but the event tells us something about a president's relationship with religion. In that context, the fact that Reverend Barber was asked to give the homily was deeply significant.
Barber is explicitly political in his ministry. He wants government policies to reflect Christian values. His agenda though is nearly the opposite of what the Christian right has successfully advanced for so many years in Washington.
Reverend William Barber: We can't accept the poverty and low wealth of 140 million Americans before COVID and many more million since. We must have a third reconstruction, we must address the five interlocking injustices of systemic racism, poverty, ecological devastation, denial of healthcare, the war economy, and the false distorted moral narrative of religious nationalism. These are breaches that must be addressed. According to the text, repairing the breaches will bring revival.
David Remnick: Barber is firmly in the center or more so on the left of the democratic party on matters of poverty, voting rights, gay rights, environmental protection, and more. Yet he expresses frustration, deep frustration with the party. He thinks it lacks a coherent inspiring moral vision to reach the country. Barber is pastor of Greenleaf Christian Church in Goldsboro, North Carolina, and he's president of a group called Repairers of The Breach.
He and I spoke in 2017, not so long after the election of Donald Trump, a very different turning point in our nation's history. Now you've written, "I can't remember a time when I did not know God both to be real and to be about bringing justice in the world," and yet you had what you call serious reservations about the church. What were those--
Reverend William Barber: Two different things.
David Remnick: What were those reservations?
Reverend William Barber: Two different things. I can't remember a time when a sense of God was not formative in my reality, but my father did have some struggle even within the church, the so-called Black church because there were persons who would say to him, "We don't need to be involved in politics. We just need to pray and have praise services. Just don't be involved."
Dr. King faced the same thing. Dr. King was put out of his denomination because of that. I struggled with that. I said, "Well, maybe I'll be a lawyer, an attorney," and when I got ready to go to college, I actually looked at the catalogs to make sure there weren't any courses on religion required.
[laughter]
David Remnick: You had your [unintelligible 00:03:06]?
Reverend William Barber: Well of that. Not of God, not of justice, not of love, but the formalized kind of. I was hurting and I was hurting because of some of the things I'd seen, and then somewhere down the line had a real strong epiphany. Actually, one day I called my father and said, "Daddy, I'm wrestling with something." He said, "Come home. I already know." I said, "You already know what?" He said, "I already know, just come home."
When I went home, we went driving and he took me down to [unintelligible 00:03:37] around the beach and we just drove along the coast of the ocean and talked. We talked about theology. We talked about the church. The church is not a perfect entity. Whether or not my work should be inside or outside. The difference between the church as an imperfect entity and the reality of God and the reality of justice, the reality of love. I revealed to him that I felt a calling to ministry and preached my trial sermon in March of 1984.
David Remnick: Now the Black church writ large has been a sanctuary, a place of truth-telling, a place of relative safety since for hundreds of years and at the same time, particularly in the South, but not only, the evangelical white church has been growing more and more right-wing now for decades. Now, as a young man, did you start sensing this, this tension between your own church and the growing moral majority and all the other evangelical movements that were growing?
Reverend William Barber: You used a lot of terms that I don't use the same way. It's going take me a little bit to pack that.
David Remnick: I've got all night.
Reverend William Barber: Okay. First of all, I'm an evangelical. The Black church has been traditionally evangelical. The term was hijacked because in the Bible theologically, there's no such thing as an evangelical that does not begin with a critique of systems of economic injustice. When Jesus, the ultimate evangelical, that brown skin Palestinian Jew that was born in Bethlehem, raised in Nazareth, the ghetto, the poor place, his first sermon said, "The spirit of the Lord is upon me to preach good news that's Evangel," that's what that means, "to the poor."
If your attention is not on dealing with the issues that hurt the poor, the broken-hearted, the sick, the left out, the least of these, the stranger, and all of those who were made to feel unacceptable, you don't have white right-wing evangelicalism, you have heresy.
David Remnick: Is that what you would call it?
Reverend William Barber: Yes. You have theological malpractice. It doesn't fit Orthodox Christianity. What we've had is--
David Remnick: Let's break it down for a second. How do you account for the fact that Donald Trump whose behavior and rhetoric and past is in no way a moral avatar and his interest in religion is of recent vintage, and yet his support was extremely high in that community broadly defined?
Reverend William Barber: That's right. It was opposing them anyway, but yes. Okay. That's where you see now, I think where we can see it so clearly. Kevin Cruz in his book and others have documented this, when they wanted to speak against, for instance, Franklin Delano Roosevelt's new deal and they wanted to take over elements of the Christian pulpit, that came up with this weird theology, "If you're good, you'll go to heaven. If you're bad, you'll go to hell. If you're good, you're wealthy, if you're bad, you're in poverty."
It's actually a strange form of Calvinism that just is abusive to Calvinism in itself.
David Remnick: Calvinism with private plans.
Reverend William Barber: Yes. Right.
David Remnick: Does Creflo Dollar bother you in that way?
Reverend William Barber: Any of those that simply preach in that way because it is not consistent with Orthodox theology, it's not consistent with the theology of the Bible, it's not consistent with the critique, but let me make one point.
David Remnick: How did Trump gets such wise [crosstalk]--
Reverend William Barber: That's what I'm saying. If in fact then your theology says whoever is good is wealthy, then you would fawn over a wealthy businessman because his purse strings.
David Remnick: Despite his moral behavior.
Reverend William Barber: Because maybe the religion you're promoting ain't really about moral behavior. Maybe it's really a [unintelligible 00:08:02] religion like paid puppets of the empire because anytime a religion seems to say the only moral issues are praying in school, where you stand on abortion, being against a woman's right to choose, private property, and making sure you can prove that Jesus wasn't a founding member of the NRA, that is not Christianity. Think about it. This is how you can see it my brother Remnick.
They're so loud on things like abortion and praying in school and so wrong and so quiet on things like healthcare and living wages and acceptance of all people and treating the poor. Now there are 3,500 scriptures in the Bible about love and justice and mercy and how you treat the stranger and how you help the least of these. It's not talking about private charity either. It's talking about how we shape society. It's talking about the nations.
Jesus said, "I will say to the nations when I was hungry," not to individuals, to the nation. That's government, 3,500 scriptures. There may be three scriptures about homosexuality. None of them trump the scripture that says you got to love your neighbor as yourself. How do you claim to be a conservative if you dismiss 3,500 texts, but then build a whole theology around three scriptures, and most of them you misinterpret? That's not conservative because conservative means to hold onto the essence of.
David Remnick: How do you deal with a complex moral issue like abortion in your church where I would bet there's not unanimity in the pews?
Reverend William Barber: There's not an unanimity. One of the things we say to people is, first of all, let's get the folk out of the room for a minute. We love them, but who want to come in here and talk about a woman's right to choose, and they claim they want the baby to be here, but then they don't want to give the woman healthcare to get the baby here or healthcare to the baby after the baby gets here.
They don't want to pay the parents a living wage so they can take care, so you really don't have any credibility to talk about abortion because all of your policies abort people's possibilities, dreams, and hopes.
[applause]
You don't need to be in this conversation. Secondly, it's easy. I'm not pro-abortion. It's not pro or con. I can say that I believe in life. I want persons to have children, but there are so many situations where that may not be possible. There are situations where people have to choose, and even if they choose to have an abortion, I choose to love. I choose to care for them. What I want is get the conversation to higher ground and the higher ground is how do we stop aborting the hopes of the poor?
How do we stop destroying healthcare? You think about the hypocrisy of having clergy in the Rose Garden with the president clapping for him, signing an executive order about so-called religious leaders and not chastising him on his position to deny millions of people healthcare and they claim to be Christian clergy. Now watch this. This is a very simple country boy analogy.
If I'm not mistaken, the one thing Jesus did was set up free health clinics. Everywhere you look in the Bible, Jesus healing folk, he never charged a leper a copay. Now you believe in Jesus now, you believe in Jesus, but you going to applaud someone, something else is going on underneath that that's ugly, that's cynical, that doesn't make sense, that's not good for the health of our culture and is a denial of the basics of our faith. The word salvation means healing.
David Remnick: Reverend, your most recent book is called The Third Reconstruction. In it, you argue that this country needs what you call a third reconstruction in order to save the soul of America. Tell me what you mean by that.
Reverend William Barber: I actually believe that much of what we're seeing, we're in the birth pains of a third reconstruction, and those who are the adversaries of America reconstructing itself and who are in many ways of the social and political descendants of those who've always fought reconstruction. They see it happening. If you know history, you understand it. What we've seen with Donald Trump is as American as Apple pie, it's the call and response of history.
The call is more justice, more racial progress. The response is the progress of racism, the fear, and the reaction, and what should surprise us is not so much that Donald Trump used these tactics, but that he and others, Ryan McConnell and others have been so successful at using them in the 21st century. One reason I've been writing about the third reconstruction is because I think too often too many people do not know this history, do not know this history.
David Remnick: You think we're too caught up in the day-to-day hysteria of what's going on?
Reverend William Barber: Sometimes. We keep dumbing down politics. We need to understand this history because actually we're seeing it played out. What do we have now? The cry against the tax cuts? What helped to bring it into the second reconstruction, cry about tax cuts. First reconstruction, the cry about tax cuts because the tax cut was always about disabling the government from being able to make the playing field more level and fixing the problems that the government created in the first place.
David Remnick: This brings us to your role. Now you've just changed your life a little bit. You've left your job in the North Carolina NAACP.
Reverend William Barber: I laugh when you say job because it's a volunteer. People don't realize that. It's work, but it's volunteer. It's purely love, volunteer.
David Remnick: It's been replaced by something that's potentially much larger, which is to lead a poor people's movement. What does that movement mean?
Reverend William Barber: First of all, last year from April to November, I did a tour with Dr. James Forbes, former pastor [unintelligible 00:14:36], Dr. Liz Harris from Union, Sister Simone, Tracy Black, we did 22 States, called it The Moral Revival Tour. We put out a higher ground moral agenda. Thousands of people showed up, hundreds of clergy activists, even people who are not people of faith but who believe in the moral arc of the universe showed up to be trained in moral activism, moral articulation, and moral analysis.
It showed us that there was a heart that people know we need. As I said, the [unintelligible 00:15:08] moral defibrillators, people who are willing to say, "Wait a minute, some of these issues are not about left versus right, they're about right versus wrong. Healthcare is about right versus wrong, living wage is right versus wrong. Dealing with systemic racism is about right versus wrong." That we need to stand up, not as partisans, but as people of conscience, something's wrong in the spirit of the country.
We knew that we needed to have this poor people's campaign so we decided when it comes to prophetic voices brother Remnick, you don't simply have commemorations of what they did. I'm tired of commemorations now. Well, we go back and say back then they did this. You figure out how to reimagine and reengage what they did and what was the unfinished business.
David Remnick: You've had a movement called the Moral Monday Movement as of 2013 I believe.
Reverend William Barber: Actually the Forward Together Moral Movement started in 2007 when Democrats were in office. Now I want to talk about that because a moral movement can't just challenge extremists who taken over the Republican party. We have to challenge the Democrats, and especially right now, I'm very concerned when I hear Democrats talking only about the middle class, they think that's all that went wrong in this past election. One of the things we have to do is recover our moral foundation.
When some of these extremists say they want to read the constitution, I get happy. I said, "Please let's read the constitution," or when they say, "We want to talk about what's in the Bible." Please, please let's have that conversation because if we have it, then it will expose the holes and the hypocrisy and may even cause you to repent and come join us in love.
[applause]
David Remnick: The church and not only the Black church but the church and religion were a huge impetus to the civil rights movement. There were lots of leaders of the civil rights movement, lots of factions and differences of opinion, all the rest. Is the church in the same position that it was in 1954 through the late '60s now to be that moral underpinning? I was in Charleston, South Carolina after those terrible murders and spent a lot of time at that church.
When I spoke to younger people in Black Lives Matter movement, it was well outside the church structure. There was a real gap between the older folks in the church and distinctly older and the younger movement that was well outside the church. Was that a complication for today's movement?
Reverend William Barber: Well, I'd love you to talk to all the young people that are part of the Moral Monday movement, and many of them are Black Lives Matters and many other groups. See, again, we're having a little linguistic thing cause to say, "The church," the church has always been problematic. The church has always been problematic.
David Remnick: Let me put it to you this way, is the progressive movement broadly defined more secular than it was a half century ago?
Reverend William Barber: I think that progressives made a mistake when they walked away from the centerpieces of faith and morality because they were mad with Jerry Falwell. I think progressives make a mistake when we don't know and remember the power of moral underpinning and what power has been. Now, I'm not talking about a movement that says you have to be Christian. That's the genius of the Moral Monday Movement. There are people who are atheist that come to our rallies and say amen.
What we found is that there are these deep moral foundations that transcend our limits. They transcend our limits. We have figured out a way in North Carolina and what we've figured out on the moral revival if you look at the groups that came and at all our revivals, we had Black Lives Matter. We had environmentalist. We had Fight For 15. In fact, one time in Birmingham, we were in a Jewish synagogue downtown training 200 activists.
We had Muslims, Christians, Jews in a Jewish synagogue, Black Lives Matter, people not of faith, charismatic policy people, gay and straight all in the same room all day long. I think that we make a big mistake when I see progressive's, man, I love so many of them talking about all we got to do is work on the white work middle-class and they're not talking about expanding the electorate when they give every reason for this election, but without dealing with the issue of race.
I've said to a group the other day on this election, "If you know the history of reconstruction, not only do you know what has happened isn't American as apple pie, you know how to defeat it is when we come together, when we're willing to put our minds to work and our bodies on the line." What if we didn't focus on Trump? Trump is a symptom. What if we said this is not the end of a movement, but a launch in the movement?
What if we said we were working our silos sometimes, but we want you to know we're all in this together and we stand on our deepest moral principles and not just curse the darkness, but point people to the light. What if we use something like that to literally shock the very heart of this nation? I want to see what would happen if we finished that leg of the Poor People's Campaign. I want to see what would happen if we could come together.
I believe Walter Wink was a great theologian at Union Theological Seminary. He wrote a sermon, I remember reading it some years ago called The Blessings of an Enemy. This is going to sound strange. Don't you all get mad. Let me finish. Sometimes you have to look at what your enemy did to defeat you to find your strength. If the forces in this last election, not just this last election, this has been a 40-year battle, if however, in order to win they had to lie almost every other 10 minutes.
They had to find a way to put pornographic sums of money into the electoral [unintelligible 00:21:30]. They had to spend years pushing voter suppression. They had to use fear against Muslims, against immigrants. If somebody cheats you, they don't cheat you because you're weak. People only cheat you when they can't beat you in a fair fight. Then that says that we are stronger than we realize. This is not the worst thing we've ever faced.
People made it through slavery. People made it through the denial of women's rights. People made it through the depression in this country. People made it through apartheid and Jim Crow. It's our time to stand up and be the moral dissenters, the moral defibrillators, and the moral dreamers, and to make it through this moment and use it to change the course of history to change America. In some ways, if we work together, we'll change the world.
David Remnick: Reverend Barber, thank you. Thank you very much.
[applause]
David Remnick: I spoke with William Barber in 2017. He's the pastor of Greenleaf Christian Church, President of Repairers of the Breach, and co-chair of the Poor People's Campaign.
[music]
Copyright © 2020 New York Public Radio. All rights reserved. Visit our website terms of use at www.wnyc.org for further information.