W.G.A. Strike: Why Your Favorite Shows Could Go Dark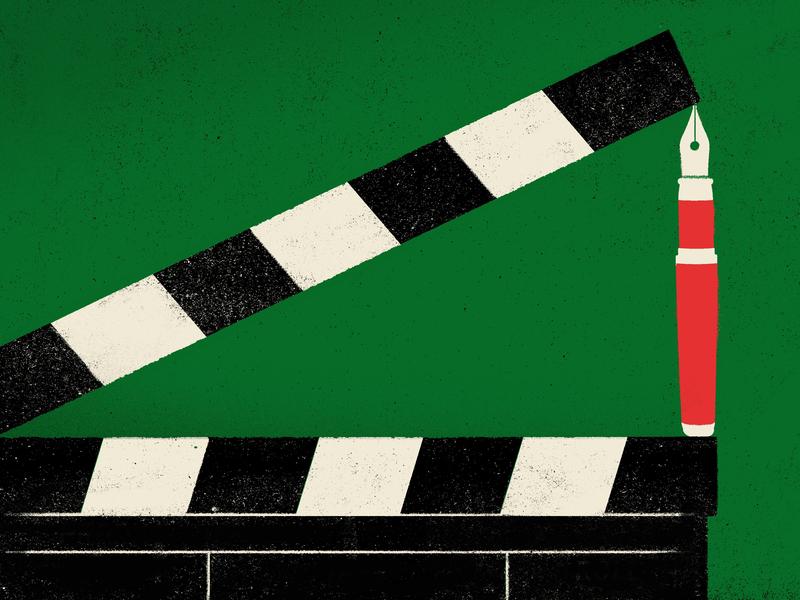 Transcript
Strikers: "No contracts, no scripts. No contracts, no scripts. No contracts, no scripts. No contracts, no scripts."
[music]
David Remnick: When the Writer's Guild of America went on strike earlier this month, we saw the effect immediately on the late-night comedy institutions, which went dark right away.
Seth Meyers: "This show will be interrupted and we won't be here to spend time with you."
David Remnick: As the strike goes on, the future of many scripted shows will also become uncertain. That issue is the revenue generated by streaming services. On the one end of the bargaining table, the big studios don't seem inclined at all to capitulate the WGA's demands. The last time the Writer's Guild hit the picket line, it was 2007, and that strike carried over into the following year and lasted 100 days. It reportedly cost the city of Los Angeles hundreds of millions of dollars, and this year's strike has the potential to last even longer.
Laura Jacqmin: Once the studios broke our business, we've been left with crumbs, and we have to say no to that. We have to stand up together, and we are united.
Strikers: "Fists up, pens down, LA is a Union Town. Fists up, pens down, LA is a Union Town."
David Remnick: Staff writer Michael Schulman has been covering the strike for The New Yorker, and he recently spoke to Laura Jacqmin, a veteran TV writer and a strike captain about the stakes.
Michael Schulman: Well, tell me about what the scene is like on the picket line. Where were you picketing?
Laura Jacqmin: I was mostly at Amazon/Culver Studios this week. You're passing both studio people and you're passing just people on their way to lunch, and it's electric. The mood is electric. We're walking in circles, but we're also getting cars honking at us as we pass. We're doing our chants. The solidarity has been incredible to see and to experience.
Michael Schulman: Getting a little more serious about what this strike is actually about. When we spoke a week or two ago, you said, "This is an existential fight for the future of the business of writing, and if we do not dig in now, there will be nothing to fight for in three years." What do you mean by that?
Laura Jacqmin: We're on strike for a fair deal from the studios that is going to allow us to share in the success of the content we create and something that makes writing a sustainable career. It has been chipped away at is one way of putting it, eviscerated is another way of putting it. This month marks my 10-year anniversary in the Guild. I'll have been a Guild member for 10 years in just a couple weeks. I've seen the offers for staffing go from 20 weeks extendable to 15 weeks, 12 weeks, 10 weeks, 8, 7, 6. The same amount of television is still being written, the same amount of television is still being produced, but they're asking us to write more of it in a shorter time period for significantly less money, and that I think is the thing that really represents the threat to our business overall.
Michael Schulman: How does that translate in terms of how a writer makes a sustainable living? It seems like it used to be when you were on a network show, you had a 22-episode season, and you were basically employed for an extended period of time and then you get residuals. This doesn't seem like that at all.
Laura Jacqmin: No. Our structure of compensation used to be that you were getting paid to do the writing in the writer's room. You were getting paid to cover prep, production, and post-production, and then on the back end, you were getting something called residuals, which is the money that you make as long as the studio is still making money off of that content, so any rerun that you see on television, months or years after the fact, a writer is getting paid for that. Those are things that we struck for. They have said, "Okay, now that we're all streaming, now that we've broken the business of how your compensation works, we're going to ask you to accept a lesser residual or almost no residual. We're not going to pay to have writers cover prep, production, and post-production, and we're going to whittle down these rooms into something called mini-rooms."
Michael Schulman: Mini-rooms-
Laura Jacqmin: "That we're employing you--"
Michael Schulman: -I've been hearing a ton about. Can you explain what those are, what that means? Mini-room.
Laura Jacqmin: [laughs] There is no such thing as a mini-season of television. When we watch a season of television, we're watching a beginning, middle, and end, whether that's 8 episodes, 10 episodes, or 22 episodes. They're saying, we want the same amount of episodes, we want a full season, but we want you to do it way faster, and we want you to come in, give us a blitz of content and scripts, and then we're going to cut off your pay.
Michael Schulman: Now this is very different than the concept of the television writer's room that I think a lot of people thought existed. I want to go back and talk about your earliest experiences working in TV. You came out to Hollywood about 10 years ago. Can you tell me a bit about what brought you there and what your first job was like?
Laura Jacqmin: My first job was in ABC Studio's, ABC network show called Lucky Seven. The process of getting staffed is, you pay on your own dime to fly out to LA, you do a water bottle tour, so you go around, you take all these meetings with studios and networks and producers and showrunners, and then hopefully, at the end of it, you have an offer to staff. That's what it was like for me. I spent weeks doing these meetings and then at the end of it, I had less than five days to pick up my whole life-
Michael Schulman: Which was where?
Laura Jacqmin: -fly out to Los Angeles. I was in Chicago at the time.
Michael Schulman: Working as a playwright, right?
Laura Jacqmin: Working as a struggling playwright, working, I say that, that's in generous terms, working, trying as a playwright. It was come out to Los Angeles, find a second apartment to sublet, because I still had my place in Chicago, and then sit in a room with a bunch of lovely people and break a series of television together. It was exactly what our writer's room experience is supposed to be.
Unfortunately, we got canceled after our second airing. We got canceled after our second episode. It's the full Hollywood experience for me inside of 20 weeks, but it was the old model which recognized that not only are we being compensated for our labor in the moment, but we're being trained for the future. We're being trained as up-and-coming showrunners on our own.
Michael Schulman: In the intervening 10 years, a lot has changed about the TV industry, and one of the things seems to be that it's a lot harder for writers to get experience to be on set. Can you explain how that has changed?
Laura Jacqmin: Part of that is because of the mini-room. If you're only employing writers for six weeks, first of all, those scripts are not done. Those scripts are not locked, and those scripts are not ready to shoot after six weeks. Many, many more things have to happen after that, and often, it's on individual showrunners to be writing and revising those scripts on their own for weeks or months before prep starts in earnest, so the shorter the room, the farther apart it's separated from the process of production, the smaller the chance that those writers who wrote those episodes will get to engage in the full process of production.
Michael Schulman: Now you're not only a longstanding member of the Guild, but you've also been a contract captain and now a strike captain. You've been talking to a lot of members. Can you tell me about what you're hearing from people and what you were hearing from people before the strike was called? What's the mood? What are people bringing up when you talk to them?
Laura Jacqmin: The word that I would use in the lead-up is desperation, that people are really desperate. It has become what once was a path to a middle-class career has really become a sort of moonshot, that people are falling through the cracks, that they're not able to ascend that ladder, that they're not able to make a career out of this. After three years of COVID, going on four years of COVID, I think the American public, I think the world has seen that companies are reaping massive profits off of the value of labor. Our labor is standing up and saying, "Not on our backs, you got to compensate us. You got to pay us fairly."
Michael Schulman: Now in terms of how long this is going to go on, the previous WGA strike in 2007 and 2008 was 100 days. The one before that in 1988 was over 150 days, but the conditions are different this time. People like Ted Sarandos from Netflix have said, "Well, basically, we have a big backlog of stuff, we can just roll that out," and so there's a feeling that the studios might have more leverage than they even had previously, and can wait this out. Do you think that's true? What do you see happening when you see this kind of hitting the point of we have no left to show?
Laura Jacqmin: They say a lot of stuff. They tell us that they can't afford the cost of us, and simultaneously they're on their public earnings calls, trumpeting bright financial futures to their shareholders. They say a lot, and then we see that what they say might not be completely true. What I can tell you is we are shutting down productions daily. We are halting productions, and plans for production daily. We are turning back Teamster trucks, Local 399 we owe a huge debt to, that they are driving up to the studio gates, they are seeing our picket lines, and they are waving and turning away. The brave IATSE members, who are not getting paid for that day that they were supposed to work, are seeing our picket lines and turning around.
The fact is is that we are not alone this time. Every single Hollywood guild and union has come out in solidarity. The DGA, SAG-AFTRA, IATSE, the Laborers, the Plasterers, the Teamsters, they were all with us at the membership meeting at the Shrine Auditorium on Wednesday. The Shrine has these old wooden floors, and people were stomping, people were clapping, it was ovation after ovation, because we recognize the sacrifice in the solidarity that everyone else is pledging to us, and that is what is different this time.
Strikers: "No contracts, no scripts. No contracts, no scripts. No contracts, no scripts. No contracts, no scripts."
David Remnick: Laura Jacqmin's credits include the TV adaptation of Get Shorty and Netflix's Grace and Frankie. Michael Schulman is a staff writer for The New Yorker, and this is The New Yorker Radio Hour.
[music]
[00:11:28] [END OF AUDIO]
Copyright © 2023 New York Public Radio. All rights reserved. Visit our website terms of use at www.wnyc.org for further information.
New York Public Radio transcripts are created on a rush deadline, often by contractors. This text may not be in its final form and may be updated or revised in the future. Accuracy and availability may vary. The authoritative record of New York Public Radio's programming is the audio record.