"We're All Going to the World's Fair" and a Short History of Movies about the Internet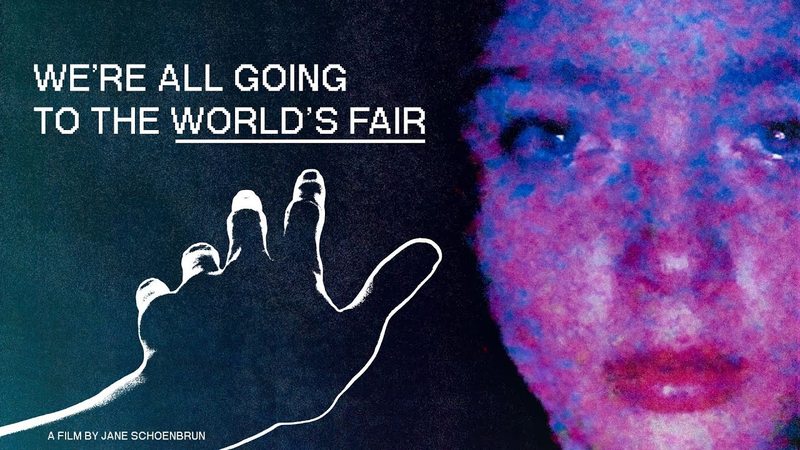 Transcript
David Remnick: I'm David Remnick, and this is the New Yorker Radio Hour.
Casey: Hey guys, Casey here. Welcome to my channel today. Today, I'm going to be taking the World's Fair challenge.
David Remnick: Casey is a girl in her teens. She's sitting in her bedroom in the dark. Her face is lit by the glow of her laptop and she looks into the webcam directly at us watching this scene, and she says--
Casey: I want to go to the World's Fair. I want to go to the World's Fair. I wanna go to the World's Fair.
David Remnick: This is a ritual she's read about on the internet. Repeat those words, smear your blood on your screen, watch a strange video, and something is supposed to happen.
Casey: That was the World's Fair challenge. Thanks for watching. I'll make sure to update if I start to notice any changes.
David Remnick: The nature of those changes is the subject of a new film called We're All Going to the World's Fair. It's a horror film, but one that starts with a very real and eerie premise: a lonely and bored kid spending most of her life online is trying to figure out just who she is. World's Fair was written and directed by Jane Schoenbrun. Our producer Alex Barron talk with Schoenbrun about the long line of movies about the internet, horror, and otherwise. Here's Alex.
Alex Barron: Movies about the internet, whether they're from last year or from decades ago, tend to be grappling with this question, with this really big question, which, is we made the internet and it got huge and unfathomable and uncontrollable. How are we supposed to live alongside it? Over the years, lots of different movies have come at that question from a lot of different angles. You could think of something like the sort of scary oppressive cyberspace of a movie like Tron.
Master Control Program: Your user can't help you now, my little program.
Alex Barron: Or the shiny happy social internet of you've got mail.
Speaker: Do you think we should meet.
Alex Barron: Or a quiet creepy movie about a kid who's trying to use this scary online game to figure something out about herself. That's what's going on in this new movie, We're All Going to the World's Fair. I think that perspective is one of the things that's made me and also a lot of other people really excited about that movie.
Speaker: You want to join internet's scariest online horror game? We can't be held responsible for what you've become. All you have to do to get started is take the challenge.
Jane Schoenbrun: One of the main goals I set for myself with World's Fair was trying to see how I could evolve the language of how film has talked about the internet to something that felt more true to my version of the internet.
Alex Barron: That's Jane Schoenbrun, the director of We're All Going to the World's Fair. Jane has been making video art and documentaries often about the internet for a lot of years but this is their first feature.
Jane Schoenbrun: I grew up on the internet. I remember the first computer in the household in the basement. I think it was a Windows 95 and the internet was first there for me as a way to experience culture that I wasn't getting access to as like a 13-year-old kid in middle school in suburbia. The internet became a place where I could differentiate myself from my surroundings by downloading on 56K modem on Napster or whatever like Neutral Milk Hotel albums and I just have access to. I don't think it was community yet, it was more like an outlet towards art that I just wasn't going to find in any other way.
Alex Barron: It's funny to remember how hopeful the internet felt when we were younger. I had a similar experience to the one you did. I grew up in the middle of nowhere and the internet felt like the first access that I had to a big interesting world. I think we're of a similar age. For a lot of people of our generation, the internet started off from that idyllic place in our lives.
Jane Schoenbrun: I think it's something that we don't think about so much because of how dark a place the internet can be in 2022 is that it was just all about desire at first. That was the only reason you were going to be on it, whether you were in an AOL chat room or like an Xfiles message board was I want to learn about this nerd.
Alex Barron: There's nobody around who will talk to me about this nerd. I have to go on the internet to find it.
Jane Schoenbrun: Yes. For me also, I'm embarrassed of the corners I was popping into on the internet because I think that they were not traditionally associated with the image that the people in my life wanted to have of me, which was 13 year old boy about to go through puberty, which of course I wasn't. In my film, we have access to our main character, a young girl named Casey. She's claiming to be going through the changes that are rot after you watch this video and complete this challenge. For me, the fascinating question of the film is how the supposedly horrific changes that she claims to be going through can actually be also viewed as a form of identity play or at the very least an outlet for her to express a feeling of unreality or as I would call it dysphoria.
Casey: It's funny, I'd be dreaming. I know I'd be dreaming when it used to happen, but I was also awake at the same time. I was like watching myself on a TV all the way across the room. I was aware of my actions. Yes, granted, I was aware but I couldn't control myself. I've been feeling that way recently ever since I watched that video that feeling's creeping up on me a little bit. I'm not really sure what to do about it.
Alex Barron: In the movie, Casey, the central character, is not explicitly identified as trans. The way she's using the internet to try to carve out some identity for herself definitely feels informed by Jane's experience as a trans person online. You can also really tell that when they were making the movie, Jane was really thinking about some of these older movies about the internet. In fact, to coincide with the release of the movie, Jane has programmed a series of screenings at the Brooklyn Academy of Music of some of those older films that inspired their film.
Jane Schoenbrun: I would say that they are all movies that can be in conversation with my film in various ways, some aesthetically some thematically.
Brian O'Blivion: The television screen is the retina of the mind's eye. Therefore, the television screen is part of the physical structure of the brain.
Alex Barron: It's a pretty wild selection of movies on Jane's list. The oldest one is David Cronenberg's 1983 movie Videodrome.
Brian O'Blivion: Your reality is already half video hallucination. If you're not careful, it'll become total hallucination.
Alex Barron: Videodrome is not actually about the internet. For those who haven't seen it, it's about a TV executive who discovers a pirate TV signal that causes these horrifying violent hallucinations in anybody who watches them. Tell me a little bit about how this pre-internet movie ended up in your internet festival.
Jane Schoenbrun: I think no movie more than Videodrome is about the flicker of the screen and the desire to be lost in it and to have your world changed by it in. I think for Kroonenberg, it's almost an inevitability. Our relationship with technologies is inherently somewhat symbiotic, or at the very least, that technology is an of ourselves. We built it for a reason. We built it because we desire something and then, in turn, it's changing us.
Alex Barron: I feel like the thing that you say about Videodrome resonates with a couple of other movies in the '80s. Including Cronenberg's movie The Fly or Robocop. These are all movies about how technology could warp your physical body.
Jane Schoenbrun: I would throw out the Donna Haraway essay, A Cyborg Manifesto, which was published in 1985 and is positing exactly this idea but from an explicitly queer and trans lens that our bodies can change with technology. This is going to open up transhumanists future in which ideas of identity and physical form are going to change radically. This would also be around the time when cyberpunk is taking off as a genre. A lot of the '90s internet stuff that I suspect will talk about is born from that movement.
[music]
Hal: There's a new virus on the database
Margo: What's happening.
Hal: It's replicating, eating up memory: what do I do?
The Plague: Type "cookie", you idiot. I'll head them off at the pass.
Alex Barron: Yes. By the time we get to the '90s, we are definitely firmly in the cyberpunk world of movies like Hackers and Johnny Mnemonic, and, of course, the Matrix. How is the idea of the internet in those '90s movies different from what we saw in the '80s?
Jane Schoenbrun: Well, it almost feels like the dream of Bill Gates and Steve Jobs in early Silicon Valley. This was the early dream of the internet. That, this was a space that by its very nature was going to democratize all communication and radically change the world into a space without hierarchy, which was obviously, I think, time has proven that to be a very adolescent and naïve fantasy. You feel maybe in a lot of those '90s movies like Hackers, especially, or the Matrix, this idea that the evil corporations are trying to take control of this space and the true heroes of the internet are the outlaws, the people who believe in that mission of equality and democratized information, they become our heroes.
Morpheus: The Matrix is everywhere. It is all around us. Even now, in this very room. You can see it when you look out your window or when you turn on your television. You can feel it when you go to work, when you go to church, when you pay your taxes. It is the world that has been pulled over your eyes to blind you from the truth.
Neo: What truth?
Jane Schoenbrun: I think that what at its heart, my film, We're All Going to the World's Fair, shares in common with the Matrix is this sort of desire to find a space that feels more than reality. Because reality to you feels wrong in this very essential way that perhaps if it's 1998, you can't quite put your finger on. It's a film about sort of casting away the shackles of the fake that the corporations have built for us to find our true selves, but it's having that conversation within the context of someone who feels that his life has always felt a little bit like a dream and his real life isn't his own. That is an essentially trans feeling.
Alex Barron: I want to jump forward to a movie that's on your list from 2001 a Japanese film called Pulse.
Speaker: [Japanese language]
Jane Schoenbrun: Pulse is a kind of the classical there is a ghost in the internet movie. It is about a figure haunting computers and traveling between computers. Much of the horror in this movie is about entering spaces that maybe feel like real life with something a little bit off and being filled with the dread of realizing that there's something bled of reality in those spaces.
Alex Barron: This is like the beginning of a healthy seam of movies about ghosts on the internet that came out during the 2000s. One of the things I love about Pulse is that it draws a thick line between the idea of being lonely and the idea of being on the internet. The spirits we come to find out are driven by loneliness. They're seeking out people who are lonely. We get to a real emotional place with that movie, which is stunning for a movie that came out about the internet 20 years ago.
Jane Schoenbrun: It feels very similar to me to what I'm trying to conjure through the World's Fair. My film feels very similar to what you're talking about in Pulse. I think for people who are drawn to the internet, who are actually invested emotionally in that as a space, this is maybe at the center of it. These are films that are actually interrogating the emotional center of why that space exists and what we use it for.
Alex Barron: Over the next couple of decades, obviously, the internet works its way into every element of our lives. It also works its way into every element of the movies. Now, I feel like we've gotten to this place where we're fixated on the question of where the line should be between the "real world" and the online world. I'm thinking about movies like Ready Player One, or Jumanji: Welcome To The Jungle, or Free Guy. These movies that seem to suggest that it might actually be good if there was no line for a person to get to be a character in a video game or for a character in a video game to get to be a person.
Jane Schoenbrun: Or for a boy to get to be a girl. This is the intention of my movie is to not draw a binary answer. Everyone wants to know, do you think the internet is good or the internet is bad? That's like asking, do you think that people are good or bad? There's not a simple answer to that question. There's a lot of purposeful ambiguity in my film about whether what this person is going through is some form of trying to discover herself through the medium of the internet in a way that's going to have ultimately a positive impact on her real-life even if the expression itself is really dark or if what we're watching is some more nefarious manipulation or ghost in the machine kind of thing.
Alex Barron: Well, it's been really nice to talk to you through this computer screen.
Jane Schoenbrun: [Laughs] Yes, this is where I do all of my talking like Brian O'Blivion. I don't actually exist.
Alex Barron: [laughs] Spoilers for Videodrome.
[music]
David Remnick: Filmmaker, Jane Schoenbrun spoke with our producer, Alex Barron. We're All Going to the World's Fair is coming out in theaters and on HBO Max on Friday.
[music]
Copyright © 2022 New York Public Radio. All rights reserved. Visit our website terms of use at www.wnyc.org for further information.
New York Public Radio transcripts are created on a rush deadline, often by contractors. This text may not be in its final form and may be updated or revised in the future. Accuracy and availability may vary. The authoritative record of New York Public Radio's programming is the audio record.