Have State Legislatures Gone Rogue?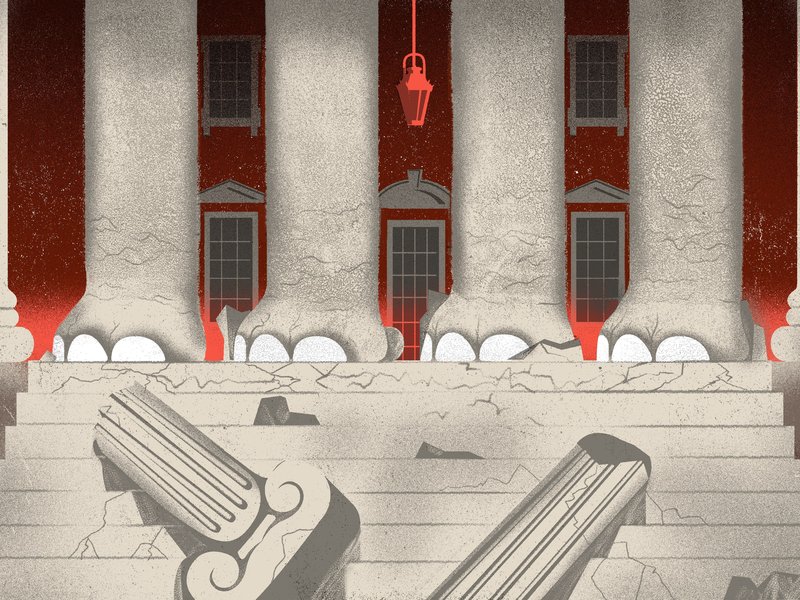 Transcript
David Remnick: Just a month ago, we were riveted by a story about two lawmakers expelled from the state legislature in Tennessee. Their offense wasn't corruption or criminal activity. They had dared to join a protest at the State House in favor of gun control, just after the Nashville shooting at a Christian school. For that, the men who just began their terms in the legislature this year were thrown out.
Rep. Justin Pearson: I don't personally want attention. What I want is attention on the issue of gun violence, but instead, we're here with the resolution you put up talking about expelling me for advocating for ending gun violence in the state of Tennessee.
David Remnick: Those young men are not the only Democrats being targeted by the Republican colleagues. Just weeks later, representative Zooey Zephyr of Montana was barred from the House chamber for the remainder of the session after making a speech against a trans healthcare ban. In Arizona, Wisconsin, and North Carolina state legislatures have tried to strip powers from state officials who happen to be Democrats in order to put those powers in Republican hands. Now, debates can get ugly in state legislatures for sure, but these are not exactly debates. They're steps to prevent debate and they're deeply anti-democratic.
How is this happening, and why? I talked last week with a political scientist, Jacob Grumbach, who's the author of a book called Laboratories Against Democracy. Jake, in Tennessee last month we saw two lawmakers thrown out of their seats for joining a protest, which became a big national story. In Montana this week, a state representative named Zooey Zephyr is suing in an attempt to regain access to the House floor after she gave a speech against restrictions on gender-affirming care. Why are Republicans escalating these seemingly minor confrontations in state legislatures to be national news stories? How does that possibly benefit them?
Jacob Grumbach: One interesting puzzle is these happened in states that have super majorities of Republicans in the legislature. It's not like eliminating one seat here or there is going to shift a vote on state legislation in these cases. That's extra interesting, but really what we're seeing is the long culmination of the increasing nationalization of American politics where state legislatures are at the front line of battling over the national tug of war over issues in the culture war especially, like transgender rights and issues of racial conflict.
David Remnick: How did this happen and why? It must be a deliberate choice on somebody's behalf.
Jacob Grumbach: It took major investments by both political parties nationally, campaign donors nationally, and organized interest groups and activist groups over the long term with respect to issues like abortion and reproductive rights, or issues of gun rights and gun control. Now we really have two national teams, the Republicans and the Democrats, battling over this tug of war nationally through the institutions of state government.
David Remnick: Is there anybody that's responsible for this strategy? How would you personalize this in Washington on behalf of either the Republican National Committee or the greater Republican Party?
Jacob Grumbach: We can point to the Koch brothers. The Koch brothers have funded groups like Americans for Prosperity, as well as had an arms-length distance, but been involved in the American Legislative Exchange Council. ALEC, the American Legislative Exchange Council, is an incredibly important organization that really organized three constituencies, that's major business and extractive industry, gun rights libertarians, and the religious right. What they did is they really provided what we social scientists call legislative subsidies for state legislatures.
David Remnick: What does that mean?
Jacob Grumbach: Exactly. State legislatures, I don't mean this as an insult, are less professionalized and more amateurish than Congress. They don't have big staff to write bills, they don't have staff lawyers all the time. In some state legislatures, people go into the legislature for maybe a couple of months a year, and the rest of the time they're on their corporate board, and the American Plastics Council, and earning money, they earn low salaries in the legislature. What that means is they need help from groups, and experts, and activists on what to bring on to the political agenda in their states and what bills to write and pass because that takes serious professional work.
Groups like ALEC provided model bills around issues like "Stand Your Ground" laws that then spread across states, especially Republican-controlled states. It's not just on the right. You think about climate activist groups and things have really helped the coastal states like California pass fuel efficiency standards and other climate regulations, and integrate Democratic state governments into the national Democratic party position on climate and the environment.
David Remnick: Now, Jake, I spoke recently with a lawmaker in Nebraska who's been fighting a ban on transgender care in that state. She told me that her constituents don't really care that much about trans issues and the culture war is out of step with what they do care about, agriculture, property taxes, and so on. That really surprised me. Does it surprise you?
Jacob Grumbach: It doesn't surprise me. This is part of a larger pattern. Really, a couple generations ago, for better or worse, it's not always great, but states were much more focused on state-based issues and their regional issues. This could be a bad thing, like in the era of Jim Crow, where this was really about southern segregationist states protecting the right at the state level to segregate, this was about local public goods and segregated institutions. Whereas now we have what is a national conflict between the parties, so an issue like policies to go after transgender healthcare, or rights, or things like that, they're not responding to a local influx of transgender rights and trans people. This is not responding to a local concern, but rather--
David Remnick: They're responding to a hot-button culture war thing that's going to help them possibly in a national election.
Jacob Grumbach: Exactly, so if you are a politician and you're trying to rise in the ranks from the local or state level in your party, you have to think about where the donors are, where the organizations in your party network are, and where the national party is, so your best bet is to join the national culture war. Ron DeSantis is a great example of this in Florida of really being entrepreneurial, saying, "I want to rise in the ranks in the National Republican party tap, national Republican donors who care about these national issues."
Same thing with Gavin Newsom or other Democratic governors have responded in kind to tap the Democratic donor base and rise in the ranks and potentially run for president. This is a massive change from a couple of generations ago. We also have to really emphasize that, unfortunately, voters are really responding to the national tug of war, and we've seen statistically in political science the diminishment and decline of economic voting and voting on the basis of how your area is doing economically or socially, and much more about your national partisanship.
David Remnick: There was a time, not so long ago, when state-level politics would've been thought of, certainly to reporters who were aching to go to Washington, as boring. They're concerned with budgets and roads. That seems to have changed. What's been the effect on the actual day-to-day life of the states? If you're spending all your time screaming and yelling at each other about issues that bear on very few people and are there to impress Fox News or whomever it's there to impress, what's getting lost?
Jacob Grumbach: There's a feedback cycle in the nationalization of political media here, where the internet and the rise of Craigslist really destroyed classified ad revenue for local newspapers that were on the state legislative beat, so there's been a huge decline in state politics journalism. That makes it harder for voters to hold state-level politicians accountable. What that means is now voting is really detached from the performance of state legislators and governors on issues like expanding the economy, and jobs, and how COVID is doing in an area, and this makes it really hard to have a healthy political system where you bargain over policy when it's national tug of war on these culture war issues where there's really no room to negotiate.
David Remnick: Jake, another tactic we've seen lately is Republican legislatures passing laws to strip power from Democratic officials. In Arizona, a couple of years ago, lawmakers stripped Democratic Secretary of State Katie Hobbs's legal authority in election-related lawsuits. That gave that power to a Republican attorney general. There have been moves quite similar to it in other states, like North Carolina, Wisconsin, Michigan, I think. Is this business as usual, or should we be very alarmed?
Jacob Grumbach: That's the key question, David. I would say the most serious consequence of this nationalization of state politics has been threats to American democracy. The US Constitution puts a massive amount of authority over democracy over issues like voting rights, legislative districting, and these legislative powers that you mentioned in the hands of states, not the national government. That's pretty unique, the US putting all this authority over democratic institutions like election certification at the state level, and then, to some extent, counties.
Then the emerging threat of electoral subversion in presidential elections that we almost saw in 2020, and we could see in 2024, and those have been pretty asymmetric. It is true that Republican-controlled states have passed much more extreme gerrymanders and restrictions on voting, then there's this additional dimension of it, which is illiberal moves and norm erosion in politics, and that's where you see stripping out partisan governors in Wisconsin and Michigan of power of transferring power over election administration and expelling legislators, for example, of speaking out of turn and things that historically have not generated expulsions.
David Remnick: Jake, you mentioned earlier, the Koch brothers, but this is not the first moment in history when money has played a great role in American politics, either on the state level or the national level. It's not the first time in American history when the politics of the country are deeply fractured and inflamed. What's new? What about the demographic trends of the country or the rural-urban divide of the country have also helped lead us to this place?
Jacob Grumbach: It is true that, in the past, threats to democracy, and the weakening of democracy in the states was much more extreme, we just have to be clear about that. The difference between a Jim Crow and a non-Jim Crow state is so much more vast than the difference between Wisconsin and Connecticut or something like that. I think one big difference now is that politics is so nationalized, and the Republican Party has uniquely created a coalition of a very elite economic base that prefers high-end tax cuts and deregulation, and then you have the electoral base that's really motivated by anti-immigration politics and other elements of the culture war. That's pretty unique around the world.
David Remnick: Now, I can almost hear a Republican voice somewhere saying, "Well, wait a minute, wait a minute, look at politics on the national level." Nancy Pelosi didn't let the Republican Party have its own chosen members of the January 6 committee. In the US Congress, when the House was controlled by the Democrats, Marjorie Taylor Greene was stripped of her committee assignments for views that her opponents found offensive. What's the difference? Do you think that was a mistake on the Democrat's part in Congress, or is this an equal battle? How do you assess the differences between the Democrats and Republicans here?
Jacob Grumbach: It's true that the Democratic Party has, for example, used the filibuster against George W. Bush and the Republican Congress, and then again under Trump. It's true that at the state level, there has been issues with democracy and Democratic states of having elections at the state level be an off-cycle-off years in order to keep turnout low. There's all sorts of issues that are challenging for democracy and norms on the Democratic side, but when you just look at them in the aggregate, they don't stack up.
Gerrymandering is an easy one where you can quantify the extent of gerrymandering with statistics, and there it's just true that Democratic gerrymanders like in Nevada have not been as extreme as Republican gerrymanders. Then the New York Court of Appeals threw out a Democratic gerrymander, that's Democratic judges threw out a Democratic gerrymander to give Republicans greater advantage in the New York State map. Then in thinking about restricting access to committee assignments and things like that, those are also more minor than the full partisan expulsion of a legislator from a state legislature.
David Remnick: If you look at the issues that the Republican Party is pursuing hardest when it comes to culture wars and other things, you look at abortion restrictions, gun rights, these are broadly unpopular, and they're largely state issues. Even if gerrymandering insulates them to some degree, isn't there a danger for the Republican Party of overreach and seeing these issues come back to hit them in the back of the head?
Jacob Grumbach: That's right. Going too far, absolutely, has been backfiring. In 2022, we saw somewhat surprisingly that heavy fear-based tough-on-crime appeals, plus transgender panic around bathrooms, plus the abortion issue have actually not been as successful as one might have thought for the Republican Party.
David Remnick: What's the fix here? Are there states that are doing things better?
Jacob Grumbach: Yes. The average state in terms of its democratic health, small d democracy, has actually been okay. That's because some states, like where I am now, Washington State, Colorado, and others, have really expanded access to voting and have independent redistricting commissions that have really drawn fair districts for both parties, so every voter has an equal say in setting a state legislative or US congressional majority.
Then I really think we as social scientists, economists, political scientists, sociologists, have understated the role of labor unions and organized labor in keeping Americans, especially working-class white Americans, also Latino men away from the culture war and towards a politics of "what are the policies that are going to help my family materially," and that's a much healthier politics.
David Remnick: Jacob Grumbach, thank you so much.
Jacob Grumbach: Thanks, David.
David Remnick: Jacob Grumbach teaches political science at the University of Washington, and his recent book about state politics is called Laboratories AgainstDemocracy.
[music]
Copyright © 2023 New York Public Radio. All rights reserved. Visit our website terms of use at www.wnyc.org for further information.
New York Public Radio transcripts are created on a rush deadline, often by contractors. This text may not be in its final form and may be updated or revised in the future. Accuracy and availability may vary. The authoritative record of New York Public Radio's programming is the audio record.