Russia's Accidental No-Good, Very Failed Coup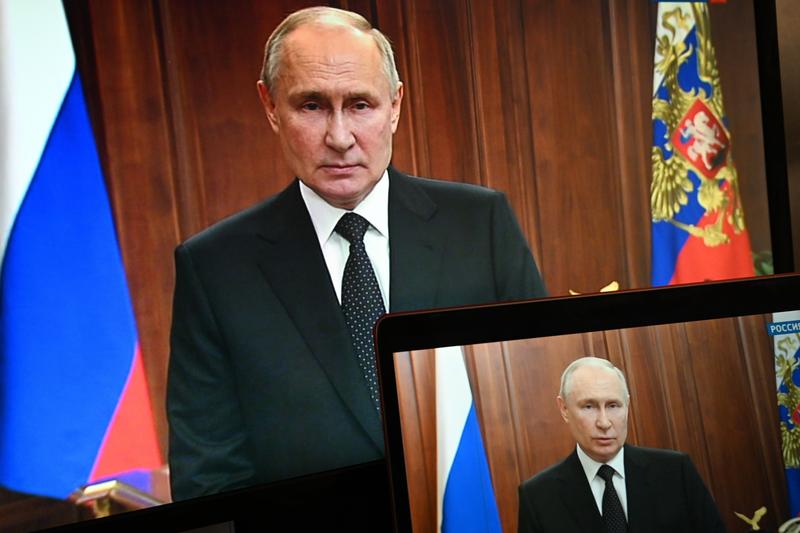 Transcript
[music]
David Remnick: 30 some years ago in August 1991, as a Russia correspondent for The Washington Post, I watched a coup unfold with tanks on the streets of Moscow. The coup was plotted by Soviet hardliners in the KGB and the military, and it aimed to force Mikhail Gorbachev from power. After three days, it failed, but history was made. The coup itself became yet another nail in the coffin of the old Soviet empire.
A lot of things were going through my mind a week ago as we watched a rogue commander's tanks seize control of a southern Russian city, a major city, and then race north from Moscow. Then it was over as quickly as it had begun, but its repercussions are just beginning to be felt in the Kremlin and throughout Russia. To understand those repercussions, I'm talking with two of our contributors, Masha Gessen, who has written deeply about Putin's autocracy in Russia, and Joshua Yaffa, who's been covering the war in Ukraine. Josh has written on the Wagner Group, the mercenary army that was headed by Yevgeny Prigozhin. I spoke with Masha and Josh last week.
What was Prigozhin thinking? He now talks about it in terms of a protest, but hardly seems like the March on Washington. Rarely do protests involve tanks and armored personnel carriers. What did he have in his head?
Joshua Yaffa: Not that I really have any idea-
David Remnick: [chuckles] Have access to the head.
Joshua Yaffa: -but nonetheless since-
David Remnick: Not that you'd want to. [laughs]
Joshua Yaffa: -that would be disappointing for all concerned. I'm going to hazard a guess and-- I hope an informed guess- which is that rather remarkably to a large degree, I think Prigozhin was making it up as he went along or rather, he had a certain idea when he started. I'm convinced that idea was not to take power in Russia, not to overthrow Putin. He was actually sincere when he said at the beginning he wasn't directing this mutiny uprising, whatever you call it, against Putin. He was really trying to get Putin's attention. A pretty remarkable insane way to get someone's attention, right?
To march your private army across the border, take charge of a military headquarters, and try and blackmail your interlocutor into speaking with you. I think that that is what Prigozhin intended. He really thought-- however crazy in hindsight this idea is- that he could send his mercenary force across the border from Ukraine, where they had been fighting, into Russia, take control of this very important military headquarters in Rostov in Southern Russia, and that somehow that would convince Putin to engage him in a conversation about what Prigozhin really wanted which is agreeing about the future status of Wagner, his mercenary group.
David Remnick: It's like a marital spat in which you throw 16 dishes at your spouse's head to get their attention.
Masha Gessen: Exactly.
[laughter]
Masha Gessen: If you had tanks, you'd throw the tanks, but you don't.
David Remnick: In certain arguments, yes.
Masha Gessen: I agree. I think that it's actually very important that not only was he not challenging Putin's hold in power, but he was strictly staying within this mythology that Putin makes all the decisions in Russia, and if he makes bad decisions, it's because someone has given him bad information.
David Remnick: Or the Tsar didn't know.
Masha Gessen: The Tsar didn't know, so he was marching to Moscow to give Putin better information.
David Remnick: Masha, what are political ramifications? What's been unmasked here, and how consequential is that?
Masha Gessen: The bizarre thing that we've seen is we've seen people acting politically and people acting with force in a field that had been monopolized by Putin. Putin has, over the course of his nearly 24 years in power, monopolized all political space, and certainly, his main claim to stability is a monopoly on force. It turns out there's another option, not necessarily a better option.
David Remnick: What's the option here?
Masha Gessen: I'm not convinced that Prigozhin has an option. What I'm saying is that there's the option of having more than one actor in this space, and that's shocking to Russia. There's an entire generation of people who've grown up without ever having seen anything like that. Without ever having seen even something like this bizarre conversation that looked most like a mafia sit down in what seems to be the courtyard of the headquarters of the southern military district between Prigozhin and two generals with Kalashnikov dangling between Prigozhin's-
David Remnick: -legs. [laughs] It's so great.
Masha Gessen: They look like they're haggling over some criminal deal, and they sound like it, too, but it's an unscripted conversation about people who wield actual power, and Russians got to see it. It's shocking to the eye and the ear.
David Remnick: No, and it sounded like nothing more than a sit down in The Sopranos between members of two families.
Masha Gessen: I agree. What Russians saw over the weekend was that incredible exchange between Prigozhin and two generals, Shoigu's deputy and a deputy of Valery Gerasimov, the head of the general staff. Prigozhin says, "I want Shoigu and Gerasimov. I want the two top military officials in the country." and one of their deputies says. "Take them."
David Remnick: [laughs]
Masha Gessen: He spreads his arms wide, and people saw that.
David Remnick: Josh, we often describe the regime in Moscow as a personalist regime, as Putin incorporated, Kremlin incorporated. Are people beginning to imagine what that looks like without the key player?
Joshua Yaffa: I think the truth is that people have been imagining that for a while now that there certainly is talk in Moscow about what comes next. The events of this weekend absolutely will have accelerated that conversation. Putin's power depends on a kind of myth of power, an aura of power in which Putin is the ultimate arbiter of all of these clan factions that you talked about, that there's no one else who can settle these disputes, there's no one else who the different clans can go to and whose power they acknowledge as somehow being absolute, almost Zeus-like, and they don't really question it.
After last weekend, I think more people are going to start to question it. Like Masha, I'm not suggesting that that means next weekend he's going to be overthrown in a coup that really works. No, it could happen next year in two years or never, but I think that it's going to accelerate some conversations in Moscow about a future hypothetical transition of power.
David Remnick: Is it not possible that Putin, now in a rage and in a desire to reassert his authority, does two things. He doubles down in Ukraine best he can in the bloodiest way possible and carries out a purge in Moscow?
Masha Gessen: I'm more inclined to believe that he escalates in Ukraine to the extent that he can. The options there are horrifying because he is not, it seems, equipped to escalate conventionally. We're talking about something like blowing up the Zaporizhzhia nuclear power plant, or using tactical nuclear weapons.
David Remnick: Which are now based conveniently in Belarus.
Masha Gessen: They are. They bring Belarus right next to where Prigozhin's new compound's said to be.
David Remnick: It's very reassuring.
Masha Gessen: I doubt that there's going to be a significant purge at home. I'm sure his paranoia is going to intensify. Part of what's kept him in power is his paranoia. He is always two steps ahead of whatever threat there is. In fact, he's generally responded to the threats disproportionately. He jails protestors who have no way of really challenging his power. He jails poets and theater directors. What I think is going to happen is that he's going to jail more poets and theater directors. There's going to be, I think, an information crackdown because he's very upset that people saw this.
David Remnick: Stop on that. To what extent did they see it? Because we've been hearing for a year and a half about the extent of the propaganda totalism in Moscow, and then unless you're a clever user of the internet and VPN and all the rest, you're really watching state television, and the propaganda's intense. Do average Russians know what happened and to what extent, and did they react to it in any way?
Masha Gessen: I think average Russians know what happened for a couple of reasons. One of the main ways that people get information, both state-approved information and independent information, is through telegram channels. Telegram has the disadvantage of-
David Remnick: Telegram, we should explain, is a messaging app that has lots of individual channels, and Prigozhin, in fact, used it among others.
Masha Gessen: Right. I think that the Kremlin hasn't worried too much about Telegram partly because Telegram, as it turns out, is almost impossible to block because it has a very clever distribution system. At the same time, you don't get channels that you can't imagine exist. If you ask for it, you'll read independent media, but most people don't. It's a small enough crack in the propaganda monopoly for the Kremlin not to worry about it, except when one of their own starts using it. Prigozhin was somebody that pro-war, pro-Kremlin, anti-Ukrainian, really rabid nationalist Russians were listening and watching and reading. Suddenly this comes out on Prigozhin's channel. This kind of thing, I think, really unnerves Putin and destabilizes his basic ideas about how information space works. I think really extreme measures are possible up to just shutting off the internet.
David Remnick: Just shutting it down?
Masha Gessen: Yes. That's very easy, and it's the only way to really get rid of Telegram.
David Remnick: Josh, you agree?
Joshua Yaffa: Yes, though, all of this is made more difficult by the fact that Russia is at war, a war entirely of Putin's choice, but that makes the circumstances in which he's trying to navigate this political moment much more difficult and unlike anything he's faced previously. Russian politics-- you both have written about this so well and so extensively- for 20-plus years was ruled by a kind of air of almost make-believe. Russia was the ultimate postmodern autocracy in which everything was done as a winking, cynical, almost pretend game. When you had to carry out repressions, as Masha said, you targeted people like poets and theater directors who it wasn't so hard for your security apparatus to go after.
Well, those sorts of games don't work on the battlefield of a real war. A real war that I think it's fair to say Putin has staked his legacy, too, and his political survival, maybe personal survival, to the outcome of this war. That limits what Putin can do in terms of a crackdown.
What can he do? Can he really purge the army? Can he really carry out measures that would impact Russia's ability to wage the war in Ukraine? As Masha said, there aren't really a whole lot of good conventional options left for Russia anyway, and so I just don't know what really Putin can do at this point. It's not so much about his Prigozhin problem. I don't really think Putin has a Prigozhin problem per se. Prigozhin, by all accounts, has already left Russia, reports that he's arrived to Belarus. Will he stay there? Will he travel onward? I don't know, but I think the Prigozhin phenomenon, as it is narrowly or personally defined, is, if not over, at least of now fading relevance. I think Russians will quickly move on and the story will move on.
David Remnick: Does Prigozhin get to keep any access to his soldiers, or is just Prigozhin going to Minsk, and maybe they'll send him a nice savings account and a life insurance policy?
Joshua Yaffa: Well, we'll see. I think if Prigozhin gets to, as the old saying about Bolsheviks goes, die in his own sheets or die in his own bed, that will be a real victory for him. I think if he can get that, he'll have come out ahead from this whole story. I don't think Putin will allow Prigozhin to have another go at assembling a private army, even if it's in neighboring Belarus, but it almost doesn't matter. The deeper processes that Prigozhin has not necessarily unleashed, but rather I think brought to the surface are going to remain. What he's revealed is there's a huge appetite, however, strangely. In other words, I say that sarcastically, this could have been predicted. This happens in any society. There's a real demand for the truth, essentially.
Masha Gessen: That's exactly it. Exactly.
Joshua Yaffa: I think that's what made Prigozhin so, in a way, I don't know-- now, I don't even want to say popular- but it's what made his message resonate with people. He's vile. He's nasty. He's a war criminal. I don't mean to paint at all a rosy picture of him, but he spoke to Russians in a plain, honest way, told them the real horrors and cost of the war-
Masha Gessen: As Putin used to.
Joshua Yaffa: That's what Russians don't get. Exactly.
Masha Gessen: As Putin used to.
Joshua Yaffa: Putin lost that ability, the "Waste them in the outhouse," as Putin said about Chechens 20-plus years ago, crude, awful, uncouth language. Putin has lost himself, I think, in the palace halls a long time ago, and Prigozhin has a way of speaking to the people. Prigozhin didn't just talk about the incompetence of the Russian army. What he did in the latter days of this drama, and this is what stunned me because it seemed contradictory from a soldier of the war. He came out and said the roar itself was nonsense. That it's being fought under false pretenses, it didn't have to happen. On the one hand, he's a war hero to some, and on the other hand, he's denouncing the war in incredibly bold language. That surprised me.
Massa Gessen: There's an interesting logical construction there because he didn't denounce the war for a second. What he said was that Putin had been given bad information on the basis of which he started the war. NATO wasn't going to attack Russia. Ukraine wasn't going to attack Russia. Putin was misinformed. He didn't actually draw the conclusion from that, that the war shouldn't be fought. As far as Prigozhin is concerned, every war is valid. The more we take the better. In his post-failed unintentional coup attempt address, he talked about how, "Hey, when we fought in Africa, we were told we should take more of Africa, and then we didn't get enough." That's his logic.
He also pointed out that in this space of one day, he traversed as much distance as there is from the eastern border of Ukraine to the western border of Ukraine, and so if he'd been allowed to run the war effort, they would have taken Ukraine in a day.
David Remnick: Here's a question that's straight out of the 1960s Kremlinology handbook, but it is a question that is going to arise. We might as well dig in on it right away. Putin's been in power for 23 and a half years, something like that?
Masha Gessen: Almost 24.
David Remnick: There are all these, what we call clans that are not just big institutions, but they're clans within institutions. They're clans within the FSB, the successor to the KGB. There are clans within the interior ministry and the military, and the government apparatus. The great liberal hope is wasting away in jail, Alexei Navalny. He, by all reports, Putin seems to want him to not only die, but maybe be in horrible pain and suffer a great deal before that happens. He's not the only one. Vladimir Kara-Murza and others join him in prison. What are the main clans? What could succeed Putin when and if, Masha?
Masha Gessen: There will be chaos. Nobody knows what happens next. There's no succession plan. Putin has always acted as though he is eternal. Also, nobody knows what the best way to grab and wield power would be, but I think that whoever comes to power after Putin it's not going to be Alexei Navalny in the immediate future. It's not going to be anybody who articulates liberal values. It's going to be some sort of Putin-ism without Putin, but it's not going to be Putin-ism.
David Remnick: Josh?
Joshua Yaffa: I think that what the ZSU, the armed forces of Ukraine, can do or not do this summer is actually maybe the biggest political X factor for Putin. In what they are able to do or not, this summer, I think, could have huge political resonance in Russia and for Putin more than perhaps the machinations of political players or want-to-be political players back in Moscow. If, on the one extreme, the Russian frontline collapses, the forces are demoralized, the Ukrainian army backed by NATO equipment, Western training proves too formidable, and marshes across the whole of the front, maybe even all the way to Crimea, that creates a political reality for Putin that I don't know exactly how he survives that or would certainly set in motion a whole series of events that I think could even overshadow the events of last weekend.
If somehow the opposite of that happens and by the fall, Ukraine hasn't advanced more than a few kilometers, no significant territory has been recaptured, and as a result, the West begins to pressure Ukraine to make some kind of negotiated settlement, then at home, at least, he can sell that as a kind of victory. It would be harder for his enemies to mobilize. I think he can eke out X more years in power.
[music]
David Remnick: You can read both Joshua Yaffa and Masha Gessen on the War in Ukraine and much more at newyorker.com. I spoke with Masha and Josh last week.
[music]
[00:20:09] [END OF AUDIO]
Copyright © 2023 New York Public Radio. All rights reserved. Visit our website terms of use at www.wnyc.org for further information.
New York Public Radio transcripts are created on a rush deadline, often by contractors. This text may not be in its final form and may be updated or revised in the future. Accuracy and availability may vary. The authoritative record of New York Public Radio's programming is the audio record.