Riz Ahmed on "Mogul Mowgli"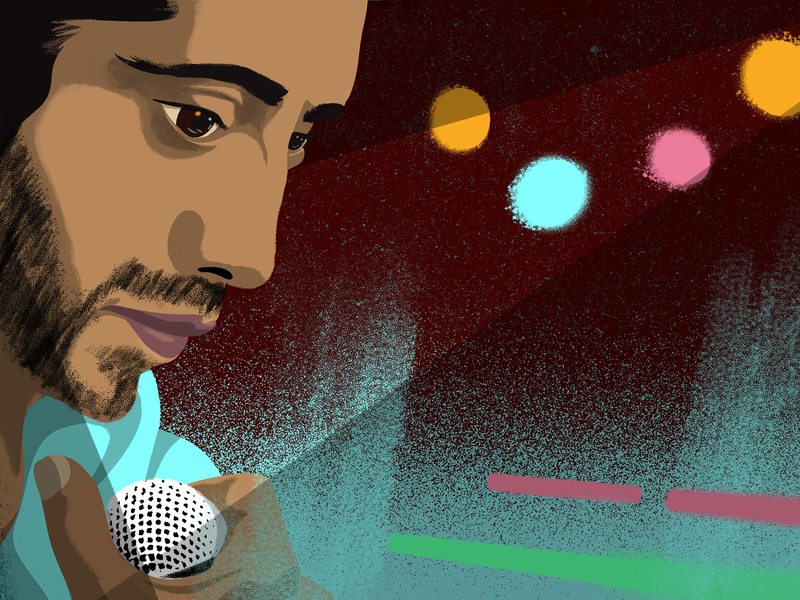 Transcript
New York Public Radio transcripts are created on a rush deadline, often by contractors. This text may not be in its final form and may be updated or revised in the future. Accuracy and availability may vary. The authoritative record of New York Public Radio's programming is the audio record.
David Remnick: As a rapper, Riz Ahmed has released a number of critically acclaimed albums and he was featured on the Hamilton mixtape, which topped the Billboard 200.
[music]
Riz Ahmed: [rapping] "Immigrants, we got the job done. Ay yo aye, immigrants, we don't like that. Nah, they don't play, British empire strikes back, they beating us like 808's and high hats, at our own game of invasion, but this ain't Iraq. Who these fugees, what did they do for them but contribute new dreams."
David Remnick: At the same time, Ahmed has built a remarkable career as an actor. This year he was nominated for an Oscar for his performance as a heavy metal drummer losing his hearing in the film the Sound of Metal. Now, comes a new film, Mogul Mowgli. Ahmed plays a rapper named Zaheer or Zed for short, and like the Sound of Metal, it's about a musical artist who's facing a crisis that could end his career.
Zed: "Don't make me smash your melon up. Try throwing shade on melanin. Bonafide though, I'm 7Up, you're too sweet, I put the lemon in. They put their boots on our ground, I'll put my roots in their ground. I put my truth in this sound. I'll spit my truth and it's brown. I don't give a fuck about the cash you stack, with a crown on your skull, you ain't Basquiat when the Prince of Denmark is the only boy pushing the benchmark. The white kids want to be back brown. Your planet's going to be that. Them man frown, panic, and wanted me out, but I'm outstanding 'cause I stand out. Where I was standing there's going to be plaques."
[cheering]
David Remnick: Riz Ahmed wrote Mogul Mowgli with director Bassam Tariq, and it's his first feature as a screenwriter. This movie is extremely emotional, extremely personal, and an extraordinary performance. I wonder what the origins of it are for you.
Riz Ahmed: Oh, thank you first of all. I'm so glad you connected with it. It's weird in a way because part of me feels really proud to hear you say that and yet another part of me is really squirming and cringing in a way that I don't normally when I realize that someone's seen one of my films, but you saying those nice things about this film means that you've seen it.
David Remnick: I have. [chuckles]
Riz Ahmed: If you've seen this film, then you've seen maybe a part of me and a part of Bassam Tariq that we don't normally show, don't normally have the opportunity to show, or aren't invited to. In a way, that was the inspiring idea behind the film, which is what's the story that we don't see, what's the movie you never get to direct, what's the character I never get to play. Often in our quest to break down the doors of a sometimes not very inclusive industry and in our well-meaning, but slightly misguided desire to carry the burdens of representation for our community, we end up trying to represent and try and enter rooms that we don't normally belong in.
What we've realized is that the movie he never gets to direct and the character I never get to play is us. The story we don't get to tell is the story of people like me and people like Bassam and actually realized the more radical thing to do is not to try and enter rooms where we may have been unwanted, but actually go home and actually to not try and represent other people, but to present ourselves. It was very much a inward journey. It was very much about holding up a mirror and hoping that in the honesty and the vulnerability of that exercise that people would just connect emotionally, even if they couldn't necessarily connect to the specificity of the experience.
For those who could connect to that specificity, you'd be like, "Jesus Christ, I never thought I'd see that on screen."
David Remnick: [chuckles] Well, obviously the film is about a young man who's from Pakistani-British origins, who's an aspiring rapper and who's starting to accumulate some success and is on the brink of a European tour and has a little break and comes home to visit his family for the first time in two years in London, and then discovers that he is quite ill and everything goes off the rails.
Female Speaker: Now, I don't want to alarm you Mr. [unintelligible 00:04:31], but from the scans we've done, your muscles seem to be weakening.
Zed: What is that? Like a stroke?
Female Speaker: It could be a number of things. We need to run some more tests to determine what course of action is best.
Zed: Okay, so I can stop by in a couple of weeks.
David Remnick: It's got to be I'm guessing here is that this is a story that you were carrying around for quite a while.
Riz Ahmed: Yes. That's a good guess. It's one of those ideas that you just keep scribbling away at in a notebook somewhere and your iPhone notes somewhere, and you're never sure if you could ever structure it into a story, if you can get it to cohere as anything other than just therapy for yourself, and then you meet someone like Bassam Tariq who's this uncanny mirror image in terms of his own backgrounds, working-class Pakistani-American.
David Remnick: This is your director?
Riz Ahmed: Exactly. Yes. Co-Writer and director. We're able to be mirrors for each other to help organize and structure these thoughts and shape them into a story drawing from our own experience and the experiences of those around us. In many ways, this is a story I've been carrying with me my whole life. I don't know. There's something very liberating about making a movie that satirizes and deconstructs your sense of who you are, public idea of who you are.
David Remnick: Both as a rapper musician and also as an actor, you've had tremendous success. You're still in your 30s. You've played a lot of roles and they range between The Night Of, a remarkable performance, to being in a Star Wars film. How did you feel that your experience, your world was not being represented quite yet?
Riz Ahmed: Well, it's interesting because I feel that I've had to be a shape-shifter my whole life. I grew up very much code-switching between different worlds from a, as I said, working-class Pakistani household to a predominantly white upper-class private school, and then skipping class to hang out with my friends from my neighborhood which was its own hybrid street culture. I was acting from a young age and what I was taught from a young age implicitly by the world and I think what the industry also taught me was shape-shifting will help you get by.
The one thing you can't be is yourself. Your messy contradictory self that is a bit British, but is a bit Pakistani, and is a bit posh, but is a bit street, and is a bit of an actor, but also a bit of a rapper. All of these worlds that you straddle, they all look down at each other or frown at each other. That you're straddling this fault line and so you better shape-shift. You shouldn't enter any room with all of yourself. You need to leave a part of yourself at the door. That I think also is reflected often in the roles that I play. I felt that I had to develop quite a wide range in terms of the roles I had to play because I didn't quite fit a mold.
I think I got to a point after having done a couple of bigger studio movies like Jason Bourne and Star Wars and Venom, where I realized, "Hey, you know what, actually, the next step really isn't putting on intricately made masks for others, it's actually about taking the mask off." I've often been driven by this idea of stretching culture and yes, sure, part of stretching culture means having someone like me in a Star Wars movie, but I realized that actually, perhaps the thing that doesn't exist in culture is a portrait of a character like this, like me, like Bassam.
David Remnick: It's so interesting. In fiction you see this genre called auto-fiction which is heavily drawing off the writer's life so that it's a combination of an essay and a dramatic novel in the conventional sense. I wonder when you're making a film like this, which is a kind of auto-fiction, what you choose to take from life, what you choose to leave to the side and what you choose to embellish? The biggest embellishment thank goodness is that you get so deathly ill here. Why did you decide that this was necessary as a dramatic pivot in this film?
Riz Ahmed: It's strange because you don't choose. You're always under the illusion that you're in control of making a film, but actually the film is always telling you what it is. You lay out this mess of ideas and some of them are just ideas that have come to you in the shower, and some of them are things that happened to you in your life, and some of them are ideas that we think the film should be or could be, and stealing ideas from other films that you like, and when you lay out on the table and start talking, and start staring at it, it's staring you down and it tells you what it is.
I wish I could tell you that we decided we're going to go 30% reality and 30% surreal but the character and the story very much starting taking on a life of its own. It started developing its own internal logic. I think part of what got the film to where it is was a desire on Bassam Tariq's part to develop a visual grammar of our own, a visual language of our own. Arthur Jafa talks about Black Visual Intonation, it's something that Kahlil Joseph also talks about, the idea that African American or Black cinema shouldn't just draw from Western Hollywoodian Cinema, but it should look at Miles Davis and Jazz and Black storytelling traditions.
Bassam Tariq and I very early on in the process took a tour, a really long guided tour of the Islamic art collection in the Metropolitan Museum in New York. We said, "What's brown Visual Intonation? What is our cinematic grammar and language? What can house the hybridity of our own experience?" Ultimately, it was something that was hybrid in terms of genre, this has elements of horror and comedy and musical and melodrama all wrapped together. It was also about incorporating the magical into the day-to-day.
I think the idea of magical realism, it's almost a defunct term I think in the South Asian experience and in the Muslim experience because magic, mythology, spirituality is embedded into our day-to-day, it's hardwired into the goggles through which we see the world. Well, with regards to the autoimmune condition, it's fascinating because as we started researching this, we realized that people who live in diaspora and ethnic minorities have a far higher incidence of autoimmune illnesses than the general population.
There's a few different theories about why that is. One theory is Minority Stress Theory, which is that as ethnic minorities, the world is constantly implicitly telling you that you're under threat, you're not welcome, so your immune system is in a state of hypervigilance, it can't turn off. There's another theory which is that you just don't belong in these societies for thousands of years. Your ancestors were in a different climate, had a different diet, and so it's teething problems. It'll take another millennium before your immune system knows how to process this new environment.
On the fringes of this, around where medicine, well-being, and spirituality intersect, there's this idea that, actually, autoimmune conditions are a kind of identity crisis. That, actually, it's the body's inability to recognize itself on a molecular level. We thought it was just a very, very apt metaphor for what Zed's contending with in the film, which is who am I, where am I from? Am I an individual or am I part of a larger whole? If the latter, can I pick and choose what I inherit and what I throw away, what I pass on and what I don't? To me, it was this identity crisis played out on a biological molecular level and a way of making that conflict tangible.
David Remnick: You talk about being unwelcome, if you know just a teeny bit about your life and career, in other words, from a resume point of view, you think, "Well, it's quite welcome. Here's this guy, he goes to Oxford and has extraordinary roles in movies and a music career that's quite extraordinary, just had an album, The Long Goodbye," which we can talk about in a second, that's one kind of welcome. At an institution, for example, like Oxford, how was the unwelcome? How did that play out in your life? How does that inform a piece of art like the film you've just done?
Riz Ahmed: It's interesting you should say this because I feel like the barriers to achieving those things is exactly what spurs me on to push harder and go harder. At Oxford University, for example, that's why I started putting on club nights and really was able to hone some of my craft as an MC. It also provided income frankly for me to stay on there. I only put that club night on because I was told very explicitly by people as soon as I got there that I didn't belong there. I remember the first person I met at Oxford, I knocked on their door to see if I could borrow their phone charger, and I could tell it was going to be a pretty posh place.
A lot of people in bowler hats and bow ties knocking around, and I asked like, "I'm terribly sorry, I wonder if I could please borrow your phone charger." She just laughed and said, "Oh my God, you remind me so much of Ali G, it's unbelievable." That was the first person I met, so I was like, "All right, here it is."
David Remnick: Off to the races?
Riz Ahmed: Yes. First party, I went to a couple of people in coattails telling me, "You must admit, the British riots, the empire, it did do a lot of good for India." I was like, "Hello, my name, we haven't even got to introductions." It was wild in its own way and there have been a lot of barriers, a lot of obstacles in a way, whether it's facing violent racism in my own neighborhood growing up to institutionalized racism at my private school that I was lucky enough to get a scholarship to in Oxford that was lucky enough to get to and yes, there's this narrative of gratitude and luck and good luck.
There's also just beneath the surface, there's the narrative of people trying to stop you at every turn and having to fight to get to the next stage. That continued very much in the world of film.
Zed: [rapping] "They will ask you where you're from. Now, where you really from? The question seems simple, but the answer's kind of long. I don't know what to say because anything I say is wrong. Britain's where I'm born, had another cup of tea in that, but tea ain't from Britain, it's from where my DNA is at, but where my genes are from people don't really MC in that, or like in NYC."
Riz Ahmed: In Mogul Mowgli, something that's interesting I think about it is that it's not about the obstacles or grievances from outside. It's about the obstacles within, the internalized self-hate, and the gravitational pull of your roots that, on the one hand, have fed your creative life and nurtured you and allowed you to do what you do, but on the other hand, are always threatening to just pull you down and drag you back into that soil that on some level you've always wanted to escape. That push and pull between inspiration and obstacle is something that I'm very interested in. It's been a feature of my own life and it features very much in the film.
David Remnick: Riz, I can't help asking you. We are talking a couple of days after the United States and so many other countries left Afghanistan after 20 years and it's the anniversary of 9/11 very soon, how are you thinking about that right now?
Riz Ahmed: What a crazy 20 years. What a bizarre and devastating collective insanity that gripped the planet, gripped the West, that forced the East to define itself in opposition to the war and terror, just the whole thing. I feel like we're all emerging out of this collective trauma, and 20 years in, I look back on my own life, I'm 38, I was 18 when 9/11 happened, and it's defined our lives. It certainly defined a lot of my career. When I look back and look at my resume, [chuckles] probably half of my output is a response in some way directly or indirectly to this post-9/11 era that we're all living under. An attempt to add nuance, complexity, humanity, some reaction to this cloud that we've all lived under.
Really, the way I'm thinking about it now is I hope honestly, it's just the end of an era and I say that with no nostalgia.
[music]
David Remnick: Riz Ahmed, thank you so much. Wonderful to talk to you.
Riz Ahmed: Thank you. Thanks for having me.
[music]
David Remnick: Riz Ahmed's new film is called Mogul Mowgli co-written and directed by Bassam Tariq. It's just out in theaters now.
[music]
Copyright © 2021 New York Public Radio. All rights reserved. Visit our website terms of use at www.wnyc.org for further information.