Quinta Brunson, a "Child of the Internet," Revives the Sitcom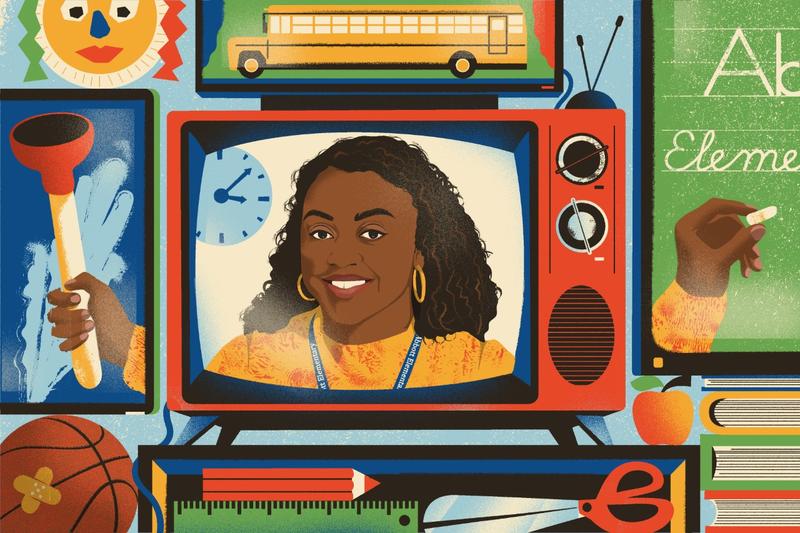 Transcript
Host: The program Abbott Elementary on ABC is giving audiences a lot to be thankful for. It takes the form of a mockumentary but it's really a warmhearted ode to beleaguered public school teachers in Philadelphia. The character's earnest determination under difficult circumstances is very much the point. Abbott finds its comedy in the everyday.
Teacher 1: Teachers at a school like Abbott, we have to be able to do it all. We are admin, we are social workers, we are therapists, we are second parents. Hell, sometimes we're even first. Why? It sure ain't the money?
Teacher 2: I can make more working the street, easy.
Host: Now, in its second season, Abbott Elementary is already being pegged as a modern classic. The show stars, Quinta Brunson, who writes and produces the show as well and Brunson has emerged as one of the sharpest and most sought-after voices in television. At 32 years of age, she recently signed a multi-year development deal with Warner Brothers and she joined us at the New Yorker Festival last month.
[applause]
Doreen St. Félix: I'm Doreen St. Félix and I am a staff writer at The New Yorker. I'm joined on stage by the inevitable Emmy award-winning writer, actor--
[applause]
Doreen St. Félix: The writer, actor, and producer, Quinta Brunson. Thank you so much for being here.
Quinta Brunson: I'm so happy to be here. Good morning, everybody.
Crowd: Morning.
Doreen St. Félix: We were backstage just a few minutes ago and we were talking about the notion of crossover which is to say, I think of Quinta as the comedy marker that I saw on the internet, the videos that you made for BuzzFeed in particular and other skits, whereas when the Emmy's aired last month, my mother was like, that's the Abbott girl. I was wondering if you could talk about the culture of comedy on the internet versus comedy and network television and what are the things that you have to do when you're thinking about the audience that's younger, the millennial, generation Z audience online and the more intergenerational audience that you feed on a network television show?
Quinta Brunson: I do consider myself a child of the internet. I was born in that special period where during my adolescence, in my puberty, the internet was being born. Facebook was a part of my social reckoning. When I was turning 15, Myspace was the biggest thing, and then once I got to college, that was the birth of Facebook, and memes and meme culture was a big part of my communication as a teenager. My sense of humor was right in that midpoint as well. I have so many older siblings and older parents so the shows I watch with them ranged from The Jeffersons and Living Color to Living Single from The Andy Griffith Show because they would show me shows that they watch when they were kids, my parents, to Even Stevens which I talk about a lot.
I really felt like that was the Seinfeld of my time. Then also when I was a kid all that was really important to me. This sketch show that it was just as important to me as SNL. I was like, these two are on the same level. Here I have all this comedy inspiration, the internet comes into play, and then things like Funny or Die happen and sketches like Pearl The Landlord were very-- anyone know the little baby and Will Ferrell? Very defining for me.
I think being able to put all those things together, the internet is like niche humor and then as you know, Twitter, which is a bunch of crackheads coming together, no sense whatsoever. Going to the network space with Abbott to me was a culmination of all that I had been built by and I got to put everything I love about comedy from The Andy Griffith Show to Tim and Eric to Martin back into the network space. That was super exciting to me. I do think technology widened the gap between boomers and millennials and Gen Z because we just were accelerating at a rapid pace because of the internet and I wanted to bring everyone together and I felt like Abbott was my opportunity to do that. I think I pulled it off and everyone's watching together as a family.
Doreen St. Félix: I think Abbott Elementary premiered at this really interesting time in the culture of television which is to say Modern Family has its series finale. Modern Family in my eyes as a television critic was probably one of the last network television shows that people, the critical space, the kind of snobs, were like okay this is like a show that we need to pay attention to. Then in the 2010s, you have this notion that good television is not on network anymore, it's on streaming.
Network is like 10 years behind the culture and when Abbott premiered, I think there was a shock amongst viewers and amongst people who pay attention and care about this stuff which is to say this feels nearly avant-garde. It's not only competing with the comedies on streaming, it's outstripping them. I was wondering if you could maybe take us into your process of how you take form which in the sitcom space is so strict and use that as an opportunity to make something that feels free and new and fresh.
Quinta Brunson: Yes, so when Abbott first premiered, it was shocking for me to hear that people felt that way about network. I have never stopped watching network TV. I know people in this room probably don't like it, but I was like tuning into Young Sheldon every week.
Doreen St. Félix: Which is the most-watched television show in America.
Quinta Brunson: The most watched televis-- It's funny because I'll see people be like, "Who is watching this?" Girl, everybody.
[laughter]
Quinta Brunson: Everybody is tuning into Young Sheldon. One day I will pitch my spinoff baby Sheldon, the youngest Sheldon, it'll never end. I really appreciate the 22-minute format because I think it forces me to be more creative and make distinct decisions. I love the idea of an act break. When you're breaking a show for 22 minutes, you don't have that much time for the characters to talky, talky talk. You don't have time for these long drawn-out scenes where the character's talking about their feelings and nothing happens with 22 minutes. You need a fun act break that's going to make people come back after the commercial break. I think that's so fun. I enjoy trying to make a comedy that adheres to that standard.
I think about black-and-white movies a lot and how we still are trying to make something as good as the old black-and-white movies. I don't think that the 22-minute comedic format ever has to go away. I think it's etched in stone and I think that we're always trying to be as good as it even in the-- It's why I think Netflix can't quite get it right. I'm like because you don't have act breaks, you don't have any restrictions. When it comes to comedy, timing is everything. I don't really want to watch somebody be foolish for longer than-- I don't. Three minutes is the maximum for somebody just being foolish. If it's going longer than that then it's a little exhausting for the audience with comedy. That goes way back to The Three Stooges. You needed to get out of there and come back. I'm not trying to see that for too long. Am I making sense?
Doreen St. Félix: You're making so much sense.
Quinta Brunson: This is intimidating. I feel like I'm just--
[applause]
Doreen St. Félix: I'm curious to know how you do something that a lot of shows don't do which is that you resist making television that feels like it was made with the internet in mind. There are very few jokes that feel like, oh, somebody in the writer's room was scrolling Twitter and made something to satisfy the loudest audience that we can think of.
Quinta Brunson: To me, the internet is where people go to share their thoughts on media and on things on Twitter, in particular, is like this event happened, now I will be tweeting about it. I don't look at Twitter at all as anywhere for inspiration. It's not inspiration, it's just people talking. Abbott is really great because the stories of this school are unique to those walls. It doesn't concern itself with world events. That was another cheat code of Abbott is I don't have to bring in world events to the show. When we go into the Abbott writer's room, the news doesn't even matter, we are talking about what is going on with these people in this school. It's really nice. I don't consider the internet at all. It's not a part of our process and I think that it makes for better art.
Doreen St. Félix: Abbott Elementary is about "serious issue" which is that in America, the public school education system is shit.
Quinta Brunson: Yes.
Doreen St. Félix: In many ways, that's the main antagonist of the show, and yet there's no strain of didactism in it. I'd love to hear how you do that balance like very serious subject, but have it be a comedy that goes down easily.
Quinta Brunson: Abbott is so much inspired by everyday people. I find people who just wake up in the morning and go to their job. I find that to be the most triumphant. I watched my mom go to work every day. She never complained, which was so fascinating to me.
Doreen St. Félix: Your mother is a teacher?
Quinta Brunson: My mother's a teacher. She retired but her job is hard. I'm sure people in this room have hard jobs, way harder than mine. You get up and you put your clothes on and you get out of bed and you go to fucking work and people probably aren't that nice to you. You're not getting paid as much as you should. I don't care what you do, you're not getting paid as much as you should be paid and that is the most triumphant act. There is nothing that I could do or the president could do or anyone can do that is more triumphant than someone going to their shitty job. It's not easy. What was the second part of your question?
Doreen St. Félix: I'm just so enamored by you, I forgot what I asked.
Quinta Brunson: Same here [crosstalk]--
Doreen St. Félix: Oh no, I remember.
Quinta Brunson: [crosstalk] the same about. Doreen is, [unintelligible 00:12:15] it?
Doreen St. Félix: This is about you. The second part of my question was how you avoid the show feeling didactic.
Quinta Brunson: Oh yes, going back to my mom and all the people I know who work hard jobs. There's this sense of joy that people maintain in the face of horrible situations. I was at the airport and I love TSA workers because they just joke amongst themselves while dealing with-- They're being asked to check for terrorism. That's crazy when you think about it that just some girl from Brooklyn is just trying to get a job and they're like, "Hey, make sure there's no terrorist."
What in--? She doesn't want to do that. She doesn't want to-- then it's on her if-- It's so crazy to me. I think about it a lot. It's wild, wild ass job and still they find-- I love watching people just enjoy their lives regardless of what they've been asked to do. That's what I always saw with my mom. She would still have a friend like Melissa. She would still find this peace and laugh and the school district was getting on her nerves, but she loved the kids so much and she loved her coworkers so much that there was such joy in what she did. That's what Abbott is based in.
Janine should be sadder than she is but she's not, because she gets up, puts her little outfits on and comes into school and in the face of so much disenchantment still manages to be there, show up, and have a good time. I think that's so special. I think that deserves to be revered. I'm reminded of it every day. I think it's crazy that we keep going. So much has happened to the human race. So much has happened to Black people. Why are we still here? I don't know, something keeps us going. Do you know what I mean? We really could have called it quits a long time ago and somehow we just keep going. It's crazy to me. It's really wild. I don't get it. Slavery, I would've been--
Doreen St. Félix: I really don't know how to follow up. Literally the word slavery.
?Audience Member: This is why you're talking. [unintelligible 00:15:00].
[music]
Host: You're listening to The New Yorker's Doreen St. Félix talking to Abbott Elementary creator and star Quinta Brunson. We'll continue in a moment with some profound thoughts on the politics of the Philly cheesesteak. This is The New Yorker Radio Hour stick around.
[music]
Host: We've been listening to writer, Doreen St. Félix, in conversation with Quinta Brunson, the creator and star of ABC's hit series Abbott Elementary. Doreen has written that with Abbott, Brunson has managed to find freedom and formula making a mass appeal treat that feels fresher than a lot of buzzy streaming comedies. She's become the first Black woman to score three Emmy nominations for a comedy in a single year. They spoke in October at the New Yorker Festival.
Doreen St. Félix: You talking about race made me think about the more recent history of sitcom network television and some of the shows that came out that were created by people of color, by Black people, by Asian Americans. The drama, the problem in a lot of these shows was race. If that was Black-ish, even Modern Family, it was about race, it was just about white people, still counts, fresh off the boat. This is maybe an inside baseball question, but were you at all cajoled or coaxed by network executives to make that more of the topic of the show?
I think why so many of my friends love Abbott is we're like, this is amazing. This is a show in which most of the cast is Black people in Philadelphia, but it's not about race in the way that shows have been in the Obama era.
Quinta Brunson: Honestly, I had such a good relationship with Warner Brothers in my studio. By the time Abbott was made, I had already made two other projects with them. They knew that wasn't how I wanted to approach making something. A show like Black-ish I feel made Abbott possible because they did it so I don't have to do it. Everyone gets it that Black people exist. Great. Now I get to make a show about just things that aren't about being Black but are about just stories. You know what I mean? I don't want to do a Black History Month Episode and there was a little bit of a push to do that and I don't want to. I want to make whatever Abbott's version of that is. Our show is not a show that is like, here's the topic of the month, or here's what's going on in the world, like I said.
They have their own world, these characters in this show. Randall Einhorn, who is our director and NEP on this show, he also got me. Whereas with other directors, I don't know, they were approaching it in a way that I didn't quite enjoy. Randall saw the beauty in the school and Randall was like, "This needs to be lit a certain way. This needs to have a warmth." Randall did like a million episodes of the office. He helped set the tone of what the office looked like, and he knew that this show wasn't about paper, it was about children so it had to be warmer and it had to.
He knew what lighting Black people looked like, which it's different HBO and stuff. Man, [unintelligible 00:19:04] gets to do stuff that is really hard to do a network TV still. It was hard for me to even have a conversation about a Black director. I gave up. Thank God Randall came into play. Randall is not Black, but he--
Doreen St. Félix: He's an ally.
Quinta Brunson: He's a creative ally. I just needed someone to under-- My life is full of meetings and to have a director who got it was really valuable to me and he just understood. I say all that to say I have a bunch of people who get it, let me work, and that's really important to me.
Doreen St. Félix: I was watching the Emmy's last month and I felt such a surge of the intergenerational power that I think Abbott Elementary operates on when you consider the space creative dis-- not creative distance, but distance and culture between your character and Cheryl Lee Ralph's character. To see this actor who has had a career for well over four decades, the original Dreamgirl finally got to have her moment through the vehicle of Abbott. I'm just curious, this may be fan girly, but what is your relationship like with Cheryl? What does she smell like? Those kinds of things.
Quinta Brunson: Cheryl is-- on set she comes in humming a song, singing a song, saying hello to the whole crew. I'm very personable and I love my crew and stuff, so I say, "Hey, good morning, everybody. What's up? Good morning." Cheryl comes, "Good morning." Every morning and sets this tone of reminding you that life is to be lived. Cheryl is just constantly reminding me to live like she is just a life is for the living person. I told her one time, I was like, "Well, my plan is you get to retire after this show." She's like, "Honey, I'm never stopping living. I'm never going to stop working. I'm going to work until I can't work." I'm like, "you know what? Yes, that's what's up.
It's nice to be reminded that life doesn't stop at 60." Cheryl is on a full track to live life as much as she can for as long as she can. I need that reminder sometimes because I'm so tired sometimes, I'm like, "Man, I'm retiring at 45. I am not doing anything anymore past 45." She just reminds me that it's only over when you say it is. She's wonderful. Did I say that part yet? I love her. It's like having a second mom. Sometimes she texts me scriptures and I'm like, "I don't know what to do with this." I don't know.
Doreen St. Félix: She really is.
Quinta Brunson: All right, Cheryl,
Doreen St. Félix: If I got a good rising text message from Cheryl Ralph.
[applause]
Quinta Brunson: She's better at the internet than me, which is wild. She's on it and I'm not anymore. I'm not really on what's happening. She sends me voice notes. It'll be like a two-minute-long voice note. She'll go, "I just ran into someone who loves Abbott Elementary and we had the best conversation and I just want to tell you I love you and keep going." I'll just be like, "Thanks Cheryl." It just is incredible to have her in my life.
Doreen St. Félix: I have a sibling that lives in Philadelphia and she often sends me text messages about the specificities of how Philly the show is. Even that bag of oat chips that Lisa's character is eating in that scene. I'm curious about how you negotiate, obviously wanting to do some, not honor, but wanting to be realistic and wanting to be recognizable to people from Philly to even yourself as someone who's from the city. Also just making sure that you make a TV show that is good and consistently so.
Quinta Brunson: To me, the specificity helps tell this story. You can't tell the story of a Philadelphia school without the nature of the city. That combination of Barbara and Melissa is very specifically Philly to me. I don't know, like getting that South Philly woman with the West Philly woman together and there are unspoken things in Abbott. The South Philadelphia Italians, half of them are Trump voters. That's just the truth. One of the biggest sandwich shops in Philly cheesesteaks, places, Pats and Genos are across from each other.
I think it's Genos. You go there to order cheesesteak, you're minding your business, bam, Trump 2024, right in your face, you think, I'm not going to order that cheesesteak. That is the relationship of Philadelphians. It's so complicated and so messy, but that's what the city is. Without that energy, I don't think Abbott would've been what it is. Do I love it? No, but it is the reality of the situation in Philadelphia and I just think being specific really helps tell this story.
Doreen St. Félix: At this point, we're going to take some audience questions and you guys have sentenced some really beautiful ones actually. Ooh, I like this one. I'm going to pretend like I asked you this What is the atmosphere like during table reads?
Quinta Brunson: Oh, our table reads are really fun. I'm always excited for the cast to see the scripts because that's very often the first time they get to see them. We have a ball, especially Cheryl because Cheryl, she's so funny. She does her line, she executes, but then Cheryl just starts following along with the story and she'll just be sitting in the middle of the table read like, "oh, oh, oh." She's so audible. Especially with Gregory, Janine stuff, she's my barometer because Cheryl will straight up be like, "Ooh and [laughs] Cheryl be [unintelligible 00:25:25]." It's always, I don't know, it's so fun to watch them say the lines for the first time.
What's been really cool is our camera crew comes to table reads now because with my [unintelligible 00:25:40] the camera crew is so integral to the storytelling. Now, they're coming to table reads to get a jump on how they're going to film the episode because I cannot-- I don't know if they'll see this, but Brenda, Jeremiah, Drew, all these people who work on our camera crew, we couldn't do it without them. They're so much a part of the storytelling. It's a big old-grand old-time. They've gotten a little bit too big actually. I'm going to start limiting the capacity of the table reads because they're jam-packed. It's really fun.
Doreen St. Félix: Here's another great question. What is the most impactful no you've ever received and what did it lead to?
Quinta Brunson: I will say it was for the show I sold to CBS, Quinta and Jermaine with Larry. I learned so much through that experience and by the end of it, the show wasn't something that I'm sure I would've been proud of. I went through the process, loved working with Larry and Jermaine, and I think they felt the same. It had been turned into something that we didn't intend for it to be.
Doreen St. Félix: Can you tell us more about the premise of the show?
Quinta Brunson: The premise of the show was Jermaine and I were going to be two 25 year-olds from DC who were friends who one night wound up sleeping together and my character was going to get pregnant and they were going to stay friends and figure out how to co-parent this child. I think what was confusing about it was we believed in a world in which this could really happen and happens every day. We believed it could happen for these two Black kids from DC. I think that was a hard concept and we didn't want to make it nasty.
We were like, "This is a comedy. This is something that people go through all the time, like pregnancy. It's crazy how much unplanned pregnancy or single mothers are still little taboo." It's wild to see. It's one of those things that makes me hyper aware to Black women having children in America. It's a weirdly very taboo subject. I know so many girls who have children and are very happy women. They're single mothers. They're not sitting somewhere in a ditch.
I'm not saying it's not hard, I'm saying that people are resilient and in that is beauty, life, goodness, kindness, resilience. That was hard to get past. When we were told no, I was honestly believed. I was like, "I didn't want to make the version of the story that they wanted to make." I wanted to make something that was a little bit more realistic. I think that experience helped me to know that I wanted to make something like Abbott. It helped birth a character like Tariq in the show who is not a bad guy to-- these are just people and people are messy and Black people get to be messy too. It's not unique to just Chandler and Joey and Ross and Rachel. I was watching Friends on the plane, I'm like, "Yo, Ross is really fucking crazy, honestly, what a lunatic."
Doreen St. Félix: As you were talking, I realized there's a through-line here, if you'll allow me to speculate on what your larger thesis of your work is that Black stories or stories in general don't always have to be told on the register of being extraordinary. These are very ordinary situations. You can imagine that when you go to a network and you say, "Okay, two friends, they're going to raise this child together, but they're not going to be in a romantic situation."
You can imagine all the like, "well, is this a negative portrayal? Is this something that we actually see in society? It's like there's a huge gap between the everydayness, the ordinariness of our lives, and what is shown on television, I think.
Quinta Brunson: Absolutely.
Doreen St. Félix: You totally see Abbott being told as a doldrums dark story. I think the intervention is in the tenor of humor and messiness.
Quinta Brunson: I agree with you. This is why I love you, Doreen.
Doreen St. Félix: This is why I love you.
Quinta Brunson: Because you say stuff that I don't know how to articulate that. It's happening in my brain, but yes, that's exactly how I feel.
[applause]
Quinta Brunson: That is exactly how I feel.
[applause]
Doreen St. Félix: Quinta, thank you so much for being so kind.
[applause]
Quinta Brunson: Thank you, guys, so much.
Host: Quinta Brunson, the creator, and star of Abbott Elementary. She spoke with Doreen St. Félix, who's a staff writer at The New Yorker.
Copyright © 2022 New York Public Radio. All rights reserved. Visit our website terms of use at www.wnyc.org for further information.
New York Public Radio transcripts are created on a rush deadline, often by contractors. This text may not be in its final form and may be updated or revised in the future. Accuracy and availability may vary. The authoritative record of New York Public Radio's programming is the audio record.