Presenting the 2022 Brody Awards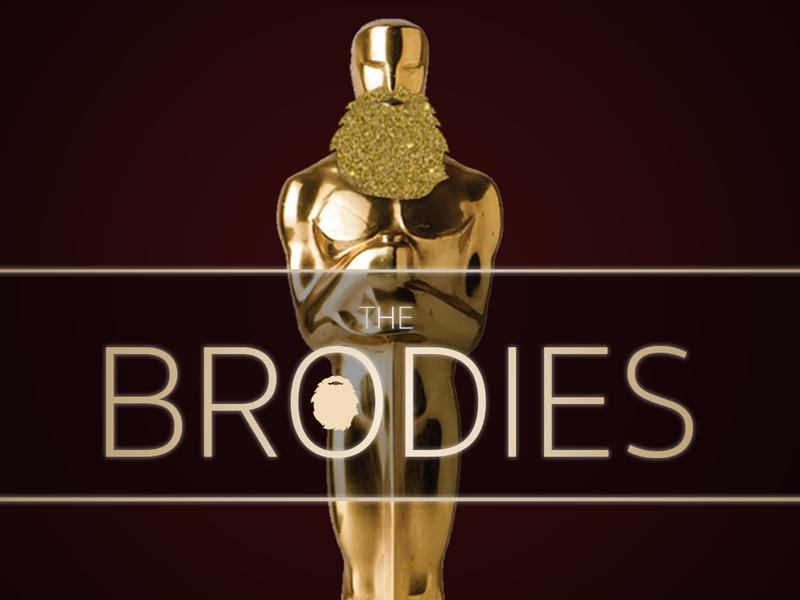 Transcript
David: Now, every year, whatever may be going on in the world, the awards ceremonies celebrate the best that film has to offer. With apologies to the Oscars, the awards that truly matter are only broadcast right here on The New Yorker Radio Hour. I am talking about the Brody Awards. The Brodies are unlike all other awards. There are no nominations, no committees, no voting, no statues. They're selected by just one magnificently informed and passionate film critic, The New Yorker's Richard Brody. Richard joins me now, along with our colleague, Alexandra Schwartz. Alex writes about film and theater and books and much more.
It feels like every year, the Oscar nominations tell a story about Hollywood somehow. We remember in 2015, there were the #OscarsSoWhite controversy, and last year, the nominations spoke to an industry that was really reeling from the pandemic. Richard, what is this story that you can derive from looking at this year's nominees?
Richard: I think the expansion of the Academy to include a younger, more representative membership, a more international membership, has had a significant impact on the kinds of films that get nominated. I would call it truth in nomination. Even if the money in Hollywood may be in franchises and superhero films, this year's nominations reflect the kinds of films that people get into the industry to work on.
David: Now enough about the Oscars, to hell with them. Let's get down to the real business, the 2022 Brody Awards.
[music]
We'll start with best actress in a leading role. Alex, the Brody nominees, please.
Alex: The nominees are Alana Haim, Licorice Pizza; Tessa Thompson, Passing; Taylour Paige, Zola; Kim Min-hee, The Woman Who Ran; and Nicole Kidman, Being the Ricardos. Richard, the winner is?
Richard: The winner is Alana Haim for Licorice Pizza.
Alana: Why would you do that? He was maybe going to be my boyfriend.
Dad: Listen, young lady. You don't bring this idiot to Shabbat dinner here.
Alana: Listen, dad, he's an atheist and an actor and he's famous.
Dad: But he's Jewish.
Alana: He was going to take me out of here. Este, don't you even look at me, don't you even look at me. You're always looking at me. What are you doing?
Este: I didn't even say anything.
Alana: What are you doing? What are you thinking? I'm Este. I work for mom and dad. I'm perfect. I'm a real estate agent. Alana doesn't have her life together. Alana brings home stupid boyfriends all the time.
Este: I mean--
Alana: I knew it. I knew that was what you were thinking. You're always thinking things, you thinker. You thinker, you think things.
David: [laughs]
Alex: That's such a great scene.
David: God, Richard, why did you make that pick?
Richard: I felt like I was watching a new kind of performance altogether. I think that there was a terrific group of actors this year in this category. There's a long tradition of musicians, Frank Sinatra, Judy Garland, for that matter, this year's Oscar nominee, Will Smith, who became great actors. Alana Haim's performance is simultaneously exact and unstrung. This is basically screwball comedy, rapid and screwball comedy, dense dialogue that she's delivering with free physical motion, with extreme precision, and simultaneously an amazing spontaneity.
Alex: I think we should say also that in this clip, the family of the character line, Alana, is played by the actual Haim family. Both of her parents, her two sisters who are in a band with her. The role was literally written for her by Paul Thomas Anderson. Richard, I'm curious about where you see the line between this being and acting when someone is playing a role that is so scripted to them and their personality.
Richard: Well, there's a great tradition of this too, whether Erich von Stroheim or Betty Davis or Orson Welles or John Cassavetes or Gena Rowlands. Actors have always had, in great films, certain proximity, certain emotional and personal proximity to the role. What's different here is that she goes back and forth. She's performing with her family. By the way, Alana Haim's mother was Paul Thomas Anderson's art teacher.
[laughter]
David: Neighbors in the valley. Richard, when Paul Thomas Anderson was on this show a while back, what do I know? I thought it was a shoo-in that Alana Haim would be nominated for an Oscar, but she wasn't even nominated. How is that possible?
Richard: The kinds of acting that tend to get nominations are impersonation. Look at the actors, the actresses who were in fact nominated. Jessica Chastain, The Eyes of Tammy Faye, biopic. Nicole Kidman, Being the Ricardos, and I think it's a great performance, but it's a biopic. Kristen Stewart, Spencer, biopic. Alana Haim is not a celebrity, and at the same time, her role is not-- let's put it this way. It doesn't have that kind of theatrical impressiveness, the overt display of craft that tends to impress the Academy.
David: Now on to the best actor. The nominees are, Alex?
[music]
Alex: The nominees are Woody Norman, C'mon C'mon; Joaquin Phoenix, C'mon C'mon; Cooper Hoffman, Licorice Pizza; Jeffrey Wright, The French Dispatch; and Oscar Isaac, The Card Counter. Richard, the winner is?
Richard: The winner is Jeffrey Wright for The French Dispatch.
Jeffrey: There is a particular sad beauty, well known to the companions [unintelligible 00:05:45] as he walks the streets of his adopted preferably moonlit city. In my case, only France. I've so often shared the day's glittering discoveries with no one at all.
Richard: Being in a Wes Anderson film is like dancing on eggshells while playing the trumpet.
[laughter]
Combination of the emphatic and the exquisite. Jeffrey Wright brings such a sense of delicacy and depth to this role, which is essentially based on a combination of James Baldwin and AJ Liebling. He dominates the film. It's only one of three major segments in the film, but his performance as an American expatriate trying to find some margin of freedom as a Black man and as a gay man in France when he couldn't find them in the United States. I find it deeply moving.
Alex: Richard, you have two nominees from the same movie C'mon C'mon, Woody Norman, who plays the kid in the movie, and Joaquin Phoenix. Tell us a little bit about the movie and what drew you to these performances.
Richard: C'mon C'mon is a family melodrama. It's directed by Mike Mills. The story of a radio journalist, Joaquin Phoenix, who ends up taking temporary care of his young nephew, Woody Norman. It's essentially a-- let's put it this way, a mutual coming of age story. The child grows up through the uncle, but the uncle's world is vastly expanded in his connection to the young, rather idiosyncratic, and ingenious child.
David: I got to say, Richard, if Woody Norman isn't the next Joaquin Phoenix or something, I'd be very surprised. It's an amazing thing.
Richard: That's what I think. Woody Norman gives one of the greatest child performances I've ever seen.
David: Now, Richard, the front runner for the Oscar in this category is Benedict Cumberbatch for Power of the Dog, the Jane Campion film. That movie got more Oscar nominations than any other this year. We talked to her last week. Why didn't it receive a single Brody nomination?
Alex: Just shut out from the Brodies.
Richard: I guess the reason why The Power of the Dog is not among my favorite films of the year, is that despite its dramatic power, I feel its intentions are all upfront, that it means what it means and it doesn't mean anything else. There are no loose ends. It's a hermetic film, a very good one, nonetheless, but not one of the best of the year.
David: Alex, what did you think of Power of the Dog?
Alex: I enjoyed The Power of the Dog. It is not my favorite Jane Campion movie. I actually agree with Richard's interpretation that the movie doesn't hold many secrets or surprises, that even though it's predicated on a big twist that you may see coming for a little bit in advance.
However, if I may just be allowed to reach back to a previous Jane Campion movie, The Power of the Dog sent me back to Bright Star, her last feature film, very different movie about Keats in the last year of his life, falling in love with his neighbor, Fanny Brawne. I have not been able to recover from the death of Keats, which happened many years before my own life began after re-watching this movie. I would just send everyone to see Bright Star, especially those who have not yet.
David: Which brings us to the evening's big prize, best picture. Alex, the nominees are?
Alex: The nominees for the best picture at the 2022 Brodies are Licorice Pizza, The French Dispatch, Zola, I was a Simple Man, C'mon C'mon, Passing, Petite Maman, The Woman Who Ran, The Disciple, and Being the Ricardos. Richard, the winner is?
Richard: The winner is The French Dispatch.
Speaker 1: Berensen's article, The Concrete Masterpiece.
Speaker 2: Three dangling participles, two split infinitives, and nine spelling errors in the first sentence alone.
Speaker 3: Some of those are intentional.
Speaker 1: The Krementz story, Revisions to a Manifesto.
Speaker 4: We asked for 2,500 words and she came in at 14,000 plus footnotes, endnotes, glossary, and two epilogues.
Speaker 3: It's one of her best.
Speaker 1: Sazerac.
Speaker 4: Impossible to fact check. He changes all the names and only writes about hobos, pimps, and junkies.
Speaker 3: These are his people.
Speaker 1: How about Roebuck Wright?
Speaker 4: His door's locked, but I could hear the keys clacking.
Speaker 3: Don't rush him.
Speaker 2: The question is who gets killed. There's one piece too many, even if we print another double issue, which we can't afford under any circumstances.
Speaker 5: A message from the foreman, went out to press.
Alex: David, it's basically documentary, right?
Richard: [laughs] That movie is a little too close to home. The French Dispatch is Wes Anderson's most Andersonian film. He takes the idea of journalism and builds it out to an extraordinary level of complexity because he sees in every story, the experience that's being reported on, the experience that is reported on, the life of the writer when writing, the life of the publication as the piece is being prepared. With all these levels of experience, he creates a film that is so complex, so kaleidoscopic, and at the same time, so inventive, so full of ideas about politics, about freedom, about history, that you really--
I've said this before, but [unintelligible 00:11:12] you have to see it twice to see it once. You have to see this three times to see it once. It innovates at the level of the image at the level of narrative. It's one of the most original films I have seen in years.
David: Right. Well, we're here for the Brodies, but let's spare a second to consider the Oscars. I have to confess, don't tell anybody, but I don't think I've been able to avoid falling asleep during the Oscars in years. It goes on forever. This year, to the anger of many people, including, I think, Steven Spielberg, there's an attempt to make the ceremony more audience-friendly, shorter speeches, fewer awards handed out during the broadcast of the big TV show. Alex, first, how do you feel about these changes? Are you excited to watch the Oscars this year?
Alex: I don't have the highest hopes for the Oscars, unfortunately. I think they have not really cracked the code yet. What I am looking forward to is Wanda Sykes is one of the hosts along with Regina Hall and Amy Schumer. I wonder if this could inject some liveliness and actual edge into the Oscars, which would be a welcome thing.
Richard: I think basically, the Oscars are a dinosaur on life support. Part of the reason why they cut these categories, supposedly, is that ABC, which broadcasts the ceremony threatened to pull the ceremony, simply to cancel the contract. I actually think that would have been the best thing that could have happened to the Oscars because the reason why young people don't watch the Oscars is that they're on television.
David: [laughs]
Richard: The Oscars were forced to re-examine themselves, were forced to reinvent themselves by way of internet broadcast, streaming. You could have a five-hour ceremony, it would be a hangout. You wouldn't sit and watch the whole thing necessarily from beginning to end, but you would have an amazing parade of personalities. You'd have comedy, you'd have what people who care about movies care about, you would have people in all the different categories, you would have somebody winning for Best Costume Design and saying something amazing, which very often happens.
[music]
David: Richard, Alex, it's been an absolute pleasure.
Alex: Every year. It's better and better. Thank you, David.
Richard: Good to see you and good to talk with you.
David: Richard Brody writes regularly on film at newyorker.com. Alexandra Schwartz covers culture of all kinds. That's our program for today. Thanks for joining us. See you next time.
Copyright © 2022 New York Public Radio. All rights reserved. Visit our website terms of use at www.wnyc.org for further information.
New York Public Radio transcripts are created on a rush deadline, often by contractors. This text may not be in its final form and may be updated or revised in the future. Accuracy and availability may vary. The authoritative record of New York Public Radio's programming is the audio record.