In Politics, How Old Is Too Old?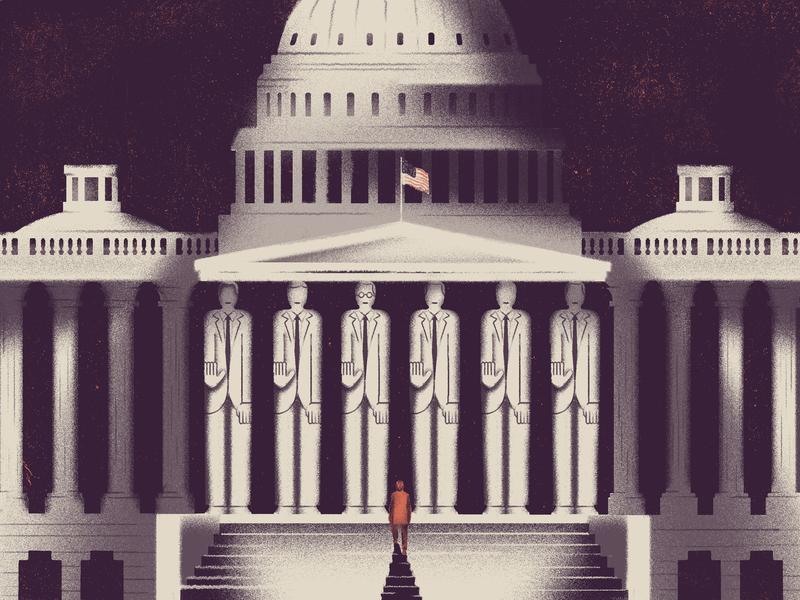 Transcript
David Remnick: We're going to have a conversation today that some people might find a little touchy, but why avoid it? It's part of life. At the moment, it's a crucial aspect of public life. We're going to talk about age and American politics, old age.
[music]
It wasn't so long ago, at least not to me, that Ronald Reagan was considered by many as over the hill, too old to govern. Now we have a president who's turned 80 in the middle of his first term and even some of Joe Biden's supporters have expressed concerns about him starting a second term. If he wins and he endures he'd be 86 at the end of it. Donald Trump, who's still on the scene insisted Biden, of course, isn't up to the job. Pretty strong words from someone who was a decade past social security age. We're going to hear today from two of our keenest observers of American political life, historian Jill Lepore and our Washington correspondent Jane Mayer.
Jane Mayer: This is not a new problem. I think of Strom Thurmond. I think he left office at age 100, wasn't it?
David: He only looked 99, so don't be harsh.
Jane: He and Jesse Helms, the two senators sat through the Clinton impeachment asleep.
David: First, though I wanted to get some facts from a medical perspective. Jack Rowe is an expert on the science of aging. Dr. Rowe founded the Division on Aging at Harvard Medical School and he now serves as professor of Health Policy and Aging at Columbia University. I'd like to begin this conversation by asking you how you think about this and help us how we should think about this first as a matter of medicine and as something that we can or cannot predict.
Jack Rowe: I think if we start with just the facts, the facts are confusing for people because you can read that the average life's expectancy in the United States is 78 which is true. Is somebody who's 80 on borrowed time? It's understandable that people would think that those people are really on the way out, but the fact is life expectancy on average is 78 at birth but if you make it to 80, your life expectancy is on average another 10 years.
David: I think the conversation though is not about life expectancy. The conversation is about looking at the presidency as an extremely difficult high-stress job that demands a lot, ideally, of the office holder intellectually, politically, and just in sheer physical stamina. Wondering if it's in the case of Joe Biden or anyone even at this late date when life expectancies as you say have gotten longer, particularly for people who've had good medical care, whether that's a good idea or bad idea.
Jack: I think that there is an exaggeration of the importance of some of the characteristics that occur with advancing age. President Biden has some verbal slips that he makes. Maybe they're more common than they used to be. Maybe not. He seems to be a little frail when walking. Franklin Roosevelt couldn't walk at all. He was a pretty effective president. Drawing a straight line between the inability to walk as well as you did before or ride a bike quite as well. He rides a bike. The fact that he rides a bike at all is impressive. I do think, obviously, that older people are more frail than [chuckles] younger people. Let's not deny that.
David: Just for the record, I'm 64. How old are you?
Jack: I'm 78.
David: Fair enough. I think let's even-- I hope you don't mind my asking, I voted for Joe Biden. Did you?
Jack: Yes.
David: Do you think that influences the way you see this?
Jack: No, the two candidates were very similar in age, from my point of view. Age wasn't a factor. The fundamental finding here of decades of research, David, is that the older people become, the less like each other they become. All 30 or 40-year-olds are pretty much the same in terms of the kidney function or lung function, immune function, cardiac function, even cognitive function. As you get out to 80, there's tremendous heterogeneity. While the average 80-year-old is quite a bit lower in function than the average 30-year-old in many factors, there are always 80-year-olds who perform like the average 30-year-old.
David: No, again, you have not examined him. We should stipulate obviously.
Jack: Nor have I read his medical records.
David: You watch him on television and follow the news as carefully as you can. Those are the limits of your--
Jack: When we look at the drivers of this variability, successful agers, people in the top quartile are white, well educated, financially secure, and have a good social structure, they are not alone. The average life expectancy between an educated white well-off married man and a poor Black, uneducated single man is 13 years. When we look at people like President Biden, we look at super-agers. My colleagues and I at Harvard years ago did a study of very successfully aging 75-year-olds. We studied their cognitive performance and their physical performance in detail. We followed them for six years.
50% of them did much less well than they had at the outset but 25% of them didn't change starting at age 75 or 76. Remarkable.
David: We are talking about somebody who will be closer to 90 than he will be to 80 if he has a second term and lives it out.
Jack: I'm not trying to paint a picture which is denying aging. I'm just trying to clarify what it is that we actually know.
David: It seems to me what's going on, it's usually purely either a political weapon or other people perhaps not wanting to discuss it at all for fear of giving points to the other side.
Jack: Completely. I think one of the dimensions that's worth considering here is psychological changes. There have been a number of studies published recently showing that older people fared much better during COVID than younger people. They had more emotional balance. This is consistent with the literature showing that they have less anger, less fear, less sadness, that they react less negatively to things that happen in the environment.
David: Fair enough. Let me put a little bit of pressure on your points here. When we observe president Biden, who I think from my point of view anyway, has had a certain number of really considerable successes both in foreign policy and domestic policy in the last couple of years. When I see him in a press conference, I see a press conference very often organized to have minimal questions. He has cards in which he very often picks up and starts reading from. There's not the same fluidity that you would've recognized say, in Obama or any number of other presidents, whether you like them or not.
It seems pretty clear to me that his staff recognizing his strengths and his limitations have come up with workarounds to deal with this and it might not get better. How do you respond to that?
Jack: I wouldn't be surprised at all if that were the case. The question is, is that disqualifying? It doesn't invoke tremendous confidence. At the same time, I don't feel that some of those factors or his age or even aspects of medical history explain how he's going to function. I tell my students if you're going to see an elderly man, and he's 78 years old and he's had a history of a heart attack and high blood pressure and that's the only information I give you, you can't tell me whether that man is in a nursing home or on the Supreme Court of the United States.
One of the other psychological dimensions that I find interesting is that older people repeatedly in studies have been shown to solve disagreements between various parties better than younger people. Younger people strive for justice in what they view as justice. Older people tend to strive for win-win situations.
David: We all remember the Reagan years, or at least I do, and certainly you do, no matter what you thought about Ronald Reagan's politics, I think it's fair to say that in the standard intellectual sense, he was never a giant. There came a time when he began showing distinct deficits. Not long after he left office, it was announced that he in fact had Alzheimer's. These conditions are not like a light switch. It's not off one day and on the next. How much concern should we have when we look at a politician, somebody with great responsibility in his or her hands who was in their 80s having that decline. Not forgetting names, not, "I can't find my keys."
Jack: It sounds like you have trouble with names.
[laughter]
David: I'm getting there.
Jack: We're taking that off the table.
David: Damn right.
Jack: That's normal.
David: That's exactly right. You read my mind such as it is. How do we think about that?
Jack: Of course, cognitive impairment increases with advancing age. Your chance of having Alzheimer's disease is probably 10% at age 65 and four times that at age 85.
David: It's a big difference.
Jack: Huge. There is a large group of people who have what is called mild cognitive impairment and some of those go on to have Alzheimer's disease and some don't. I don't think, from what I can see and I watch a lot of political news of president Biden or even former president Trump, that they have any evidence of cognitive impairment at this stage. If they were having significant cognitive impairment, they shouldn't run for office. Now the question is, should we give them you a test of some sort?
David: I'm asking.
Jack: I wouldn't be against it.
David: You remember that fantastic moment with Trump described that he had been given a cognitive test?
Donald Trump: Like you'll go, "Person, woman, man, camera, TV." 10 minutes 15, 20 minutes later they say, "Remember the first question? Not the first but the 10th question? Give us that again. Can you do that again?" You go, person, woman, man, camera, TV." They say, "That's amazing. How did you do that?" I do it because I have a good memory because I'm cognitively there.
David: That doesn't seem to me, an adequate test.
Jack: There are very standard tests that have been given to billions of people. That's not one of them.
David: [laughs] What are they like?
Jack: There's a simple one called the mini-mental state exam, where they'll start by asking what date it is and who the president is and where we are and then they'll ask you to draw a pentagram or something like that. Then they'll ask you some questions. When I was training at the Massachusetts General Hospital, I used to tell patients at the beginning of the interview that number 12 Walnut Street on Beacon Hill has a red door. Repeat that sentence. There's number 12, there's Walnut Street, Beacon Hill, red door. Four facts, things like that.
David: A president of the United States not only has to deal with that sentence, he or God willing someday she has to deal with trying to figure out fiscal policy on how to cope with China and Taiwan, Ukraine crisis, and the absolute fire hydrant of daily crisis that come at a present on a daily basis. It's not a nine-to-five job. This is not being a dad who comes in three days a week to deal with the family real estate business while the son or daughter is actually running. It's the presidency. It's consuming in a way that turns them all gray and prematurely old. What effect does that have on one intellectually and physically, that level of stress?
Jack: I think it's tremendously variable in general. By the time people get to be running for president of the United States, I think they've differentiated themselves into the group of people who handle pretty well. I think president Biden has been a politician a long time
David: Since his 30s.
Jack: Some people say too long. I think these people are selected into a group. Anybody who can run a presidential campaign, talk about are they going to make it? Are they going to get too tired, et cetera? The presidential campaign is to test. [chuckles] If you can make it through the campaign, that's harder than being president. I would imagine some ways.
David: How much of your viewpoint is influenced by the fact that we live longer and longer and do you conceive of a day when somebody could easily be president into his or her 90s?
Jack: Yes, I do. I do think that we're going to see the emergence of more individuals who are fully capable cognitively, physically, and psychologically to maintain very high function, very advanced stages.
David: Certainly from a medical point of view, you I would guess are against any age limits for high office. Whether it's Supreme Court or the Senate or the Presidency?
Jack: Or anything. It's not realistic, not only against age limits but I'm furious about something that we are seeing repeatedly and that old age is not a disease. Old people are sick because they're sick not because they're old, they're more likely to get sick if they're old. Of course. When Prince Philip died, the power said he died of old age. That was a great setback. We are trying to differentiate age from disease.
David: What did he die of?
Jack: I don't know, but nobody dies of old age. Then when his wife died more recently, they did it again. Even though there was--
David: This is Queen Elizabeth.
Jack: Queen Elizabeth, God bless her. Geriatric medicine in England is very powerful, very well established more than the US. They couldn't get them to say because they didn't want to label her with a disease. Then just when the dust settled, the Vatican said Benedict died of old age and it just tears my hair. If I had hair, I'd tear it out. That's ageism. That's a concrete specific evidence of ageism.
David: When Biden mistakenly asks if a deceased congresswoman is in the audience.
Joe Biden: Including Bipartisan elected officials like representative government, Senator Braun, Senator Booker, representative Jackie are you here? Where's Jackie? I didn't think she wants to come over here.
David: Or he appears to doze off at a meeting or he falls off his bike or trips while boarding Air Force One and on and on, and on, you think, "What the hell? That's irrelevant."
Jack: I think that's what 80-year-olds do. Am I surprised to see that? No. Would I put him in the rehab unit? No, I don't believe that what we see which is attributable to his age is likely to importantly impair his function as president of the United States. I think he probably has some other attributes that certainly mitigate any adverse effect of what we see. On balance, I think he's a very successful and fortunate 80-year-old.
[music]
David: Jack Rowe is professor of health policy and aging at Columbia University's Mailman School of Public Health. We're going to continue the conversation about aging and political life in a moment. I'll be back with Jane Mayer and Jill Lepore.
[music]
This is The New Yorker Radio Hour. I'm David Remnick. We're talking today about age and the presidency, about how old is too old to be in the White House if there is such a number. Now, I spoke earlier in the program with Dr. Jack Rowe, a specialist in the science of aging. His argument is this, as long as your health is good at 80, odds are you'll be fine for a term in the Oval Office. It's no matter if you're less nimble on your feet, he thinks there's a lot of ageism going on, particularly when it comes to Joe Biden. This is a very complicated issue and we're going to look at it from some other angles now, including a historical perspective.
Jill Lepore: I think it's worth noting the change. Because first of all, you think just historically. In 1790 when 35 was made the minimum age requirement for the presidency, life expectancy for men was I think 44. It's 77 now.
David: Staff writer Jill Lepore is a historian at Harvard University and she joined me along with Jane Mayer, the New Yorker's Chief Washington correspondent. What should be the theme song from this? When I get older. What do you think? Kids are different today? I hear everybody say.
Jill: 64 is so young.
Jane: I know 64 is way too young for these people.
David: Oh my God. Let's look at this historically first, Jill. Woodrow Wilson had a stroke and I think his wife basically ran the White House for quite a long time. What is the history of this aging cognitive difference over time? What is the history of it and what does it tell you in contemporary terms?
Jill: I think historically the 1920s are the real turning point because life expectancy had risen quite a bit. By then in the 1920s is really when retirement is invented, geriatrics is invented. The study of old age is founded in the 1920s. That's when people first start getting really worried about it, noticing that presidents are getting older, not so much inaugurated in their 50s but maybe into their 60s and then you start seeing people saying, "I won't run because I'm too old." Charles Evan Hughes is pressed in to see the nomination in 1920, 80s, maybe 66 something. He says, "I'm too old."
Remember, Eisenberg has a heart attack in office, but before he leaves office, he says, "Any man who's 70 should never hold this office." 70 really is the benchmark into the rise of Ronald Reagan.
David: Jane, when you watch Joe Biden and you've watched him for decades now as a professional politician, are you concerned?
Jane: He's never been a nimble speaker, but I think he's less so now. I think also I hear the talk around the White House is that he can be cranky and is particularly testy around the issue of his age, hates the question about it, and basically--
David: Of course, he does. I hate the issue.
Jane: His answer is always, "Just watch me." Everybody actually of course is watching him very closely. In the period that I have covered the presidents, I came in covering Reagan, who at the time when he was elected in 1980, he was 69 years old, I think. Then what I think we've seen in this modern period is age creep that's relatively fast-moving. That you then had with Trump when he was elected in 2016, he was 70 years old. He's older, breaking the record with Reagan and then you get with Biden 2020, he was 77.
David: Here's what the pushback would be certainly from the White House that Joe Biden in a very complicated and suey generous political race, beat Donald Trump, beat him soundly as it turned out. Has had an enormous number of accomplishments, whether you like them or not in foreign policy and in domestic policy in the course of two years. Do you sense that he's being-- okay, he's cranky. Bill Clinton was cranky. We can all be cranky but when the rubber meets the road, is he being hurt by his age? Is there any evidence of that in your reporting or anyone else's?
Jane: What I think you have to say is that, first of all, I don't know. It's very hard for a reporter to get the truth on this particular subject because one of the things that I've learned is that presidents and other very powerful politicians are surrounded by aides and consultants and a whole village of people whose status derives from them and whose living's often derive from them and they do cover for the person on the inside and it's--
David: It's a good point. You broke a story that everybody knew about, but failed to write about is that Dianne Feinstein, who's been a senator for a very long time in California, was clearly having cognitive difficulties. Tell us that story and how it does or does not relate to Joe Biden.
Jane: It's incredibly sad. She is now, I think, 89 years old. She's still in the Senate and one of her colleagues said to me that it's painful to watch her. She forgets that she's been briefed on things. She forgets that she's just answered a question or asked a question and repeats the question. One of her colleagues said to me, she is using the Senate as an assisted living facility and she shouldn't be here.
David: That's pretty rough.
Jane: It was really rough. These are people who really respect and admire her and what they're seeing is a magnificent career diminished. Again, what was interesting to me in reporting on this was it was clear that in 2018 when she ran for reelection, the people who ran that campaign, they knew but there are so many reasons why they push a politician forward and cover such things up. In this case, Chuck Schumer actually had to speak with Dianne Feinstein and get her to step down from being chairman of the Judiciary Committee because she was unable to carry out her duties as chairman and it was a terrible situation.
He had to keep talking to her and then she would forget that he'd spoken to her. Another colleague said to me, it was harder than trying to take the keys away from your parents.
Jill: I do think there's a broader cultural issue that we haven't really touched on, which is I think effectively the disenfranchisement of the young, the inability of people to pass on the baton generationally. You could really approve of Biden's performance, although most [chuckles] Americans do not. You still would wonder, doesn't the Democratic party have more of a young bench of people who really want to be coming up?
You think people may have seen the future Amma episode from the '90s that comes out of the Reagan moment and Richard Nixon's disembodied head kept in a jar, runs for President, and wins attached to the headless robotic body of Spiro Agnew.
[explosion]
Speaker 1: [unintelligible 00:25:48]
Jill: That's how that Simpsons generation of writers who grew up in the Reagan era pictured the future of American politics. We'd be running against the deadhead of Richard Nixon and I think for young people, it feels that way.
Richard Nixon: Who's kicking who around now?
Jane: It raises questions to me somewhat about why is it that the Senate is so old and our candidates seem so old and is it not, to some extent, a reflection of a systemic problem that is also a problem with our democracy here? Which is that incumbency is such an advantage at this point because of our campaign finance system. It's so much easier to get reelected when you're in office. The longer you're in office, you get more seniority. It gets easier and easier to raise funds. All the lobbyists throw money at you when you're a committee chairman. I think the process, it leads to gerontocracy. It's very hard to unseat someone.
David: On the other hand, Jill, I have to think and I don't know historically whether age has been used as a weapon in presidential campaigns, but I can't imagine that if Ron DeSantis gets the nomination in 2024, we won't hear about Biden's age a lot.
Jill: I don't think there's a real political price to be paid for calling attention to someone's age. We could say that's ageism. Your other guests could say that's ageism, but I don't know that there's at the level of vote-getting, anything but an advantage to make an issue of someone's age. Reagan famously deflected that.
Jane: Reagan flipped the script.
Jill: Reagan was really effective at that.
Ronald Reagan: I am not going to exploit for political purposes, my opponent's youth and inexperience.
[laughter]
David: Now, does Biden have the nimbleness to pull one of those moves?
Jill: No, and I don't think you can do it at 80 honestly. I just don't think you can do it at 80. I think Jane's exactly right about the structural problems with our democracy and I would add to that though, the diminished number of young people who are going into public service because our political culture is just vicious. It's specifically violent among other things, but there's not a lot of dignity in American political life really. If you're a person who walks through life with a certain reserve and integrity of your family life, [chuckles] who wants that?
David: Jill, you've been teaching young students year after year. Do you sense that fewer and fewer of your best students want to go into politics?
Jill: Yes. You hear from a lot of people who want to run campaigns, [chuckles] people who want to do behind-the-scenes consulting sorts of things. Although I will say just recently, this was one of the great, to me, surprising knock-on effects of the George Floyd moment. I have a lot of young African American male students who want to run for office, but those guys, they all want Biden to step down.
I do not talk to young people who are excited about Biden running for reelection. It's not because they don't appreciate that he did the great good work of defeating Donald Trump or that he hasn't had really a fairly successful first term, but they feel renounced. There's no political space for them. There's this giant generation missing. It's not so much them. Obviously, they're not running for offers yet, but they don't see people in their 30s and 40s. I think, analytically, that is actually the missing piece in American political life.
David: I couldn't agree more. I was so shocked. I remember interviewing Obama on his way out and obviously most of the conversation was this mournful subtext. about the incoming President Trump. When I asked him who was on the bench in the Democratic Party, he could barely think of any names. That's the president of the United States, the leader of the Democratic Party. He could barely think of any names. "Oh, yes. Who's that guy who's the mayor of South and Indiana, et cetera?" It was incredible. You think, Jill, that's because there's such a disincentive that's enforced by this gerontocracy.
Jill: Yes, and by the nature of the political culture. The social media-driven daxing destroy-your-life world that we live in, makes a lot of people want to work behind the scenes in whatever they do.
David: Whether conventional wisdom is correct or not, I keep reading that if Kamala Harris had been put in place as vice president to be a successor figure, that has fizzled in large measure. That conventional wisdom goes. Assuming that Biden runs, will anybody challenge him from within the party?
Jane: It's hard for me to imagine they won't. They've got so many ambitious people. I don't know if it'll be somebody who's respected and really can get far but it just seems like an open invitation for somebody. I think the dynamic that is interesting with Biden and age is that if it winds up that he is running against Trump again, I don't think age is going to be a big issue. Trump's really not that much younger than Biden is. Where it becomes a big issue is if it's DeSantis or somebody who's much younger. Then I think it's going to really be baggage for the Democrats.
David: You agree, Jill?
Jill: I think if it's Trump versus Biden, age won't be an issue between them but age will be an issue for American voters who will be really frustrated. I just think of the young people that we teach every day, they will be furious. "Can't these people step down and get out of the way?" You hear that all the time and I'm with them there. I'm just not persuaded that there's enthusiasm for Biden.
David: The polls certainly don't reflect it.
Jill: You take that and then you imagine being 19 and voting for the first time. You're looking at Trump versus Biden again? I just think that's a political despair that fuels the political apathy of a non-voting young person in a way the country can't afford.
David: Jill Lepore, Jane Mayer, thank you so much.
Jill: Thank you.
Jane: Great to be with you.
[music]
David: Staff writers Jane Mayer and Jill Jill Lepore.
[music]
Copyright © 2023 New York Public Radio. All rights reserved. Visit our website terms of use at www.wnyc.org for further information.
New York Public Radio transcripts are created on a rush deadline, often by contractors. This text may not be in its final form and may be updated or revised in the future. Accuracy and availability may vary. The authoritative record of New York Public Radio's programming is the audio record.