Nnedi Okorafor on Sci-Fi Through an African Lens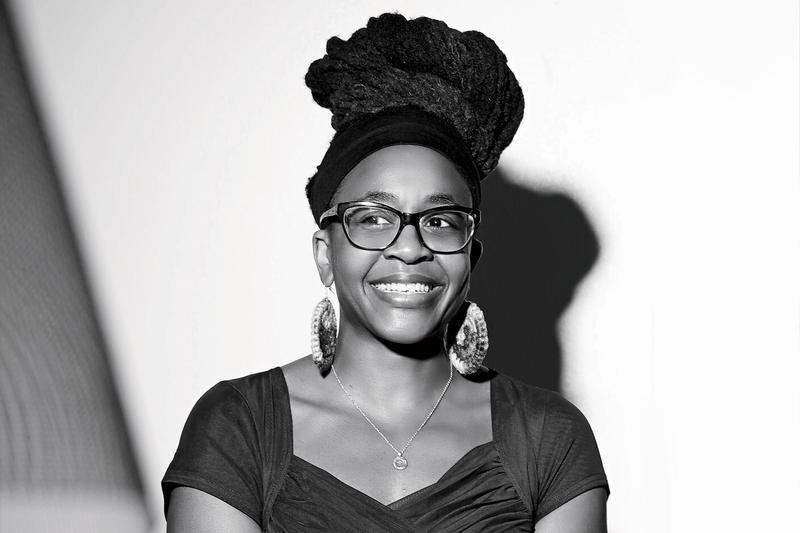 Transcript
David Remnick: Before she started writing, Nnedi Okorafor was a young athlete and a very good one.
Nnedi Okorafor: Yes, I played semi-pro tennis, and I was a track star, all of that.
David Remnick: She began writing when she was in college after her life had changed suddenly and profoundly.
Nnedi Okorafor: When I first started telling stories after a really traumatic kind of thing because I was an athlete, and then I had to have a spinal surgery. There was complications and the main complication was it left me paralyzed from the waist down. The way that I brought myself from the darkness during all that was I found storytelling. I haven't stopped writing since I started writing in that hospital bed. As soon as I discovered it, it's what I do.
David Remnick: Okorafor regained her ability to walk and kept on writing. She got a PhD in literature and began to publish. She's the author now of a long list of fantasy and sci-fi books for adults and young adults, along with Black Panther comics for Marvel, and her book Akata Woman comes out this month. It's the third in a series. It's about a teenager named Sunny, who's Nigerian American, just like Okorafor herself. Sunny has moved to Nigeria and she's discovered that she's got magical powers. Nnedi Okorafor spoke recently with The New Yorker's, Vinson Cunningham.
Vinson Cunningham: The modes that you work in, science fiction and fantasy, how did you arrive in that place?
Nnedi Okorafor: I grew up reading everything. I had this kind of weird habit of going into the library and not looking at the category. I didn't know when I migrated into the adult section. [chuckles] I was just looking at the books, no matter what the genre was. If it was a good story, if it attracted me, I would read that.
I'm sure some of the fantasy and science fiction narratives influenced me, but it wasn't like in a conscious way. I was attempting, at first, to write memoir and nonfiction. There's something about the way that I just naturally viewed the world that caused that nonfiction that I was trying to write. I'm trying to write about personal stories that happened to me, but something about the way that I naturally view the world made me write them in a certain way, where someone else would read it and be like, "Oh, this is fantasy," and I'm like, "No, it's not. [chuckles] I was writing what I was seeing."
That was where the fantastical aspect came from, and also a lot of it comes from being Nigerian American. From a young age, my parents were taking my siblings and I back to Nigeria to meet with our relatives, and kind of know our heritage and all of that. Whenever we would go, we would encounter, because it's part of the culture, this mysticism. It was just normal, but because we were American Nigerians, it was new to us and we noticed it.
For me, when I started writing, those things came forward very quickly. The science-fiction part, like I said, I grew up reading some, but the genre of science fiction did not attract me because I didn't need to see reflections of myself per se, but I needed to feel like I could exist in those worlds, possibly exist, and so I'd read these narratives, and they just came across as very cold, white, and male, and so I couldn't connect very well with the science fiction that I was reading, so it wasn't like a big genre for me, it was those trips to Nigeria that did it.
We would go, we'd stay in Lagos, which is this big, grand city and very technologically advanced, all of that, and then we would go to my parent's ancestral villages, which were far more rural. As I got older, I started noticing technology, in particular cell phones. These bits of advanced chargeable technology that were portable, that was showing up in these very rural areas. I was just intrigued by them, I'm like, "What? How come no one's writing about this?" The impact it's having on the ways people are thinking here like, what's going to come out of that. I started thinking that, and then that led me to start thinking, "What's the future going to look like here?"
Vinson Cunningham: I wanted to talk to you about the title of these books because as far as I understand it, Akata is a slightly derogatory term that Nigerians use for American Blacks. Of course, intra-diasporic conflict is one of the things that I'm most interested in, and it's really interesting to think about those lines. How was it? You mentioned feeling like an outsider when you would go to Nigeria because you are growing up as an American kid, but of course, I'm sure the converse was true that like even among Black kids in America, there was an aspect of your blackness that didn't line up with theirs. How did you navigate that life within a diaspora, and how did that just make you start up your process of thinking about these issues?
Nnedi Okorafor: It was everything. This conversation was everything. Even before I became a writer, it was really important, especially my sisters and I. This is something we were always talking about, the complexity of it. First, I want to address the word Akata. Akata is a terrible word. [chuckles] It's a terrible word. It's a horrible, horrible word.
The thing is, when you talk to some Nigerians, they will be like, "Oh, no, it's a neutral word. It just describes Black Americans, and it's fine." Anyone who has been called that term and fits into the category of the definition knows that it is not a nice word. It's not a nice word. It's a derogatory term for Black Americans, but that also includes Nigerian Americans as well. This is a word that I have grown up hearing and being called and grappling with and yelling about.
When I wrote the first one, the Akata Witch, in the book itself, it wasn't that she was called Akata witch, which it was originally Akata B-I-T-C-H. [laughs] That was a term because that's the term that I actually knew. Then I was called an Akata by some man because he thought I was mouthing off and he's like, "Oh, you American girls, you just have no respect for what," and he called me that. I got angry, and I'm like, "I'm putting that in the title. I'm going to be the first person to put that word in a title of a book." It was like a taking back and it was me being audacious, and so I've kept it.
Then in the United States, especially in my younger years in South Holland, Illinois, which is a south suburb of Chicago, which in the '80s was all white. It's like, we would hear the N-word everywhere, from teachers, yelled out of cars, from best friends, all kinds of thing, so we've got that going on. Then a few years later, we moved to a more diverse part of the suburbs and that's where we encountered African Americans, who then would call us African booty scratcher and make fun of our names, so it's like, all this cultural stuff.
My siblings and I, we would take it in. We have each other, so we'd always talk about it and be like, "This is confusing. What are we? Where do we fit? We don't fit anywhere." Then at some point, we just got comfortable not fitting in anywhere but still having that commonality, so that's like a conversation we've been having forever, and we're very secure in who we are, and so these are like things that I like to write about, and I like to play around with them, and Sunny definitely has those conversations and has them honestly.
Vinson Cunningham: Sunny is the main character in your new book. She is the so-called Akata woman. She's Nigerian American, just like you. This issue you're talking about of distinctive Black communities, it reminds me of a term that you've coined to describe your work, African futurism. This came about, as I understand it, as a response to the label of Afrofuturism, which you used to subscribe to. It's become sort of bogus term when we talk about Black sci-fi in the US, but you wrote a blog post that is, to me, a manifesto, and it says, "Actually, I'm trying to do something different." What did you think was causing your work to be misunderstood under the label that we know Afrofuturism?
Nnedi Okorafor: I think that a lot of the misunderstandings of what I'm trying to say come from what are called the diaspora wars. Everyone wants their stories told, everyone wants their stories to be important and significant, and it's caused a lot of, this is not a word, but I'm going to say it anyway, territoriality. [laughs]
Vinson Cunningham: I'm tracking that. That sounds right to me.
Nnedi Okorafor: You know what I'm saying.
Vinson Cunningham: I sure do.
Nnedi Okorafor: Everyone's being very territorial. I had an issue because I was seeing Black science fiction being couched in terms of the United States. The United States is focal point, and the majority of the stories are coming from the United-- so it's like imaginings of the future were coming from one part of the world where the majority of Black people are not.
I think a lot of people forget that the majority of Black people are on the continent of Africa, and that's fine. That makes sense. I remember I'd said, "This was what caused a lot of problems." I had said that the majority of Afrofuturism should be written by people who are on the continent of Africa. When I said that, there was a huge backlash. I had a lot of people, a lot, and I'm talking probably in the thousands, telling me, "This is ours, we're Americans, we're black Americans, and this is ours. Afrofuturism is ours." Once I started hearing that, I'm like, "Okay, that's fine". That's when I knew there needed to be another term, there needed to be a more diverse way of looking at this because it's a big world. Culturally, it's a big one. I'm saying this as an American.
Vinson Cunningham: Yes. The more views, the better, the more angles. I do want to talk to you about Black Panther because obviously, you've written several story arcs of Back Panther, but you've also articulated some critiques of how it's come out into the world, especially in recent years. I'd love if you could just talk about that maybe through the lens of African futurism, maybe this is part of the story here.
Nnedi Okorafor: Yes. I've written a few [chuckles] Black Panther comics, and then I wrote Shuri.
Vinson Cunningham: One of my favorite characters.
Nnedi Okorafor: Yes, me too. When Marvel asked me to write, in particular, T'Challa, and mind you, I have to say this, I'm the first woman who wrote T'Challa. When they asked me though, it wasn't like an instant yes. It wasn't like, "Oh my God, yes. It was, I had to think about it because I love the character of T'Challa, but I had some issues with the concept of Wakanda. I had some issues, and the main one is that it's a small African country and it's technologically advanced. It's one of the wealthiest nations. It was there during colonialism and all these others, and they didn't help with any of that, so I'm like, "This is problematic, and I'm not sure."
Then I also have issues with just monarchies in general, always had issues with them and Kings and Queens. I don't write Kings and Queens. There's a reason for that. I had to think about it, what led me to say yes was that it was T'Challa the character and how his constant conflict is between being King and the Black Panther, and then also his personal individual. It's like community versus individual and that conflict. That's a conflict that I can relate to and understand very deeply. It's a very African and a diasporic issue. I was like, "Okay, that was my in." In the film, it was like that T'Challa was very similar to the one that I had imagined, the one that had been in the comics as well. It was really nice to-- oh, Chadwick was such a good T'Challa, so yes. It was good.
Vinson Cunningham: Yes, it was wonderful. Is there something that you've learned from your readers, especially your younger readers, that gives you a sense of-- that makes you speculate about how that future might be, and how have you learned about them something that gives you hope for the future?
Nnedi Okorafor: Yes. I just feel like the younger generation, especially readers, are breaking molds in this way that I envy. I'm like, man, that would've been so cool when I was a kid just to not have to deal with those molds that I had to fight my way out of, but they're like breaking and destroying molds around gender sexuality, just being. You could just be-- I was an athlete who was a bookworm who was Nigerian American. Those are all different boxes.
It's like, now there's just an openness to different types of people that I find that very hopeful, and I hope it's not something that you just have as a kid and then once you enter the workforce, you harden up and [chuckles] shed all of that. That's something, that openness and willingness to let people be who they are, that's the biggest thing
Vinson Cunningham: You have given me a reason to hope. Thank you. Thank you so much for talking to us. This has been delightful.
Nnedi Okorafor: Thanks for having me, this is great.
David Remnick: The New Yorker's Vinson Cunningham, talking with Nnedi Okorafor.
[music]
Copyright © 2022 New York Public Radio. All rights reserved. Visit our website terms of use at www.wnyc.org for further information.
New York Public Radio transcripts are created on a rush deadline, often by contractors. This text may not be in its final form and may be updated or revised in the future. Accuracy and availability may vary. The authoritative record of New York Public Radio's programming is the audio record.