The New Abortion Underground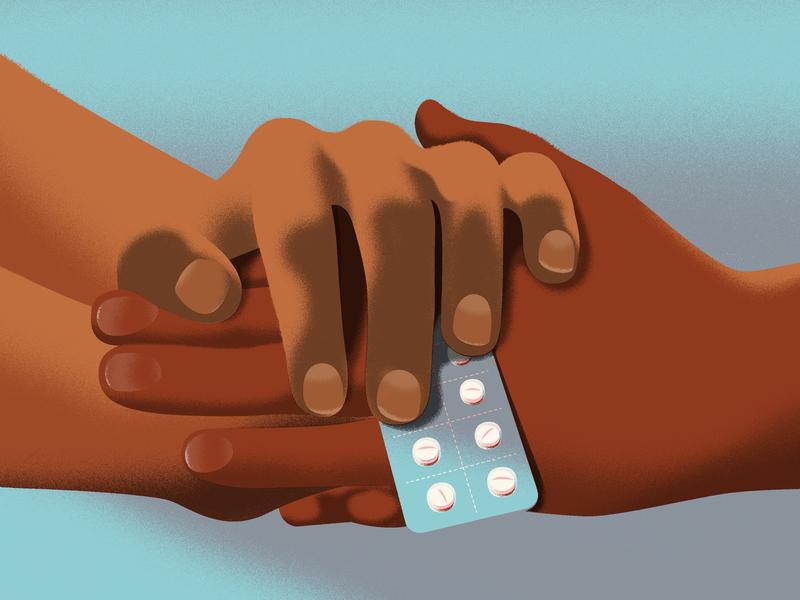 Transcript
[music]
Stephania Taladrid: This is The New Yorker Radio Hour, a co-production of WNYC Studios and The New Yorker.
David Remnick: This is The New Yorker Radio Hour. I'm David Remnick. Since Roe v. Wade fell, a network of activists has been putting medications used for at-home abortions into the hands of women who have lost the constitutional right to reproductive choice.
Stephania Taladrid: They actually started calling themselves the pill fairies. This is a collective of women who range in age from 30 to 82, and they each have a different role in this network.
David Remnick: Stephania Taladrid has been reporting for The New Yorker on abortion since well before the Dobbs decision. Steph, this is now the first time that we're hearing from women who are really doing this, sometimes at great personal risk. Where does it start? Who's coordinating this effort?
Stephania Taladrid: The woman coordinating this is Verónica Cruz. She's a legendary activist based in Mexico, and she runs an organization called Las Libres, which means "the free ones." She started Las Libres back in the early 2000s when abortion was criminalized in Mexico. It's since been decriminalized. I've been talking with her about the model that she developed called acompañamiento. The idea is one person, the acompañente brings pills along with tips about how to use them to women in need of abortion. The acompañente provides comfort and answers any questions during the abortion process.
Now what Verónica is doing is working to adopt that model for women in the US who don't have access anymore to a safe and accessible abortion.
Veronica Cruz: [Spanish language]
Stephania Taladrid: I met with Verónica in Guanajuato, her home state in Central Mexico. That was in early August. She told me how she first developed this model for women there who were sexual assault survivors. The idea was to make abortion not just more accessible for them, but less frightening. Now, she's extending that model over the border with the help of these pill fairies, this underground network of volunteers.
David Remnick: Steph, maybe it would be very helpful for you to walk us through how this whole system, this underground, as you describe it, works.
Stephania Taladrid: Right. Immediately after Roe was overturned, a number of American women living in Mexico reached out to Verónica saying, "We want to help." There's a number of ways they can do this. The first step in the supply chain is obviously to get the medications. I talked with a group of elderly American women who are doing this. They live in San Miguel de Allende, a town close to where Verónica lives. It has a large community of American expats like these women. When they started working with Verónica, they called dozens of pharmacies around town trying to source the medications. Some of which, by the way, are available over the counter in Mexico.
From there, the next step in the chain is to get the pills over the border. Some volunteers are driving the medications across, some are packing them into their bags and flying into the states. I'll tell you about one of the women I spoke with whom I'll call Claire. She's been traveling to San Miguel de Allende for decades, and once she heard about Verónica's work, she decided, "Okay, I'm going to contribute to this cause." In August, when I traveled to San Miguel to meet with her, she took me to an artisanal market in town. It was early in the morning. We were walking through rows of stands selling all kinds of jewelry, hearts of blown glass, and portable shrines of the Virgin of Guadalupe. She explained to me how she hides abortion pills using earrings that she buys from these local vendors.
David Remnick: I should explain something at this point before we hear that. You met this woman and recorded your interview, but the voice we're going to hear is another woman who's dubbed over the tape, an actor. Because these people, the pill fairies, as you call them, don't want their voices used on the radio, and certainly, in The New Yorker, they didn't want their names used either.
Stephania Taladrid: That's right, and that is because abortion is effectively banned in 14 states. These women risk going to prison depending on where they're mailing the medications from and facing a very, very steep fine. This is Claire walking in the market.
Claire: When my parents brought me down here in 1971 for the summer, it felt like that was the most exciting thing that could have happened. I felt like all my childhood memories were in black and white, except for the summer we spent in San Miguel de Allende, which was technicolor. When I came back years later, I was reluctant to come back because I'd heard that so many Texans and gringos have ruined the place, but when I came back, I felt like it was still really magical. Now I go back and forth to the states, and it makes me a perfect person to work with Las Libres because I have Global Entry and I figured I might as well use my privilege and sneak into the country with some abortion pills.
Stephania Taladrid: She stopped at a booth where a young man was selling flower-shaped earrings. Each piece was made of colorful glass beads, and she bought 20 of them. They looked like sunflowers, camellias, and roses.
Claire: I buy these little earrings here from these guys. First of all, I love their work. The earrings are beautiful, and they're kind of a sweet gift to give to somebody who is going through a hard time. I want to be discreet about sending pills. I want to make it look like a little presence or something like that. I bought a bunch of jewelry boxes, the kinds that are stuffed with cotton, and I thought, "Between the layers of cotton is a perfect place to put the pills with a little sheet of instructions." Then I put the earrings on top of that. It looks like you received a pair of earrings.
I think it's really important to be discreet because you don't know what a woman's situation is, like maybe she's living alone, maybe she's living with a violent boyfriend, or a husband who would be really angry to know that she was getting pills. I could just imagine someone opening it and saying, "What is this?" and throwing it out and having a fit and beating somebody up, so I just wanted to make it as discreet as possible. Then also, I just like the idea that-- It's just so stressful to be pregnant when you don't want to be. You have all these hormones going and the way your body feels, you just want it to be over, and so I thought, "It'd be nice to get a pair of earrings when you're in that kind of mood, like get an abortion and get a present." That's why I send earrings.
David Remnick: Steph, this is someone you spoke with in a market in Mexico, and her role in this is to bring the pills used for abortions from Mexico to California. Then she does what?
Stephania Taladrid: Once she gets home, Verónica Cruz, who is the activist that we've been talking about, sends her the addresses of women in need of the medication. She talked about the fact that when she started doing this, she was quite curious. She started looking up the addresses online, and she found trailer homes and rundown apartments, and she kept thinking about the women who lived in those houses.
David Remnick: These are women who make their needs known for abortion pills?
Stephania Taladrid: Yes. They reach out to Verónica. They contact her via WhatsApp or signal or they can also call Las Libres. Sometimes, they'll just say, "Hello," and Verónica will know what they're looking for. Then they'll give her their address. The pills are free, so that's pretty much it.
David Remnick: I have to say, Steph, as I listened to you describe this operation, we've gone from legalized abortion where there are all kinds of problems, of course, but there were systems in place, there were clinics, there were doctors. Now we are reduced to activists finding ways to put pills in boxes with earrings and hope for the best. It is extraordinary the efforts they're going to, but it's devastating to listen to what these people are reduced to doing to get what they need.
Stephania Taladrid: Right, and I think that one could argue that what we have in the country now are just different standards of care. Because remember, there are states in the country where abortion is still legal, and so the women who have the means to travel to the states will be able to do that, and they'll be able to see a doctor. They'll be able to go to a clinic and receive the care that they need.
David Remnick: The poor get poorer.
Stephania Taladrid: Exactly. Exactly.
[music]
David Remnick: I'm talking with Stephania Taladrid. This is The New Yorker Radio Hour, and we'll continue in a moment.
[music]
David Remnick: Stephania Talardrid has just published a major piece of reporting in the New Yorker about an underground network delivering abortion medications to women in states that now prohibit them. Now remind us of what these pills are, what are the medications and how do they do their work?
Stephania Taladrid: We're talking about two sets of pills, mifepristone, which blocks progesterone, and misoprostol, which causes uterine contractions. These pills are not available over the counter in the States, in order to get them, you need to go to either an abortion clinic where a doctor will charge you upwards of $500 for the pills, and then you'll take them at home. Or you can get them mailed to your house, this is obviously in states where the procedure is still legal, again, for hundreds of dollars.
David Remnick: Well, I have to ask you, is it safe to use these pills? And are they successful without the supervision of a doctor?
Stephania Taladrid: Very much so. The World Health Organization has explicitly stated that medication abortions don't need to be administered by a physician, the risk of running into complications is actually really, really low. Studies show that in less than 1% of the cases, women develop an infection or hemorrhage.
David Remnick: Steph, are these medications all being distributed by mail from out of state? That's how these women are limiting their legal risk, right?
Stephania Taladrid: Not everyone mails the medication, you also have pill fairies who decide to meet the women in person and hand the medication directly to them. I actually met a woman in Texas who has been doing this for several months now.
[music]
She told me about her determination, her conviction really, to make sure that women were not alone in this process, that she could accompany them. I think it's important to point out, David, that most of the cases that this woman described were straightforward interactions. A majority of people picked up the medication and told her thank you for the pills, I'll let if anything goes wrong, and then she never heard from them again.
Anna: Yes, many people, I guess little vignettes is the easiest way to talk about it because they really are all so different.
Stephania Taladrid: But in some cases, some of the women were in situations that to me, highlighted the need for abortion care, reproductive care, to be accessible and delivered by professionals.
Anna: One woman was in a super violent marriage, already has three children with this person and has been looking for a way out. When she realized she was pregnant, it felt like a death sentence to her. I met her at a park, she was shaking, she was really nervous, she didn't have a lot of time, because her husband always knows where she is. Yes, it was awful, it was terrible.
Stephania Taladrid: How was that interaction with her?
Anna: I think it left me feeling a little bit like hopeless, or both hopeful and hopeless somehow. It's like, I felt good that at the very least, this one thing she would have control over and she'd be able to stop herself from like-- She'd have one less thing to worry about when she's trying to leave this person. It just felt like one thing would go right, but I felt hopeless because that's not how she saw it.
Stephania Taladrid: When you think about the people that you've helped, is there another case that stands up?
Anna: Yes, the teenager stands out to me a lot.
Stephania Taladrid: Why is that?
Anna: Well, just that she was innocent and unaware, like so in shock. Basically, she was very, very young, I think in eighth grade, and her grandmother came and I think her aunt, there were two women with her. The grandma was doing her best to be kind, but was also just like, they were a little harsh on her. I think they were pissed that she got pregnant. I kept trying to talk to her directly, and she was just clearly in shock like she wasn't absorbing the information. I was just like, "Okay, let me talk to these other two people so that they know what's going on."
But that really made me-- I just felt really out of my depth. I felt really unprepared to counsel them in a meaningful way, and they clearly needed it. Whoever the younger woman was, she was speaking Spanglish, like Spanish and English. I don't know exactly what she was saying, but I could basically tell she was like, "What the fuck is wrong with you, you are a child, how did we get here."
That's one that sticks with me because it just feels like in other states or under a better law system, her grandmother could have taken her to a sexual reproductive health clinic where they could have had a conversation with her. Taught her about condoms, given her resources, given her a phone number to call, given her birth control and sent her home feeling empowered with more information. Instead, she had to go to some random person she's never met, house. I'm sure they did not feel safe or comfortable here. I just felt like I was able to meet one very specific need, but I feel like they had a lot of needs that me alone has no reference points or qualifications or expertise to support.
David Remnick: Steph, you interviewed this woman in Texas, in your story, you call her Anna, she's distributing abortion medication illegally and the penalties for that are very high, or they can be. How concerned was she about taking this risk?
Stephania Taladrid: She was very concerned, but at the same time, she took as many precautions as she could. She rarely meets women at home, she almost always tells them to meet her at a public park, or at a coffee place. When she meets people at a park, she wears a mask, large sunglasses, and a sun hat to really mask her identity.
Anna: I want to find out how to convey to my neighbors that this is available and I'm scared to. I think in general I'm a trusting person, but when it's such a severe penalty, I just would want to be really careful.
David Remnick: Why did they want to talk with you then, Steph?
Stephania Taladrid: I think it's an act of resistance. The way many of them have put it to me is they want other women to know in places where abortion has been banned, that they can still exercise that right. That if they need an abortion, they don't need to go through a back alley procedure, they can reach out to someone who has the tools to get one, who is well informed about how to do so, and who will not put their health at risk in any way.
David Remnick: Were you able to talk with anyone who actually received pills in this system?
Stephania Taladrid: I actually did. There is a woman named Sarah, who was already a mother, and for financial reasons could not have a second child. She learned of her pregnancy and she in a panic started reaching out to some of her friends who she knew would be able to help her.
Sarah: My friend asked me, "Are you looking for a clinical solution?" Because at that time, that was still a possibility. Clinical pills, managing it yourself, or going to a doctor or whatever. I was like, "Self manage, because I don't--. Well, the laws are about to change, and I can't risk having that on the books." She said, "Okay." She said, "Here's some websites that you can get information from and order from and here's--." She was like, "I might have a local contact too, just give me a few minutes," and I was like, "Okay." I went through two processes, I went through one of the websites, that's where you fill out a form that's a Teladoc appointment and then they send it to a pharmacy in India and then they mail order it, which did cost money. I did that process, but then my friend texted me back and put me in touch with Anna.
Stephania Taladrid: That's the pill fairy in Texas that we heard from earlier.
Sarah: And Anna said, "Can I help you or whatever?" And I said, "Well, I'm hoping that I can find something local." And she said, "Well, I'm here until 12:30." She explained the program to me, that they're essentially smuggling pills to Texan women. She gave me instructions, "If this, this, this, you need to go to the hospital." I was like, "Great." I had a positive test at 9:30 in the morning and I was pills in my purse driving home by 11:30 in the morning.
Stephania Taladrid: Wow. That's incredible. Did the other pills ever arrive?
Sarah: They did. I think about two weeks later, so it was still really early. I just have them on hand so that I can be a pill fairy to someone in need if necessary. I have referred, I think, two other people, to Anna, but if she were not able to help or if somebody didn't want to go to someone else, I would do the same thing.
Stephania Taladrid: The way she explained this to me, she was actually tucking the pills in her dresser drawer when she realized that nothing but her fears stood in the way of her doing what Anna had done for her. She picked up her phone, texted Anna, and said, "Hey, how do I start doing what you do?"
Sarah: There's nothing else to do. You can't just lie down and accept it, you can't.
Stephania Taladrid: When you think of other women who are having to go through something similar to what you've been through, what are your thoughts for them?
Sarah: I am really scared for them. Because I know that my resources were available to me, because my resources were loud. I'm worried that the resources that do exist that I was able to take advantage of, even if they're still there, I'm worried that people won't know.
David Remnick: Steph, this really raises an essential question and that's where all this is going. Do you see these kinds of networks growing, or will they get cracked down upon by the states that are so aggressively against abortion? Are these networks going to shrivel as we get increasingly harsher punishments in some areas?
Stephania Taladrid: I think if you were to ask Verónica, she would tell you that the bigger the movement becomes, the harder it'll be to crack down on. It's a decentralized system, it's not as easy as turning to an abortion provider, an abortion clinic, and saying, "That's it. I take away your license, you cannot operate in the state anymore." It's women taking matters into their own hands in a safe manner.
David Remnick: They're taking matters into their own hands in a moment when the surveillance state has extraordinary technology to figure out digital footprints, to figure out your Google search data, all that can be accessed for possible prosecution. Is it really possible for networks like this to keep on working successfully?
Stephania Taladrid: I think it is. Most of the women I talk to are communicating through Signal, which is an encrypted app and they're very conscious of digital surveillance. There's also the question of how far prosecutors will actually go to prosecute these women. Many of these laws restricting abortions are so new, we really haven't seen them play out. The politics of enforcing these penalties is complex.
If we look at Texas, for instance, there was a survey that came out last month that found that 60% of voters actually favored abortion being available in all or most cases. Only 10% supported banning abortions completely. In this context, as one lawyer put it to me, it seems conservative lawmakers would benefit just as much from pretending that no abortions are happening as they would from prosecuting them.
David Remnick: Steph, you're reporting here is extraordinary and it goes to the heart of the results of a Supreme Court decision. I thank you for bringing it to us.
Stephania Taladrid: Thank you, David.
David Remnick: You can read Stephania Taladrid's full reporting at newyorker.com. I'll mention again, the voices you heard in this piece were actors who dubbed over Stephania's actual interviews in order to preserve their anonymity. This is The New Yorker Radio Hour. Thanks for joining us.
Participant 1: The New Yorker Radio Hour is a co-production of WNYC Studios and The New Yorker. Our theme music was composed and performed by Merrill Garbus of Tune-Yards. This episode was produced by Emily Botein, Britta Greene, KalaLea, David Krasnow, Louis Mitchell, and Ngofeen Mputubwele.
Participant 2: Along with Jeffrey Masters, Will Coley, Jenny Lawton, and Michael May. We had assistance from Joe Plourde and James Napoli.
Participant 1: Special thanks to Kurt Campion, Maureen Russell, and Danny St-Germain. The New Yorker Radio Hour is supported in part by the Charina Endowment Fund.
[music]
Copyright © 2022 New York Public Radio. All rights reserved. Visit our website terms of use at www.wnyc.org for further information.
New York Public Radio transcripts are created on a rush deadline, often by contractors. This text may not be in its final form and may be updated or revised in the future. Accuracy and availability may vary. The authoritative record of New York Public Radio's programming is the audio record.