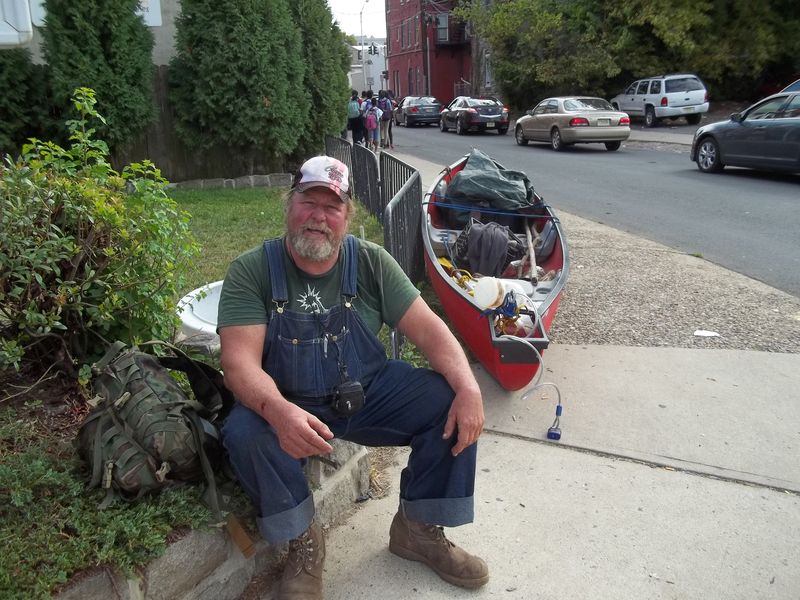 Transcript
Radio Host: One of the very first stories that we aired on this program, Episode 8 as a matter of fact, was about a man named Dick Conant, a kind of adventurer who in middle age began taking trips by canoe. Long, extraordinary trips. Take one example, Conant traveled the entire length of the Mississippi River down to the Gulf of Mexico. Then, he paddled back upstream on the Mobile River, making his way to Tennessee.
Then, he gets a ride over the Peak of the Appalachians and finally paddles the James River through Virginia out to the Atlantic Ocean. That's just one trip. By chance, Dick Conant met staff writer, Ben McGrath, one fine day on the Hudson River. Eight years later, Ben's book about Conant called Riverman: An American Odyssey comes out this week. We wanted to revisit this story about a very difficult, troubled, but truly remarkable life.
Ben McGrath: Here, we're in the town of Piermont, New York, which is about 15 miles north of the George Washington Bridge on the west side of the Hudson River. I like to go kayaking, usually in the mornings. The day I met Dick, which was Labor Day of 2014, I was going to take my two-year-old kayaking. My neighbor peeked his head over that wall. He said, "There's somebody in here who I think you might want to meet."
[music]
Ben: I started walking over to my neighbor Scott's house. Before heading inside, I noticed at this point that there's this dirty red canoe tied up to the base of his wall. It's covered in tarps and some trash bags maybe. It's got army duffles. It really looked like it had been packed for the apocalypse. Inside, sitting at the head of a long rectangular table, was Dick Conant. He said he was 63, and he had a big beard. He was bright red, and he probably weighed 300 pounds. He had these dusty denim bib overalls.
I remember having the impression that it was as though Santa Claus had canoed into town. He was holding forth. I gathered that he was about two months into a journey that he expected to last at least another six more months. He had begun up by the Canadian border and was basically going to be taking a chain of rivers and canals down the Atlantic seaboard and ending up in Florida. He was on this journey for, from what I could tell, no particular reason. It quickly became clear that this was not his first insane voyage.
In fact, within a couple of minutes of my arriving, he was telling a story about how he once almost got run over by a barge on the Mississippi at night. As it happened, he'd basically been crisscrossing the country alone in a canoe for the better part of two decades. I missed the opportunity to really draw him out on the particulars of those trips because I did, after all, have my two-year-old with me, and he was threatening to destroy my neighbor's house.
It wasn't really until the next morning when I woke up and thought, "Okay, I've got to find this guy again." I got some binoculars and drove down south. After a while of hiking along the shore, I was able to see, off in the distance, this flashing yellow plastic paddle. When he got within earshot of me, I yelled his name and started waving him ashore. He backed the boat in. He just decided to set up camp right there.
Dick Conant: I'm due for a good break. I might make camp right here. I'm exhausted. Is there a place you can sit? Do you have something to drink like a soda pop?
Ben: I don't, unfortunately. Sorry.
Dick: Would you like one?
Ben: No, you don't want to waste your supplies.
Dick: It's no waste, believe me.
[background conversation]
Ben: We started talking, and I began to learn the very long and mysterious life of Dick Conant.
Dick: I was born in Germany. We lived in Germany for three years. My dad was with army armor. We moved out to Kentucky, Fort Knox, for four years.
[background conversation]
Ben: He had grown up actually a bit of an army brat. He'd been all over the place, but most of his schooling as a boy was done in Pearl River, New York. Pearl River is a pretty ordinary suburb now. In the '50s and '60s, when he was there, he did really think of it as Mark Twain's country. It was winding country roads. The upper reaches of the Hackensack River were there. They had a little dinghy. They would go up and down. Dick, in fact, invented a club. It was called Catfish Yacht Club.
There's a way in which throughout all of his life, he saw himself as an epic adventurer. He was at the top of his high school class. He had a full scholarship to college. He was a hugely talented man who had, because of various troubles he had, not amounted to much in a conventional sense.
Dick: Maybe, I had a really checkered career [unintelligible 00:04:52] . I worked on the railroad in Wyoming for five or four years.
[background conversation]
Ben: He had worked on the railroad in Wyoming. He had worked on the oil rigs. He was a coal miner. He was a janitor. He worked in hospitals. He was a weather observer. He was in the Navy. Most recently before I met him, he'd been selling bus tickets at a Greyhound station. I think the fact that he hadn't achieved-- one of the phrases that he didn't have a white picket fence. He didn't have a family.
Dick: I'm about 63 years old. These adventures are incredible. They really are. However, I would much rather be at home with a woman and a family, like you have than [unintelligible 00:05:36].
Ben: He was homeless.
Dick: One of the reasons I go on these trips is because I don't have an apartment.
Ben: When he wasn't paddling, he camped outside in what he called a swamp in Bozeman, Montana.
Dick: I'm homeless. People call it homeless, I know. I've been living like this since 2007.
Ben: From talking to him, it was clear that he was extremely well-read, both in a historical sense with literary references and historical references, but also could more than hold his own in talking about current events.
Dick: When this trip is over, I'll sit down and write a prose account.
Ben: He told me that he had written several books. In fact, I think had a couple of them with him in the boat on flash drives.
Dick: I've written three books. I'm just not published. By time I get finished writing a book, I'm ready to go on another trip.
Ben: The books read like journals. Each of them is a chronological account of a particular transcontinental canoe trip.
[music]
Dick: November 13th, 1999, I visited with a dog. This damn thing followed me for two miles along the riverbank after I got underway. November 14th, 1999, I saw an interesting sight today. A bald eagle was pestering and chasing a great heron in midair. He ran him up. August 12th, 2009, I'm up at dawn. I paddle all day. I see eagles and other wild-- January 18th, 2010, I'm on a tawny sand beach listening to squawking birds.
January 4th, 2000, my abode, my bedroom is a gravel riverbank. My living room is the greatest river system of the most beautiful country on earth. August 20th, 1999, some guy and his wife woke me up from a nap at Lewis and Clark State Park. He asked me if that was my rig in the river. I said, "The red canoe was mine." He asked me where I was going. I said, "The Gulf of Mexico." He asked me eventually, "Why?" I told him, "I got tired of TV and automobiles, so I just took off and jumped in the river."
He and his wife stared at me blankly. Like Pat Schroeder used to say, "Some of you people just don't get it."
Ben: He was physically a very striking man, very large, always wore overalls. He apparently rode a bike that was often too small for him. He had a booming, if gentle voice. In a town, in a place, you get a man who looks like that on land. That person sticks out in a way that makes people uncomfortable.
He was very aware of that. Bozeman, Montana is a relatively small town where if you're a 300-pound man who wears overalls and rides a bicycle back and forth, people do know you and notice you again and again, and probably do roll their eyes or whisper things, "There's that guy on the bike again." When he's on the river, and he emerges into a new town, he's not 'that guy'. He's 'this guy'. The difference between 'that guy' and 'this guy' was everything to him.
Dick: September 17th, 2007. At the risk of sounding like a whining, crybaby complainer, I've got to get some baggage off my shoulders. The people in Bozeman did not appreciate my talent or skills, or God forbid, my robust personality. I am not a wealthy man, unless I consider the innate skills granted to me by nature. As this present odyssey can convey, I am an unabashed and gifted adventurer.
Ben: Because he had been a successful kid and student and athlete and all these things, he had a strong sense of his own talents and potential. Yet, by middle age, he clearly hadn't reached any of it, in a conventional sense at least. The canoeing, which really he took up, I think his first long trip, he was 43 years old. In a way, you could think of it as a midlife crisis, but it also became a way for him to shift that sense of squandered potential into a real sense of accomplishment. It became a career in which he could excel.
Dick: September 17th, 2007. This is a good opportunity to reiterate a concept which is very real and quite stabilizing in a psychological aspect. Though I am no king of the Irish or any warrior king, when I am out on the water in my canoe, I do call the shots. My time is my own. It belongs to me. Though in most places I visit I am treated with friendship and generosity, and often kindness in the extreme, I am beholden to no one.
Ben: My main goal at the time had been simply to write a short Talk of the Town story for the magazine about an unusual man who had passed through town. I think the story came out in late September. October 20th, he sent me an email saying that he was HalenHardy in Delaware City, Delaware. At that point, I believe he said he was preparing for his next leg, which was across Chesapeake Bay and didn't hear anything again until November 29th. It was a Saturday and I was getting lunch ready for my kids. I got a phone call from a number I did not recognize and it was a wildlife officer in North Carolina saying he was investigating a missing boater.
It took me no more than two seconds to realize who he was talking about. As it turned out, some duck hunters had found a canoe but not a canoeist. In going through the boat, they had found my phone number in it. The point where they found the boat, it was turned upside down up against some cypress knees. It was on the Albemarle Sound in North Carolina. If you look south across the Sound at that point, it's like 12 miles across. You can't see the other side. He might as well be on Lake Michigan. They thought they had a huge search area, and they didn't know when he'd gone missing, because his itinerary was known only to himself. Dick had seven living siblings, not one of them knew where he was or what he was up to. If they knew, it was only because I'd written an article in the Talk of the Town section.
Dick: I wanted to visit my mother and siblings. Some of them I had not seen in over 25 years. If you don't visit once in a while, you end up forgetting altogether.
Ben: After he had gone missing. I went back to my notes and I saw the part in my conversation with him when he mentioned his older brother Joe in Peachtree City, Georgia. I looked up Joe's phone number at that point when I got the call from the officer and I gave the officer Joe's phone number and that's how the family found out. Unfortunately, I think there was an initial wish on the part of friends he'd met and his family members to think, "Well, maybe, look, he lived a free and untethered life, to begin with, maybe he just decided to ditch the boat and go somewhere else."
The thing that makes that seem unlikely is that he already lived a pretty close to off-the-grid. As much as he wanted to, he was able to accomplish it. He lived outside in Bozeman, Montana. He paddled where he wanted to, when he wanted to. They found a mountain of stuff in his boat, his wallet, his naval discharge papers, his journals, his maps, his money, his food, his tent. His body is still not accounted for. They have been tracking his bank account since he went missing and the only activity in his bank account is the monthly automatic deposit of his social security.
It was a weird and almost unsettling feeling to think that just by happenstance, I had become the link between Dick and his largely estranged family, and it felt very personal. A few months after the news had settled in, I ended up meeting with a couple of his brothers who live closer to me. They began sharing with me some of his manuscripts and talking to me about their childhood.
One of the things that became clear was that he was sensitive to an extreme and sometimes paranoid and delusional degree. In fact, when he was in the Navy in his 30s, he was briefly placed on mental leave. I think the most elegant way of putting it is something Dick himself said to his mother apparently, after he completed one of these trips. He told her that he'd been contending with mental barnacles.
Dick: March 31, 2010. I am paranoid, so I spent some time camouflaging my camp. It is small and tight, but I'm getting paranoid. It looked like another setup. If I got friendly with one woman, the other would have-- September 16, 2009. One can never be certain of what another will do when he or she is truly afraid. March 5, 2010. Now I am increasingly thinking that my visit had more sinister aspects to it-- November 15, 2007. I began to think in terms of the infinite variety of turns a human mind can twist to fabricate and mold. Given irrefutable facts, a determined mind can construct a total delusion out of whole cloth, and thereby satisfy annoying, yet wishful thought process.
Ben: This is one of the reasons why he would often move, is I think he-- ultimately, if he spent too many days in one place, he began to worry that he'd overstayed his welcome, and he felt that he had to go, which is a shame because in many cases when I call the people who were there, they only remember him fondly. They don't remember the offending incident that made him think that he had to go.
Dick: December 20, 2007. I began to feel like a heel when I finally empathize with him, with Wayne. The feeling that I had offended him and his friends began to gnaw at my mind. It will continue to do so for some time to come. I just frankly didn't know any better. My ignorance of social niceties this late in life is fairly deplorable, but I guess it comes with the territory. I find it a bit disconcerting that of the many friends I have met on this adventure, most I will never see again.
Ben: When I look back at the [unintelligible 00:16:44] I wrote, I wonder sometimes in light of what happened, about a comment that an old family friend of Dick's made. I think it was something like, "What Dickey needed was not an article in the New Yorker, but an intervention." I feel pretty strongly that isn't true. I really think, in light of what I've come to understand about his past and some of the difficulties he faced in his head, is that I really think that the rivers were a survival mechanism for him. He himself would often write that he was surprised that he was still alive, and not because he'd been doing this crazy river paddling, but because of all the things that had happened in his life. For Dick, it wasn't a lark, it was simply his way of being.
Dick: January 18, 2008. Frankly, if somebody prefers the domestic life, that is the life he leads or pursues. If he prefers to wander, then he takes off. This stuff about finding oneself is a bunch of baloney. I repeat, that I am not out here finding myself. I was never lost. What I am doing is paddling around, finding geography I have not seen, observing various industry and transport, experiencing wildlife, meeting new people, most of whom are worth meeting, and having a jolly good time before I die.
Ben: It was the only way that Dick could be happy in the world, was moving along through a river. He himself seemed to think that when he first began doing this as a serious line of work, so to speak, which was more than 15 years ago, that that was the beginning of saving his life rather than ending it.
[music]
[background conversation]
Ben: Thank you so much.
Dick: Yes, yes, yes. I love talking about my trip. I don't care if I get published or not, you get published or not, but I do enjoy relating.
Ben: Yes.
Dick: That's half the fun.
Ben: [unintelligible 00:18:51] adventures.
Dick: You be careful.
Ben: All right.
Dick: Drive safely.
Ben: Very good.
Dick: Thanks to your wife and child.
Ben: Will do.
Dick: [unintelligible 00:18:55] .
Ben: All right. Thank you.
Dick: [unintelligible 00:18:59] .
Ben: Will do.
Radio Host: Ben McGrath's book, Riverman: An American Odyssey, tells the story of Dick Conant and it's published this week. Conant is still missing. Excerpts from his journals were read for us by Peter Gallagher.
Copyright © 2022 New York Public Radio. All rights reserved. Visit our website terms of use at www.wnyc.org for further information.
New York Public Radio transcripts are created on a rush deadline, often by contractors. This text may not be in its final form and may be updated or revised in the future. Accuracy and availability may vary. The authoritative record of New York Public Radio's programming is the audio record.