What Latino Voting Trends Tell Us About 2024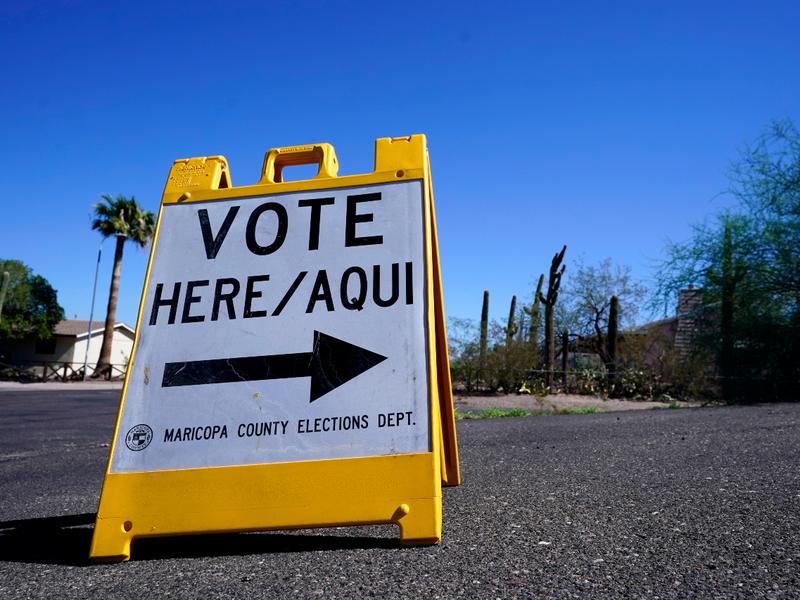 Transcript
David Remnick: Last week, the State of Nevada reelected a Democrat to the US Senate. That was a decisive moment. Catherine Cortez Masto's win gave the Democrats their 50th seat in the Senate. The runoff in Georgia next month will surely be dramatic, but the deal was sealed in Nevada. Our contributor, Stephania Taladrid, covered the race from Las Vegas. Early on the morning of election day, she was at a rally held by the Culinary Workers Union. Catherine Cortez Masto addressed the crowd.
Catherine Cortez Masto: Good morning. Buenos Diaz a todos. Let me just say, this is so exciting to be with all of you. Are we ready to win?
Speakers: Yes.
Catherine: You know how we win?
Stephania Taladrid: The mood in the room was ecstatic, but at the national level, many people actually thought that Senator Cortez Masto was at risk of losing this election. Beyond that, that Republicans would make significant gains among Latino voters. What happened instead, as you know, is a more complicated story.
David: Stephania has been covering Latino politics for the New Yorker, not only in Nevada, but in Texas, Florida, and elsewhere in the country.
Stephania: To better understand what happened here, I wanted to talk with Chuck Rocha and Mike Madrid. They host a podcast that I listened to called the Latino Vote. They're both political consultants on opposite sides of the aisle. Chuck was a senior advisor to Bernie Sanders. Mike was the founding member of the Lincoln Project. It's just been so refreshing for me listening to their podcast to hear two veteran political analysts having a really nuanced and honest conversation about the state of the Latino vote. What do you make of the narrative that Latinos are increasingly turning to the Republican party?
Chuck Rocha: Go ahead, Mike. That's right on a tee for you.
[laughter]
Chuck: Right there. Don't try to pull your shoulder.
Mike: I'm going to waiting to jump in.
Chuck: Don't pull your shoulder when you get this now. Easy.
Mike: [laughs] It's important to understand that in many ways the Hispanic shift rightward happened in 2020. David Shor, I think one of the more prominent data scientists in the Democratic Party put this really well. The realignment basically already happened. The new baseline for Hispanic support in the Republican party is now sitting at 37%, 38%, 39%, the high 30s.
Stephania: That's huge.
Mike: It is huge. If you had told me that six years ago, I would've said that's crazy. It is huge. The shift happened and we can debate whether it went down to 36 or up to 39 but the way to look at this is to understand that realignments occur over decades. When the Republican Party sought to realign the South with the southern strategy that began in the late '60s, 1970 campaign, and it didn't really manifest itself until 1994. That's 25 years. That's essentially what I think the story of the Latino community is going to be, is it's a generational change. We're not seeing, for example, big registration numbers for Republicans. The registration numbers with Latinos are staying the same for Democrats.
When you look at the precincts in the Rio Grande Valley, if you look at the precincts in Southern New Mexico, if you look at the precincts in Colorado, if you look at the performance in Nevada and in Arizona, and even in California this year, there is a discernible rightward shift with the raw data, meaning it happened. We can argue about how big or how little, but the simple fact is if you look at the narrative, especially over time, it's undeniable that it's happening.
Stephania: The one place where we have a pretty clear picture of what has happened with Latinos is Florida. Some people talk about Florida as an exception, but we saw that Miami-Dade, a historically blue county went Republican for the first time in years. Mike, I want to start with you. You've made the case that Florida is increasingly isolated from the rest of the country. What do you mean by that?
Mike: Well, it's not only isolated demographically in the combination of the pillars of the Republican Party that constitute the GOP, is different than what you see from some of the more broader states in the unions. You also have an extraordinarily different construct of Latino voters. As you mentioned, Cubans and Puerto Ricans tends to dominate the voter model there. It's one of the few states where Mexican-Americans are not the majority, certainly the overwhelming majority of the Latino voters there. It is undeniable that Ron DeSantis did significantly overperform. When I say significantly, I mean by significantly.
We have to ask ourselves, what is unique? What is different? We know the Cuban story, we know the Venezuelan story, but what we're seeing with Puerto Ricans who have traditionally broken more Democrat is this consolidation under the GOP banner as well. Mexican-Americans, most surprisingly, breaking towards the Republican Party. I don't think I've ever seen, except for maybe New Mexico back in the '80s, Republicans win the Mexican-American vote. I think a lot of it has to do with the construct of the service economy that we have in Florida, the push for DeSantis to open the economy and keep these workers employed.
It does stand as a unique outlier in terms of not just the Latino vote, but obviously with this huge red wave, a state that does not look like the rest of the country at this moment in time.
Stephania: Chuck, how do you expect Democrats to respond to the trends that we're seeing in Florida? Certainly, when I was reporting about the 2020 election from Miami, the message that I got from voters and even from some campaign operatives was that the party wasn't investing nearly enough as it should in the community there. Do you think this is giving them any reason to revert course? What can we expect to see?
Chuck: I wish that we would go down and compete because Barack Obama taught us that if you show up with the right message, you can get the majority of Cubans, even if it's small, to vote for you. Of course, he was transformational, and all you people on Twitter, I get it. You're right, once in a lifetime, blah, blah, blah. If you just walk away National Democrats and you just like, "That's an outlier, they'll be red, it's a red state forever," that starts bleeding into Georgia. That starts bleeding into little other places that we are already under-investing in year-round for long-term bilingual organizing.
Stephania: Chuck, I want us to briefly focus on Pennsylvania where there are a lot more Latinos than people recognized. Most of them were Puerto Rican. Tell us about the work that you did for John Fetterman's campaign there.
Chuck: I wasn't working directly for the Fetterman campaign, but instead, the largest Senate super PAC in America that spent the most money, I'm proud to say this, on bilingual advertising than any single operation in America. That means all the other congressional campaigns and senate campaigns combined. This super PAC investor is starting six months out in most of these elections. Not just doing Spanish TV, but doing radio, doing mail, doing newspaper ads, and had a field team on the ground in each one of these states knocking on doors. Mike talks about a new baseline. He'll continue to talk about a new baseline. Is it 34? Is it 36? Is it 42 for God's sakes?
What we know, and what I know in Pennsylvania is when you spend a lot of time and effort showing up in a culturally competent way, you can get that number back to the 70/30 number because that's what we did. That's not an exit pole, that's a daily tracker in Spanish, in a concentrated area where all the Latinos only live in about 35 precincts. We showed up on the radio, we showed up in their mailboxes, we showed up at their doors, but we did it more than just the last two weeks of GO TV, that is key. Then you take the importance of having me and white folks around me who agreed with me that when the Philadelphia Phillies made it to the United States world Series.
United States world Series, how'd you catch up [unintelligible 00:08:12]? On the World Series that we bought the Spanish language, simulcast because guess what Puerto Ricans really love? They love baseball and they have a history of baseball. These little things don't make all the difference, but it means that you have a better chance of getting more people to show up that are Latino voters. Me and Mike talked about this, and I know I've already talked too much, but also you should know that the Republicans were not competing against me in Spanish in those markets, which also helps a lot.
Stephania: Talking about margins, you both know all too well that this is a game of margins. They appear to be getting tighter and tighter, but at the same time, what we saw in places like Texas is that many Latinos cast a vote against extremism. Mike, would it be fair to say that theirs was a vote for moderation?
Mike: I think that's absolutely one of the findings that we're going to see. If you look at precincts like Tim Ryan's in Ohio, what you saw was these dramatic shifts away from these Trumpy positions in the most Hispanic precincts in Ohio towards Tim Ryan, a 20-point swing. It's hard to draw any other conclusions than the moderate candidates that are positioning as working-class candidates on working-class issues in the Democratic Party are doing significantly better than those that are leaning into this culturally left word narrative that is seeing performance drop.
This is an important way to look at the vote. You've got a lot of, especially Latino democratic members of Congress making a really big mistake saying we've got more Latino Democrats in Congress, how can we have lost the Latino vote, or not improved? The answer is very simple, math. The way that works is the margins in most of these districts are tightening and not small. They're tightening considerably and so a lot of these candidates and the Democratic caucus I think are making the mistake of leaning to the left when moderation is where Hispanics are responding. It's showing up in Ohio. It's showing up in the Rio Grande Valley. It's showing up in Los Angeles County. It's showing up in Miami, South Dade. To me, it's pretty incontrovertible evidence.
Stephania: I guess Nevada is also an example of that. The results that we saw during the senate race.
Mike: Nevada's a perfect example of that, and I would even argue Arizona is an example of that, but Nevada especially. Look, when the dust settles and we start getting the precincts data in, Senator Cortez Masto who's also the first Latina in the US Senate will probably win by a smaller margin than she won by six years ago. Her Latino numbers will probably come in exactly what they were six years ago, which people saying that the Latinos helped improve the vote for the Senate, it's really hard to make that case and I'm a huge advocate. I've spent my entire career of turning voters out and registering Latinos all over the country, but I'm also a believer in math.
You have to look at yourself honestly to get a really good assessment of where the community is at. The Latino vote probably went down a little bit in 2022, and most of the evidence suggests that it stayed from a partisan split, if not exactly where it was in the 2020 race that it moved a little bit even further to the right.
Stephania: Chuck, do you share that view about Nevada?
Chuck: Of course I don't. That's what makes me and Mike Madrid so great. You should listen to our podcast. Absolutely. Mike does make some good points, but I'd also caution folks and what Mike is saying is true, but you also, for those of you looking at people on Twitter and people pontificating about this election, Catherine Cortez Masto's got elected in a presidential year. I'll tell you something about Latino voters that Mike Madrid can't argue with, is that more of us show up in a presidential year. There's one thing on Tuesday night that born true, that is we elected Monica De La Cruz, a MAGA Latino republican in The Valley, and elected on the other side Maxwell Alejandro Frost from the far left side of the party in Orlando.
They both represent each end of the Latino electorate and then we make up all the different sectors in between.
Stephania: You've both dedicated your careers to raising awareness about Latino voters and making sure that political campaigns take our community's voices into consideration. I wonder in 2020 if you can speak to what's changed since you started working in politics. Is there more diversity? Are people finally getting the message and are they pouring enough money into the community? Chuck.
Chuck: Oh man, you wanted me to scratch that itch. Whew. Let me say this, that me and Mike Madrid bring over 60 years of campaign experience, and we probably have more experience than the top Latino operatives in the country now because there's probably like maybe three other ones. That's a problem. That's embarrassing. In the most marginal congressional and Senate races in America, there was not one Latino campaign manager.
Stephania: I can't believe that.
Mike: There was not a single Latino majority on media and messaging firms working for a single race when 15 of these races were over 20% Latino population. That shows you, we still have a long way to go.
Stephania: Mike, what's your take?
Mike: I've had the unique experience of working at the top level of campaigns in this country on both sides of the aisle. It's very rare. What I remember most successfully with Republican campaigns was the George W. Bush campaigns. It was a seamless operation from top to bottom, kind of what Bernie Sanders replicated in 2016 is what George W. Bush did. That was when you saw Republicans the most successful. Bush getting 37% in 2000, 44% in 2004. What surprised me the most in working with the Democratic Party was how calcified it really was, and the lack of diversity at the top of the Democratic Party.
It's more white probably than the Republican party, which may sound peculiar, but I can go back historically and say in the Republican party there's always been Alex Castellanos, there's always been Lionel Sosa. There's always been the Frank Yettas of the world and the Democratic Party I'm kind of like Sergio Ben Dixon maybe from the Carter administration. That's it when you look back. When Chuck makes the point that there are no Latino campaign operatives in the Democratic party that were running in any of these very diverse districts, that does not surprise me at all.
I'm not being critical of either party. I'm being critical of both parties. We can't just resort to using Google Translate for commercials in English and expect that they're going to work in Spanish and that's still happening. We can't expect people to have this hierarchical white system on both sides of the aisle and expect Latino voter voters to show up in higher numbers when they're not seeing themselves reflected in campaigns, when they're not hearing messages tailored to their voices and to their communities and to their experience. It's something that I think needs to be reconciled in very quickly. Not for partisan purposes, but for the health of our democracy purposes.
Stephania: Do you worry, now that the narrative that we're hearing coming out of the midterms is that Democrats exceeded everyone's expectations, that the party might take for granted the Latino vote as they have in the past?
Mike: Look, the same people that are denying that this shift has happened were the same Latino professional political operators in the Democratic Party that denied the losses in 2014, that denied Hillary Clinton's weaknesses in 2016, that denied Donald Trump's movement in 2020. It's the same people doing the same thing. Do I think the Democratic Party is going to make an adjustment? No, I do not. Do I think that there will continue to be a gradual movement to the right? Yes. I think it will be very marginal, and I don't think it's because Republicans are doing anything right.
I think it's because of simple demographics. Republicans are getting a larger incremental share of the Latino vote despite themselves, not because of themselves. The Democratic Party could absolutely make the adjustments to stop it, but they didn't do it in 2014. They didn't do it in 2016. They didn't do it in 2020. They didn't do it in 2022. There's no evidence to suggest that they're going to make that adjustment because too many of them are vested in the system as it exists and I don't see them making that play.
Chuck: I think that the big change is, and I'd push back on Michael on one piece of this. There were groups that were doing good work that made up for a lot of the campaign shortcomings, or we would not have a senator in Arizona, Pennsylvania, or Nevada because the Senate majority pack and other partners hired Latino consultants. I'm one of them, but they were at least six other Latino-owned firms that worked for these organizations to go out and reach the community, to hire canvasing crews on the ground. What worries me the most about us having such a, and I can't say this enough, historic night, is that Democrats look around at each other and be like, "Man, we did good. We got this all figured out now.
Y'all just go back to your corners. Let's just keep on doing what we've been doing because now we got this stuff figured out." Well, I'm here to tell you, friends, once we get through the data, not that we did bad, but that we probably didn't do as good as you may be hearing we did. There's still a lot of work to do because there's one thing beyond a shadow of a doubt on the work I've done all weekend looking at these numbers is that in Latino districts where there was a Senate campaign spending millions of dollars in Spanish, those CDs overperformed compared to CDs where that investment never happened.
Stephania: Looking ahead to 2024, what are some of the trends that you're paying close attention to? Does the roadmap to victory look any different than it did in 2020? Mike.
Mike: I think that's a great question. I was very intricately involved with the 2020 presidential campaign with the Lincoln project. I've sat in that seat and had to make those calls on those spending decisions. I will tell you that the map to 270 in 2024 is going to look very different than it did in 2020. Florida is a Republican state, it is not a swing state. Ohio is a Republican state, it is not a swing state. The battlegrounds of Arizona, Georgia, and Wisconsin are very, very tight and they are not secure enough to ensure a democratic win.
The Democrats are going to have to look to broaden their base. North Carolina becomes central.
Incidentally, the Latino vote will probably be one of the deciding votes in North Carolina in 2024. Let me say that again. The Hispanic vote will probably be decisive in a state like North Carolina. That's pretty deep. That tells you how deep this is into the fabric of America at this point. This shift, this demographic shift, and the margins with which Democrats are winning as they get smaller are changing the calculus for the way a president finds that 270 magic number to be elected president of the United States. That's not going to change. Well, I'm sorry, that is going to change every year into a direction where more and more states are likely to come into play. I think both campaigns are important. It's important that both campaigns make that adjustment.
Stephania: Chuck?
Chuck: I think that it's going to come down to six states in 2024 again. I guess what. To Mike's point, our community has big populations in all of them. It starts with what we call the blue wall. Wisconsin, Michigan, and Pennsylvania have an emerging great Latino population. A couple of facts for you, 300,000 Puerto Ricans have moved to Pennsylvania in the last 10 years. Fact, in Wisconsin there are more Latinos than there are African Americans and in Michigan, I ran a statewide Spanish language operation in the off-year this year. You would be amazed at the number of second generation explosion of all these Mexicans, mainly from Texas, that moved to work in the auto industries in the '70s and '80s, and now all their sons and daughters have sons and daughters. It's an explosion.
Then the ones that you know, which is Georgia, where there's over a million Latinos that live in Georgia and then Arizona and Nevada, right back to where we started.
Stephania: Well, gentlemen, thank you so, so much for your time and your insights. It's been wonderful to have you on the show.
Mike: Thank you.
Chuck: It's a great conversation.
[music]
David: Political consultant Chuck Rocha, and we also heard from Mike Madrid. They both appear on the podcast The Latino Vote, and they spoke with the New Yorker's Stephania Taladrid.
Copyright © 2022 New York Public Radio. All rights reserved. Visit our website terms of use at www.wnyc.org for further information.
New York Public Radio transcripts are created on a rush deadline, often by contractors. This text may not be in its final form and may be updated or revised in the future. Accuracy and availability may vary. The authoritative record of New York Public Radio's programming is the audio record.