In the Kitchen with Andy Baraghani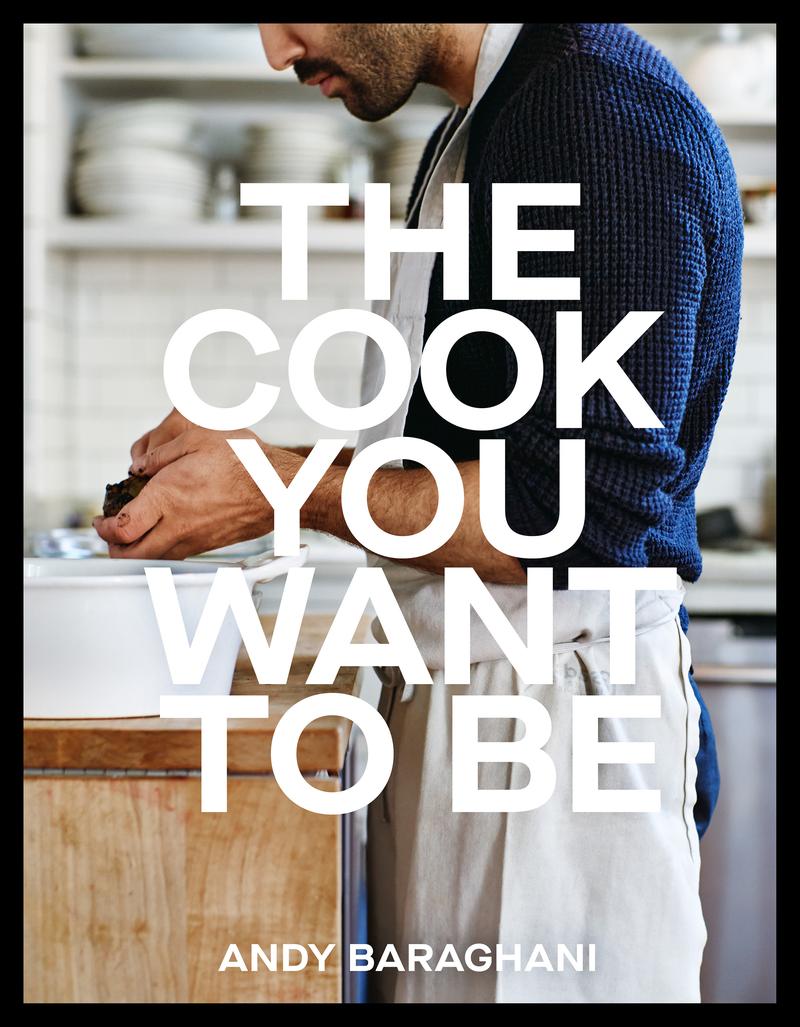 Transcript
[music]
Helen Rosner: This is The New Yorker Radio Hour. I'm Helen Rosner. I'm a staff writer at The New Yorker and I mostly write about food and cooking and chefs and cookbooks and things like that.
Presenter: For a foodie like Helen Rosner heaven is spending the day in the kitchen with another serious cook.
Helen: Hi.
Andy Baraghani: Hi Helen.
Helen: Ah, so good to see you.
Andy: Good to see you.
Presenter: Learning new dishes and techniques and talking about their favorite subject even, or especially when the conversation is just not fit for broadcast.
Andy: I was asked a-- I don't know how much I could swear here. Fuck, marry, kill, pasta, rice, bread.
Helen: Oh my God.
Andy: I know my answers. I'm very curious about yours.
Helen: That's really hard.
Andy: It's so hard.
Helen: Okay. I think I'd fuck pasta.
Andy: Fully.
Helen: Fully. [laughs] We are fully fucking pasta. Can we just sacrificially kill potatoes and keep both rice and bread?
Andy: Look at you going rogue and bringing in potatoes. It's like potatoes coming in me like, "Wait, I wasn't even a part of this narrative. What is happening here?"
Presenter: Recently, Helen went to visit Andy Baraghani at his home in Brookhaven, New York.
Helen: I met Andy Baraghani a decade ago when we were working at the same food magazine. Even back then, Andy had had a pretty impressive career. He'd cooked at Chez Panisse in high school. That's Alice Waters' famous restaurant in Berkeley, California, but you might know Andy from Bon Appétit's YouTube channel, where he brought his personality, his flare to every video and dish that he made.
Growing up the gay, Iranian American kid in California who watched Jacques Pépin and Julia Child, and Martin Yan on TV, Andy had no idea where his blossoming love of food would take him. He's recently published his first cookbook. It's called The Cook You Want To Be and it's explosive, but maybe not in the way.
You'd think Andy fills the pages with tiny changes, little tricks, tiny adjustments, small lessons that transform your cooking from everyday home cooking to really restaurant-level dazzle. It's like adding lemon zest to your breadcrumbs, which gives them acidic and floral notes that totally changes the game.
When you watch Andy cook, you also want a pencil and pad right next to you so you can jot down little notes about every little thing he does. Where did this book begin for you? When did you start writing this? Because you've been cooking professionally for like 20 years or 15 years.
Andy: 15 years, yes. The book actually had a different name for a moment. It was The Cook I want To Be. The book was going to be that much more personal taking on telling all the stories throughout my life. While there are definitely still personal essays, I changed the I to you.
I wanted to bring in the reader. I wanted to extend a hand and I didn't want it to just be about what I've gone through. I wanted to pass those stories and those lessons to the readers, to empower them and so that hopefully, they could find out the cook they want to be.
Helen: I love the way that you approach sauces in this cookbook. I'd love to talk to you about that a little bit too.
Andy: Oh yes.
Helen: One of the first sections in the book is just a collection of all-purpose sauces. They're not what I would expect to see in a collection of all-purpose sauces, where you might expect to see, here's your marinara, and here's your pesto. Instead, you open with this shocking lemon and shallot vinaigrette and you don't even suggest putting it on a salad. You suggest using it on top of grilled vegetables or roasted meats.
Andy: Yes. I think it's really, when you have a pantry full of great sauces or toppings or sprinkles, it elevates the dish. You don't need to do much to the dish. You can roast some vegetables and if you have a good sauce, it ties it all together. There's a section for tangy things which was called the head of acid, creamy sauces, green sauces, crunchy toppings, fiery sauces that add some heat. I think it always helps to have a few sauces in your back pocket.
Helen: Are there any lessons or tricks or recipes or ingredient pairings in the book that were revelations to you that you learned from someone or that you discovered and that just made your eyebrows shoot up and you went, ''Oh my God, this is it.''
Andy: Oh my God. Now my Rolodex is going through, that I don't ever-- I rarely want to roast pistachios because it dries them out or removes their freshness. I want that tender creamy inside. I leave them raw or I take my panko breadcrumbs which you'll see later today to the point where they're just almost burnt, but I don't burn them because I want that deep toasty nuttiness from them to cook your seeds and nuts in and fat.
You have this beautifully fat toasted nut, but then that ascended leftover fat as well. Oh, I don't even know to always save your pasta water. There's so many things. There are too many things.
Helen: Now that you've gotten to know Andy a little bit, let's cook. What are we making today?
Andy: Today we're making this cauliflower ragù with lemony breadcrumbs. It doesn't have a lot of ingredients, but it has a lot of flavor and it mimics the texture and flavor of a bolognese but without the meat.
Helen: We're here in the kitchen and on this electric stove, you have two big pots. One is slightly taller and more narrow and one is slightly wider and shorter. What are these two big pots for?
Andy: I have two pots set up, which I am a firm believer in for pasta. If you're cooking for four people and you're cooking anything more than 12 ounces of pasta, you have to have a two pot set up. What that means is you have a pot of boiling water for your pasta and then a pot for your sauce and where your pot will eventually end up and finish.
Helen: Not a skillet, but a pot.
Andy: No. Even a very large skillet or a large skillet with the high signs it still, to me, doesn't do the trick because there's too much going on and the pasta will get messy. The sauce will go all over. You want a large pot? I'm telling you it is a game-changer. I promise.
Helen: This is revolutionary.
Andy: We're just hitting some oil up in the same pot where you're going to make the sauce. Heat that up over medium-high heat. You'll be able to adjust the heat if it goes too hot. Then you're adding half a cup of panko, Japanese breadcrumbs. You're just going to let that sizzle and toast and you'll see how it'll gradually change from this pale, just almost off white color to golden to then this, deeply, deeply toasty crunchy bread crumb that--
Helen: Oh, it happened. They totally just crossed the line.
Andy: See.
Helen: They meaningfully got darker.
Andy: Right there. It's like takes it and people really would pull like 20 seconds before, but this is where it makes all the difference. This is a little change---
Helen: Dicing the cauliflower.
Andy: Yes. You're taking a whole head of cauliflower and if you have a food processor, you could just remove the florets and throw in the stems and just pulse it until you get these bitsy pieces. They don't need to be even, you want that irregularity here.
Helen: It's bigger than cauliflower rice. It's not like teeny tiny little grains.
Andy: Definitely.
Helen: They're like chunks. Small chunks.
Andy: Yes. Small chunks. Then you'll set that aside a little bit of prep work slice in the onions, slice one red onion and then quite a bit of garlic.
Helen: Sauce pot.
Andy: Sauce pot. You're just heating up more oil up. Then once that's hot, I add the thinly sliced onion and garlic.
Helen: You take the onions in this step a lot farther than I feel like I'm used to taking my onions when I'm making a pasta sauce. Really, they're browning on the edges and getting--
Andy: We don't want these onions to be blonde and juicy and soft or jammy. We want them frizzled and brown and spots. That kind of [unintelligible 00:08:54] and then anchovies, which you can omit. You don't have to put it in, but I--
Helen: I don't think we should even give people that option.
Andy: Okay. I take that back. You have to use them. I'm sorry, everybody.
Helen: They add so much, they're essential.
Andy: It fools the people who are tasting it that aren't the cook that it's been cooking for a long, long time. Then I add half a cup of tomato paste.
Helen: It really does get incredibly dry in the pans. You just have this deep, dark brick, red, onion, garlic, tomato jam.
Andy: I'll say you'll be very tempted to add more oil because the pot will look dry. You'll see how the tomato paste is beginning to stain some of the oil but don't, that's when you add the cauliflower. Then you're going to add your pasta to the pot that has not cooked all the way. It'll be a little bit too crunchy. You'll add that pasta and a good amount of pasta water. I always save my pasta water.
Helen: That's a lot.
Andy: I'll start with a cup and a half which is a lot, but because your sauce is not really a loose sauce, it's a paste. You add your pasta water. They're not two separate things. It's not pasta and sauce. They need to marry and come together and this is where it's essential to take the time it's gradual and then we throw in the butter to add that another layer of fat.
Helen: Oh, wow.
Andy: That takes it to really another level because the sauce has so many things going on. Even with the few ingredients, it's garlicky, it's oniony, has all that anchovy flavor. It's spicy, it's tangy from the tomato and the butter soothes everything and allows really all those ingredients to shine and come through and stop fighting one another.
Then you just plate it up in bowls and you have that toasty, lemony bread crumbs. I am a big fan of carbs on top of carbs.
Helen: I love it.
Andy: Spicy.
Helen: How do you feel about people who add red pepper flakes as a finishing spice?
Andy: I don't understand it.
Helen: I don't understand--
Andy: I'm very confused because most red pepper flakes just have no heat to them. They need to come back to life. I feel like they've been living in the aisles, they're depressed sad and they need to be awakened and they need that heat and that fat to come alive. If you just sprinkle on it, it also tends to be too coarse. If you're sprinkling it to finish, I would grind it up at least. Not with your fingers, but really get in there with the mortar pestle or spice.
Presenter: Andy Baraghani is the author of The Cook You Want To Be. He spoke with The New Yorker's, Helen Rosner. If you're making the cauliflower ragu, don't burn the bread crumbs, and let us know how it goes.
Copyright © 2022 New York Public Radio. All rights reserved. Visit our website terms of use at www.wnyc.org for further information.
New York Public Radio transcripts are created on a rush deadline, often by contractors. This text may not be in its final form and may be updated or revised in the future. Accuracy and availability may vary. The authoritative record of New York Public Radio's programming is the audio record.