Kelefa Sanneh Picks Three Songs on Country Radio Right Now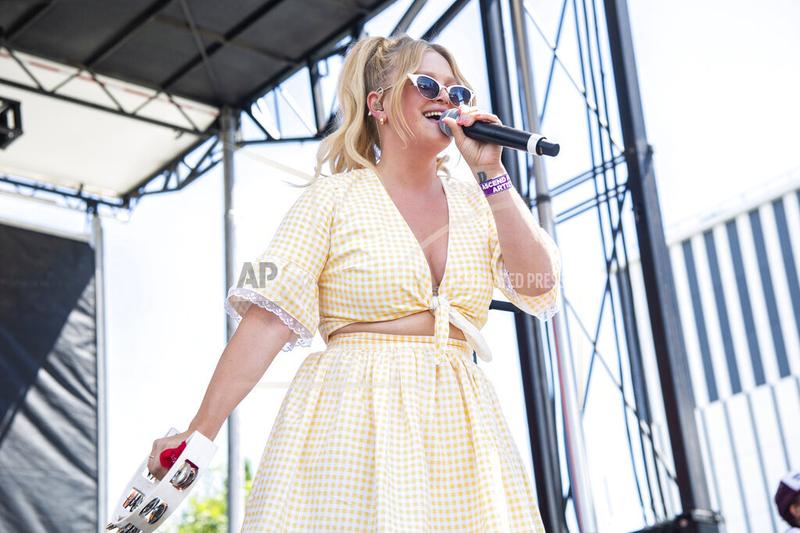 Transcript
Announcer: WNYC Studios is supported by Park Avenue Armory's Hamlet and Oresteia. Olivier Award-winning director Robert Icke has just premiered his highly anticipated reinvention of Shakespeare's Hamlet. The New York Times proclaims it's a critic's pick, and a riveting and powerful tale of amusing and mania for our age. The Daily Beast raves. It's a compelling contemporary spectacle. Alex Lawther stars is Hamlet through August 13th only. Hamlet will play in repertory with Aeschylus or Oresteia starring Anastasia Hailey. More info at armoryonpark.org.
The New Yorker Radio Hour is supported by Microdose Gummies. Micro-dosing is a versatile daily practice that can help with everything from getting in the zone for creative work to winding down at night. Go to microdose.com to learn more, and use code Radio Hour to get free shipping and 30% off your first order.
Speaker 2: Listener-supported WNYC Studios.
David Remnick: Staff writer Kelefa Sanneh is one of my favorite people in general, but one of my favorite people to talk about music. He's a man of broad tastes, from hip hop to country and well beyond. Recently, he wrote about the rising country star, Hailey Whitters. You've got a few songs for us to listen to today. What's the theme?
Kelefa Sanneh: The theme of this is country music. One of my goals for the magazine is to get paid to do stuff I would do for free.
David: [laughs]
Kelefa: One of the things I do for free is listen to country radio. I wrote this piece about Hailey Whitters, who's an emerging country singer who this summer is trying to get her first single onto country radio. It's a song called Everything She Ain't. She's got her people at her record label, plugging it, and it's a lot of suspense for her. She's been building. She's critically acclaimed, she's a great singer and songwriter, but in country music, you haven't quite made it until the radio stations are playing your song.
David: What's her story?
Kelefa: She's from Iowa from a tiny town in Iowa called Shueyville, and moved to Nashville, convinced she was going to be the next country star. 10 years later, she was starting to wonder if it was ever going to happen. Ironically, one of her breakthrough songs was about that. She sang, "I'm 12 years into a 10-year town," and the idea is that she had already may be missed her chance but she made a great album, made another great album, and now people are paying attention. At least people like me are paying attention.
David: Let's hear Everything She Ain't.
Hailey Whitters: [music] [singing]
She ain't a peach you oughta be picking
She ain't the cup of tea you oughta be sipping
She treats you like you're broke, like you need fixing
You ain't getting nothing back for all that you're giving
And if you're good with who you're kissing, c'est la vie
But I can show you what you're missing, yes boy, I can be
The whiskey in your soda, the lime to your Corona
Shotgun in your Tacoma, the Audrey to your Hank
She's got a little style and a Hollywood smile
But believe me, honey, good as money in the bank
David: Now, speaking as a guy, meaning, you, first piece for this magazine was a profile of Jay-Z Way Back When, how does this fit into your musical universe?
Kelefa: Well, my musical universe has expanded over the years, I grew up as a punk rocker. I think it was really in the 2000s when I was working at The New York Times as a music critic, that I started to listen to a lot of country music and found that I loved especially what sometimes people called new country or commercial country or Nashville country.
David: Big hat.
Kelefa: Well, sometimes big hat, though at the time, it was morphing into a ballcap genre, these things change. I love the idea that Nashville was this town full of brilliant musicians, all competing to write the perfect song, and the top ones get on the radio and get lodged in your brain. I like the idea that writing a song could be a little bit like solving a crossword puzzle.
David: How does this song solve the crossword puzzle?
Kelefa: Everything She Ain't, part of what you're trying to do is you're trying to do something that reflects the culture of country music. That's part of the fun of it, and that's part of the sense of belonging. When she says she can be the shotgun in your Tacoma, she's making a winking allusion to the small town Iowa where she grew up, but also letting you know that she finds the whole thing kind of fun and funny as well.
David: Where does Hailey Whitters sit in Nashville?
Kelefa: Hailey Whitters is a good example of someone who spent a bunch of years in town trying to figure out who she is. Trying to figure out, "Oh, do I get all glammed up to be a country star in Nashville?" What she found, what seems to have worked for her is to double down on her roots. She's from this small town in Iowa and she plays it up in a really kitschy way now. She sometimes wears bloomers that say Corn Star on the back. She wears prairie dresses and she's really all about in a fun way, trying to embrace this idea of being a woman from a small Midwestern town.
She's also part of a movement, it's been much remarked upon in the last few years that on country radio, you hear a lot more men than women. There's people working to change this. Nicolle Galyon is a successful songwriter in Nashville, who started a label, Songs & Daughters, which is the label that signed Hailey Whitters. She was part of this effort. One of the people working to change this is Maren Morris, who's a great singer and songwriter in Nashville and she's had great country success.
While also having some success outside of country music, she had a huge pop hit a few years ago called The Middle and she has a new album. Maren Morris has a new album called Humble Quest, which is a really good record. It's a really smart record and her current single which is on country radio is called Circles Around This Town
Maren Morris: [music] [singing] I swear I don't know how I trusted
A Montero with the AC busted
A couple bad demos on a burned CD
Would take me all the way to Tennessee
I showed up to the new apartment
First month's, last month's, two deposits
Hadn't heard the sound of a door slam yet
Thank God I was an optimist
I drove circles around this town
Trying to write circles around this town
Kelefa: That is a really bottom-heavy sound.
David: In other words, more bass than guitars or lap steel, whatever.
Kelefa: Yes, it's got a beat and then when the chorus hits, you hear that country music sound that may be something that you're more expecting to hear. One of the things I like about-- I love songs that do two things at once and one of the things I love about Circles is that if you're not paying attention, it's just a great driving song. I'm driving circles around this town. If you are paying attention, it's a meta song.
It's a song about what it's like to try and write a great song and what it's like to try and succeed in country music, and in that way, it both fits in and sticks out on country radio.
David: Obviously, ultimately, the arbiter of what a great song in the popular commercial sense is the audience but who are the arbiters in Nashville? Who decides? How does that work?
Kelefa: Oh, it's complicated, it's a little bit of an art, a little bit of a science, a little bit of a scam, combination of those. Well, there's a whole arm these record companies have whole departments that are devoted as has been true for, half a century, to getting songs onto the radio. Sometimes in straightforward way flattery, sometimes probably some other ways as well and then the radio stations.
David: Some other ways meaning payola, does that still exist?
Kelefa: I don't know about straightforward payola but certainly, if you listen to the radio, they might have something called a flyaway, where there's a contest where you can win the chance to get flown to a concert by this artist and put up in a hotel and you get to see them $500 spending money and that contest will be sponsored by the record company behind the artists. Yes, there's marketing campaigns and certainly, in that way, some money is changing hands, and the record company is spending some real money.
At the same time, there is this science or maybe pseudoscience, that the labels still do, where they do research, they survey people, they play them snippets of songs and say, "Do you like this? Do you like that?" As they've been doing for decades, they're trying to figure out if we play this song, are people going to change the dial or are people going to keep listening? The fact that country radio still exists, is this industry devoted to giving people what they demonstrably want, which is sometimes different from what they say they want?
David: How do you mean?
Kelefa: Well, sometimes people say, "I would like to hear more of this on the radio." "I would like to hear more of that," and then you do the research and you find out, "Well, apparently not." Apparently, this is what you'd like. Apparently, this is what keeps you listening. It's interesting to me to see that all these stations are trying to give people what they want and the artists are trying to give people what they want, maybe with a twist or maybe in a slightly different way.
One of my favorite examples of this phenomenon right now is a song by Tim McGraw, whose he's been around forever. He's been making country music for more than 30 years. He's been around long that Taylor Swift's first single, almost 15 years ago was called Tim McGraw and was a song about listening to Tim McGraw. He's as established as it gets.
David: He's huge.
Kelefa: He has a song on radio right now called 7500 OBO.
David: What does that mean?
Kelefa: It's about the least you phoniest title, you can ever think.
David: [laughs] I was going to say can you guess what this song is about?
Kelefa: I cannot in a million years. 7500 OBO is what you'd put in the wanted if you're selling a truck 7500 or best offer OBO.
David: Got it.
Kelefa: It's a song about a guy who's got a truck, it still works pretty well, but he wants to sell it because it reminds him of the woman he used to hang out with in that truck.
Tim McGraw: [music] [singing] It's got leather seats, a sunroof, it's sittin' on
33s, it runs smooth, it'll get ya from
A to B, but not from me
'Cause every time I turn that key I see her
Shotgun ridin' down a two-lane road
Just drivin' around with no place to go
Us singin' along to "Where The Green Grass Grows"
Hands out the window floatin' on the breeze
She's fixin' her lips in the drop down mirror
That pretty little thing made it hard to steer
I'm never going to get her outta there
There's too many memories
Now there's a "For Sale" sign in the window
Yes 'cause if I'm going to let her go, I gotta let it go
Kelefa: Now, my favorite thing about this song is that it is one of two songs currently on country radio with the exact same plot. Right now, on country radio, you can listen to 7500 OBO by Tim McGraw, or you can listen to New Truck by Dylan Scott which has the same plot. It's about having to sell a truck because it reminds him of the woman he used to be with.
Dylan Scott: [music] [singing] The radio the works, it don't show dirt
Worth every dime I spent
I was going to drive it
Till the wheels fell off
Yes that was before she slammed the door
Said it's over then got lost
I need one she ain't climbed up in
Kelefa: I'd love to know what's going on behind the scenes in Nashville when these songwriters realize that they have this song, they think it's pretty good and then they come to find out they're one of two people on the charts with the same theme.
David: This is more Orthodox country, got the pedal steel.
Kelefa: It's a good example of how Orthodox can mean different things. Like, the Tim McGraw song has, I believe, a drum machine which is not traditionally how you would do the rhythm.
David: Not even by now.
Kelefa: No, it's still a fairly new version of country music, but the fact that a song with the drum machine might sound Orthodox tells you something about how the definition of country changes over the years and how a great singer like Tim McGraw could not only make a drum machine sound Orthodox, he can turn a phrase like 7,500 OBO into a memorable chorus.
David: Thank God, you explained this to me right away. Now, final pick, what do we have here?
Kelefa: A bunch of years back, I profiled George Strait for the magazine who's a country institution, has more number one hits than just about anyone. He was doing this show in Vegas at the arena there. Before he went on stage, he'd play a medley of contemporary country songs. At first, I thought, "Oh, that's interesting. He's playing a bunch of new country songs before he gets on stage." Then, I realized what he was doing, he was playing a medley of songs that mentioned him.
David: Fantastic.
Kelefa: There are so many songs that mentioned George Strait that he could do a mix tape of nothing but George Strait songs in that sense.
David: That's great.
Kelefa: This is a new addition to that cannon. It's by Scotty McCreery who's a lower profile country hitmaker, he won American Idol about a decade ago and he's had a bunch of hits since then. This is maybe my favorite or one of them, it's called Damn Strait.
Scotty McCreery: [music] [singing] Nobody in his right mind would've left her
That was her favorite song
She sang along every time it came on
The first time we danced was to Marina Del Rey
And I fell right there and then
I didn't want that song to end
Baby blue was the color of her eyes
I can still see them in my mind
Probably will for the rest of my life
Damn Strait, you're killing me man
You know I've always been your biggest fan
Now I can't even listen
Kelefa: Part of the fun of this is that if you know George Strait, he's name-checking a lot of his song titles. He's singing Nobody in His Right Mind Would've Left Her. That was her favorite song. Part of the fun is finding these old George Strait song titles, and then his idea is that he can no longer listen to George Strait because he misses his woman. David, you're the editor of The New Yorker, you know something about literary tropes and techniques. I think you probably have an idea of where this is going, he can't listen to George Strait anymore because he misses his woman. Does he wish he could get her back?
David: I think he might. Damn Strait.
Kelefa: [laughs]
David: Thanks so much. It's great to see you as always.
Kelefa: Thanks, this was fun.
Scotty McCreery: [music] [singing] Damn Strait, you're killing me man
You know I've always been your biggest fan
Now I can't even listen
'Cause I'll get to missin' her
Then the hurt gets worse
David: The New Yorker's Kelefa Sanneh with songs by Scotty McCreery, Maren Morris, Hailey Whitters, and Tim McGraw. You can read Kelefa at newyorker.com, writing about Hailey Whitters along with Morgan Wallen and many more.
Copyright © 2022 New York Public Radio. All rights reserved. Visit our website terms of use at www.wnyc.org for further information.
New York Public Radio transcripts are created on a rush deadline, often by contractors. This text may not be in its final form and may be updated or revised in the future. Accuracy and availability may vary. The authoritative record of New York Public Radio's programming is the audio record.