Lionfish: The Joy of the Hunt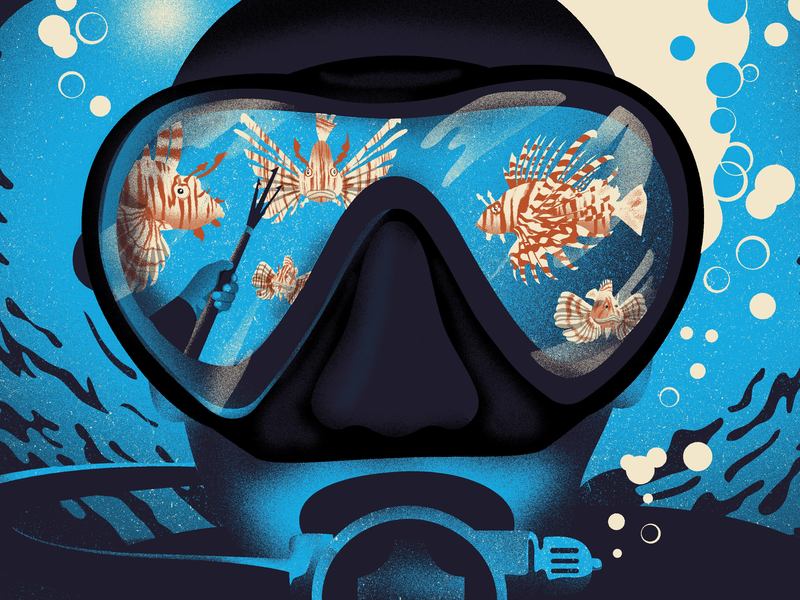 Transcript
[music]
Speaker 1: As a species, the lionfish is absolutely stunning to look at. They're native to the Indian and Pacific oceans but maybe you've also seen them in aquariums. They're very hard to miss.
D. T. Max: They have long multi-colored spines and bright colors, they're beautiful, they look like Las Vegas dancers. They look like they something that nature invented to delight us.
Speaker 1: This is D. T. Max, Stan max. He's a longtime writer for the magazine and he's covered topics from arts and culture to medicine and science but he didn't expect himself to be on the lionfish beat.
D. T. Max: Most stories begin with either you read something somewhere and then you send some emails or otherwise maybe somebody says something to you and you go oh that's a good story. This one began with my son needing to do something in the summer and deciding he was going out to camp. He was looking online and he found a camp in Belize called Reef Conservation International and it had the usual environmental activities that you would expect in Belize so one thing they were going to do was a beach cleanup. Another thing there was going to be a lot of environmental education and sustainability and species and so on but None of that really interested either him or me.
The really amazing thing was it also said that they were going to go on lionfish hunts and I thought wait, "This is an environmental organization that's going to take teenagers out and teach them how to kill something?" I started Googling it and talking to some of the obvious people you would ask about this and found out that lionfish were an absolutely massive problem. Outside the Indo-Pacific, lionfish have no natural predators and they themselves will eat almost anything. There's this one study that I won't ever forget and it calculated that lionfish can eliminate more than 80% of other species on a reef in just five weeks. Beyond that, they reproduce incredibly fast.
A female lionfish can lay an average of 27,000 eggs every two and a half days and they do it year-round. There are several theories on how lionfish wound up in the water but my favorite is that people had all these lionfish in their aquariums and they started noticing that they had fewer and fewer other fish in their aquariums and after a while, they realized that in fact, the lionfish were eating their other fish. They got irritated because people spend a lot of money on the fish in their aquariums and they threw the lionfish into the canal in order to save the rest of their investment. The surprising thing is that when the lionfish found themselves in the canal, they weren't the least bit distressed to be there.
They quickly began the process that we're talking about today of spreading. They're first cited off of the Atlantic coast of Florida in the mid-'80s. Then by 2004, they're seen in Bermuda, they're in Cuba by 2007, and the Yucatán Peninsula by 2009. Really the only thing that will limit their spread is that they don't survive winters and cold temperatures otherwise they're unstoppable.
Speaker 3: All right, you guys all good? Questions? Perfect. All right, we're going to fire this up and head out.
D. T. Max: The thing is lionfish don't respond to bait. They're not interested in bait and they won't generally speaking bite a hook. Now you can't net them because they live in reefs and crevices so your net's going to catch on whatever they're hiding on. What you really actually have to do is you have to go in there and harvest them by hand.
Speaker 3: Diving inside here there's a green pelican case. That's got oxygen if we have some situation where we need it.
D. T. Max: I'm an adequate recreational diver, definitely nothing special but I assumed I'd be able to hunt some lionfish. That turned out not to be possible because lionfish live over 100 feet deep at this point. What actually we did was a bit of a cheat or a workaround is to have another diver go down, bring up a bunch of lionfish to the surface and then wait there for me. Lionfish vary in size and they're bigger in the Atlantic and the Gulf than they are in their native habitat but they're about 9 inches in length or so. The spear is really essentially a slingshot.
It's about 3 feet long, it's made of fiberglass, it has these nasty prongs on the end and it's launched by virtue of a rubber band, a very thick rubber band. When you release it it actually flies off with incredible speed.
Speaker 4: Anyway, you can shoot it any way you want. Closer and pull it all the way back, all the way back.
D. T. Max: I keep missing.
Speaker 4: You can be like 2 inches from it.
D. T. Max: Eventually I get the hang of the problem that I'm having with the spear which is I put so much suntan lotion on, so much sun cream that I can't hold the barrel of the spear, it's sliding away so they throw me at a glove. I went right up to the lionfish. I released the spear via the rubber band, went through this quite small lionfish and the lionfish died. I think that I felt essentially like I had done something pointless. No matter how "bad" lionfish are, no matter how invasive, no matter what they do to the grouper stock, and how they crowd out other species again in my head was the point that this lake is not their fault.
We slapped these labels on these invasive species even the word invasive sometimes made me laugh with the idea that this species had invaded us completely the opposite of what really happened. We grabbed it out of its native environment, put it in our dentist's office for show and it got out. The thing is there's this whole community of people who've really gotten into lionfish hunting. It's their passion, it's their hobby. They go out several times a week and they see how many lionfish they can spear. They're even tournaments now with cash prizes for teams that bring back the biggest haul.
The person in this world who really caught my attention, the one who really fascinated me is a woman named Rachel Bowman. Hello?
Rachel Bowman: [unintelligible 00:07:02]
D. T. Max: Thank You for coming. Rachel Bowman is a woman who lives in the Florida Keys and who is a bartender. That's her profession, but her name kept coming up again and again in scientific papers. She's thanked often and then when I would start interviewing scientists they'd be like, "Oh, I went diving with Rachel Bowman." I looked up Rachel and I watched some videos of her lionfishing, and she lionfishes with this incredible intensity. When you're diving your main job is to survive. I think that's what most divers have on their mind when they're 150 feet below the water. It's like monitor my oxygen level, keep everything under control, do my stops, my safety stops, get up and I'm in good health.
Rachel just seemed to have something utterly different on her mind. She had this almost wild blood lust for lionfish. At least that's what I was interpreting as I would watch these videos taken with GoPros 100 feet under the water. Where did you grow up?
Rachel Bowman: I'm from an island off the coast of North Carolina called Wrightsville Beach. My father was a commercial shrimper and a charter boat captain so I grew up definitely in the water, moved to the Florida Keys and--
D. T. Max: Like many people who I met she comes from a family that's interested in the well-being of the oceans but not an environmental point of view.
Rachel Bowman: I'm a bartender. I don't throw garbage on the ground. I recycle. It's not that I'm not aware of the environmental benefits of what I'm doing. It's just not on my radar.
D. T. Max: It's a little bit like people say I'm not a feminist but she functions really as an environmentalist but she would not want to be called an environmentalist. What was your environmental consciousness as a little girl? Zero--
Rachel Bowman: My dad was a commercial shrimper, my house is full of pictures of my dad standing at the dock next to a big dead shark or a big dead marlin. He wasn't a terrible person, there just wasn't that mindset.
D. T. Max: Absolutely, yes.
Rachel Bowman: Anybody that's been on a shrimp boat, it's not pretty. What else comes up in that net and the regard for it so--
D. T. Max: It took me a while to understand and really it was in Florida that it hit me full in the face for the first time that this wasn't an environmental story at all. What this really was was a story about two aspects of modern America in conflict. On the hand, we have this out-of-control population in our waters. On the other hand, we have a highly motivated group that wants to control them at any price. I thought to myself, just to see these two in conflict, just to watch how this plays out, you'd see something pretty amazing.
D. T. Max: Numbers. How many dives do you think you've gone on for lionfish?
Rachel Bowman: Forget it,
D. T. Max: Thousand?
Rachel Bowman: Yes.
D. T. Max: 5,000?
Rachel Bowman: Yes.
D. T. Max: Any remote estimate of how many pounds of--
Rachel Bowman: No. I couldn't even begin to give you that number.
D. T. Max: Do you make a living more of a living from harvesting lionfish than from bartending?
Rachel Bowman: No. God, no.
D. T. Max: No? What's the lionfish end of things like worth, I mean, 10 [crosstalk]
Rachel Bowman: Every year is different. Some years are-- We had some terrible years, and we had some years that I bought a boat [laughs] so--
D. T. Max: You bought a boat with your lionfish?
Rachel Bowman: Yes. With Britney Spears.
D. T. Max: To go get more lionfish.
Rachel Bowman: We were getting crap money for lionfish until May of 2016. I sold the very first lionfish to Whole Foods in May of 2016. They got a macerator so they would take the really tiny ones and turn them into lionfish dumplings, which were delicious. They really, that was who changed the game for us as far as money.
D. T. Max: I didn't know.
Rachel Bowman: My dad died in February of that year, just a few months before that happened. I think if my dad could have seen his little girl's picture, in the frozen fish section of Whole Foods, I think his heart may have burst. I think that was the moment I finally made up for not being a boy.
[music]
D. T. Max: Do you think that the war against lionfish is being won or lost?
Rachel Bowman: So funny? Somebody came into my bar the other day and there were people sitting at the bar talking about lionfish. They don't know who I am and what I do. This guy comes in mid-conversation and he sits down and he is listening, and he goes, 'Well, what's the point?" He said, "I read online that lionfish release 50 million eggs a year, so what's the point?" I looked at him and I said, well, first of all, that's an inaccurate number. It's like 2 million eggs a year, I think, and what's the point? I'm not sitting on a bar stool, wheezing being 300 pounds, drinking a beer. I'm out there doing something. That's the point.
D. T. Max: It's true what Rachel's saying. She definitely not just sitting around. She's working really hard, even if it seems sometimes like she's involved in an impossible endlessly uphill battle. I also think there's something else that motivates her, and it's this. Unlike other invasive species, unlike stink bugs, unlike cane toads in Australia, lionfish are edible and they're not just edible, but they're really delicious. They taste like cod or some other tasty white meat fish that you'd want to eat. If we looked at them from a different point of view, we could really say that lionfish aren't a scourge at all, but a gift of food, a really nutritious, low-fat food that people would actually want to eat.
Then we just lack one thing. What we lack is a mechanism to efficiently harvest them because no amount of Rachel Bowmans in the water is ever going to get enough lionfish, and put them on tables across America. I have hope still because, and this is something that someone I interviewed told me, and it's really stuck with me. He said, "If there's one thing, humans are really good at, it's eradicating species for money."
Speaker 4: Staff writer, DT max, you can find his full report on lionfish on our website, new yorker.com.
[00:14:36] [END OF AUDIO]
Copyright © 2022 New York Public Radio. All rights reserved. Visit our website terms of use at www.wnyc.org for further information.
New York Public Radio transcripts are created on a rush deadline, often by contractors. This text may not be in its final form and may be updated or revised in the future. Accuracy and availability may vary. The authoritative record of New York Public Radio's programming is the audio record.