Jill Lepore on Parents' Rights and the Culture War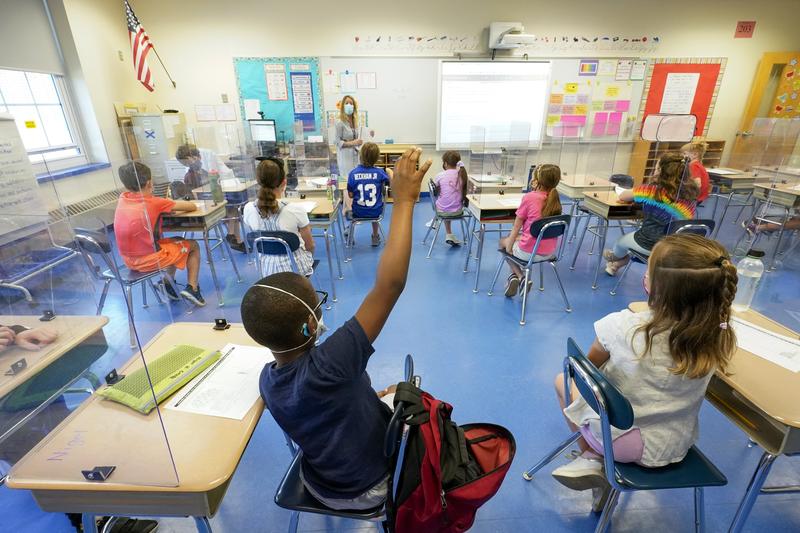 Transcript
David Remnick: Right now, a wave of book bannings is sweeping schools around the country. The examples are many, but the focus is clearly on how schools teach race and racism, whether acknowledging some of the realities of history is just too divisive. The political ramifications go well beyond the cloud classroom. In the state of Virginia, to take one recent race, Glen Younkin, the Republican, made the alarm over critical race theory a cornerstone of his campaign for governor, which he won, even though CRT is not part of the state curriculum. Ted Cruz made school library books a set piece in the confirmation hearings of Judge Ketanji Brown Jackson.
Ted Cruz: I find that statement a little hard to reconcile with the public record because if you look at the Georgetown day school's curriculum, it is filled and overflowing with critical race theory and introduction. They include the end of policing and an advocacy for abolishing police. They include how to be an anti-racist by Ibram Kendi. They include literally stacks and stacks of books. I'll tell you two of the ones that were most stunning. They include a book called Anti-Racist Baby by Ibram Kendi. Now, this is a book that is taught at Georgetown day school to students in pre-K through second grade, so four through seven years old. Do you agree with this book that is being taught with kids that babies are racist?
Female Speaker: Senator.
Judge Ketanji Brown Jackson: I do not believe that any child should be made to feel as though they are racist, or though they are not valued, or though they are less than, that they are victims, that they are oppressors. I don't believe in any of that, but what I will say is that when you--
David Remnick: If this culture war is today's headlines, the dynamics have been around for a long time, at least a century. That's according to my colleague, Jill Lepore, who's a staff writer and a historian at Harvard. Lepore sees the school's issue in light of another epic culture war, the fight over revolution in the 1920s. Jill, sometimes it seems that the work of a historian is to point out almost that it was ever thus. You just wrote a piece of reporting for us called Why the School Wars Rage.
You link the current wave of book banning in schools across the country to something that at first glance isn't necessarily an obvious connection. The scopes trial, the so-called trial of the century a full hundred years ago. Jill, do you see a clear resonance between the scopes trial and this debate over critical race theory and so much else?
Jill Lepore: I do. I think what draws together the anti-evolution campaigns of the 1920s, and we might think of them as the anti-racism campaigns of the 2020s, is a battle between parents and the state. It's not like, okay, we can say, here's 1922 and here's 2022. If we just take it like an accordion and press it together, it's going to make this beautiful noise of explanation. My point is, in the 1920s, what was hot in terms of being contestable about biology is the same thing that is now contestable about history.
That is to say, as a basic model for how change happens, biology and history share a really similar intellectual architecture underneath. They're both explanations for change, but in the twenties, biology really was just sparky. Everything we talked about, but it's the age of eugenics. Everything mattered. Post reconstruction, Jim Crow, people in the United States are fighting over, people are dying every day due to ideas about race and the fixity of categories of race. When arguments come along about evolution, they're immediately deeply political and easily politicized.
[music]
Recording: In 1925, Biology teacher, John Scopes, spiralled to fame in a legal trial that became known as The Monkey Trial. Whether man was descended from the monkey or just making a monkey out of man was sparked in a courtroom that challenged the truth of the Darwin theory of evolution. The existence of man in the pre-historic world--
Jill Lapore: Where humans come from, what happens after we die? Of course, that's just going to be sparky. A hundred years later, what are the sparks that are flying everywhere are in some ways the same questions. Can people change? What does race mean? Then this big question about what's the relationship between parents' authority over their children and the state's authority over parents and children.
[music]
Recording: The press and public listened with unprecedented interest as the legal brains of both sides dug deeper and deeper into the conflicting theories of man's heritage. In this bitter legal engagement, the defense--
David Remnick: Well, for those of us who haven't watched Inherit the Wind lately, or read a good biography of Clarence Darrow, give us the setting. What was the trial of the century and what were the sides who was pitted against whom?
Jill Lapore: Most people's understanding really does come from Inherit the Wind even if they haven't seen Inherit the Wind, which is the great, amazing Frederick March, Spencer Tracy 1960 adaptation of the play. The supposition that we get, I think, from watching that film or from most of your listeners have in mind is that there was the forces of modernism represented by Clarence Darrow, the great attorney for the damned who strowed into Dayton, Tennessee, and convinced the world this was the first trial broadcast live on the radio. Everybody listened to it coast to coast.
It's incredible that that happened, but convinced everybody coast to coast of these yahoos, these hillbillies were opposed to everything about modernity. They were opposed to science. They were opposed to Darrel, it was just a basic scientific method. They were opposed to free speech. They were opposed to public discourse and public deliberation. They were superstitious, they were mystical. They were ignorant, and that this is not a trial about evolution or about John Scopes. It was a trial, civilization itself is on trial and as opposed to Darrel and to Scopes and opposed to the ACLU and to modernism was fundamentalism. It's really the first major battle of our culture war.
David Remnick: You write that the battle over public education that afflicted the 1920s has somehow started up again, this time over the teaching of American history. How are the circumstances the same, or resonant at least, and how are they different if at all?
Jill Lapore: First of all, mandatory public education was a progressive era crusade. It was hard for a lot of people to take, hard for a lot of farming families, in particular, rural families, and especially devoutly, religious families. It was a progressive crusade for all reasons. It was good for children's health. It was good for the nation. It was good for the production of knowledge, it was good for providing, above all, for providing equality of opportunity.
David Remnick: Who objected?
Jill Lapore: The people who objected at first were businesses that employ children. For instance, in the South, a lot of Southern textile owners did not want kids to go to school. Some big businesses used that argument to play on the fears of families, poor families with small farms, convincing them that if their kids had to go to school, they would lose their farm. When in fact there was a whole progressive set of packages that were also designed to help those families keep their farms. We also forget that at the time, compulsory vaccination was part of that same package.
Even before the 1918 influenza pandemic, compulsory vaccination was accomplished by a way of making schools compulsory. You had to go to school, and in order to go to school, you had to be vaccinated. It was a whole package deal. By the 1920s, people are objecting to the teaching of evolution. They were actually objecting to a whole package of progressive reforms that included some things that we would absolutely find unsavory today.
One of them is the way that evolution was actually generally taught, which was as a social Darwinism, the so-called feeble-minded and the criminal, and the insane ideally should be sterilized. Thankfully, evolution has improved the human race through various iterations. It's that kind of contempt for ordinary people that contempt for the poor, the contempt for rural families, the contempt for people that this disagreed with all of progressivism's other reforms, was a big part of progressivism and it is still today.
David Remnick: Now, one of the throughlines of a hundred years ago, and today is this idea of parental rights. You heard it in the Scopes situation. You heard it really loudly in Virginia. In fact, it's considered a great screw-up that Terry McAuliffe said, parents shouldn't dictate what schools teach. Glenn Youngkin jumped all over that. What are the parental rights, and how do they play into the conversation? Let's concentrate first on the anti-evolution bills of the 1920s.
Jill Lepore: Parental rights were really invented during the progressive era as an argument to use against progressive reforms that included compulsory vaccination, compulsory education, and the abolition of child labor. Parents who didn't want those things could say, "These are violating our parental rights." It was a legal gambit. It didn't work. It didn't succeed ultimately. We have compulsory schooling everywhere. Vaccination to some degree.
The parental rights arguments didn't work, but neither did they die out. They surfaced again, really, in the 1950s after Brown v. Board of Education in 1954, in which the US Supreme Court decrees that segregation in education is unconstitutional. The argument that is made really immediately and is made in the run-up to that decision is that telling schools that they have to be desegregated, that they have to desegregate and integrate is a violation of parents' rights.
The problem is the people who segregations who want to make that argument, I think this is my theory, they also are making what they consider to be a state's right.
David Remnick: Well, this is its state's right, sounds a lot like parental rights.
Jill Lepore: Right. They decide I'm imagining some dark smoky room where Strom Thurmond and James Eastland are smoking a cigar, I'd say, "I know, its school choice." [chuckles] I don't know, they decided to call it school choice because choice was the keyword of the Cold War. Like in free societies, we have choice. The unfree world doesn't have choice. So let's use choice. We'll call it school choice. Under the banner of school choice, they fought against school integration, and that lasted for decades.
David Remnick: Well, let's look at that. Today's book, bannings aren't just about books, it's about critical race theory. It's about anti-racist language that became mainstream after the murder of George Floyd. It's about the 1619 Project. Arguably, it's about the way we think about the Trump era as a whole. When you listen to this debate, and when you clue into it, whether it's on MSNBC or Fox News, how do you analyze it? Perhaps through the prism of what you are telling us about the 20s, where are the vanities? Where are the errors? What are we not seeing about ourselves? Let the critique fall where it may on the progressive side or the conservative side.
Jill Lepore: Well, I think the conservatives are just trying to win elections on this issue. I actually doubt the sincerity of a lot of the people who are leading the charge on the conservative side. The idea that these various, the 1619 Project or critical race theory, or LGBTQ positive books are bad for our community because they divide our community, therefore, we're going to divide our community by calling them bad. This is just bunk. What's my analysis? I find that to be bunk.
Now, not to say like I actually understand that many parents are concerned as well. Everybody pays attention. If you're being a good parent, you're paying attention what your kid's learning in school. I don't fault parents who get a little bit swept away in this. It's the political consultants who are devising these.
David Remnick: Jill, how much is this whole conversation about parental rights, and how much of it is just about the midterm elections?
Jill Lepore: Honestly, I think a ton of it is about the pandemic.
David Remnick: The pandemic, you think that's the thing?
Jill Lepore: I really do. I think the anguish of parents over what the pandemic has meant for children and their own helplessness, I will speak for myself, our own helplessness in doing the parenting that is needed is a pretty considerable force at play in the world. It can be exerted in all kinds of good directions, thinking about different ways to help your community, help out your schools.
I think that grey pulling your children close, tucking them back into your family life inside the hard drive of your computer, watching over them in this new and different way, and fearing for them, fearing even for their lives in a way have not quite felt, and letting them back out into the world unmasked and vulnerable, I just feel like that runs through it all. That's why we should forgive one another about people just being completely screwy and then head about what to do next. I just think parents are still feeling like they're not doing enough.
I think there's that, and then there's the really, really creepy politicians who see what that is, who have the political instinct to almost like animal instinct with Donald Trump sort of person, the instinct that a Younkin or DeSantis has, wow, that is this giant cloud of misery that I can just take a parachute and wrap it around that cloud of misery and cinch it in and then I'm going to turn it into a hot air balloon, and I'm going to rise politically from these people misery. That's what I pictured when I see this stuff.
David Remnick: We've had conversations in the past and I always feel like I'm the one arguing for hysteria. This has never happened before. Something like Trump has never happened before. This has never happened before. You're the one that edges toward, "This has happened before. Don't freak out."
Jill Lepore: I think maybe the reason I write about history is that I'm the one who's always freaking out and I always need the fix that says, "Wait, calm down. This could be okay still." I don't know, maybe I'm good at pretending to not be freaked out.
David Remnick: You're the voice of hope, Jill. Thanks so much. [chuckles]
Jill Lepore: Thanks, David.
[music]
David Remnick: You can read Jill Lepore:'s essay, Why the School Wars Still Rage, at newyorker.com. She's also the author of These Truths: A History of the United States, and many other books.
[music]
Copyright © 2022 New York Public Radio. All rights reserved. Visit our website terms of use at www.wnyc.org for further information.
New York Public Radio transcripts are created on a rush deadline, often by contractors. This text may not be in its final form and may be updated or revised in the future. Accuracy and availability may vary. The authoritative record of New York Public Radio's programming is the audio record.