Jack Antonoff on Growing Up Jersey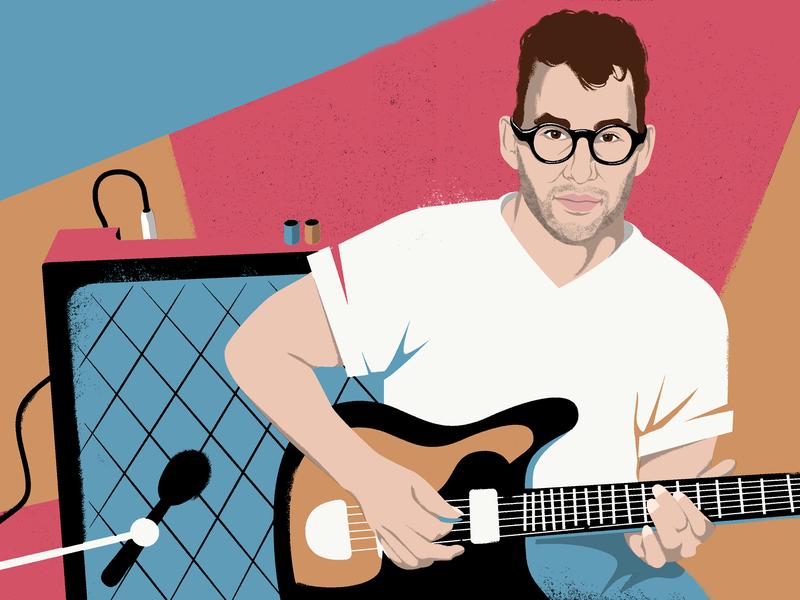 Transcript
David: Jack Antonoff just won a Grammy for Producer of the Year, recognition of his work on albums by Taylor Swift, St. Vincent, and more, not to mention his own music with the band Bleachers. I spoke with Jack Antonoff last summer and the Bleachers album Take the Sadness Out of Saturday Night had just come out. It's the music you really want from a Jersey guy, music you can blast while driving fast down the turnpike, heavy on the horns and on the big emotions.
[music]
As big and joyous as the music is, Antonoff also describes the album as a heavy one for him in personal terms, and I asked him what was going on while he was writing it.
Jack Antonoff: I spent so much time writing about grief and loss. My sister died when I was 18. It's a very singular experience, this tragic experience in my life and it took me years to realize the space around it, which I think is an interesting trapdoor with trauma. I noticed it with friends, especially if you're young, I was 18, it's a formative time, it becomes the rug which everything gets swept under. Everything is your sister died, your sister died, your sister died, or this trauma, this tragedy.
I think this thing happens where you become like sort of a personal genius in one language of grief, but like an infant in everything else. All those years that my friends were examining themselves and their tendencies and their parents, I was just sort of like, anything dark with me is from this trauma. That's not true and that's actually a really dangerous place.
David: To be crude, do you mean it was an excuse or a catch-all in some way?
Jack: Yes, it is. I'm really happy for me because for the first time, I knew I wasn't going to write another batch of songs about grief because [unintelligible 00:02:14] with you forever, but I felt like I had explored it. Then I started exploring all these other things and this is where--
David: What did you feel you were exploring in this album?
Jack: All the things I missed because I kicked everything under the rug of grief.
David: What are we including there?
Jack: I mean, not to be too broad but why I'm this way, my tendencies, the systems in my family that don't work. The ones that do-- I came to Take the Sadness Out of Saturday Night because what I started to realize is that, there's an evil eye, might be Jewish, might be cultural, might be my specific family. There's a darkness that hangs pretty intensely, and I want more out of my life and I want to break into the next phase of my life, and that's weird. I kept seeing this image of a doorway, and there's all this hope and joy on the other side, right? There's also frustration anxiety of like, sometimes it's literally you're holding this bag and it's like you can't take it all through. It doesn't work. I do not get through this door with all the [beep sound]. I know that. Then I wrote songs called How Dare You Want More. [chuckles]
David: Yes, I was just going to ask you about this. Tell me about that song.
Jack: That song came from letting go of some anger towards my parents, because I found some things out and when I started to like really look at their relationship and our home life, nothing horrible but just stuff in which I'm like, "God, you put this crap on me and I got to live with it." The reason why I've always struggled, and after some time, I started to say, no, these are human characters who want more and I'm not talking about money. I'm not talking about a bigger house. Obviously, I'm talking about more out of your life and the things you really desire. So much darkness wrapped up in that for people. There's no amount of work success that ever makes one feel better about these like big rubs in their personal life. They're just separate.
David: You worked with Bruce Springsteen on one of his songs, and he has talked about, I mean, late in his career he's talked about battling with depression year after year and comes and goes, but he didn't really confront it until middle age. Is that useful to you to talk to other musicians who are older than you, not just about the music but about the experience of this seeming ideal creative life, successful creative life, and the realities of when you come home from the performance?
Jack: Remarkably important to me. I would call it like soul saving. Bruce and Patty are incredibly- I've touched on a little bit here and there but incredibly important figures in my life because there's a lot of people who have great careers, and there's a lot of people who have really kind of like great robustly vulnerable personal lives. There are very few people who can hold both, and if you're out there trying to have both, which I am, there's certain shame that even comes in saying that, how dare you want more. Man, you better find some people to believe in.
[music]
David: We both have to fess up, we grew up in neighboring towns, you're a little bit after me. Of course, you lived in Woodcliff Lake and me in a town nearby called Hillsdale. What that turf-- when I was growing up there which I thought it was terribly boring, couldn't wait to leave, get me to New York as soon as possible. What did that turf give you in your creative life?
Jack: Well, I felt the same way. It gave me boredom, which gave me dreams. We're obviously diving deep into a lot of like Springsteen culture, but one of the reasons why his work means much to me is, really a fine line between loving music and hearing yourself and your experience. I mean, when I heard it started with him, he's the architect of it and it was the local scene and all the other great music from the Shores that I started to discover.
First of all, the literal landscape. You're here in streets and places you know, but it's this feeling that there isn't really a word for it. You could say outside the window of the party, you could say younger brother, you could make the medieval comparison calling the Hudson River a moat, but it's deeper. It's our culture. It's we are not there, but we are right there. Which is not small-town thinking, it's a whole-- I mean, let's look at it scientifically. How much energy is coming off of New York City and then dying as it hits New Jersey? I think we grew up in the sort of like metaphorical ash of--
[laughter]
David: All of New Jersey will be thrilled to hear.
Jack: Here's the thing. How much beauty has that created? I mean, let's look at New York music, right? Velvet Underground, Strokes, right? Reporting from the center of the world, it's all been there done that. The first Strokes record when I was younger, that came out was called Is This It. Let's compare and contrast Is This It with Born To Rock.
[laughter]
It's true in my life. The kids I met, I just wanted to be in the city. I wanted to be in New York City band. I wanted to be around it. I grew up knowing every band that was playing in the city that night and not being there, but it creates darkness and it creates a lot of hope. It creates dreams. There's somewhere to go. It's almost like people who have a very successful father seem to have a tough time, and I feel like growing up in New Jersey I had nowhere to- and I was lucky, we never worried about food on the table. You could look it up, it's a nice town. We had a nice house, I played T-ball, went to Jewish school. Our worries were not deep, but I never thought that I couldn't outdo my upbringing.
David: Now what is, tell me, musically about you over time, is how much music and musical styles you've incorporated into your work as a musician, as a producer? How does that happen? Did you grow up liking music, country music for example?
Jack: Well, yes and no, because I looked back-- interesting story about my dad is a ragtime musician named Reverend Gary Davis.
David: Guitar player.
Jack: Guitar player, brilliant.
David: Everybody loved getting lessons from him. All kinds of people.
Jack: My dad was one of them. I think it was Bergenfield, New Jersey. I think at the time, you could go get a lesson from Reverend Gary Davis, which is crazy, amazing. My dad learned into that style and the style is very specific. It's the sort of fast back and forth picking, [unintelligible 00:09:19]. One sec.
David: Sure. Jack, just note, if you can do this, I'm always impressed with you but if you can do this, you're my hero.
Jack: It's really hard but I'm going to play something really probably that my dad plays great. It's like this kind of stuff. [plays guitar] It's that kind of, and that's a--
David: If I could do that, I would die happy immediately.
Jack: Yes. If you see my dad do it, it's a language, this kind of playing, and it flows through you where your thumb is moving back and forth continuously and you're picking in between. It's got all these blues undertones and just southern undertones and there's even like a jazz to it. Long story short, I think it opened this idea of me of just like, oh, like there's different kinds of music, because it wasn't just popular music flowing through the house.
David: You're known not only as a musician and as a writer, but also as an extremely successful and varied producer working with other people. You've done albums with Lana Del Rey, with Lorde. You've done a lot of this since your last album with Bleachers. At what point did producing other artists really take hold for you?
Jack: The funny thing about being a producer, and I realized this when I was getting into it like, if you're a songwriter, you can write songs. If you're a performer, you could probably find an open mic night and you might get booed on-stage, but you're a performer. You can't really be a producer unless someone admits that you're a producer .
I always produce my own records and loved it, but if you do it for yourself it's a little bit more like, oh, you just make your own records. It's really that lens that someone else sees you through where you're like, oh, this person can be my producer. Taylor Swift is the first person who said, "we made a song together" and I made it sound like everything I wanted to sound like. She said, "Cool, that's that." That kicked the door wide open.
[music]
David: Jack, one of the collaborations that has really knocked me flat and it also surprised me when I first heard about it is, you got a song on the album called 91. Your collaborator is one Zadie Smith. Tell me about that.
Jack: That's your world.
David: Tell me how it came about.
Jack: I know Zadie a little bit and I ran into her near Electric Lady which is in the West Village. I'm sure you know Zadie, she's not someone that's like high and by, sort of like high and then five minutes later it's like, and that's why this crushing weight is in tow wherever I go and what do you think of [unintelligible 00:12:21], is a heavy character.
David: She can sing by the way.
Jack: She can really sing and she loves music. I thought, I work with people who are in music. Zadie's a brilliant writer. I have this song which I'm having a very, very hard time with, what if Zadie helped me frame it? You just give this unknowing permission where you make space for someone to be like, you know, you could do there. That was the story with Zadie and she helped me put it together, she actually sings on a little bit.
The interesting thing about 91 is, then I had [unintelligible 00:12:54] with the production, I just could not get that song right, and it end up being Zadie helping me with the lyric. St. Vincent coming up with the idea of the strings, and then Warren Ellis who plays in the Dirty Three and The Bad Seeds, my favorite musicians of the world playing those parts, and it made me feel like, cast of heroes of mine pushing me into the album.
[music]
David: Jack, thanks so much. It's really great talking to you.
Jack: Great to see you, David.
David: That's Jack Antonoff. We spoke last summer before he received the Grammy Award as a producer.
[music]
Copyright © 2022 New York Public Radio. All rights reserved. Visit our website terms of use at www.wnyc.org for further information.
New York Public Radio transcripts are created on a rush deadline, often by contractors. This text may not be in its final form and may be updated or revised in the future. Accuracy and availability may vary. The authoritative record of New York Public Radio's programming is the audio record.