In India, the Climate Crisis Is Becoming Unlivable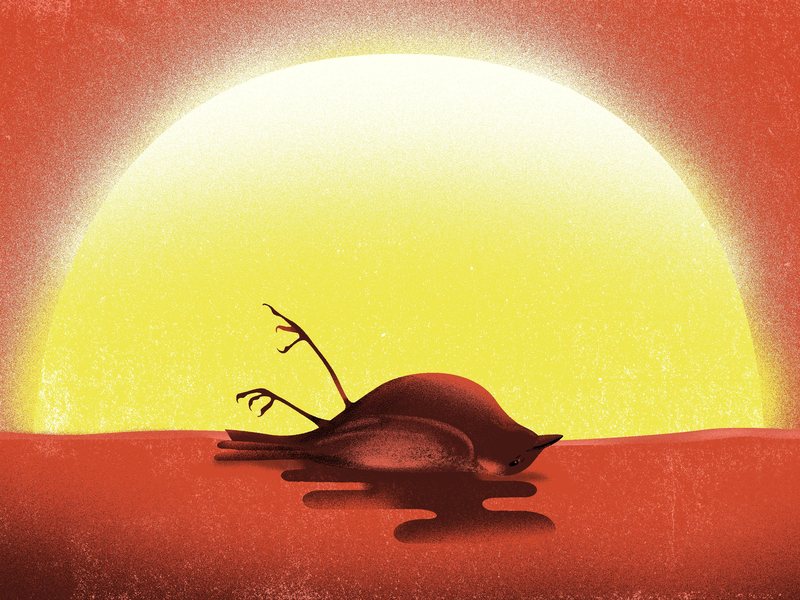 Transcript
Host: Now, here is a headline from last Monday morning, "Extreme heat baking US likely to linger into weekend."
Man: Well, a little bit of concern, obviously, because this is just the beginning of what we think is coming to pass, and now here we are.
Woman: Because this is not going to get any better. Before it gets worse, it's like we've got to wake up. Hopefully, the future, our future, our children--
Man: They're smarter than we were.
Woman: They're definitely smarter than we are, and we weren't at their age.
Man: That's one advantage they have.
Woman: Yes, absolutely.
Woman: Well, you stay cool.
Host: All over the world, people are figuring out how to cope with temperatures that are becoming truly unlivable. London reached 104 degrees recently. Portland, Oregon last week, 102, and on the plains of Texas, it was 110 or higher.
?Speaker: I have morning tasks, anything that requires thought or that I know is going to be a little more difficult mentally first thing in the morning, and then the afternoon, hopefully you know where to work in the shade.
Host: Recently, our contributor Dhruv Khullar was in India, the capital New Delhi hit 122 degrees this year. Schools and businesses changed their hours, were closed entirely. Birds fell from the sky.
Dhruv Khullar: I have family in India, my parents are from India, and so I'd always gone back over the years to visit family who still live there, my aunts and uncles, cousins.
Host: He says that every time he visits India, it feels hotter than the last time. Dhruv Khullar is also a practicing physician at a hospital in New York, and he's looking at the effect of extreme temperatures on our bodies.
Dhruv Khullar: There's the obvious things that you might think about, like heatstroke and dehydration, but there's so many other ways that extreme heat affects people's health, whether it's cardiovascular disease or respiratory disease, and so what I really wanted to do was take a trip in the middle of this heat wave and figure out what it was like on the ground.
The sun is beating down even at this hour, we're here early in the morning, it's already 93 degrees, it's expected to rise another 10 or 15 degrees later in the afternoon.
When I go to India, it is a type of heat that I almost feel like I never experience here. It is kind of scorching hot, it's often very humid, you kind of feel like you have to be inside in air conditioning as much as possible and you also recognize that most people don't have that opportunity in India. When it gets really, really hot, that's a very different calculus in India than it is in the United States.
News Anchor: In fact, India has reported four heat waves since the beginning of summer, and its capital New Delhi is now dealing with a fire that has been raging on for 30 hours now at the Bhalswa landfill in the northern part of the capital--
Dhruv Khullar: March was one of the hottest months in the history of India and then April was one of the hottest months in the history of India, and on April 26th, this huge landfill on the outskirts of Delhi-- It's on the outskirts of Delhi, but it's only about 15 miles from the seat of the Indian government. It caught fire.
News Anchor: As a landfill burned outside the capital, Wednesday, Indian Prime Minister Narendra Modi warned the country is getting too hot too soon.
[foreign language]
Dhruv Khullar: Landfills are known to catch fire, they do from time to time, there's a lot of toxic fumes and gases, but this extreme heat created a massive fire that firefighters couldn't put out for basically weeks.
News Anchor: More news from Delhi. Well, after the Ghazipur mandi, the Bhalswa landfill unit in North Delhi is the one that has caught fire, and this has been happening for the last four days or so with residents living in--
Dhruv Khullar: The toxic fumes and the heat of the landfill itself affected a lot of people's health in terrible ways. I mean, people were having trouble breathing. People were having trouble thinking clearly, people suffered burns, and so it was a really kind of severe and dire example of what these types of extreme temperatures can inflict on a community, and that's one of the reasons that I wanted to go and see it for myself.
[music]
We're standing here at the Bhalswa landfill. It looks like a mountain from afar. I thought it was a mountain, but when you get closer, you see rags, you see bottles, you see all sorts of trash. There's a few areas where the landfill which was on fire a few weeks ago still seems to be sending off fumes.
[music]
A lot of people actually make their livings at these landfills. What they're doing is collecting the trash, they're storing the trash, they are selling it to people who are then recycling the trash. I see not just children but older people. Some folks are taking carts, wagons down the street to try to take what they can. It's not just these trucks that are driving up and dumping whatever trash that they wanted to dump there.
There are people that live there. There are schools nearby, there are people who come from other cities just to work at these landfills. I saw a gentleman, just walked by with what looked like a cart full of [unintelligible 00:06:24] that he was going to sell. They're often called waste pickers or rag-pickers, but in India, it's very common that people make their living at these landfills.
I went to the landfill with two NGOs that support people who work at the landfill, and we walked down this alley into a brick hut, these huts that line the path to the landfill. Outside of one, I saw a man who was knotting human hair that he collected at that landfill, and his intention was to sell them as wigs. I walked into one of these huts, and there were five or six women, and they were all dressed in kind of very colorful clothing and they were really eager to tell their story and their experience both with the fire but also with the heat and generally the challenging working conditions that they endure every day.
[foreign language]
Dhruv Khullar: There was a woman named Saira who was kind of the local boss, and she was standing in the corner, she was dressed in a blue and red saree with her head covered. She answered most questions that I asked the group, and she had a lot to say.
Saira: [foreign language]
Dhruv Khullar: Her parents are from Calcutta, and after they got married, they moved to Delhi. Saira and her siblings were all born in a poor area of Delhi.
[foreign language]
Dhruv Khullar: She says one of the reasons that she stayed in Delhi was that in the villages they don't have these large landfills. Whereas, here at the Bhalswa landfill, she was able to make a living, she was able to educate her children, she was able to kind of scrap together a way of life that just wasn't possible back in her village.
[foreign language]
Dhruv Khullar: One of the things that they told me is that it's really hard to work in the summer because of the extreme heat, so in the winter even if parts of the landfill are on fire, they're able to wrap scarves around their faces or protect themselves and are able to continue working. In the summer, that becomes really, really difficult. Some of the women try to drape a shirt over their head. That makes them feel even hotter.
[foreign language]
Dhruv Khullar: They take water up to the landfill, and it becomes hot, almost like boiling by the time that they're able to drink it. It's a really challenging situation.
[foreign language]
Dhruv Khullar: Saira told me up until a few years ago even, she felt like it was possible for people to comfortably work on the landfill, but she said that it doesn't feel that way anymore. They're having to really change their schedules, are not able to work on the landfill during the day, so a lot of them go up there in the middle of the night, and that's when they have to work. It's the only time that is tolerable to work. Some of the women told me that they sleep up there, that they eat up there. [foreign language]
Dhruv Khullar: Being outside in the sun, in the direct heat all day long, as you can imagine, has a terribly damaging impact on the body.
[foreign language]
Dhruv Khullar: These women were suffering from dehydration, from headaches, from exhaustion, rashes, fevers, the smell of the garbage. It was sickening, but they couldn't even tolerate masks because it was so hot. Some of the people who already had respiratory issues, when the fire started, they weren't even able to get out of bed because it became so difficult for them to breathe.
[foreign language]
Dhruv Khullar: I asked them where they go when they have these types of symptoms, is there anywhere they can get medical care?
Woman: [foreign language]
Dhruv Khullar: They told me there wasn't. Sometimes they pool together their money and they go to a local pharmacy to buy a medication that they think might help, but really they have almost no access to medical care.
[foreign language]
Dhruv Khullar: We've talked a lot about the physical health effects of extreme heat and extreme weather, but the IPCC, the Intergovernmental Panel on Climate Change, has recently highlighted the mental health effects. I think that's something that we don't talk enough about. If you have an underlying mental health problem, that could spiral out of control because of some of these events, but also people who suffer from a hurricane or a drought or a wildfire, there's tremendous aftereffects in terms of your emotional and your mental well-being that could last for months or even years after that.
We tend to think of this as a problem that will affect predominantly low-income countries or middle-income countries, but climate change has inflicted lethal heat right here in the United States as well. Heat waves kill more Americans than any other extreme weather event, and that is going to get more and more common in the coming years, so we need to take the steps now to prepare for that.
You leave with this feeling that people are amazingly resilient, that they adapt to their circumstances, that they can go through a lot and still make a life for themselves, but also, at some point, it becomes too much. I think we're approaching that point where even the most resilient people, the type of lives that they have to live because of the effects of climate change, that's not going to be sustainable for very much longer.
[music]
Host: Dhruv Khullar practices at Weill Cornell Medicine, a hospital in New York. You can find his reporting from India and all his writing on COVID-19 and other subjects at newyorker.com.
[music]
Copyright © 2022 New York Public Radio. All rights reserved. Visit our website terms of use at www.wnyc.org for further information.
New York Public Radio transcripts are created on a rush deadline, often by contractors. This text may not be in its final form and may be updated or revised in the future. Accuracy and availability may vary. The authoritative record of New York Public Radio's programming is the audio record.