Hilton Als and Emma Cline on the Late Joan Didion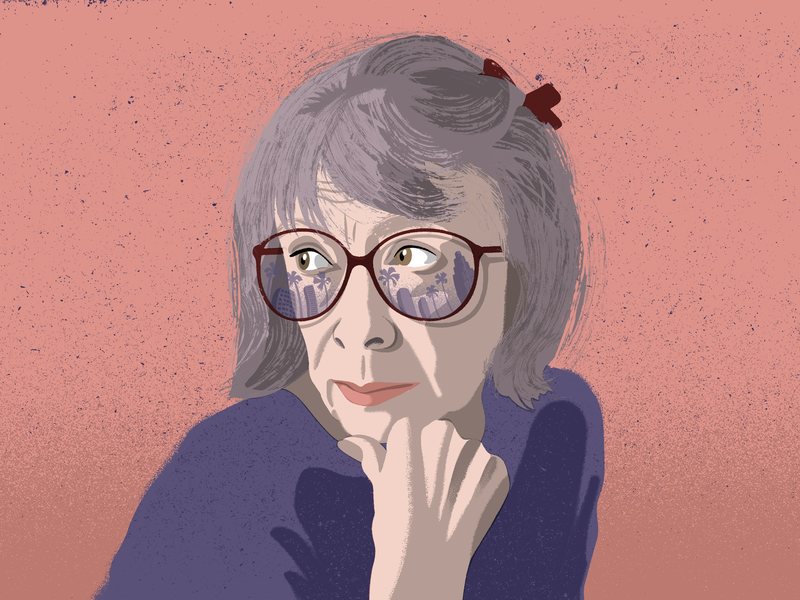 Transcript
David Remnick: This is The New Yorker Radio Hour. I'm David Remnick.
Joan Didion: I am not very analytical. I just tend to think if something's out there, then I've got to show it to somebody else.
David Remnick: That's the late Joan Didion speaking on WNYC in 1987.
Joan Didion: I'm very, very bothered all the time by people not seeing what's out there, not wanting to see things that are perfectly obvious.
David Remnick: Joan Didion had a long and evolving career from her early novels through the extraordinary essays about American life in the '60s and '70s. The political reporting of the '80s and '90s, and then the memoirs of personal loss in the 2000s. Didion died when she was 87 just before the holidays, and in the week since, there's been an outpouring of a claim that shows something quite clearly. Joan Didion's reputation continued to grow over the decades. While some of her contemporaries seem now like voices of another time, Didion still speaks to several generations of writers and readers.
Joan Didion: I like words. I'm very excited by seeing what can be done with words.
[music]
David Remnick: Why is Joan Didion's work aged so well? In The New Yorker, we published a number of postscripts on Didion and I'm going to talk with two of our contributors. The critic Hilton Als will join us in a second, but first here's Emma Cline. Emma, how are you doing?
Emma Cline: Good. How are you?
David Remnick: Cline has written fiction and essays for The New Yorker and her novel The Girls from 2016. It is about a young girl drawn into a cult in 1960s California. What we might think of as Joan Didion country. You've chosen a passage from Joan Didion to read. Can you set this passage up for us?
Emma Cline: Yes. This is from her essay called Why I Write that she delivered when she was a lecturer at Berkeley when she was 40. She had attended Berkeley as an undergraduate. "During the years when I was an undergraduate at Berkeley, I tried with a hopeless late adolescent energy to buy some temporary visa into the world of ideas, to forge for myself a mine that could deal with the abstract. In short, I tried to think I failed. My attention veered inexorably back to the specific, to the tangible, to what was generally considered by everyone I knew then, and for that matter have known since the peripheral. I would try to contemplate the Hegelian dialectic and would find myself concentrating instead on a flowering pear tree outside my window in the particular way the pedal fell on my floor.
I would try to read linguistic theory and would find myself wondering instead if the lights were on in the Bevatron up the hill. When I say that I was wondering if the lights were on in the Bevatron, you might immediately suspect, if you deal in ideas at all, that I was registering the Bevatron as a political symbol, thinking in shorthand about the military-industrial complex and its role in the university community, but you would be wrong. I was only wondering if the lights were on in the Bevatron and how they looked. A physical fact.
I can no longer tell you whether Milton put the sun or the earth at the center of his universe in Paradise Lost. The central question of at least one century and a topic about which I wrote 10,000 words that summer, but I can still recall the exact rancidity of the butter in the city of San Francisco's dining car and the way the tinted windows on the Greyhound bus cast the oil refineries around Carquinez Streets into a grayed and obscurely sinister light. In short, my attention was always on the periphery, on what I could see and taste and touch on the butter in the Greyhound bus."
David Remnick: Emma, tell me a little bit about your first encounter with Joan Didion's work. What did you read? How did it strike you are from a similar part of the country?
Emma Cline: Yes. I must have first come across her in high school reading one of her essays for a class. I think so much of what I was drawn to at first was somebody writing about the landscape where I was from and honoring that landscape in the same way that I saw other landscapes honored and talked about. The specificity of those images and the regional specificity really spoke to me.
David Remnick: If there's a single work that really sticks with you that had the biggest mark on you as a human being and as a writer, what is it?
Emma Cline: I really love her fiction, but the non-fiction to me is what's always stuck with me, like Slouching Towards Bethlehem, the essays in that book, and The White Album. I think both of those really are the ones I return to again and again.
David Remnick: She famously said that she writes to find out what she thinks and not to make an argument that's conceived ahead of time. Can you talk about her influence in writing journalism that seeks as opposed to argues? Has that had a real mark on you?
Emma: Yes, definitely. For me, when she writes, "You don't write it, it writes you," she's following these images that has what she calls a shimmer in the mind. Almost like this life force in you that seeks out these images with some intelligence beyond your conscious mind. I think definitely for me in both fiction and non-fiction, that way of thinking has allowed me to be able to start off a project without knowing where it's going and using the process of writing to track the contours of my own thinking. I think that approach has been massively influential, definitely to my generation. Her influence is so massive. I almost can't think of a writer who is more of a touchstone for every writer that I know.
[music]
Joan Didion: You don't really work anything through just sitting around and thinking about it. You have to write it down.
[music]
David Remnick: Hilton Als is a longtime staff writer and a winner of The Pulitzer Prize in Criticism. Hilton started with a passage from Joan Didion's novel, A Book of Common Prayer, published in 1977.
Hilton Als: The reason I chose this selections is it says a great deal about her life as a reporter and a fiction writer. It is the story of a woman told by another woman who is an anthropologist who gives up the field, and she wants to understand self-delusion really, and how society makes dreamers. I thought rather than go to an essay that might be more familiar, I would show that her concerns were across the board in fiction and non-fiction.
Here is what happened. She left one man. She left a second man. She traveled again with the first. She let him die alone. She lost one child to history and another to complications. I offer in each instance the evaluation of others. She imagined herself capable of shedding that baggage and came to Boca Grande, a tourist, una turista. So she said, "In fact, she came here less a tourist than a sojourner, but she did not make that distinction.'' She made not enough distinctions. She dreamed her life. She died hopeful in summary. You know the story. Of course, the story had extenuating circumstances, weather, cracked sidewalks, and [unintelligible 00:08:23], but only for the living.
David Remnick: Hilton, I wonder as a writer, if you had spent the evening reading that pros and that pro's rhythm that you could get it out of your ear to write like you. It's just such an indelible, inevitable, incantation when you read it.
Hilton Als: Yes, it's very interesting to fall under her spell. One of the things that you have to do as a young writer is really unlearn her because the voice is really so much a part of the story. In a way, it's a very important lesson to learn how to fight against her in order to find your own voice.
David Remnick: Do you ever think the voice fell into, I hate to say it, I don't mean to be disrespectful, but self-parody, sometimes there's the amazing work, and then once in a while, you feel you're hearing-- as with Hemingway, as I guess with any great writer them doing themselves, is that unfair?
Hilton Als: I don't think that's unfair. I think it happens to all of us actually. [laughs] That at one point or another, you forget what you sound like. I think that when writers fall into that trap, it's actually because they don't remember what they've done before and they don't actually remember what they sound like, and it's almost as if they're starting afresh and they're thinking, "Oh, what a wonderful new voice [laughs] I've discovered."
[laughter]
David Remnick: They're forcing it a little. Hilton, I know you knew Joan Didion and you interviewed her. There was this spectacular interview that you did with her for the Paris Review, and you're working on an exhibition inspired by her life and work. What was she like?
Hilton Als: Well, one of the things that really has to be stressed is how funny she was and also a person who loved to laugh. I was by no means one of her intimates, but one of the things that was very striking to me was her willingness to talk to young writers and to be interested in young writers, and to support them in any way that she could. That also goes unremarked. Her incredible generosity toward younger writers and her willingness and ability to laugh. I think those things got left out of the obituaries that I read, certainly.
David Remnick: The public impression of her is of almost really solemn presentation. You don't imagine her as the Chris Rock of her moment, but how do you mean funny?
Hilton Als: Well, I think that, for instance, if she didn't like something, she wouldn't say, "I don't like the thing," she would just say, "C-minus," [laughs] or A-plus if she liked it.
David Remnick: What do you make of her politics? Famously, she was noticed first not by some left-wing journal, but in fact, by William F. Buckley noticed Joan Didion early on. She comes from not the California of the left, but something else. She began as a Goldwater Republican.
Hilton Als: Yes. I'm fascinated by people who make those transitions or leaps from one set of beliefs to another. I think that those beliefs really were her father's or her parents and her family at that time. I don't think that she was really so much a Buckleyite as she was interested in writing. I think that her experience at the National Review showed her that the politics weren't her politics after a while.
Joan Didion: My being drawn to political issues is relatively recent, actually. I don't know what caused it, but one morning I just started reading the paper in a different way.
David Remnick: Hilton, you wrote in your appreciation of Didion this. "No country--
Hilton Als: Thank you for making me do it.
[laughter]
David Remnick: That's what I'm here for.
Hilton Als: Merry Christmas. [laughs]
David Remnick: Yes, exactly. You wrote, "No country but America could have produced Joan Didion, and no other country would have tolerated her." What made her unique to our country, and how Americans relate to the world?
Hilton Als: Well, I think that, first of all, we're able to have a political language that's much more complicated and way less ideological than most other places in the world. I think that's another underestimated aspect of her writing was her political analysis. If you're going to be an analytical, verbal woman, I don't know that many cultures that really would tolerate that, do you?
David Remnick: Well, let's hope that it continues to tolerate it.
Hilton Als: Yes, exactly.
David Remnick: In the '80s and '90s, Didion turned to world events and political affairs in works like Salvador and After Henry, where she writes about, of course, a famous essay on the Central Park Jogger and the kids who were put in jail, [crosstlak] underage children. Why do you suppose this work is regarded or at least read a little bit less than, say, The White Album and Slouching Towards Bethlehem?
Hilton Als: I think that that is a very good question, David. It has a lot to do with something that I mentioned that's very touchy aspect about the image or nostalgia for white female fragility. We talked about that a little bit in the essay that I wrote for you. It has a lot to do with the drama of fragility and the privilege of fragility. I think that, again, after Goldwater, after the National Review, and then after becoming a persona in the essays, she realized that, as she said, she didn't want to be Miss Lonelyhearts.
I think that the later political reporting and analysis are less read because she doesn't give an inch to the reader in terms of a familiar presence, the familiar presence of that white female fragile persona that did become a persona after a while. I'm glad that she jettisoned it as a thinker and as a writer because it was limiting after a while.
David Remnick: There's a documentary about her made by her nephew, Griffin Dunne from a few years ago. For me, the most vivid moment is when she fesses up to what all reporters feel at some time or another. She says she was hanging out with The Doors and she encountered in Haight-Ashbury a six or seven-year-old kid--
Hilton Als: In high kindergarten.
David Remnick: -- in high kindergarten and the kid is high on acid.
Hilton Als: Yes, and she said it's gold.
David Remnick: Exactly. In other words, not reacting in a maternal way.
Hilton Als: As a person or as a woman or anything. It's writer's gold and you're standing there. I think that we talk about that in our obituary for her was that you're not anything when you're standing there in order to write it down. You can't be David Remnick and I can't be Hilton Als. David and Hilton have to go away, and the writer has to take over and see that it's gold for the piece.
David Remnick: It's some combination of predatory and professionalism.
Hilton Als: Yes, and also absence, too, that we don't get to be ourselves, and we don't get to be the nurturing people everyone loves. [chuckles] We get to be writers.
David Remnick: Hilton, thanks so much and thank you for the essay.
Hilton Als: Talk to you soon. Bye.
[music]
David Remnick: You can find an essay by Hilton Als on the late Joan Didion at newyorker.com, along with pieces by Emma Cline, Zadie Smith, and Nathan Heller.
Copyright © 2022 New York Public Radio. All rights reserved. Visit our website terms of use at www.wnyc.org for further information.
New York Public Radio transcripts are created on a rush deadline, often by contractors. This text may not be in its final form and may be updated or revised in the future. Accuracy and availability may vary. The authoritative record of New York Public Radio's programming is the audio record.