Martin McDonagh Talks with Patrick Radden Keefe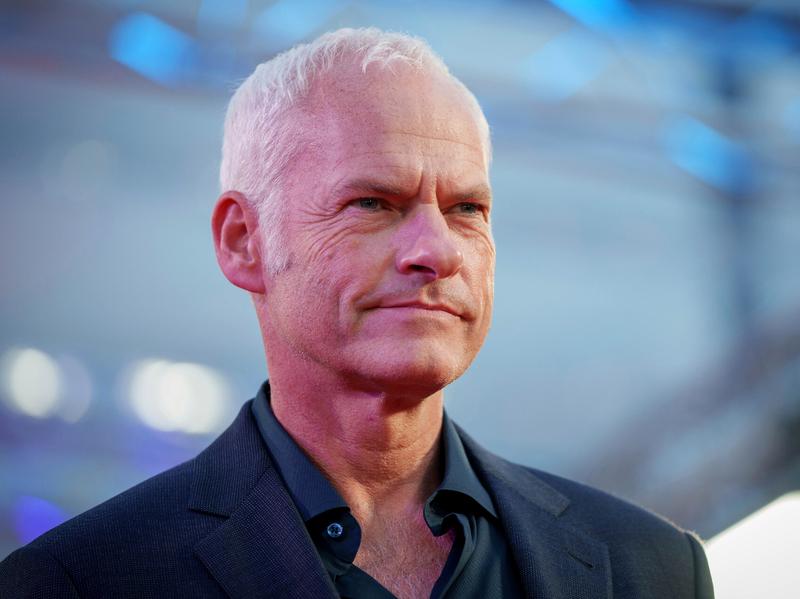 Transcript
Host: Martin McDonagh was a playwright in his 20s when he burst onto the theater scene in London. At one point he had four plays running simultaneously on stages across London, but McDonagh also aspired to work in movies and he eventually made In Bruges a real favorite of mine and Three Billboards Outside Ebbing, Missouri. McDonagh's newest is called The Banshees of Inisherin, although most of McDonagh's plays were set in Ireland, this is his first feature film about the country.
It traces the story of a friendship breaking apart and it's set in the beautiful remote hills of a fictional island, West of Ireland. The movie stars Colin Farrell and Brendan Gleeson.
Colin Farrell: Now I'm sitting here next year and if you're going back inside, I'm following you inside and if you're going home, I'm following you there too.
Brendan Gleeson: Now, if I've done something to you just tell me what I've done to you, and if I said something to you, maybe I said something when I was drunk and I've forgotten it, but I don't think I said something when I was drunk and I've forgotten it, but if I did, then tell me what it was and I'd say sorry for that too, Colin.
Colin Farrell: Don't be hurt. I'd say, sorry, just stop running away from me like some fool of a moody school child.
Brendan Gleeson: You didn't say anything to me. You didn't do anything to me.
Colin Farrell: That's what I was thinking.
Brendan Gleeson: I just don't like you anymore.
Colin Farrell: You do like me.
Brendan Gleeson: I don't.
Colin Farrell: You liked me yesterday.
Brendan Gleeson: Oh, did I? Yes.
Colin Farrell: I thought you did.
Speaker 1: Staff writer Patrick Radden Keefe interviewed McDonagh at the New Yorker Festival.
Patrick: Congratulations on the film. It's a breakup movie.
McDonagh: That's all it is for me. That's definitely the starting point of it to be as truthful to the sadness I suppose of a horrible breakup where you can understand both sides in it. I think that was the balance. I think you're naturally on Colin Farrell's side definitely, to begin with in even in the scriptwriting stage but the thing to get right was to see as much of the story from Brendan Gleeson's point of view too.
Patrick: Was that what it was from the original conception then?
McDonagh: Yes. There was an earlier version of it just a few years before where it didn't quite-- it went to a plotty stupid shitty place and not really but I just wanted this to be plotless in a way just to have the unraveling of this breakup be what the whole story was about.
Patrick: Having worked with these two actors before in In Bruges a very, very different movie and yet one in which their dynamic is in the way that it is here. Did you write this one with them in mind?
McDonagh: Oh yes, very much so. We've been wanting to get together in the 14 years since we made that hasn't quite happened. Obviously, I work with Colin again for Seven Psychopaths, but I'd stayed friends with both of them. We always see each other if we are in each other's countries and they've remained great friends. We always hope that something like this would come about. I've been very lazy about it and I'm [inaudible 00:03:30]
Patrick: When you got around it, you got around to it.
McDonagh: Yes, the fear was because we all loved In Bruges and we loved how much people love In Bruges but when you get the team back together you don't want to fuck up that love. You don't want to do something that's lesser. I hope we've done something that's a stranger, but definitely something that isn't not as good.
Patrick: There's an aspect it seemed to me there's a fable quality to the story and I want to talk about Ireland. You're a Londoner, but grew up with Irish parents and spent time in Ireland during the summers when you're growing up and your parents live there now. Not far from where the film was made and so much of your work has taken place in Ireland and yet in the plays, I think there's sometimes also this slightly fable fairytale quality. I guess I just wondered is the place where these stories tick. Is it a real place or is it an Ireland of the mind? I wonder about your relationship to-
McDonagh: I think it's a theatrical Irish place. This island doesn't actually exist, but obviously, the Civil War was a real thing, and it is and very interesting part of the backdrop. That takes away a little bit from the fable quality, but I think if you start anything 100 years ago and lean into mysticism and banes and folklore and all that stuff, it's going to have some semblance of that thing.
Patrick: I hope you'll take this question in the right way because I'm a New Yorker who wrote a book about Ireland myself but do you ever feel like there's a trespass or there's a license that you're taking? Is that something you're totally untroubled by or is it something that you're mindful of at all?
McDonagh: Untroubled by it until the Irish reviews come in then things get troubling, but no it is like more than just some as a kid, it's like we grew up in London. All of the families around us were Irish. You'd hear Irish music blaring from each sides of the little area where we grew up. Mom and dad were very proud to be Irish and encouraged it in us almost too much but we'd go for Christmases. Our grandparents were still alive in Sligo at that time.
As a child, it felt like we were half the year there and half the year in London. Obviously, my lay accent is very London, but London Irish is probably a good way to describe me. I don't have a British passport which is probably a good move these days. I've only had an Irish one, but I've also always been anti-nationalist and anti-patriotic and all those things, so the whole Irish English thing I find a bit boring these things.
Patrick: That makes one of us. I read somewhere that it was a breakthrough for you as a writer when with plays initially that you thought about the way in which your father and I think your uncle maybe spoke that there was an idiom that you stumbled upon. I would imagine in the way that for [unintelligible 00:07:01] they discovered a register and an idiom that unlocked something.
McDonagh: Exactly. In fact, [unintelligible 00:07:08] were the two big influences and too much of an influence, in fact, because all of the stuff I was attempting to write then was English or American based and very many ripoffs of the birthday party or American Buffalo to a degree. It was only once, but I knew I wanted to have dialogue be more theatrical than it is in real life. I thought those were the best two people around who were doing that. It was when I tried to do that in a west of Ireland context, that things did open up and allowed the dialogue and the characters even to be a bit more poetic and heightened than the everyday London stuff that I was trying to do.
Patrick: I wanted to ask you because you've had this fascinating career where you started with plays and then moved into film and have continued to do both. I went back and started reading these interviews that you did early in your career 25 years ago. You suddenly burst onto the scene, this young guy in his twenties, you'd written seven plays in less than a year and just came out of nowhere and there were these amazing interviews where you would talk to people who were clearly filled with wonder and envy and they would say like you're the first person since Shakespeare to have four shows simultaneously in London, how do you do it?
Your reaction was always, theater is fine what I really want to do is get into movies, and you could feel they were so crestfallen. I feel terrible because I know Fintan O'Toole, but I have to quote you this, this is you and Fintan O'Toole in 1998 for Bomb Magazine. You said, "I would be unhappy if I wrote 90 good plays and didn't make a good film, but if I made one good film if I made one brilliant film, one really, really good film I'd be happy, one would be enough."
Then you say like, clearly [crosstalk] No, what I love is that as Fintan who's there and he's celebrating your budding career as a playwright. Clearly, there was something going on on his face, because you then say you really love theater maybe to him and Fintan says, "I do."
McDonagh: His love of theater.
Patrick: Exactly. Here's what I wondered. I went a couple of things. One is when you sit down to write something, how do if it's a movie or a play?
McDonagh: If it's got four characters and it's inside, it's a play, and if it doesn't have any donkey or dogs.
Cats can go either way.
Patrick: Cats can manage. You said to The Guardian recently that you may want to devote the remainder of your career chiefly to films?
McDonagh: Weirdly, I don't know if it's just because Brendan Gleason's character is on my mind, but definitely during COVID, one does think of time passing and how much time you've got left. I've discovered as years gone by that it takes as much time or longer to do a play to get it off West End in London to West End to Off-Broadway to here. That'll be four years or so, whereas we made this last year and it's out now. To take care of a play from start to finish does take a similar amount of time.
I do feel the plays that we got good 25 years ago you can't see them. They're all gone forever. There's a sadness to that I feel. As the years go, I always-- As much as I used to slide plays off, I did do love them if they're done my way, [chuckles] if they've done it in a certain way, Fintan's way or [unintelligible 00:11:07] way or whatever. Now, I'm not going to swear off plays because if I get a good play idea I'll jump into it. If I'm seriously thinking about if you got 20 years, 30 years left, a film every couple of years is going to last more than a play well.
Patrick: How do you decide on the setting of your movies and how do you do the research?
McDonagh: Well, for this one, certainly, my parents live just across the bay from Ireland island. That whole area of the West Connemara up through Sligo and Mayo is all and all the way down to Cork and Kerry, the whole west is, I sound like the Irish tourist board now too. It is the most beautiful part of the country, I think. I always wanted to set something there and capture the beauty of it. With Three Billboards also it was to try and capture almost an old American small town with this street that's both sides close together and one horse town. Location is always, and obviously, Bruge was a character. I do like the locations to be characters in the movies as much as possible.
Patrick: When you watched the film for the first time, did you find it sadder or more hopeful than you originally anticipated?
McDonagh: I think I was always trying to make it as sad as possible. Once it's finished, I don't think I've got enough distance to know where it lies right now. Maybe I'll ask people afterward who actually show of hands, who is going to be sad or hopeful, who think it's a sad film.
Patrick: Oh, shit. Mission accomplished.
McDonagh: Any hope out there?
Participant: No.
Patrick: Oh, wow.
McDonagh: Guess it's a sad film.
[laughter]
We're definitely not going to win the Oscar.
[laughter]
[applause]
Patrick: Thank you so much, Martin, for coming. Thank you to all of you.
McDonagh: Thanks, everyone.
Patrick: Happy New Yorker Festival. Good night.
[music]
Host: The New Yorker's Patrick Radden Keefe, speaking with director and screenwriter Martin McDonough.
[music]
Copyright © 2022 New York Public Radio. All rights reserved. Visit our website terms of use at www.wnyc.org for further information.
New York Public Radio transcripts are created on a rush deadline, often by contractors. This text may not be in its final form and may be updated or revised in the future. Accuracy and availability may vary. The authoritative record of New York Public Radio's programming is the audio record.