Designing a Soundscape for the Cars of the Future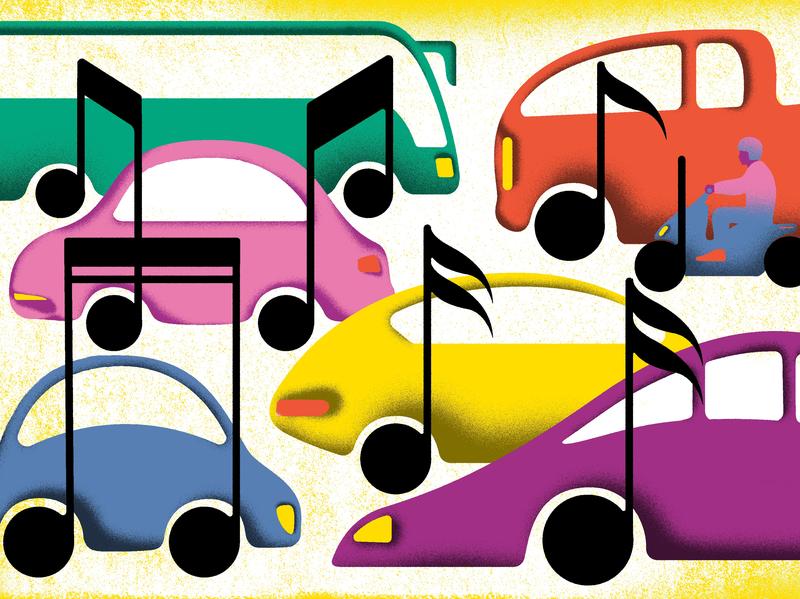 Transcript
David: John Seabrook has written for The New Yorker on many subjects, but he's a particular expert on pop music. How in today's music business, a track is built layer by layer by an entire team of composers and producers. Recently, John took that close attention to the process of making songs to a very different kind of sound environment. Here's John Seabrook taking a little trip with our producer, Ngofeen Mputubwele.
John: Let's imagine we're walking through London in a 19th century. It's 1859 and it's a beautiful sunny day. We're strolling down the high street. What do we hear? What does it sound like all around us? It's going to sound pretty different than walking through New York City sounds today. I think, first of all, you're going to hear the clip-clop of horses' hooves, and you're going to hear wagon wheels. You're going to hear church bells. You're going to hear running water. Probably you're going to hear more animal and bird sounds than then we can hear today.
You're going to hear blacksmiths, hammers which have a particular sound. They go ping, ping, king, ping. They have a ping, ting, ting, ping sound. If you grew up in a farm, which I did, you get used to that sound. Maybe what people wore, of course they didn't really have sneakers. The sound of the feet probably hitting the pavement, the boot heels, are probably like a constant staccato low-level click, click, click, click, click. In 1860, the very next year, there was a Belgian engineer who patented the very first commercially successful internal combustion engine, and that was going to change the urban soundscape profoundly.
Ngofeen: How does a internal combustion engine work?
John: Internal combustion is a rather violent process of igniting gasoline vapors inside controlled area, in this case a piston sleeve. When the gasoline vapor explodes, it makes a loud noise, and that drives the piston down through the sleeve, which then cranks their gear, which eventually ends up moving the wheels. You have four or eight of those pistons, or even more in firing more or less the same time, which creates bah, bah bah, bah, bah, bah, bah, bah, bah, bah, bah, bah, bah, bah. It's a very loud machine. If you actually listen, it's a low low-frequency rumble or growl that really forms the baseline of urban life.
[music]
Ngofeen: Now that we've talked about the internal combustion era, prepare to say goodbye to it because we're entering a new era.
John: The era of electrification.
Ngofeen: There we go, electrification era.
John: It's going to have a huge effect on the way cities sound.
Ngofeen: Why?
John: Because by 2050 cities have rules that say you can't operate an internal combustion engine in the city. There are these benchmarks that cities hope to meet in terms of reducing emissions. These are projected goals or guidelines. 2035, 2040, 2050 you hear different dates.
Ngofeen: The point is well taken, which is that sooner or later we're going to be electric.
John: All these sounds, not just the engine sounds but primarily the engine sounds, will go away. A city full of silent cars sounds nice but think about it. Really walking around. Bicycle lane, crossing the street. I don't know. I think it'd be scary.
Ngofeen: It sounds creepy actually. [laughs]
John: Like a silent city. Remember the pandemic, remember you heard that the sirens or the ambulances but what was creepy about if you were in the city was how quiet it actually was. Also, the problem is that many people, pedestrians and bicyclists but also blind people, use the sound of engines to navigate the streets. A quiet car, a silent car. presents real dangers to some people. A federal law was passed in 2011 that requires all-electric vehicles to make a sound and we have to figure out what they're going to sound like.
Connor: Totally, 100%. I'm Connor Moore, Executive Creative Director at Listen. It's an audio branding agency based in Brooklyn.
John: When Ford was thinking about sounds for their Mach E, which is their first electric car,, they consulted their own engineers, but they also reached outside of Ford and work with this company called Listen.
Ngofeen: We reached out to Connor to listen to some of those sounds of the Mach E.
John: The guys who make the sounds are basically electronic musicians.
Ngofeen: I'm counting five guitars and two keyboards right now and we're looking at you.
John: They're working the way that you would work to make an EDM track or a backing track for a hook or something.
Ngofeen: All right. Let's get into the sound.
Connor: Sure. The welcome sound is once you get into the in-car experience, and it's a chance for the car to set the tone for your driving experience.
[music]
Ngofeen: John, reactions?
John: I was getting a rock and roll vibe there. That could be the beginning of a production of maybe like an '80s, maybe a European hairband.
Ngofeen: I have an initial partially Stranger Things reaction and then I have a sort of it reminds me of certain video games that I grew up with. This is like in Megaman. Could you maybe play it again, but before you do, tell us what to listen for?
Connor: Totally. I'm going to point a couple of things out. Within the composition itself, it has this pulsing build. That is how we express dynamics and energy. Beyond that, you're going to hear a low-end frequency, a really robust bass frequency response that really pushes this bolder feel. Then in the melody, you're going to hear some crunchy distortion. The original Mustang had a level of independence, this rebel nature to it. You're hearing a much more layered system, a cinematic approach. We wanted to really push this soundscape into the future. Playing the welcome sound here.
Ngofeen: It's like, doo doo doo doo. Right?
Connor: Yes. That's actually a good thing that I did mention earlier, is when you're starting something or you're welcoming something or you're stepping into something, you compose it in a way that's upward scale in ascending note pattern, towards opening to an experience. Whereas something like a farewell or shut down sound might be going downward.
Ngofeen: Cool. You want to do the farewell sound for us?
Connor: Yes.
Ngofeen: It's very exciting. I feel like it's an exciting sound.
John: It's chariots of fire I think. It's not fire, chariots of electricity, but very cinematic.
[music]
Connor: This is the seatbelt chime in the Mach E. The way that we think about designing for something like seatbelt warning is it's a low-level alert. We think about it on a spectrum. It's like low level, medium level, high severity.
Ngofeen: Say you got to keep the same notes but I'm going to tell you that now I want the alert to be like, this is something serious. What process would you go through in your brain to be like, "Okay, I'm going to adjust this way."
Connor: The first thing I would do is I would change the pitch range. I would shift it up an octave, see how that feels. You want it to live in the, 1,000 to 3,000-kilohertz space. That's the most sensitive area for human hearing. Number two, I would address speed. The repetition in the notes, there's, obviously, a certain amount of space between the notes. I would probably tighten those. I would probably tighten up the repetition cycle. The cadence of it would be faster. The other thing is, I would maybe potentially add a little bit of dissonance. There's an opportunity with severe alerts to add some of that minor modalities layers that might increase the tension. That's going to really reflect the severity of the moment.
The way that I really think about it is it's about the interaction, right? What are you trying to express? If it's a successful state, if it's a confirmation, we're probably going to live in the major territory, right? Major key fits in error state. We think about that as injecting minor feel or diminished feel to really get the point across that, "Hey, there's a problem here."
John: There was a Canadian author, his last name was Schaefer, who wrote a book, I think it's called The Tuning of the World, and it was in the '70s. His basic idea was that nature has an ecology of sound in which birds sing in different frequencies and they don't overlap or compete. They fit into an ecology of sound. He contrasts that to the way the soundscape of cities evolved without any real acoustic designer at work. People like Connor Moore see electrification as an opportunity to kind of have this big reset.
Connor: We have the ability now to really design sounds. Taking the example of a phone ringer or the original alarm clocks, they were all consistently loud. They hit you loud and they ended loud and they were consistent. Now, when we design these types of moments, it's all in the hope and light of bringing beautiful sounds into our soundscapes that don't bring too much noise into the world.
John: We as a civilization don't get this chance that often, the chance to really profoundly rethink the way cities sound, maybe it's once every 100-year chance. There's a lot of studies that have been done that show that sound pollution, noise pollution has a detrimental effect on your health almost as clearly as smoke and toxic fumes pollution. The people who are actually exposed to the noise the most tend to be the less advantaged people. I think when we think about improving the sound of cities and making cities quieter, it's far more than just an aesthetic experience for the metropolitan mind.
It's an actual public health question for those who live with engine sounds, motor sounds, highway sounds, horn sounds, suspension sounds, all these sounds that you're in the midst of in the city, we can make better through design.
Automated voice: Continue for half a mile. In 800ft, turn left onto Washington Avenue.
John: We've been talking about alert sounds, but there's also a whole set of propulsion sounds the car makes for the driver to hear.
Ngofeen: Sonically, we're hearing what in my brain normally I would think of like the engine is going like when we're going forward, the propulsive sound, but that sound is artificial.
John: That's an artificial propulsive sound. We took the Mach E and drove it in Williamsburg and I'll tell you what, it was pretty quiet.
Ngofeen: Maybe too quiet.
[laughs]
David: Staff writer John Seabrook, he's the author of The Song Machine. John writes about music and he's a connoisseur of sound, all kinds of sound.
John: We all know what a Geiger counter sounds like but of course, that's a completely symbolic sound. Radiation doesn't actually sound like that. I can't imagine that there's a better sound that would be a metaphorical sound for, maybe, "Oh no, get out." I don't know.
[laughter]
Ngofeen: Yes, that's funny. I like that as an exercise. You have to replace the Geiger counter with a new sound. "Fuck."
[laughter]
Ngofeen: Oh my gosh.
Copyright © 2022 New York Public Radio. All rights reserved. Visit our website terms of use at www.wnyc.org for further information.
New York Public Radio transcripts are created on a rush deadline, often by contractors. This text may not be in its final form and may be updated or revised in the future. Accuracy and availability may vary. The authoritative record of New York Public Radio's programming is the audio record.