North Dakota's Only Abortion Clinic Leaves the State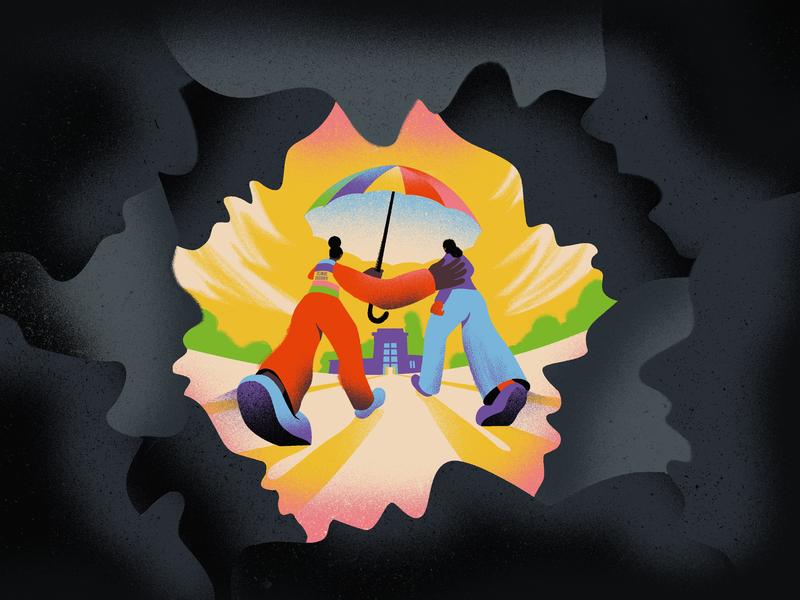 Transcript
[music]
David Remnick: Welcome to the New Yorker Radio Hour. I'm David Remnick. One year ago, staff writer Emily Witt, visited Fargo, North Dakota. She was there to report on the Red River Women's Clinic, the only abortion provider in the state. The Supreme Court's Dobbs decision had just come down and the Red River Clinic was in deep peril. Since then, 14 states in the country, 14, including North Dakota, have now largely banned abortion.
Emily Witt: Okay, let's just pull over for a second.
David Remnick: About a year later, Emily Witt went back to Fargo and the site of the Red River Clinic.
Emily Witt: Yes. There used to be security --- well, the security cameras are still there in the glass bricks to keep things private, but there's really no sign except for the sign that's still up against the wall there, that this used to be a clinic for, I think, almost 25 years. Turning on the car.
David Remnick: She headed east, past an anti-abortion billboard, past some parking lots, an auto shop, driving toward the river.
Emily Witt: The Red River, which is the border between Minnesota and North Dakota, is really just a couple of blocks from the old clinic. We're driving over it right now on the First Avenue Bridge. We are passing by a recreated Viking ship museum.
David Remnick: The Red River isn't wide here, but it now forms a border, a distinct border between starkly different realities for women. On the one side, North Dakota, which has banned abortion, and on the other, Minnesota, where Democrats are in power and they've expanded abortion access, so the women's clinic relocated from Fargo right across the river to Moorhead, Minnesota.
Emily Witt: We're pulling in. It could not be more nondescript of a building. It's pale brown bricks. It's two stories.
David Remnick: Emily Witt met with the director there, Tammi Kromenaker.
Tammi Kromenaker: You can just, come on in the building. Then we've got first layer of security.
Emily Witt: Tammi's just a person that really has her act together. She's very detail-oriented. She's very organized. She's not easily ruffled. Did you have to do a lot of work?
Tammi Kromenaker: Honestly, in this part of the space, not really. We had to paint some walls.
Emily Witt: She's often asked to lobby or testify, not only locally in North Dakota, but also sometimes in Washington. I think she's really seen as a leader in the field nationally.
David Remnick: In fact, Kromenaker had the foresight to start planning this move quite a while ago, when the Supreme Court first announced it would take up the Dobbs case, and that was back in the fall of 2021. She figured that the clinic needed a backup plan, and she was right.
Emily Witt: Wow. What day did you officially open here?
Tammi Kromenaker: We saw our very first patients on August 10th, 2022. We bought the building at 3:00 PM on June 23rd, less than 24 hours before they overturned Roe.
Emily Witt: Wow.
Tammi Kromenaker: 47 days from purchase to seeing our first patients.
Emily Witt: At first, Tammi tried to keep the new location secret. When I visited last year, she wouldn't tell me where it was and didn't want me to know, or the press to know.
Tammi Kromenaker: It was less than a week before we opened that, anti-abortion protestors said, "We know where the building is," and made the announcement. It was sort of, actually, a relief, because I had been coming over here incognito. I was wearing a hat and glasses and a mask, and coming in the back utility door, because we had to keep the location secret and secure.
Emily Witt: The building that she bought in Minnesota was a very ordinary office complex set up for small businesses. She had to totally renovate it to turn it into a functioning clinic.
Tammi Kromenaker: I can show you pictures, too, from the remodeling, but like these cupboards all came with-- we just had to put new countertop on. We were able to get all new exam tables delivered, I think, five days before we saw our first patient. There's a lot of motion happening. This is just to clarify, we're in an exam room. There's an examination table, ultrasound machine. The machine on the floor over there is the suction machine for the in-clinic suction procedure, and just your regular, what you would see in any other doctor's office on the counter. If you want to see some pictures really quick?
Emily Witt: Sure. Yes.
Tammi Kromenaker: I always say it's better to have--
Emily Witt: We were sitting in Tammi's office and she brought up some pictures on her desktop screen and there were pictures of the renovation, of the floor torn up, of her staff setting up the Wi-Fi on their phones for the first time.
Tammi Kromenaker: I know. Yes, so the volunteer-- I had been moving things slowly. Then once it was out, then I expanded the field to all of our escorts. There actually was one girl who showed up in downtown Fargo at 10:00 AM and at 6:00 PM here I said, "Vanessa, go home, you've been here all day." People were running to the hardware store and picking stuff up. This was the Tuesday. This is what the room looked like. Then this is 10 o'clock at night, we threw the flooring down.
Emily Witt: Oh, my gosh.
Tammi Kromenaker: 12:39 AM. I think that's the worst picture right there. [laughs]
Emily Witt: Were you exhausted?
Tammi Kromenaker: Oh, my gosh, yes, but also exhilarated, and nervous, and scared, and all of those things. I played that, was that Sia? I'm unstoppable, because I just needed an anthem.
[MUSIC - Sia: Unstoppable]
Emily Witt: She seemed pleased and maybe a little bit surprised that they had managed to pull it off in such a short time and really that they were able to continue on almost seamlessly, even though everything she had worked for more than 20 years in Fargo had been taken away.
Tammi Kromenaker: --and then this is our staff debrief after our first day, but yes. That's what that room looked like the day before.
Emily Witt: That is wild.
Tammi Kromenaker: And then-- Hi.
Speaker 4: Hi. Sorry to interrupt. There's a patient on line one, who is probably like 22-ish weeks along. Her last period was in December. Could you talk to her about where to go besides here.
Tammi Kromenaker: Yes.
Speaker 4: Thank you.
Tammi Kromenaker: Hi there. Thanks for holding. What's your name? All right. Where do you live? Okay. All right. Did you have an ultrasound then? No. What was the first date of your last period?
Patient: Like from the beginning of January to the end of December.
Tammi Kromenaker: If we guess like January 1st, does that feel like a fair guess?
Patient: Yes.
Tammi Kromenaker: Okay. All right. Yes, you are too far for us right now. If you want to continue and have an abortion, you're going to have to travel out of state. There's a number of places that you can go to. It's going to take some effort on your part. I can help you find some of those places.
Emily Witt: Red River only sees patients up to 16 weeks. That's mostly because their doctor only comes once a week and procedures later in pregnancy need the patient to stay for another day, usually.
Tammi Kromenaker: Okay. What I'm going to do, is I'm going to start texting you some of the names of the clinics and you're going to have to call and make those appointments and then we'll just keep in touch via text and get you all those other resources that you need. Okay?
Patient: Okay.
Tammi Kromenaker: Is there anything else I can answer for you right now?
Patient: Nothing. That's it.
Tammi Kromenaker: Okay. You bet. Take care. Bye-bye.
Emily Witt: Tammi admits that the other side has won. They achieved what they hadn't achieved in decades, which was to ban abortion in North Dakota. The silver lining to all this is that the new clinic is actually a better place to see patients than the old one was. She's also now in an environment where she's not in political opposition to every legislative body in the state.
Tammi Kromenaker: It's been a game changer. Having the parking lot. The protestors have to stand at the sidewalk over there. They cannot come into the parking lot, so patients' demeanors when they arrive in the building is so different. When they used to come in, their adrenaline was pumping, they were crying, they were upset. Sometimes some do, but it's not every patient, every time. March and April were two of our busiest months in our history. We've seen a handful of patients from Texas. We saw a patient from Nebraska recently. I think we're seeing people from elsewhere. They're not necessarily telling us.
Emily Witt: What kind of fears and misinformation are your patients exposed to now?
Tammi Kromenaker: Literally, thinking that because abortion is illegal in North Dakota or South Dakota, that they cannot receive one. I've had a patient within the first few weeks while we were still in Fargo and the preliminary injunction was in place, say, "Am I too late? Did I lose my chance? Am I screwed?", is what they literally said to me. Just last week, I had a patient from South Dakota say, "Is it even okay for me to leave South Dakota to come there?" They are fearful that somebody's going to find out. It's why we've changed some of our medication abortion administration, because we don't want patients to go back into those hostile states. It only takes one rogue prosecutor to bring something forward. I think people know that and have it in the back of their minds.
Emily Witt: What have you changed just to-- They don't want to come back or--?
Tammi Kromenaker: Patients from banned states, whether it's South Dakota, North Dakota on and off, or maybe a place like Texas, those patients don't take right now misoprostol back into those hostile states with them. The second medicine in the medication abortion regimen, they insert while they're still here in the clinic into their vagina. They're not taking a bottle with their name, and the clinic's name, and the physician's name, a bottle of pills that are specifically for abortion back into those hostile states.
[music]
Emily Witt: For decades, every time the North Dakota state legislature has tried to pass a law banning or restricting abortion, Red River Women's Clinic has been the entity that sues to try to protect it. A few days after I left on this most recent visit, they had to sue again for a law that passed in April that almost totally bans abortion in the state.
Tammi Kromenaker: We still are a North Dakota corporation. Just because we moved five minutes across the river doesn't mean we're abandoning North Dakota or abandoning the fight or giving up on continuing to lead the fight for bodily autonomy in North Dakota.
Emily Witt: Do they have any ability to control who comes here?
Tammi Kromenaker: No. There is no law. We'd actually heard rumors that they had anticipated passing a law that said you cannot cross the border. I had some people say, "Oh my gosh, this is going to happen." I said, "Come on, you guys. There's at least three bridges over the river from Fargo to Moorhead that I myself might cross four or five times in a day, depending on where I'm going to go grocery shopping, or which Target I'm going to go to. What are they going to have? National Guard stationed on the bridge and a person who appears female and of reproductive age has to submit to a pregnancy test? Come on. Let's get real about this." It's something we routinely have to educate patients about. It's okay to cross state lines for this care. It's okay to come here. Nobody's going to prosecute you.
Emily Witt: You were in a group chat with a bunch of abortion providers from around the country. I'm just wondering what you're hearing from your colleagues. I'm sure a lot of those clinics have had to close. How have people regrouped and readjusted?
Tammi Kromenaker: The folks that I've interacted with have not had as close a proximity that we do from Fargo to Moorhead and or had the space literally signed on the building the day before. I think a lot of people said, "Oh, I'm going to, or I dream to." Some people have moved to Florida or New Mexico. A lot of those clinics also transitioned to being practical support networks. Like, "We can't see you, but we can help you go to this place, or we work with this fund, and we'll help you get elsewhere."
I, too, at a point, I was having some survivor's guilt, and it was hard for me to talk to some of those friends and colleagues, because I felt like, really, it was a victory of what happened for us, and we're able to see those same patients. Again, I'm not going to say it was easy, but from the outside, maybe it looked easy. Other people had to shutter their clinics and sell the buildings and there was no close-- especially in the south, the whole south is a hot mess, there was no easy place for them to go to. I was having some extreme guilt. I didn't want to talk about it. I felt like I had to keep it under wraps for a while. It's been a really hard year in a lot of ways for providers.
[music]
David Remnick: That's Tammi Kromenaker, director of the Red River Women's Clinic. Emily Witt is a staff writer, and you can read her reporting from North Dakota at newyorker.com.
[music]
Copyright © 2023 New York Public Radio. All rights reserved. Visit our website terms of use at www.wnyc.org for further information.
New York Public Radio transcripts are created on a rush deadline, often by contractors. This text may not be in its final form and may be updated or revised in the future. Accuracy and availability may vary. The authoritative record of New York Public Radio's programming is the audio record.