E. Jean Carroll and Roberta Kaplan on Defamatory Trump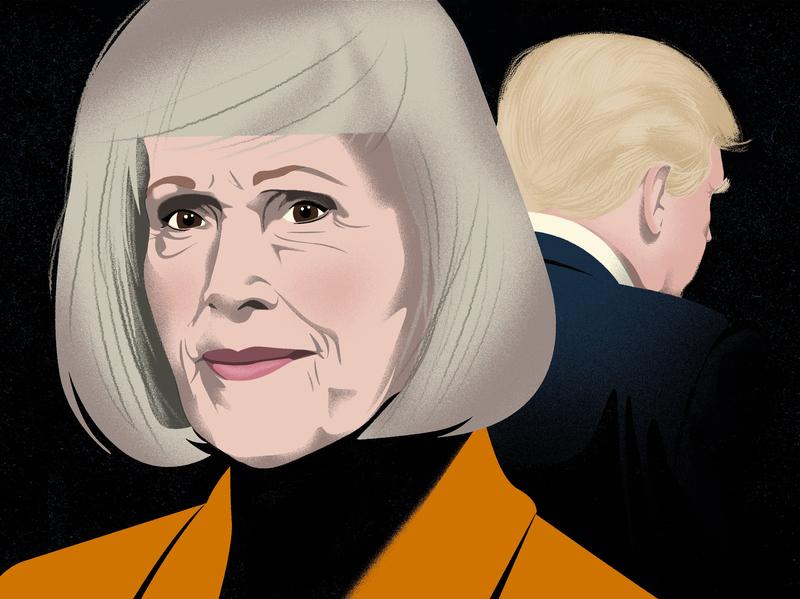 Transcript
[music]
David Remnick: Earlier this month, E. Jean Carroll won an unprecedented legal victory. In a civil suit, Donald Trump was found liable for sexual abuse against her in the mid-'90s and for defamation in accusing her of trying to pull off a hoax, but no sooner was that decision announced that the former president turned around and repeated his attack using the same sort of defamatory insults that we've heard and grown so used to over the years. He played it for laughs in his recent live interview on CNN.
Donald Trump: What kind of a woman meets somebody and brings him up, and within minutes, you're playing hanky-panky in a dressing room?
David Remnick: E. Jean Carroll has now filed an amended complaint based on Trump's continued statements about the case. I spoke with Carroll along with her attorney Roberta Kaplan who is known for her work on sexual violence. On May 9th, Donald Trump was found liable for sexual abuse and defamation in your suit against him, and not a day later, in Trump's inimitable fashion, he called you a whack job, and he made fun of you about what had happened to you during a CNN town hall broadcast around the world. Tell me about watching that or experiencing that and what you felt.
E. Jean Carroll: Ah, well, David, the happiest day of my life was on May 9th, Robbie and I stood in that courtroom and heard nine jurors respond that we had been telling the truth. The moment of joy was so incredible. It was like a new world had opened up to me. I think Robbie sort of felt the same. We were both just ascending. We had a great evening, we walked back into the office, champagne is flying, music is playing, we are literally dancing and tears of joy flying out of people's eyes.
The next day, we are just getting used to being so happy in a new world, and I was so tired from being happy. I was in bed when CNN started with the former president. Robbie sent me the transcript of what Trump had said. It was a plunge from the heights down to the death. It was an amazing experience. I mean, the ride down was so swift and so sure.
David Remnick: It's easy to make an assumption that in the MeToo era, certainly since the Harvey Weinstein reporting and so on, which, by the way, Robbie Kaplan knows quite a bit about these cases, that people take sexual assault more seriously, and yet you heard this laughter in the crowd, and then you read what you read on Twitter. Now, life is not Twitter, and the full population of the United States was not in that room with Donald Trump, but it is numerous. Were you surprised by the reaction?
E. Jean Carroll: I was stunned by the reaction because it was not a slap against me, it was a slap against almost every single woman who was hearing him. Every woman has just been merely pinched or grabbed, and then the guy laughs and denies it. Every woman hearing him, saying those terrible things about me, I'm sure they were hurt like I was.
David Remnick: Robbie Kaplan, you have filed an amendment to a separate defamation lawsuit that's still pending. Can you explain where we are legally?
Roberta Kaplan: Yes, it's complicated, so let me try to do it as simple as I can, David. When E. Jean wrote her book and an excerpt from it was published in New York Magazine, Trump responded almost immediately with what we call a three-day defamation rampage, kind of classic Trump, he ramped up the rhetoric each day saying cooler and more vicious things. Those were the statements that we originally sued him for defamation about. That case, which is just limited to that defamation, we filed in the fall of 2017, and because he made those statements as president or he was-- Let me withdraw that, I would not say he made them as president.
Because his job was president when he made those statements, it's gotten wrapped up in some very complicated technical issues about whether or not the Department of Justice should be the proper defendant, whether the case should be dismissed because you can't sue a sitting president for something he does as president for defamation, et cetera, and a spin on kind of a Dickensian three-year path through the federal court system. It's still pending, and that case is now before Judge Kaplan.
The second case, which we affectionately call Carroll II, which was the case that was just tried, that was for the underlying assault because New York passed a law that allowed women now to sue for assaults that happened outside the statute of limitations, and two, classic Trump during the course of the case in October of last year, he made another defamatory statement, and we added that to the case.
That's the case that was just tried, and we reached the verdict, and that was the underlying assault, which the jury said was $2 million in damages, and the 2022 defamation, which the jury said was $3 million in damages, but we still have Carroll I, and if you think about it, it makes sense. That's where the damages are highest because that's the first time he said the stuff about her. That's when it really damaged her reputation. That's when she lost her job.
David Remnick: That was an advice column in ELLE Magazine that was discontinued.
Roberta Kaplan: Yes. That's the case we want to go forward with before Judge Kaplan, and now we say, we also in that case get punitive damages now because he kept on doing it. It's hard to imagine something that would better justify punitive damages than the defendant continuing [unintelligible 00:06:41].
David Remnick: Robbie, what sort of timeline can we expect as this moves forward? Do you expect this to also go before a jury?
Roberta Kaplan: Yes, but it will only go before a jury, as I said before, on damages. The question about whether Donald Trump's statements are defamatory, that's not been decided, he can't re-litigate that, but a jury will be able to decide damages.
David Remnick: Now, there are some people that ask, "Why pursue legal action?" Do you think that it's ever going to change Donald Trump? How will this move the needle either societally or where it comes to Donald Trump who's now the front-runner in the presidential race on the Republican side for 2024?
Roberta Kaplan: I am no political expert, so I can't speak to the politics of it. I can say things that I think we proved by a preponderance but I think even by a higher standard in this trial. One is that Trump is a liar. He lied about E. Jean, he's done it now several times, he continues to do it, and he has a pattern in which he lies, the way in which he lies, which is, he gets more vicious and more resolute and nastier over time.
We saw that in terms of the three defamations now or the three different times he has defamed E. Jean. I'm sure they'll continue before we get to a jury again. The jury saw that, they saw the videotape of his deposition where he was clearly lying, and they concluded that he was a liar. One of the things I said in my closing argument is, in order for Trump to win here, you have to believe that he's the only one telling the truth and that the 11 witnesses that E. Jean put on, they are all lying. Well, we know which way the jury came out. They concluded that E. Jean and the 10 other witnesses were telling the truth and that Trump was the liar.
David Remnick: E. Jean, I have to ask you, one of the more famous quotations by Donald Trump in the beginning of his presidential campaign was that even if he shot somebody on 5th Avenue, he could get away with it. Maybe I'm paraphrasing it, but that's more or less the quote. Do you think that era has ended with this decision in court?
E. Jean Carroll: I think we're ending it. Now, it's just not Robbie Kaplan, me, and the nine jurors, I think people are starting to recognize that when Donald Trump defames someone or when Donald Trump lies, people tend to believe it and they act on it, hence they attacked the Capitol when he said he won the election. They attacked me because he said I'm a liar and horrible things. Robbie Kaplan has figured out the one way to stop him is to make him pay for lying. If he were made to pay for shooting somebody on 5th Avenue, I don't think he would have shot him. Money is precious to him, and Robbie is going to go get some of his money for his lie.
David Remnick: What you're saying is that this is his moment of comeuppance.
E. Jean Carroll: I think it just may be.
David Remnick: Now, Trump did not appear in the courtroom in the last trial, and his lawyer did not call a single witness. Robbie, how unusual is that and how do you think that might have affected the verdict?
Roberta Kaplan: It's unbelievably unusual. David, in a civil case, I don't think I've ever had a civil case where no one from the defendant shows up. I think we all know why he didn't show up here because I think he thought and his lawyers definitely told him he would be in worse trouble if he showed up, but to have an empty seat at the defense table is unprecedented, at least in my lifetime, and the jury definitely saw that.
E. Jean, in great contrast, testified I think it was for almost three days, about two and a half to three days, calmly and unbelievably patiently took questions that were really, really hard to answer. The contrast between her sitting up there having taken an oath, patiently answering Joe Tacopina's questions, and Trump not showing up, and then the only way they saw him was on video when I deposed him at Mar-a-Lago when he spent a lot of the video just insulting both me and E. Jean, the contrast could not have been clearer.
Unidentified Female: You are referring to her physical looks, correct?
Donald Trump: Just the overall, not-- I look at her, I see her, I hear what she says, whatever. You wouldn't be a choice of mine either, to be honest with you, I hope you're not insulted. I would not under any circumstances have any interest in you. I'm honest when I say it. She, I would not have any interest in.
David Remnick: Do you think, Robbie, that Donald Trump, considering his history, will follow the judge's instructions and amp down the rhetoric directed at E. Jean? Because it doesn't seem so.
Roberta Kaplan: No. I mean, not in the near term. I don't think he can help himself, honestly. I don't think he has enough development in the frontal lobe of his brain to do that. On the other hand, the one thing, as E. Jean said, he understands his money. At some point, he'll understand that every time he does it, it's going to cost him a few million dollars, and that may make a difference.
David Remnick: Although a few million dollars is a trivial sum for him.
Roberta Kaplan: Well, that's what he says, we'll see. I'm not sure that he has got millions of dollars liquid lying around to pay the judgment here.
David Remnick: While Donald Trump continues to trash talk you in the ugliest way imaginable, he's been fundraising off of the judgment in this lawsuit. What does that say about the country you live in?
E. Jean Carroll: I love this country. I love how the federal court worked. I loved how the jury worked. I love it. I hate to be all positive about this, but I think we've made a difference. I really do. I really feel it, and I don't care what a blowhard he is and says all those terrible things. I think we're convincing people, I really do, David.
David Remnick: Although his poll numbers continue to thrive.
E. Jean Carroll: There's a certain segment of the society that-- Listen, a lot of people don't like women. There's a lot of women-haters in this country. I hate to go this route. If there's any little thing that Robbie and I, the nine members of the jury can do defending our truth and letting people know that, yes, Donald Trump is a liar, and he dragged me through the mud and he ground my face into the dirt, and yes, it happened, I think we can turn just enough women and men at the polls to make sure he doesn't become the next president.
Roberta Kaplan: Anyone who knows me would not tell you that I'm someone who's known for my unbridled optimism, to say the least--
[laughter]
Roberta Kaplan: But there was one thing about this case that was very helpful to me, probably the most hopeful thing, and that is-- Trump, another thing, he lies about this. This was not an avocado toast-eating jury. We had six men and three women. We had one person from the Bronx, one person from Manhattan, all the rest were from North of Westchester.
All nine jurors unanimously hearing the evidence in a court of law according to the rules, and with a judge who applied the rules fairly found what they found. Now, the trick here is, the world and social media, as you pointed out, David, is not a courtroom with the rules of evidence, and so I don't know how to kind of expand that out, but it was very helpful to me that this particular jury, which is not a New York City jury at all, no one from Brooklyn, it just wasn't a New York City jury, that they found, and it only took them two and a half hours. That was probably the most shocking part of it to me.
David Remnick: Now, E. Jean, you're pretty frank about your political distaste for Donald Trump and wanting to see him defeated. One could hardly blame you on any level for saying that, but I have to ask you, Robbie, does that present you a problem as a lawyer?
Roberta Kaplan: Well, one of the arguments that they made in the case, in fact, their main defense in this case, and it's because they didn't have a better one, is that E. Jean, Lisa Birnbach, her friend who she told at that time, who's a journalist, Carol who wrote the Preppy Handbook, Carol Martin, who was a TV journalist for many years here in New York City, that they all got together at some point because they hate Trump so much that they decided to make up this lie about something that had happened in 1996 and really hatched a conspiracy to bring him down.
None of our witnesses, we were very open about this, not a single one of our witnesses was a fan of Donald Trump politically or for any other reason, but that didn't change the fact that they were all telling the truth. I think the jury, I'm not sure, I don't know to this day whether any of the jurors voted for Donald Trump. I'm pretty confident that some of them probably like things about Donald Trump, but when they saw the evidence and when they saw the witnesses taking an oath and testifying there in the witness stand, they believed them and they did not believe that they were just willing to go and lie and help E. Jean and hatch this conspiracy just because they didn't like Donald Trump as president.
David Remnick: E. Jean, I have to ask, no matter how the rest of this case goes, whether their damages recovered or not, I want to ask you about your life now. How has your life changed after the verdict and how do you go on? What's it going to be like?
E. Jean Carroll: I just adopted a new dog, a Great Pyrenees, the most moral of all dog breeds, the most moral, just the most wonderful, she's right here, Miss Havisham, Sham for short. She has just arrived. My life goes on. I live, as you can see, in a tiny cabin. I will go on living in the tiny cabin. It's on an island the size of a mattress, it's in the mountains, but one thing has changed, I am going to dedicate myself to somehow figuring out a way for the women who don't have my platform to hold men accountable.
Robbie and I are going to put our heads together. We both are getting these letters. We've said we're going to figure out a way. David, that's how my life is going to change. I'm a crone, I'm an elderly woman on a mountaintop, but I think we've got a few good years left to figure out a way to end the culture of sexual violence. That's what I want to do.
[music]
David Remnick: E. Jean Carroll had a long career as a journalist, and she just filed an amended complaint in her lawsuit against former President Donald Trump. Roberta Kaplan is her attorney. You can read our coverage of the suit at newyorker.com.
[music]
Copyright © 2023 New York Public Radio. All rights reserved. Visit our website terms of use at www.wnyc.org for further information.
New York Public Radio transcripts are created on a rush deadline, often by contractors. This text may not be in its final form and may be updated or revised in the future. Accuracy and availability may vary. The authoritative record of New York Public Radio's programming is the audio record.