Broadway's Unusual Reopening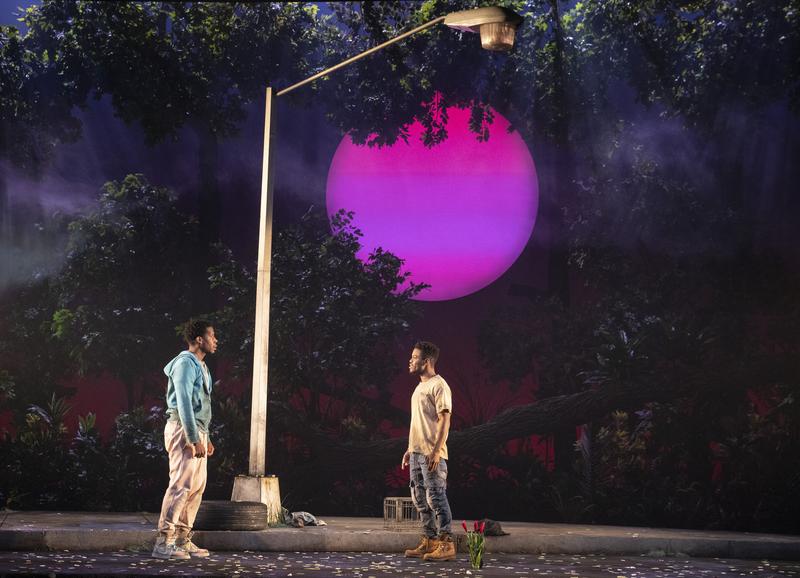 Transcript
[music]
Voiceover: The Tony Awards last weekend was quite a different event than in previous years, but a year and a half after the pandemic, Broadway is coming back, albeit with vaccination cards and masks and forehead thermometers, and of course, sanitizer by the handful. Shows that closed in March of 2020 are now reopening, new shows are having their premieres, and the Broadways season is quite unusual in another way as well. It will feature seven plays written by Black playwrights, and believe it or not, that's a record. Vinson Cunningham and Alexandra Schwartz both write about theater for the New Yorker.
Alexandra Schwartz: Everything has changed so much. Have you been to the theater lately? Have you dipped a toe in yet?
Vinson Cunningham: I've been. I've been to several shows. A couple things off-Broadway. The first Broadway thing I saw was Pass Over by Antoinette Nwandu, and it was really, really excited in there. People were doing their woos and claps and stuff before the curtain even came up. It was like everybody was really excited to be back.
[applause]
Announcer: You are one of the first audiences to be back to see a real Broadway play.
[applause]
Vinson Cunningham: How about you? Have you been back in the seat yet?
Alexandra Schwartz: I've been back in the seat in the lowest keyway. The only thing I have seen so far, and this is all about to change, but I went to the Hunter College's theater to see What Happened, Richard Nelson's final play in his Rhinebeck Panorama. Yes, visceral feelings of anxiety encountering fellow human beings in a small space, and that moment when someone coughs and everyone seizes up and this theater has, I don't know exactly how many seats, but I'd be willing to say fewer than a hundred.
I think I cried at least three times during that play, which I of anyway. I think I might have anyway. I love Richard Nelson and what he was working with specifically in this play is the sense of presence of being with other people. The play, as many of his plays do, takes place around a kitchen table and it is about being in community with other people. That feeling was really strong and that reminded me of what we have been missing with the theaters closed. Vinson, I'm just wondering, we're about to get back into the seats. We're about to be in and out of theaters constantly over the next few months. What strikes you about this season looking at what's on deck?
Vinson Cunningham: I think, and we've talked about this before, I think that there's always tension on Broadway between things that want to be serious and intellectual and literary and things that present themselves more as entertainment. It's funny because the first thing back, and I talked about this in my review just a bit, was Pass Over was a funny thing to be a first thing back because, "Broadway is back," comes with these jazz hands that makes me think about like a lad in the musical or whatever. Instead, it was this downbeat meditation on police violence and black alienation and lots of other themes like that. It did seem like a bit of an uncomfortable fit. Then on the other hand, literally a lot in the musical is in fact back.
Alexandra Schwartz: Yes. I'm just looking at plays like Is This A Room which is the whistleblower Reality Winner's arrest by the FBI, her interrogation and her arrest by the FBI, and dramatizes it without straying from the transcript that is available to us.
Special Agent Taylor: Is your dog friendly?
Reality Winner: Okay, so she does not like men.
Special Agent Taylor: Okay. So that's a problem.
Reality Winner: However, and she might come towards you, but she's not aggressive. She's never bitten anybody. She's just got a really good growl going. She'll probably just hide
under my desk.
Special Agent Taylor: Okay. Do you have a leash or something where we could-
Reality Winner: I have a leash. l can get her leashed up.
Special Agent Taylor: So what we might want to do is maybe let you go in there-
Alexandra Schwartz: I'm also just glancing at the calendar right now, looking ahead, and one thing that sticks out to me is Diana, the Princess Diana musical.
[music]
Alexandra Schwartz: The contrast between a play about the arrest of Reality Winner and a musical about Princess Diana, I'm very curious about how audiences will react and also who the audiences are going to be. Presumably, you have the die-hard Broadway heads who want to show up and see stuff, but I wonder if the Diana audience member is also going to be the Is This A Room audience member?
Vinson Cunningham: Yes. It's fascinating and disproportionately the sort of Diana, the musical side of it, is people by tourists and who knows how they're going to show up and what their place and all this will be. What tourism numbers will continue to look like as the season winds on, but I feel fairly certain that the tourist is not going to be psyched for Reality Winner.
Alexandra Schwartz: Are there other things you're particularly looking forward to?
Vinson Cunningham: Yes, looking forward, I'm always excited-- Well, there are two new Lynn Nottage plays that I'm looking forward to. Each in its own way. One is called Clyde's, which will star one of my favorite actresses these days, Uzo Aduba. I've been watching a lot of the show In Treatment and really enjoying her work, and who knows what that will hold. For me, Lynn Nottage is always a good time.
The other thing which I think also brings this entertainment thing into view is she's doing a Michael Jackson musical, which there are many things that could be brought up in connection with Michael Jackson. Of course, there's a version that is not so great that allies all these things that could happen, but I'm hoping against hope that it will reveal itself, as you mentioned, to walk that thin line between art and entertainment.
Alexandra Schwartz: Me too. That is a fascinating project. Yes, it seems like gold for a jukebox musical What's Not to Love About the Music? But the story and the ethical reality of dealing with a figure like Michael Jackson, it's quite complex and tricky. I wonder, I really wonder what we're going to get with that one.
Vinson Cunningham: Yes. One of the things that everybody is talking about these days, the great big capital E Everybody, is the proliferation of Black written shows on Broadway. I believe that there-- seven was the number we kept on hearing and now that Slave Play is coming back. I guess you have to call it eight. Slave Play by Jeremy O. Harris. Do you think that this means something new in the future? Do you think it solves problems or poses new ones? What does that number mean to you?
Alexandra Schwartz: That's such a good question. The ultimate answer is we're not going know until we see the plays because we have no idea what these plays are going to be like. Will they be good? Will they be middling? Will they be not great? Who knows? I think the fact of more diversity on Broadway can only be good because Broadway is like a slow-moving cruise ship. It wants to appeal to its familiar audience. Its audience is by and large older, by and large whiter than the New York mean certainly. I think in moments like this, where the season was just wiped clean by COVID, it clearly has given producers and theaters a new opening to try some new things and to bring some new voices to Broadway.
I think that's really important. I think it's really important for the ecosystem of Broadway for the theater in general. If Broadway is just a crowd-pleasing, tried, and true entertainment device. Yes, that works for some of the things we need to work for, for tourism, for industry, et cetera, but as a creative field, not so much. I think the concern is what often happens when underrepresented groups are brought in. It reminds me of the phenomenon of like, when you hire a female CEO for your company, just before the company takes, is this an honest attempt? I really hope it is. What no one wants us to be is a cynical optics attempt. Then we don't see another really diverse Broadway season for the next 30 years. I'm going in and approaching it with a lot of optimism and with just the usual curiosity I have for any new show. How about you? What are you thinking about it?
Vinson Cunningham: Yes. On the level of each individual play, I feel the exact same way. It's always like go and see what happens. Go and see what the play does to you. You can only bring so much sociology with you into the seat. For me, the big thing is, yes, seeing whether this is a lasting change on the side of the selection of the plays, but also, I think to the extent that it is a pressing opportunity in the now it is how do you use it to change what the audiences look like? How do you turn Broadway thought as it is into a vehicle for small D democracy which is what the theater is supposed to be about?
Alexandra Schwartz: Broadway lives and dies by who goes to see the plays. It would be fascinating and fantastic if we could get a wider range of audience member. How amazing would it be if in the best-case scenario that I can see is that Broadways returned to New York City a bit, and to the people of New York. That could be something very cool.
Vinson Cunningham: I do wonder if the movie version of Dear Evan Hansen will drive a new wave of people to that show too. Another thing that I have not seen, I have not been found in the seats of Hansen. I'm so sorry. I'm really sorry.
Alexandra Schwartz: Yes. One thing now we're talking about all these exciting genre breaking new Broadway shows, actually, I would like to go around and see a lot of the musicals that have been around for awhile that I have missed. Dear Evan Hanson is definitely at the top of my list. I haven't seen The Lion King since I went with my parents and my younger cousin, I want to say in the year 2003. Is that possible?
Vinson Cunningham: That's possible, yes.
Alexandra Schwartz: Let's go see The Lion King. Would you like to go with me?
Vinson Cunningham: Let's go see The Lion King.
Alexandra Schwartz: Let's go see The Lion King.
Vinson Cunningham: Yes. Let's do it.
Alexandra Schwartz: Great. [chuckles]
[music]
Voiceover: Vinson Cunningham and Alexandra Schwartz are staff writers and critics for the New Yorker.
Copyright © 2021 New York Public Radio. All rights reserved. Visit our website terms of use at www.wnyc.org for further information.
New York Public Radio transcripts are created on a rush deadline, often by contractors. This text may not be in its final form and may be updated or revised in the future. Accuracy and availability may vary. The authoritative record of New York Public Radio's programming is the audio record.