Bonnie Raitt Talks with David Remnick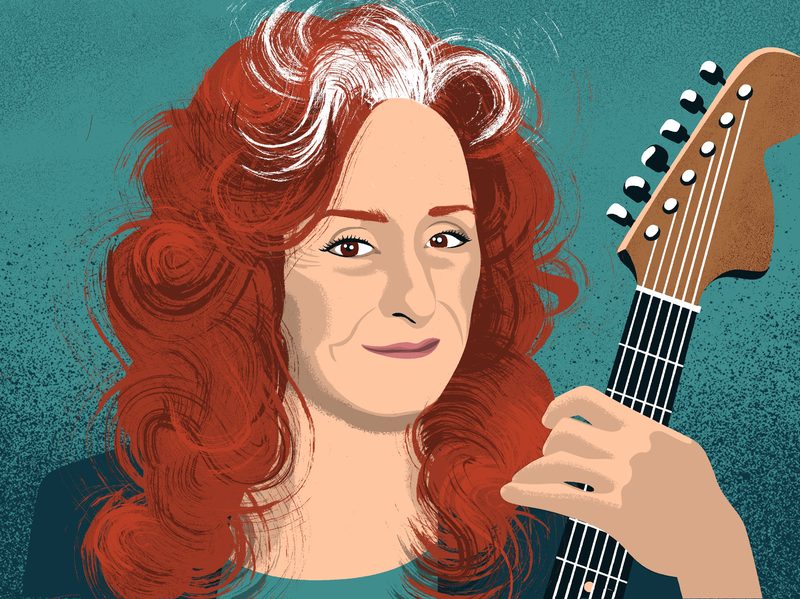 Transcript
[music]
I know you don't love me no more, no more
David: Now, you couldn't write the history of American music without a solid chapter on Bonnie Raitt. Her body of work is this gorgeous melange of rock, R&B, blues, folk, and country, and she's a hell of a slide guitarist to be.
[music]
David: Rather than resting on her laurels after 50 years in music, Bonnie Raitt is still productive, still making records, and she's never strayed very far from the mainstream of pop music. Bonnie, I have to begin by congratulating you on all these Grammy nominations. Four Grammy nominations, Best Americana Album, Best Americana Performance, Best American Roots Song, and Song of the Year. That's pretty amazing.
Bonnie: I was pretty surprised, so thank you so much. I'm chuffed, as they say in England.
David: Bonnie is nominated alongside some of the biggest stars in pop music today, and I wanted to get her take on their music. We started with Adele.
Bonnie: Okay.
There ain't no gold in this river
That I've been washing my hands in forever
I know there is hope in these waters
But I can't bring myself to swim
When I am drowning in this silence.
Baby, let me in
Go easy on me, baby
I was still a child
Bonnie: Get out of here. Oh, my Gosh.
David: What do you think, Bonnie?
Bonnie: From the first time I heard it, I was just shaking my head, lump in my throat, go get it, girl. When I first heard her when out of the box, her first hit, I've resonated with her, but you always wonder what's going to happen the next record, and this song, it's a classic. It's one of the best songs I've ever heard, and her vocal just broke my heart.
David: The next is Lizzo, About Damn Time.
[music]
Bitch, I might be better.
Turn up the music, turn down the lights
I got a feelin' I'm gon' be alright
Okay, (okay), alright
It's about damn time
Turn up the music, let's celebrate
I got a feelin' I'm gon' be okay
Okay, (Okay), alright
It's about damn time
David: We're on Zoom and I can see you dancing in your chair.
Bonnie: Oh, man. First of all, I love her so much. I don't know if you got to see the People's Choice Awards when she took her time accepting her entertainer of the year or whatever and honored 17 activists of all kinds of different backgrounds and causes. I'm so floored, but not to get off the topic. This harkens back to an era that I come up when we could still go to clubs and dance around. For me, it's a fantastic retro neo-soul. It relentlessly grew then. She's got a great vocal. It's a great track. It's right up there.
David: Now we have, some of you may have heard of, I'm not absolutely sure, Beyonce's Break My Soul.
[music]
You won't break my soul
You won't break my soul
You won't break my soul
You won't break my soul
I'm telling everybody
Everybody
Everybody
Everybody
Now, I just fell in love
And I just quit my job
I'm going to find new drive
Damn, they work me so damn hard
Work by nine, then off past five
David: Bonnie, Beyonce has been a phenomenon for a very long time now. What do you think of her?
Bonnie: Huge fan. She's a, can I say badass?
David: You can.
Bonnie: For someone so gorgeous and so classy and the way that she runs her career, and handles the press, and handles her fame, and is so vulnerable and open, and yet such a leader.
David: Your paths ever cross?
Bonnie: I think I waved to her at the backstage on the Grammys on the way. I got to give Adele her Grammy, and she was so excited, not to see me, but I'm just saying I was excited to be able to give it to her. I would love to sit down and get to know those two, and Lizzo too. I'm a big fan.
David: Bonnie, I'm sure you're more than aware, and maybe painfully aware of how the different ways that musical careers start now. Some of them start and burst first on TikTok and social media. Just to get started on your own career, when you watch that happen, does it feel incredibly alien? How would you describe your emergence in 1971 when your first album debuted? I know you came from a musical family, obviously.
Bonnie: Yes, but the Broadway music scene that I came out, my folks were in so different than the folk music that I fell in love with. I was not expecting to do this for a living. I had other plans. I was a sophomore in college and happened to be hanging out with a bunch of older blues people that I was so lucky to be introduced to by Dick Waterman who rediscovered Son House and managed Mississippi Fred McDowell. For me, it was just a hobby turned into an absolute passion and an opportunity to open for a couple of those bands and clubs and make a little pin money on the side.
For me to get offered a record deal at 21 when I wasn't even expecting to have a career in music, is such an anomaly compared to what most people do that really slog away and are planning to be musicians since the time they're 13 or 14, "I can't wait to get out there and make records." I don't want to say it fell in my lap, but I think of the people I know in the business, I got the greatest opportune, right place at the right time by being a woman blues guitar player right in that particular time.
[music]
The man I'm loving don't worry about me running around
You won't ever find my baby hustling after me all over town
David: You went to Harvard, you were a kid. Were you studying hard or not so much?
Bonnie: I loved school. Always have. I don't know why, but I'm not always good at math and science, but I was very excited to be majoring in African studies and studying modern theater. I was a social relations major, which was psychology, anthropology, and sociology. Right in the hotbed of antiwar movement and the feminist movement.
David: What did you think your life was going to be when you were 18, 19 years old?
Bonnie: I wanted to work for the American Friends Service Committee, where my uncle had been involved with that organization. My folks converted to being Quaker and very much into the peace and justices movements. The AFSC had branches all around the world and undoing some of the damages that colonialism had done, I thought, and it was a more-less government-oriented peace corps type thing, and that was my plan.
David: You were hanging out in the Cambridge club scene?
Bonnie: I was a student and then my friend, Jack Viertel, actually runs Jujamcyn became a producer on Broadway. He called up, and we were Blues Hounds, just absolute fanatics. We were listening to the Harvard radio station Blues Show and Son House, the father of Delta blues was being interviewed and was going to do a concert. Jack called me at my dorm and said, "I know where the manager lives, right around the corner, from Massavron I think we could go meet Son House." That's when it all started for me.
[music]
I went out into the station
I said, now lean up against the door
Bonnie: I was too young to hang out in clubs. You couldn't drink until you were 21.
David: I want to know everything about your meeting with Son House. That's an amazing thing.
Bonnie: Because we were just fans, I think I was a freshman. I was a freshman at that point, and I don't know how we got to be friends with the disc jockey that did the interview, and we met Dick Waterman and Son House. I was trembling because, at that point, Robert Johnson's records had been reissued in the mid-60s and the Newport Folk Festivals had rediscovered broadcast and on the labels, and recorded all these great Delta blues people from every different region. Son was the pinnacle to me. I don't know if he remembers me to me, but I later got to be friends with him.
[music]
He says you going in a [unintelligible 00:09:21] son
You know you got to [unintelligible 00:09:25]
I see [inaudible 00:09:33] what time.
David: I remember when I was a kid, there was a record from Sonny Terry & Brownie McGhee, great, great blues duo. One of their funnier songs was White Boy Lost in the Blues.
[music]
You bought you a six string Gibson
You bought you a great big house You try to sing like Muddy Waters
And play like Lightnin' sounds
But since I blowed my harp
You feelin' mean and confused.
It got you chained to your earphones,
You just a white boy, lost in the blues.
David: How amenable were older black musicians to a young White woman, not just being a fan of the music, but wanting to be a part of that scene, wanting to learn that music?
Bonnie: I don't know how-- It didn't occur to me to ask Muddy or any of those guys what those interviewers are always asking them, what do you think about Mike Bloomfield and Eric Clapton? I just know that from my experience, the people I knew, John Lee Hooker and Fred McDowell and Big Boy Arthur Crudup and Big Mama Thornton. They were thrilled to get the accolades and the acknowledgment and the recognition and get paid and have this incredible bloom in their midlife of the resurgence of blast-off appreciation in the mainstream culture.
I think the fact that those of us that just happened to study from records and learn and learn how to play. When I first played for Fred McDowell, I could play some Robert Johnson for him, and Tommy Johnson and I played some of his songs. He was tickled. He said, "How did you learn that?" I said, "Man, I just listened to records and taught myself." Then I know that Muddy and BB loved to listen to Eric Clapton. They loved Paul Butterfield. They loved anybody that honored their music and who was good at it, probably mediocre, not so thrilled about. The question of White people versus Black and age versus youth and which sex word never came up in my world,
David: I went to do a couple of years ago in Chicago, right before the pandemic, a profile of Buddy Guy, and he was, as you describe, really vocal in expressing his affection for in particular Jeff Beck, Eric Clapton, your own good self. At the same time, there was a sense that in him, although it was more subtly expressed, that he had been hard done by. That it was not easy. Writing about the Staples-- I remember pop Staples was offered $500 to be the opening act by the Rolling Stones, an offer that he turned down. Were things better by the time you came along just a little bit later in that regard?
Bonnie: From what I understand them, the prices of a lot of the legendary groups like Albert Collins or Albert King, and even BB people that were bigger stars pittance compared to the White artists that did the same music. One of the things that made me so proud to work with Dick Waterman for 15 years is my booking agent and my office, was that he put a lot of the blues artists under one agency and did collective bargaining as opposed to clubs that would say, why should I pay 800 for Son House when I can get [unintelligible 00:13:38] White for 500? It was just a lot.
No, it was the same old thing that is the music business, unfair wages. When we started the Rhythm and Blues Foundation, how Beagle brought it to my attention that after all these years, half the people in my record collection had never gotten any royalties, and that was blown out of the water. From the time I started White artists, especially with good legal representation, the record label deals that we were making were a lot more fair. Everybody before that really got ripped off and they continued to get not paid for decades.
David: Bonnie, tell me about the club life that was such a big part of your career early on.
Bonnie: Oh, well, there's a romance to the club life, just like there was with Hemingway and John Cheever and everybody thinking that they had to drink. People drank and smoked cigarettes in the 50s and the beats were the coolest. Then after the beats, it was the folk musicians and Bob Dylan and the folk world. People drinking and smoking pot just came with the era that we were in. In the 70s, cocaine was more around as well, and it was just part of the scene. The stones are super cool and guess who did drugs?
[laughter
Bonnie: It was like modeled. The people that were our heroes culturally in the 60s because they added drugs to the picture that was our world, mixing drugs and alcohol, whereas our folks were-- my folks didn't drink, but their world of the rat pack and all of that was more cigarettes and drinking. The jazz and blues scene was way too much drinking, I think.
David: What was the breakthrough moment for you when you were 37?
Bonnie: The things you can do when you're-- I never drank to pass out on gigs or anything. It was more like a recreational when I had time off or when after the shows to unwind a little bit. By the time you're in your mid-30s, you're wearing it, you don't look as good, you don't recover from colds as well. I put on some weight. I had to stop running because my knees were making noises. The next thing I knew I'm going, man, I'm going to be one of these chunky blues women that is going to be 60 years old and people are going to say, "Man, she's really been through it."
I wanted to work with Prince who called me up and said, come to Minnesota and we were going to do maybe something like a duet on a video. I looked in the mirror and went, "Oh my, this is not going to work." It was an inspiration to just lose weight. I just loved-- I got the sobriety thing and realized a lot more about my personality quirks and the things that were making my life get in my own way. I've been sober about 35 years now, and I suppose I have Prince to thank for it.
David: Bonnie, let's talk about the song Just Like That, which is the Song of the Year, Grammy nomination. Tell me a little bit about its background. Where's it come from?
Bonnie: Well, I was watching the evening news, and often at the end of the news, they put a human interest story to try to soften the blow of what just went down. They were doing a story. It took a film crew to follow a woman going to the home of the man who had received her son's heart, and they were going to meet for the first time. I was already emotionally primed at that point. They hugged and he invited her in and they followed her in with the camera. Then he asked her to sit down next to him and asked her if she'd like to put her head on his chest and listen to his heart. I just, I'm teared up now because it was so incredibly moving to me, and it stayed with me and stayed with me for a couple of weeks.
I decided that I really wanted to write a song from that point of view. That's where the jam started of that because I just made up a story. I'm a big short story fan, and I was trying to figure out how I could put in some elements of what a woman who felt responsible by looking away for a second while she was driving and was in an accident, and her son was killed. I just made up a backstory that she was living in just darkness and drinking and probably suicidal thinking she was responsible and had no idea that this man was looking for her for 20 years or so and knocked on her door and she let him in. That turned out he had her son's heart. I just was playing on my couch one day and I started, opened up the lyrics, and the song just fit. It came out in one big rush.
[music]
I watched him circle 'round the block
Finally stopped at mine
Took a while before he knocked
Like all he had was time
Excuse me, ma'am, maybe you can help
The directions weren't so clear
I'm looking for Olivia Zand
They said I might find her here
David: Bonnie Raitt, I couldn't be more grateful to you for your music and for your being here with us today. Thank you so much.
Bonnie: David. I'm such a fan. Thank you for including me in your Pantheon Interviews.
[laughter]
David: Bonnie, thank you. Be well.
Bonnie: Thank you so much. You too, David.
David: Bonnie Raitt's latest album is entitled Just Like That. She's up for four Grammy awards this year, including Song of the Year and Best Americana album. The ceremony is February 5th.
[music]
Na, na, na, na, na
Na, na, na, na, na
Na, na, na, na, na, na
[00:20:20] [END OF AUDIO]
Copyright © 2023 New York Public Radio. All rights reserved. Visit our website terms of use at www.wnyc.org for further information.
New York Public Radio transcripts are created on a rush deadline, often by contractors. This text may not be in its final form and may be updated or revised in the future. Accuracy and availability may vary. The authoritative record of New York Public Radio's programming is the audio record.