Bob Woodward on His Trump Tapes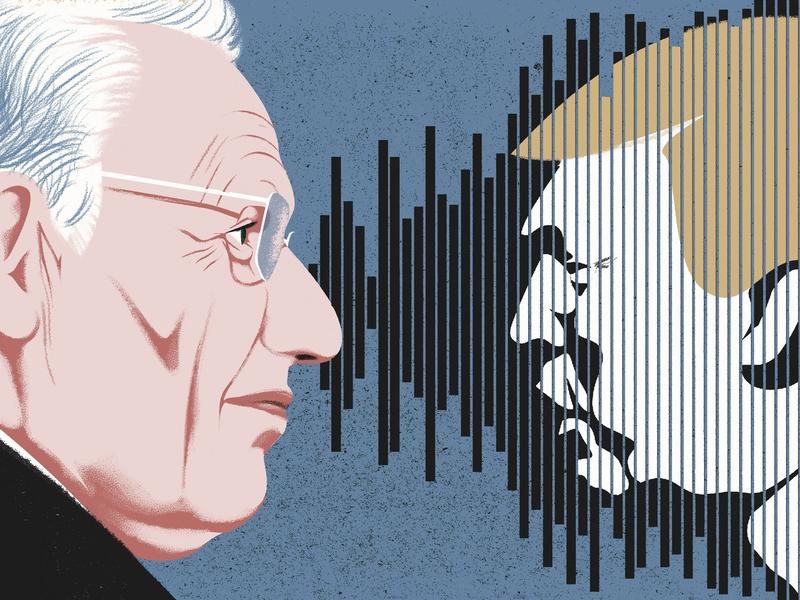 Transcript
David Remnick: For over a half a century, Bob Woodward has been gaining access to and reporting on people in the highest positions of power in the United States. When it comes to presidents, he's gone toe to toe with nearly everyone since Richard Nixon.
[The Trump Tapes clip begins]
Bob Woodward: If you look at Nixon, sorry, he failed. Why?
Donald Trump: Because of you.
[laughter]
Bob Woodward: No, that's not the-- There's [crosstalk]
Donald Trump: Hey, you helped.
[The Trump Tapes clip ends]
David Remnick: Woodward is every inch the reporter, not at all someone inclined to editorialize, but in his many hours of conversation with Donald Trump from before the election in 2016 through the initial fallout of the COVID crisis, Woodward came to see Trump as not just a disruptor but a real danger to the nation. He's now released the audio recordings of some of those conversations in a new book called The Trump Tapes. We hear Donald Trump's state of mind in his own peculiar words, but we also gain a greater appreciation for Woodward's process and his craft.
Bob, you are now out with something very unusual. You've been publishing books, obviously, since Watergate about the American presidency. Now you're publishing, with The Trump Tapes, an edited version of your raw materials, your tapes with Donald Trump. I have to ask you, after your first book about Trump in 2018, which was hardly a flattering portrait, why do you think he went on talking to you incessantly?
Bob Woodward: Well, this goes into the state of his mind. It is a confidence that he can sell himself to anybody. I'm sure you remember this about George Kennan, the famous father of the containment theory and practice of containing the Soviet Union. Kennan had this phrase, "treacherous curtain of deference," that you go into the Oval Office and people just melt. You have Trump's dominant personality with this treacherous deference that takes place. He thought he was in control.
David Remnick: Okay, but you were not intimidated by-
Bob Woodward: No, no, of course--
David Remnick: -the Oval Office. Why would you be?
Bob Woodward: You can't be. It was, again, one of these things Trump just decided he's going to do. Lindsey Graham told him, said, "He won't put words in your mouth," and I don't put words in his mouth. There I am, in the Oval Office, before the Resolute desk, he has his props, pictures of he and Kim Jong-un, and we start talking about 2016, why he won. This is something historians are going to be exploring for 100 years. My analysis was, it's Barbara Tuchman's notion of the dying of the old order, that the old order was dying in the Republican Party and the Democratic Party. Trump got that, intuitively, not intellectually. He just jumped in his chair when I said-- He said, "Yes, and I'm going to do it again." Of course, he did not.
David Remnick: I remember watching you early on television one morning. I was a big loudmouth about Trump from the start, and maybe it's because I'm here in New York and years of listening and watching Trump. I've been wrong about things in the past, but I thought this guy was pernicious and worse right from the start. I was watching you on Fox, and it was true that you were saying, and many people were not, that he should be taken seriously and that he might win, but I didn't hear you being hypercritical of him like many in the media were back then. I thought to myself, "God, Woodward is really smart because Woodward wants to get to the story." Were you playing him?
Bob Woodward: No, of course not. Look, if you've listened to these tapes, I was combative with him all the time and say, "Hey, wait a minute. What are you doing?" Really, it's the Graham Greene line about, "Don't despise your enemies, they have a case, and you need to understand the case." In the case of Trump or anyone, it's, who are they? You want to come reasonably with a blank slate. "Okay, I'm here to listen."
David Remnick: I've always thought of Trump, in many ways, as the most transparent president of our lifetime, that what you see on television is not dissimilar from what you get in private. By talking to him privately, and you had endless conversations with him in person, on the phone, by surprise, and on and on and on, what did you learn in private that you were not getting in public?
Bob Woodward: That's an important question in this process, which was strange. I could call him anytime. He would call me. Elsa, my wife, she used to joke, "There's three of us in the marriage." The phone would ring and, "Is it one of our daughters, is it a friend, is it a robocall, or is it Donald Trump?" It would often be Donald Trump. Here's the variable. I could ask follow-up questions. It wasn't a press conference or a stop at the helicopter on the White House lawn, which, all presidents, Trump indeed included, control the environment. No one can say, "Oh, wait a minute. You didn't answer the question."
I would have sessions with him, like, after the first impeachment. I literally was the interrogator. "Why did you do this? How can you do this? Look at that." Most importantly for me, the experts like Dr. Fauci telling me, "Trump's not listening about the virus," well, what's he not listening to? These are the 15 things he needs to do that they could not talk to him about because he would not pay attention.
David Remnick: There are times in the interviews where you tell Trump what to do. "Talk to Bill Gates about the pandemic response," or, "Go ask Ivanka if you should apologize for the call to the Ukrainian leadership that led to the first impeachment." Maybe talk about those moments, and before you do, let's play one or two.
[The Trump Tapes clip begins]
Bob Woodward: Who's the person you'd trust most in the world?
Donald Trump: That's an interesting question. Oh, I don't know. I don't want to get into it because I have so many people. I have great family members. I trust my family members.
Bob Woodward: Ask them if you should apologize.
Donald Trump: I think if I apologized for something that I did nothing wrong--
Bob Woodward: It's a question of--
Donald Trump: How can I apologize for making a decent statement, a very appropriate statement?
[The Trump Tapes clip ends]
David Remnick: We've got another one here about Bill Gates. Let's hear that.
[The Trump Tapes clip begins]
Bob Woodward: There are all kinds of wise people out there. Have you been able to talk to Bill Gates?
Donald Trump: He called me a little while ago. What do you think of Bill Gates?
Bob Woodward: I do not know him, I just know he's spent billions of dollars on fighting these diseases, and he's very informed.
Donald Trump: He still gets a lot of money from the US government to fight.
Bob Woodward: Yes, he does, but he puts up a lot of his own money, too. You know about when somebody puts up money, it means they care. Somebody like that, you need to listen to. You can say, "Okay, I'll weigh that. I will talk to all the businesspeople, I'll talk to the Faucis, I'll talk to the experts," and then, out comes-- You never make a perfect decision, but out comes the best decision.
[The Trump Tapes clip ends]
David Remnick: I have to ask right away, Bob, the notion that you were talking to a guy in his 70s, who's the president of the United States, and you're telling him about the rudiments of how you make a decision, "You talk to a lot of experts and come to conclusions," were you thinking to yourself, "I'm talking to an idiot?"
Bob Woodward: If I may, look, I think what he did as president is worse than criminal. I think it's provable on many levels and many ways, but I think it's a mistake to call him or think of him as an idiot because he navigated something what 46 people have in the history of this country.
David Remnick: He won the presidency.
Bob Woodward: He got to the presidency. You want to criticize that, certainly, and examine it but I think in 2016, in my business, and I put myself at the top of the list, we were not inquisitive enough about Trump, because we loved the show and the pyrotechnics.
David Remnick: I think the foreign policy issue that's concentrated upon the most here and is the most, perhaps the most revealing is North Korea and his relationship with Kim Jong-un. Here he is joking with Kim Jong-un about the "Little Rocket" nickname. Let's listen.
[The Trump Tapes clip begins]
Donald Trump: We've always gotten along great. I said, "Did you ever hear the song, Rocket Man?" He said, "No. No." "Did you ever hear of Elton John?" "No. No." I said, "I did you a great favor. I called you Rocket Man." He goes, "You called me little Rocket Man." [unintelligible 00:10:53]
Bob Woodward: He knew.
Donald Trump: Oh, he knew that. He didn't like "Little Rocket Man." "Rocket Man" was okay, but he didn't like--
Bob Woodward: Just to go back with Obama--
[The Trump Tapes clip ends]
David Remnick: Now is this someone taking the presidency seriously?
Bob Woodward: Well I mean it's their joke moments, but this was not a joking issue. If we play some of the other tapes of Trump telling me about that relationship, it might be useful.
[The Trump Tapes clip begins]
Bob Woodward: Is this all designed to drive Kim to the negotiating table?
Donald Trump: No, no. It was designed for whatever reason it was designed. Who knows? Instinctively, let's talk instinct because it's really about-- you don't know what's going to happen. It was very rough [unintelligible 00:11:37] The roughest.
[The Trump Tapes clip ends]
Bob Woodward: Again, part of the tragedy. "Who knows? Who knows?" Why are you doing this? What's your purpose? What's the strategy? What's the plan? Who knows? It's instinct.
[The Trump Tapes clip begins]
Bob Woodward: The CIA says about Kim Jong-un, they do all this analysis and reporting that he's cunning, crafty, but ultimately stupid.
Donald Trump: I disagree.
Bob Woodward: I'm sure they tell you that.
Donald Trump: I hope you write that and I hope you write my answer. I disagree. He's cunning, he's crafty and he's very smart and he's very tough.
Bob Woodward: Why does the CIA say that?
Donald Trump: Because they don't know, they don't know. They have no idea. I'm the only one that knows. I'm the only one he deals with. He won't deal with anybody else.
[The Trump Tapes clip ends]
David Remnick: What do you make of that?
Bob Woodward: I make of, this is the danger of Trump. "Only I know, I'm the only one who knows." I've written books and reporting in The Washington Post about 10 presidents. I've never heard of one say or imply to anyone that they're the only one that knows. In fact, it's maybe some of them at times have thought that, but they realize, again, you need to open the door to other information, thoughts, and conclusions. You and I both work at The Washington Post when Ben Bradlee was the editor. Ben, can you imagine Ben [unintelligible 00:13:25] "Only I know." I mean, he would come and call you into his office. "What do you know? What's going on?" Pull up a chair literally next to your computer.
David Remnick: Very hungry for information.
Bob Woodward: Why? Because he knew that was the path, as he used to always say, the truth emerges slowly, sometimes slowly.
[flashback clip begins]
Bob Woodward: What do you think?
Elsa Walsh: You were really shouting at him?
Bob Woodward: I was, to get [unintelligible 00:14:01]
Elsa Walsh: Sorry, it's really loud.
Bob Woodward: It's okay. It's okay.
Elsa Walsh: You want to get more information from him.
Bob Woodward: Like this. I agree.
Elsa Walsh: You're not cutting him what he needs to do. It sounded like you were telling him what to do.
Bob Woodward: Yes, well, same, I kept [crosstalk] Okay [unintelligible 00:14:24]
[flashback clip ends]
David Remnick: For those who couldn't quite make that out, you're saying that you're in a different world now with a guy like Trump. While Elsa Walsh, your wife, and herself an extremely good reporter is telling you that you were shouting at him. I can't imagine-- that's not your temperament so far as I know.
Bob Woodward: No, that's right, but this was an interview-- April 5th, I had talked to Fauci and all the experts and they told me as I was saying that he won't listen. "Well, what won't he listen to?" I had 15 things and I literally went through them. With Trump, you need to coordinate internationally. Henry Kissinger had just written an op-ed piece about that. Of course, Trump didn't-- "Oh, what'd Kissinger say?"
David Remnick: You were talking to the president of the United States in real-time, constantly during this crisis, this extended crisis. I wonder-- obviously, you nailed down the date when he knew about this and the seriousness of it, but how would you characterize the person you were talking with, his level of curiosity, engagement, seriousness? How would you characterize those conversations overall?
Bob Woodward: What he's serious about is himself. Again to go to July of 2020, this is a point the virus had killed 140,000 people in this country. Talking to Trump on the phone, recording it, all of these are recorded with his permission. I said "It's pretty bad," and he said, "What are you talking about? What's bad?" I said, "Well, the virus is." He said, "Oh, we've got it under control." Under control? I'm almost jumping through the phone. It's nothing under control. He said-- listen to it, hear him in his own-- "Well, I'll have a plan in 104 days." He said, "Well, if I put it out now no one will remember." Then I did the calculation, 104 days was election day. He's thinking about the election.
David Remnick: Bob, you've been at this for over 50 years, this activity of reporting. You've certainly reached the age of self-reflection. I wonder if you can boil it down, what you think that have been your central achievements, and what did you miss or get wrong?
Bob Woodward: Well, I got a lot of things wrong. What Carl Bernstein and I tried to do in a piece we wrote for The Post, which is the new introduction to all the president's men, is draw the connection between Nixon and Trump. They are so many, it is really alarming. What was Watergate? It was an effort to destroy the process of nominating and electing the president. What is it that Trump has done? It is, in the same way, destructive of the process of January 6th, which is in the Constitution and in the Electoral Act laid out in great detail. This is how we decide who is president.
The vice president, who's the president of the Senate convenes the House and the Senate and they count the electoral votes. Here was an equivalent realization by Trump and others that this is the soft spot. If somehow we can get Pence to not count the votes or adjourn the meeting, just like Nixon if he can just destroy the process the Democrat opposition party had in 1972 to nominate a strong candidate-- It's devastating what Nixon did to destroy that process. It is devastating what Trump did trying to destroy that process on January 6th.
David Remnick: Finally, Bob, I want to ask an institutional question. The Washington Post, I think at this moment, after some really strong years, is struggling. It's losing subscribers by the hundreds of thousands. It's hemorrhaging talent. Its business leader, Fred Ryan, has failed to do for The Post what the leadership of The Times has done. He also seems not to like journalism very much. The editor, Sally Buzbee, is confiding to reporters that she might be headed for the exits after just a year in place. You care about The Post a lot and you definitely remain its most vivid figure. If you could tell Jeff Bezos anything about what to do about The Washington Post at the current moment, what would you say?
Bob Woodward: Oh, boy. I've known Bezos for more than 20 years and I communicate with him and it's clear to me he's aware that there's trouble. I think he's in, I know he's in a listening mode about what people think, what those troubles are, where they come from. I know him well enough. He's not an impulsive person, but, can be very thorough. There is an awareness, that he has and other levels in and outside The Post that some repair work needs to be done. What that is and how, and who is responsible? I'm on the sidelines.
I'm in the old geezer class, and there's nothing worse than the people who've been there before coming along, saying, "Oh, well, when I was there, it was different." I am confident that-- Again this is an interesting comparison to Trump. There are on these tapes, discussions of Trump about Bezos, because Trump's telling me, "Oh, Bezos directs what you do." I say, "No, no, he stays, keeps hands off--" "Oh," he said, "I don't believe that" and made it clear if he owned The Washington Post, he would have his hands around the throats of everyone to do what he wants.
David Remnick: Just to be clear, you're talking to Bezos?
Bob Woodward: I'm just not going to say who I've talked to or how I do it. It's just the reporting, they are no Bezos tapes.
David Remnick: [chuckles] Bob Woodward, thanks so much.
Bob Woodward: Thank you.
[music]
David Remnick: Bob Woodward's new book, it's his 22nd. It's called The Trump Tapes. The audiobook is available now, and the book is out in paperback this month.
[The Trump Tapes clip begins]
Staff member: Mr. Woodword, the president.
Donald Trump: Hi, Bob.
Bob Woodward: President Trump. How are you?
Donald Trump: How are you? Lindsey said give you a call. I just spoke to a couple of people. I said-- I just came back from two speeches and I said I got to call the man. What's going on? You doing okay?
Bob Woodward: I am. I was watching the Democratic debate. [fading]
Copyright © 2023 New York Public Radio. All rights reserved. Visit our website terms of use at www.wnyc.org for further information.
New York Public Radio transcripts are created on a rush deadline, often by contractors. This text may not be in its final form and may be updated or revised in the future. Accuracy and availability may vary. The authoritative record of New York Public Radio's programming is the audio record.