Behind the Scenes with Tom Hanks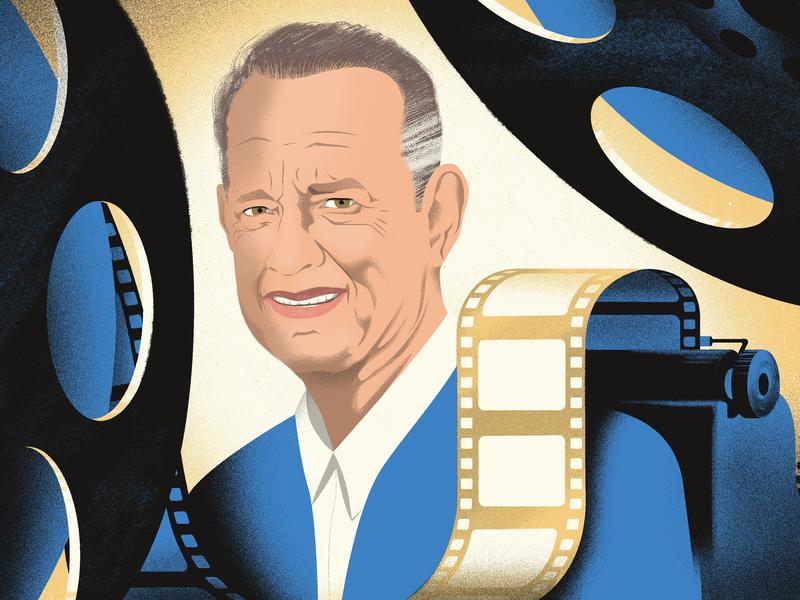 Transcript
[music]
David Remnick: Tom Hanks has been a constant presence on the American movie screen for 40 years. He has played a mermaid's boyfriend, an astronaut, a soldier on D-Day, an FBI agent, a young man dying of AIDS, a castaway, and a dimwit innocent who runs clear across America. He hasn't just won an Oscar for Best Actor, in the mid-'90s he won it two years running, and in his 60s, he still sells a lot of tickets.
Now Hanks has just added another line to the resume, novelist. His new book is called The Making of Another Major Motion Picture Masterpiece, and he has put everything he has learned in the business into an overstuffed, often funny, work of fiction. The story, which seems real enough, involves an old comic book that's being made into a big-budget superhero movie. I joined Hanks on stage the other night at the Symphony Space in Manhattan.
Now, one note, it's kind of interesting because of the persona that comes with Tom Hanks, and we'll get to that later for sure, I was expecting a certain kind of laconic, modest presence, Jimmy Stewart in modern dress, but the Tom Hanks I met was more excitable, more performative, edgier. Though the movies have made him very rich and very famous, he was a lot more conflicted about what it is to be a star.
Tom, I want to start with your novel The Making of Another Major Motion Picture Masterpiece, which comes out today. I have a question, and of course, it comes in the form of a complaint. It's what we call a Jewish question.
[laughter]
David Remnick: In 1952, The New Yorker sent a writer named Lillian Ross who got access, start to finish to the making of The Red Badge of Courage, a film by John Huston.
Tom Hanks: Starring Audie Murphy.
David Remnick: Yes. It wasn't until 1990, almost 40 years later, that another journalist, Julie Salamon, got access to the making of another film, which you were in, Bonfire of the Vanities.
Tom Hanks: Bonfire of the Vanities, yes, The Devil's Candy.
David Remnick: There you go.
Tom Hanks: Right.
David Remnick: Why do the makers of movies make it so mysterious to the rest of us how movies get made, which I suspect is something that's behind this novel?
Tom Hanks: Well, it's not a conspiracy. No one is hiding anything. If anybody who is what we call a non-combatant or a civilian wants to visit the making of a motion picture, they will be bored out of their skull. Everybody is just kind of waiting for something to happen. Nowadays you'll go on to a sound stage and there'll be a blue screen and there'll be guys up on a cherry picker moving some cables around and you'll think, "Is that it?" The answer is, "Yes," because they have to move those cables around because somewhere somebody is being put into a harness and they're going to be dangled above an air mattress and they're going to have to make out with somebody else in that thing.
You'll wonder what is going on in this movie. Then when you see that moment from the movie, you'll turn out, "It's the most passionate, important beat in the film" that you have seen and you were there. "Oh, you were there when you shot that?" "Yes." "What was it like?" "I had coffee and these two guys were just up on a thing, and they were doing." I will tell you this other brief-- I was working with a bold-face name, let me put it that way, because I don't want to tell stories out of, but you know who this lady is.
She is magically sincere. If you take MS, those are her initials. She is magically sincere. We were doing a very, very, very, very, very long scene together. In a movie, a very, very, very long scene could be like eight pages of dialogue, that was loaded with ups and downs and twists and turns and both very long history between our two characters and also brand new stuff that we had to wrestle to the ground in that scene.
David Remnick: This is Meryl Streep in The Post.
[laughter]
Tom Hanks: You guys can discern whoever you want it to be. I was bored and I was wondering, "What's going on? What's taking so long?" I walked onto the set. There were two guys over there that were doing something and everybody else was pacing around. I saw the magic sincerity--
David Remnick: Person.
Tom Hanks: Was in the room that was not being used, which means all the furniture has been stacked up in it and all the C-stands and all the equipment is over there. I said, "Hey, what's going on?" "Oh, nothing, I'm just--" I said, "Do you want to run the dialogue for the scene?" "I would love to run the dialogue for the scene." While we're sitting there, we just banged it back and forth, da da da, different timing, up and down, up and down, but what we were doing was beginning to feel each other out for the intricate game of kickball that we were about to do.
Tom Hanks (The Post Movie Clip): The only couple I knew that both Kennedy and LBJ wanted to socialize with was you and your husband and you own the damn paper. It's just the way things worked. Politicians and the press, they trusted each other so they could go to the same dinner party and drink cocktails and tell jokes while there was a war raging in Vietnam.
Meryl Streep (The Post Movie Clip): I don't know what we're talking about. I'm not protecting Lyndon.
Tom Hanks (The Post Movie Clip): No, you got this from the Secretary of Defense, Robert McNamara, the man who commissioned this study. He's one of about a dozen party guests out on your patio.
Meryl Streep (The Post Movie Clip): I'm not protecting him. I'm not protecting any of them. I'm protecting the paper.
Tom Hanks: If you were a non-combatant and you had come to watch us shoot the film that day, you would have seen a bunch of excitement over here as people pushing gear and lighting lights and moving stuff around. It looks like that's where the pocket-- But where the real performances were being mapped out were these two odd people who were just sitting in the side of a room surrounded by a bunch of apple boxes and C-stands.
David Remnick: You have this great passage early in the novel, page 7. I really like this.
Tom Hanks: Please make it past page 7, please.
David Remnick: Oh, not to worry. "Making movies is complicated, maddening, highly technical at times, ephemeral and gossamer at others, slow as molasses on a Wednesday, but with a gun-to-the-head deadline on a Friday. Imagine a jet plane-" I love this. "-Imagine a jet plane, the funds for which were held up by Congress, designed by poets, riveted together by musicians, supervised by executives fresh out of business school, to be piloted by wannabes with attention deficiencies. What are the chances that such an aeroplane is going to soar?"
Do you feel in the midst of this kind of weird combination of boredom and chaos and people chattering like you and that person, that a movie is going to come out of this? You wouldn't believe it to see it.
Tom Hanks: There's no logic to it whatsoever. All you can do is go into it with faith somehow that it will work out, that everybody else knows their job. You know that airplane scenario that you were talking about, you know who the director is in that scenario? The people who load the luggage into the bottom of the plane. If they don't lay that out perfectly, the center of gravity of the plane will not work and will not fly. That's literally the director and the artistic people that do it. Everybody else is just kind of like, "Hey man, I hope I've done my job enough well so this plane doesn't go down."
David Remnick: I think when we go to the theater, we see this thing play out in real time. You've memorized an entire play, us civilians have no idea how you do that. Just the sheer memorization of it. You've rehearsed it. You've done it any number of times, blocked out, directed, and then it happens in real time. Two hours later, it's over. Film acting seems like something entirely different, and the way you described that rehearsal scene with that actress, she's very good, by the way.
Tom Hanks: She's magic.
David Remnick: She's magic and sincere.
Tom Hanks: And sincere.
David Remnick: Do you know when you're doing it well in those little snippets of 30 seconds?
Tom Hanks: I will tell you this, you don't, you don't. All you can do is have some kind of faith that your instincts have joined you. Our job is to provide the raw materials. All we can do is open a vein, bleed it out, dig around in the river bed long enough, say, here's the gold dust, here's a nugget, please do well with this Mr. Director, editor, scorer, Foley artist, sound mixer, dialogue mixer, all the stuff that goes along with it.
Oftentimes when you go to work as an actor, they can almost ask you this question, "What mood are you in today?" You say, "I feel pretty good. I had a great night last night. Got slept. The Knicks won. I feel awfully-- I'm feeling pretty snazzy." "What are we doing today?" "Oh, that's right. We're doing the scene where I have to have a nervous breakdown and weep copious tears and go to such a deep and dark place emotionally that it's going to take me a day and a half to recover from what my job requires of me today."
Now, I will tell you, here's a famous story from the famous movie. Are you ready for it? You're ready for the famous anecdotal story? Here we go. Forrest Gump, thank you. Thank you. Thank you. [crosstalk]
[applause]
Tom Hanks: We were shooting in Cherokee Square in Savannah, Georgia. We're on the world-famous park bench. We've got various props. There was so much dialogue and I was so exhausted because, one thing, we had shot 27 days straight without a day off because we would be flying off to places to shoot. Remember Forrest ran across the country. Well, there's only one way to get those in those days, you had to fly to the goddamn place, put on the costume and run for an hour and a half, then go back, get on the plane, and then fly to New Hampshire and do it all over again. We would do that.
Then we finally are done. I'm exhausted. I don't know what's going on. If you remember the movie Forrest Gump. Thank you. Thank you very much. Thank you. The scenes on the park bench have oceans of dialogue, and we shot them in a day and a half. All right? That's an ocean of dialogue, and we were there to point it. I said to Bob, "Bob, my head is frazzled. I cannot-- We're doing all these scenarios with different people, and every one of them have a page and a half a dialogue. I will never be able to keep this in my head."
"Don't worry, Tom. We'll shoot it like I love Lucy. We'll have four cameras. We'll put the words up on cards if you need it. You could just read them." I said, "Oh, great, thank you. Let's make this an even more artificial atmosphere."
Tom Hanks (Forrest Gump Movie Clip): Hello, my name is Forrest, Forrest Gump. Do you want a chocolate? I could eat about a million and a half of these. My mom always said, "Life was like a box of chocolates. You never know what you're going to get."
[applause]
Tom Hanks: Now the good news is we got it all down pretty fast and the dialogue all made itself, but at one point, I was sitting there saying, "Okay, we're going on to the other one. Okay." The lady is coming along, I say, "Hey, Bob, I got a question for you." "What Tom?" "Is anybody going to care about this movie?"
This guy sitting on a thing in these goofy shoes, in this cuckoo suit with a suitcase full of Curious George books and stuff like that, "Are we doing anything here that is going to make any sense to anybody?" True story. Bob said, "It's a minefield, Tom. It's a goddamn minefield. We may be sowing the seeds of our own destruction. Any footstep we take could be a Bouncing Betty that'll blow our nuts right off."
[laughter]
Tom Hanks: Bob Zemeckis, God bless him, I've worked with him more than once and said, landed on the absolute truth of anybody who has gone forward and say, "We are going to commit something to film today and eventually we'll cut this into something." You do not know if it is going to work out.
David Remnick: You don't.
Tom Hanks: You can only have faith.
David Remnick: When you were filming a scene that eventually becomes, as in the opening sequence of Private Ryan, do you know that you're in the midst of something that's special, something great? Do you have any sense of it at all because you're describing movie-making as some weird combination of chaos, boredom, anxiety, prolonged days?
Tom Hanks: No, we knew we were-- Let me tell you a story about that. We are in the assault boats, we were in the Higgins boats off the coast of Ireland and we're now going to shoot. Steven Spielberg--
David Remnick: We invaded Ireland?
Tom Hanks: Yes, we shot it in Ireland as a double for the--
David Remnick: History could have been different.
Tom Hanks: It was a gray day. The weather was miserable. Looked like the [unintelligible 00:13:55] to us. Steven does not rehearse a thing. You do not rehearse with Steven. I am meeting a guy who is just out of drama school, and this is his first motion picture and is with Steven and I'm in front of him. Steven says, "Okay--" And we know what the script is, "All right, when the time comes, you guys go over the side, and we'll pick you up in the water afterwards."
The special effects go down, which we have not seen. When they squib up these guys, they can only really do it once. We come up, and we're in the back, the camera is with us, and the front of the Higgins boat goes down, and the stuntmen that have been wired with squibs in front of us all disappear in a haze of simulated flesh blood and sinew.
Then me and my co-star jump over the side into water that is too deep for us to touch bottom. Then the camera is in the water with us. [unintelligible 00:14:57] We kind of pull up. Before we shot that scene, I said, "How are you in the water?" He said, "Hanks, I can't swim." Was a good thing we didn't rehearse this then? Isn't it? Because then--
[laughter]
Tom Hanks: Then when we finally get up there, the special effects guy comes up and rigs him with an exploding squib on his chest. They're all English, "All right, mate. Don't worry about any of these. It's all going to be fine. Listen, but before this goes off, don't look down, don't look down because it is an explosive and there is going to be projectiles coming out of your chest, and it'd be good if you're not looking down with your eyes open. Don't do that."
Now, all of this is happening at a time when total tactile chaos is going on because there's 600 extras, there's people in the water, there's machine guns going off, [unintelligible 00:15:50], and outside of the fact that we know we're making a movie, it's a perilous, dangerous thing. Look, I've been preparing for this moment for about eight months by looking at all sorts of research that goes into Whitman. We had all met each other. We had done bootcamp, we had prepared. We're there in the water. It's freezing cold, freezing cold. I got up and I looked, I was trying to gather myself together as Captain John Miller. I looked down this way, and a man without an arm is on fire.
[laughter]
Tom Hanks: You don't fake that. You don't think, "Whoa, Tom, what were you thinking when you saw the man without an arm on fire?" You thought, "My God, he has no arm, and he is on fire." That's what you think. Now that all goes into an unrehearsed moment that Mr. Steven Spielberg says, "Okay, great, we got that. Let's move up to the Belgian gate and get that sequence there." We knew, I knew, and they went, "Oh, this isn't me falling in love with a dog on this movie. This is actually something that's going to be quite, quite, quite palpable," but the reaction that we had to that was about literally the tactile stuff that we were shooting at that individual moment.
Actor 1 (Saving Private Ryan Movie Clip): Clear the ramp. 30 seconds. God be with you.
Tom Hanks (Saving Private Ryan Movie Clip): Port side stick, starboard side stick. Move fast and clear those murder holes.
Actor 2 (Saving Private Ryan Movie Clip): I want to see plenty of beach between men. Five men is juicy opportunity. One man is a waste of ammo.
Tom Hanks (Saving Private Ryan Movie Clip): Keep the sand out of your weapons. Keep those actions clear. I'll see you on the beach.
[music]
David Remnick: That's Tom Hanks in Saving Private Ryan from 1998. We'll continue our conversation in just a moment. This is the New Yorker Radio Hour.
[music]
David Remnick: This is the New Yorker Radio Hour. I'm David Remnick. We'll continue now with my conversation with the actor Tom Hanks. He has just released a debut novel The Making of Another Major Motion Picture Masterpiece. The book comes out as Hanks approaches his 40th year as a leading man. His first big movie was 1984's Splash, a mermaid comedy with Daryl Hannah and John Candy.
Eventually, he made a string of romcoms including You've Got Mail and Sleepless in Seattle, which were directed by his friend, the late Nora Ephron. How is it different to work with a director like Nora Ephron, for example, as opposed to Steven Spielberg? It seems the rehearsal process is different?
Tom Hanks: Steven Spielberg has been thinking in cinematic terms since he was eight years old. You can look at his films when he was a kid, and they literally are-- you can see his DNA all over them to this day no matter what the film is, no matter what the theme that is being involved. Nora Ephron was a journalist. She wrote her screenplays from a journalistic point of view with her sister as well as well.
David Remnick: What does that mean, write a screenplay from a journalistic point of view?
Tom Hanks: There was a type of authenticity and a Christmas to the dialogue that is very, very, very particular, meaning that it scans in a different way. It's not necessarily human behavior. It's actually a give-and-take between the characters that continually propel along the story.
Meg Ryan (You've Got Mail Movie Clip): Is there anything you can do?
Tom Hanks (You've Got Mail Movie Clip): Hello.
Meg Ryan (You've Got Mail Movie Clip): Hello.
Tom Hanks (You've Got Mail Movie Clip): Hi. Do you need some money?
Meg Ryan (You've Got Mail Movie Clip): No, I do not need any money. Thank you very much.
Cashier (You've Got Mail Movie Clip): Get in another line.
Tom Hanks (You've Got Mail Movie Clip): Hi. Rose. That is a great name. Rose. This is Kathleen. I'm Joe.
Man (You've Got Mail Movie Clip): I'm Henry.
Tom Hanks (You've Got Mail Movie Clip): Henry, how are you? Happy holidays. This is a credit card machine. Happy Thanksgiving.
Tom Hanks: She also rehearses her movies as specifically as she writes them so that we had rehearsals with taped out set and props. A lot of her scenes go on for 11, 15, 17 pages sometimes. We rehearsed them in real time so that by the time we got to the set, we knew that would be broken up into eight different setups throughout the geography of an apartment or a restaurant or what have you and you land on the same specificity, then when you're shooting them as you did when you rehearsed it. Nora, she was tough. She would say, "I know what you want to do with that moment, but I hate it. Therefore, let's not do it that way."
[laughter]
Tom Hanks: Look, I was very cranky, particularly when I first met her to do Sleepless in Seattle. Thank you.
[applause]
David Remnick: Works every time.
Tom Hanks: It works every time.
David Remnick: Fantastic. [crosstalk]
Tom Hanks: Because I was really big, and I had some hits under my belt. I won some trophies for participating. When we were working on their rehearsals for it, I realized that one of the things that was driving me nuts about the project is that Delia Ephron and Nora Ephron are sisters.
David Remnick: They're sisters.
Tom Hanks: They're sisters, but they also are what? They are mothers. It was a movie about a father. I said, "You guys are the wrong gender to understand what's going in this scene between me and my son."
David Remnick: A remark like that always goes well.
Tom Hanks: Oh, and she loved it.
[laughter]
David Remnick: Why wouldn't she?
Tom Hanks: "Oh, Tom, tell me more."
[laughter]
Tom Hanks: The argument I had was, "You have written a scene in which a father is undone by the fact that his son is upset about him going out with a woman. Oh, no." I said, "There is not a father on the planet Earth who is going to give a rat's ass what his son thinks because you know what that father wants to do? He wants to get laid. That's what's missing from your little gender-ish scene that you wrote."
She said, "Well, then why don't you say that?" That was a very empowering moment because as a journalist, she says, she would often say this, "Well, you're right. When you're right, you're right." She let me go off and do that kind of stuff in the movie. Then later on, I said, "You know it was great that you let that happen in the accumulative collaborative process of making a movie." She said, "Well, you wrote that." I said, "No, Nora, I did not write that. I complained at you in rehearsal, and you decided to put it into the movie."
David Remnick: Complaining is writing.
Tom Hanks: But she said, "That's what writing is." It's like, writing is sitting down and complaining on paper and that's what writing is. She says, "Um, umm, yes. Yes."
David Remnick: You've had an even stronger role in conceiving the idea for a film Cast Away as something--
Tom Hanks: Yes.
[applause]
Tom Hanks: I didn't even have to say thank you. Here's how Cast Away story-- One quick side trip. In the book, there is a character that essentially is an outlaw biker who got out of the Marines right after World War II. I had read many years ago that the origin of a lot of the outlaw biker gangs came from the Marines that returned from battle in the Pacific, had a lot of combat pay, and were not about to go back to their lives as John law-obeying citizens, because they had killed and massacred a few too many people in order to do that.
All right. I had read that, and that always stuck in my mind as a great place on which to hang both a character and [unintelligible 00:24:40]. I read a million years ago, and I did not realize this, that huge jumbo jets filled with nothing but envelopes and packages flew across the Pacific Ocean twice a day, going to Australia and back. I said, "Well, nothing but packages and envelopes. Who's flying the-- Oh, okay, a crew of what? Four people fly this plane?"
That's either the greatest gig in the world or the worst gig you could possibly have. It turns out it's a really good gig because they don't have to put up with jerks like us back in the-- as passengers. I thought, "What happens if one of those planes goes down and three of the crew die and there's only one left and we don't know where that is. What's that story?" From that came Cast Away.
I was looking for the story in which a guy would be reduced down. I had that idea. Bill Broyles had a lot of the structure, he was a screenwriter, and nothing happened until we got Bob Zemeckis on in order to give us the third act, which is sort of like the redemption and the point of the whole movie. I wanted to reduce a guy down to a guy who was not going to survive unless he had the five elements necessary for human life; food, water, fire, shelter, and company.
We never could land on what the company really was until Bob said, "I think Wilson's got to come out of your own blood. I think he's got to be a creation of your own flesh and blood." Bob said, Bill said, "How would we do that?" I said, "I know, what if he cuts his hand and in frustration picks up the ball and throws it and then turns that into a little face?" Bob said, "Well, there you go."
[laughter]
Tom Hanks: We worked on Cast Away for eight years before we ended up making the movie. That's how long it takes. We had a screenplay that was loaded with dialogue in which I as Chuck Noland would have lines like this. "Well, I am all alone on this island. Look at me all by myself. Holy cow. There is no one on this island to talk to except me. I'd better find a source of food and water. Shelter would be nice, too. How in the world am I going to make fire?" We had all this dialogue on it.
When we got down there, we shot one scene where I had something like, I said like, "Hmm, what am I going to do now?" I said something like that to myself. I turned to Bob and said, "Bob, I don't think there should be a word of dialogue out of Chuck." I said, "I don't think so either." I said, "The only time I should talk is when I think somebody is there. Who's there?" That's the one line of dialogue that I know because coconuts drop in the back. Who's there? The other one is if I think someone is out there, "Help, help." Those are the only pieces of dialogue that we have until I make fire and celebrate. We actually have Wilson by that point so I end up talking to Wilson.
Tom Hanks (Cast Away Movie Clip): I did it. I did it. [laughs] Fire. There you go. Light it up. Come on. The time to hesitate is through. Ouch.
Tom Hanks: I will tell you this, when you're a selfish actor in a movie, and the question you really do want to ask but you don't dare because it shows you to be a bush league guy who doesn't care about the artistic integrity of the movie, but every actor wants to know, how many shots before lunch?
[laughter]
Tom Hanks: The other question is, is this all on me? Are you ever going to turn around? Yes, we are going to turn around. When you're the only guy on the island, there's nobody to turn around on except for Wilson. Wilson is on a little stump, and he's loose, and then he's a little tighter, and that took seven minutes to shoot, and that's how much time I had off, I had seven minutes. I went back to my little hut and had a sip of water, and that was it.
David Remnick: There's a motif in the book, and I think you also believe it in life, in that you take enormous offense at the notion of anybody hating a movie.
Tom Hanks: Oh, yes.
David Remnick: Why is that?
Tom Hanks: Okay, let's admit this. We all have seen movies that we hate. I have been in some movies that I hate. You have seen some of my movies, and you hate them. That's--
David Remnick: What of your movies did you hate?
Tom Hanks: Stop. [laughs] Here are the five points of a Rubicon that are crossed by anybody who makes movies. The first Rubicon you cross is saying yes to the film. Your fate is sealed. You are going to be in that movie. The second Rubicon is when you actually see the movie that you made. It's either a 00 or it's a 01. It's binary. It either works and is the movie you wanted to make, or it does not work and it's not the movie you wanted to make.
That has nothing to do with Rubicon number three, which is going to be the critical reaction to it, which is a version of the vox populi, how people weigh in. Someone is going to say, "I hate it." Other people are going to say, "I think it's brilliant." Somewhere in between the two is what the movie actually is. The fourth Rubicon is the commercial performance of the film, because if it does not make money, your career will be toast sooner than you want it to be. Simple. That's just the fact. That's the business.
The fifth Rubicon is time, where that movie lands 20 years after the fact? What happens when people look at it perhaps by accident? A great example of this is It's a Wonderful Life, which was made about 1949 and disappeared for the better part of, I'm going to say 20 years, locked up in a rights issue, and essentially, when it came out, it was reviewed as Capricorn. It did not make its money back. It was not viewed as being a classic. It wasn't even viewed as being a commercial hit.
Well, when we all saw It's a Wonderful Life sometime in the 1970s, we actually thought, "Where has this treasure been?" That happens all the time, and personally for me, it happened on a movie that I wrote and directed. Thank you. That thing You Do. Thank you. Thank you.
[applause]
Tom Hanks: There you go. That gets applause now. I'm trying to be very, very pragmatic because, look, I loved making that movie. I loved writing it. I loved being with it. I love all the people in it. One of my kids was born in between the Mercyhurst College talent show and the performances at Villa Pinos. I was a father of three, and I figured this is a movie being a father of four. That's how important the movie was for me.
When it came out, it was completely dismissed by the first wave of vox populi. It didn't do great business. It hung around for a while. It was viewed as being some sort of odd little, kind of like quasi rip-off of nine other different movies and a nice little stroll down memory lane. Now the same exact publications that dismissed it in its initial review called it Tom Hanks' cult classic, That Thing You Do. Now it's a cult classic.
[That Thing You Do music]
Tom Hanks: What was the difference between those two things? The answer is time. You could take any number of films from any number of great filmmakers, and the opposite happens too. A movie that came out was on like this version of a cutting edge of this is who we are right now, and 20 years later, you think, "What was the big deal about this movie?"
David Remnick: In Keith Richards' autobiography, which he may or may not have read, he says it's a good book, though.
Tom Hanks: Great. That guy has lived a life and a half, hasn't he?
David Remnick: He says, at a certain point, as a public person, you're schlepping-- I think dragging. I'm sure he used dragging around your own persona like a ball and chain. Every time there's a kind of fairly lazy feature story about your profile, inevitably Jimmy Stewart is raised as comparing your persona.
Tom Hanks: Keith Richards, those are the guys [crosstalk]
David Remnick: Keith Richards. The similarities are unbelievable [crosstalk]
Tom Hanks: Those are the guys [crosstalk] wheelhouse.
David Remnick: Unbelievable. How does a persona work for an actor? Is there one? Are you aware of it?
Tom Hanks: There's nothing you can do about it at all except never ever, ever, ever talk to the press.
David Remnick: [laughs]
Tom Hanks: No. Honestly, think about it. There are some artists out there, some filmmakers, some actors, you don't know anything about them because they do not go off and promote their movies in a certain way or open themselves up in a manner. Maybe it affects their ability to work, maybe it doesn't. The truth is, no matter who you are, you carry your countenance with you into every single job you do so much so that now the first two paragraphs of any review of any of my movies are actually about all the other movies I've ever made.
The last movie I did was A Man Called Otto. I'm going to say 9 reviews out of 10 said, "Well, giving up his Forrest Gump nice guy persona, not unlike Jim Lovell in Apollo 13 but a little bit more like Sully in Sully. Tom Hanks is Otto, blah-blah, blah-blah, blah-blah-blah." It's all like, how did this current persona match up to whatever it is? It's ignored by the audience, I think, because it's part of the contract the audience has with the purchase of going to a movie.
David Remnick: Which is what?
Tom Hanks: That you understand that this is just the latest incarnation of somebody that you are familiar with and you buy that they've seen you in all these other movies. They buy that you're not as young as you were. They buy that you are in these other movies that you're in, but they're willing to suspend the knowledge of that long enough to either be swept up in what you're doing or not. That's what we decide to do. I don't do it with any other actor or filmmaker. I don't sit there and say, "Well, this is not exactly the age of innocence, but it certainly is as good as Goodfellas."
I don't think about that when I watch a Marty Scorsese movie or any filmmaker or any actor. It's like we start from square one, you start all over. It's naked at the beginning of that and do you buy it or not? I think that reality is not part of the reportage, I'm using a word that comes about in what I call the entertainment industrial complex. People write about the all-encompassing sweep of all knowledge about all movies ever made, but going to the movies is actually an individual relationship that each of us has with what is playing up on the screen.
David Remnick: Tom Hanks, this has been so much fun. Thank you very much.
Tom Hanks: This has been fun, guys. Thank you.
David Remnick: Thank you.
Tom Hanks: Thank you.
[music]
David Remnick: The actor Tom Hanks. His new novel is The Making of Another Major Motion Picture Masterpiece. Our conversation was recorded as part of The New Yorker Live at Symphony Space in Manhattan.
[music]
Copyright © 2023 New York Public Radio. All rights reserved. Visit our website terms of use at www.wnyc.org for further information.
New York Public Radio transcripts are created on a rush deadline, often by contractors. This text may not be in its final form and may be updated or revised in the future. Accuracy and availability may vary. The authoritative record of New York Public Radio's programming is the audio record.