The Battle After Roe v. Wade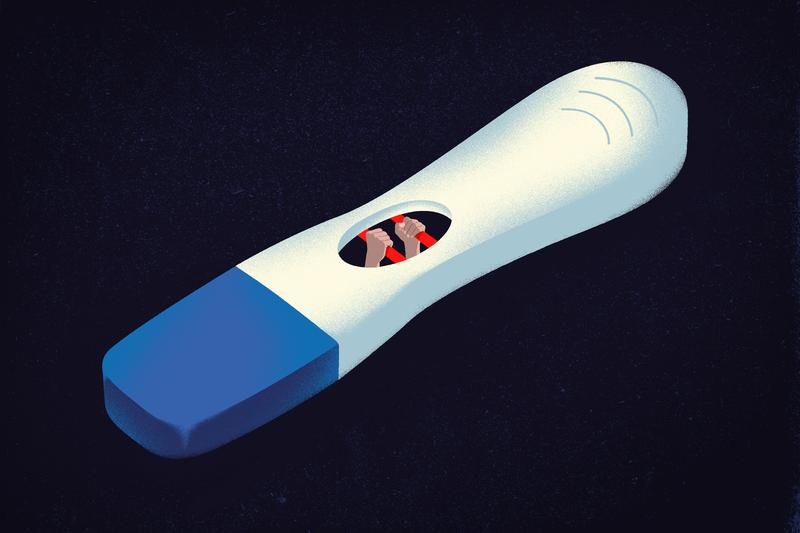 Transcript
David Remnick: The leaked opinion from the Supreme Court on the Mississippi abortion case Dobbs vs Jackson Women's Health Organization seems to promise a true transformation in this country. Assuming the final opinion by Justice Alito gets majority support and it, let's face it, it very likely will, we'll see the end of federal reproductive choice in America, and that will change the country.
In many red states, abortion bans will take effect immediately but this would also have very real effects in blue states from New York to California. In fact, Mitch McConnell has already talked about a complete nationwide ban. I'm joined now by three New Yorker writers who have been considering where all this is going, Margaret Talbot, Peter Slevin, and Jia Tolentino.
We'll start with Margaret Talbot who's reported on the Supreme Court, she's written about justices including Antonin Scalia, Elena Kagan, and most recently, the appointment of Amy Coney Barrett.
Margaret Talbot: I think we're so used to these confirmation hearings where people are asked and Susan Collins and Lisa Murkowski get some promise from Kavanaugh or Amy Coney Barrett or wishfully think that they have heard them say, "Well, this is settled law. It's stare decisis, respect for precedents, we're not going to overturn this," but the fact is--
David Remnick: Let's stop there, but were they lying in their confirmation hearings?
Margaret Talbot: If you look at what they actually say, I don't think they were actually lying. I think they were obfuscating. I think they say things like it's settled law. Well, that's just a statement of fact, it was settled law. They don't say it's settled law in a decision that I believe in.
In the case of Amy Coney Barrett though, there was a really very, very explicit track record of opinions that she'd expressed outside the court. I mean, she had signed a two-page ad that appeared in the South Bend Newspaper when she was a professor at Notre Dame in 2006, saying that abortion was barbaric, that Roe had to be overturned.
She was a member of the campus faculty Right to Life group. I think it's one thing for somebody to say I don't think this was a well decided legal precedent, it's another thing for them to say abortion is barbaric. Then I think it just beg us common sense to think that when you're presented with a chance to overturn something you think is barbaric, you think is murder, that you won't do it.
David Remnick: Assuming that Roe is overturned and I think that's where we are in our journey of assumptions, what's the next step for the conservative legal establishment?
Margaret Talbot: Well, I think they have a pretty big agenda and you see the legislative form of it at work in the bills in Florida to prevent discussion of gay issues in classrooms, in the anti-trans bills, in the attacks, in some cases, on birth control. The Idaho state legislature said that it was going to open hearings on the morning after pill, but because of the makeup of the court now, I think some matters that would've been thought truly settled come up for debate or for consideration again.
I mean same-sex marriage decisions, same-sex intimacy, even, perhaps, contraception are potentially on the table again. A lot of people thought we wouldn't get this far with Roe, so I wouldn't completely rule it out.
David Remnick: Is there a world in which abortion becomes banned throughout the United States? There's a lot of talk now about people traveling from Mississippi to Illinois if they can afford it, and they can, to get an abortion, but is there a world of a national ban?
Margaret Talbot: Again, I think it's not completely off the table. I mean I think that that is the goal of this anti-abortion movement which has been remarkably passionate and successful and determined, and they would like to have a national ban on abortion. You're right that right now we have a profound division, probably the prediction is 26 states, mostly in the South and Midwest, will ban abortion completely after this decision goes into effect.
People will try and travel to other states where abortion is still legal and they will try and get medication, abortion pills sent to them through the mail. A lot of anti-abortion states are trying to criminalize travel for abortion or receiving of pills in the mail. I would think maybe a realistic scenario would be many states would keep it legal but the states where it's illegal would try their best to make it very difficult to travel to get an abortion.
[music]
David Remnick: Now, with the restrictions already in place in Texas and other states, people seeking abortions have already been traveling very long distances to obtain medical care. Peter Slevin is based in Chicago and he's been watching all of this unfold.
Peter, you just published a piece about how abortion providers in various states are preparing for what we're now calling the post-Roe world. You're based in Chicago, you spoke to providers in various states near you. To get a sense of where we are now, how easy is it to get an abortion in the Midwest?
Peter Slevin: It depends on which part of the Midwest. Illinois has made itself into a safe haven for abortion through legislation. There's no waiting period, Medicaid will pay for an abortion. The Democratic legislature and Governor J.B Pritzker, also a Democrat, got rid of the parental notification law. It is a very different picture in the rest of the Midwest where abortion access is already extremely difficult without the Supreme Court weighing in on the Dobbs' case.
David Remnick: In Chicago, what kind of demand are abortion providers seeing? What are they predicting if Roe falls? Will there be a huge influx to places like Chicago?
Peter Slevin: It's been interesting to see already what the influx is from out of state. Everyone remembers what happened with SBA in Texas which banned abortions after six weeks. Chicago saw its first Texas patient within just a couple of days after SBA went into effect. Already in recent years, the numbers of out-of-state patients have been growing really quite dramatically.
Planned Parenthood of Illinois, which has been preparing for this for quite some time, thinks that in the first year after Roe is overturned, if that's what the Supreme Court does, the numbers of out-of-state patients may grow by 20,000 or more.
David Remnick: Now, we've been hearing a lot about medication abortion, a combination of common drugs that could be prescribed remotely. You talked, in your piece, with a provider in Minnesota who's been working on this. Tell me about her practice?
Peter Slevin: It's quite intriguing what's going on with medication abortion. According to the Guttmacher Institute, in 2020, 54% of abortions in this country were done through the two-pill regimen.
David Remnick: These two pills are, to just be specific?
Peter Slevin: There's mifepristone which stops progesterone, which stops a pregnancy from growing, and then misoprostol which creates contractions. These pills are legal in 60 countries. The FDA has said they are safe and effective. The OB/GYN community in this country says the same. More and more patients are turning to these pills which they can get sometimes through telemedicine, sometimes over the web.
David Remnick: What will happen to those medications in a post-Roe world?
Peter Slevin: Republicans in a number of states are racing to try to outlaw medication abortions. They're doing this through restrictions that require a woman to see a doctor in South Dakota more than once with a waiting period and so on. Some states are banning telemedicine appointments, which are, again, deemed by the medical community to be completely safe, where a patient calls a doctor remotely, is approved for medication abortion and then those pills are dispatched to the patient.
David Remnick: Peter, you reported on an organization in Minnesota called Just The Pill, isn't that right?
Peter Slevin: It is called Just The Pill, and it's two women who got together a couple of years ago when they saw the ways that medication abortion could be a safe and private way for people to obtain abortions. Then as they saw states trying to ban or at least severely restrict the delivery of medication for abortions, they had an idea. They said if you look at the Dakotas, North and South Dakota, where telehealth appointments for medication abortion are banned, what if we could set up shop remotely in Montana and Wyoming, and women could just drive across the border, call us after they pull over in their car, we do the telehealth appointment, and then we can safely send these two pills to a distribution site in Montana and Wyoming? And that's what they're doing.
David Remnick: It sounds like the world that you are portraying, a post-Roe world, is going to be one of thousands of women driving to or making their way to places like Illinois, New York, California from far away states. That's one aspect of it, and then you have the aspect of drugs being traded in one way or another to have abortions that way.
Peter Slevin: That's exactly right. They are sometimes called abortion migrants, abortion refugees. People with means, they can fly into Chicago and have an abortion at a clinic, of which there are many.
David Remnick: What do the people you're talking to expect will happen with people who don't have the means to fly to Chicago or wherever, or who don't have the capacity or the knowledge to get the kinds of drugs that you're talking about?
Peter Slevin: That's the real fear among folks who are in their reproductive rights community, who are providing abortions, who are helping women to get abortions, and it brings them to tears, sometimes, when they realize, when they start to contemplate what it will mean if Roe is overturned.
There are abortion funds all over the country. A large one in Chicago is called the Chicago Abortion Fund. These funds help women navigate an abortion. How to get one, how to get to town, how to pay for it, how to arrange for childcare if they have to be away for a couple of days, and lodging. The Chicago Abortion Fund has been receiving an average of 500 calls a month this year, 85% of them from out of state.
David Remnick: Peter, what will you be watching for in the months ahead?
Peter Slevin: Let's imagine for a moment that the Supreme Court overturns Roe, as the Alito draft suggests will happen. It will be valuable to look at legislatures in Republican-led states to see just how far they will go to ban abortions. In some cases, it'll be almost immediate, such as in Missouri, where the Attorney General has said that he will take the measures to invoke a trigger law stopping abortions as soon as the Supreme Court rules, and then we'll be looking to extremely creative believers in a woman's right to choose who will be looking for ways around these rules and ways to help women get an abortion if they so choose.
[music]
David Remnick: Jia Tolentino has reported on the reproductive choice battle and the ways that it goes beyond abortion. Jia, earlier this year, you wrote a piece for The New Yorker about Oklahoma, where, in 2012, there was an attempt to amend the state constitution to establish what's known as fetal personhood, and the state Supreme Court there ultimately struck it all down. How does this idea of fetal personhood work its way into law?
Jia Tolentino: A lot of conservative legislatures, state legislatures, have introduced fetal personhood bills like Oklahoma. Most of them have failed. Oklahoma has failed, but then you see Oklahoma as sort of a test case of what might happen. The fetal personhood amendment fails in 2012 but in 2015, the State Medical Code was amended to require that any fetal death past 12 weeks would be reported as a stillbirth.
There was something called The Humanity of the Unborn Child Act passed in 2016, which required that the State Department of Health teach that, "Abortion kills a living human being." Since then, in Oklahoma, you have had this pretty wild, rampant, extreme prosecution of miscarriage. There was this report by The Frontier that at least 45 Women in Oklahoma have been charged with child abuse, child neglect, manslaughter because of drug use during pregnancy.
David Remnick: Jia, when I hear about the prosecution of miscarriage, how can that happen, what is that?
Jia Tolentino: Fetal personhood is the idea that a fetus, starting at conception, the moment of conception, which is to really say an embryo, is a human life that is deserving of full legal protection. It's the idea that underpins the entire anti-abortion movement. It's the idea that's given the movement its urgency, the idea that abortion is a human rights violation, that it is a death for a human life that is vulnerable but equal and possibly even superior to yours and mine.
Fetal personhood is the only and fundamental idea that would require a total ban on abortion, which is the goal of the anti-abortion movement and the ideal that's now in the minds of many conservative legislators.
David Remnick: It's why you get people, sincerely and for many years, saying abortion equals murder?
Jia Tolentino: Right. Miscarriages are incredibly common. There are about a million miscarriages in the United States every year. If every miscarriage is grounds for suspicion that something has been done to endanger or even take a human life, whether that thing is using drugs or over-exercising, or doing any number of the things that women are told they're not supposed to do during pregnancy or else something might happen to "the baby," then miscarriages become and they will become grounds for prosecution quite broadly.
David Remnick: You grew up in Texas, you grew up with a lot of people who were quite religious, and kept up with a lot of that. It's not like you detach from the community in which you were brought up, and when you remember those arguments, those pro-life arguments, and when you engage them now, do you have any sympathy for them?
Jia Tolentino: I do have sympathy for them because I think the modern pro-life movement was founded in this idea of-- It was a human rights issue. That stopping the right to abortion was saving innocent lives. I think that kind of rhetoric twists the impulse to protect life in a way that invalidates the autonomy of the mother and the civic participation of women. I understand why if you really believe that life begins at conception, you would do anything that you could to protect it.
I just think that that idea is a lot easier to get behind rhetorically than to actually live with to the letter every second of the day. If people really believed this idea that is being jurisprudentially pushed upon the nation with Roe's repeal, then people would act very differently. People still do IVF, which is something that if you really believe life begins at conception and fetal personhood from conception, then you wouldn't be able to stand IVF because there would be innocent human lives in freezers.
The idea is so extreme and it's so jurisprudentially unworkable as we are probably about to see. That it has these far-ranging implications for miscarriage, for the prosecution of miscarriage, for IVF, and everything surrounding it. If you believe in the personhood of an embryo at conception, then things like IUDs and the morning after pill are tantamount to murder and this is kind of the territory that we're wading into.
David Remnick: Jia, the leaked opinion has set off what feels like an avalanche of nightmare scenarios about where the court goes next as a result of this. Without the privacy right that comes from Roe, there are concerns about gay marriage, access to birth control, even in some circles, coming out of the loving case, interracial marriage. At this point, how are you differentiating legitimate concerns from panic?
Jia Tolentino: I think that reading through the draft opinion, there are plenty of reasons to fear all of those things. There are plenty of reasons to fear a world in which, if the Constitution written for a country where only white male landowners are full citizens, if those are the only rooted rights in America, if people feel panicked about all those things, I wouldn't invalidate that, but even just focusing on what will happen when Roe falls and what will happen to mothers and poor mothers and 13-year-olds and trans men and people with ectopic pregnancies, and people who come into the hospital miscarrying and then are drug tested and pulled up on charges of manslaughter, which has happened and will continue to happen. This is enough to panic about, this is a universe of panic on its own.
[music]
David Remnick: The New Yorker's Jia Tolentino, and we heard too from Peter Slevin and Margaret Talbot. You can read all of our coverage on the battle over abortion rights at newyorker.com. If you missed it, I'd urge you to listen to a piece we aired last week too, a visit to the Mississippi abortion clinic at the very center of this critical case before the Supreme Court. You can find it all on the podcast of the New Yorker Radio Hour.
[music]
Copyright © 2022 New York Public Radio. All rights reserved. Visit our website terms of use at www.wnyc.org for further information.
New York Public Radio transcripts are created on a rush deadline, often by contractors. This text may not be in its final form and may be updated or revised in the future. Accuracy and availability may vary. The authoritative record of New York Public Radio's programming is the audio record.