A Nebraska Lawmaker on the Front Lines of the Fight Against Anti-Trans Legislation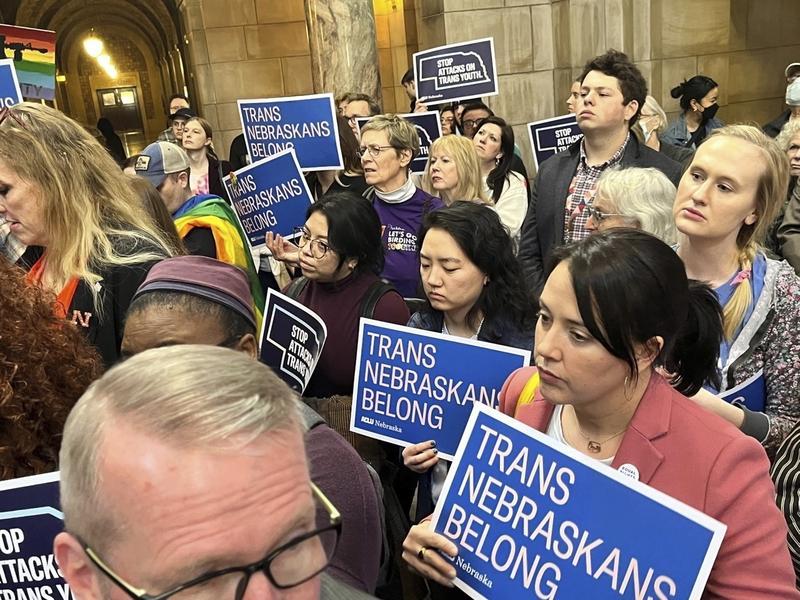 Transcript
David Remnick: When you think about the issues facing our country today, what comes first to mind? Well, there's a major land war in Europe and the possibility of direct conflict with Russia, relations with China are getting steadily worse, and there's always the global climate emergency, or look at things at home, radical disparities in income, economic turmoil, the frequency of gun violence, and yet for many politicians, particularly on the right, these issues are not as enticing as the culture wars, especially the subject of gender and trans identity.
Whether it's Donald Trump and Ron DeSantis at home, or Vladimir Putin in Russia, they're trumpeting trans people as a mortal threat to culture, to society, and to the minds of impressionable children. First, I want to talk with a politician who's in the midst of this fight, on its front lines, really.
Speaker 2: Good morning ladies and gentlemen. Welcome to the George W. Norris Legislative Chamber for the 39th day of the 108th Legislature first session.
David Remnick: According to the ACLU, nearly 400 state-level bills are targeting gay and trans people. Lawmakers are introducing those bills from Maine to Oregon and almost everywhere in between. In the Nebraska State House, Republicans put forward what they called the Let Them Grow Act. Since their party holds about two-thirds of the seats, they expected that bill to pass quite easily, until a state senator named Machaela Cavanaugh stepped into the breach.
Machaela Cavanaugh: If this legislature collectively decides that legislating hate against children is our priority, then I am going to make it painful, painful for everyone, because if you want to inflict pain upon our children, I am going to inflict pain upon this body. I have nothing, nothing but time, and I am going to use all of it.
David Remnick: Cavanaugh is filibustering to prevent this bill from ever coming to a vote and she's also filibustering an anti-abortion bill. She comes from a political family. Her father was a US Congressman from Nebraska, and her brother John serves alongside her in the legislature. Machaela Cavanaugh is about two weeks into her filibuster, and I caught her during a break between speeches on the floor. Tell me, what is the Let Them Grow Act and what's in this bill that makes you so concerned?
Machaela Cavanaugh: Everything in this bill makes me concerned. The Let Them Grow Act is a bill that targets trans use of gender-affirming care. What it does is makes it illegal, bans, from the state of Nebraska, gender-affirming care, which includes therapy, hormone blockers, and surgery. Starting with therapy, that's the most basic thing that we all should be probably seeking, is having more therapy in our lives, but when we're talking about transgendered youth or youth that are questioning their gender identity, therapy is essential to their well-being, to their healthcare.
David Remnick: Tell me this, when did this enormous concern grow up in the politics of the state of Nebraska and why?
Machaela Cavanaugh: I don't believe that it has. I think that this enormous concern has come from national political talking points as we see this bill is being introduced in states across the country. The language is boilerplate language that's being introduced in every state.
David Remnick: Here's the bill's sponsor, state Senator Kathleen Kauth, speaking about the Let Them Grow Act.
Kathleen Kauth: We have laws that protect kids from abuse, exploitation, and from exposure to dangerous substances like alcohol and drugs. As adults, we understand that a child's brain is not fully formed and cannot comprehend the ramifications of making irreversible medical decisions.
Machaela Cavanaugh: When you see something that isn't original language, which is just copied off of other language that other states are introducing, that's when you know that this is not because of something that's happening here in our state.
David Remnick: You're saying it's a phony issue in a sense?
Machaela Cavanaugh: Oh, it's definitely a phony issue. It's a disingenuous conversation. What we're saying with this bill is that we don't trust parents to make healthcare decisions for their children. Trans children are being used as a prop by an extreme agenda. I don't like to say that it's a conservative agenda or a Republican agenda because I don't think that that's who the Republican Party at least used to be. I don't think that that's who a lot of Republicans in Nebraska are.
I believe very firmly that my colleagues, for the most part, in the Nebraska legislature, are fiscal conservatives who believe in liberties, parental rights, individual rights. This bill seeks to diminish all of that and bills like this across the country seek to diminish that. It seems to be a loud minority is getting a lot of national attention for being hyperbolic.
David Remnick: Well, you're filibustering though, which suggests that the Republican majority in your legislature would vote for the Let Them Grow Act. No?
Machaela Cavanaugh: Yes. The Republican majority in the legislature, a majority of the majority will vote for that Act. That, however, does not mean that that's what they want or who they are.
David Remnick: Well, I don't get that distinction.
Machaela Cavanaugh: Let me explain.
David Remnick: It's not that you know their head better than they do, or maybe you're suggesting that you do.
Machaela Cavanaugh: Well, I've had conversations with a lot of my colleagues about it. I would say that what has been expressed to me is a frustration over discussing policies like this instead of discussing policies that most of them ran to be here discussing. This is what a culture war looks like apparently. I am completely uninterested in litigating a culture war. We are an agricultural state, and property tax is a huge issue in our state. We fund our public educations partially through property taxes, and almost every single person in here ran on some platform to do with taxes.
David Remnick: Then why don't the Republicans in your legislature rise up and say, this is of no concern of ours, and either vote against the bill or not bring it up in the first place?
Machaela Cavanaugh: Well, that's what I'm asking them to do by filibustering, by putting a time crunch on things. What I'm asking of them is to rise up and say that, if this really isn't who they are, rise up and say that and stop having private conversations with me telling me how much you don't like the bill, how much you don't want to be focusing on this issue, and rise up and say something about it. I'm challenging them.
David Remnick: What is their fear? They're fearing the Republican National Committee, they are fearing Donald Trump, DeSantis. What is the motivation for a state senator, for a legislator in the state of Nebraska to care about this and to put their political muscle into it?
Machaela Cavanaugh: In Nebraska, a lot of it has to do with campaign finance in that there's no limitations on money that can be poured into for or against a candidate. The last eight years of the Pete Ricketts administration here in Nebraska, when former Governor Ricketts vetoed a couple of bills his first two years, and those vetoes were overridden by the legislature, he poured personal wealth into ousting Republicans that voted against him.
As a result, we've gone down this road of having people who are financially beholden to the Pete Ricketts of this world, the Charles Herbster, and Charles Herbster is a close friend of Donald Trump, that they are beholden to these individuals. They feel, and this is of course my assumption, that they feel that if they vote against the platform of these individuals, that money will be poured against them in their reelection.
David Remnick: What you're saying is that the Republicans just simply don't have the courage to stand up to their financial situation and they fear losing the gig. Is it such a great gig that you would give up your conscience?
Machaela Cavanaugh: I will say, I love this job. I do.
David Remnick: You're standing up for your conscience. I'm talking about your Republican colleagues.
Machaela Cavanaugh: It's never a good time to do the right thing and it's never easy to do the right thing, but that doesn't mean you shouldn't do it. Take your names off of that piece of poop, LV574, talk to the speaker, demand good governance. Be better. Be who the children of Nebraska deserve.
David Remnick: Tell me about your conversations with voters who maybe don't see eye to eye with you, who are watching Fox News, who are reading about this on Twitter, and you're at the supermarket, you are in the hallway of the state capital, you're at kids' schools, you're running into people who think, and I'm putting these words in their mouths, maybe children should stay in their assigned genders until they're older. How do you explain your position? Walk me through that.
Machaela: Well, first I'll say that people are not coming up to me saying that.
David Remnick: There's no such conversation.
Machaela: It hasn't happened, which is fascinating. I have people in my district and across the state reaching out to me, telling me that they appreciate me fighting for our Trans-youth and for parental rights. If someone were to come up to me and say that, I would talk to them about the substance of the bill, that this is a parental rights issue, that we shouldn't be getting involved in healthcare decisions in individual families and individual households. This isn't a pervasive issue. It's pervasive in the Trans-community, of course, but it's not pervasive in Nebraska. We're going to legislate away parental rights. For what? For why?
David Remnick: We've seen that in the US Congress, shutting down the government is usually pretty unpopular politically. Republicans in Nebraska are one seat shy of a filibuster-approved supermajority. Will there be a political price to pay for you?
Machaela: Oh, for me. Well, I'm term-limited, and I was just re-elected. For me personally, no, there's not a political price to pay. For the Democrats in Nebraska, perhaps.
David Remnick: Are you getting any pressure from your fellow Democrats to knock it off?
Machaela: No.
David Remnick: They're behind you?
Machaela: Yes.
Speaker 5: With the filibuster, Machaela Cavanaugh is fighting how the process has gone in the legislature, including how two bills sailed through committees with little consideration of opposition. Today's session triggered this exchange from two fellow senators
Speaker 6: To allow one person and their personal vendetta against someone else, or her wishes aren't met, so she's going to filibuster these bills. That's the way that bullies do things. The only way that you can deal with a bully is to hit them head-on.
Speaker 7: She absolutely feels strong in her conviction, but that does not make her a bully. I think it's unfortunate that that is now on the record,
David Remnick: Let's say you win this, let's say they withdraw the Let Them Grow Act from a vote. What prevents a senator from reintroducing it later?
Machaela: Nothing, but hopefully, we as a body have learned a lesson.
David Remnick: The way I understand it, as you're portraying it here, is that the Republicans in the Nebraska legislature are really, if quietly, either uninterested in or even against the Let Them Grow Act, but they don't seem to have the inclination to overturn the directive from the National Party, and they're just going along with it. Am I getting that right?
Machaela: I think that they have the potential to rise to the occasion, and I don't want to paint them into a corner and say that they can't do it. I think that they can.
David Remnick: How would that happen?
Machaela: Well, one of the great things about Nebraska, one of the many, is that we are a unicameral, which means we're nonpartisan. Our legislature is not run by a political party. That means that unless you have aspirations for federal office, which we only have high federal seats, so not too many people are going to be having their eye on that. As a result, unless you have aspirations for federal office, you have much more autonomy here than you do in other legislatures. It is easier on both sides, Democrat and Republican, to stand up against perhaps what the party is pushing you to do.
David Remnick: When and how might that happen?
Machaela: Well, when, to be determined. How, would be my colleagues coming together, talking to the speaker about how much airtime this bill is going to get, and what other things are we going to schedule? What is the purpose of this legislature? What do we want to accomplish?
David Remnick: Senator, thank you so much.
Machaela: Yes, thank you.
David Remnick: Democrat Machaela Cavanaugh was elected to the Nebraska State Legislature in 2018. She plans to keep up the filibuster for about three more months.
[music]
[00:15:20] [END OF AUDIO]
Copyright © 2023 New York Public Radio. All rights reserved. Visit our website terms of use at www.wnyc.org for further information.
New York Public Radio transcripts are created on a rush deadline, often by contractors. This text may not be in its final form and may be updated or revised in the future. Accuracy and availability may vary. The authoritative record of New York Public Radio's programming is the audio record.