The Adrenaline Rush of Racing Drones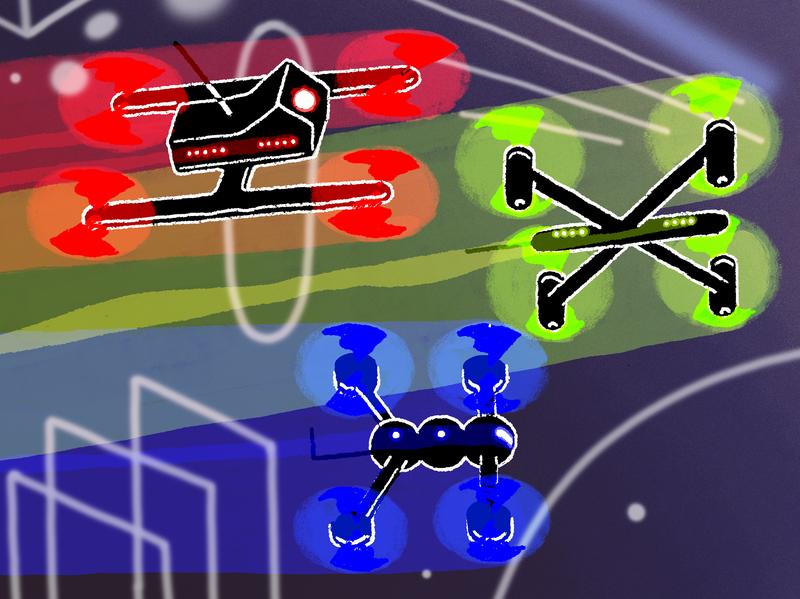 Transcript
Host: All over the country this week, from Connecticut to Florida to Washington, qualifying races are being held for a competition in a sport that you may not have heard a lot about, drone racing. The qualifiers continue through mid-July for the MultiGP Championship later this year. Drone racing, what exactly is drone racing? Let's be clear. These aren't the drones you can buy your kid on Amazon, nor are they the military drones you may have read about that are flying over Ukraine. Racing drones are a specialty item, custom-built for that purpose alone. At least one drone was clocked at 180 miles an hour.
I first heard about all this from staff writer Ian Frazier, who reported for us on drone racing in the sports' early days, starting at an event billed as the Drone National Championships in 2016.
Race Commentator: Multi-rotor racing, the 2016 US Drone National. Thank you to all our local corporate and national partners who we'll get to in just a little bit as we make history.
Ian Frazier: It was one of those things that happen early on in the development of a sport, I guess, in that it was not really very well thought out.
Race Commentator: Pilots' goggles down. Arm your copters. We're on the tone in less than five.
[tone rings]
Ian Frazier: You couldn't really tell who was in first and who was in second, because drones are small and drones can go really fast. 80 miles an hour is a regular speed. When maneuvering gets complicated, they may go down to 60 miles an hour. It was hard to follow, but in the course of it, there were two pilots who I knew about. A_Nub is Zachry Thayer, that was his racing name, and Jet is Jordan Temkin. Zach won both the race and also the freestyle competition, so he came away with $12,000.
I did follow them starting at that point because they were really exciting and really good racers, and then I found out that they shared a house out in Fort Collins, Colorado. Also, there was a third drone guy named Travis. I went out and visited them.
Jordan Temkin: I'm Jordan.
Zachry Thayer: I have Travis.
Ian: How is it going?
Travis McIntyre: All right. I'm Travis McIntyre.
Zachry Thayer: I'm Zachry Thayer. We live just outside of Fort Collins on a little one-acre property. It's pretty much just a house that us three live in and all we do is drone things.
Jordan: Has sweet lacy curtains, too.
Zachry: They're not really our style.
Jordan: No, they're our style now, man.
[laughter]
Ian: Jordan and Zach are both 26. Travis is 31. He does not race competitively very often, although he does sometimes. This is just a maybe two-, three-bedroom ranch house in a suburban development. They moved there, they said, in order to become better drone pilots. They succeeded, which is great.
Zachry: First thing that you pretty much see when you walk in the door is this giant wall of trophies.
Travis: California, Arizona, Dubai, New York. Man, lots of places.
Ian: They do travel a lot and these trophies are from all these different places where they've raced and placed.
Zachry: Then there's more drones in the kitchen and more drone chargers.
Travis: Laptops and more controllers and more batteries.
Ian: There's the basement, and the basement was a workshop.
Zachry: Our drone basement is a bit of chaos.
Ian: It's just amazing.
Zachry: We got a little video studio.
Ian: This is really incredible. This is like a drone fleet.
Zachry: This is mostly stuff that doesn't really ever fly anymore. These are--
Ian: These don't fly anymore?
Zachry: No, these work. We just never fly them.
Travis: We went through a lot of crap. [chuckles]
Ian: I thought the Wright brothers would've recognized this.
Travis: Here's our motor bucket. We don't necessarily design for everyone else. We design for what we need. A recent goal we've been working on for a while is we want something that's better for mountains. Something that's a little bit faster and maybe can fly a little longer because mountains are deceivingly large. They're going to be a 2,000-foot cliff over there and we'll be up to the top in a matter of seconds. Requires a lot of energy and different stuff. We've been trying to perfect the mountain cruiser formula for a while.
Ian: I think usually that's the one that they're flying when they're just out practicing. They practice up in the Cache la Poudre canyon, Northwest of Fort Collins. It's a short drive from Fort Collins. It's in the front range of the Rocky Mountains, and so they go up this road up into the canyon. There are a lot of pullouts along the road.
Zachry: This is what we do. We pull off on the side of the road, jump out.
Ian: The first place we stopped, we were against a cliff wall and the road is next to us and then the river's on the other side. You have the drone at your feet and then the drone just goes [mimicks flying sound] and just goes right straight up out of sight.
Zachry: Let's see how fast it is going to go.
Ian: The pilot is wearing goggles which are exclusively the feed from the camera on the drone. You lose yourself in it.
Zachry: Like Travis right now, he is just an empty carcass of a body standing there. His consciousness is somewhere flying around this mountain.
Ian: You can set yourself challenges like how close can you fly to the Cache la Poudre River. They're dodging rocks in the river. It trains them and it's good for reflexes and it's good for a sense of the drone's capabilities and how close you can get to something and what you have to look out for.
Travis: The wind was knocking me around real good up there.
Zachry: Do you want to go for a ride?
Ian: Okay. They had brought along extra goggles, so I could just watch the feed.
Zachry: You might want to sit here.
Ian: Is it better to sit than to stand, you think?
Zachry: Yes.
Ian: I'm already feeling a little nervous about this.
Zachry: Take the goggles off at any time you feel nauseous or anything.
Ian: Okay. You don't think you're going to react, but it's impossible. I just saw that car go by.
Zachry: Yes, you did. That car did go by. It's not virtual reality. It is streaming reality. You are just transplanted somewhere else.
Ian: Oh, my gosh. Woh. I'm now right on top of that ridge that's on the other side and I'm looking down on all these spires and things. Okay, okay. Now, I'm going along the river. I went by that big spire that's sticking out there. I go right down by that spire and now I'm coming down the road. Now I'm going over the river. Man, I'm going over the river. This is the fastest I've ever gone over a river.
[music]
Zachry: It's exhilarating.
Ian: It's exhilarating. It just absolutely gets your entire body wired. It's just everything. You feel it in your toes and your knees and everything. Woh. Did you just flip it over there?
Zachry: Yes.
Ian: You feel like you're about to die. I found it necessary to hold on to the car tightly, so that I did have some tactile grounding in actual physical reality.
Zachry: Did you see yourself sitting there? [unintelligible 00:08:17] that sensation.
Ian: Yes, it is really strange. It feels like you're flying it.
Zachry: You're so engulfed in just being that drone.
Ian: There's no feeling of your own self. It's mostly like what flying in a dream feels like. Only I've never had a dream in which I did a loop de loop or anything, like spun around.
Zachry: We can't stop flying, so--
[music]
?Jordan: A lot of the people who fly are ex-adrenaline junkies, like skateboarder, I'm a skier. Zach came from a motocross background. We know a lot of people from motorcycle. They had a bad motorcycle accident. This is their outlet to getting this sensation of, "I'm going 100 miles an hour an inch from the ground." It's thrilling. Worst case, I crash and I break a $20 motor.
Ian: If you meet somebody just at a party or on the street and they ask you what you do, what do you say you do?
Zachry: That's actually this question that I've been struggling with myself.
Travis: I chuckle and say I'm a professional drone racer [chuckles], because it doesn't seem like I should be able to say that or that it's real.
Ian: That's Cool.
Zachry: That's still something that's really hard for me to say to somebody. For example, I bought my car a month ago, and I was looking for car insurance. They're like, "What is your profession?" I went, "Well, I don't know." One guy put down 'artist' and one guy put down 'entertainer'. I said, "All right, entertainer, because I'm on TV, that works."
TV Voice-Over: Eight of the best from the whole year. The best pilots in the world. I'm here to win. I can be the best and that's why I'm here. This is drone racing. This is DRL, the Drone Racing League.
Ian: Jordan and Zach are pilots who have contracts with a company called DRL, which stands for Drone Racing League. It packages these races as programs that are shown on ESPN and on other sports networks in 75 countries.
TV Voice-Over: Main event, beat seven.
Ian: Jordan races under the name of Jet, Zach races under the name of A_Nub. The racecourses are in places where there are opportunities for obstacles, for complicated courses, Miami Dolphins Stadium, for example. They've raced in an abandoned mall and last year's finals were in Alexandra Palace in London. It isn't just a race on one plane. You have to go on this side of a gate, you have to go through that gate, you have to go over to that side of that obstacle. You then go up. The one race that they had at the Alexandra Palace, there was a loop de loop going right straight up.
I think that the fact that Jordan and Zach spend so much time in the mountains made them particularly able to deal with that type of a course and helped Jordan to win.
TV Voice-Over: Jet finds another [unintelligible 00:12:13] . He beats [unintelligible 00:12:13] . He takes it. Jet wins it all. Jet is your 2017 world champion. [unintelligible 00:12:22] the greatest pass in drone racing history.
Ian: I've always wondered what happened to these--
Jordan: Oh, giant checks.
Ian: Giant checks. You have a stack of giant checks?
Jordan: Yes, we got more on the walls.
Ian: He won a contract for the next year, and it's a, I guess, six-figure contract.
Jordan: He's broke, he's almost broke, and then I have some money. [chuckles] That's the way it is right now.
Zachry: Last year I did-- It's really weird. You need to make money off prizes, which is almost no one does that. Very few people. I was able to do that last year, which was really nice. This year DRL pays us for our time filming with them. Where's the money? There's not much right now. There's a little bit here and there, so you've got to sort of fight for it and scrape by--
Ian: Zach and Jordan guess that there are probably about 50 pro-drone racers in the world, but a lot of people are taking up the sport
Zachry: Now there's a bunch of 16-year-olds and 12-year-olds getting into it and starting to kick our butts around every now and then, but we're still pretty competitive.
Jordan: I'm starting to fall behind a little bit, because there are these guys who live in places like Indiana and all they do is race practice every single day, and they're getting incredibly fast and incredibly precise. If I want to be competitive, I can't just be flippy-floppying in the mountains all day long.
Ian: It is a life that you get up, you talk about what you want to do, and you go out and do it. It has to be fun, and it has to be disciplined at the same time. There's a great part of a poem by Robert Frost and at the end of it, he's explaining how in his own life he does not like to take the professional and the fun and separate them. He says, "But yield who will to their separation. My object in living is to unite my avocation with my vocation, as my two eyes are one in sight only where love and need are one, and the work is play for mortal stakes. Is the deed ever really done for heaven and the future's sakes?"
[music]
Host: Staff writer, Ian Frazier, with a story from 2018. You can find everything Ian has written for us on a huge range of subjects at newyorker.com.