New Mexico Is a "Safe Haven" for Abortion Between Texas and Arizona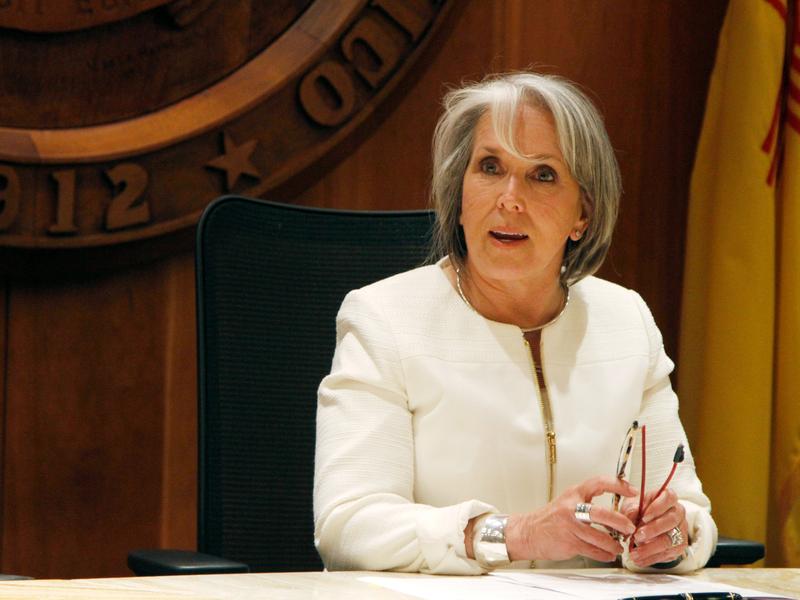 Transcript
Voice-over: WNYC is supported by PBS. Presenting in their element a four-part docuseries about the indigenous leaders who work to protect their native land from climate change. Streaming now at pbs.org/paroleandpromise.
[music]
Voice-over: Listener-supported WNYC studios.
David Remnick: In the week since the Supreme Court overturned Roe v. Wade, many states have issued abortion bans and restrictions, like the Ohio law that's become infamous, forcing a 10-year-old victim of rape to travel out of state. At the same time, many governors and legislatures have acted to protect reproductive rights, and with no federal law above them, we may see neighboring states in direct conflict over the right to travel for an abortion.
New Mexico's governor, Michelle Lujan Grisham, has declared her state a reproductive safe haven between Arizona and Texas. Days after the Dobbs decision, she issued an executive order to protect New Mexico's abortion providers from legal action by those other states. Lujan Grisham represented New Mexico in the Congress for three terms, and she was elected governor in 2018.
Governor, I think we knew that the decision from the Supreme Court was coming once the opinion leaked, but I would love to know what your reaction was on the day it did come out, and what has it been like in your office?
Michelle Grisham: Well, I think, like most Americans, and polling is certainly showing that, I woke up to that decision and you're sick to your stomach because we humans hang on to whatever piece of potential hope, but frankly, we've been preparing for that ultimate decision by this Supreme Court in New Mexico for more than a year because the risks in this national political debate about our constitutional rights to privacy and a constitutional right to reproductive care and abortion care has been the subject of such angst and anger and misinformation in this country for longer than just the last several months.
David Remnick: Well, you say you have been preparing at the state house and in your office, how did you prepare, what plans did you make?
Michelle Grisham: Well, the first thing that we had an antiquated criminalization of abortion statute on the books. Never had been used. Frankly, I would say that most providers, most attorneys, and certainly most New Mexicans had no idea that it existed. Actually, in 2019, I tried to repeal it right after I was elected, and I failed by just a couple of votes. We finally got it done, and we did that a year before this ultimate decision by the Supreme Court.
We invested in more family planning, more access to contraceptives in addition to our core family planning, access points like public health school-based health centers, making sure it's readily available through your physicians, our physician access programs, all of our infectious disease and public health harm reduction. All those investments have all been targeted to improve our public health outcomes related to the potential that Roe V. Wade was always at risk.
David Remnick: Governor, New Mexico is a blue state situated between Texas and Arizona. You even share a bit of a border with Oklahoma as well. They all have abortion bans of some kind, and they're all quite conservative. Now, I don't think that the leaders of Texas and Arizona are going to be thrilled if you open more clinics and you refuse extradition. Are you worried about reprisals from those states and their leaderships?
Michelle Grisham: In this context, if you're not thinking or concerned about what could occur in being embattled in litigation, I think this is what the Supreme Court teed up. The first issue is that they have discriminated against women and other populations, including LGBTQ populations, and they are limiting healthcare access, chilling, outrageous, discriminatory, and we should do everything in our power to do something about it.
The second thing that they've done is they've invited states now to fight with each other, sue each other, and create any number of really harsh-- I'm looking for the right word, the fact that another state, frankly, can try to sue a provider that's licensed here because they're also licensed in another state, challenging all of our current right, insurance, certification, regulatory aspects for healthcare access in this country, because, in my view, they're trying to control women, is the most disgusting and despicable aspect, frankly, of this particular decision. It is what it is inviting.
David Remnick: Can you imagine Texas? Forgive me.
Michelle Grisham: I do. I imagine Texas and their attorney general. Look what's going on in Indiana. I absolutely imagine that we will have politicians for political gain on this issue in the most narrow manner who will prosecute and persecute women, children, their families, and providers, and to take that to the nth degree.
David Remnick: You anticipate Texas law enforcement, backed up by the politics and politicians of Texas, possibly making arrests on women seeking abortions in New Mexico.
Michelle Grisham: Certainly attempting. If I didn't think that, there would be no reason to have an executive order saying this is what we'll do to protect providers and patients and their families in New Mexico.
David Remnick: Governor, explain what was in the executive order.
Michelle Grisham: The executive order was to, frankly, prepare the state and to make sure that state government could not be used as a vehicle to support another state who would reach in here to prevent their citizens and residents from seeking abortion and abortion care in New Mexico, including that they would prosecute and, in my view, persecute then providers who are providing that access, who might also have a license in their states. It was to make it clear that where we will cooperate, and we still will, on other real criminal actions where you do want to do extradition and cooperate, I don't consider this a criminal action, neither does New Mexico.
David Remnick: You envision the possibility of opening even more clinics?
Michelle Grisham: I do.
David Remnick: How are clinics responding to this new reality? Because you are situated between and among states that are going to come down very hard on abortion, and I assume you're already seeing people coming from those states to New Mexico to the few abortion clinics that you have.
Michelle Grisham: We are. When you're a safe haven state, this is exactly the impact, which means you put real stress on your current provider system. We are now seeing a situation where we have waiting lists.
David Remnick: What kind of politics have resulted in your policy and your reaction to Dobbs? What kind of opposition have you felt?
Michelle Grisham: I haven't seen the same kind of opposition that we're seeing around the country. I've seen the opposite, a rallying of support by most New Mexicans who were outraged by not only this decision but, quite frankly, the Clarence Thomas writing that said, look, as long as we're there, let's talk about privacy issues and well-settled law for other populations.
David Remnick: You are up for re-election. Your opponent in the race is a Republican named Mark Ronchetti, and he has said that 15 weeks should be the limit for abortion. He's not an absolutist on this. He's not on the right wing on this spectrum. Would you support some limit or compromise as he's suggesting?
Michelle Grisham: No. If you really are in a situation where you are protecting women's privacy rights and the relationship between their medical providers, my attitudes and my personal decisions and the government's have no bearing on those personal decisions. There is no question that I believe, like many Americans, that abortion should be rare. The reason I believe that is because we should be doing more for violence, rape, domestic abuse, incest, underage sexual activity, non-consensual, all of it.
If we did better family planning, a comprehensive sex education, and make contraceptives more available, and we were better at primary care access, then you get to the place where we should all be preventing unwanted, unexpected pregnancies. To say that I can make a personal decision for women who currently do not have those options, particularly in states where they don't have access to contraceptives, well, that is outrageous to me.
David Remnick: Your state has the highest percentage of Latino voters of any state, and that's a demographic that supported you quite heavily. Latino voters in the state have tended not to support abortion rights in the majority. Is there a risk here for you and for the Democratic Party in the state of New Mexico?
Michelle Grisham: Well, I don't think so. In New Mexico where we are a Hispanic minority-majority state, and I am certainly that's-- you're talking about 400 years, my family's in that same space. Many of us, not all of us, but many of us are Catholic and very clear about what the church says about abortion and abortion access and even contraceptives. If you take a step back, even here in New Mexico and given that we repealed our criminalization of abortion, most Hispanic families and women, most Hispanic men today do not want, so the majority of those voters, do not want the government in this space.
David Remnick: You don't see this hurting your chances for reelection.
Michelle Grisham: I do not.
David Remnick: Just the opposite.
Michelle Grisham: Just the opposite
David Remnick: Governor, in the past few years, particularly coming in the midst of the Trump years and their aftermath, we have heard warnings about civil war of various kinds and degrees. Certainly, something this country has experienced in the past. Are you concerned about political violence as you declare New Mexico a pro-choice state amidst Texas and Arizona who are on the opposite side?
Michelle Grisham: That's a really hard question because I want to respond in this way that we don't need to be concerned about that violence because New Mexico isn't going to tolerate that. In fact, what we're seeing across the country and in some circumstances even here, we know that the threats of violence are real, that we are seeing that tension escalate all across the country.
If I or anyone suggests that you shouldn't be concerned about it, it's an immature response. I'm hopeful that this is the state and other states that protect people and that that protection and that recognition of your own civil rights and choices can create a space where we can have discourse about better solutions to public health issues. We are not talking in the context of the Dobbs decision as I started in this interview about child well-being and maternal health and poverty. I hope New Mexico can be a beacon for those investments and interventions, and that will create a better space for all Americans.
David Remnick: Governor Michelle Lujan Grisham of New Mexico. Thank you so much.
Michelle Grisham: Thank you. Thanks for having me.
[music]
David Remnick: Michelle Lujan Grisham is governor of New Mexico, and she's running for a second in November.
[music]
David Remnick: Hi, this is David Remnick. At The New Yorker, we've always been committed to bringing you in-depth reporting that helps you understand the world today. As Russia invaded Ukraine, our writers were on the ground in Moscow, in Kyiv, and throughout Ukraine. Masha Gessen, Josh Yaffa, Ed Caesar, and others have sent critical dispatches marked by the magazine's commitment to truth and accuracy. That reporting is only possible with your support. Please consider subscribing today at newyorker.com/radiohour.
[00:14:03] [END OF AUDIO]
Copyright © 2022 New York Public Radio. All rights reserved. Visit our website terms of use at www.wnyc.org for further information.
New York Public Radio transcripts are created on a rush deadline, often by contractors. This text may not be in its final form and may be updated or revised in the future. Accuracy and availability may vary. The authoritative record of New York Public Radio's programming is the audio record.