President Joe Biden's First 100 Days 2021-04-30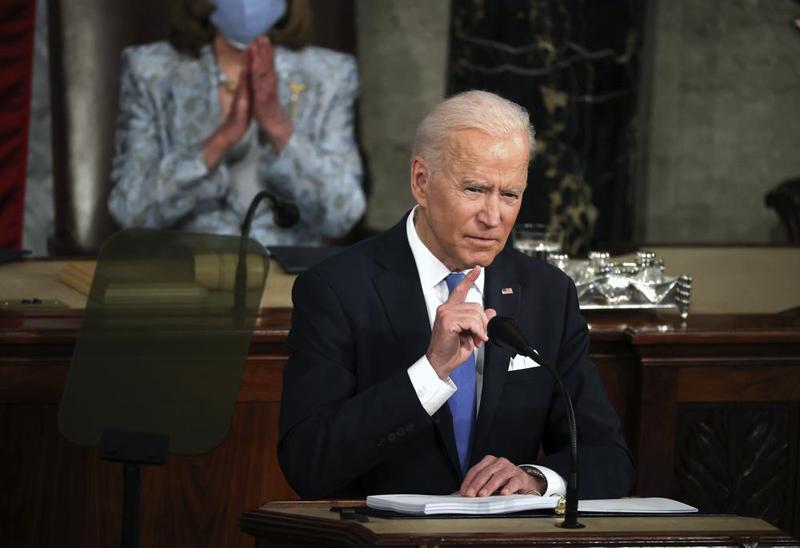 Transcript
[music]
Nancy: It's The Takeaway, I'm Nancy Solomon from the WNYC newsroom in for Tanzina Vega. This week, President Joe Biden delivered an address to a joint session of Congress and in it, he touted his ambitious progressive agenda.
President Joe Biden: American Families plan will provide access to quality affordable child care. When I'm proposing a legislation, we guarantee that low and middle-income families will pay no more than 7% of their income for high-quality care for children up to the age of five. The most hard-pressed working families won't have to spend a dime. Third, the American Families Plan will finally provide up to 12 weeks of paid leave and medical leave, family medical leave.
Nancy: To my ear, it was more like a fireside chat from FDR and nothing like the bombastic tone we heard from our most recent former president. Within his first weeks in office President Biden got his $1.9 trillion COVID relief bill through Congress with only Democratic support. He has since introduced a 2.3 trillion infrastructure plan that includes billions for affordable housing, in-home care, public schools, child care, historically Black colleges, and jobs.
This week he announced the $1.8 trillion American Families Plan, which includes free community college and free universal preschool making childcare more affordable, federal paid leave, and more. Those plans add up to $6 trillion and their impact could be felt for generations. The political fate of some of these plans has yet to be determined but one thing is quite clear, President Biden is governing to the left of where many, including those on the left, expected him to be. Joining me now is Anita Kumar, a White House correspondent and Associate Editor at Politico, and Seung Min Kim, a White House Reporter for the Washington Post. Welcome back to the show to you both.
Anita: Thanks for having me.
Seung Min: Hey, thanks for having us.
Nancy: Seung Min, what does Joe Biden's presidency look like 100 days in and how is that different from what we expected?
Seung Min: I think the first thing what we can say about this administration 100 days in is that they have met a lot of their benchmarks that they set out, their ambitious agenda of what they wanted to do in those 100 days. A lot of that is this classic strategy of under promising and over delivering. I think the shots in arms is a perfect example of that when the administration started, President Biden said he wanted to get 100 million shots in arms in his first 100 days.
Within his first 100 days, he and his administration actually got 220 million shots out. He said he wanted to pass a sweeping coronavirus relief package. He did that through Congress. It was $1.9 trillion. I think one major point too, is that he has governed in a pretty progressive manner.
The coronavirus relief package significantly expanded relief that goes far beyond from immediate relief measures from the pandemic and despite his rhetoric on the campaign trail, that he was always willing to work with Republicans and compromise with Republicans, what President Biden and his team has shown in his first 100 days is that he's not going to sacrifice major liberal progressive goal-policy goals just for the sake of bipartisanship. I think that's obviously frustrated Republicans, but it's really delighted liberals.
Nancy: Anita, I'd like to get your take on this as well. We're going to dig into some of these policy changes, but I'm curious what you think about this first 100 days in terms of just the sheer quantity of what he's getting done.
Anita: He's really stressed in these 100 days COVID, which is obviously what he needed to do, but he's really prioritized that to the extent that some of his supporters are saying, "Hey, what about my issues that you haven't gotten to yet? Or can you prioritize those?" Those are things like immigration and gun restrictions and voting rights. He has talked about those things, but its clear his priority has been the coronavirus and he has made some accomplishments on that and now he's really switching to these massive spending plans that you've talked about.
After the 100 days, he really needs to decide what it is that he wants to do, not because the pandemic is done, of course, it's not, but because he's really shifting his focus now to other things. The question is and we heard this at a speech the other day, is he focused solely on these big spending plans or does he go into some of those other issues that we heard about in the speech that really pleased his supporters and activists who have been following some of those issues? We'll have to see how he balances those two.
Nancy: Would you say he's done more, less, or about the same of previous presidents in the first 100 days?
Anita: I think all presidents come in and say, "Look, let me reverse my predecessors actions, of course, if it's a different party." He came in with a lot of executive actions. Really pushing in and pushing through this coronavirus relief plan though was huge. As you mentioned, it was an enormous amount of money. That was a major accomplishment between the vaccines and this huge bill. I think those were his top accomplishments of the last 100 days.
Nancy: Seung Min. A lot of Democrats thought Biden would govern more from the center that he would play it politically safe. What did they misunderstand about this moment in politics?
Seung Min: I think that was a fair expectation to have considering his history in politics. He's a creature of the Senate, which is until recent years, this bastion of bipartisanship where a lot of deals are made, slapping each other's backs and talking to people across the aisle and Biden in the past hasn't-- On the political spectrum it's been hard to classify Joe Biden as a progressive, a liberal just by the virtue of this personal politics, but I think that he and his advisors recognized the urgency of this moment.
I think they know that the country is still reeling from the impact of the pandemic and that really big, bold government action is needed right now. I've been talking with some people close to him and he is just this classic FDR Democrat with this belief that government can really do good by the people, which is such a different tone that we've had from Republicans for the last several years when they've effectively made a message of saying that less government the better. I think that's why you see it.
I think that's what is animating Joe Biden right now. Just really knowing that there is this urgency and the moment that calls for really big expansive action to the point that it makes some Democrats even uncomfortable. We're talking about $6 trillion of spending just in a matter of the first several months of his presidency, that is a lot of money and obviously he's going to have to contend with some members of his own party who may be uncomfortable with the sheer size of the package, the tax increases that are required to finance it. It will be a really interesting challenge for Joe Biden in the next coming months.
Nancy: He mentioned in his speech the other night the long line of cars he saw waiting for food and what is essentially a modern day bread line and one of the many ways that he's hearkening back to the depression and the need for government action. Anita, what do you think about this moment in politics? I'm wondering how much can be attributed also to four years of President Trump, we had the four years and the pandemic together, but what do you think President Trump's effect has been on how Biden is responding?
Anita: I think it's a little bit of both nothing is ever one thing, but I think we've seen that both parties over time have gotten more extreme. The Democratic Party has gone to the left and the Republican Party has gone to the right. That's why in recent years it's been so hard to get things done. Perhaps some of this was Joe Biden and obviously he agreed to this agenda, but some of it was he was going where his party is going.
I think you're exactly right after four years of Donald Trump, the Biden administration, President Biden came in, he wants to be different. Of course he is different in his policies, but he also wants to act differently. He wants to show that he governs differently. That's why you saw a different speech. You mentioned early on the tone was different. The language was different. He talks differently he sprinkled the speech with things like folks.
He likes to say that word. It's something much more personable. He even complimented Republicans for sending him a proposal, I know a proposal that the White House thinks is much too small on this funding plan, but they were trying to compromise or send something over. He wants to be the anti-Donald Trump, and he's really leaned into that in how he's governed, in how he's talked. I think a lot of that is showing us still the effects of the Donald Trump presidency
Nancy: Seung Min, what's the reaction among voters and the people in this country to Biden's expansion of this social safety net and expansion of government spending?
Seung Min: In terms of his actual policy agenda, the voters, if you look at polls, it's gotten pretty substantive support from Democrats, independents, and Republicans, and I think that's been one interesting facet and strategy of this administration that for all the talk about bipartisanship, for all the push from congressional Republicans, particularly Senate Republicans who are versed in this language of bipartisanship--
Even if his plans, even if his legislation is not bi-partisan within the halls of Congress, as you know the coronavirus relief package did not get Republican support, it is bi-partisan among the American people and they can look to polls to show that his agenda, whether it is the coronavirus relief package, his plans to expand government assistance. Obviously, they have pointed to a public supporting for increased gun restrictions that their plans are bipartisan among the American people.
Obviously, that hasn't won over Republicans on Capitol Hill who have really tried to take his tone and his message of unity and turn it on his head by saying that Biden isn't interested in unifying government. He isn't interested in talking with Republicans and working together, but in terms of how his plans and his message is being received by the American people, the plans, his agenda with one major exception, which is immigration, and how he has handled the situation on the border, it has been largely supported by the American people.
Nancy: Anita, the fact that President Biden has spent his first 100 days pursuing these progressive policy items that we've been talking about. It's got some GOP leaders incensed not surprisingly. This week, Senator Mitch McConnell said, "Over a short few months, the Biden officials seem to have given up on selling actual unity in favor of catnip for their liberal base." You both mentioned this a bit earlier, but tell us more Anita about how Republicans are reacting to President Biden's progressive agenda?
Anita: Well, I think some of them are surprised and we've heard Senator McConnell and others say, "Look, this isn't what he campaigned on," and it's really not. Some of that's not what he campaigned on. He said that he wanted to sit down with Republicans and compromise and work things out, but I think what's happened is as he's come into office and he's surrounded by a lot of staffers that worked with him in the Obama administration is they're really remembering what happened at that time, which is President Obama tried alongside Vice-President Joe Biden then to really work with Republicans, and many times it just didn't work out.
They came to an impasse, things were delayed, and talking to people around this president, President Biden, I understand that he feels this need to hurry up and get things done. Even if he can't get Republican support, so be it. He would rather accomplish something with just Democratic support than nothing sitting there trying to work with Republicans. It's a real balancing act for him, and I'm sure it's the source of some frustration because he does come from that background. He did spend 36 years in the Senate trying to work across the aisle on some of those issues.
We've seen criticism from Republicans and it really remains to be seen here in these next few weeks on some of these spending bills what's going to happen. Republicans sent over something to the White House that Democrats quickly said was not a serious proposal. It was much, much smaller, but President Biden has invited members of Congress to come over again. He'll meet with the leaders of the house and Senate, both parties on a couple of weeks. There is that conversation, but what happens with that remains to be seen.
Nancy: They do seem to be sticking to talking about division instead of putting forward proposals or talking about what's wrong with the Biden proposal. Did they have an argument about why childcare should not be subsidized or why community colleges shouldn't be subsidized? In the past they have made these arguments, but I haven't been hearing them lately?
Anita: I think it's been hard, and my colleagues on the Hill pointed this out. It's been hard for them to focus their criticism on President Biden, tougher than say President Obama for several different reasons. One of the reasons is that many of them worked with him for a very long time in the Senate and they know him and he has a different sort of reputation, is this sort of your uncle Joe, you get along with your uncle Joe persona, but they have talked about some criticisms.
Mostly it's a philosophical disagreement that we've seen from Republicans and Democrats. They've always had this philosophical disagreement on how big the spending should be. One of the things they're saying is it's just too much. They also are disagreeing with some of the things in these plans. Of course, they disagree on how to pay for it. They do not think that some of these tax increases should be pushed through to pay for the plan. There are huge disagreements on all three of those issues.
Nancy: A recent poll from NBC News found that voters find President Biden more moderate than President Obama at this stage of his presidency. Even though it's very clear, we can see the President Biden is pursuing a much more liberal policy. Seung Min, why do you think that is?
Seung Min: Well, I think a lot of it is because of this political persona that Joe Biden had cultivated over decades in politics where he was more of a moderate. We saw that for well over a year in the Democratic presidential primary, that he was the guy in the middle. He wasn't as far left as Bernie Sanders or Elizabeth Warren. He was resistant to a lot of the changes that the party had demanded, for example, disagreements on how far to expand healthcare and other kinds of major policy differences within the democratic party.
I think that framework is still in the minds of voters, that he isn't as progressive as others in the party, but certainly, if you look at what he has done, particularly in the confines that he's in, because while he does have majorities and the house and the Senate, it is the thinnest majority possible in the Senate, and it is a diverse group of Democratic senators who run the gamut from liberal to pretty conservative for a Democrat and what he has been able to do in terms of massive government spending.
The fact that he has gotten a lot of his caucus members on board with unraveling a lot of the 2017 tax law that was such a legislative highlight for Republicans and former President Trump. I think a lot of times you always remember Joe Biden, his political image rather than what he is doing right now in terms of governing.
Nancy: That speaks to President Biden and his personality and the perception of him, but I wonder also about the perception of Obama and how much race and racism frankly played into this perception of him as some kind of a radical firebrand versus the moderate that he was?
Seung Min: You saw a lot more tensions between Obama and congressional Republicans, not just in terms of race, but in a lot of other policy differences as well, but I just think that you just really have to look at the policies of the two men and how they have actually governed to really accurately assess what their impact is.
Nancy: Okay. Thanks so much. Anita Kumar is a White House correspondent and Associate Editor at Politico, and Seung Min is a White House Reporter for the Washington Post. Thanks to both of you so much.
Seung Min: Thank you.
[music]
Nancy: Opponents of California Governor Gavin Newsome have officially gained enough signatures to begin the process of recalling and replacing the Democratic leader more than 1.6 million people signed the petition in favor of recalling the California Governor citing his handling of the pandemic and frustrations with the housing crisis and the high cost of living in the state. At least nine people, including Republican transactivist Caitlyn Jenner, have already declared their intentions to run against the governor. It's been nearly 20 years since California last had a recall election. Here to help us understand what comes next is Nicole Nixon, Politics Reporter for CapRadio in Sacramento. Nicole, thanks for joining us.
Nicole: Hey, thanks for having me.
Nancy: Explain to us how Newsome ended up in this situation and who was behind this push for a recall.
Nicole: This recall is organized by regular citizens, which is just one of the many reasons it's so remarkable. A few things really came together for this. The first is that the organizers a few months ago went to a judge and asked for more time to collect signatures to put this before voters and they got it because of the pandemic. They got almost twice the amount of time to collect signatures. This was around the same time that Gavin Newsome went to this very fancy restaurant in Napa wine country for a birthday party, for a friend, with a big group of people at the same time that he was telling everyone else in California to stay home and avoid those types of gatherings back.
Nancy: Not a good look.
Nicole: Exactly that really lit a fire under this recall campaign. It made people very angry. It helped the recall folks get more than two million signatures total to put this on the ballot.
Nancy: There's also been a lot of upset about California's school closures, public schools have yet to fully reopen in the state. How much has that also feeding into this?
Nicole: California is at or near the bottom nationally of percent of kids back in classrooms. This has really upset a lot of parents over the past two, three months here. We actually just got some new polling data on this though. It found that almost two-thirds of public school parents actually approve of how Newsome has been handling schools during the pandemic. Even though there are concerns that kids are falling behind academically, that schools still won't be fully reopened in the fall, they approve of the way he's handled this. That's good news for him. Although there still are some warning signs for him there.
Nancy: How does this process work exactly? Walk us through the steps?
Nicole: Right now we are in this window where anyone who's signed a recall petition has a chance to remove their name. It was earlier this week that the secretary of state said there are enough valid signatures for this to move forward. There's a chance now for people to take their names off, there's a small team of Democrats working on that. That's one way that they could fend off this recall by finding people to remove their names, but it is a long shot.
Then after that, the state spends the rest of the summer coming up with a cost estimate for a recall election. It's only then that the lieutenant governor could call a recall election, which based on this timeline will probably be sometime in November that people will actually vote on this.
Nancy: What do Democrats-- What's their plan for how to manage this crisis?
Nicole: The actual recall itself, they are hoping to keep the party united behind Newsome. The one thing they do not want is another big-name Democrat going rogue and putting themselves in the mix as a possible replacement. That's what happened in the last recall in 2003, the lieutenant governor at the time, his name is Cruz Bustamante. He ran as a replacement just in case kind of as an insurance policy.
His slogan was, "No on the recall, yes on Bustamante," which is a really confusing message for voters. I'll just point out, that California looks very different than it did 18 years ago during that last recall. The state is a much deeper shade of blue, Democrats have a lot more power, and Newsome himself has a lot higher approval ratings than the governor did in that last recall.
Nancy: That was the one when Republican Arnold Schwartzenegger won the election, just to put a final point on that, the Democrat running didn't really help Governor Gray Davis at all. Does Newsome have a strategy for-- You talked about, they're trying to keep big-name Democrats off the ballot. Is that it, or does he have any other strategy for avoiding losing his seat?
Nicole: For sure. He's painting this recall as a Republican recall driven by Trump supporters, political extremists, QAnon people, and he's calling it a distraction from the state's recovery. Things are looking pretty good here. We have the lowest COVID rates in the nation. He has this plan to fully reopen the economy in six weeks here. He is making the case and can continue to make that case, that things are on the upswing here, and he can handle it and bring the state out of the pandemic.
Nancy: We were talking at my dinner table last night about Caitlyn Jenner and how kind of unlikely it seems that she would win the election, but then I don't think too many people took Donald Trump seriously in 2015. What is that looking like in the state?
Nicole: The reaction to Caitlyn Jenner is really interesting because she came out and a lot of LGBT groups said they actually would not support her because of her support for Trump previously. Also, her website is full of merchandise you can buy, but there aren't any policy proposals on there yet, which a lot of people have pointed out. She's also just one of many Republicans running, the former mayor of San Diego, Kevin Faulconer is in.
Before all of this started he was seen as the most likely Republican to take on Newsome in 2022, which is when the governor is up for reelection again. There's another slate of Republican, former elected officials, a former Congressman from the Sacramento area have already announced that they're running too. It'll be a crowded field on the Republican side. There aren't so many Republican voters in this state to begin with.
Nancy: Republicans in California haven't won a statewide election in 15 years. It'll be an interesting one to watch. Nicole Nixon is a Politics Reporter for CapRadio in Sacramento. Thanks so much for joining us today.
Nicole: You're welcome.
[music]
Nancy: There's no doubt that the COVID-19 pandemic has been devastating for US economy, but still there's reason to be optimistic. The unemployment rate is steadily dropping and the stock markets have been on the rise in recent weeks as the country has ramped up its aggressive vaccination campaign, but what will economists say? What? A rising tide raises all boats or something like that? I might have that off a little bit, but that hasn't always been true. Are things going to spread out more or are people at the bottom still going to be hurting?
Neil: Well, look, there are definitely people who are still hurting and I don't want to diminish that one bit. There are millions of people who are unemployed either because they lost their jobs and their former employer went away or staying home for health reasons or because they don't want to get exposure to the virus. There's still a lot of pain out there absolutely, but we are seeing a reason to think that workers are going to have the upper hand as this year progresses.
You'll see a lot of anecdotal reports out there of all kinds of businesses, especially restaurants, all kinds of businesses struggling to find workers. What that means if you're a worker is employers want you and they're willing to pay more, we're seeing more signing bonuses, rate of pay increases. I think there's a good chance that by the end of this year, we have not only low unemployment but higher wages at the lower end of the scale than we saw before the pandemic.
That seems to be how things are lining up. Add to that the stuff that's happened on the stimulus checks and other kinds of direct assistance that's happened. American household balance sheets in very good shape right now. There's pent-up savings from over the last year. I think that there's every reason to think that in the aggregate, again, not trying to diminish people who are in a difficult situation right now, but on average, things should be very good as we head into 2022
Nancy: Pent-up savings, but also a significant pent-up demand. I would expect after this year,
Neil: Spending on things like durable goods is the term. Anything heavy, anything that's supposed to last has just soared. People are buying exercise equipment, they're putting in a new deck. In the first quarter, durable goods spending rose at a 41% annual rate. That is remarkable. Now, that's come at the cost of services. People are taking fewer trips, fewer, plane rides, fewer, hotel stays, fewer restaurant meals. What we would expect to see is for that to rebalance as time goes on, but for now that's the dynamic.
Nancy: You wrote in a recent piece in the times, you cited 17 trends that contribute to your economic optimism from the pace of innovation, to battery technology, to baby boomers retiring from the workforce. Tell us a few on your list that you think are the most significant.
Neil: My career, I started as an economics reporter 21 years ago at the turn of the century. It's been a really long slog and had a good slog in those 20 years. One mild recession and one financial crisis, a slow recovery after the financial crisis, then the pandemic. I'm actually legitimately optimistic right now that some very good things could happen in the 2020s.
One of those is as you say, demographic. I think we're seeing the millennial generation coming into their prime earning years, their prime spending years. This is the age at which millennials are going to be buying houses, buying cars, raising families. That's the time period if you look at the life cycle of people's spending, the age the millennials are hitting, their late 30s, 40s are absolutely the age where you see the most economic activity. Other things, you see some real evidence that innovation is starting to click in.
This actually has been a very bad last 15, 20 years for productivity, meaning the ability of the economy to make more and be more productive with the same resources. I think there's a lot of innovations that people have been working on for years that maybe are finally starting to pay off, they're around battery technologies as you say, electric cars, driverless cars potentially, a lot of artificial intelligence work that's been happening under the radar for years and years might start to pay off. Those are just a couple of the reasons. I think we it might be in a different equilibrium than what we were in throughout the first two decades of this century.
Nancy: Let's dig in a little bit on that though. For instance, the battery technology and driverless cars, how does that end up creating growth in the economy?
Neil Irwin: Think about it this way. Let's say, they are able to get trucking to work very effectively with either driverless or semi-driverless trucks. Suddenly, there's a couple of million truck drivers in the country, suddenly they can go to work doing something that is else. I've often looked at these kinds of threats as threats to jobs and in a way they are, but ultimately if you have an economy that's booming where there's adequate demand for goods and services, there's plenty of demand for people to shift to other forms of work. If we can produce the same things with fewer people doing this job or that job, that's actually a good thing. We're seeing that right now with restaurants. Restaurants are having a hard time hiring people for a lot of reasons.
If they're finding ways to be more productive and find a way to automate more processes to serve the same number of people with fewer staff, I know we think of it in terms of jobs, but that's actually a good thing in terms of the overall productive capacity of the economy. In periods when we think of as boom times, like the period, the decades after World war II productivity was a lot higher than it is now and you had a lot more of this innovation where certain jobs would go away, but there were plenty of other jobs for people to step into.
Nancy: One of the items on your list that I found pretty exciting was about wage growth and the fact that the impacts of globalization have been so rough on working people's wages and that we might see the impact of globalization will start to diminish now, tell us about that.
Neil: I think one central dynamic of the last 20 years, in the '90s, 2000s, 2010s, has been a global labor glut. Lots of additional people have come into the global labor force in ways that did drag down the wages of a lot of labor working-class people in advanced countries. China entered the world economy in a way it hadn't been before, had lots of trade agreements with various countries.
You had a technological revolution that allowed outsourcing of a lot of service work to countries with lower wages. The call centers in India or the Philippines, things like that. We can debate all-day long, what advantages and disadvantages that phase of globalization had, but the reality was if you're a person with a high school degree in Kansas, you have found yourself in competition for jobs and for work with people all over the world, many of whom were used to having lower wages than you were used to.
That's part of the story of the last 20, 30 years. I think that's pivoting. China's wages are rising, China's demographics are not as favorable and more importantly, there's not another China out there about to join the world economy. It's the biggest country on earth in population. There is no other China. It's not like you can invent outsourcing of call centers again.
Also, demographics in the US are changing. The size of the prime working-age people, we're seeing the baby boomer generation starting to retire. As they retire that's creating plenty of demand for goods and services because they'll get those social security checks, but it's not creating the same labor force. I think if you're an American worker in the 2020s, you are going to be in demand and it's just a question of how do we handle things so that wages are rising as a result of that phenomenon?
Nancy: We're just about out of time, but what do you think about all of the stimulus plans and everything that Joe Biden is proposing? How is that going to affect things going down the road?
Neil: I think it's a sea change in American fiscal policy and monetary policy. In the 2010s, we were so reliant on the Federal Reserve and quantitative easing, all these things the Fed did to try and keep the economy and recovery going. The elected leadership, the Biden administration, and Congress have really taken the lead now and are now driving the train on economic policy.
That's good news in the sense that fiscal policy can be better targeted, it's better for reducing inequality than monetary policy. The fact that they're even people out there talking about the risk of overheating, that they might have done too much, that there could be inflation or negative effects, we spent the last 10 years complaining that inflation is too low. In a way, it's trying to get a regime change in what American economic policy looks like in ways that can reverse and undo what's been ailing us for a long time.
Nancy: You have me feeling more optimistic. Neil Irwin is a Senior Economics Correspondent for the New York Times. Thanks so much for being here, Neil.
Neil: Thanks for having me, Nancy.
[music]
Nancy: Now we shift our focus from real-life political drama to the fictional kind. Political TV shows and movies have seen unwavering popularity over the decades. We wanted to know about your favorite political shows, movies, and characters, and here's what you told us.
Robin: Hi, this is Robin from Philadelphia. My most recent favorite political drama is Borgen, which is about a woman named Birgitte Nyborg, who becomes the first female prime minister of Denmark. In addition to really enjoying the characters who felt to me much more real and less Hollywoody than a lot of characters on American shows, I also gained a better understanding of how a parliamentary system works and what goes on behind the scenes between the media, politicians, and what they refer to as their spin doctors.
Speaker 6: I always liked Air Force One with Harrison Ford as the president. "Get off my plane."
Speaker 7: I think the movie Dave offered an interesting commentary on fiscal responsibility. The time that his atoning friend came to the White House and went through the budget is iconic and how they found so much governmental waste.
Speaker 8: The Best Man with Henry Fonda who's always fantastic and Manchurian Candidate, Angela Hansberry is so brilliantly evil. Dick with Kirsten Dunst and Michelle Williams is so funny.
Nancy: Some people prefer comedies that parody our lawmakers, but personally I'm a big fan of the political thriller. I think what I love best is the mix of public policy, politics, and good old action. No matter how much high-stakes tension there is going on in the actual Washington D.C. or California, for that matter, there's something endlessly entertaining about the best of these shows. Through them, we get a peek behind the Capitol walls with varying degrees of accuracy. Joining me now to talk about what the best of these shows have to offer is Dr. Lilly Goren, professor of Political Science and Global Studies at Carroll University and co-author Mad Men and Politics. Lily, great to have you here.
Dr. Lilly Goren: Thanks for having me on today, Nancy.
Nancy: What do you think makes a good political thriller?
Dr. Goren: A lot of it is the drama, obviously. Whatever the narrative arc of the show or the movie is. Some of the ones mentioned by your listeners including things like Borgen or The Manchurian Candidate are among my favorites. Also, the depths of the characters involved and how they are interacting with politics as well.
Nancy: Do you think that most successful political television shows tend to mirror the political reality of the moment, or are usually things like The West Wing that provide a more idealistic and hopeful version of our politics?
Dr. Goren: They usually go in either direction of something like the West Wing or Madam Secretary, which are idealistic and to some degree fantastic or they go in the other direction like say House of Cards or Scandal, where there's a lot of murder and duplicity and secret things going on in the halls of power. Neither of them are really based on reality, but they're fun to watch. Of course, they have great actors and actresses and really interesting writers who are threading the plot lines.
Nancy: I'm surprised that there aren't more shows like the House of Cards. There's obviously a huge appetite for detective stories, police procedurals, mysteries like that. The House of Cards is kind of a perfect blend of that, but we just haven't seen that many of them, right?
Dr. Goren: Yes. Again, you have shows that do take this up. Something like The Wire is another show that's actually quite political, but it's not national, it's in Baltimore. It's at a lower level, it's about local politics. You do have different kinds of approaches to thinking about the insanity of something like House of Cards, but you may see it in some different venues.
Nancy: I have loved access to International TV that streaming has brought us. Some of my favorite shows have been the Norwegian show called Occupied, which is a full-on political thriller. The Israeli show Prisoners of War, that led to the American Homeland Series. I think my all-time favorite was the Bureau, which is a French spy agency show, but had a very geopolitical focus plot. Have you seen much International TV, what shows are you liking?
Dr. Goren: A number of the ones that you are talking about like the Bureau are among some of my favorites and particularly Borgen, which the first time I saw it, I never wanted to do anything else, but watch Borgen. Again, you can contrast that to a show that was made more than a decade or two decades ago in the United States by Gina Davis, Commander in Chief, that was on for one season. Also, about a woman as President of the United States and all of the conflicts that she dealt with at home and in the office and so forth, that were centering around her gender.
In Borgen, you see so much of the same thing, but you also see it in a parliamentary system. All of the differences that kind of a system, and a coalition government has. I think you're right, there are quite a few international shows that also show us a lot of political thrillers like Occupied, which was, again, a fascinating, fascinating show.
Nancy: Yes. Are there any particular shows that really captured the Trump era in Washington?
Dr. Goren: Well, I've been asked this question before, and the television show that is about to debut its fourth season, The Handmaid's Tale was actually greenlit or put into production before Trump was elected president. It debuted just after he became president, and there was a lot of discussion about how it seemed to be capturing the Zeitgeist of the Trump years in terms of having women lose autonomy or agency over themselves and their bodies. Some of the ways that Mr. Trump was misogynistic in some of his commentary about women.
I don't think that The Handmaid's Tale necessarily captures the Trump years per se, but television also has a lag time because things often have to go into production a year or two beforehand and with COVID, it's been very difficult to do the filming and produce the shows because of the limits on the capacity to do that safely. I think we may also have a lag in terms of shows that reflect what people may have been feeling during this Trump administration.
Nancy: Right. Maybe it'll take a couple years, but we'll start to see something a little less dark and a little more optimistic.
Dr. Goren: We may. There's always hope. Of course, we had shows like Scandal, that tapered off during this period as well, which were dark as well.
Nancy: Dr. Lilly Goren is a professor of Political Science and Global Studies at Carroll University. Lilly, thanks so much.
Dr. Goren: My pleasure. Thanks for having me on today.
[music]
Nancy: All right, everyone. It's been so great talking with you this week. If you want to follow me on twitter I'm @NancySolomon2, and the show is @thetakeaway. Shout out to the folks that make this show for you every week. Lee Hill is our executive producer. Amber Hall is our senior editor and Polly Irungu is our digital editor. Our line producers are Jackie Martin and Jose Olivares. Ethan Oberman, Meg Dalton, Patricia Yacob, and Lydia McMullen-Laird, are our producers. Shaam Sundre helped us out this week on the board.
Vince Fairchild is our broadcast engineer, and Jay Cowit is our director and editor. David Gable is our executive assistant. Thanks so much for listening. I'm Nancy Solomon in for Tanzina Vega. This is The Takeaway.
[music]
Copyright © 2021 New York Public Radio. All rights reserved. Visit our website terms of use at www.wnyc.org for further information.
New York Public Radio transcripts are created on a rush deadline, often by contractors. This text may not be in its final form and may be updated or revised in the future. Accuracy and availability may vary. The authoritative record of New York Public Radio's programming is the audio record.