President Joe Biden's First 100 Days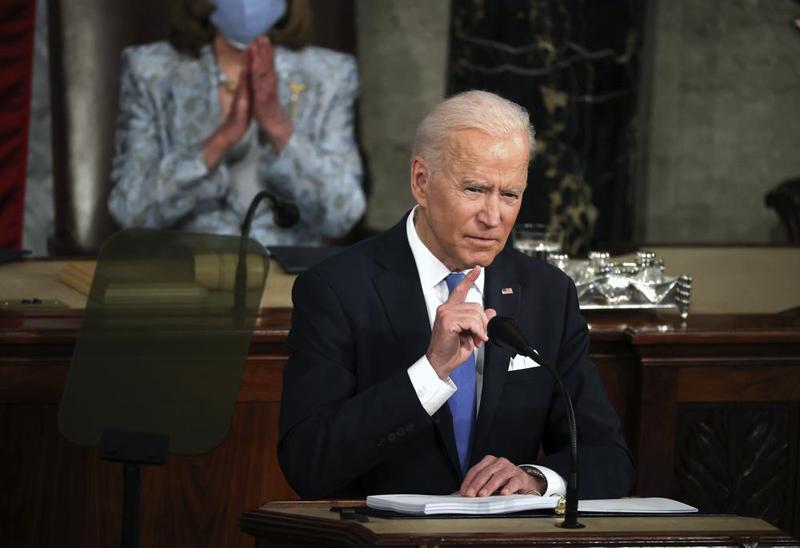 Transcript
[music]
Nancy: It's The Takeaway. I'm Nancy Solomon from the WNYC newsroom in for Tanzina Vega. This week, President Joe Biden delivered an address to a joint session of Congress. In it, he touted his ambitious progressive agenda.
President Joe Biden: American families plan will provide access to quality affordable childcare. We guarantee. I'm not proposing legislation, we guarantee that low and middle income families will pay no more than 7% of their income for high quality care for children up to the age of five. The most hard-pressed working families won't have to spend a dime. Third, the American families plan will finally provide up to 12 weeks of paid leave and medical leave.
Nancy: To my ear, it was more like a fireside chat from FDR and nothing like the bombastic tone we heard from our most recent former president. Within his first weeks in office President Biden got his $1.9 trillion COVID relief bill through Congress with only democratic support. He has since introduced a 2.3 trillion infrastructure plan that includes billions for affordable housing in home care, public schools, childcare, historically Black colleges and jobs. This week, he announced the $1.8 trillion American families plan, which includes free community college and free universal preschool, making childcare more affordable, federal paid leave, and more.
Those plans add up to $6 trillion and their impact could be felt for generations. The political fate of some of these plans has yet to be determined but one thing is quite clear. President Biden is governing to the left of where many, including those on the left, expected him to be. Joining me now is Anita Kumar, a White House correspondent and associate editor at Politico and Seung Min Kim, a white house reporter for The Washington Post. Welcome back to the show to you both.
Anita: Thanks for having me.
Seung Min: Thanks for having us.
Nancy: Seung min, what does Joe Biden's presidency look like 100 days in, and how is that different from what we expected?
Seung Min: I think the first thing what we can say about this administration 100 days in is that they have met a lot of their benchmarks that they set out, their ambitious agenda of what they wanted to do in those 100 days. A lot of that is this classic strategy of under promising and over delivering. I think the shots in arms is a perfect example of that. When the administration started, President Biden said he wanted to get 100 million shots in arms by the end of his first 100 days. Within his first 100 days, he and his administration actually got 220 million shots out. He said he wanted to pass a sweeping coronavirus relief package. He did that through Congress. It was $1.9 trillion. I think one major point too is that he has governed in a pretty progressive manner.
The coronavirus relief package significantly expanded relief that goes far beyond immediate relief measures from the pandemic. Despite his rhetoric on the campaign trail, that he was always willing to work with Republicans and compromise with Republicans, what President Biden and his team has shown in his first 100 days is that he's not going to sacrifice major of liberal progressive policy goals just for the sake of bipartisanship. I think that's obviously frustrated Republicans, but it's really delighted liberals.
Nancy: Anita, I'd like to get your take on this as well. We're going to dig into some of these policy changes. I'm curious what you think about this first hundred days in terms of just the sheer quantity of what he's getting done.
Anita: He's really stressed, in these 100 days, COVID, which is obviously what he needed to do, but he's really prioritized that to the extent that some of his supporters are saying, "What about my issues that you haven't gotten to yet?" "Can you prioritize those?" Those are things like immigration and gun restrictions and voting rights. He has talked about those things, but it's clear his priority has been the coronavirus and he has made some accomplishments on that. Now he's really switching to these massive spending plans that you've talked about.
After the hundred days, he really needs to decide what it is that he wants to do. Not because the pandemic is done, of course it's not, but because he's really shifting his focus now to other things. The question is, and we heard this in his speech the other day, is he focused solely on these big spending plans or does he go into some of those other issues that we heard about in the speech that really pleased his supporters and activists who have been following some of those issues. We'll have to see how he balances those two.
Nancy: Would you say he's done more, less, or about the same of previous presidents in the first 100 days?
Anita: I think all presidents come in and say, "Look, let me reverse my predecessor's actions," of course, if it's a different party. He came in with a lot of executive actions, really pushing in and pushing through this coronavirus relief plan though was huge. As you mentioned, it was an enormous amount of money. That was a major accomplishment, between the vaccines and this huge bill. I think those were his top accomplishments of the last 100 days.
Nancy: Seung Min, a lot of Democrats thought Biden would govern more from the center, that he would play it politically safe. What did they misunderstand about this moment in politics?
Seung Min: I think that was a fair expectation to have, considering his history in politics. He's a creature of the Senate which is, until recent years, this bastion of bipartisanship where a lot of deals are made just by slapping each other's backs and talking to people across the aisle. Biden, in the past, on the political spectrum it's been hard to classify Joe Biden as a progressive liberal just by the virtue of this personal politics. I think that he and his advisors recognize the urgency of this moment. I think they know that the country is still reeling from the impact of the pandemic and that really big bold government action is needed right now.
I've been talking with some people close to him and he is just this classic FDR Democrat with the belief that government can really do good by the people, which is such a different tone that we've had from Republicans for the last several years when they've effectively made a message of saying less government the better. I think that's why you see it. I think that's what is animating Joe Biden right now, just really knowing that there is this urgency and the moment that calls for really big expansive action, to the point that I make some Democrats even uncomfortable.
We're talking about $6 trillion of spending just in the matter of the first several months of his presidency, that is a lot of money. Obviously he's going to have to contend with some members of his own party who may be uncomfortable with the sheer size of the package, the tax increases that are required to finance it. It'll be a really interesting challenge for Joe Biden in the next coming months.
Nancy: Yet he mentioned in his speech the other night the long line of cars he saw waiting for food and what is essentially a modern day bread line. One of the many ways that he's hearkening back to the depression and the need for government action. Anita, what do you think about this moment in politics? I'm wondering how much can be attributed also to four years of President Trump. We had the four years at then and the pandemic together, but what do you think President Trump's effect has been on how Biden is responding?
Anita: I think it's a little bit of both. Nothing is ever one thing but I think we've seen that both parties over time and have gotten more extreme. The democratic party has gone to the left and the Republican party has gone to the right. That's why in recent years it's been so hard to get things done. Perhaps some of this was Joe Biden and obviously he agreed to this agenda, but some of it was he was going where his party is going. I think you're exactly right, after four years of Donald Trump the Biden administration, President Biden came in, he wants to be different. Of course he is different in his policies, but he also wants to act differently, he wants to show that he governs differently.
That's why you saw a different speech. You mentioned early on the tone was different, the language was different. He talks differently. He sprinkled the speech with things like folks, he likes to say that word. It's something much more personable. He even complimented Republicans for sending him a proposal that I know a proposal that the White House thinks is much too small on this funding plan, but they were trying to compromise or send something over. He wants to be the anti Donald Trump and he's really leaned into that in how he's governed and how he's talked and I think a lot of that is showing us still the effects of the Donald Trump presidency.
Nancy: Seung Min, what is the reaction among voters and the people in this country to Biden's expansion of this social safety net and expansion of government spending?
Seung Min: In terms of his actual policy agenda, the voters, if you look at polls, it's gotten pretty substantive support from Democrats, independents and Republicans. I think that's been one interesting facet and strategy of this administration, that for all the talk about bipartisanship, for all the push from congressional Republicans, particularly Senate Republicans who are versed in this language of bipartisanship, that even if his legislation is not bipartisan within the halls of Congress, as the coronavirus relief package did not get Republican support, it is bipartisan among the American people.
They can look to polls to show that his agenda, whether it is the coronavirus relief package, his plans to expand government assistance, obviously they have pointed to public supporting for increased gun restrictions, that their plans are bipartisan among the American people. Obviously that hasn't won over Republicans on Capitol Hill who have really taken his tone and his message of unity and turned it on his head by saying that Biden isn't interested in unifying government, he isn't interested in talking with Republicans and working together. In terms of how his plans and his message is being received by the American people, the plans, his agenda, with one major exception, which is immigration and how he has handled the situation on the border, it has been largely supported by the American people.
Nancy: Anita, the fact that president Biden has spent his first hundred days pursuing these progressive policy items that we've been talking about, it's got some GOP leaders incensed, not surprisingly. This week, Senator Mitch McConnell said, "Over a short few months, the Biden officials seem to have given up on selling actual unity in favor of catnip for their liberal base." You both mentioned this a bit earlier, but tell us more, Anita, about how republicans are reacting to President Biden's progressive agenda.
Anita: Well, I think some of them are surprised. We've heard Senator McConnell and others say, "Look, this isn't what he campaigned on." It's really not, some of that's not what he campaigned on. He said that he wanted to sit down with Republicans and compromise and work things out, but I think what's happened is as he's come into office and he's surrounded by a lot of staffers that worked with him in the Obama administration, they're really remembering what happened at that time. Which is president Obama tried, alongside Vice President Joe Biden, to really work with Republicans and many times it just didn't work out. They came to an impasse, things were delayed.
Talking to people around this president, President Biden, I understand that he feels this need to hurry up and get things done even if he can't get Republican support. So be it. He would rather accomplish something with just Democratic support than nothing sitting there trying to work with Republicans. It's a real balancing act for him and I'm sure it's the source of some frustration because he does come from that background. He did spend 36 years in the Senate trying to work across the aisle on some of those issues. We've seen criticism from Republicans and it really remains to be seen here in these next few weeks on some of these spending bills what's going to happen.
Republicans sent over something to the white house that Democrats quickly said was not a serious proposal, it was much, much smaller. President Biden has invited members of Congress to come over again. He'll meet with the leaders of the house and Senate, both parties, in a couple of weeks. There is that conversation, but what happens with that remains to be seen.
Nancy: They do seem to be sticking to talking about division instead of putting forward proposals or talking about what's wrong with the Biden proposal. Did they have an argument about why childcare should not be subsidized or why community college shouldn't be subsidized? In the past they have made these arguments, but I haven't been hearing them lately.
Anita: I think it's been hard, and my colleagues on the Hill pointed this out, it's been a hard for them to focus their criticism on President Biden. Tougher than, say, President Obama for several different reasons. One of the reasons is that many of them worked with him for a very long time in the Senate and they know him and he has a different reputation. He's this your uncle Joe, you get along with your uncle Joe, persona. They have talked about some criticisms. Mostly it's a philosophical disagreement that we've seen from Republicans and Democrats.
They've always had this philosophical disagreement on how big the spending should be. One of the things they're saying is it's just too much. They also are disagreeing with some of the things in these plans and, of course, they disagree on how to pay for it. They do not think that some of these tax increases should be pushed through to pay for the plan. There are huge disagreements on all three of those issues.
Nancy: A recent poll from NBC News found that voters find President Biden more moderate than President Obama at this stage of his presidency even though it's very clear, we can see that President Biden is pursuing a much more liberal policy. Seung Min, why do you think that is?
Seung Min: Well, I think a lot of it is because of this political persona that Joe Biden had cultivated over decades in politics, where he was more of a moderate. We saw that for well over a year in the Democratic presidential primary, that he was the guy in the middle. He wasn't as far left as Bernie Sanders or Elizabeth Warren. He was resistant to a lot of the changes that the party had demanded. For example, disagreements on how far to expand healthcare and other major policy differences within the democratic party. I think that framework is still in the minds of voters, that he isn't as progressive as others in the party.
Certainly, if you look at what he has done, particularly in the confines that he's in, because while he does have majorities in the house and the Senate, it is the thinnest majority possible in the Senate. It is a diverse group of democratic senators who run the gamut from liberal to pretty conservative for a Democrat. The sheer, what he has been able to do in terms of massive government spending, the fact that he has gotten a lot of his caucus members on board with unraveling a lot of the 2017 tax law that was such a legislative highlight for Republicans and former President Trump. I think a lot of times you always remember Joe Biden, his political image, rather than what he is doing right now in terms of governing.
Nancy: That speaks to President Biden and his personality and the perception of him, but I wonder also about the perception of Obama and how much race, and racism frankly, played into this perception of him as some radical firebrand versus the moderate that he was.
Seung Min: You saw a lot more tensions between Obama and congressional Republicans, not just in terms of race, but in a lot of other policy differences as well. I just think that you just really have to look at the policies of the two men and how they have actually governed to really accurately assess what their impact is.
Nancy: Thanks so much. Anita Kumar is a White House correspondent and associate editor of Politico and Seung Min Kim is a White House reporter for The Washington Post. Thanks to both of you so much.
Anita: Thank you.
Copyright © 2021 New York Public Radio. All rights reserved. Visit our website terms of use at www.wnyc.org for further information.
New York Public Radio transcripts are created on a rush deadline, often by contractors. This text may not be in its final form and may be updated or revised in the future. Accuracy and availability may vary. The authoritative record of New York Public Radio's programming is the audio record.