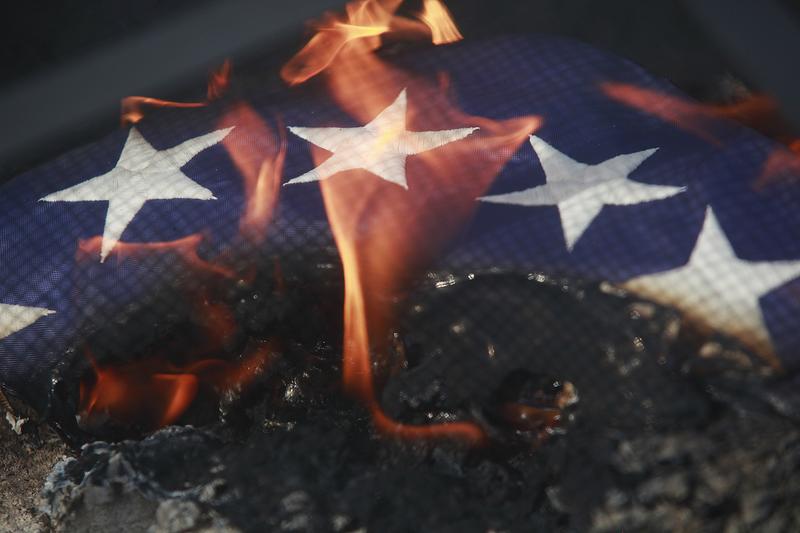 Transcript
BROOKE GLADSTONE For four years, the press was urged to shift to emergency mode while covering presidential politics, but that's all over, right?
JAY ROSEN We live in a two party system and one of the two parties is anti-democratic. That is a civic emergency.
BROOKE GLADSTONE From WNYC in New York, this is On the Media, I'm Brooke Gladstone. To understand the erosion of democracy in the states, don't look to their internal politics.
JAKE GRUMBACH Those don't seem to explain democratic backsliding. What does is when a state becomes controlled by the current national Republican Party.
BROOKE GLADSTONE Also this week, how the term critical race theory escaped academia and was conscripted to fight on the front lines of the culture war.
RYAN P DELANEY Anything that might talk about diversity in some parents minds like, oh, this is critical race theory. So, it's being turned into this buzzword that sets people off.
BROOKE GLADSTONE It's all coming up after this.
BROOKE GLADSTONE From WNYC in New York, this is On the Media. I'm Brooke Gladstone, and now I want to introduce you to journalist, author and podcaster, Lewis Raven Wallace. He's been on the show before, we're fans. He lives in North Carolina and he's joining us for an episode that puts Washington on the back burner, kind of. Hey, Lewis.
LEWIS RAVEN WALLACE Hi! Yeah, we're looking at battles over voting rights and free expression framed in Washington during the Trump administration, but fought in state after state. It's kind of like some of the trends that Trump was driving didn't go away when Trump decamped. They just bubbled up and spattered all over the place.
BROOKE GLADSTONE So what should we call the episode? Take your time? It's hard.
LEWIS RAVEN WALLACE Um, little pasta sauce splatters everywhere? No, that's not quite it. How about Little Fires Everywhere?
BROOKE GLADSTONE Wow, that's really good. On with the show.
[PIANO STARTS]
BROOKE GLADSTONE This week, late night TV transported us back in time.
[CLIP]
NEWS REPORT Social media went wild over Trump's giant pants, maybe with the help of some Photoshopping. The first theory was they were on backwards.
JIMMY FALLON It looks like he bumped into something and his pants deployed an airbag.
JIMMY KIMMEL Poor Mike Pence didn't know which end to kiss. [END CLIP]
BROOKE GLADSTONE Of course, a lot has changed since 2016.
[CLIP]
ANDERSON COOPER Facebook said it's barring the 45th president from the platform until January 2023. [END CLIP]
BROOKE GLADSTONE But 45 is still like the world, too much with us. According to The New York Times this week, some of Trump's statements spread by ardent supporters have garnered just as many likes and shares as they did before his bans on Facebook and Twitter. There's an audience for flimflam and plenty of places to find it. Last October, Jay Rosen, media critic and founder of PressThink.org, told us that the news media needed to be, quote, in emergency mode. That the standard performative objectivity, the so-called view from nowhere, was even more than usually misleading when reporting on Trump. He said that in an era when basic norms are trampled, news people could no longer duck accusations of bias merely by assigning equal time to unequal arguments, and that the moment called for taking a stand and focusing on what matters most. He suggested, for example, declaring a position in favor of voting rights. A pro-democracy position. So, on a stormy night this week, you may detect some thunder on the line. I asked him, are we still in emergency mode?
JAY ROSEN There's still an emergency, but it looks different. It's not personified in a single figure like a Donald Trump. We live in a two-party system and one of the two parties is anti-democratic. That is a civic emergency. And the Republican Party, instead of disinvesting in Donald Trump, has invested more in his lies.
BROOKE GLADSTONE In your prior call for an emergency journalism, you suggested that the choice of stories be guided by the protection of democracy while it's under threat rather than reassuming what you call the view from nowhere. Do you think that in the aftermath of January's insurrection, the political press has heeded that lesson?
JAY ROSEN Let me back up for a second. I think no matter how threatening or dark the events are, you can always find the game part of it. You know, you can always ask, well, who's the winners and the losers? Who's ahead? What's the strategy? That's a very portable lens on politics, and you can keep looking at the world through it right up to the point where democracy disintegrates. The route that I talked about last time I was on the show in which the press becomes pro-democracy, pro-voting, pro-truth. Those are much stronger identities than 'on the one hand, on the other hand' journalism. Or we're going to take you inside the power game. And there is some indication that it's happening here and there.
BROOKE GLADSTONE You cited some examples on PressThink. One of my favorites is something that WITF Public Broadcasting in Harrisburg, Pennsylvania says it'll do.
JAY ROSEN WITF has decided on a never forget policy. Each time they put into their news product the name of a public official who voted for the big lie or to overrule the voters or to decertify the election in Pennsylvania. They will remind their listeners and viewers. They wrote like a boilerplate paragraph to insert into any news article mentioning Congressman Smith.
BROOKE GLADSTONE I found it here: "Senator, insert name here, who signed a letter asking members of Congress to delay certifying Pennsylvania's electoral votes despite no evidence that would call those results into question today introduced a bill..." Blada blada blada.
JAY ROSEN They're doing it to create a kind of accountability. This is their way of saying we can't just move on. We have to be a stronger force for democracy.
BROOKE GLADSTONE CNN anchor Jake Tapper floated a blanket ban on booking proponents of the big lie on his show.
JIMMY KIMMEL It's interesting that Chris Wallace of Fox said Tapper's stance is a kind of moral posturing and that he wasn't going to do that. I don't think there's a general solution that works all the time. You can say we're not going to bring on our show people who participated in The Big Lie, but there could be exceptions and...
BROOKE GLADSTONE You cited what is a very familiar conversation in media criticism circles, you know, when someone says: "Don't put those liars on the air," you'll say, "I hear you, but sometimes I have to tell people what's going on." And then the other person says "You're spreading their propaganda for them!" – "It's already spread and having real world effects!" – "Well, it wouldn't spread if you denied them a platform!" – "Gatekeeper's don't have that kind of power anymore!" – "They might if they work together!" – "That just drives it underground and it gets even worse!" It was such a perfect crystallization of the endless argument. But what's your solution?
JAY ROSEN Sunlight is the best disinfectant, but it also allows things to grow. It's kind of a paradox. There's no solution to it. There are only better or worse decisions. This is another reason I talk about this simple method of the truth sandwich. When you feel you have to report on a falsehood, you should start with a true statement, sandwich the misleading one in the middle, and end with a true statement. As opposed to this isn't true, but you know what? It could be a winning strategy. Suppose Kevin McCarthy becomes speaker of the House. Now you have to decide whether you're going to give a platform to that person or invite and confront.
BROOKE GLADSTONE But as you've observed also in PressThink, it's very hard for these mainstream shows to even book Republicans.
JAY ROSEN Because there's a huge portion of the public that has tuned mainstream journalism out. The politicians who appeal to that group can also tune it out.
BROOKE GLADSTONE There was once this notion that if you made fun of a leader, you would diminish the power of that leader. But if making fun of the leader means also making fun of the leader's supporters, then you're only pushing them further and further away from the opportunity to read actual facts.
JAY ROSEN You know how in politics you try to raise a candidate's negatives? Trump originally, but now the Republican Party as a force has successfully raised reality's negatives. It's extremely difficult to adapt our political vocabulary to that reality. And so, we use other terms that we're more familiar with. So, like Brian Stelter is convinced that Fox became more right wing after the election in order to recapture the Trump base. To me, that really understates how weird the phenomenon it wasn't so much that Fox drifted to the right.
[THUNDER CRASHING]
JAY ROSEN What was that?
BROOKE GLADSTONE There was just this huge thunder explosion when you said that.
JAY ROSEN See? That's an indication of the kind of point I was making. Fox News is not moving to the right, it's moving, you know, less connected to reality than it was. By investing so much in this lie about the election, in bizarre rituals like the Arizona audit, which are premised on fantasies and political fictions, you can't even debunk anymore because they've been debunked so many times.
BROOKE GLADSTONE So sidestep the political spectrum and create a reality spectrum instead, when describing arguments and cases made?
JAY ROSEN What does it really mean to be pro-verification or pro-truth? I think there are changes in practice that come with that, and it's up to our big newsrooms to develop those changes.
BROOKE GLADSTONE If Trump, let's say he was a dumpster fire – easy to spot. There are now little fires everywhere, dividing the attention of the national media and creating a space where local reporting is so much more important.
JAY ROSEN Yes, the Republican Party turning anti-democratic is an example of a story that's national in scope, but happening at the local level. This is a case where the national story is actually not happening in the nation's capital. It's happening in the state capitals, so that's one thing. A second thing is that the local level is still a place where it's possible to imagine a common set of facts between people on opposite sides of the political divide. For example, how do we open our schools now that we have the vaccination? That's not an easy problem, but it's at least possible to imagine people just want to solve it, even with those on the opposite side of the aisle. The more politics is rooted in problem solving that people can see in their lives, the less likely this dueling realities universe is to take over. The more things shift to national politics, the more the result of raising reality's negatives will be seen.
BROOKE GLADSTONE On the national level, one positive sign you've seen is the creation of democracy beats.
JAY ROSEN Yes, there are more reporters who are in a way full-time on this problem of an anti-democratic movement that's in charge of one of the two major parties. Ari Berman of Mother Jones has been covering elections and voting rights for years, but there are many more reporters on that beat now. ProPublica has a democracy beat. But that's just the start. We need that, we need the focus on local problem solving and we need to create accountability like WITF.
BROOKE GLADSTONE Their never forget policy.
JAY ROSEN Their never forget policy, and we need to find a better language for talking about this.
BROOKE GLADSTONE But even if outlets and reporters were explicitly pro-democracy, if local news were better funded, I mean, how powerful are the media?
JAY ROSEN Even if the political press did everything that critics like myself wanted them to do, a lot of it wouldn't make any difference because the Trump base isn't there at the end of the receiving channel. They're not listening. At one time, the gatekeepers addressed the majority of the public. And now the mainstream media is only one stream within a river system that flows in many directions independently of what journalists are doing. The press that we wish were better has lost power to social media, to going direct between a political figure and fans. You can have something completely debunked and it still has a political life. We don't have the power in journalism to alter the situation that we're in.
BROOKE GLADSTONE Jay, thank you very much.
JAY ROSEN My pleasure, Brooke.
BROOKE GLADSTONE Jay Rosen teaches journalism at New York University and is founder of the media criticism site, PressThink.org.
LEWIS RAVEN WALLACE Coming up, the authoritarian mullet.
BROOKE GLADSTONE This is On the Media.
[BREAK]
BROOKE GLADSTONE This is On the Media, I'm Brooke Gladstone.
LEWIS RAVEN WALLACE And I'm Lewis Raven Wallace. It's officially hot vax summer, and America is rocking a devilish new hairdo.
[CLIP]
BEN COLLINS The authoritarian mullet, which is culture war in the front, democracy erosion in the back. [END CLIP]
LEWIS RAVEN WALLACE Ben Collins, who reports on disinformation on MSNBC this week. [CLIP]
BEN COLLINS In the back, there are all of these voting rights restrictions being passed throughout the country. In a lot of ways it's being hidden by these dogfights that people are having over these conspiracy theories in the front. [END CLIP]
LEWIS RAVEN WALLACE The culture war and front has taken many forms, outsized claims about cancel culture, Trump's big election lie, demonization of critical race theory and white replacement panic.
[CLIP]
TUCKER CARLSON I have less political power because they're importing a brand new electorate. Why should I sit back and take that? [END CLIP]
LEWIS RAVEN WALLACE Tucker Carlson was referring to an idea neo-Nazis and white nationalists call the Great Replacement. A University of Chicago report found that the majority of those arrested for rioting in the January 6th insurrection had posted to social media about this fear: the fear that white people are being replaced culturally and demographically by people of color. The great replacement is a sort of rhetorical sleight of hand. Justifying attacks on democracy by talking about saving it. Now you see it, now you don't. And the people pushing this idea don't need to break into state houses. They're walking in the front door.
[CLIP]
JESSICA ANDERSON We're working with these state legislators to make sure they have all of the information they need to draft the bills. In some cases, we actually draft them for them. [END CLIP]
BROOKE GLADSTONE That's Jessica Anderson, executive director of Heritage Action for America, a dark money organization affiliated with the Heritage Foundation. Last month, Mother Jones published a leaked video of Anderson speaking at a donor event outlining the group's strategy to rewrite voting laws.
[CLIP]
JESSICA ANDERSON But we have honed in on these eight specific focus states because they are battleground states. And if maybe two, maybe three of these eight states went a different way in November, we would be having a different conversation here today. [END CLIP]
BROOKE GLADSTONE Let's tick through some of them, starting with Iowa. See if you notice a pattern.
[CLIP]
NEWS REPORT Senate file 413 limits the amount of time for absentee voting and removes inactive voters faster. It also shortens Iowa's Election Day voting time for general elections by an hour, with polls closing at 8:00 p.m. for all elections. [END CLIP]
BROOKE GLADSTONE Florida.
[CLIP]
NEWS REPORT The law limits mail in voting, restricts the hours dropboxes are open, and requires Floridians to show I.D. for new mail in ballot requests. [END CLIP]
BROOKE GLADSTONE Texas.
[CLIP]
NEWS REPORT The bill would restrict voting hours and drive up voting would not be allowed. Poll watchers would be allowed to use phones to document potential illegal activity during voting.
NEWS REPORT ...And lowering the legal standard for overturning an election outcome. [END CLIP]
BROOKE GLADSTONE Georgia.
[CLIP]
NEWS REPORT Governor Brian Kemp defended the portion banning people from providing food and water to voters standing in long lines. [END CLIP]
BROOKE GLADSTONE The authoritarian mullet is long and lustrous, growing fast, lubricated by Donald Trump's big election lie. But according to new research from Jake Grumbach, assistant professor of political science at the University of Washington, GOP lawmakers have been reducing the, quote, democratic performance of states they control for the better part of two decades. Using a statistical model that assesses shifts in democracy from 2000 to 2018, Grumbach found that when Republicans have gained control of state legislatures, those states have moved steadily, at times abruptly, away from democracy. Hence the name of his paper: Laboratories of Democratic Backsliding.
JAKE GRUMBACH Back in the 1930s, Justice Brandeis coined the phrase laboratories of democracy to talk about states really innovating new policy experiments and learning from each other, but what we've seen over the past 20 years is really some threats to American democracy coming from state governments.
BROOKE GLADSTONE Your paper shows that state governments, because they have constitutional authority, are where democracy lives and dies.
JAKE GRUMBACH Yeah, you see some pretty big changes where states like Illinois, Vermont really rise in their sort of democratic performance as they make their districts more equitable and they make the ballot more accessible; states like Colorado and Washington, some of the longtime leaders in expanding access to voting, and then you see other states that have really dropped off a cliff after the 2010 wave elections that ushered in Republican state governments to states like North Carolina, Wisconsin, Michigan and Ohio. You see that a state like North Carolina goes from expanding access to voting, but after 2010, it gerrymandered potentially the most biased districts in American history, while also suppressing the vote through laws including strict voter ID, reducing early voting in urban polling places, making it take longer to wait in line to vote and so forth.
BROOKE GLADSTONE So in the national GOP, who specifically is driving this kind of shift?
JAKE GRUMBACH So it's crucial to recognize that conservative parties within democratic countries, they really determine whether democracy expands or contracts. Conservative parties tend to have a less popular economic agenda. And what that means is that these conservative parties of business, like the Republican Party, have a choice. Do they moderate their economic platforms and try to gain more votes that way? Or do they introduce other forms of conflict and partner with anti-democratic forces to restrict democratic expansion? What the Republican Party has increasingly done is partner with groups and activists who are motivated by white identity politics and cultural resentment. And both of those groups, the wealthy and people who oppose multiracial democracy, have incentives to restrict democracy in a diversifying and economically unequal country like the US.
BROOKE GLADSTONE So just to be clear, what's going on on the state level isn't based on local changes, not demographic shifts, changing generation, anything like that. It's really being directed by the national GOP.
JAKE GRUMBACH That's exactly right. What we see is really a national tug of war over the direction of the country. So, January 6th is a great example of this, where national Republican groups and conservative Republican aligned groups helped finance this rally prior to the occupation of the Capitol. And it drew these anti democracy activists who are opposed to multiracial democracy from across the country. It doesn't really matter whether a state is becoming more or less politically polarized within the state, doesn't really matter the racial demographics of the state. When that state is controlled by the Republican Party, it's going to restrict Democratic performance in the state. And Republican voters and activists from across the country are relatively unified in this opposition to the legitimacy of their political opponents. Republican candidates who oppose that anti-democratic move oppose right wing populism and are supportive of the rule of law and multiracial democracy. They are progressively being ousted from the party.
BROOKE GLADSTONE It's been noted that the GOP's anti-democratic moves in states were supercharged after 2010 because of improvements in computer driven, laser focused redrawing of districts after the 2010 census. A lot of people say that if Democrats had been swept in instead of Republicans, they would have used the same tools in the same way and done the same thing.
JAKE GRUMBACH Overall, in the past 20 years, when divided governments and Democratic governments take state power, they have not gerrymandered districts in the same way. Not done anywhere near as biased districting, as states like North Carolina over the past decade or so.
BROOKE GLADSTONE I guess it depends, how low is any particular party willing to go to stay in power?
JAKE GRUMBACH So this has been a long-term trend of norm erosion, doing legal things that political elites wouldn't have thought was acceptable in earlier periods of time. And the Republican Party has led in that norm erosion. At the national level, the Democratic Party engaged in more filibustering during the George W. Bush administration and things like that than it had before. So there's elements of that, but it's just not the same. It's been very asymmetric in terms of the norm erosion both at the state level and the national level.
BROOKE GLADSTONE What does this tell us about where and how we should be addressing our attention?
JAKE GRUMBACH So I've been part of this long tradition of American political scientists saying we need to focus more on the state level, because that's where much of the policy authority and especially the authority over democratic institutions are. At this point, though, it's a bit late to just say, you know, make sure to win state legislatures and state attorneys general with pro-democracy candidates. So it's crucial that national policy comes in to enforce voting rights and anti-gerrymandering, and in addition, to figure out legal ways to prevent election subversion, where state attorneys general or legislatures refuse to certify Electoral College votes for an opposing party presidential candidate.
BROOKE GLADSTONE The media critic Jay Rosen said that local reporters need to do the heavy lifting on this protection of democracy thing. He also said that on the local level, at least, divided legislatures can problem solve on practical matters, like getting kids back into school, regardless of the stance of the GOP. Is there a glimmer of a solution there on the state level, or even the county level, to the bigger issue of restoring and strengthening American democracy? Or are those very, very local issues simply boxed off from this argument?
JAKE GRUMBACH I'm unfortunately a bit pessimistic about this. Media coverage of politics is overwhelmingly national. There's really important work that shows that when local radio and television stations are bought up by national conglomerates like Sinclair, coverage becomes much more nationalized. And it really disconnects people from how public policy and organization and politics affects their lives in material terms, and it really opens up, again, an opportunity for sort of national cultural resentment entrepreneurs to really gain traction. So I hope for a resurgence of state and local journalism that goes along with a resurgence of state and local political organization, the reinvestment in the labor movement at a local level in state and local party organizations, rather than most of the resources being in the national party. I think these sorts of things are crucial for reconnecting people to how politics affects their lives rather than a national symbolic politics around cultural iconography that we saw so powerfully during the Trump administration. I like to say now that you can tell a lot more about how somebody votes in the US based on how they feel about the American flag or Colin Kaepernick rather than how they feel about public policy in areas like health care or criminal justice or the environment or anything else.
BROOKE GLADSTONE If you're pessimistic about the potential for the press, local or national, to get on this, where do you place your optimism? Or maybe you don't have any.
JAKE GRUMBACH We're in a moment of high voter turnout. People are very interested in politics. There's been a new generation of organizers and activists that have shown new ways of connecting people to politics, and I think in the Democratic Party, there is actually some new style of thinking. The silver lining of the Trump era is that old myths about American political institutions, or the idea that American federalism or the Senate or Electoral College are strong democratic institutions broke down. I think there is a large role for the media to play here. There's critically important reporting going on about how policy affects people's lives. There's been outstanding reporting to policing, for example, and that has really allowed local communities to get a better sense of what their local and state governments really do. And again, state governments have constitutional authority over policing. So that's a really critical shift. I think there are some glimmers of hope.
BROOKE GLADSTONE Jake, thank you very much.
JAKE GRUMBACH Thank you, Brooke.
BROOKE GLADSTONE Jake Grumbach is a political science professor at the University of Washington. His recent paper is called Laboratories of Democratic Backsliding.
LEWIS RAVEN WALLACE Coming up, critical race theory, the dandruff flecks of the authoritarian mullet.
BROOKE GLADSTONE This is On the Media.
[BREAK]
LEWIS RAVEN WALLACE This is On the Media, I'm Lewis Raven Wallace.
BROOKE GLADSTONE And I'm Brooke Gladstone. A culture war, like all wars, consists of many battles. And when it comes to race in America, there's no shortage of battlegrounds.
[CLIP]
NEWS REPORT Today, The New York Times published the print edition of the 1619 Project. [END CLIP]
BROOKE GLADSTONE First published as a collection of essays led by Nicole Hannah Jones in 2019, the 1619 Project argued that the United States didn't start in 1776, but instead in 1619. On the day, approximately 20 to 30 enslaved Africans were first brought to the continent. It's a frame that doesn't exactly inspire fireworks and apple pie, and it upsets some people.
[CLIP]
NEWS REPORT The Democrat Party is trying to re-educate American youth to tell them that our founding fathers were criminal slave owners who were trying to create a slave state.
NEWS REPORT Their so-called 1619 project, which tries to date the true founding of America in that year, which couldn't be more false. The foundation of America is the pilgrims of 1620, and the Patriots of 1776. [END CLIP]
BROOKE GLADSTONE In the middle of all of this argument and indignation, you have teachers trying to teach kids accurate information about U.S. history, and in recent months we've been bombarded with stories of racialized curriculum and lesson plans infiltrating schools. Terms like critical race theory and divisive concepts fly like paint balls, squishy, messy and usually obscuring what's actually being taught.
LEWIS RAVEN WALLACE The tumult actually reinforces one of the many lessons of the 1619 project. Race has always fundamentally shaped American life, even when it's not an obvious motivator, factor or prejudice, it's just beneath the surface. So, this next little fire starts in Missouri, specifically the Rockwood School District, a vast suburban area in St. Louis County. Rockwood is one of the largest districts in the state, with around 22,000 students. It's about 75 percent white. Last year, parents and administrators weren't directly arguing about race. They were arguing over whether to come back to school, how soon, with masks, without masks. And then once kids were back in school early last fall, things calmed down for a bit. But tensions rose again in February when some parents raised concerns about lessons during Black History Month. A smaller battle. And then this spring, an all out fight. Ryan Delaney, education reporter for St. Louis Public Radio, explains that it all kicked off after the baseball team at Eureka High School made a change to their uniform.
RYAN P DELANEY Their baseball team put a patch on their uniform. That was the thin blue line. Eventually, this made it to district administration, and the superintendent, Mark Myles, said that this can't be on the uniforms, and he cited national rules, which says that basically the only things that can be on uniforms are your school logo and an American flag. But in that letter explaining the decision, he not only cited that rule, but also said roughly that while he and the Rockwood School District support law enforcement and support the families in the district who have law enforcement people in them, also wanted to acknowledge that there are people in the district who have a more fraught relationship with police. And that really set off a firestorm. And his contact information was posted on a very large sign on the side of the road that said Rockwood canceled and encouraging people to call and email him. And he got a lot of emails and phone calls.
LEWIS RAVEN WALLACE So standoffs over police and police violence and this idea of blue lives matter snowballed into a debate about teaching Black History Month.
RYAN P DELANEY There's a lot of anger about some books that were being read. One was part of this district wide book club, Dear Martin, books that talk about what it's like to be a black teenager in America. And parents were very upset about that kind of curriculum, upset that the district's diversity and inclusion director was promoting the Nice White Parents podcast from The New York Times, saying that it's something that people should listen to.
LEWIS RAVEN WALLACE So the school district leaders are talking about this in terms of diversity and equity and inclusion, right, but the parents are rallying against what they're calling critical race theory.
RYAN P DELANEY The district is very adamant that they do not teach critical race theory. That's not what their curriculum is about. Part of their new strategic plan is about diversifying voices and perspectives. One example was, let's talk about the fact that there were African Americans involved in the space program, like the Hidden Figures movie, that shed light on people beyond Neil Armstrong, but these more conservative white parents say that talking about systemic racism is just indoctrinating their students. They say it is Marxist and that it is making their kids feel bad for being white. I read a bunch of emails from parents to Dr. Miles, the superintendent and some other administrators. And there's this level of fear among these parents. They do not want to go back to an era of Jim Crow laws or separate schooling, but they get fearful and start to push back against any sort of changes in curriculum, changes in academic opportunity that might impact their children.
LEWIS RAVEN WALLACE And then there was an incident, right, that added fuel to all these fires and that and ended up on the national news.
RYAN P DELANEY Yes, there was a long email that was sent by the elementary level reading and English language curriculum director to a bunch of teachers that was then shared with the parent group. And what ticked a lot of people off was this curriculum director basically suggested that teachers stop sharing all of their lesson materials online.
[CLIP]
NEWS REPORT After parents in the Rockwood County school district complained that their children were being indoctrinated with critical race theory, one official urged principals to hide the online materials being used in class. [END CLIP]
RYAN P DELANEY The district apologized, said that this email was not authorized. It was not appropriate to suggest that districts shouldn't be transparent, but the parents were livid. Fox and Friends did a segment in which they interviewed one of the parents in this concerned parent group who has a 9th grader in the district.
[CLIP]
CONCERNED PARENT So I started looking through the book, Dear Martin, and I was shocked at what I saw. No one has a right to read stuff like that to anyone's child, minor child, without their parents permission. It's full of foul language. There's cop hate. [END CLIP]
RYAN P DELANEY The author has since come out on Twitter and pushed back and said that her book does not include these things that this mother is claiming.
LEWIS RAVEN WALLACE And you tried to interview that same parent who went on Fox News too, right?
RYAN P DELANEY I did, yes. Four years ago, I had met her because one of her children is adopted and has a learning disability, and I was doing a story on the increased rates of learning disabilities and special education needs of adopted children. And initially my thought was, oh, great, I have a relationship with this parent. Hopefully she will trust me as a reporter and be willing to talk to me. And she actually said that she didn't feel like NPR, which she called left leaning, would give her and the other parents a fair shake. And there were some other parents in the group who also wrote back and said kind of similar things. But what was frustrating to me was at the same time, within this Facebook group, parents were putting messages, really hoping that Tucker Carlson would do a segment on it and who the best parent to go on Tucker Carlson would be. So, to see that they were willing to talk to what they perceived as right leaning media, but not willing to talk to a local reporter who has been covering education for four years in the district. It was sad. It made me just kind of think about how far this country has come in the last four years in terms of perceptions of the media.
LEWIS RAVEN WALLACE I think this whole picture is so fascinating because the points that parents are making and the ways that the white parents are talking about these issues are national talking points, and the "NPR is just liberal media" is a national talking point for the conservative movement. What effect do you think that national outlets like Fox are having on the local discourse?
RYAN P DELANEY I think when you have a three to four minute segment on a morning news program that throws out words like critical race theory without trying to define them accurately, that just feeds into anything that might talk about diversity in some parents minds, like, oh, this is critical race theory. So, it's being turned into this buzzword that sets people off. It's very hard to have a robust conversation about it.
LEWIS RAVEN WALLACE Ryan, thank you so much.
RYAN P DELANEY You're welcome. Happy to do it.
LEWIS RAVEN WALLACE Ryan Delaney is a reporter on the education desk at St. Louis Public Radio. He covers higher education and the many school districts in the St. Louis region.
The Rockwood controversy spurred Missouri lawmakers to push for legislation banning so-called critical race theory from being taught in schools across the state under the amendment, any curriculum that, quote, identifies people, entities or institutions as inherently, immutably or systemically sexist, racist, biased, privileged or oppressed would be barred. Similar legislation has been signed into law this spring in Arkansas, Idaho and Tennessee. And just this week, Florida's state Board of Education approved a ban using the same language. So what even is critical race theory?
ADAM HARRIS Yeah, so critical race theory began around the 1970s with the law professor Derrick Bell and a couple of other legal scholars trying to understand the ways that race in American law intersected, how a history of slavery and segregation was sort of codified and continue to influence American law today.
LEWIS RAVEN WALLACE Adam Harris is a staff writer at The Atlantic. His most recent article was titled The GOP's Critical Race Theory Obsession. Harris says one of the first instances we started to see critical race theory being used as a political bludgeon was in the early 1990s.
ADAM HARRIS President Bill Clinton nominated Lani Guinier to the Justice Department. She was a legal scholar who'd done a lot of work in voting rights, and conservatives effectively used her previous work in voting rights to sort of tag her as someone who was arguing for racial quotas in voting for the amount of seats that people should hold on city councils. And they also tagged her as championing a radical school of thought called critical race theory.
[CLIP]
NEWS REPORT Amid mounting pressure from conservatives, President Clinton has withdrawn his nomination of Lani Guinier to head up the Justice Department's Civil Rights Division, claiming Guinier's writings lent themselves to views that he could not embrace. The president cut her loose rather than fight a divisive battle on Capitol Hill. [END CLIP]
ADAM HARRIS From there, you have a kind of dormant period. It's not really until after George Zimmerman was acquitted in the murder of Trayvon Martin.
[CLIP]
NEWS REPORT The Jesse Jackson-like race profiteer, race grievance industry, says everything's about race. America is a racist nation. [END CLIP]
ADAM HARRIS You see a mention of critical race theory after a video surfaces of President Barack Obama hugging Derrick Bell in 1990, you know, when he was a law student at Harvard Law.
[CLIP]
NEWS REPORT The president is actually kind of aligning himself here with a well-known campus radical. [END CLIP]
ADAM HARRIS There is a kind of conservative backlash saying that he believes in this radical critical race theory, and then there are kind of a couple of mentions up until 2020. Shortly after George Floyd is murdered, you start to see a crush of mentions of critical race theory, right? After Robin DiAngelo's White Fragility shoots to the top of the charts.
[CLIP]
NEWS REPORT I mean, I've been reading the White Fragility books, How to Be An Anti-Racist books. Let me just tell you, not only is it a rejection of American values, it's a rejection of values like individualism, free speech, due process, all of the things that Americans hold dear. [END CLIP]
BROOKE GLADSTONE And then you just see the surge of interest and this idea in conservative media about critical race theory. And a lot of that can be traced to one man, and that is Christopher Rufo. So, Christopher Rufo is a 36-year-old senior fellow at the Manhattan Institute, a libertarian think tank, and in June he received a tip from a municipal employee in Seattle and they said that they were forced to partake in a, quote unquote, internalized racial superiority training. Effectively diversity training. And so Rufo files a Freedom of Information Act request to figure out what is going on. He ends up publishing his findings in the Manhattan Institute of Public Policy Journal, and then he ends up getting several other tips from places across the country, from schools to the Treasury Department to other departments in the federal government. And he writes up these anecdotes, says that this is something that is now infecting American life. By September, he is invited on Tucker Carlson's program.
[CLIP]
CHRISTOPHER RUFO It's absolutely astonishing how critical race theory has pervaded every institution in the federal government. [END CLIP]
ADAM HARRIS And he was asking at the end of the broadcast for President Trump to sign an executive order that would ban the use of critical race theory in federal workforce training. Critical race theory, as he defined it. Three weeks later...
[CLIP]
NEWS REPORT President Trump has signed an executive order to stop it, calling critical race theory a sickness that cannot be allowed to continue. [END CLIP]
ADAM HARRIS It's immediately challenged in court, and a federal judge effectively says that this is a violation of free speech. The executive order is subsequently declared moot when President Joe Biden enters office and signs an executive order nullifying it. But that language that President Trump used in his initial executive order becomes what state lawmakers begin to use in their own legislation, that is barring, quote unquote, divisive concepts, the idea that meritocracy is inherently racist, the idea that America is a racist country. Very broad, generalized ideas that get a little bit more specific, but what First Amendment advocates and constitutional lawyers say effectively begin to chill speech about race in America.
LEWIS RAVEN WALLACE It really made me think about the narratives of white victimhood going even further back to the lost cause in the south, being taught for a hundred years to obscure the history of slavery itself. And so, this kind of repression of conversation about racism is not new.
ADAM HARRIS Absolutely not new. At several periods, you have these moments of racial progress, so you have one immediately following the civil war, which is called Reconstruction, and then you end up with the period of lawless paramilitary violence pervasive in the South. Elimination of the rights that were gained during the reconstruction era, literal massacres that stole political power away from black folks for more than a century. And then after the civil rights movement, you also have a fierce backlash to racial progress. So you have the Civil Rights Act, the Voting Rights Act, the Fair Housing Act. Then you have the Southern Strategy. Really steering into the idea that if these people are getting something, then we are losing something. We're losing a fundamental part of the American way of life, the way that things have been practiced here for centuries.
LEWIS RAVEN WALLACE And so, in a way, these laws that are being passed about critical race theory, they're not really about critical race theory. They're about the narrative of history in this country, and how do you write laws that limit that?
ADAM HARRIS Many of the laws are written in broad, sweeping language that you can't really make objection to, right? They say that they want to ban state contractors from offering trainings that promote division between resentment of groups based on race, gender or political affiliation. But there is also a piece of that that says resentment of, or social justice for, right? In Idaho, they wanted to bar institutions of public education from compelling students to personally affirm, adopt or adhere to certain beliefs about race, sex or religion. But of course, they sort of skip over what it would actually mean to compel a student to do anything, right? If you were teaching a student about the history of unfair housing practices and redlining, there is the question of, oh, does this cross the line? So effectively what these laws do is sort of chill speech. Oklahoma, we've already seen an example where a community college canceled a professor's course because they thought it might run afoul of the law and said, we're going to be looking into this more in the course may be reinstated, but the chill has already happened. And that's exactly what First Amendment lawyers were afraid of.
LEWIS RAVEN WALLACE So are these laws going to hold up?
ADAM HARRIS I spoke with Joe Cohn, who is the legislative and policy director at the Foundation for Individual Rights in Education. He had a smart point on it that I thought said it well, "Of the legislative language, so far, none of the bills are fully constitutional, and if it isn't fully constitutional, there's a word for that – it means it's unconstitutional." But that won't stop the lawmakers from passing the laws and then seeing what happens.
LEWIS RAVEN WALLACE On Twitter this week, Nicole Hannah Jones, the investigative journalist who created the 1619 Project, made an argument that journalists should start by demanding that Republicans define the term critical race theory and then fact check those definitions against what's actually happening in schools. How do you think responsible media should be covering this stuff?
ADAM HARRIS I think that's exactly what should be happening, right? That kind of allows you to say, is this discussion in good faith, when you label something critical race theory? Are you actually talking about critical race theory or are you talking just generally about examinations of America's sordid racial history? Are we talking about critical race theory or are we talking about the fact that the government sponsored redlining and segregated housing districts? Are we talking about the fact that state governments argued to maintain segregation in education and then continuously propped up segregated school systems, right? What are we actually talking about here? And I think we've already gotten to a point where you've had even some Democrats saying that critical race theory is a terrible tagline. It's like that's actually not what we're talking about. We're not talking about potential elimination of an academic theory, right? We're talking about a chill on free speech more broadly that discusses race in America.
LEWIS RAVEN WALLACE I'm just thinking about this whole idea that we can't have a discussion that would make white people feel bad. That's so fascinating to me, because I have white family in the South and discussions about the reality of slavery do make white people feel bad, but we need to have them. I think it's just an interesting teaching question, too, about what is the real way to move through that. And that conversation is just so far removed from the hammering on the concept of critical race theory.
ADAM HARRIS And I think the other thing is that, you know, black people would also prefer not to have these conversations anymore. You know, it's traumatic to think about slavery and segregation. So we would also like not to have to live with that on a regular basis. But it's impossible to do that until you have those real conversations about where America has been so that you can talk about where America needs to go.
LEWIS RAVEN WALLACE Adam, thank you so much.
ADAM HARRIS Thanks for having me.
LEWIS RAVEN WALLACE Adam Harris is a staff writer at The Atlantic and the author of the forthcoming book The State Must Provide.
BROOKE GLADSTONE And that's the show. On the Media is produced by Leah Feder, Micah Loewinger, Eloise Blondiau and Rebecca Clark-Callender with help from Ellen Li. Xandra Ellin writes our unique newsletter and our show was edited by Katya and me.
Our technical director is Jennifer Munsen, our engineer this week was Adriene Lily. Katya Rogers is our executive producer. On the Media is a production of WNYC Studios. Huge thanks to Lewis Raven Wallace for co-hosting with me this week. I'm Brooke Gladstone.
Copyright © 2021 New York Public Radio. All rights reserved. Visit our website terms of use at www.wnyc.org for further information.
New York Public Radio transcripts are created on a rush deadline, often by contractors. This text may not be in its final form and may be updated or revised in the future. Accuracy and availability may vary. The authoritative record of New York Public Radio's programming is the audio record.