Laboratories of Democratic Backsliding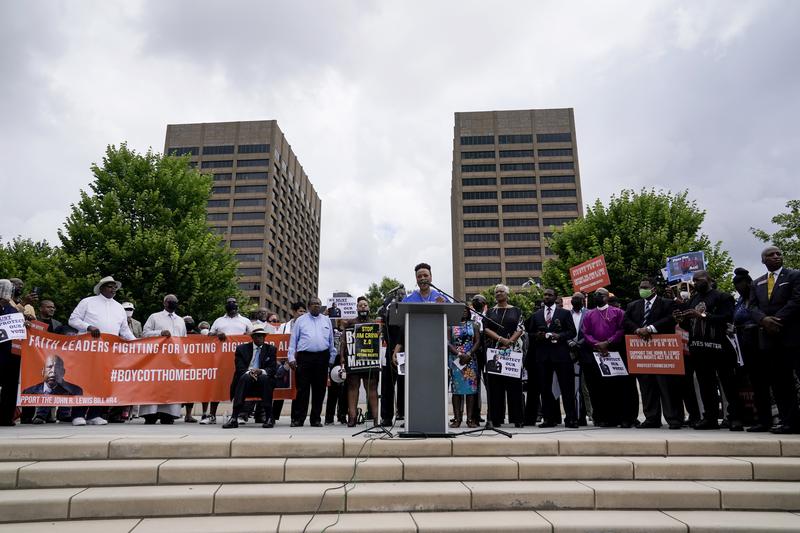 Transcript
BROOKE GLADSTONE This is On the Media, I'm Brooke Gladstone.
LEWIS RAVEN WALLACE And I'm Lewis Raven Wallace. It's officially hot vax summer, and America is rocking a devilish new hairdo.
[CLIP]
BEN COLLINS The authoritarian mullet, which is culture war in the front, democracy erosion in the back. [END CLIP]
LEWIS RAVEN WALLACE Ben Collins, who reports on disinformation on MSNBC this week. [CLIP]
BEN COLLINS In the back, there are all of these voting rights restrictions being passed throughout the country. In a lot of ways it's being hidden by these dogfights that people are having over these conspiracy theories in the front. [END CLIP]
LEWIS RAVEN WALLACE The culture war and front has taken many forms, outsized claims about cancel culture, Trump's big election lie, demonization of critical race theory and white replacement panic.
[CLIP]
TUCKER CARLSON I have less political power because they're importing a brand new electorate. Why should I sit back and take that? [END CLIP]
LEWIS RAVEN WALLACE Tucker Carlson was referring to an idea neo-Nazis and white nationalists call the Great Replacement. A University of Chicago report found that the majority of those arrested for rioting in the January 6th insurrection had posted to social media about this fear: the fear that white people are being replaced culturally and demographically by people of color. The great replacement is a sort of rhetorical sleight of hand. Justifying attacks on democracy by talking about saving it. Now you see it, now you don't. And the people pushing this idea don't need to break into state houses. They're walking in the front door.
[CLIP]
JESSICA ANDERSON We're working with these state legislators to make sure they have all of the information they need to draft the bills. In some cases, we actually draft them for them. [END CLIP]
BROOKE GLADSTONE That's Jessica Anderson, executive director of Heritage Action for America, a dark money organization affiliated with the Heritage Foundation. Last month, Mother Jones published a leaked video of Anderson speaking at a donor event outlining the group's strategy to rewrite voting laws.
[CLIP]
JESSICA ANDERSON But we have honed in on these eight specific focus states because they are battleground states. And if maybe two, maybe three of these eight states went a different way in November, we would be having a different conversation here today. [END CLIP]
BROOKE GLADSTONE Let's tick through some of them, starting with Iowa. See if you notice a pattern.
[CLIP]
NEWS REPORT Senate file 413 limits the amount of time for absentee voting and removes inactive voters faster. It also shortens Iowa's Election Day voting time for general elections by an hour, with polls closing at 8:00 p.m. for all elections. [END CLIP]
BROOKE GLADSTONE Florida.
[CLIP]
NEWS REPORT The law limits mail in voting, restricts the hours dropboxes are open, and requires Floridians to show I.D. for new mail in ballot requests. [END CLIP]
BROOKE GLADSTONE Texas.
[CLIP]
NEWS REPORT The bill would restrict voting hours and drive up voting would not be allowed. Poll watchers would be allowed to use phones to document potential illegal activity during voting.
NEWS REPORT ...And lowering the legal standard for overturning an election outcome. [END CLIP]
BROOKE GLADSTONE Georgia.
[CLIP]
NEWS REPORT Governor Brian Kemp defended the portion banning people from providing food and water to voters standing in long lines. [END CLIP]
BROOKE GLADSTONE The authoritarian mullet is long and lustrous, growing fast, lubricated by Donald Trump's big election lie. But according to new research from Jake Grumbach, assistant professor of political science at the University of Washington, GOP lawmakers have been reducing the, quote, democratic performance of states they control for the better part of two decades. Using a statistical model that assesses shifts in democracy from 2000 to 2018, Grumbach found that when Republicans have gained control of state legislatures, those states have moved steadily, at times abruptly, away from democracy. Hence the name of his paper: Laboratories of Democratic Backsliding.
JAKE GRUMBACH Back in the 1930s, Justice Brandeis coined the phrase laboratories of democracy to talk about states really innovating new policy experiments and learning from each other, but what we've seen over the past 20 years is really some threats to American democracy coming from state governments.
BROOKE GLADSTONE Your paper shows that state governments, because they have constitutional authority, are where democracy lives and dies.
JAKE GRUMBACH Yeah, you see some pretty big changes where states like Illinois, Vermont really rise in their sort of democratic performance as they make their districts more equitable and they make the ballot more accessible; states like Colorado and Washington, some of the longtime leaders in expanding access to voting, and then you see other states that have really dropped off a cliff after the 2010 wave elections that ushered in Republican state governments to states like North Carolina, Wisconsin, Michigan and Ohio. You see that a state like North Carolina goes from expanding access to voting, but after 2010, it gerrymandered potentially the most biased districts in American history, while also suppressing the vote through laws including strict voter ID, reducing early voting in urban polling places, making it take longer to wait in line to vote and so forth.
BROOKE GLADSTONE So in the national GOP, who specifically is driving this kind of shift?
JAKE GRUMBACH So it's crucial to recognize that conservative parties within democratic countries, they really determine whether democracy expands or contracts. Conservative parties tend to have a less popular economic agenda. And what that means is that these conservative parties of business, like the Republican Party, have a choice. Do they moderate their economic platforms and try to gain more votes that way? Or do they introduce other forms of conflict and partner with anti-democratic forces to restrict democratic expansion? What the Republican Party has increasingly done is partner with groups and activists who are motivated by white identity politics and cultural resentment. And both of those groups, the wealthy and people who oppose multiracial democracy, have incentives to restrict democracy in a diversifying and economically unequal country like the US.
BROOKE GLADSTONE So just to be clear, what's going on on the state level isn't based on local changes, not demographic shifts, changing generation, anything like that. It's really being directed by the national GOP.
JAKE GRUMBACH That's exactly right. What we see is really a national tug of war over the direction of the country. So, January 6th is a great example of this, where national Republican groups and conservative Republican aligned groups helped finance this rally prior to the occupation of the Capitol. And it drew these anti democracy activists who are opposed to multiracial democracy from across the country. It doesn't really matter whether a state is becoming more or less politically polarized within the state, doesn't really matter the racial demographics of the state. When that state is controlled by the Republican Party, it's going to restrict Democratic performance in the state. And Republican voters and activists from across the country are relatively unified in this opposition to the legitimacy of their political opponents. Republican candidates who oppose that anti-democratic move oppose right wing populism and are supportive of the rule of law and multiracial democracy. They are progressively being ousted from the party.
BROOKE GLADSTONE It's been noted that the GOP's anti-democratic moves in states were supercharged after 2010 because of improvements in computer driven, laser focused redrawing of districts after the 2010 census. A lot of people say that if Democrats had been swept in instead of Republicans, they would have used the same tools in the same way and done the same thing.
JAKE GRUMBACH Overall, in the past 20 years, when divided governments and Democratic governments take state power, they have not gerrymandered districts in the same way. Not done anywhere near as biased districting, as states like North Carolina over the past decade or so.
BROOKE GLADSTONE I guess it depends, how low is any particular party willing to go to stay in power?
JAKE GRUMBACH So this has been a long-term trend of norm erosion, doing legal things that political elites wouldn't have thought was acceptable in earlier periods of time. And the Republican Party has led in that norm erosion. At the national level, the Democratic Party engaged in more filibustering during the George W. Bush administration and things like that than it had before. So there's elements of that, but it's just not the same. It's been very asymmetric in terms of the norm erosion both at the state level and the national level.
BROOKE GLADSTONE What does this tell us about where and how we should be addressing our attention?
JAKE GRUMBACH So I've been part of this long tradition of American political scientists saying we need to focus more on the state level, because that's where much of the policy authority and especially the authority over democratic institutions are. At this point, though, it's a bit late to just say, you know, make sure to win state legislatures and state attorneys general with pro-democracy candidates. So it's crucial that national policy comes in to enforce voting rights and anti-gerrymandering, and in addition, to figure out legal ways to prevent election subversion, where state attorneys general or legislatures refuse to certify Electoral College votes for an opposing party presidential candidate.
BROOKE GLADSTONE The media critic Jay Rosen said that local reporters need to do the heavy lifting on this protection of democracy thing. He also said that on the local level, at least, divided legislatures can problem solve on practical matters, like getting kids back into school, regardless of the stance of the GOP. Is there a glimmer of a solution there on the state level, or even the county level, to the bigger issue of restoring and strengthening American democracy? Or are those very, very local issues simply boxed off from this argument?
JAKE GRUMBACH I'm unfortunately a bit pessimistic about this. Media coverage of politics is overwhelmingly national. There's really important work that shows that when local radio and television stations are bought up by national conglomerates like Sinclair, coverage becomes much more nationalized. And it really disconnects people from how public policy and organization and politics affects their lives in material terms, and it really opens up, again, an opportunity for sort of national cultural resentment entrepreneurs to really gain traction. So I hope for a resurgence of state and local journalism that goes along with a resurgence of state and local political organization, the reinvestment in the labor movement at a local level in state and local party organizations, rather than most of the resources being in the national party. I think these sorts of things are crucial for reconnecting people to how politics affects their lives rather than a national symbolic politics around cultural iconography that we saw so powerfully during the Trump administration. I like to say now that you can tell a lot more about how somebody votes in the US based on how they feel about the American flag or Colin Kaepernick rather than how they feel about public policy in areas like health care or criminal justice or the environment or anything else.
BROOKE GLADSTONE If you're pessimistic about the potential for the press, local or national, to get on this, where do you place your optimism? Or maybe you don't have any.
JAKE GRUMBACH We're in a moment of high voter turnout. People are very interested in politics. There's been a new generation of organizers and activists that have shown new ways of connecting people to politics, and I think in the Democratic Party, there is actually some new style of thinking. The silver lining of the Trump era is that old myths about American political institutions, or the idea that American federalism or the Senate or Electoral College are strong democratic institutions broke down. I think there is a large role for the media to play here. There's critically important reporting going on about how policy affects people's lives. There's been outstanding reporting to policing, for example, and that has really allowed local communities to get a better sense of what their local and state governments really do. And again, state governments have constitutional authority over policing. So that's a really critical shift. I think there are some glimmers of hope.
BROOKE GLADSTONE Jake, thank you very much.
JAKE GRUMBACH Thank you, Brooke.
BROOKE GLADSTONE Jake Grumbach is a political science professor at the University of Washington. His recent paper is called Laboratories of Democratic Backsliding.
LEWIS RAVEN WALLACE Coming up, critical race theory, the dandruff flecks of the authoritarian mullet.
BROOKE GLADSTONE This is On the Media.
Copyright © 2021 New York Public Radio. All rights reserved. Visit our website terms of use at www.wnyc.org for further information.
New York Public Radio transcripts are created on a rush deadline, often by contractors. This text may not be in its final form and may be updated or revised in the future. Accuracy and availability may vary. The authoritative record of New York Public Radio's programming is the audio record.