The Real Critical Race Theory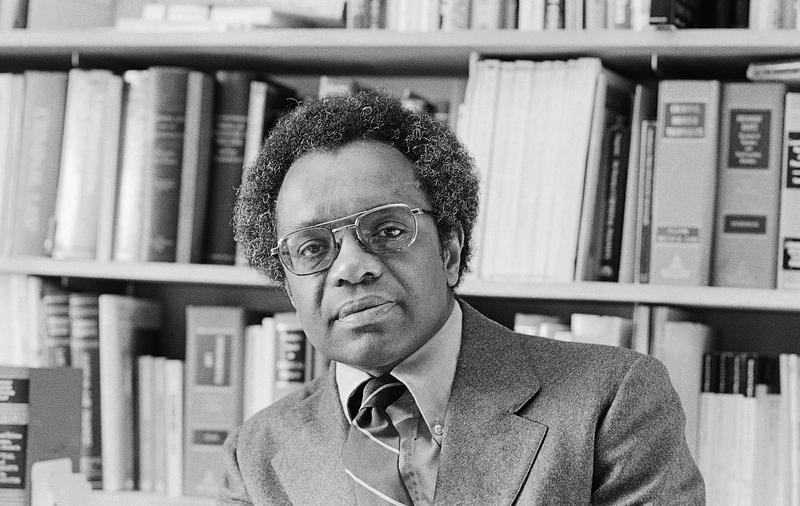 Transcript
LEWIS RAVEN WALLACE This is On the Media, I'm Lewis Raven Wallace.
BROOKE GLADSTONE And I'm Brooke Gladstone. A culture war, like all wars, consists of many battles. And when it comes to race in America, there's no shortage of battlegrounds.
[CLIP]
NEWS REPORT Today, The New York Times published the print edition of the 1619 Project. [END CLIP]
BROOKE GLADSTONE First published as a collection of essays led by Nicole Hannah Jones in 2019, the 1619 Project argued that the United States didn't start in 1776, but instead in 1619. On the day, approximately 20 to 30 enslaved Africans were first brought to the continent. It's a frame that doesn't exactly inspire fireworks and apple pie, and it upsets some people.
[CLIP]
NEWS REPORT The Democrat Party is trying to re-educate American youth to tell them that our founding fathers were criminal slave owners who were trying to create a slave state.
NEWS REPORT Their so-called 1619 project, which tries to date the true founding of America in that year, which couldn't be more false. The foundation of America is the pilgrims of 1620, and the Patriots of 1776. [END CLIP]
BROOKE GLADSTONE In the middle of all of this argument and indignation, you have teachers trying to teach kids accurate information about U.S. history, and in recent months we've been bombarded with stories of racialized curriculum and lesson plans infiltrating schools. Terms like critical race theory and divisive concepts fly like paint balls, squishy, messy and usually obscuring what's actually being taught.
LEWIS RAVEN WALLACE The tumult actually reinforces one of the many lessons of the 1619 project. Race has always fundamentally shaped American life, even when it's not an obvious motivator, factor or prejudice, it's just beneath the surface. So, this next little fire starts in Missouri, specifically the Rockwood School District, a vast suburban area in St. Louis County. Rockwood is one of the largest districts in the state, with around 22,000 students. It's about 75 percent white. Last year, parents and administrators weren't directly arguing about race. They were arguing over whether to come back to school, how soon, with masks, without masks. And then once kids were back in school early last fall, things calmed down for a bit. But tensions rose again in February when some parents raised concerns about lessons during Black History Month. A smaller battle. And then this spring, an all out fight. Ryan Delaney, education reporter for St. Louis Public Radio, explains that it all kicked off after the baseball team at Eureka High School made a change to their uniform.
RYAN P DELANEY Their baseball team put a patch on their uniform. That was the thin blue line. Eventually, this made it to district administration, and the superintendent, Mark Myles, said that this can't be on the uniforms, and he cited national rules, which says that basically the only things that can be on uniforms are your school logo and an American flag. But in that letter explaining the decision, he not only cited that rule, but also said roughly that while he and the Rockwood School District support law enforcement and support the families in the district who have law enforcement people in them, also wanted to acknowledge that there are people in the district who have a more fraught relationship with police. And that really set off a firestorm. And his contact information was posted on a very large sign on the side of the road that said Rockwood canceled and encouraging people to call and email him. And he got a lot of emails and phone calls.
LEWIS RAVEN WALLACE So standoffs over police and police violence and this idea of blue lives matter snowballed into a debate about teaching Black History Month.
RYAN P DELANEY There's a lot of anger about some books that were being read. One was part of this district wide book club, Dear Martin, books that talk about what it's like to be a black teenager in America. And parents were very upset about that kind of curriculum, upset that the district's diversity and inclusion director was promoting the Nice White Parents podcast from The New York Times, saying that it's something that people should listen to.
LEWIS RAVEN WALLACE So the school district leaders are talking about this in terms of diversity and equity and inclusion, right, but the parents are rallying against what they're calling critical race theory.
RYAN P DELANEY The district is very adamant that they do not teach critical race theory. That's not what their curriculum is about. Part of their new strategic plan is about diversifying voices and perspectives. One example was, let's talk about the fact that there were African Americans involved in the space program, like the Hidden Figures movie, that shed light on people beyond Neil Armstrong, but these more conservative white parents say that talking about systemic racism is just indoctrinating their students. They say it is Marxist and that it is making their kids feel bad for being white. I read a bunch of emails from parents to Dr. Miles, the superintendent and some other administrators. And there's this level of fear among these parents. They do not want to go back to an era of Jim Crow laws or separate schooling, but they get fearful and start to push back against any sort of changes in curriculum, changes in academic opportunity that might impact their children.
LEWIS RAVEN WALLACE And then there was an incident, right, that added fuel to all these fires and that and ended up on the national news.
RYAN P DELANEY Yes, there was a long email that was sent by the elementary level reading and English language curriculum director to a bunch of teachers that was then shared with the parent group. And what ticked a lot of people off was this curriculum director basically suggested that teachers stop sharing all of their lesson materials online.
[CLIP]
NEWS REPORT After parents in the Rockwood County school district complained that their children were being indoctrinated with critical race theory, one official urged principals to hide the online materials being used in class. [END CLIP]
RYAN P DELANEY The district apologized, said that this email was not authorized. It was not appropriate to suggest that districts shouldn't be transparent, but the parents were livid. Fox and Friends did a segment in which they interviewed one of the parents in this concerned parent group who has a 9th grader in the district.
[CLIP]
CONCERNED PARENT So I started looking through the book, Dear Martin, and I was shocked at what I saw. No one has a right to read stuff like that to anyone's child, minor child, without their parents permission. It's full of foul language. There's cop hate. [END CLIP]
RYAN P DELANEY The author has since come out on Twitter and pushed back and said that her book does not include these things that this mother is claiming.
LEWIS RAVEN WALLACE And you tried to interview that same parent who went on Fox News too, right?
RYAN P DELANEY I did, yes. Four years ago, I had met her because one of her children is adopted and has a learning disability, and I was doing a story on the increased rates of learning disabilities and special education needs of adopted children. And initially my thought was, oh, great, I have a relationship with this parent. Hopefully she will trust me as a reporter and be willing to talk to me. And she actually said that she didn't feel like NPR, which she called left leaning, would give her and the other parents a fair shake. And there were some other parents in the group who also wrote back and said kind of similar things. But what was frustrating to me was at the same time, within this Facebook group, parents were putting messages, really hoping that Tucker Carlson would do a segment on it and who the best parent to go on Tucker Carlson would be. So, to see that they were willing to talk to what they perceived as right leaning media, but not willing to talk to a local reporter who has been covering education for four years in the district. It was sad. It made me just kind of think about how far this country has come in the last four years in terms of perceptions of the media.
LEWIS RAVEN WALLACE I think this whole picture is so fascinating because the points that parents are making and the ways that the white parents are talking about these issues are national talking points, and the "NPR is just liberal media" is a national talking point for the conservative movement. What effect do you think that national outlets like Fox are having on the local discourse?
RYAN P DELANEY I think when you have a three to four minute segment on a morning news program that throws out words like critical race theory without trying to define them accurately, that just feeds into anything that might talk about diversity in some parents minds, like, oh, this is critical race theory. So, it's being turned into this buzzword that sets people off. It's very hard to have a robust conversation about it.
LEWIS RAVEN WALLACE Ryan, thank you so much.
RYAN P DELANEY You're welcome. Happy to do it.
LEWIS RAVEN WALLACE Ryan Delaney is a reporter on the education desk at St. Louis Public Radio. He covers higher education and the many school districts in the St. Louis region.
The Rockwood controversy spurred Missouri lawmakers to push for legislation banning so-called critical race theory from being taught in schools across the state under the amendment, any curriculum that, quote, identifies people, entities or institutions as inherently, immutably or systemically sexist, racist, biased, privileged or oppressed would be barred. Similar legislation has been signed into law this spring in Arkansas, Idaho and Tennessee. And just this week, Florida's state Board of Education approved a ban using the same language. So what even is critical race theory?
ADAM HARRIS Yeah, so critical race theory began around the 1970s with the law professor Derrick Bell and a couple of other legal scholars trying to understand the ways that race in American law intersected, how a history of slavery and segregation was sort of codified and continue to influence American law today.
LEWIS RAVEN WALLACE Adam Harris is a staff writer at The Atlantic. His most recent article was titled The GOP's Critical Race Theory Obsession. Harris says one of the first instances we started to see critical race theory being used as a political bludgeon was in the early 1990s.
ADAM HARRIS President Bill Clinton nominated Lani Guinier to the Justice Department. She was a legal scholar who'd done a lot of work in voting rights, and conservatives effectively used her previous work in voting rights to sort of tag her as someone who was arguing for racial quotas in voting for the amount of seats that people should hold on city councils. And they also tagged her as championing a radical school of thought called critical race theory.
[CLIP]
NEWS REPORT Amid mounting pressure from conservatives, President Clinton has withdrawn his nomination of Lani Guinier to head up the Justice Department's Civil Rights Division, claiming Guinier's writings lent themselves to views that he could not embrace. The president cut her loose rather than fight a divisive battle on Capitol Hill. [END CLIP]
ADAM HARRIS From there, you have a kind of dormant period. It's not really until after George Zimmerman was acquitted in the murder of Trayvon Martin.
[CLIP]
NEWS REPORT The Jesse Jackson-like race profiteer, race grievance industry, says everything's about race. America is a racist nation. [END CLIP]
ADAM HARRIS You see a mention of critical race theory after a video surfaces of President Barack Obama hugging Derrick Bell in 1990, you know, when he was a law student at Harvard Law.
[CLIP]
NEWS REPORT The president is actually kind of aligning himself here with a well-known campus radical. [END CLIP]
ADAM HARRIS There is a kind of conservative backlash saying that he believes in this radical critical race theory, and then there are kind of a couple of mentions up until 2020. Shortly after George Floyd is murdered, you start to see a crush of mentions of critical race theory, right? After Robin DiAngelo's White Fragility shoots to the top of the charts.
[CLIP]
NEWS REPORT I mean, I've been reading the White Fragility books, How to Be An Anti-Racist books. Let me just tell you, not only is it a rejection of American values, it's a rejection of values like individualism, free speech, due process, all of the things that Americans hold dear. [END CLIP]
BROOKE GLADSTONE And then you just see the surge of interest and this idea in conservative media about critical race theory. And a lot of that can be traced to one man, and that is Christopher Rufo. So, Christopher Rufo is a 36-year-old senior fellow at the Manhattan Institute, a libertarian think tank, and in June he received a tip from a municipal employee in Seattle and they said that they were forced to partake in a, quote unquote, internalized racial superiority training. Effectively diversity training. And so Rufo files a Freedom of Information Act request to figure out what is going on. He ends up publishing his findings in the Manhattan Institute of Public Policy Journal, and then he ends up getting several other tips from places across the country, from schools to the Treasury Department to other departments in the federal government. And he writes up these anecdotes, says that this is something that is now infecting American life. By September, he is invited on Tucker Carlson's program.
[CLIP]
CHRISTOPHER RUFO It's absolutely astonishing how critical race theory has pervaded every institution in the federal government. [END CLIP]
ADAM HARRIS And he was asking at the end of the broadcast for President Trump to sign an executive order that would ban the use of critical race theory in federal workforce training. Critical race theory, as he defined it. Three weeks later...
[CLIP]
NEWS REPORT President Trump has signed an executive order to stop it, calling critical race theory a sickness that cannot be allowed to continue. [END CLIP]
ADAM HARRIS It's immediately challenged in court, and a federal judge effectively says that this is a violation of free speech. The executive order is subsequently declared moot when President Joe Biden enters office and signs an executive order nullifying it. But that language that President Trump used in his initial executive order becomes what state lawmakers begin to use in their own legislation, that is barring, quote unquote, divisive concepts, the idea that meritocracy is inherently racist, the idea that America is a racist country. Very broad, generalized ideas that get a little bit more specific, but what First Amendment advocates and constitutional lawyers say effectively begin to chill speech about race in America.
LEWIS RAVEN WALLACE It really made me think about the narratives of white victimhood going even further back to the lost cause in the south, being taught for a hundred years to obscure the history of slavery itself. And so, this kind of repression of conversation about racism is not new.
ADAM HARRIS Absolutely not new. At several periods, you have these moments of racial progress, so you have one immediately following the civil war, which is called Reconstruction, and then you end up with the period of lawless paramilitary violence pervasive in the South. Elimination of the rights that were gained during the reconstruction era, literal massacres that stole political power away from black folks for more than a century. And then after the civil rights movement, you also have a fierce backlash to racial progress. So you have the Civil Rights Act, the Voting Rights Act, the Fair Housing Act. Then you have the Southern Strategy. Really steering into the idea that if these people are getting something, then we are losing something. We're losing a fundamental part of the American way of life, the way that things have been practiced here for centuries.
LEWIS RAVEN WALLACE And so, in a way, these laws that are being passed about critical race theory, they're not really about critical race theory. They're about the narrative of history in this country, and how do you write laws that limit that?
ADAM HARRIS Many of the laws are written in broad, sweeping language that you can't really make objection to, right? They say that they want to ban state contractors from offering trainings that promote division between resentment of groups based on race, gender or political affiliation. But there is also a piece of that that says resentment of, or social justice for, right? In Idaho, they wanted to bar institutions of public education from compelling students to personally affirm, adopt or adhere to certain beliefs about race, sex or religion. But of course, they sort of skip over what it would actually mean to compel a student to do anything, right? If you were teaching a student about the history of unfair housing practices and redlining, there is the question of, oh, does this cross the line? So effectively what these laws do is sort of chill speech. Oklahoma, we've already seen an example where a community college canceled a professor's course because they thought it might run afoul of the law and said, we're going to be looking into this more in the course may be reinstated, but the chill has already happened. And that's exactly what First Amendment lawyers were afraid of.
LEWIS RAVEN WALLACE So are these laws going to hold up?
ADAM HARRIS I spoke with Joe Cohn, who is the legislative and policy director at the Foundation for Individual Rights in Education. He had a smart point on it that I thought said it well, "Of the legislative language, so far, none of the bills are fully constitutional, and if it isn't fully constitutional, there's a word for that – it means it's unconstitutional." But that won't stop the lawmakers from passing the laws and then seeing what happens.
LEWIS RAVEN WALLACE On Twitter this week, Nicole Hannah Jones, the investigative journalist who created the 1619 Project, made an argument that journalists should start by demanding that Republicans define the term critical race theory and then fact check those definitions against what's actually happening in schools. How do you think responsible media should be covering this stuff?
ADAM HARRIS I think that's exactly what should be happening, right? That kind of allows you to say, is this discussion in good faith, when you label something critical race theory? Are you actually talking about critical race theory or are you talking just generally about examinations of America's sordid racial history? Are we talking about critical race theory or are we talking about the fact that the government sponsored redlining and segregated housing districts? Are we talking about the fact that state governments argued to maintain segregation in education and then continuously propped up segregated school systems, right? What are we actually talking about here? And I think we've already gotten to a point where you've had even some Democrats saying that critical race theory is a terrible tagline. It's like that's actually not what we're talking about. We're not talking about potential elimination of an academic theory, right? We're talking about a chill on free speech more broadly that discusses race in America.
LEWIS RAVEN WALLACE I'm just thinking about this whole idea that we can't have a discussion that would make white people feel bad. That's so fascinating to me, because I have white family in the South and discussions about the reality of slavery do make white people feel bad, but we need to have them. I think it's just an interesting teaching question, too, about what is the real way to move through that. And that conversation is just so far removed from the hammering on the concept of critical race theory.
ADAM HARRIS And I think the other thing is that, you know, black people would also prefer not to have these conversations anymore. You know, it's traumatic to think about slavery and segregation. So we would also like not to have to live with that on a regular basis. But it's impossible to do that until you have those real conversations about where America has been so that you can talk about where America needs to go.
LEWIS RAVEN WALLACE Adam, thank you so much.
ADAM HARRIS Thanks for having me.
LEWIS RAVEN WALLACE Adam Harris is a staff writer at The Atlantic and the author of the forthcoming book The State Must Provide.
BROOKE GLADSTONE And that's the show. On the Media is produced by Leah Feder, Micah Loewinger, Eloise Blondiau and Rebecca Clark-Callender with help from Ellen Li. Xandra Ellin writes our unique newsletter and our show was edited by Katya and me.
Our technical director is Jennifer Munsen, our engineer this week was Adriene Lily. Katya Rogers is our executive producer. On the Media is a production of WNYC Studios. Huge thanks to Lewis Raven Wallace for co-hosting with me this week. I'm Brooke Gladstone.
Copyright © 2021 New York Public Radio. All rights reserved. Visit our website terms of use at www.wnyc.org for further information.
New York Public Radio transcripts are created on a rush deadline, often by contractors. This text may not be in its final form and may be updated or revised in the future. Accuracy and availability may vary. The authoritative record of New York Public Radio's programming is the audio record.