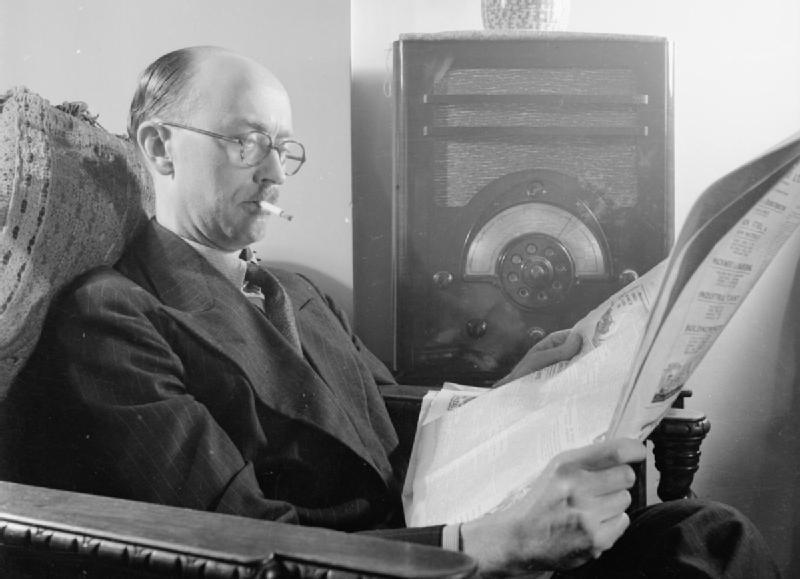 Transcript
The Good Ol' Days
SOPHIA GASTON You would be hard pressed to find an election in Europe over the past decade that has not invoked nostalgic narratives.
BROOKE GLADSTONE From WNYC in New York, this is On the Media. I'm Brooke Gladstone. Nostalgia is an effective political tool, but what happens when that powerful longing is for a past that never, ever existed?
ADAM SERWER You are manipulating people's sense of the past in order to catastrophize about the future so that they will justify anything you want to do in the name of protecting them from that.
BROOKE GLADSTONE Plus, how seemingly modern moral panics have been retooled and repeated in our media every decade for over a century.
NEWS CLIP A nightclub operator has made the most significant forecast for the 1970s: "nobody laughs anymore," he said seriously. "Humor is dead."
BROOKE GLADSTONE The hazards of longing for yester years. It's all coming up after this.
[END OF BILLBOARD]
MICAH LOEWINGER From WNYC in New York. This is On the Media, I'm Micah Loewinger
BROOKE GLADSTONE That's OTM's intrepid reporter. I'm Brooke Gladstone. This hour, we're looking at nostalgia, cultural and political, as a driving force because nostalgia derives from memories of the past — a past we may or may not have actually lived. And it can spark both wistfulness and rage. Though Donald J. Trump by no means originated nostalgia as a political tool. His MAGA strategy has gone global, effectively employed this year notably in the campaigns of Italian Prime Minister Giorgio Meloni and President Ferdinand Bongbong Marcos in the Philippines. Here in the USA, nostalgia's an old tradition that waxes and wanes. In October, the Public Religion Research Institute found that 49% of Americans said they believe our culture and way of life has changed for the worse since the 1950s.
NEWS CLIP Many people in this country feel that the culture is shifting more quickly than they are comfortable with.
NEWS CLIP You know what the 1950s were better for? Dying, okay? People died much younger. The life expectancy was 66. Now it's 79. I don't know what people think they're harkening back to.
BROOKE GLADSTONE And then earlier this month, it came up again — this time in Germany.
NEWS CLIP More than two dozen people suspected of plotting an armed coup have been arrested in raids carried out across Germany.
NEWS CLIP The group had an armed wing, including former military, and intended to form a new army. Their ringleader, who they planned to install as the monarch, is a 71 year old aristocrat named Heinrich the 13th. He comes from an ancient royal family that ruled part of central Germany for centuries.
BROOKE GLADSTONE The plot to execute the German leadership was led by a far right group called the Reichbürger, or Citizens of the Reich, fueled by a conspiracy theory that the German state was just a mirage, a corporation set up by the Allies after World War Two. And yes, in parts of East Germany, the Reichbürger found some support in the nostalgia for an idealized Germany of long ago. There is a wave of nostalgia rolling through Europe right now. The German variety is just one on a spectrum.
SOPHIA GASTON The Reichsbürger should definitely be seen as on the extreme end of a nostalgic political force.
BROOKE GLADSTONE Sophia Gaston, a social researcher and the head of Foreign Policy and UK resilience at the think tank Policy Exchange is an expert on nostalgia as a cultural and political force, and she says the first step to understanding what's going on is to identify the various strains.
SOPHIA GASTON Nostalgia has many faces, and we must differentiate between what is a very commonly held and largely benign social sentiment that really is part of the human experience and the way in which nostalgia is weaponized in political terms.
BROOKE GLADSTONE How do you define nostalgia?
SOPHIA GASTON Nostalgia really has several strands to it. Svetlana Boym conducted some really important and seminal research on this.
BROOKE GLADSTONE She's a cultural theorist.
SOPHIA GASTON She is. And one of the most important things that she has identified is the capacity to distinguish between a reflexive type of nostalgia. Most of us will look back at the days of our youth with some degree of rose-tinted glasses, skim over some of the more challenging things, and feel the sort of warm glow of remembrance when we look back to those things. The other type of nostalgia is a restorative nostalgia. This is the pointy end of nostalgia. When nostalgia is harnessed by political leaders, political campaigns, media and other different parts of our political apparatus to argue that we should actually seek to reinstate some of the structures and conditions of the past. And this is where for groups that have benefited from advancements in our political culture, our social culture, representation in our politics nostalgia becomes a much more exclusionary and threatening force.
BROOKE GLADSTONE What was a common element among the nations you studied with regard to nostalgia?
SOPHIA GASTON One of the very striking aspects of particularly the focus groups that I have been doing over the years on this is that often the responses are verbatim the same. Senses of loss, feelings of insecurity about the present day and that the future is difficult to view. Also, in each country there will be aspects of the nostalgia which are unique. In post-Soviet states, and in East Germany, when I've conducted research into nostalgia there, there is a sense that the end of the Cold War, the sort of unleashing of liberalism and capitalism, that many of the benefits had been unevenly shared across society. And for those who feel that they were not the great winners of that transformation, there is a tendency to look back at living in a society where everybody had a bit of something. And there was a perception of a greater degree of social equality.
BROOKE GLADSTONE About the U.K., where you live and do much of your research. What role did politicized nostalgia play in Brexit?
SOPHIA GASTON Brexit was very much a cry to Britain's political class that something needs to change. Regional inequalities and the long tail of deindustrialization-deprived communities, particularly in the north of England – often described as "left behind communities" of which once had flourishing heavy industries and have not been able to evolve into the digital era of globalization — these communities have been brought into the front and center of Britain's political culture in a way that they were just not relevant before Brexit. This is partly why that campaign was so successful. The other area that often was the single most important issue of concern for Brexit voters is, of course, immigration. The sense of a lack of control over the borders created a quite intangible sense of insecurity, I think among people who felt social change might not always go in ways that they felt comfortable.
BROOKE GLADSTONE I thought this was really fascinating in your research that Britons were, by and large, less trepidatious about the future, that Britons tended to see economic and political fortunes as cyclical. The observation that voters wanted to leave Europe because they felt financially worse off was missing the point you found, and this is different from other countries you studied.
SOPHIA GASTON Britons have remained on balance, much more positive towards the concept of globalization than any of their peers. Certainly in the aftermath of the global financial crisis.
BROOKE GLADSTONE This seems very counterintuitive.
SOPHIA GASTON It very much speaks to our history. To some extent, if you were as a nation so integral in creating an international order and advancing the world trading order and many aspects of globalization itself, you might feel a bit more confident about how that is going to be translated into the future and your capacity to have a stake in it. We are a free trading country, architects of many aspects of the current world order. So the British people have remained much more steadfast in their support for globalization, even when many of our peers, France, Germany, United States, experienced very significant falls in support for globalization since the financial crisis.
BROOKE GLADSTONE You've said that nostalgia has taken hold in a very different way in France, in part because French citizens view the outlook for their future differently.
SOPHIA GASTON Certainly in French politics over recent years, we have seen many of the candidates leading with nostalgic narratives. This is from both the right and the left. Two of the candidates that have been most successful have been Marine Le Pen, but also Mélenchon, who is from the left. Both of them are promising a restoration of some greatness that they feel has been lost from the French nation. Actually, most troubling, I think, for those of us who would favor a more future-oriented politics is the degree of convergence in some of the narratives. And this is where Macron, who has sought to come in through the center, is very much having to find himself on the front line against these very powerful narratives from both sides.
BROOKE GLADSTONE At the end of September, Italy had its most recent elections, where far right leader Giorgia Meloni became the country's first female prime minister. The BBC called her newly formed government Italy's most right wing governments since World War two. Did nostalgic narratives play a role in that election cycle?
SOPHIA GASTON I think you would be hard-pressed to find an election in Europe over the past decade that has not invoked nostalgic narratives. The complex suite of insecurities that citizens are feeling, and the anxieties they hold about the future, and some of the narratives about the future are so profoundly terrifying that there is an opportunity to promote a sense of robust purpose and control and authority through invoking times where people have felt more certain, more cohesive. Maloney has sought to evoke the Make America Great Again slogan but for Italy. The Italian people are very disaffected. Social divisions are very profound. Italy's economy has been in a pretty sluggish state. For all these reasons, Italian elections have for some time been very fertile ground for nostalgic narratives.
BROOKE GLADSTONE The Polish leadership has really tapped into an imagined Polish past. Is it more similar to Italy, France, or Britain?
SOPHIA GASTON The Polish experience is more complex because of course there was the Soviet Union and the pressures that placed on national identity. Certainly the juxtaposition with the European Union, the sort of superstate, Poland has benefited tremendously in economic terms from its membership. But Polish leaders have had some success in saying that, on a social and cultural level, the European Union is not necessarily aligned with the core cultural values of the Polish people. That has been a very effective political force. But one of the ways in which they have sought to actualize a more nostalgic public policy agenda is through the emphasis on the sanctity of the family. Many of the policies that the Polish government and also the Hungarian government, with again a nostalgic narrative, have sought to implement have focused on giving tax breaks and credits and all sorts of cash bonuses and so on, that encourage women to rethink their workforce participation and focus on growing the nation to bring new citizens into the world. And this is where some of these nostalgic narratives become very troubling for groups like women who have had to fight tooth and nail for their hard-won rights and representation and equality. Many of those rights feel extremely fragile at the moment. And when you see, you know, male oriented governments with nostalgic narratives promoting these policies, which almost always come at the expense of women's economic participation, people have a right to be concerned.
BROOKE GLADSTONE It strikes me that nostalgia seems to be a force altogether different from a population's economic interest. Have you found that economic interest plays a lesser role in these nostalgia-based campaigns?
SOPHIA GASTON It's a very complex issue because, on the one hand, people are right to highlight that the benefits of some of the economic transformations of the past 20 or 30 years have not been evenly shared across societies. There is a rational observation being made here. There are places that I have been to where that sense of economic loss is so entangled with a sense of cultural and community loss that it's very difficult to separate them. In some of these places, the trauma of economic transformation has led to the entire identity of a place being lost. Communities that had often been built up and structured around factories have been dismembered. So I do think that there is something profoundly cultural about many of these economic concerns. That said, it's obvious that this is not only about economic change. Economic change may be the gateway to these conversations, or it may have absolutely nothing to do with the driving factors of unease about contemporary society or what lies ahead in the future. I think that we have really lost sight of the fact that we are living in a time of a great democratic experiment. We have never before tried to build democracies that are so diverse and so empowered. I don't think we should be surprised that there are growing pains as many of these democracies move into a state of maturation. And when big global forces like climate change, automation, digitization, press in from the outside in, and these societies are having to adapt in real time. So I think many of the conversations looking at what's going on in our politics and society through a lens of nostalgia are really getting to the heart of the conversations that we need to be having about liberal democracies today and how we secure them and make them more resilient for the future.
BROOKE GLADSTONE What, if anything, is the antidote to weaponized nostalgia?
SOPHIA GASTON I think it's very important to note that most citizens do hold very nuanced views about both the past and the present. And so whenever they are finding something of resonance in the past, that is not to say that there is nothing in the narrative about the future that could not bring them along. What we need is governments who understand that they need to really shore up the foundations of societies through public policy, but really more about culture, history, identity. They need to get involved in these conversations and really tend to these anchors that give people the stability for them to understand that they are citizens of a nation and, at the same time, really invest in crafting persuasive, compelling and legitimate narratives about the future. And this is really where the policymaking arm of things come in to smooth the transition between a much more industrial economy to a much more globalized one. Any government that tries to focus on one or the other will come up short.
BROOKE GLADSTONE Thank you very much.
SOPHIA GASTON Thank you so much.
BROOKE GLADSTONE Sophia Gaston is the head of Foreign Policy and UK resilience at the U.K. based think tank Policy Exchange.
MICAH LOEWINGER Coming up, we go from nostalgia for imaginary pasts to nostalgia for imaginary worlds.
BROOKE GLADSTONE This is On the Media.
[BREAK]
BROOKE GLADSTONE This is On the Media, I'm Brooke Gladstone.
MICAH LOEWINGER And I'm Micah Loewinger. We've just heard how nostalgia so often influences politics, and the same goes for arts and entertainment. For most of us, what we listen to in our teens pretty much becomes our lifelong taste in music, and Hollywood is deeply invested in nostalgia. Forever recycling and rebooting past classics, albeit with some forward facing refinements that Fox and its friends don't like.
NEWS CLIP Woke Hollywood seems to be eating itself alive.
MICAH LOEWINGER We heard this refrain all throughout 2020. Every time a beloved franchise worked in a bid of diversity. As in June, when Pixar released Light Year, featuring Buzz's sidekick Alicia and her girlfriend.
NEWS CLIP The movie won't be shown everywhere. It has been denied release after Disney refused to cut a scene that shows two women sharing a kiss.
NEWS CLIP One of the problems is that Strange World pushes a gay character on young audiences without proper marketing to parents.
MICAH LOEWINGER In September, Amazon introduced the world to an updated middle earth and its new inhabitants.
NEWS CLIP Lord of the Rings fans have expressed anger that the new spin off based on the books features black hobbits.
MICAH LOEWINGER The new show, called The Rings of Power, stirred angry ripples in the Lord of the Rings fan base, which predictably awakened Smaug – I mean, Fox News.
NEWS CLIP Is the show good? That's all I care about. Is the movie good? That's all I care about. Can you imagine if this show was around when the greatest comedy in television history premiered? Seinfeld? Oh, no, that's an all white cast. That's bad. Don't even get me started on Friends. I mean, can you imagine what they'd be saying about that? Six straight white people?
BROOKE GLADSTONE There was outrage over a black character in the new Game of Thrones prequel. And when news broke that Halle Bailey, a black actress, would play Ariel in the 2023 Little Mermaid remake, right wing commentator Matt Walsh brought us this theological rebuttal.
MATT WALSCH From a scientific perspective, it doesn't make a lot of sense to have someone with darker skin who lives deep in the ocean. Not only should The Little Mermaid be pale, she should actually be translucent.
BROOKE GLADSTONE Adam Serwer is a staff writer at The Atlantic and the author of The Cruelty Is the Point. He says that these cynical narratives are just one way we see nostalgia weaponized in the American discourse.
ADAM SERWER There's basically an entire grievance industry devoted to convincing fans who may not like these revamps, and that the problem is that there are more black characters or more women characters or more LGBT characters in them. And that's the reason why these new versions are not so good.
BROOKE GLADSTONE You wrote that many older fans can't recapture that feeling they had when they first saw these properties, because in reality they have simply outgrown the sentiment they're chasing.
ADAM SERWER Look, we all grow up. You're not going to feel the same way about the new Star Wars as you did the first time you saw a lightsaber ignite.
[LIGHT SABERS CLASHING]
ADAM SERWER And I think there is an element of nostalgia that you want to recapture that feeling of wonder you had when you were a child. If these people can convince you that the reason that you can't recapture it is that they decided to cast some black elves, and you get angry about that and you decide to vote for some conservative candidate when election time comes around, I think that's fine for them.
BROOKE GLADSTONE They claim that wokeness has destroyed the quality of the storytelling, but really the dustups are almost always around casting which is funny because white people have been cast as indigenous people or people of color in Hollywood throughout most of its history. But now critics on the left say enough's enough, and this goes double for fantasy.
ADAM SERWER Sometimes you see people trying to deflect legitimate criticisms of bad art by saying, 'oh, well, you just don't like it because it's diverse or because you're racist.' And I think people rightfully react to that in a negative way. But the distinction between that and the sort of reaction to the Game of Thrones and Lord of the Rings thing, where people say, 'well, you can only really cast white people for these roles.' I think those are two different things and it's important to distinguish them. I do think it's about a sort of reactionary political current that we've seen since Barack Obama was elected president. The phrase "make America great again" raises the question, well, when was America great? In what way was it great? and what kind of greatness are you trying to recapture?
BROOKE GLADSTONE Let's talk about MAGA-ism and nostalgia. Recasting the Civil War as a fight over states rights transforms the Confederate cause into something noble and gentlemanly – the so-called lost cause. And part of the campaign to transform Robert E. Lee into a peace loving anti-slavery figure who advocated for the country's reunification after the war was in reality, you wrote, anything but.
ADAM SERWER That recasting of history was about providing, as the historian Eric Foner has written, a justification for white supremacist authoritarian rule. And when you look at these reevaluations of history, just to give one example, Martin Luther King used to walk around with a copy of See Them With Words: The Strange Career of Jim Crow. And the reason for that was that it showed that Jim Crow happened because of a series of decisions that powerful people made. And so it was not inevitable. That meant it could be undone. The civil rights movement took place during a reevaluation of the history of reconstruction, which made people look at it in a different light. It had been cast as a tragic mistake. It was a mistake to enfranchise black men. And when historians reevaluated reconstruction as a flawed but genuine attempt to make the promises of the American Constitution real, that changed the perception of reconstruction, and it helped underpin the moral philosophy of the civil rights movement. And so when you look today at people getting very defensive about the history of the Confederacy or the history of slavery, they are doing that because those reevaluations of history create moral obligations in the present. And if you disagree with where those moral obligations take you, such as perhaps a state effort to rectify racial inequality, then you're going to oppose those reevaluations of history.
BROOKE GLADSTONE Do you happen to remember that Saturday Night Live sketch after Trump was elected. The white comedians on the staff were gathered around the TV. They're sure Hillary's going to win. And then Trump wins, and Chris Rock walks in and Dave Chappelle walks in, and one of the white people says:
SNL God, this is the most shameful thing America has ever done.
BROOKE GLADSTONE And the two of them just looked at each other and laughed.
ADAM SERWER I mean, this is substantially what my book is about. Trump didn't come out of nowhere. The United States is founded on the idea that all men are created equal. Except those words are written by slave owners. And that fundamental paradox has always haunted the United States — this distinction between our ideals and how they are actually put into practice. That skit gets at this tension. It's not just a question of conservative nostalgia, but also liberal nostalgia, believing that America is just one thing and ignoring the sort of dark undercurrent of our history that has followed along with us the entire time. Donald Trump's hold on this particular coalition requires a kind of constant nursing of the idea that these people are on the verge of the apocalypse, and the only person who can save you is Donald Trump.
BROOKE GLADSTONE That's where nostalgia comes in
ADAM SERWER Right. You are manipulating people's sense of the past in order to catastrophize about the future so that they will justify anything you want to do in the name of protecting them from that. When you look at, say, the Capitol riot, I mean, that was justified by a conspiracy theory that was essentially rooted in the idea that the constituencies of the Democratic Party were illegitimate. So even if they won more votes, those votes should not have counted because those people were not really Americans. And therefore, political violence was justified in order to keep Donald Trump in office.
BROOKE GLADSTONE After the midterms, the red wave turned out to be a pink trickle, and that inspired questions about whether this was finally the end of Trump. I don't know. I don't much care. Obviously, the GOP will continue to cleave to him as long as it's useful.
ADAM SERWER Until Republicans underperform relative to expectations in the midterms. It didn't matter that Donald Trump had attempted to overturn the constitutional order. They weren't going to abandon him then. But when it seemed like he was hurting the party's political performance at that point, party elites really start discussing seriously whether or not they wanted to have him in charge.
BROOKE GLADSTONE You wrote, It's not just the right that cleaves to imagined history — that different kinds of liberal nostalgia have entranced, even blindsided the Democrats.
ADAM SERWER If you go to Barack Obama himself, one of his favorite quotes was "The arc of history bends toward justice." And American history says that isn't true. Sometimes there are moments of tremendous progress that are met with fierce backlash. Reconstruction is really a powerful example of that point where you had Black senators, you had Black congressmen, and then you had none. For decades. That specific nostalgia that Obama evoked, I think, left people emotionally and intellectually unprepared for the emergence of Donald Trump, even though his sort of attitudes and ideas have been part of the American political firmament since the founding.
BROOKE GLADSTONE And then there's Biden's nostalgia for civility. In 2019, he spoke wistfully of his time in the Senate in the seventies, when he was able to, quote, "get things done" by working across party lines, even if that meant making deals with segregationist politicians. He's since apologized for the way he put that. That aside, you wrote in your book that civility isn't all it's cracked up to be. Quote, "The true threat to America is not an excess of vitriol, but that elites will come together in a consensus that cripples democracy and acquiesces to the dictatorship of a shrinking number of Americans who treat this nation as their exclusive birthright because of their race and religion."
ADAM SERWER There are two different types of civility. There's civility rooted in mutual respect. And there's a civility where the powerful are demanding that the people that they govern not criticize them. Where powerful people, whether they're politicians, whether they're Supreme Court justices, try to silence the substance of criticisms that people have made about them by appealing to manners.
BROOKE GLADSTONE There was a corollary debate related to nostalgia and civility, and it was Biden's penchant for bipartisanship. A lot of people thought, 'Don't go in that direction. The GOP will never go along with it. You'll have to make too many compromises'. How well do you think bipartisanship worked for Biden at this two year mark?
ADAM SERWER He was wrong in terms of the sense that he would break the fever of the heat, of the political conversation in the way it's been since Obama was elected. But under his tenure, Congress has actually been fairly productive in bipartisan ways. They certainly passed more bipartisan legislation than in the Obama era.
BROOKE GLADSTONE Did you expect that?
ADAM SERWER I did not expect that. I think Biden deserves some credit. I think a lot of people thought he was delusional. I certainly did. The strangest thing, again, is that he got bipartisan cooperation without anybody sort of changing the way that they talked about him. The fact is, is that Biden is an old Catholic white guy and they very much struggled to get their constituency to get as hyped up about opposing Biden as they did about opposing Hillary Clinton or Barack Obama.
BROOKE GLADSTONE In the beginning of 2022. We devoted an entire episode to the question of Civil War about which much was being made in the media. But you're not convinced we're careening anywhere close to that. You say this is partly because of the way both parties have scrubbed political violence out of our history.
ADAM SERWER Yeah. I mean, look, American history has actually been pretty violent. People think of civil war as an aberration. But there was a lot of political violence before and after the Civil War. And, you know, arguably, we are in a period where political violence is more opposed than ever. You can sort of see this in the characterization of the Capitol riot right after it happened. Fox News was saying, 'well, it wasn't conservatives who did this, it was Antifa.' And obviously they switched messaging. When Donald Trump tried to say that the Capitol riot was a good thing. The fact that they wanted to attribute it to the other side is testament to the idea that political violence is much more unpopular than it was back in the day. And I think there is certainly a tremendous amount of verbal advocacy for political violence after the FBI searched Mar-a-Lago and repossessed those classified documents. You saw Donald Trump warning of civil war and sort of people on social media talking like a lower level functionary on the Death Star about what they were going to do.
BROOKE GLADSTONE We've heard Tucker Carlson talking about Biden taking actions that have effectively declared war on half of America's citizens.
ADAM SERWER This is a strategy for engagement and branding. These people are trying to find an audience by catastrophizing, and it's mostly hot air. There's a small number of people who are willing to engage in violence on behalf of these causes, and those people are dangerous. But when you think about civil war, I mean, that is a level of violence that is on — it's another order of magnitude.
BROOKE GLADSTONE Do you think it's possible to form a vision of the country and political identity that doesn't rely on inaccurate historical narratives?
ADAM SERWER I mean, no, because we're imperfect, right? We're always going to tell history in a way that I think helps our present make sense. But I do think we can have a healthier political culture if we're not entirely reliant on a false nostalgia that erases what actually happened.
BROOKE GLADSTONE You've said that understanding your history properly doesn't mean you can't draw inspiration from it.
ADAM SERWER No. I mean, I think that's true. There's a lot of terrible things in American history, but the people who fought against those things are very inspiring. You look at a movie like Glory.
GLORY CLIP The governor is proposing to raise a regiment of Negro soldiers here tomorrow. We have to meet the judgment day. We want him to know that we went down standing up!
ADAM SERWER At the end where the 54th Massachusetts is walking by the white soldiers. And it's a complete silence. And one of them says,
GLORY CLIP Give 'em hell, 54!
ADAM SERWER They all start sharing. I mean, I bawl like a baby every time I see that. That scene in Glory is a dramatized, fictionalized portrayal of something. But the men who fought on behalf of that cause against an empire slavery really existed. And I do find that kind of bravery inspirational.
BROOKE GLADSTONE Right
ADAM SERWER It is in some ways even more inspirational to think that these black men were fighting to defend a country that did not yet recognize their rights in hopes of creating a better country that actually would rise to the level of its own ideals.
BROOKE GLADSTONE And did for a brief period.
ADAM SERWER In part it did for a brief period of time during Reconstruction. And that brief experiment, multiracial democracy was destroyed by fire in the sword. And then we had a second reconstruction with the civil rights movement. But again, the benefit of studying history properly is that it gives you not only the inspiration, but also the warning for what can come when people try to make a better world and other people think that world should not exist.
BROOKE GLADSTONE Adam, thank you very much.
ADAM SERWER Thanks for having me.
BROOKE GLADSTONE Adam Serwer is a staff writer at The Atlantic and author of the book The Cruelty Is the Point: The Past, Present and Future of Trump's America.
MICAH LOEWINGER Coming up, one researcher found that every generation comes to the same conclusion: we've missed the good times.
BROOKE GLADSTONE This is On the Media.
[BREAK]
BROOKE GLADSTONE This is On the Media. I'm Brooke Gladstone. We've just heard how nostalgia for a heavily edited view of the past can and has misled and enraged us, especially lately. In fact, I could say that the intensity of this baleful nostalgia for imaginary yesteryears is breaking a record. But I'd be wrong. To paraphrase Samuel Beckett: This year, the media was like the sun. Having no alternative, it shone upon the nothing new — as OTM's Micah Loewinger clearly discovered as he set out to report this end of year piece.
MICAH LOEWINGER It's that time of year when we make declarations about the year — the best of lists, the think pieces and of course, the Oxford Word of the year.
NEWS CLIP It's actually two words. It's "goblin mode." Here's the definition if you haven't heard the term. It means "a type of behavior which is unapologetically self-indulgent, lazy, slovenly, or greedy, typically in a way that rejects social norms or expectations."
MICAH LOEWINGER The choice of goblin mode fits snugly into a year of discourse around reevaluating work. In 2022, we saw the spillover of the great resignation coverage give way to another new term "quiet quitting."
NEWS CLIP In July, Zaiad Kahn, a 24 year old engineer from New York, posted a video about quiet quitting, and it went viral. Since then, the trend has spread like wildfire.
ZAIAD KAHN I recently learned about this term called quiet quitting, where you're not outright quitting your job, but you're quitting the idea of going above and beyond.
NEWS CLIP Working overtime. No, thanks. Late night emails. Ignore those. Pick up an extra project to get ahead. Hard pass.
MICAH LOEWINGER Naturally, some very serious adults took the rise of so-called quiet quitting and the great resignation as evidence of moral decay.
NEWS CLIP Well, the veteran economist says he believes a quiet quitting is one of the key reasons the US workers productivity fell 4.1% in the second quarter.
NEWS CLIP Quiet quitting is a really bad idea. If you're a quiet quitter, you're a loser.
NEWS CLIP We are becoming very lazy, very soft. This is not good for our country.
MICAH LOEWINGER I mean, if you found yourself rolling your eyes during these news cycles, you weren't alone.
PAUL FAIRIE It was someone unironically complaining that nobody wants to work anymore. And I was feeling a little bit annoyed and I thought, 'Oh, look, I'm sure people have said this before.'
MICAH LOEWINGER This is Paul Fairie. He works at the medical school at the University of Calgary, but he's a political scientist by training and he also moonlights as a media critic known for his singular use of old newspapers.
PAUL FAIRIE It was partly probably a vaguely misspent youth. A fun activity that I would do when I was 15 would be look at old microfiche of newspapers.
MICAH LOEWINGER As the teens do.
PAUL FAIRIE Yeah, no, it's a very, very cool activity. And I say it's sort of just the idea that you can kind of see what people were thinking about at the time.
MICAH LOEWINGER This year, when talking heads were saying, 'nobody wants to work anymore,' he decided to see if this type of panic had cropped up before.
PAUL FAIRIE You know, I just looked through some of the old newspaper archives.
MICAH LOEWINGER And you did this in person or online.
PAUL FAIRIE This is all online. I mean, basically every US state has their own statewide archive. California has a particularly nice one.
MICAH LOEWINGER Here's some of what he found from the Germantown News in Tennessee in 2014.
NEWS CLIP What happened to the work ethic in America? Nobody wants to work anymore. When I first started to work as a teenager, I saw people work hard.
MICAH LOEWINGER And another from the St. Petersburg Times in Florida 1999.
NEWS CLIP "Nobody wants to work anymore," Cecil, a shoemaker said. "They all want to work in front of a computer and make lots of money."
MICAH LOEWINGER The News Journal in Ohio 1979.
NEWS CLIP Nobody wants to work anymore, signed a disgusted businessman.
MICAH LOEWINGER I'm going to skip past a bunch of examples from the sixties, fifties, forties and thirties and go to 1922. The Mulberry News.
NEWS CLIP What is the cause of unemployment and hard times? The manufacturer and businessmen say it's because nobody wants to work anymore unless they can be paid enough wages to work half of the time and loaf half of the time.
MICAH LOEWINGER All right. Let's do one more. 1894 Rooks County Record.
NEWS CLIP With all the minds of this country shut down by strikers, what will the poor editor do for coal next winter? It is becoming apparent that nobody wants to work these hard times.
MICAH LOEWINGER Fairie put all these examples in a Twitter thread that went super viral over the summer. Over 300,000 people liked his tweets. It really seemed to strike a nerve.
PAUL FAIRIE There are some specific contexts — pandemic, some shifts in work culture — that might explain the idea that nobody wants to work anymore. When you see people have complained about it every decade for 120 years, it's probably less to do with, you know, current context and more to do with kind of bigger systems. You know, the capitalist system that we're operating in and some sort of relationship between labor and employer.
MICAH LOEWINGER I'm looking at the pattern of articles that you have selected, which is by no means a scientific study.
PAUL FAIRIE No, but.
MICAH LOEWINGER What I do see is the media allowing the employer to set a narrative over and over and over.
PAUL FAIRIE There were fewer certainly examples of taking the perspective of the worker.
MICAH LOEWINGER He was honestly surprised by the success of this first thread, so he set off on a mission to interrogate other popular narratives from this year, including some that might not have made it into your filter bubble. 2022 was the year Tik Tok star Andrew Tate, who, before he was banned from the platform, briefly became the most Googled person on the Internet.
ANDREW TATE The feminist idea like the mainstream idea, if we weaken men and if they become weak enough, will no longer be a threat. I think the most dangerous men on earth are the weak men.
MICAH LOEWINGER 2022 was the year Tucker Carlson released his End of Men documentary, a film that claimed decreasing testosterone levels would bring collapse.
TUCKER CARLSON Civilization is like a woman woo'd. She's won by the love of the strong man and lost by the impotence of the weak one. The Greeks call this anacyclosis the life cycle of any society.
MICAH LOEWINGER Pretty similar to what we heard in January from the world's most popular podcaster, Joe Rogan.
JOE ROGAN At the end of all these civilizations of the Roman civilization, the Greek empire, they all started falling into this thing where they wanted to redefine gender.
ROGAN GUEST They do? Yeah. You really do see it in, like, the statues and stuff.
JOE ROGAN Yeah, it's really interesting.
ROGAN GUEST They go from being like these super buff dudes and like sexy babes, and then all of a sudden they all look like, you know, anime characters…
MICAH LOEWINGER The gender panic seeped into state houses and school board meetings. The Washington Post found that 2022 broke the record for the most anti-trans bills filed in a year. It's been an extreme political reaction, for sure, but moral panic over gender norms is far from new. Paul Fairie dove back into the newspaper archives to create a Twitter thread he titled 'A Brief History of Men Today Are Too Feminine and Women Too Masculine.' Let's start with the Raleigh News and Observer, 1997.
NEWS CLIP Southerners think that men are less manly and that women are less feminine than they used to be, and that both of those things are not good.
MICAH LOEWINGER And this from The Arizona Daily Sun, 1984.
NEWS CLIP I'm an older woman. I believe in equal rights and all that. But don't you think all this women's lib stuff has contributed to the wimping of American men? Am I just imagining it? Or is today's man less manly than those I grew up with? Signed a strong woman for a strong man.
MICAH LOEWINGER Here's a Reuters dispatch from New Zealand published in 1977.
NEWS CLIP "Living in high rise apartment buildings helps make men effeminate," a York University psychiatrist and professor of environmental studies said here yesterday. "A man with no garden to dig or the opportunity to carry out masculine activities becomes passive and effeminate, helping his wife with her chores."
PAUL FAIRIE I like this one because it basically said men who don't garden are now feminine.
MICAH LOEWINGER Paul Fairie.
PAUL FAIRIE It's really very suggestive of the fact that these categories of masculine and feminine activities are essentially fictional and created.
MICAH LOEWINGER The Redwood City Tribune in California,1950.
NEWS CLIP Women are getting feminine. I can't entirely stomach the idea either, but it seems to be true. Some research guys looking into men's masculine feminine ratios tell us we're losing our masculinity and gaining in femininity. What a discovery.
MICAH LOEWINGER 1940, The Daily News Leader, Virginia.
NEWS CLIP At the meeting of the American Medical Association, a speaker maintained that the American people are getting less vigorous, the men more feminine, and the women more masculine because we don't eat raw meat.
MICAH LOEWINGER The Associated Press, 1925.
NEWS CLIP Men Becoming Effeminate. New York physician says they are and cites lilac pajamas and embroidered bathrobes as proof.
PAUL FAIRIE What is going on with a lot of these clippings is people will take any activity that they notice and say, 'okay, well, if I have this generalized panic about gender roles, I'm going to figure out a way to shoehorn in this example.' And when you collect them, a lot of these arguments that you see repeated start to feel almost like a songbook. So they sing this song again.
SONG CLIP Girls were girls and boys were boys when I was a tot. Now we don't know who is who, or even what's what. Trousers baggy and wide, nobody knows who's walking inside — those masculine women and feminine men!
MICAH LOEWINGER Man. Each article we just heard presented the fluidity of gender as a fresh force in our culture rather than a fixture of the human experience. That's how moral panics work. By definition, they're based on an overheated perception fueled by the media that certain behaviors or people are dangerously deviant and pose a threat to society. Much like how nowadays we hear that Americans have lost their sense of humor.
NEWS CLIP Last night, a Minneapolis club called First Avenue canceled the show by Dave Chappelle, citing public outcry, meaning they got a silly letter from some purple haired gnome with a BMI of 158. The club caved to a Change.org petition demanding not platform Transphobe Dave Chappelle.
NEWS CLIP Breaking news overnight, comedian Dave Chappelle attacked on stage while performing at the Hollywood Bowl.
NEWS CLIP The attack on Dave Chappelle is the beginning of the end of comedy. That's the message from Howie Mandel, who says he's afraid to perform on stage.
BILL MAHER Kids used to go to college and lose their virginity. Now they go to lose their sense of humor.
PAUL FAIRIE As long as I can remember, stand up comedians have been saying people are too sensitive.
MICAH LOEWINGER Paul started combing newspaper archives, and he found a familiar pattern. As in 1995, The Fresno Bee.
NEWS CLIP Nobody can take a joke anymore. Just ask poor old Trace Harvey. All the assemblyman from Bakersfield tried to do was a little standup, and the next thing he knew, he was up on sexual harassment charges.
MICAH LOEWINGER What did he do? What did he do? I'm looking this one up in a secret settlement. The assembly paid $10,000 to a secretary who complained that over a two year period she was the target of vulgar sexual remarks made by her boss, Veteran Assemblyman Trace Harvey. The author of this article, just unquestionably takes his side. That's journalism for you. 1984, The Des Moines Register.
NEWS CLIP I get depressed that the growing list of things Americans can't make jokes about anymore at the ludicrously high damages awarded by your courts for trivial personal slights, at the clamor by moral majorities and liberal pressure groups to make everyone in the most diverse nation the world has ever seen conform to some theoretically beneficial norm.
MICAH LOEWINGER The Orlando Sentinel in 1970.
NEWS CLIP A Nightclub operator has made the most significant forecast for the 1970s. "Nobody laughs anymore," he said seriously. "Humor is dead." In the sixties, it was "God is dead." In the thirties it was "Vaudeville is dead." Between then and now, famous newspapers and magazines like the New York Herald Tribune and The Saturday Evening Post have died. Our morals seem to have died. Our self-discipline seems to have died. For some, patriotism and the American dream seem to have died. Our self-confidence as a nation seems to have died.
MICAH LOEWINGER That is an over-extrapolation if I've ever read one.
PAUL FAIRIE Yeah, again taps into that idea of there was this former time that was perfect in some sort of way. And in this example, it was everyone was apparently hilarious and everyone was always laughing at every joke. And now that has somehow disappeared.
MICAH LOEWINGER And what's interesting about that one, too, is that you have the receipts to prove that wasn't true. I mean, you can go back and see the same claim being used just eight years earlier.
NEWS CLIP The men who draw the nation's comic strips complained Monday that people were losing their sense of humor.
MICAH LOEWINGER That's from 1962, The Arizona Daily Star. Here's another from The Stillwater News Press in Oklahoma In 1949.
NEWS CLIP The man on the street is losing his sense of humor, an expert on laughs reported today.
MICAH LOEWINGER Here's a fascinating article from The South Bend Tribune in 1927, shortly before Vaudeville was thinned out by the Great Depression and the film industry. It's about a traveling troupe that stopped staging an anti-Irish routine. Here's a quote from Eddie Hester, a retired member of the company.
NEWS CLIP I'm sorry to see them scrap that old streetcar gag that old wheeze pulled me out of your hole. All you had to do when you hit a new town was to find out about some particularly rotten streetcar line and then give them the works. It was always good for a laugh, and I never heard of anybody squawking about it.
MICAH LOEWINGER Of course people were squawking about it. In his book, The Irish Way, author James R. Bennett documents a Manhattan protest in 1907. Remember, this was a period of intense anti-Irish discrimination. The protest was led by hundreds of Irish-American men who were enraged by an offensive stage act. The irony here is that Irish vaudeville actors routinely performed in blackface, stoking street fights with African-Americans. Also, at that time, rabbis protested the stage Jew, a vaudeville staple, promoting the very anti-Semitic tropes we'd later see in Nazi propaganda. Paul Fairie's research shows us that comedy has long thrived and evolved alongside a messy negotiation between entertainers and their audience. In other words, none of this is new. The current trend of labeling things woke and cancel culture suggests that we've just left behind a golden era, a time when bigoted jokes were never met with backlash. That is demonstrably false. This is an old tug of war only now supercharged by social media.
PAUL FAIRIE Whether they're moral panics or concerns about work ethic, gender roles. And they might seem very current and very of this specific era. But just like the fact that we keep going back to them suggests, I mean, perhaps a disappointing lack of creativity.
MICAH LOEWINGER The Greeks invented the word "nostalgia," a combination of "nostos," which means return home and "algos" the word for pain. The Greeks may have also been the first to fall into nostalgia's trap. In about 400 BC, Socrates wrote, "Children are now tyrants, not the servants of their households. They no longer rise when elders enter the room."
BROOKE GLADSTONE Or Micah. Hey, what about this one from Ecclesiastes? Chapter seven, verse ten. I'll put it in the vernacular. "Don't always be asking 'where are the good old days?' It's a stupid question."
That's it for this week's show On the Media is produced by Eloise Blondoiau, Molly Schwartz, Rebecca Clark-Callender, Candice Wang and Suzanne Gaber with help from Temi George. Our technical director is Jennifer Munson. Our engineers this week are Andrew Nerviano and Darcy Proper. Katya Rogers is our executive producer. On the Media is a production of WNYC Studios. Thanks for hosting with me, Micah.
MICAH LOEWINGER You got it, Brooke.
BROOKE GLADSTONE I'm Brooke Gladstone.
Copyright © 2022 New York Public Radio. All rights reserved. Visit our website terms of use at www.wnyc.org for further information.
New York Public Radio transcripts are created on a rush deadline, often by contractors. This text may not be in its final form and may be updated or revised in the future. Accuracy and availability may vary. The authoritative record of New York Public Radio's programming is the audio record.