Why We Argue About The Same Things Over and Over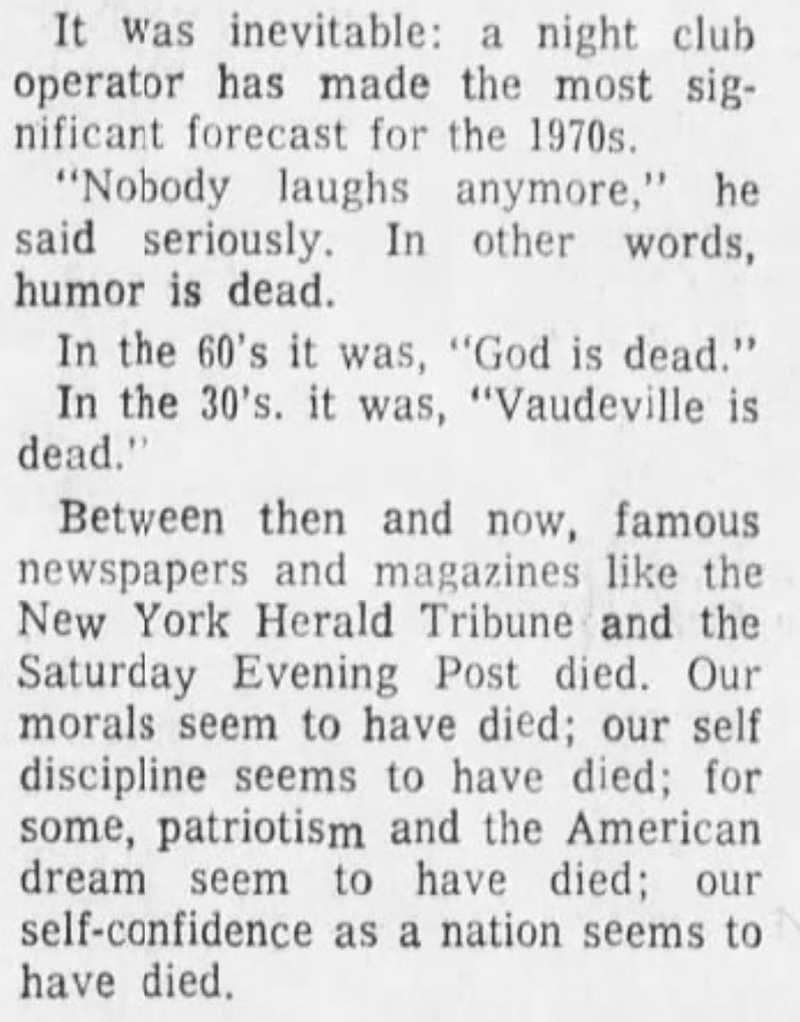 Transcript
BROOKE GLADSTONE This is On the Media. I'm Brooke Gladstone. We've just heard how nostalgia for a heavily edited view of the past can and has misled and enraged us, especially lately. In fact, I could say that the intensity of this baleful nostalgia for imaginary yesteryears is breaking a record. But I'd be wrong. To paraphrase Samuel Beckett: This year, the media was like the sun. Having no alternative, it shone upon the nothing new — as OTM's Micah Loewinger clearly discovered as he set out to report this end of year piece.
MICAH LOEWINGER It's that time of year when we make declarations about the year — the best of lists, the think pieces and of course, the Oxford Word of the year.
NEWS CLIP It's actually two words. It's "goblin mode." Here's the definition if you haven't heard the term. It means "a type of behavior which is unapologetically self-indulgent, lazy, slovenly, or greedy, typically in a way that rejects social norms or expectations."
MICAH LOEWINGER The choice of goblin mode fits snugly into a year of discourse around reevaluating work. In 2022, we saw the spillover of the great resignation coverage give way to another new term "quiet quitting."
NEWS CLIP In July, Zaiad Kahn, a 24 year old engineer from New York, posted a video about quiet quitting, and it went viral. Since then, the trend has spread like wildfire.
ZAIAD KAHN I recently learned about this term called quiet quitting, where you're not outright quitting your job, but you're quitting the idea of going above and beyond.
NEWS CLIP Working overtime. No, thanks. Late night emails. Ignore those. Pick up an extra project to get ahead. Hard pass.
MICAH LOEWINGER Naturally, some very serious adults took the rise of so-called quiet quitting and the great resignation as evidence of moral decay.
NEWS CLIP Well, the veteran economist says he believes a quiet quitting is one of the key reasons the US workers productivity fell 4.1% in the second quarter.
NEWS CLIP Quiet quitting is a really bad idea. If you're a quiet quitter, you're a loser.
NEWS CLIP We are becoming very lazy, very soft. This is not good for our country.
MICAH LOEWINGER I mean, if you found yourself rolling your eyes during these news cycles, you weren't alone.
PAUL FAIRIE It was someone unironically complaining that nobody wants to work anymore. And I was feeling a little bit annoyed and I thought, 'Oh, look, I'm sure people have said this before.'
MICAH LOEWINGER This is Paul Fairie. He works at the medical school at the University of Calgary, but he's a political scientist by training and he also moonlights as a media critic known for his singular use of old newspapers.
PAUL FAIRIE It was partly probably a vaguely misspent youth. A fun activity that I would do when I was 15 would be look at old microfiche of newspapers.
MICAH LOEWINGER As the teens do.
PAUL FAIRIE Yeah, no, it's a very, very cool activity. And I say it's sort of just the idea that you can kind of see what people were thinking about at the time.
MICAH LOEWINGER This year, when talking heads were saying, 'nobody wants to work anymore,' he decided to see if this type of panic had cropped up before.
PAUL FAIRIE You know, I just looked through some of the old newspaper archives.
MICAH LOEWINGER And you did this in person or online.
PAUL FAIRIE This is all online. I mean, basically every US state has their own statewide archive. California has a particularly nice one.
MICAH LOEWINGER Here's some of what he found from the Germantown News in Tennessee in 2014.
NEWS CLIP What happened to the work ethic in America? Nobody wants to work anymore. When I first started to work as a teenager, I saw people work hard.
MICAH LOEWINGER And another from the St. Petersburg Times in Florida 1999.
NEWS CLIP "Nobody wants to work anymore," Cecil, a shoemaker said. "They all want to work in front of a computer and make lots of money."
MICAH LOEWINGER The News Journal in Ohio 1979.
NEWS CLIP Nobody wants to work anymore, signed a disgusted businessman.
MICAH LOEWINGER I'm going to skip past a bunch of examples from the sixties, fifties, forties and thirties and go to 1922. The Mulberry News.
NEWS CLIP What is the cause of unemployment and hard times? The manufacturer and businessmen say it's because nobody wants to work anymore unless they can be paid enough wages to work half of the time and loaf half of the time.
MICAH LOEWINGER All right. Let's do one more. 1894 Rooks County Record.
NEWS CLIP With all the minds of this country shut down by strikers, what will the poor editor do for coal next winter? It is becoming apparent that nobody wants to work these hard times.
MICAH LOEWINGER Fairie put all these examples in a Twitter thread that went super viral over the summer. Over 300,000 people liked his tweets. It really seemed to strike a nerve.
PAUL FAIRIE There are some specific contexts — pandemic, some shifts in work culture — that might explain the idea that nobody wants to work anymore. When you see people have complained about it every decade for 120 years, it's probably less to do with, you know, current context and more to do with kind of bigger systems. You know, the capitalist system that we're operating in and some sort of relationship between labor and employer.
MICAH LOEWINGER I'm looking at the pattern of articles that you have selected, which is by no means a scientific study.
PAUL FAIRIE No, but.
MICAH LOEWINGER What I do see is the media allowing the employer to set a narrative over and over and over.
PAUL FAIRIE There were fewer certainly examples of taking the perspective of the worker.
MICAH LOEWINGER He was honestly surprised by the success of this first thread, so he set off on a mission to interrogate other popular narratives from this year, including some that might not have made it into your filter bubble. 2022 was the year Tik Tok star Andrew Tate, who, before he was banned from the platform, briefly became the most Googled person on the Internet.
ANDREW TATE The feminist idea like the mainstream idea, if we weaken men and if they become weak enough, will no longer be a threat. I think the most dangerous men on earth are the weak men.
MICAH LOEWINGER 2022 was the year Tucker Carlson released his End of Men documentary, a film that claimed decreasing testosterone levels would bring collapse.
TUCKER CARLSON Civilization is like a woman woo'd. She's won by the love of the strong man and lost by the impotence of the weak one. The Greeks call this anacyclosis the life cycle of any society.
MICAH LOEWINGER Pretty similar to what we heard in January from the world's most popular podcaster, Joe Rogan.
JOE ROGAN At the end of all these civilizations of the Roman civilization, the Greek empire, they all started falling into this thing where they wanted to redefine gender.
ROGAN GUEST They do? Yeah. You really do see it in, like, the statues and stuff.
JOE ROGAN Yeah, it's really interesting.
ROGAN GUEST They go from being like these super buff dudes and like sexy babes, and then all of a sudden they all look like, you know, anime characters…
MICAH LOEWINGER The gender panic seeped into state houses and school board meetings. The Washington Post found that 2022 broke the record for the most anti-trans bills filed in a year. It's been an extreme political reaction, for sure, but moral panic over gender norms is far from new. Paul Fairie dove back into the newspaper archives to create a Twitter thread he titled 'A Brief History of Men Today Are Too Feminine and Women Too Masculine.' Let's start with the Raleigh News and Observer, 1997.
NEWS CLIP Southerners think that men are less manly and that women are less feminine than they used to be, and that both of those things are not good.
MICAH LOEWINGER And this from The Arizona Daily Sun, 1984.
NEWS CLIP I'm an older woman. I believe in equal rights and all that. But don't you think all this women's lib stuff has contributed to the wimping of American men? Am I just imagining it? Or is today's man less manly than those I grew up with? Signed a strong woman for a strong man.
MICAH LOEWINGER Here's a Reuters dispatch from New Zealand published in 1977.
NEWS CLIP "Living in high rise apartment buildings helps make men effeminate," a York University psychiatrist and professor of environmental studies said here yesterday. "A man with no garden to dig or the opportunity to carry out masculine activities becomes passive and effeminate, helping his wife with her chores."
PAUL FAIRIE I like this one because it basically said men who don't garden are now feminine.
MICAH LOEWINGER Paul Fairie.
PAUL FAIRIE It's really very suggestive of the fact that these categories of masculine and feminine activities are essentially fictional and created.
MICAH LOEWINGER The Redwood City Tribune in California,1950.
NEWS CLIP Women are getting feminine. I can't entirely stomach the idea either, but it seems to be true. Some research guys looking into men's masculine feminine ratios tell us we're losing our masculinity and gaining in femininity. What a discovery.
MICAH LOEWINGER 1940, The Daily News Leader, Virginia.
NEWS CLIP At the meeting of the American Medical Association, a speaker maintained that the American people are getting less vigorous, the men more feminine, and the women more masculine because we don't eat raw meat.
MICAH LOEWINGER The Associated Press, 1925.
NEWS CLIP Men Becoming Effeminate. New York physician says they are and cites lilac pajamas and embroidered bathrobes as proof.
PAUL FAIRIE What is going on with a lot of these clippings is people will take any activity that they notice and say, 'okay, well, if I have this generalized panic about gender roles, I'm going to figure out a way to shoehorn in this example.' And when you collect them, a lot of these arguments that you see repeated start to feel almost like a songbook. So they sing this song again.
SONG CLIP Girls were girls and boys were boys when I was a tot. Now we don't know who is who, or even what's what. Trousers baggy and wide, nobody knows who's walking inside — those masculine women and feminine men!
MICAH LOEWINGER Man. Each article we just heard presented the fluidity of gender as a fresh force in our culture rather than a fixture of the human experience. That's how moral panics work. By definition, they're based on an overheated perception fueled by the media that certain behaviors or people are dangerously deviant and pose a threat to society. Much like how nowadays we hear that Americans have lost their sense of humor.
NEWS CLIP Last night, a Minneapolis club called First Avenue canceled the show by Dave Chappelle, citing public outcry, meaning they got a silly letter from some purple haired gnome with a BMI of 158. The club caved to a Change.org petition demanding not platform Transphobe Dave Chappelle.
NEWS CLIP Breaking news overnight, comedian Dave Chappelle attacked on stage while performing at the Hollywood Bowl.
NEWS CLIP The attack on Dave Chappelle is the beginning of the end of comedy. That's the message from Howie Mandel, who says he's afraid to perform on stage.
BILL MAHER Kids used to go to college and lose their virginity. Now they go to lose their sense of humor.
PAUL FAIRIE As long as I can remember, stand up comedians have been saying people are too sensitive.
MICAH LOEWINGER Paul started combing newspaper archives, and he found a familiar pattern. As in 1995, The Fresno Bee.
NEWS CLIP Nobody can take a joke anymore. Just ask poor old Trace Harvey. All the assemblyman from Bakersfield tried to do was a little standup, and the next thing he knew, he was up on sexual harassment charges.
MICAH LOEWINGER What did he do? What did he do? I'm looking this one up in a secret settlement. The assembly paid $10,000 to a secretary who complained that over a two year period she was the target of vulgar sexual remarks made by her boss, Veteran Assemblyman Trace Harvey. The author of this article, just unquestionably takes his side. That's journalism for you. 1984, The Des Moines Register.
NEWS CLIP I get depressed that the growing list of things Americans can't make jokes about anymore at the ludicrously high damages awarded by your courts for trivial personal slights, at the clamor by moral majorities and liberal pressure groups to make everyone in the most diverse nation the world has ever seen conform to some theoretically beneficial norm.
MICAH LOEWINGER The Orlando Sentinel in 1970.
NEWS CLIP A Nightclub operator has made the most significant forecast for the 1970s. "Nobody laughs anymore," he said seriously. "Humor is dead." In the sixties, it was "God is dead." In the thirties it was "Vaudeville is dead." Between then and now, famous newspapers and magazines like the New York Herald Tribune and The Saturday Evening Post have died. Our morals seem to have died. Our self-discipline seems to have died. For some, patriotism and the American dream seem to have died. Our self-confidence as a nation seems to have died.
MICAH LOEWINGER That is an over-extrapolation if I've ever read one.
PAUL FAIRIE Yeah, again taps into that idea of there was this former time that was perfect in some sort of way. And in this example, it was everyone was apparently hilarious and everyone was always laughing at every joke. And now that has somehow disappeared.
MICAH LOEWINGER And what's interesting about that one, too, is that you have the receipts to prove that wasn't true. I mean, you can go back and see the same claim being used just eight years earlier.
NEWS CLIP The men who draw the nation's comic strips complained Monday that people were losing their sense of humor.
MICAH LOEWINGER That's from 1962, The Arizona Daily Star. Here's another from The Stillwater News Press in Oklahoma In 1949.
NEWS CLIP The man on the street is losing his sense of humor, an expert on laughs reported today.
MICAH LOEWINGER Here's a fascinating article from The South Bend Tribune in 1927, shortly before Vaudeville was thinned out by the Great Depression and the film industry. It's about a traveling troupe that stopped staging an anti-Irish routine. Here's a quote from Eddie Hester, a retired member of the company.
NEWS CLIP I'm sorry to see them scrap that old streetcar gag that old wheeze pulled me out of your hole. All you had to do when you hit a new town was to find out about some particularly rotten streetcar line and then give them the works. It was always good for a laugh, and I never heard of anybody squawking about it.
MICAH LOEWINGER Of course people were squawking about it. In his book, The Irish Way, author James R. Bennett documents a Manhattan protest in 1907. Remember, this was a period of intense anti-Irish discrimination. The protest was led by hundreds of Irish-American men who were enraged by an offensive stage act. The irony here is that Irish vaudeville actors routinely performed in blackface, stoking street fights with African-Americans. Also, at that time, rabbis protested the stage Jew, a vaudeville staple, promoting the very anti-Semitic tropes we'd later see in Nazi propaganda. Paul Fairie's research shows us that comedy has long thrived and evolved alongside a messy negotiation between entertainers and their audience. In other words, none of this is new. The current trend of labeling things woke and cancel culture suggests that we've just left behind a golden era, a time when bigoted jokes were never met with backlash. That is demonstrably false. This is an old tug of war only now supercharged by social media.
PAUL FAIRIE Whether they're moral panics or concerns about work ethic, gender roles. And they might seem very current and very of this specific era. But just like the fact that we keep going back to them suggests, I mean, perhaps a disappointing lack of creativity.
Copyright © 2022 New York Public Radio. All rights reserved. Visit our website terms of use at www.wnyc.org for further information.
New York Public Radio transcripts are created on a rush deadline, often by contractors. This text may not be in its final form and may be updated or revised in the future. Accuracy and availability may vary. The authoritative record of New York Public Radio's programming is the audio record.