Nationalism and The Politics of Nostalgia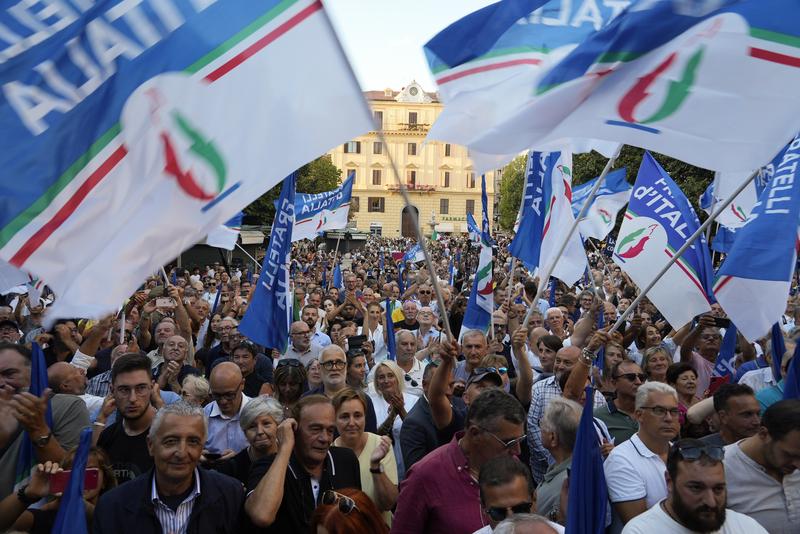 Transcript
MICAH LOEWINGER From WNYC in New York. This is On the Media, I'm Micah Loewinger
BROOKE GLADSTONE That's OTM's intrepid reporter. I'm Brooke Gladstone. This hour, we're looking at nostalgia, cultural and political, as a driving force because nostalgia derives from memories of the past — a past we may or may not have actually lived. And it can spark both wistfulness and rage. Though Donald J. Trump by no means originated nostalgia as a political tool. His MAGA strategy has gone global, effectively employed this year notably in the campaigns of Italian Prime Minister Giorgio Meloni and President Ferdinand Bongbong Marcos in the Philippines. Here in the USA, nostalgia's an old tradition that waxes and wanes. In October, the Public Religion Research Institute found that 49% of Americans said they believe our culture and way of life has changed for the worse since the 1950s.
NEWS CLIP Many people in this country feel that the culture is shifting more quickly than they are comfortable with.
NEWS CLIP You know what the 1950s were better for? Dying, okay? People died much younger. The life expectancy was 66. Now it's 79. I don't know what people think they're harkening back to.
BROOKE GLADSTONE And then earlier this month, it came up again — this time in Germany.
NEWS CLIP More than two dozen people suspected of plotting an armed coup have been arrested in raids carried out across Germany.
NEWS CLIP The group had an armed wing, including former military, and intended to form a new army. Their ringleader, who they planned to install as the monarch, is a 71 year old aristocrat named Heinrich the 13th. He comes from an ancient royal family that ruled part of central Germany for centuries.
BROOKE GLADSTONE The plot to execute the German leadership was led by a far right group called the Reichbürger, or Citizens of the Reich, fueled by a conspiracy theory that the German state was just a mirage, a corporation set up by the Allies after World War Two. And yes, in parts of East Germany, the Reichbürger found some support in the nostalgia for an idealized Germany of long ago. There is a wave of nostalgia rolling through Europe right now. The German variety is just one on a spectrum.
SOPHIA GASTON The Reichsbürger should definitely be seen as on the extreme end of a nostalgic political force.
BROOKE GLADSTONE Sophia Gaston, a social researcher and the head of Foreign Policy and UK resilience at the think tank Policy Exchange is an expert on nostalgia as a cultural and political force, and she says the first step to understanding what's going on is to identify the various strains.
SOPHIA GASTON Nostalgia has many faces, and we must differentiate between what is a very commonly held and largely benign social sentiment that really is part of the human experience and the way in which nostalgia is weaponized in political terms.
BROOKE GLADSTONE How do you define nostalgia?
SOPHIA GASTON Nostalgia really has several strands to it. Svetlana Boym conducted some really important and seminal research on this.
BROOKE GLADSTONE She's a cultural theorist.
SOPHIA GASTON She is. And one of the most important things that she has identified is the capacity to distinguish between a reflexive type of nostalgia. Most of us will look back at the days of our youth with some degree of rose-tinted glasses, skim over some of the more challenging things, and feel the sort of warm glow of remembrance when we look back to those things. The other type of nostalgia is a restorative nostalgia. This is the pointy end of nostalgia. When nostalgia is harnessed by political leaders, political campaigns, media and other different parts of our political apparatus to argue that we should actually seek to reinstate some of the structures and conditions of the past. And this is where for groups that have benefited from advancements in our political culture, our social culture, representation in our politics nostalgia becomes a much more exclusionary and threatening force.
BROOKE GLADSTONE What was a common element among the nations you studied with regard to nostalgia?
SOPHIA GASTON One of the very striking aspects of particularly the focus groups that I have been doing over the years on this is that often the responses are verbatim the same. Senses of loss, feelings of insecurity about the present day and that the future is difficult to view. Also, in each country there will be aspects of the nostalgia which are unique. In post-Soviet states, and in East Germany, when I've conducted research into nostalgia there, there is a sense that the end of the Cold War, the sort of unleashing of liberalism and capitalism, that many of the benefits had been unevenly shared across society. And for those who feel that they were not the great winners of that transformation, there is a tendency to look back at living in a society where everybody had a bit of something. And there was a perception of a greater degree of social equality.
BROOKE GLADSTONE About the U.K., where you live and do much of your research. What role did politicized nostalgia play in Brexit?
SOPHIA GASTON Brexit was very much a cry to Britain's political class that something needs to change. Regional inequalities and the long tail of deindustrialization-deprived communities, particularly in the north of England – often described as "left behind communities" of which once had flourishing heavy industries and have not been able to evolve into the digital era of globalization — these communities have been brought into the front and center of Britain's political culture in a way that they were just not relevant before Brexit. This is partly why that campaign was so successful. The other area that often was the single most important issue of concern for Brexit voters is, of course, immigration. The sense of a lack of control over the borders created a quite intangible sense of insecurity, I think among people who felt social change might not always go in ways that they felt comfortable.
BROOKE GLADSTONE I thought this was really fascinating in your research that Britons were, by and large, less trepidatious about the future, that Britons tended to see economic and political fortunes as cyclical. The observation that voters wanted to leave Europe because they felt financially worse off was missing the point you found, and this is different from other countries you studied.
SOPHIA GASTON Britons have remained on balance, much more positive towards the concept of globalization than any of their peers. Certainly in the aftermath of the global financial crisis.
BROOKE GLADSTONE This seems very counterintuitive.
SOPHIA GASTON It very much speaks to our history. To some extent, if you were as a nation so integral in creating an international order and advancing the world trading order and many aspects of globalization itself, you might feel a bit more confident about how that is going to be translated into the future and your capacity to have a stake in it. We are a free trading country, architects of many aspects of the current world order. So the British people have remained much more steadfast in their support for globalization, even when many of our peers, France, Germany, United States, experienced very significant falls in support for globalization since the financial crisis.
BROOKE GLADSTONE You've said that nostalgia has taken hold in a very different way in France, in part because French citizens view the outlook for their future differently.
SOPHIA GASTON Certainly in French politics over recent years, we have seen many of the candidates leading with nostalgic narratives. This is from both the right and the left. Two of the candidates that have been most successful have been Marine Le Pen, but also Mélenchon, who is from the left. Both of them are promising a restoration of some greatness that they feel has been lost from the French nation. Actually, most troubling, I think, for those of us who would favor a more future-oriented politics is the degree of convergence in some of the narratives. And this is where Macron, who has sought to come in through the center, is very much having to find himself on the front line against these very powerful narratives from both sides.
BROOKE GLADSTONE At the end of September, Italy had its most recent elections, where far right leader Giorgia Meloni became the country's first female prime minister. The BBC called her newly formed government Italy's most right wing governments since World War two. Did nostalgic narratives play a role in that election cycle?
SOPHIA GASTON I think you would be hard-pressed to find an election in Europe over the past decade that has not invoked nostalgic narratives. The complex suite of insecurities that citizens are feeling, and the anxieties they hold about the future, and some of the narratives about the future are so profoundly terrifying that there is an opportunity to promote a sense of robust purpose and control and authority through invoking times where people have felt more certain, more cohesive. Maloney has sought to evoke the Make America Great Again slogan but for Italy. The Italian people are very disaffected. Social divisions are very profound. Italy's economy has been in a pretty sluggish state. For all these reasons, Italian elections have for some time been very fertile ground for nostalgic narratives.
BROOKE GLADSTONE The Polish leadership has really tapped into an imagined Polish past. Is it more similar to Italy, France, or Britain?
SOPHIA GASTON The Polish experience is more complex because of course there was the Soviet Union and the pressures that placed on national identity. Certainly the juxtaposition with the European Union, the sort of superstate, Poland has benefited tremendously in economic terms from its membership. But Polish leaders have had some success in saying that, on a social and cultural level, the European Union is not necessarily aligned with the core cultural values of the Polish people. That has been a very effective political force. But one of the ways in which they have sought to actualize a more nostalgic public policy agenda is through the emphasis on the sanctity of the family. Many of the policies that the Polish government and also the Hungarian government, with again a nostalgic narrative, have sought to implement have focused on giving tax breaks and credits and all sorts of cash bonuses and so on, that encourage women to rethink their workforce participation and focus on growing the nation to bring new citizens into the world. And this is where some of these nostalgic narratives become very troubling for groups like women who have had to fight tooth and nail for their hard-won rights and representation and equality. Many of those rights feel extremely fragile at the moment. And when you see, you know, male oriented governments with nostalgic narratives promoting these policies, which almost always come at the expense of women's economic participation, people have a right to be concerned.
BROOKE GLADSTONE It strikes me that nostalgia seems to be a force altogether different from a population's economic interest. Have you found that economic interest plays a lesser role in these nostalgia-based campaigns?
SOPHIA GASTON It's a very complex issue because, on the one hand, people are right to highlight that the benefits of some of the economic transformations of the past 20 or 30 years have not been evenly shared across societies. There is a rational observation being made here. There are places that I have been to where that sense of economic loss is so entangled with a sense of cultural and community loss that it's very difficult to separate them. In some of these places, the trauma of economic transformation has led to the entire identity of a place being lost. Communities that had often been built up and structured around factories have been dismembered. So I do think that there is something profoundly cultural about many of these economic concerns. That said, it's obvious that this is not only about economic change. Economic change may be the gateway to these conversations, or it may have absolutely nothing to do with the driving factors of unease about contemporary society or what lies ahead in the future. I think that we have really lost sight of the fact that we are living in a time of a great democratic experiment. We have never before tried to build democracies that are so diverse and so empowered. I don't think we should be surprised that there are growing pains as many of these democracies move into a state of maturation. And when big global forces like climate change, automation, digitization, press in from the outside in, and these societies are having to adapt in real time. So I think many of the conversations looking at what's going on in our politics and society through a lens of nostalgia are really getting to the heart of the conversations that we need to be having about liberal democracies today and how we secure them and make them more resilient for the future.
BROOKE GLADSTONE What, if anything, is the antidote to weaponized nostalgia?
SOPHIA GASTON I think it's very important to note that most citizens do hold very nuanced views about both the past and the present. And so whenever they are finding something of resonance in the past, that is not to say that there is nothing in the narrative about the future that could not bring them along. What we need is governments who understand that they need to really shore up the foundations of societies through public policy, but really more about culture, history, identity. They need to get involved in these conversations and really tend to these anchors that give people the stability for them to understand that they are citizens of a nation and, at the same time, really invest in crafting persuasive, compelling and legitimate narratives about the future. And this is really where the policymaking arm of things come in to smooth the transition between a much more industrial economy to a much more globalized one. Any government that tries to focus on one or the other will come up short.
BROOKE GLADSTONE Thank you very much.
SOPHIA GASTON Thank you so much.
BROOKE GLADSTONE Sophia Gaston is the head of Foreign Policy and UK resilience at the U.K. based think tank Policy Exchange.
Copyright © 2022 New York Public Radio. All rights reserved. Visit our website terms of use at www.wnyc.org for further information.
New York Public Radio transcripts are created on a rush deadline, often by contractors. This text may not be in its final form and may be updated or revised in the future. Accuracy and availability may vary. The authoritative record of New York Public Radio's programming is the audio record.