The Fight For The Survival of Black Farmers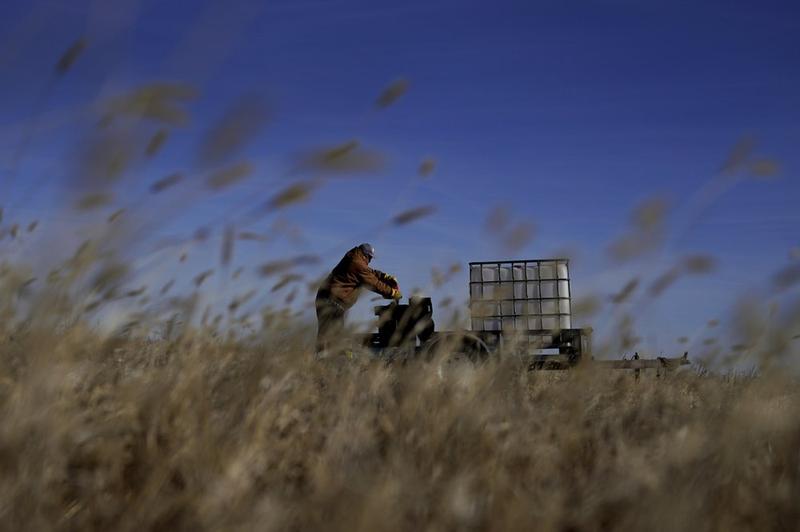 Transcript
Melissa Harris-Perry: You're with The Takeaway. I'm Melissa Harris-Perry.
$326 billion, that's the compounded value of Black land lost during the 20th century. That number comes from a team of researchers who published a scholarly study last year, estimating the wealth that disappeared from Black lives as the land was lost from Black hands. At the turn of the century, Black people owned more than 16 million acres of farmland. Today, more than 90% of that land has been lost.
John Boyd Jr.: You can't leave your PhD to your children, but he could leave his poor, raggedy farm to his children. My name is John Boyd, founder and president of the National Black Farmers Association and a fourth-generation farmer from Baskerville, Virginia.
Melissa Harris-Perry: Of course, calling it land loss suggests that Black Farmers somehow misplaced their acreage. Loss obscures the widely documented reality that Black farmers have faced overt, systematic racism from the USDA, the very agency that was designed to support farmers. Black Farmers have not simply passively accepted the loss of their land and livelihood.
In 1997, North Carolina Black farmer Timothy Pigford filed suit against the USDA. The case settled two years later with a promise to pay $50,000 and provide moderate debt relief to about 13,000 Black farmers who could show proof of experiencing discrimination. Thousands of those claims were denied simply from missing the filing deadline, and during that time, Black farmers continued to lose land. A few years later, in 2003, John Boyd Jr. hitched a wagon to his two mules named 40 Acres and Struggle. They rode all the way to Washington, D.C.
John Boyd Jr.: I rode my mule and wagons there, my two mules, Struggle and 40 Acres, 280 miles to Washington, D.C. to protest Black land laws, the lack of loans and subsidies to Black farmers. That case that we filed in Texas that was pretty much lost in every federal court all the way up the Eastern Corridor of the United States. We lost in Georgia, in Texas, in South Carolina, North Carolina, we lost in Virginia. By the time we got to D.C., I said, "Well, if we lost there, then I'm just going to try to resolve the Black farmer cases through the Civil Rights Division at USDA."
Melissa Harris-Perry: But that string of defeats seemed to end in 2010.
John Boyd Jr.: Judge Paul Friedman, who heard the case, and said he wanted to hear more about the discrimination that board and others had brought to the court in Washington. That case was settled under the Clinton Administration for $1 billion. Then, 83,000 Black farmers missed that filing deadline because the government won on a motion that they did not have to notify Black farmers about the case being heard. 83,000 came after the filing deadline, and we were able to get that resolved under former President Barack Obama, under the Claims Remedy Act, December 8th, 2010, that paid out 1.25 billion to Black farmers.
Melissa Harris-Perry: But this victory did not bring the relief that farmers sought.
John Boyd Jr.: That whole time period, Melissa, we were trying to get debt relief, injunctive relief in both of those lawsuits, and we failed to do so. Every farmer who was meritorious never received their land out of federal inventory nor received debt relief.
Melissa Harris-Perry: Then in March of 2021, it seemed a real solution was possible. Congress included $5 billion dollars to address this discrimination and provide debt relief for farmers of color during the COVID-19 crisis. Two years later, farmers are still waiting because last year, a group of white farmers brought suit in federal court, claiming that this set aside for farmers of color within the American Rescue Plan was an act of reverse discrimination. Since then, Congress has repealed and replaced that provision, and Black farmers continue to lose land.
John Boyd Jr.: They're still losing their land today, and that's what's so frustrating about the whole movement to save Black farmers in this country. Here, Congress can put laws in place to protect the brown bear, the black bear, or the bald eagle. They put laws in place until their numbers come back, and here it is, the oldest occupation in history for Black people, which is farming. Whether we want to recognize it or not, from slaves to sharecroppers and surviving the horrific loss of Jim Crow, we survived all of those things and we still can't be treated equal by our own federal government.
When the government repealed debt relief, the $5 billion measure for Black and other farmers of color, it also opened the door for guaranteed lenders to step in and start foreclosing on us. I reached out to other leaders in Washington, the leader in New York, the Senate leader. I reached out to Clyburn and others to actually put in place a farm moratorium that would include direct loans at USDA, guaranteed loans, and other agricultural lenders, and that measure still isn't in place today.
While the administration said they're helping us, they really haven't because we're still losing our farms today, and that's what's been so painful about the whole Black farmers movement. While we're getting partial victories every 10 years, we're still losing land at three times greater rate than any other race in this country.
Melissa Harris-Perry: John Boyd Jr describes what Black farmers are facing as an existential crisis.
John Boyd Jr.: We've fallen so bad till we're facing extinction today. At the turn of the century, we were 1 million Black farmers strong in this country, tilling 20 million acres of land, and today, we're less than 50,000 full-time Black farmers in this country to the tilling of 4.5 million acres of land. We're facing extinction, and that's why I've really been trying to turn the pressure up and go on a public awareness campaign, letting people know that people will face an extinction, and if we don't want to put laws in place to really help us to survive, there won't be any left.
Melissa Harris-Perry: In Mr. Boyd's analysis, the USDA has failed to be accountable for their role in this possible extinction.
John Boyd Jr.: Well, 39 years now, I've been trying to get something fixed, not one person of significance at USDA has been fired for the act of discrimination. Here, we have $2.5 billion that's been paid out just in the Black farmers' case, not to mention Native American and Hispanics, but not one person has been held accountable except for a Black woman, I believe, Shirley Sharon, who got fired for making some statements, but nobody else, no white person at the head of the Farm Service Agency.
Melissa, in 1998, that person, the highest official at USDA, called me the n-word, went to court and admitted it, and they still didn't fire him. They said, as long as he didn't say it repeatedly. This is the type of discrimination I want the listeners to understand. We're not just out here saying we're asking for something. We've been mistreated, we've been discriminated against, we've been overlooked, we've been dogged. For the Black farmers who are still on the farm, tilling the soil today, my hat's off to them. They are some amazing individuals.
[music]
Melissa Harris-Perry: Stay with us. When we return, John Boyd Jr. tells us about the latest battle in this long struggle of Black farmers. It's The Takeaway. You're with The Takeaway. I'm Melissa Harris-Perry. I'm still with Mr. John Boyd Jr., president of the National Black Farmers Association. Black farmers have finally gotten to a point of getting some potential debt relief, and then that gets halted because of a suit filed by some white farmers. Can you tell me what's going on with that lawsuit right now?
John Boyd Jr.: Well, it's very disheartening, Melissa, because this year marks my 40th year at farming in America, on American soil. I've never once, in my whole 40-year career, sued a white farmer or sued a white farm organization, blocking any aid that they were qualified for or any relief because of the act of mother nature. Never chose to do that. I've only sued the government, saying we want the same as white farmers.
I was very, very disappointed at that particular point in history, where not one farm group called me, but they immediately raised enough money to file 12 different complaints in 12 different federal courthouses across the country in various states, raise the money to do it, hire law firms, find the farmers, and file it in these courts.
I've been out here 40 years, and I've really had to scramble to defend ourselves in federal court and to try to intervene in these cases and so on and so forth. Since the government repealed the measure for debt relief, it looks like we're pretty much at a stalemate in court, and since that time, we hired the Attorney Ben Crump to represent us in federal court on behalf of those 16,000 plus Black and other farmers of color, because the government broke his contract with Black farmers, where we signed the agreement, sent it back in, and then the government repealed it.
We see it like 40 acres and a mule or just another empty promise. That's why we returned to the courts to file suit to say the government has to make good on its promise to pay Black and other farmers 120% debt relief. Now, the dime less is what we are looking for in federal court, but the point I'm trying to make here is shame on those white farmers.
Knowing the history and they never want to talk about the whole history of why Blacks were here in the first place, one to be slaves, and then sharecropping and Jim Crow and all these horrific laws that we had to abide by and sharecropping where we, at the end of the season, we owed the white general merchandise store and the white farmer money. These are things that we had to overcome, but they never want to take into account that part of history.
Melissa Harris-Perry: Listen, it's so important because we don't call enslaved agricultural workers farmers, but they were. They were the farmers whose agricultural skill and talent and labor built the country. I do wonder if part of the problem is we just don't even see Black farmers when we're looking at them.
John Boyd Jr.: We don't, and I tell Black people when I speak in these churches and other civic groups, every Black person in this country is only one or two generations away from somebody's farm. Whether they want to attest to that or not, that's where we came from. We were never rectified for the act of slavery. I see this as a continuation of Jim Crow by denying debt relief, the 120% to Black farmers.
Melissa Harris-Perry: You've got Ben Crump on the case now. Do you have a sense that this might now have a different outcome than so many of the other moments of what seem like they're going to mean relief, but then have rarely actually gotten to the farmers who need it?
John Boyd Jr.: I do. I do think that we are at a different time in history, especially from a public awareness standpoint. Here, we have clearly a broken promise by the United States Department of Agriculture and Congress because Congress is the actual government entity that repealed it. To have Ben Crump on a case has certainly been a leg up for us. I was glad that we were able to have a conversation and him see the turbulent justice that was done to America's Black farmers.
This time was a bit different, Melissa, because we have a contract where Black farmers signed it. The USDA spelled out what the terms was. They encouraged Black farmers to go out and make improvements to their farms, all things that thousands of Black farmers done. Then at the last minute, when it was time to pay, they pulled the rug from underneath them and said that they're not going to do it.
Again, I see it as a continuation of 40 acres and a mule where they make these promises, these significant promises, but when they actually see how it improves the lives of Blacks, they say, "Oh my God, we can't do this." White America says, "Oh my God, we can't do this." When I say white America, this time, I'm speaking specifically to white farmers who saw that Wade went to 12 different courts to block it.
I'm not just making a statement. They made it for themselves when they filed those complaints in federal court. I'm hopeful that a judge or jury will look at all of the facts and say, "You know what? These people have continued more on injustice and they want to make it right or fix it through court action."
Melissa Harris-Perry: What would it take for the USDA to repair the relationship with Black farmers and to provide some meaningful restitution going forward?
John Boyd Jr.: I would say, first of all, stop having commissions and studies to see, one, that we are facing extinction, and two, that the numbers have gotten worse from as far as participation in the US farm subsidy programs and all of it, lending programs have continued to go downhill. We don't need a study for that. When monies are made available through an Act of Congress, that's very, very hard to do for the secretary not to drag its feet but to roll the money out the same way they had done it for Ukraine.
They sent money to Ukraine farmers with no strings attached, no RFP, no congressional hearings. They did it with swiftness and accuracy. They gave them equipment, they gave them seeds and fertilizer. All the things, the infrastructure that I've been asking for Black farmers for nearly 40 years was provided to Ukraine farmers with ease, and we can't get it in our own country right here in the United States.
That's the type of sweeping action that the government needs to provide Black farmers if they're really serious about making sure that we are able to stay on our land and pass on that generational of wealth to the next generation of farmers. With all of the saga, I don't want people to look at Black farmers with pity or sorrow. I want them to look at us with a very proud population simply seeking justice.
Sometimes justice doesn't happen quickly, but I want them to know that I'm never going to give up. I'm never going to give this fight up, and I'm in it to win it. With God's help, we're going to win it. It's just going to take a while. We want people to start talking about this for athletes and persons who have significant followings on social media. Start talking about it. Start supporting the National Black Farmers Association. That's what they can do to help us and this fight. Public awareness. Tell the story so that their children know the rich history of Black farmers in this country.
Melissa Harris-Perry: Mr. John Boyd Jr. is president of the National Black Farmers Association, and he is, folks, active working everyday farmer. Mr. Boyd, thank you so much for joining us.
[music]
John Boyd Jr.: Thank you so much for having me. God bless you, and thank you for following this very, very important story.
Copyright © 2023 New York Public Radio. All rights reserved. Visit our website terms of use at www.wnyc.org for further information.
New York Public Radio transcripts are created on a rush deadline, often by contractors. This text may not be in its final form and may be updated or revised in the future. Accuracy and availability may vary. The authoritative record of New York Public Radio's programming is the audio record.