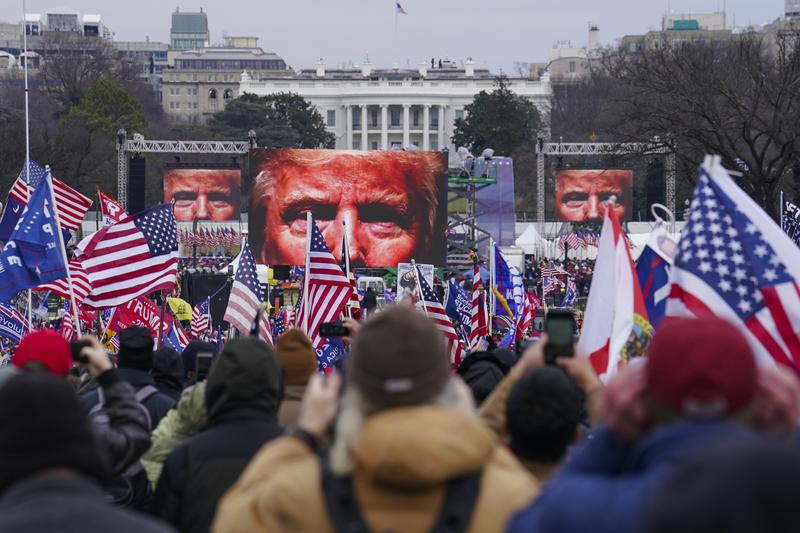 Transcript
BROOKE GLADSTONE Former AG Bill Barr referenced the slick piece of disinformation in his deposition to the January six committee.
WILLIAM BARR The election was not stolen by fraud. I haven't seen anything since the election that changes my mind on that, including the 2000 mules movie.
BROOKE GLADSTONE One journalist in particular reveled in debunking said movie.
PHILIP BUMP For me, it's kind of fun to just be like, Look, man, here are all of the reasons ridiculous and the reasons continue to mount.
BROOKE GLADSTONE From WNYC in New York, this is On the Media. I'm Brooke Gladstone. This week, it's all disinfo. From an internal government crisis.
NINA JANCOWICZ What we were accused of doing is becoming a ministry of truth, adjudicating what was true or false on the Internet when really we were just an internal working group.
BROOKE GLADSTONE To the personal crisis of a former Alex Jones cameraman.
JOSH OWENS I was very angry when I left, and I wasn't angry at Jones. I was angry at myself.
BROOKE GLADSTONE It's all coming up after this.
[END OF BILLBOARD]
BROOKE GLADSTONE From WNYC in New York, this is On the Media. I'm Brooke Gladstone and co-hosting with me this week, OTM reporter Micah Loewinger.
MICAH LOEWINGER Hey, Brooke.
BROOKE GLADSTONE I'm up first, so I'll start with, of course, the hearings laying out what happened on that infamous January 6th. Political theater traditionally depicts heroes and villains, but in these pathological times, the script, followed by former members of the Trump White House, focused instead on the normal and in the words of one Trump White House lawyer, nutty. And inebriated, Rudy Giuliani clearly was the latter. Former White House political director Bill Stepien proudly laid claim to the former.
BILL STEPIEN I didn't mind being characterized as being part of team normal as as reporters kind of started to do around that point in time.
BROOKE GLADSTONE MSNBC's Chris Hayes.
CHRIS HAYES It's a good thing that most of the people in his inner orbit would not really put their shoulder to the wheel to destroy American democracy.
BROOKE GLADSTONE But he did note that none of the former officials giving testimony: Bill Barr, Bill Stepien, Ivanka among them, the 'normals,' so to speak, publicly shared when it might have made a difference. Their reservations about Trump's efforts to stop the steal. So if they weren't putting shoulder to the wheel, nor were they putting foot on the brake.
BENNIE THOMPSON In the United States. Law abiding citizens have those tools for pursuing justice. He lost in the courts just as he did at the ballot box. And in this country, that's the end of the line.
BROOKE GLADSTONE Select Committee Chairman Bennie Thompson.
BENNIE THOMPSON But for Donald Trump, that was only the beginning of what became a sprawling multistep conspiracy aimed at overturning the presidential election.
BROOKE GLADSTONE Much of this week's testimony aimed to further prove that point. That Trump knew he didn't have the votes or was willingly blind to the facts in front of him. Evidence that could support a formal charge by the Justice Department. And here's another issue that could prompt DOJ action previewed on day three of the hearings. If the committee can prove Trump tried to obstruct an official proceeding, which is to say the Congress's counting of electoral votes over which the vice president presides. What's the evidence?
[CLIP]
DONALD TRUMP I hope Mike is going to do the right thing. I hope so. I hope so. Because if Mike Pence does the right thing, we win the election. The states got defrauded. They were given false information. They voted on it. Now they want to recertify. They want it back. All Vice President Pence has to do is send it back to the states to recertify and we become president. And you are the happiest people.
JAN 6 RIOTER 1 I'm telling you what I'm hearing. The Pence. I'm hearing the Pence just caved.
JAN 6 RIOTER 2 No.
JAN 6 RIOTER 1 Is that true? I'm here. I'm hearing reports that Pence caved. No, I'm telling you, if Pence caved, we're going to drag **** through the streets.
BENNIE THOMPSON We're fortunate for Mr. Pence's courage. On January six, our democracy came dangerously close to catastrophe. That courage put him in tremendous danger. [END CLIP]
BROOKE GLADSTONE It's a funny day when doing your mostly ceremonial but decidedly constitutional job is suddenly heroic. But maybe that's because Mike Pence did what the rest of Team Normal failed to do. Stand up to the big lie he'd helped to build in real time. Something he immediately paid for.
[CLIP]
JAN 6 RIOTER Bring him out! Bring out Pence! Bring him out! Bring out Pence!
[RIOTERS CHANTING "BRING OUT PENCE"] [END CLIP]
BROOKE GLADSTONE Now back to Team Normal for an admission from another prominent member of Trump's team now claiming something like hero status – in his case for risking almost nothing. Former Attorney General William Barr.
[CLIP]
WILLIAM BARR And all the early claims that I understood, were completely bogus and silly and usually based on complete misinformation. And so I didn't consider the quality of claims right out of the box to give me any, you know, feeling that there was really substance here. [END CLIP]
BROOKE GLADSTONE And here's Barr on NPR in June of 2020.
[CLIP]
WILLIAM BARR I have no specific reason to believe that there are a number of foreign countries that do want to show discord in the United States by undermining confidence in the results of the election. And I think if we do adopt programs of mail in, that will be an area which they will exploit. You don't have to be a rocket scientist to figure that one out.
STEVE INSKEEP Do you believe that an election conducted mainly by mail can be secure?
WILLIAM BARR Personally, no. [END CLIP]
BROOKE GLADSTONE Barr was one of the big stars of the show this week. Not just for his casual dismissal of his own role in The Big Lie, but also his newfound bluntness on the topic of Election 2020.
[CLIP]
WILLIAM BARR The election was not stolen by fraud. I haven't seen anything since the election that changes my mind on that, including the 2000 Mules movie Cordero.
BROOKE GLADSTONE How droll, but the Big Lie is still in high gear, driven in part by conservative pundit Dinesh D'Souza. His latest film, 2000 Mules, which has all the trappings of an episode of CSI. A Mysterious Mission.
[CLIP]
D'SOUZA Do we know the truth about what really happened in the 2020 election? Think millions of Americans know something went wrong, and they have little pieces. And no one's really put it together. [END CLIP]
BROOKE GLADSTONE The click, click, click of long range picture taking. The insidious beeping of supercomputers in grainy black and white videos of evildoers in baseball caps looking suspiciously like Joe Biden.
JOE BIDEN We have put together, I think, the most extensive and inclusive voter fraud organization in the history of American politics. [END CLIP]
BROOKE GLADSTONE In the film, D'Souza and the group True the Vote and its frontman, Greg Phillips put together a sleek narrative of an elaborate criminal organization, a network of shady nonprofit groups paying off mules to ferry hundreds of thousands of illegal ballots to drop boxes and their proof –foolproof, according to the filmmakers. Drawn from a trove of geolocation data that tracks the movements of these mules.
PHILIP BUMP They showed these various people dropping ballots into dropboxes.
BROOKE GLADSTONE Philip Bump reviewed and debunked 2000 mules for The Washington Post.
PHILIP BUMP However, none of those videos actually show any single person going to more than one drop box, despite the fact that they have multiple drop boxes in the same county, for example, Fulton County, Georgia. No one ever goes to more than one.
BROOKE GLADSTONE But Phillips does claim to have data showing people traveling to multiple, specific drop off locations in a single day. Right.
PHILIP BUMP He very much claims that, yes, there are two massive caveats that are worth applying here. The first is that Greg Phillips first gained notoriety nationally when a couple weeks after the 2016 election, he made this public pronouncement that he and to vote and determined that millions of people had voted illegally in the 2016 election. Donald Trump very quickly elevated that. The result was that Phelps presented literally zero evidence of that claim and was laughed out of the public discussion very quickly. This is the same guy who now says he has all of this evidence. There is one map that exists in the movie that purports to show someone who's traveled between various drop box locations in Georgia and stopped at various nonprofit organizations that are not identified. But I actually looked at the actual drop box locations and compared it to the map that is shown on screen and they don't line up. I reached out to Greg Philips and he admitted the maps fake. So there's literally no evidence in the movie at all of anyone going to more than one drop box, which of course, is 100% the crux of the argument that D'Souza is trying to make.
BROOKE GLADSTONE Greg Phillips of True the Vote Dinesh D'Souza's principal collaborator here likens the kind of work they were doing with cell phone geolocation data, with what the Justice Department has been doing with regard to the insurrection at the Capitol on January 6.
PHILIP BUMP That's right. Yes. He and D'Souza have been. Very, very fervent about that. They have they have used this argument. They have said essentially that because there is cell phones, your location data has been used to place people inside the capital, but therefore that validates the methodology. But of course, that's a big, big, big difference between being able to pinpoint someone inside the capital, which, for those who are not familiar, is a very, very large building and being able to identify someone as having come in proximity of a very small box. Right. I mean, ballot drop boxes are, what, maybe two feet square. And Phillips claims to have been able to track someone going to various drop boxes in a given day, mostly drop boxes and put down, for example, were outside of libraries. So essentially he's tracking people going from library to library, but the Georgia Bureau of Investigation has handed this data by True the Vote and by Phillips. They looked at it and actually sent a public letter back saying, hey, look, there's not enough here, in part because, A, the data that was being used was not GPS data, very specific satellite based location, but instead cell phone triangulation data, which is a lot less specific. The GBI said that the range that they were looking at was anywhere within a hundred feet of these locations. You know, when you go to the library, let's say the drop box is right outside the entrance to the library. If you walk by that drop box to drop off a book at the front counter of the library, you would have counted as having gone to a drop box because you easily within 100 feet. But then the big question here is, yes, they can nail you being inside the Capitol Building on Capitol Hill, surrounded by literally nothing else. But it's not going to be able to be as effective in trying to pinpoint this very specific approach to ballot droppings.
BROOKE GLADSTONE Mm hmm. Well, sticking with the geolocation data for a moment, Phillips also used a murder case to show how effective geolocation tracking can be. Tell me about that argument.
PHILIP BUMP It's really an instructive scene in the film because Greg Phillips and Dinesh D'Souza are looking at this really tragic murder of a young girl in Georgia during the period in the immediate aftermath of George Floyd's murder in 2020. And Phillips claims to look at the data and they show a map in which there's a circle on the map and some dots in the circle. And it says, you know, when you look at the map, you can see there's only two people that could have been in the vicinity of it. And so we turn this information over to the government. D'Souza says, "now, I understand they've arrested two people. Have they?" Greg Phillips, very somberly, says "yes, they have." Later, as it turned out, NPR did this great debunk and talked to the prosecutors and got True the Vote to once again admit, no, they had no role, that they'd actually done this analysis after the fact.
BROOKE GLADSTONE And actually geolocation data didn't play a role in either arrests they made.
PHILIP BUMP That's exactly right. It was completely contrived inside the movie itself as a way to prove, hey, look how valid this methodology is. But then it turns out that it had absolutely nothing to do with anything.
BROOKE GLADSTONE Okay. Before we continue, why are we focusing on this so much? I mean, I know films in the past, even ones not as well-produced as this. Loose Change, for instance, about how 9/11 was supposedly an inside job. These films have impact, or at least they fill a longing to have whatever your belief is validated, however unfounded it is. Do you think that this film is dangerous?
PHILIP BUMP I'm not sure I'd say it's dangerous, in part, honestly, just because I have this visceral, negative reaction to the idea that it could be that important. But I mean, look, there is a difference between this and other conspiracy movies, which is that the former president of the United States is actively hawking it, right. That he has this massive base of millions of people who believe the things that he says. And he says this is real. I mean, this film had a premiere at Mar a Lago with Trump. And you're right, it is it is designed very specifically to scratch a particular edge, which is people want to feel as though there's some proof that Donald Trump won in 2020. And this film is designed to do specifically that.
BROOKE GLADSTONE Let's take a look at what seems to be kind of innocuous footage that you hone in on. A man on a bike drops off what seems to be a single ballot and poses to take a photo of the ballot box. This is depicted as nefarious.
[CLIP]
2000 MULES But you also see him get sort of frustrated as he starts to leave because guess what? At this point, they had started requiring the mules apparently to take pictures of the stuffing of the ballots. It appears that that's how they get paid. [END CLIP]
PHILIP BUMP One of the things that was sort of fascinating about this scene in particular was that D'Souza and Phillips are so deeply mired in this theory of the case. They were unable to come up with totally innocuous, obvious alternative explanations. And so, for example, we see this guy and he drops off his ballot and then he very carefully places his bike against the ballot box, and then he takes a photo of the ballot box in his bike. But they argue the only reason he could possibly want to take the picture is because it has to do with public opinion. I actually figured out where that ballot box was. You can see inside the ballot box, you can see sort of a county seal. It figured out what library it is. It's the Ponce de Leon Library in Fulton County. And so I went on Instagram and I did a search for that library and pictures that were tagged with that library. And of course, what you get is you get a lot of people who are excited about voting in the 2020 election who posted pictures of themselves depositing ballots in the ballot box, because that was a totally normal thing that municipalities and counties encouraged because they knew it would help increase turnout. Right. You know, there's an obvious answer here if your reality adjacent
BROOKE GLADSTONE Okay. But here's a suspicious one. We see a woman come and use a drop box. She puts a small stack of ballots. Phillips says maybe three, maybe four, puts them in the box and then removes the latex gloves that she was wearing and throws them immediately away. More important, this happened at 1 a.m. and that makes it even sketchier.
[CLIP]
NARRATOR So this is 1:00 in the morning.
D'SOUZA Don't we all vote at 1:00 in the morning?
NARRATOR One night. This person, this mule went across. [END CLIP]
PHILIP BUMP Yeah. This clip is played over and over in this deposits of ballots and drop boxes and then turns around and immediately throws guns away. And how did she know that garbage can was there? She wasn't a mule, and yatta-yatta-yatta. You and your listeners probably remember that at the beginning of 2021, there was this global pandemic from the corona virus that was inspiring a lot of people to take precautionary measures, like not touching public devices with their bare hands if they could avoid it. So I think there's a very reasonable explanation here besides some trumped up conspiracy about not wanting to leave fingerprints on it. There is also, of course, the point that they claim that she knew that garbage cans there since she turned around. So she must have been there before. But they don't show any video of her having been there before.
BROOKE GLADSTONE Could her fingerprints been used to find fraudulent ballots?
PHILIP BUMP So there's this case in Arizona in which a former mayor in a small town Yuma city had been arrested in December 2020 for allegedly engaging in ballot fraud. I believe she actually just pleaded guilty to, that that she had been collecting ballots from people and then depositing them, which was actually illegal in the state until 2016.
BROOKE GLADSTONE She was collecting legal ballots.
PHILIP BUMP That's correct.
BROOKE GLADSTONE But she wasn't allowed to do that.
PHILIP BUMP That's exactly correct. And that, by the way, is a very important distinction as well for the rest of this film. There was this claim made by Phillips in the film that because of that arrest, the FBI had started trying to do fingerprinting of submitted ballots to see if she had touched any other ones, and that therefore, that was what prompted people to start wearing gloves.
BROOKE GLADSTONE Let's get back to that specific language that D'Souza uses when building his case, such as ballot trafficking, stash houses and, of course, mules.
[CLIP]
D'SOUZA We identified in Atlanta 242 mules that went to an average of 24 drop boxes. But Philadelphia alone, we've identified more than 1100 mules.
MAN What is a mule?
WOMAN Person picking up ballots and running them to the drop boxes.
MAN This is not grandma walking her dog.
WOMAN I call it the Mexican mafia, seriously. Because they work like that. [END CLIP]
BROOKE GLADSTONE Now, typically, a mule is a word applied to people who are illegally transporting drugs for a gang or a syndicate or whatever. Stash houses...that refers to what?
PHILIP BUMP The theory of their case is that there were nonprofit organizations that were somehow obtaining tens of thousands of ballots, that they then would pay people to go out and drop off in multiple drop boxes instead of just throwing them in the mail, which is another flaw in their argument. And so that purported analysis involves people who both visited nonprofit organizations which are not named and go on to ballot drop boxes. By which I mean had driven within 100 feet of places where there might be ballot drop boxes. That's that's the are those are the statutes.
BROOKE GLADSTONE And the origins of the term ballot trafficking?
PHILIP BUMP Really, I don't think was in any real use prior to this election cycle. There had been some mention of it in 2021, but it really started to spike once the truth about really start to use this. And I think it's important to point out as well that in at least two of the states that were under consideration here, even if you were collecting a bunch of ballots and submitting them, that wasn't illegal. Wasn't illegal in Wisconsin 2020, wasn't illegal in Pennsylvania in 2020. And in Georgia, it's legal for you to collect a bunch of ballots from people in your family and submit them. Which one of the people who shown in the movie, the Georgia secretary of state's office investigated, spoke with him and he said, yes, many ballots on behalf of my family, which is perfectly legal to do.
BROOKE GLADSTONE I looked at your Twitter feed. Clearly, proponents of Stop the Steal said, well, your word can't be trusted. You work for the Washington Post and you had a predetermined narrative to follow and so forth. Do you think that your enterprise, in examining this film and confronting Dinesh D'Souza about it, writing columns and updates and other people's debunking and so forth. Is any of it worth it?
PHILIP BUMP When I was a kid, my my mom spoke with one of my teachers, and the teacher told my mom that it was impossible for me to let people who are saying dumb things go and that that made me very frustrated in class. So I had this illness in which I don't suffer idiocy. And for me, it's kind of fun to just be like, Look, man, here are all the reasons this is ridiculous and the reasons continue to mount. Yes. Do I get blowback for that? Absolutely. But I think it's important, given the breadth of this and the scale of this, people understand that when they hear 2000 Mules, they should do exactly what the former attorney general did in that videotape testimony that shown this week. And that's a laugh at it. You should laugh at this. There's nothing to it and people should not take it seriously.
BROOKE GLADSTONE Phillip, thank you very much.
PHILIP BUMP Of course.
BROOKE GLADSTONE Phillip Bump is a national correspondent with The Washington Post and author of the newsletter, How to Read This Chart about the Data Behind the News.
MICAH LOEWINGER Coming up, an earnest attempt by the government to dispel disinformation is undone by disinformation.
BROOKE GLADSTONE This is On the Media.
[BREAK]
BROOKE GLADSTONE This is On the Media, I'm Brooke Gladstone.
MICAH LOEWINGER And I'm Micah Loewinger. When disinformation circulates about, say, FEMA and hurricanes, it can hurt the government's ability to provide life saving storm relief. Which is precisely why the Biden administration rolled out a potential solution in April.
[CLIP]
NEWS REPORT The Department of Homeland Security announced last week that it is establishing a disinformation governance board to combat false information online.
NEWS REPORT And the woman appointed to lead that effort is a woman named Nina Jankowicz. She's a former disinformation fellow at the Wilson Center and the author of the book How to Lose the Information War. [END CLIP]
MICAH LOEWINGER Which, according to the Department of Homeland Security, the board had no real authority and would simply advise other parts of the government on how to respond to mistruths. But before it could even meet for the very first time, the group and its executive director, Nina Jankowicz, became the subject of a vicious right wing disinformation campaign. Leading her to step down after just two months on the job. The episode was frankly ironic, but it presents a cautionary tale for future government led efforts at countering disinformation.
NINA JANCOWICZ We had no operational authority, right? So as FEMA or CBP or the Cyber and Infrastructure Security Agency came to us and said, hey, you know, we're trying to reach this population to make sure that they have access to good information about critical infrastructure. There's been, you know, a disinformation campaign about gas pipelines. We would talk through with them, okay. Like, how do we want to reach this? What's the best messaging? And they would be free to do with that information what they chose.
MICAH LOEWINGER Let's say the DHS became aware that there was a bogus story going viral about the integrity of the upcoming midterms. As director of this board. What would you have done?
NINA JANCOWICZ This is actually something that DHS has dealt with before. In the 2020 election, DHS, along with the FBI and other parts of the federal government, did uncover an Iranian campaign to dissuade voters from going to the polls, and they very quickly declassified that intelligence. And at a press conference with the director of the FBI putting out fun social media graphics and things like that in order to inform voters. As the director of the board, I would have consulted with the heads of CISA and anybody else involved the Cyber and Infrastructure Security Agency. I would have potentially connected them with folks either within the department who had done similar education campaigns before or outside of the department who were experts on how to communicate about election security. It was nothing to do with fact checking or anything like that. It would just be about how best to get the message out so that Americans had the right information about how and when to vote. If that's what we are talking about.
MICAH LOEWINGER A lot of what you're describing and you even kind of alluded to this is the sorts of strategies that the intelligence community is already doing to some extent. But the name, the Disinformation Governance Board, I don't think was the best name, first of all. Second of all, there is a strong amount of skepticism that Americans of all political creeds have about government censorship. And Fox News, I think, did a good job of exploiting this and spinning the Disinformation Governance Board as a Ministry of Truth.
[CLIP]
TUCKER CARLSON Ministry of Truth, men with guns telling you to shut up.
COMMENTATOR A group of vicious people are taking Orwell not as a warning, but as a handbook.
SEAN HANNITY Is this what we really want to turn our country into this creepy government ministry of Truth? [END CLIP]
NINA JANCOWICZ People were saying, including members of Congress, that this was Stalinist or Maoist, that it was going to knock on people's doors using the department's law enforcement capacity. And there was a disinformation campaign to paint me as this absolutely radical. So an anonymous account online watched an old conversation I had had with some librarians in Georgia in January of 2021. It was presented completely without a date. They cut one minute of the conversation in which I was describing Twitter's Birdwatch program. It is a program inviting Twitter users to add context to conversations on Twitter so that people can have more information when something is going on that might be politicized or might be lacking information for them to make a judgment call. And when I was doing this conversation that was later posted on YouTube, I was asked about the program. It had literally just been announced. I had admited at the beginning of my answer that I didn't know too much about it. And in the course of my about five minute answer to a librarian's question about what I thought about this program, I said, you know, the jury's still out. It's kind of inviting people to edit the context of other people's tweets. And that's what went viral.
[CLIP].
[AT GEORGIA LIBRARY]
NINA JANCOWICZ The verified people can essentially start to edit Twitter. [END CLIP]
NINA JANCOWICZ It was presented as Nina and the Disinformation Governance Board wants to edit your tweets. This was picked up by conservative media. And then, to my chagrin and frankly disgust. A lot of mainstream media reporters were also retweeting this video and saying, wow, this is totally crazy. How could she say something like this? As if I had said it in a meeting of the Disinformation Governance Board, which never even met. And it went totally viral to the point where Bill Maher talked about it on his show.
[CLIP]
BILL MAHER The Czar, and Nina Jankowicz says she'd like some committee there within this governing board with the power to, quote, edit Twitter and add context. [END CLIP]
NINA JANCOWICZ It was just really shocking to me. Even when the AP ran a fact check of that claim. It got very little play. Later, after I resigned my position, I ended up tweeting that fact check article and kind of explaining things. And people who engaged with that thread didn't even read the article and they said, We know you still want to edit our tweets. That is just one small part of the campaign that was launched against me and that came with a lot of violent threats against me and my family of gendered harassment that has thankfully died down now. But it was not an easy month.
MICAH LOEWINGER How did the Department of Homeland Security respond to all of it?
NINA JANCOWICZ The strategy was that we weren't going to give credibility to these claims by debunking them. We were just going to issue some broad based talking points about what the board was going to do. I've seen these sort of campaigns undermine the work of other counter disinformation initiatives in other countries. I've written about that. I have warned about that. Unfortunately, that's what ended up happening to us in a much greater scale.
MICAH LOEWINGER You literally wrote a book called How to Be a Woman Online: Surviving Abuse and Harassment and How to Fight Back.
NINA JANCOWICZ Yes.
MICAH LOEWINGER And yet it sounds like you had no opportunity to fight back.
NINA JANCOWICZ I had no opportunity to fight back. And actually, my first book is called How to Lose the Information War. So both books were born out in real life in a very personal way. It was kind of like watching a slow motion car crash. And one of the things I talk about in my second book, how important and empowering it is for women who are being abused to not cede their online space, to use the platforms that they have to call out, the behavior being used to undermine them. And I wasn't able to do that. And now that I'm out of government, it doesn't matter what I say. I can issue as many fact checks as I want. There are still people who claim to want me dead and other people who think I'm treasonous or a traitor to our country for having wanted to serve the federal government in an area in which I'm expert. It's not just people online, random Americans who made that happen. It is members of Congress. It is members of the media. Some mainstream media figures as well, who fell into that narrative without really doing their research. Makes me pretty pessimistic about the state of the national discourse when it comes to this topic, which, make no mistake, has real implications for national security. This childishness has been put ahead of something that has an impact on the very functioning of our democracy.
MICAH LOEWINGER To be honest, it's so hard for me to imagine this going differently because I feel that the Disinformation Governance Board played into long standing conspiracy theories about a deep state. Do you know what I'm saying? Like it seemed to fit so perfectly with a kind of paranoia that has existed for a long time. I mean, I don't know that Tucker Carlson and Kevin McCarthy needed to whip things up as intensely as they did to get a rise out of many conservatives. For that matter. We can imagine something like a disinformation governance board being launched under the Trump administration. How that would have upset liberals. I mean, is anything resembling the government verifying information going to set off people's spidey senses?
NINA JANCOWICZ It is a deeply politicized issue. It is not less politicized in other countries, however. I spent a lot of my time in the former communist space and Central and Eastern Europe and some countries have figured it out. Kept their heads down and dealt with the parliamentary inquiries and the criticism and the conspiracy theories and continued the work for the good of the country. We just need to recognize that there is a role for government, just as there's a role for civil society in the media in addressing disinformation. But the longer we dillydally, and at this point by my records, we've been dilly dallying for over six years. The longer we allow this politicization to be entrenched, then we make the job much harder for those trying to do it in the future.
MICAH LOEWINGER I completely agree with you that this is a problem, but like the solutions seem much less clear. And the government's role in repairing lost trust by fighting disinformation seems like an uphill battle or something that I don't know that we can win. And I think of, for instance, the Stop the Steal movement that was a homegrown disinformation campaign to undermine election integrity. But it is based on a lie that a large enough portion of Republicans believe is true, including some who are in power. So I don't totally understand how the government could navigate counteracting the big lie. Anything done to fight it feels like it will only make the problem worse.
NINA JANCOWICZ Yeah. Christopher Krebs, the former director of the Cyber and Infrastructure Security Agency under the Trump administration, tried to fight the big lie and got fired. So it's a pretty precarious situation. But I do think there are ways to do it other than debunking and fact checking. Governments in central and Eastern Europe that have been dealing with Russian disinformation for decades. They do some debunking and fact checking, but the most important thing that they have learned is how to build information literacy among the public. And Ukraine is a great case study for that. Right. 2014, they were just getting hammered by Russian disinformation during Russia's first invasion of Ukraine. Eight years later, they are one of the most resilient government communicating apparatuses that I have ever seen. And that has meant that not only do Russian falsehoods get less play within the Ukrainian media ecosystem, but they're getting a lot less play internationally as well. Generational work. I recognize that it's not the quick solution that everyone wants, but if tiny countries like Estonia can get that together than certainly in the United States of America can figure it out as well.
MICAH LOEWINGER Nina, thank you very much.
NINA JANCOWICZ Thanks for having me.
MICAH LOEWINGER Nina Jankowicz is the former director of the Department of Homeland Security's Disinformation Governance Board, and she's the author of How to Be a Woman Online: Surviving Abuse and Harassment and How to Fight Back.
BROOKE GLADSTONE Coming up, the tale of a penitent disinformationist. This is On the Media.
[BREAK]
MICAH LOEWINGER This is On the Media, I'm Micah Loewinger.
BROOKE GLADSTONE And I'm Brooke Gladstone. So historians tell us that the seeds of the January 6th insurrection were sown well before the election. Indeed, historian Richard Hofstadter coined his famous phrase, the paranoid style in American politics back in the 60s. And the fires have been fueled ever since by growing income inequality, immigration, a nation confronting its past and building a different future. All those things and more supercharged by a far right media machine. The previous president just normalized fear and loathing, while, as we've heard in this week's hearings, profiting mightily from it. But while he may be the leading paranoia profiteer, he's certainly not the only one.
[CLIP]
OWEN SHROYER Honor to introduce a man who was the genesis in many ways of this second American revolution
MICAH LOEWINGER That's Infowars employee Owen Shroyer introducing Alex Jones at an event on the eve of January 6.
ALEX JONES They are trying to steal this election in front of everyone. As I told them 20 years ago, I'd tell em again. I don't know how this is gonna end but if they want a fight they better believe they got one. [END CLIP]
MICAH LOEWINGER Alex Jones also helped plan and finance the Stop the Steal rally that preceded the insurrection, though he's yet to be charged and despite a subpoena that put him face to face with investigators, the conspiracy theorist hasn't been particularly forthcoming.
[CLIP]
NEWS REPORT In fact, Alex Jones sat down before the bipartisan House committee investigating January six and oh, to be a fly on the wall. He pleaded the fifth nearly 100 times instead of answering questions.
NEWS REPORT His own employees face criminal charges from an Infowars editor who streamed the riot.
NEWS CLIP It feels good to be in the capital baby.
NEWS REPORT To Infowars host Owen Shroyer. Who was right by Jones' side. At least 20 of those arrested either worked under Alex Jones, appeared on his show or followed his content. [END CLIP]
MICAH LOEWINGER All of this scrutiny comes at an especially difficult time for Jones because he's in the midst of another high profile case.
[CLIP]
NEWS REPORT Families of those killed in the Sandy Hook Elementary School shooting in 2012 have now rejected a settlement offer from radio host Alex Jones. Jones offered to pay $120,000 per plaintiff to settle a lawsuit stemming from his claim. Jones has been found liable for damages and faces a trial to determine how much you should pay. [END CLIP]
MICAH LOEWINGER After begging his viewers to bail him out last month. The Southern Poverty Law Center discovered that Jones received $8 million worth of Bitcoin from an anonymous supporter, demonstrating the power of a largely invisible network of donors and staff that have so far managed to keep him on air. Josh Owens worked at Infowars from 2013 to 2017. In an essay published on CNN dot com this week, Owens described his deep regret over the past five years as he's grappled with the damage that his work caused. Josh, welcome to the show.
JOSH OWENS Thank you for having me.
MICAH LOEWINGER You said you first started listening to Alex Jones in 2008 when you were 19 and you wrote that you fell into, quote unquote, an alluring trap.
JOSH OWENS I lived my life through movies at the time, and Jones does a similar thing. He's almost living in a fantasy land, and he references movies a lot. And, you know, the world is complicated. Politics, it's all complicated. And Jones condensed it into this very simple version. It was binary. It was good and bad. There were bad people who wanted to do bad things and there were plots and conspiracies. I didn't have to think too hard. And the simplified version of the world he was portraying was appealing.
MICAH LOEWINGER So how did you go from just being like a fan to actually joining his staff as a cameraman and editor?
JOSH OWENS I graduated high school. I had no intention of going to college, and I decided to enroll in film school. So Jones posted a reporter contest online. I was becoming a little disillusioned with film school. I think I was floundering and I just thought, Well, let me give this a shot. And I got in the top ten of that contest. And then through that, Jones offered me a job and I had no other prospects, so I decided to give it a shot.
MICAH LOEWINGER He sent you out with reporters like all over the country, right?
JOSH OWENS He started putting out his supplements. So the first one was an iodine supplement called Survival Shield. I got together the ad for that and he sent me and a couple other guys out to Utah to the manufacturing facility. But his real goal sending us out there was to infiltrate the NSA's data center. And I just remember he–
MICAH LOEWINGER Did you know that what you had out there?
JOSH OWENS No, I didn't. No, I found that out once. I got there.
MICAH LOEWINGER What a ridiculous bait and switch.
JOSH OWENS Yeah. Yeah. I thought it was going to be a simple trip. And then it turned out, you know, I think Jones wanted us to get arrested.
MICAH LOEWINGER Because if you got arrested, then it would seem like the government was targeting these intrepid Infowars investigative reporters and. Is that the idea?
JOSH OWENS Exactly. It's all it's all performance.
MICAH LOEWINGER And so did you go to the NSA data center?
JOSH OWENS Yes, we did. We pulled into the parking lot there. Signs everywhere do not film. The cops came out. They were very angry. We live streamed the whole thing to Jones's show and they wanted us to delete the footage. Long story short, I pulled out the card, pretended like I didn't know how to work the camera, and I left with the footage and I was able to upload it. And I think from that experience I earned Jones's trust. That's when he started sending me out on the road. So there were two things happening, I think. I think a lot of my brain was just focused on moment to moment. It was, go do this trip. Let's file this report. This is a problem. This is great. You know, it was just there was so much going on that I wasn't able to step back to see what we were doing. And it also escalated, not to jump forward too much, but when Trump announced, you know, he was running for president and then Jones kind of got on board with Trump, I was on the floor at the RNC when Trump said, you know, Americanism not globalism will be our credo. And, you know, Jones is right next to me with tears running down his face.
MICAH LOEWINGER You wrote "Over time as I stood behind a camera and watched Jones ignore, conflate, misrepresent and fabricate information, my critical thinking skills improved. Unfortunately, my education in media literacy came from learning how to circumvent it in others." So what did you mean by that?
JOSH OWENS Well, so I was standing behind the camera most of the time. I wasn't an on air personality, and I got to see, you know, out on the road. Jones would say we had intel that, you know, this was going on. We had a source.
MICAH LOEWINGER Where he would use like the language of like broadcast journalism to sound credible, to sound like that reporting had been done.
JOSH OWENS Yeah, it was almost like he was protecting sources. And that was his excuse of saying, well, we have intel that this is going on. But we didn't, and it wasn't true. And that happened a lot.
MICAH LOEWINGER Speaking of fabrications, you joined in 2013. So that would have been shortly after the Sandy Hook massacre in which a gunman killed 20 children and six school staff. What did you make of the story that Alex Jones told?
[CLIP]
ALEX JONES Sandy Hook is a synthetic, completely fake with actors, in my view, manufactured. [END CLIP]
JOSH OWENS At the time. I wasn't fully aware of what Jones's story was. I mean, I on some level, it feels like I'm making an excuse. And I think that I am to a degree, because I should have had the discernment to see the damage that could cause the danger that that would cause. But I didn't, because Jones said that about everything, you know, everything was a false flag. Everything was crisis actors. It didn't really happen. I'm just asking questions. I think in retrospect now, you know, when you can see the videos of Jones saying multiple times that it was a complete fabrication, it never happened, and then walking that back and then, you know, coming back around and saying it didn't happen again. I mean, it's all over the place. Like I said, it was like taking a a fire hose straight into your mouth. It was just nonstop chaos. There was a Hillary Clinton speech where she said something like Jones had a dark heart because he had used, you know, Sandy Hook as an opportunity basically to boost his own audience by, you know, pushing these conspiracy theories about it out. And that was I feel like the first realization had they're like, oh, okay, well, this is real. I was also around the Pizzagate time. It was Jones is pushing these baseless conspiracy theories and people were taking action like that guy going to the comet ping pong pizza place with a gun. It was learning about what these families had to endure. But that was after the fact. You know, I can't say that that was the reason that I left or anything, but I definitely became acutely aware of the dangers and the repercussions of some of those ideas.
MICAH LOEWINGER In your New York Times Magazine piece, you've said your coverage of this Muslim town in upstate New York. Islamburg was a turning point for you.
JOSH OWENS We started having meetings, you know, where Jones can give us directives for what the goal was, what you know, what we were hoping to get out of the trip. So Islamburg Jones brought us in a room and he was we're going to send you guys to Muslim majority communities. He wanted to call it an investigation into the American caliphate. There were some baseless claims circling the Internet that this mostly African-American group of Muslims who was just families living in a community, that they were somehow terrorist. Jones was like, 'Go there and check it out.' That's what we're hoping to find. We got there. There was nothing. We spoke to the sheriff. We spoke to the mayor of Deposit, New York. And all they had to say were positive things. That the people were kind, that their children went to school together. They never had an issue, they had never had suspicions, there was no reason to be concerned about anything. But that's not what Jones wanted. That's not creating content. That's not what we're there to do. So the reporter filed reports and I filmed them and posted them online that were just blatant lies, that there was an Islamic training center, that they were promoting Sharia law, which is a dog whistle. The intention of saying that was there's danger here. On the flight back, I was seated next to a muslim woman and her young child, and I can't explain it other than there was just something that kind of clicked in my head. It was like, these are just people and there are repercussions to what we're talking about, like going from the macro to the micro of seeing real human experience and just putting a face on it. I feel like I started to shift, to stop thinking about these big grand ideas that Jones had been pushing for so long that were not about the people. It was about a political agenda.
MICAH LOEWINGER After your New York Times piece came out, there were all kinds of responses. The New York Times article had over a thousand comments, and I did recently come across the response from some Muslim-Americans. And they said that in a couple of cases that what you wrote was too little, too late, and that the damage and what you had participated in had already been done to these communities.
JOSH OWENS I think that's a completely valid response, and I understand it. But I had been there, I had done these things, and I felt like the responsibility fell on my shoulders, too. I don't want to say correct it because I don't think you can. I think the damage has been done. But I do think that there is a culture of fear at Infowars and a lot of people are afraid to talk about their experiences and a lot of people, when they leave, want to forget it. And I was carrying a lot of guilt, a lot of shame, and it just felt like the right thing to do.
MICAH LOEWINGER To speak out.
JOSH OWENS To talk about my experience and how that experience changed me. Because, look, I'm not an expert on Alex Jones. I'm not a social psychologist. I'm not someone that can look at these statistics and say, look, this is who? Listen to conspiracy theories. All I can do is talk about my experience. I certainly didn't want it to come off as if I was some acrimonious employee who was looking for revenge. I chose to quit. You know, Jones begged me to stay, and I left that job because I was trying to be a better person. So I'm incredibly sorry for the things that I've done. I'm also not here to say that Jones is responsible for the things that I did, because ultimately that responsibility falls on me. I don't think that it's fair of me or right of me to sit and ask for someone's forgiveness, because those people, there's no expectation that anyone will give me forgiveness.
MICAH LOEWINGER In 2018, Alex Jones saw his podcast and social media accounts kicked off of Spotify, Facebook, YouTube, Apple. And I think that was the moment that like a lot of people who are listening to this, stop thinking about him. But you don't think that de-platforming him hurt his show and his cult of personality quite as much as it seemed then?
JOSH OWENS Well, look, Jones has spent 20 plus years cultivating this audience. I don't want to say that it hasn't affected him. I just think that I don't want to be trite. But Jones is like a cockroach. I don't think he's ever going to go away.
MICAH LOEWINGER As the January 6th committee continues to reveal its findings, at least for me, it's hard not to feel a bit pessimistic. That feeling that the people who need to be watching it aren't or are getting some sanitized, spun version from Fox or other right wing media outlets. But reading your recent CNN piece, it seems like you really do believe that reaching across the divide is not only important, but is possible.
JOSH OWENS I have to believe that it's possible because on some level it worked for me. Not everyone can go spend four years working for Jones and I certainly don't want them to. But yeah, I have to believe that there is hope in having conversations and people talking to each other. Maybe that's being idealistic. But what else do we have? De-Platforming people like Jones is a start, but I think there is false comfort found in that de-platforming because those messages still spread. Those people are still out there. They're still saying the same things. And are more people listening? I don't know. I mean, it seems like maybe.
MICAH LOEWINGER Based on what you've learned, what worked for you? What would you say to somebody who is deeply convinced of the big lie or entrenched in any number of these constellation of beliefs and conspiracy theories?
JOSH OWENS Well, I think if we stop taking these politically motivated ideas and we just look at how does overturning Roe v Wade affect real people? Like, what are the real effects that that has on people? You see that at the border. I saw it in Islamburg. I saw this hate filled rhetoric have a real world impact on individuals.
MICAH LOEWINGER We've been talking for a while. I guess I'm just trying to figure out where you think this conversation ends.
JOSH OWENS Okay. Let me ask you this. What was your point in having me on?
MICAH LOEWINGER That's a great question. Well, we have been talking about the hearings. And so we're coming to you somebody who worked to help furnish the machine that creates disinformation and harmful conspiracy theories. Someone who's come out the other side. What you might have learned about why the Alex Jones of the world are as effective as they are, and what can be done to help the people who are being hurt by him?
JOSH OWENS Well, I think everyone's circumstances are different. But what I can sit here and say is that I was part of that machine. We lied and it was intentional. Alex Jones doesn't care about the people that he speaks to on a regular basis. And I don't know if a lot of those people are looking for that community that I was looking for. They're looking for that validation. But all I can say is, I can promise you you aren't going to find it there.
MICAH LOEWINGER Josh, thank you very much.
JOSH OWENS Thank you very much.
MICAH LOEWINGER Josh Owens wrote about his experience working for Infowars for CNN.com in an article titled I Escaped Alex Jones's World: This Is What I Learned.
BROOKE GLADSTONE That's it for this week's show on the Media is produced by Eloise Blondiau, Rebecca Clark-Callender, Candice Wang and Suzanne Gaber with help from Savannah Collins. On the Media is a production of WNYC Studios. I'm Brooke Gladstone.