The Big Lie, In Theaters Near You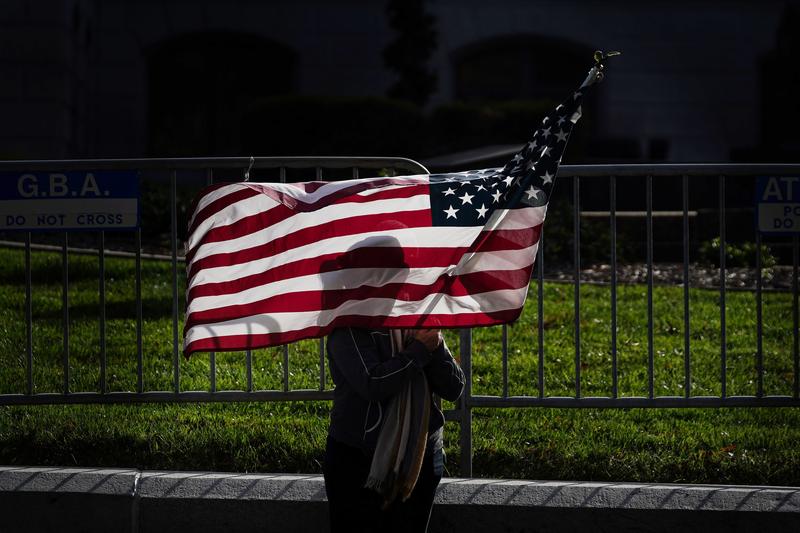 Transcript
BROOKE GLADSTONE Former AG Bill Barr referenced the slick piece of disinformation in his deposition to the January six committee.
WILLIAM BARR The election was not stolen by fraud. I haven't seen anything since the election that changes my mind on that, including the 2000 mules movie.
BROOKE GLADSTONE One journalist in particular reveled in debunking said movie.
PHILIP BUMP For me, it's kind of fun to just be like, Look, man, here are all of the reasons ridiculous and the reasons continue to mount.
BROOKE GLADSTONE From WNYC in New York, this is On the Media. I'm Brooke Gladstone. This week, it's all disinfo. From an internal government crisis.
NINA JANCOWICZ What we were accused of doing is becoming a ministry of truth, adjudicating what was true or false on the Internet when really we were just an internal working group.
BROOKE GLADSTONE To the personal crisis of a former Alex Jones cameraman.
JOSH OWENS I was very angry when I left, and I wasn't angry at Jones. I was angry at myself.
BROOKE GLADSTONE It's all coming up after this.
[END OF BILLBOARD]
BROOKE GLADSTONE From WNYC in New York, this is On the Media. I'm Brooke Gladstone and co-hosting with me this week, OTM reporter Micah Loewinger.
MICAH LOEWINGER Hey, Brooke.
BROOKE GLADSTONE I'm up first, so I'll start with, of course, the hearings laying out what happened on that infamous January 6th. Political theater traditionally depicts heroes and villains, but in these pathological times, the script, followed by former members of the Trump White House, focused instead on the normal and in the words of one Trump White House lawyer, nutty. And inebriated, Rudy Giuliani clearly was the latter. Former White House political director Bill Stepien proudly laid claim to the former.
BILL STEPIEN I didn't mind being characterized as being part of team normal as as reporters kind of started to do around that point in time.
BROOKE GLADSTONE MSNBC's Chris Hayes.
CHRIS HAYES It's a good thing that most of the people in his inner orbit would not really put their shoulder to the wheel to destroy American democracy.
BROOKE GLADSTONE But he did note that none of the former officials giving testimony: Bill Barr, Bill Stepien, Ivanka among them, the 'normals,' so to speak, publicly shared when it might have made a difference. Their reservations about Trump's efforts to stop the steal. So if they weren't putting shoulder to the wheel, nor were they putting foot on the brake.
BENNIE THOMPSON In the United States. Law abiding citizens have those tools for pursuing justice. He lost in the courts just as he did at the ballot box. And in this country, that's the end of the line.
BROOKE GLADSTONE Select Committee Chairman Bennie Thompson.
BENNIE THOMPSON But for Donald Trump, that was only the beginning of what became a sprawling multistep conspiracy aimed at overturning the presidential election.
BROOKE GLADSTONE Much of this week's testimony aimed to further prove that point. That Trump knew he didn't have the votes or was willingly blind to the facts in front of him. Evidence that could support a formal charge by the Justice Department. And here's another issue that could prompt DOJ action previewed on day three of the hearings. If the committee can prove Trump tried to obstruct an official proceeding, which is to say the Congress's counting of electoral votes over which the vice president presides. What's the evidence?
[CLIP]
DONALD TRUMP I hope Mike is going to do the right thing. I hope so. I hope so. Because if Mike Pence does the right thing, we win the election. The states got defrauded. They were given false information. They voted on it. Now they want to recertify. They want it back. All Vice President Pence has to do is send it back to the states to recertify and we become president. And you are the happiest people.
JAN 6 RIOTER 1 I'm telling you what I'm hearing. The Pence. I'm hearing the Pence just caved.
JAN 6 RIOTER 2 No.
JAN 6 RIOTER 1 Is that true? I'm here. I'm hearing reports that Pence caved. No, I'm telling you, if Pence caved, we're going to drag **** through the streets.
BENNIE THOMPSON We're fortunate for Mr. Pence's courage. On January six, our democracy came dangerously close to catastrophe. That courage put him in tremendous danger. [END CLIP]
BROOKE GLADSTONE It's a funny day when doing your mostly ceremonial but decidedly constitutional job is suddenly heroic. But maybe that's because Mike Pence did what the rest of Team Normal failed to do. Stand up to the big lie he'd helped to build in real time. Something he immediately paid for.
[CLIP]
JAN 6 RIOTER Bring him out! Bring out Pence! Bring him out! Bring out Pence!
[RIOTERS CHANTING "BRING OUT PENCE"] [END CLIP]
BROOKE GLADSTONE Now back to Team Normal for an admission from another prominent member of Trump's team now claiming something like hero status – in his case for risking almost nothing. Former Attorney General William Barr.
[CLIP]
WILLIAM BARR And all the early claims that I understood, were completely bogus and silly and usually based on complete misinformation. And so I didn't consider the quality of claims right out of the box to give me any, you know, feeling that there was really substance here. [END CLIP]
BROOKE GLADSTONE And here's Barr on NPR in June of 2020.
[CLIP]
WILLIAM BARR I have no specific reason to believe that there are a number of foreign countries that do want to show discord in the United States by undermining confidence in the results of the election. And I think if we do adopt programs of mail in, that will be an area which they will exploit. You don't have to be a rocket scientist to figure that one out.
STEVE INSKEEP Do you believe that an election conducted mainly by mail can be secure?
WILLIAM BARR Personally, no. [END CLIP]
BROOKE GLADSTONE Barr was one of the big stars of the show this week. Not just for his casual dismissal of his own role in The Big Lie, but also his newfound bluntness on the topic of Election 2020.
[CLIP]
WILLIAM BARR The election was not stolen by fraud. I haven't seen anything since the election that changes my mind on that, including the 2000 Mules movie Cordero.
BROOKE GLADSTONE How droll, but the Big Lie is still in high gear, driven in part by conservative pundit Dinesh D'Souza. His latest film, 2000 Mules, which has all the trappings of an episode of CSI. A Mysterious Mission.
[CLIP]
D'SOUZA Do we know the truth about what really happened in the 2020 election? Think millions of Americans know something went wrong, and they have little pieces. And no one's really put it together. [END CLIP]
BROOKE GLADSTONE The click, click, click of long range picture taking. The insidious beeping of supercomputers in grainy black and white videos of evildoers in baseball caps looking suspiciously like Joe Biden.
JOE BIDEN We have put together, I think, the most extensive and inclusive voter fraud organization in the history of American politics. [END CLIP]
BROOKE GLADSTONE In the film, D'Souza and the group True the Vote and its frontman, Greg Phillips put together a sleek narrative of an elaborate criminal organization, a network of shady nonprofit groups paying off mules to ferry hundreds of thousands of illegal ballots to drop boxes and their proof –foolproof, according to the filmmakers. Drawn from a trove of geolocation data that tracks the movements of these mules.
PHILIP BUMP They showed these various people dropping ballots into dropboxes.
BROOKE GLADSTONE Philip Bump reviewed and debunked 2000 mules for The Washington Post.
PHILIP BUMP However, none of those videos actually show any single person going to more than one drop box, despite the fact that they have multiple drop boxes in the same county, for example, Fulton County, Georgia. No one ever goes to more than one.
BROOKE GLADSTONE But Phillips does claim to have data showing people traveling to multiple, specific drop off locations in a single day. Right.
PHILIP BUMP He very much claims that, yes, there are two massive caveats that are worth applying here. The first is that Greg Phillips first gained notoriety nationally when a couple weeks after the 2016 election, he made this public pronouncement that he and to vote and determined that millions of people had voted illegally in the 2016 election. Donald Trump very quickly elevated that. The result was that Phelps presented literally zero evidence of that claim and was laughed out of the public discussion very quickly. This is the same guy who now says he has all of this evidence. There is one map that exists in the movie that purports to show someone who's traveled between various drop box locations in Georgia and stopped at various nonprofit organizations that are not identified. But I actually looked at the actual drop box locations and compared it to the map that is shown on screen and they don't line up. I reached out to Greg Philips and he admitted the maps fake. So there's literally no evidence in the movie at all of anyone going to more than one drop box, which of course, is 100% the crux of the argument that D'Souza is trying to make.
BROOKE GLADSTONE Greg Phillips of True the Vote Dinesh D'Souza's principal collaborator here likens the kind of work they were doing with cell phone geolocation data, with what the Justice Department has been doing with regard to the insurrection at the Capitol on January 6.
PHILIP BUMP That's right. Yes. He and D'Souza have been. Very, very fervent about that. They have they have used this argument. They have said essentially that because there is cell phones, your location data has been used to place people inside the capital, but therefore that validates the methodology. But of course, that's a big, big, big difference between being able to pinpoint someone inside the capital, which, for those who are not familiar, is a very, very large building and being able to identify someone as having come in proximity of a very small box. Right. I mean, ballot drop boxes are, what, maybe two feet square. And Phillips claims to have been able to track someone going to various drop boxes in a given day, mostly drop boxes and put down, for example, were outside of libraries. So essentially he's tracking people going from library to library, but the Georgia Bureau of Investigation has handed this data by True the Vote and by Phillips. They looked at it and actually sent a public letter back saying, hey, look, there's not enough here, in part because, A, the data that was being used was not GPS data, very specific satellite based location, but instead cell phone triangulation data, which is a lot less specific. The GBI said that the range that they were looking at was anywhere within a hundred feet of these locations. You know, when you go to the library, let's say the drop box is right outside the entrance to the library. If you walk by that drop box to drop off a book at the front counter of the library, you would have counted as having gone to a drop box because you easily within 100 feet. But then the big question here is, yes, they can nail you being inside the Capitol Building on Capitol Hill, surrounded by literally nothing else. But it's not going to be able to be as effective in trying to pinpoint this very specific approach to ballot droppings.
BROOKE GLADSTONE Mm hmm. Well, sticking with the geolocation data for a moment, Phillips also used a murder case to show how effective geolocation tracking can be. Tell me about that argument.
PHILIP BUMP It's really an instructive scene in the film because Greg Phillips and Dinesh D'Souza are looking at this really tragic murder of a young girl in Georgia during the period in the immediate aftermath of George Floyd's murder in 2020. And Phillips claims to look at the data and they show a map in which there's a circle on the map and some dots in the circle. And it says, you know, when you look at the map, you can see there's only two people that could have been in the vicinity of it. And so we turn this information over to the government. D'Souza says, "now, I understand they've arrested two people. Have they?" Greg Phillips, very somberly, says "yes, they have." Later, as it turned out, NPR did this great debunk and talked to the prosecutors and got True the Vote to once again admit, no, they had no role, that they'd actually done this analysis after the fact.
BROOKE GLADSTONE And actually geolocation data didn't play a role in either arrests they made.
PHILIP BUMP That's exactly right. It was completely contrived inside the movie itself as a way to prove, hey, look how valid this methodology is. But then it turns out that it had absolutely nothing to do with anything.
BROOKE GLADSTONE Okay. Before we continue, why are we focusing on this so much? I mean, I know films in the past, even ones not as well-produced as this. Loose Change, for instance, about how 9/11 was supposedly an inside job. These films have impact, or at least they fill a longing to have whatever your belief is validated, however unfounded it is. Do you think that this film is dangerous?
PHILIP BUMP I'm not sure I'd say it's dangerous, in part, honestly, just because I have this visceral, negative reaction to the idea that it could be that important. But I mean, look, there is a difference between this and other conspiracy movies, which is that the former president of the United States is actively hawking it, right. That he has this massive base of millions of people who believe the things that he says. And he says this is real. I mean, this film had a premiere at Mar a Lago with Trump. And you're right, it is it is designed very specifically to scratch a particular edge, which is people want to feel as though there's some proof that Donald Trump won in 2020. And this film is designed to do specifically that.
BROOKE GLADSTONE Let's take a look at what seems to be kind of innocuous footage that you hone in on. A man on a bike drops off what seems to be a single ballot and poses to take a photo of the ballot box. This is depicted as nefarious.
[CLIP]
2000 MULES But you also see him get sort of frustrated as he starts to leave because guess what? At this point, they had started requiring the mules apparently to take pictures of the stuffing of the ballots. It appears that that's how they get paid. [END CLIP]
PHILIP BUMP One of the things that was sort of fascinating about this scene in particular was that D'Souza and Phillips are so deeply mired in this theory of the case. They were unable to come up with totally innocuous, obvious alternative explanations. And so, for example, we see this guy and he drops off his ballot and then he very carefully places his bike against the ballot box, and then he takes a photo of the ballot box in his bike. But they argue the only reason he could possibly want to take the picture is because it has to do with public opinion. I actually figured out where that ballot box was. You can see inside the ballot box, you can see sort of a county seal. It figured out what library it is. It's the Ponce de Leon Library in Fulton County. And so I went on Instagram and I did a search for that library and pictures that were tagged with that library. And of course, what you get is you get a lot of people who are excited about voting in the 2020 election who posted pictures of themselves depositing ballots in the ballot box, because that was a totally normal thing that municipalities and counties encouraged because they knew it would help increase turnout. Right. You know, there's an obvious answer here if your reality adjacent
BROOKE GLADSTONE Okay. But here's a suspicious one. We see a woman come and use a drop box. She puts a small stack of ballots. Phillips says maybe three, maybe four, puts them in the box and then removes the latex gloves that she was wearing and throws them immediately away. More important, this happened at 1 a.m. and that makes it even sketchier.
[CLIP]
NARRATOR So this is 1:00 in the morning.
D'SOUZA Don't we all vote at 1:00 in the morning?
NARRATOR One night. This person, this mule went across. [END CLIP]
PHILIP BUMP Yeah. This clip is played over and over in this deposits of ballots and drop boxes and then turns around and immediately throws guns away. And how did she know that garbage can was there? She wasn't a mule, and yatta-yatta-yatta. You and your listeners probably remember that at the beginning of 2021, there was this global pandemic from the corona virus that was inspiring a lot of people to take precautionary measures, like not touching public devices with their bare hands if they could avoid it. So I think there's a very reasonable explanation here besides some trumped up conspiracy about not wanting to leave fingerprints on it. There is also, of course, the point that they claim that she knew that garbage cans there since she turned around. So she must have been there before. But they don't show any video of her having been there before.
BROOKE GLADSTONE Could her fingerprints been used to find fraudulent ballots?
PHILIP BUMP So there's this case in Arizona in which a former mayor in a small town Yuma city had been arrested in December 2020 for allegedly engaging in ballot fraud. I believe she actually just pleaded guilty to, that that she had been collecting ballots from people and then depositing them, which was actually illegal in the state until 2016.
BROOKE GLADSTONE She was collecting legal ballots.
PHILIP BUMP That's correct.
BROOKE GLADSTONE But she wasn't allowed to do that.
PHILIP BUMP That's exactly correct. And that, by the way, is a very important distinction as well for the rest of this film. There was this claim made by Phillips in the film that because of that arrest, the FBI had started trying to do fingerprinting of submitted ballots to see if she had touched any other ones, and that therefore, that was what prompted people to start wearing gloves.
BROOKE GLADSTONE Let's get back to that specific language that D'Souza uses when building his case, such as ballot trafficking, stash houses and, of course, mules.
[CLIP]
D'SOUZA We identified in Atlanta 242 mules that went to an average of 24 drop boxes. But Philadelphia alone, we've identified more than 1100 mules.
MAN What is a mule?
WOMAN Person picking up ballots and running them to the drop boxes.
MAN This is not grandma walking her dog.
WOMAN I call it the Mexican mafia, seriously. Because they work like that. [END CLIP]
BROOKE GLADSTONE Now, typically, a mule is a word applied to people who are illegally transporting drugs for a gang or a syndicate or whatever. Stash houses...that refers to what?
PHILIP BUMP The theory of their case is that there were nonprofit organizations that were somehow obtaining tens of thousands of ballots, that they then would pay people to go out and drop off in multiple drop boxes instead of just throwing them in the mail, which is another flaw in their argument. And so that purported analysis involves people who both visited nonprofit organizations which are not named and go on to ballot drop boxes. By which I mean had driven within 100 feet of places where there might be ballot drop boxes. That's that's the are those are the statutes.
BROOKE GLADSTONE And the origins of the term ballot trafficking?
PHILIP BUMP Really, I don't think was in any real use prior to this election cycle. There had been some mention of it in 2021, but it really started to spike once the truth about really start to use this. And I think it's important to point out as well that in at least two of the states that were under consideration here, even if you were collecting a bunch of ballots and submitting them, that wasn't illegal. Wasn't illegal in Wisconsin 2020, wasn't illegal in Pennsylvania in 2020. And in Georgia, it's legal for you to collect a bunch of ballots from people in your family and submit them. Which one of the people who shown in the movie, the Georgia secretary of state's office investigated, spoke with him and he said, yes, many ballots on behalf of my family, which is perfectly legal to do.
BROOKE GLADSTONE I looked at your Twitter feed. Clearly, proponents of Stop the Steal said, well, your word can't be trusted. You work for the Washington Post and you had a predetermined narrative to follow and so forth. Do you think that your enterprise, in examining this film and confronting Dinesh D'Souza about it, writing columns and updates and other people's debunking and so forth. Is any of it worth it?
PHILIP BUMP When I was a kid, my my mom spoke with one of my teachers, and the teacher told my mom that it was impossible for me to let people who are saying dumb things go and that that made me very frustrated in class. So I had this illness in which I don't suffer idiocy. And for me, it's kind of fun to just be like, Look, man, here are all the reasons this is ridiculous and the reasons continue to mount. Yes. Do I get blowback for that? Absolutely. But I think it's important, given the breadth of this and the scale of this, people understand that when they hear 2000 Mules, they should do exactly what the former attorney general did in that videotape testimony that shown this week. And that's a laugh at it. You should laugh at this. There's nothing to it and people should not take it seriously.
BROOKE GLADSTONE Phillip, thank you very much.
PHILIP BUMP Of course.
BROOKE GLADSTONE Phillip Bump is a national correspondent with The Washington Post and author of the newsletter, How to Read This Chart about the Data Behind the News.