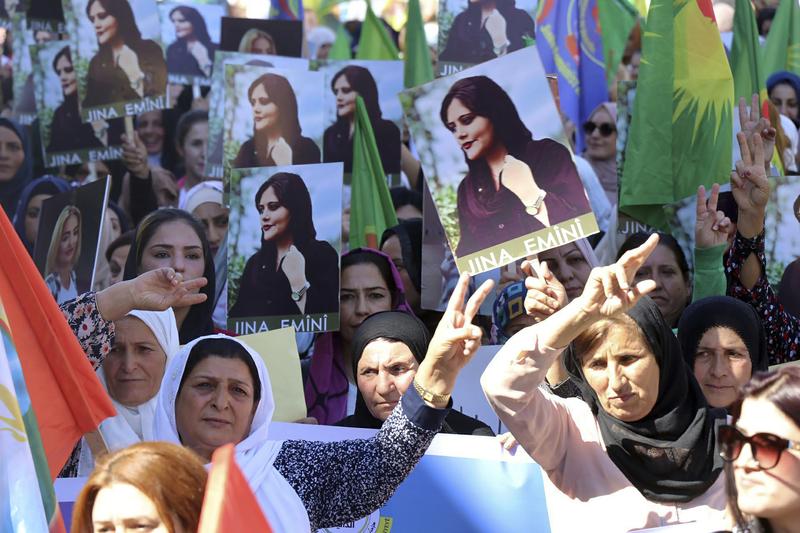 Transcript
FATEMEH SHAMS People come to the street and make bonfires with veils. That is not just a political and religious taboo. It's also a cultural taboo.
BROOKE GLADSTONE But when international coverage frames the protests in Iran as simply anti-hijab, it misses the point. From WNYC in New York, this is On the Media. I'm Brooke Gladstone. Also this week, how a toxic Internet forum terrorized folks by mining their freely available data and hounding them on and off line.
BEN COLLINS Those places can exist and be armies. And then the speech of regular people in this country, citizens of this country, is quashed because they can't fight the army.
BROOKE GLADSTONE Plus, the once and future YouTube.
YOUTUBER This is how I start my make up routine. Sometimes I pluck my eyebrows, I pick at my skin first. I don't know why I do that, but we're going to skip that part.
BROOKE GLADSTONE That from silly videos to total media domination. It's all coming up after this.
[END OF BILLBOARD]
BROOKE GLADSTONE From WNYC in New York, this is On the Media. I'm Brooke Gladstone. Micah Loewinger is joining me this week, but first, this:.
[CLIP].
[ROARING PROTESTORS]
NEWS REPORT Huge protest in Iran over the death of 22-year-old Masha Amini, who died after being arrested by Iran's morality police.
NEWS REPORT Iranian authorities saying she was arrested for allegedly violating the country's strictly enforced Islamic dress code. [END CLIP]
BROOKE GLADSTONE On Wednesday, Iran's president Ebrahim Raisi, addressed the nation on live TV nearly two weeks after Mahsa Amini's death. He condemned the chaos on the streets, and when asked about possible legal reforms...
[CLIP]
NEWS REPORT Mr. Raisi said, "Sure, we're open to reform, but we're not open to changing our values." [END CLIP]
BROOKE GLADSTONE One human rights group claimed that roughly 76 peaceful protesters have been killed by security forces but continue to fire into crowds and beat and harass people.
[CLIP]
NEWS REPORT Taking off their head coverings and waving them in the air. This is defiance in Iran, and women are leading the charge. Some are even burning their hijabs, their mandatory head coverings, in protest. [END CLIP]
BROOKE GLADSTONE As the protests continue to unfold. One sensitive question hangs in the air. Will this current wave of protests be any different from the ones that came before? Fatemeh Shams, a Persian poet and professor of Persian literature at the University of Pennsylvania, is among many who say this could be a George Floyd moment for Iran.
FATEMEH SHAMS It took a 17 minute video to go viral for the people to rush to the streets and create that historic moment in the United States and across the world, in fact, with the picture of Mahsa Amini. There is a similar pattern in the sense that there is a hundred years of struggle for women's rights behind it. And there were similar moments in the past four decades, in fact, where women were subject to state violence and police brutality over and over and over again. We have been watching these videos coming out of Iran, and this particular picture was just the watershed moment. It's a moment of mobilization and unity because a lot of Iranians feel that Mahsa could be their daughter, Mahsa could be their sister, Mahsa could be their mother.
BROOKE GLADSTONE So on June 20th, 2009, there was another killing that galvanized protests in Iran. And that was the death of 26 year old Neda Agha-Soltan, shot by a government sniper on the sidelines of a peaceful protest for fair elections known as the Green Movement. You were at the protests that followed her death. And I just wonder, are there any analogies that we can draw between these two women and the movements they've spawned?
FATEMEH SHAMS Yes. Back in 2009, Neda Agha Soltan was coming back from her music school with her music teacher and found themselves in the middle of the protests. A seemingly apolitical woman randomly shot her eyes rolling towards the camera while she's dying. And then the video going viral. There is also this element of innocence that you can see in the face of both women killed in cold blood that has played an extremely important role in mobilizing and triggering the protests. In the case of Mahsa Amini, I would also add that she is not just the middle-class Tehrani woman coming back from her music school. She's coming from a border city of the Kurdish province of Iran, one of the most deprived, neglected provinces since the victory of the revolution. Discriminated against for being part of an ethnic minority, for being part of a religious minority. So she's traveling to Tehran with her brother, and she is only in the capital city for a few days and coming out of the metro station and suddenly being stopped by the morality police. These details add to this brutality. Of course, media plays an extremely important role in the George Floyd moment and also in Mahsa Amini moment. The reason that these two are being compared is because they really have become the face of a much more complicated civil rights movement.
BROOKE GLADSTONE You suggested that if Neda hadn't been killed brutally, the Green Movement would have gone in a different direction. Same thing if Mahsa's death hadn't been documented – which is why the Internet has been so crucial in all of this.
FATEMEH SHAMS Absolutely. Over the past 13 years, since the rise of the Green Movement, Iranian citizens have become remarkably smart with their smartphones. They know that recording scenes of violence, scenes of oppression and posting it on the social media will get their voice out. This is something that did not exist before the rise of the Green Movement. The televization of the death of Neda Agha-Soltan was basically the reason for not just triggering the nationwide protests but also raising awareness in the international community. And in the past 13 years, every single time that there is an uprising, that there is a riot, normal, ordinary Iranian citizens take up their phones and start filming.
BROOKE GLADSTONE That's why the government has worked in the last more than a decade to really get a grip on it.
FATEMEH SHAMS When Neda Agha-Soltan was killed, they tried for months, in fact, and years to manipulate and distort the story of her killing. They accused that doctor who rushed to Neda's body trying to revive her. They tried to arrest him. He had to flee the country, accused him of being the agent of the West to go there and assassinate her. Nobody, of course, believed it. And they are doing the exact same thing with the death of my Mahsa Amini. The person who broke that story was Nilufer Hamidi, an Iranian woman journalist who courageously rushed to Castro Hospital in Tehran and interviewed Mahsa's father, took those pictures and broke the story. And she's in custody at the moment. The government panicked and tried to give a distorted image of what happened.
BROOKE GLADSTONE Yeah, I mean, even literally a distorted image, right?
FATEMEH SHAMS Yeah. So they published this heavily edited CCTV footage in which she collapses suddenly in the middle of the police station and say that she had a health condition and she was not beaten on the head. Two things here that was very important. One, the brave action of Nilufer Hamidi, the Iranian journalist who went to the hospital, interviewed Mahsa's father, and he said that my daughter, she was a perfectly healthy woman. And these claims that she had brain surgery, she had a heart attack, these are all just lies. Well, Nilufer Hamidi was arrested after that. The second proof that discredits the government's claim was published by BBC Persian, in which a former Iranian Revolutionary Guard officer confirms based on the news that has been leaked out of the system, the cause for Mahsa's death has been several blows on the head. Brain injury, basically.
BROOKE GLADSTONE In both Neda's and Mahsa's case, the government moved swiftly to crack down on any public display of grief, any memorial or a funeral. What is the significance of that historically?
FATEMEH SHAMS Yes. And Thursday, the woman journalist, Elahe Mohammadi, who went to Mahsa's funeral and covered the funeral, has been also arrested. During the 1980s where there was mass executions of the political prisoners. The bodies were not even given back to the families. They were all dumped in mass graves. It happened in 2009, Neda's funeral and other people who were killed in those days and also during the 2021 protests. In the build up to the 1979 revolution, when the revolutionary protesters were in the streets marching against the monarchy, when one or two protesters were getting killed in a city, the 40th-day anniversary of their death -- protesters of another major city would actually take to the streets. Then other two protesters would get killed, and the same pattern and the same chain of protests would happen across the country.
BROOKE GLADSTONE Every 40th day.
FATEMEH SHAMS Exactly. Exactly.
BROOKE GLADSTONE Wow.
FATEMEH SHAMS We saw in 1979. Streets were the main scene where the revolutionary movement actually managed to succeed at the end. The government is very well aware of the fact that if they let the streets to be filled by the protesters, there is a potential for another revolution, because what we have right now is a revolutionary movement.
BROOKE GLADSTONE You really think so? There was wave after wave of violent repression since the protests against the fraudulent elections in 2009, the Green Movement. Back then, you were a writer and activist, a student at Tehran University. You took part in the protests before fleeing the country. In a recent piece in the AP, you claimed that this time is different. But why? How?
FATEMEH SHAMS So I'll tell you why. One of the main features of any revolution is when there is a fundamental shift in the norms and values of the people who live under a given government. What we see today in the streets of Iran is basically the manifestation of that fundamental shift. Over the past 44 years, there have been, as you mentioned, and rightly so, there have been a chain of riots, protests and economic and political grievances. But in neither of these protests, we see this fundamental shift, but also action against the state. People come to the street and make bonfires with veils. That is a red line, not just a political and religious taboo. It's also a cultural taboo. At no time, Iranian women actually took to the streets to burn what they consider to be the symbol of oppression.
BROOKE GLADSTONE But you've said that it's really not about hijab.
FATEMEH SHAMS This is about compulsory hijab. This is about gaining control and ownership over women's body. This is in the heart of this revolutionary episode. Because the Iranian women and men who are protesting today know that the Islamic Republic is not ready for that transformation. The current president gave an interview about the ongoing protests, saying that our values have not changed, that the treatment of women should change, but our values are still the same. And when he says that the values are still the same, it means the values of the protesters is completely in contrast with the values of the government. And that's exactly what a revolution looks like.
BROOKE GLADSTONE You, among many people, have observed that women are in the forefront of the current protests, more visible than they were 13 years ago, as organizers, leaders, and symbols as they publicly burn their hijabs and pay for that political expression in blood. You also say that the new generation of young women have a different imagination altogether from your generation, that even in your imagination, you didn't see a day where we could make bonfires with veils.
FATEMEH SHAMS My generation was born and raised during the most oppressive decade after the revolution under extreme political and economic pressures. Also during the postwar decade, in the 1990s, where Iran was coming out of an eight-year bloody war and the death of the state patriarch. There was the rise of the reformist movement in mid 1990s and then at the end of the 1990s we had to also face this agonizing terror and fear of murder of secular intellectuals and writers. So for us, life was a matter of basic and minimum survival. We could not even imagine a day that basic rights would be at the forefront of a social movement. Then the reformist president, Mohammad Khatami, came to power. There was hope for change. But the woman's right was always the follow up. The follow up of a revolution, the after effects of the revolution, the after effects of a social movement. But this revolutionary episode is also about a generational change. It's about those children who were born during the 2000s. This generation is different. You know, they are much more exposed to the outside world through technologies.
BROOKE GLADSTONE Things that an earlier generation of women and men tolerated as just a part of life is no longer tolerable.
FATEMEH SHAMS Exactly. Their symbols and their ideas and their belief and their norms is entirely different. And I think they found the courage to take to the streets and the people of my generation, those who are trying to understand what's going on right now, all of us are just taken by surprise and we really just hit our heart in respect.
BROOKE GLADSTONE A lot of correspondents from Western news organizations aren't there because it is so very dangerous. Who is directing the story really for us and how is it getting out and what are we getting wrong?
FATEMEH SHAMS You know, the way that this story has been framed in the Western media is that, first of all, I think one point should be that abolition of the compulsory hijab is at the heart of this movement. The far right media in the West have framed this as an attack on Islam. They are framing the story in a way that could potentially harm those who live in the West as Muslims and especially veiled Muslim women who feel threatened by the ongoing protests in Iran. What should be clarified here in the Western media is that this is not an attack on Islam. This is not an attack on hijab as a belief. What is fought for here is freedom of choice, not the hijab itself. There are millions of women in Iran who believe in a hijab, who observe hijab. And if this movement is successful, they will still continue to live with hijab. And none of those people who are in the street have any problem with this. Iran is a Muslim society and in the past couple of weeks we see that mothers are coming out with their daughters in the street. A veiled mother with their daughter without a scarf. So this is, you know, a shared cause. This is a shared pain. This is about suppression and oppression of women and stripping them of their basic rights. So I think that this has to be clarified in the media in the West and frame this story in a way that Muslim women in the West also feel comfortable to stand in solidarity with their sisters inside Iran in order to get their rights back from the government.
BROOKE GLADSTONE Fatemeh, thank you very much.
FATEMEH SHAMS Thank you. Thank you for your time.
BROOKE GLADSTONE Fatemeh Shams is a Persian poet and a professor of Persian literature at the University of Pennsylvania.
MICAH LOEWINGER Coming up, taking down an online troll farm takes guts and a big fan base.
BROOKE GLADSTONE This is On the Media.
[BREAK]
BROOKE GLADSTONE This is On the Media, I'm Brooke Gladstone.
MICAH LOEWINGER And I'm Micah Loewinger. This month, we saw an unusually focused campaign to shut down one of the Internet's most toxic forums. It's a site I expect---actually, I hope---you've never heard of.
[CLIP]
CLARA SORRENTI We did it. We actually did it. So many people have tried for so long to do this. And we actually got Kiwi Farms down. [END CLIP]
MICAH LOEWINGER That's Twitch streamer Clara Sorrenti, a.k.a. Keffals, celebrating the takedown of Kiwi Farms from the Internet. The site's users had been harassing her for weeks.
[CLIP]
CLARA SORRENTI The first thing that they did was find the obituary for my dead father.
MICAH LOEWINGER Here's couples on CNN.
CLARA SORRENTI They were able to find a picture of my dad on the front porch of my childhood home. And from that, use Google Maps and figure out where that was located. [END CLIP]
MICAH LOEWINGER It started earlier this year when anonymous users on Kiwi Garms began targeting Keffals for being a trans woman and for speaking out against anti-LGBTQ laws. Stalkers repeatedly doxxed her and her family members and left them threatening voicemail messages like this one.
[CLIP]
VOICEMAIL NOTIFICATION Received message 1:31 p.m..
MENACING PERSON Well, your personal information got posted all over the internet, and I'm just letting you know that someone special has it out for you. Don't worry. Nothing bad is going to happen. Just a friendly reminder. Have a nice day. [END CLIP]
MICAH LOEWINGER Harassment campaigns against all sorts of people became the site's raison d'etre. Its founder, Joshua Moon, had cut his teeth as an administrator on 8Chan, a forum notorious for coordinating hateful online attacks like those on female gamers and critics during Gamergate. But Kiwi Farms made it even easier to amass information on its targets.
BEN COLLINS 8Chan or 4Chan does self-delete after two or three days. There are other sites that archive them, but it's not searchable. It's not easy to find this stuff. Kiwi Farms was a database for all the perceived enemies on the far right.
MICAH LOEWINGER That's Ben Collins. He's been following the Kiwi Farm story for NBCNews.com.
BEN COLLINS Basically, it was a place to collect everybody's information. They would do things like call a trans person's boss and tell their boss that this person's a pedophile. And why are you employing a pedophile and try to get them fired from their job?
MICAH LOEWINGER And Kiwi Farms users didn't stop at trying to get people fired. They called in bogus police reports resulting in armed officers showing up to victims homes, in other words: swatting them.
BEN COLLINS The end game is to use the state to try to terrorize or murder someone by calling in a false report. And that's what swatting is.
MICAH LOEWINGER Keffals was swatted on August 5th.
[CLIP]
CLARA SORRENTI I went out into the hallway. They told me to put my hands up. I thought I was going to die. I screamed like as soon as I saw the gun. [END CLIP]
BEN COLLINS Someone sent in a police tip that she was planning to shoot up the local city hall in London, Ontario. So she had to leave her apartment and she took her cat with her. Once she got to the hotel where she was staying in London, Ontario. She took a picture of a cat and there was a picture of bedsheets because the cat was on the bed. Kiwi Farms users found her hotel based on just what the bedsheets looked like in her hotel room. They sent her tons of groceries and pizza and started attempting to swat her at that hotel as well. So then she thought, "I'm in grave danger here. I have to get out of this country." So she flew to Northern Ireland, Belfast. By using the picture of a doorknob in the background of a stream she did from Northern Ireland. They figured out where she was. And then within hours, someone was outside of her home in Belfast with a picture of themselves and a note card saying they were from Kiwi Farms.
MICAH LOEWINGER Until Keffals it seemed like there was a conundrum for journalists, for extremism researchers, for victims of Kiwi Farms about what exactly to do, how to respond, because it was a pretty obscure website. And so the potential for driving traffic – new users to the site -- was pretty high just by covering their harassment campaigns. And so what do you do if there's no coverage? There's likely going to be no possibility for accountability. But if you do cover it, you're kind of just feeding the flames.
BEN COLLINS Yeah. You don't want to Streisand effect this, right? Part of the issue is, with anyone who was targeted, was that Kiwi firms would index first on Google if you searched their names; they had very good Google SEO. So if you're an employer looking at someone's name and you open that up and that's what you see, you're not going to want to associate with that person anymore. That is the scary part of this whole thing, is that they use the data centers that we have, the massive amount of data collected by these private companies as a weapon. And, by the way, this happened with Clara. Her Uber account was hacked and they had access to her every movement. They had access to where her friends and family lived, where she got Uber Eats from – all that stuff.
MICAH LOEWINGER When you hear one of these nightmare scenarios, you really are reminded just how much documentation there is on you at all times, thanks to voluntarily giving your information to apps and websites constantly.
BEN COLLINS If you're buying something from a website where things seem like a little bit too cheap, that data is probably being sold somewhere. Also, you probably haven't logged into Uber since like 2014. Most people have downloaded the app, right? And if you're doing that since 2014, your password is probably like 'password' or something like there was no
MICAH LOEWINGER Oh! I see logged in!
BEN COLLINS Physically logged into Uber like no one has signed you out. So you've been logged into that account since, since, you know, you had very insecure passwords. So that's probably how they got in there to begin with.
MICAH LOEWINGER One woman I follow on Twitter who is a sex worker and a New York-based academic, she was talking about how you hear these horror stories and you say to yourself, "I'm a privacy minded person. The people who are doxxed, it's because they made a mistake at some point and they revealed too much about themselves." And this woman was saying that whoever doxxed her on Kiwi Farms says that they spent over 50 hours looking at her tweets for information about weather history, wherever she was living, and then compared this to whether histories around New York and compared this against a list of New York based college professors. I mean, that is like some extreme stalking behavior that no normal person is going to have any foresight to anticipate.
BEN COLLINS Right. And all it takes for you to get their ire is to disagree with them in some capacity.
MICAH LOEWINGER How did Keffals fight back? What did she do that was so successful?
BEN COLLINS Because she had the ability to leave her home and flee twice, by the way. And she had a large fan base who were themselves an army, themselves trying to fight to make somebody else's life hell. She was able to fight back.
MICAH LOEWINGER Part of her savvy seemed to come from knowing how to communicate with journalists. She set up dropkiwifarms.net. A lot of her followers went there. They helped get the hashtag "Drop Kiwi Farms" trending on social media. There was really one company in particular that they needed to convince that Kiwi Farms was a serious problem. And that's Cloudflare.
BEN COLLINS Yeah, Cloudflare provides de-dox protection. So if your site is flooded with lots of traffic or even a modicum of traffic at this point, based on how large the web is, it helps basically organize that traffic so it doesn't go down. Not many service providers offer this, and they are the number one provider.
MICAH LOEWINGER They help support something like 20% or more sites on the Internet. They're kind of everywhere yet.
BEN COLLINS That's why when 8chan was dropped from Cloudflare a couple of years ago, they really didn't survive it. They had to rebrand all this other stuff. Even their rebrand is not an easily accessible website. So Cloudflare for weeks resisted this. They initially just did not respond to anyone. They put out this big manifesto about how we have to leave up speech we don't agree with – all this stuff. I think it took them a lot of coverage, including potentially our story, which just identified how many people have died, how many people are in immediate danger to understand the threat here. And they realized the press wasn't getting any better. Once more people were aware of what the website was. That's really all it was. And then they pulled down the site saying there was an imminent threat to human life. They buckled in to peer pressure. That's really what happened. Once people actually looked at the facts here of what this website existed to do, more people would be aware they were hosting an anti-trans terror website. That's the thing, is the conversation about this stuff has to catch up to the reality we're living in because otherwise we're going to live in a very dystopian panopticon where everyone's move is watched, everyone's Instagram post is looked into in the background, if they see something that is viewed as unacceptable. Currently that is affecting trans people, but that can affect the right.
MICAH LOEWINGER Yeah. Doxing was an art perfected by the anti-fascists of old. This is an instrument that can be used by anyone for any political purpose.
BEN COLLINS That's exactly right. And like, look, that's that's what I've been trying to say for a very long time now, and I really hope it gets through at some point. What's the best way of putting this? So there is this large collection of data on the Internet that targets specific people, and you can use it to target anyone. So right now, you have an option. You can take down this site that exists or harass people and, you know, do it without consequence because there are no good ways of finding them. Those places can exist and be armies. And then the speech of regular people in this country is quashed because they can't fight the army. So right now we have more self-censorship because they are afraid of living their lives. They're afraid of doing normal stuff --- taking a picture of themselves at like Disneyland or something --- than criminals are of stalking and harassing and attempting to murder people with swatting that they disagree with. So the speech implications here are not "should this website be up or not?" It should be "do people get to live their lives on the Internet? And do they get rights to speech that only armies have currently on the Internet?"

MICAH LOEWINGER So what do we do? How do we mitigate this dystopic current moment?
BEN COLLINS There are laws that you can pass data protection laws that make it so you can't just trade around this data broker stuff. It would make journalists lives harder and make it so figuring out if the guy who gave you a quote, in event is who he says he is. Right now we can look up their phone number and be like, "does that match?" It would make our lives harder, but it would make it so dark data brokers sites --- places that sell data on top of the goods they sell --- if you can ban those data brokers from making that public, if it's collected without people's consent, it's a really good way of stopping this sort of data collection. It's not gonna prohibit it all, but you can at least make a dent here and just make it socially bad that you are stalking people out of the country and trying to get them killed with the use of police violence. Don't consider that speech.
MICAH LOEWINGER Ben, thank you very much.
BEN COLLINS Yeah, thank you so much.
MICAH LOEWINGER Ben Collins is a reporter covering disinformation, extremism and the Internet for NBC News.com. Since we recorded this interview, Kiwi Farms has been hacked and it's gone up and down every few hours. Without Cloudflare Service, it's unable to remain online permanently.
BROOKE GLADSTONE Coming up, YouTube, once a pugnacious youngster has now entered adulthood. But has it matured?
MICAH LOEWINGER This is On the Media.
[BREAK]
BROOKE GLADSTONE This is On the Media, I'm Brooke Gladstone.
MICAH LOEWINGER And I'm Micah Loewinger. To end the show, let's take a look at the best, the worst, the silliest, the dumbest, the most entertaining website on the Internet:.
[CLIP]
YOUTUBER [TEARFULLY] Charlie bit me.
YOUTUBER Hey, everyone, this is Kenji Lopez, here at home. Today, I want to show you how to make probably the easiest pasta dish around cacio e pepe, it's kind of like Italian.
YOUTUBER This how I start my makeup routine. Sometimes I put my eyebrows up to get my skin first. I don't know why to that, but we're going to skip that part and just go right into.
YOUTUBER I was hitting some nasty shots, did you see that?
YOUTUBER Serious video today. I was a loser. You know, I was that kid that sat at the table with three other people that were also like the Super Rejects. That was me.
YOUTUBER I got 100 of my subscribers and gave them each $10,000. And I also rented one of the largest malls in the world and locked them inside.
BEN SHAPIRO These are facts. And facts don't care about your feelings.
YOUTUBER Yeah, there was a survey that went out recently that it's like more kids want to be professional YouTubers than astronauts. And everyone. Like, even I'm like, pfffft, that's so lame. But then I was like, 'hold up. I quit my dream job at NASA to make YouTube videos.' So I'm not really one to judge. [END CLIP]
MICAH LOEWINGER Today, YouTube is one of the biggest media companies in the world. In 2020, we uploaded 500 hours of footage to the site every minute, and on average we watched over 5 billion videos every day. It's a broadcasting machine so complex it would make Marshall McLuhan's head explode. I've been obsessed with YouTube since I was 13, which is why I was psyched to speak with journalist Mark Bergen and read his new book Like Comment Subscribe: Inside YouTube's Chaotic Rise to World Domination. According to Bergen, the founders of the site originally envisioned something more akin to Tinder than homemade TV.
MARK BERGEN And they thought that maybe dating would be the way in.
MICAH LOEWINGER They thought sex appeal was the only reason regular people would want to upload videos of themselves to YouTube. They posted on Craigslist offering $20 to women who would vlog on their site.
MARK BERGEN Google was launched at the same time. Google video, and one of the major reasons that it lost to YouTube is because Google just didn't think that people would want to watch nonprofessionals.
MICAH LOEWINGER Google bought the site for $1.6 billion in the fall of 2006, right around when the first wave of YouTubers began reaching thousands of subscribers through their webcams. Early stars that Bergen spoke to pointed to the same piece of inspiration. Lazy Sunday The SNL Digital Short, featuring Andy Samberg and Chris Parnell.
[CLIP]
CLARA SORRENTI Lazy Sunday wake up in the late afternoon. Call Parnell just to see how he's doing. Hello what up Parn? What's whacking? Thinking what I'm thinking.[END CLIP]
MARK BERGEN It had this lo fi quality. A lot of early YouTubers didn't have a lot of camera equipment or green screens, things to compete with big media.
MICAH LOEWINGER There was also Smosh a channel I watched a lot when I was in middle school. Two guys named Anthony and Ian who acted out ironically bad skits.
[CLIP]
SMOSH You're going to do so well on your driving test, Anthony. I just know it. Now give mommy a kiss.
ANTHONY Mom, no! [END CLIP]
MICAH LOEWINGER The most subscribed channel for a while was run by this guy, Ray William Johnson, who curated viral videos with edgy commentary.
[CLIP]
RAY WILLIAM JOHNSON You know, the walls of the Internet say that when you film yourself doing something even somewhat dangerous, you're supposed to fail so we can all laugh at you. [END CLIP]
MICAH LOEWINGER And then there were the Vlog Brothers featuring Hank Green, a charmingly dorky science teacher, and his brother, John Green, who is now known as a best selling YA author.
[CLIP]
HANK GREEN Hello, John. By now you have received my message that we will no longer be communicating through any textual means. No more instant messaging, no more emailing. Only, video blogging. [END CLIP]
MARK BERGEN That was a new form of entertainment that these trailblazers were inventing.
MICAH LOEWINGER But at the end of the day, many of them were just hobbyists. That changed in 2007, when people like Hank Green from the Vlog Brothers started getting emails from new sites saying stuff like, We'll pay you to leave YouTube and join us.
[CLIP]
HANK GREEN I remember reading these emails and being like, Whoa! You mean that I could potentially be getting paid for this? [END CLIP]
MICAH LOEWINGER Green discussed this moment in a recent video.
[CLIP]
HANK GREEN YouTube saw this as a tremendous threat, I think correctly, and they created the YouTube partner program, the one decision in the history of online media that has changed things more than anything else. Every advertisement that runs on a video on a creator's page, 55% is going to go to the creator. In 2020, YouTube made around $20 billion. 10 billion of those dollars went to creators. [END CLIP]
MARK BERGEN YouTube was extremely early and creator economy in this profession that didn't exist before. That same time YouTube came really late to the ideas and what they kind of called user generated content would actually be commercially successful. So for the first several years of the company, they actually went out and tried to recruit Shaquille O'Neal, Madonna, Tony Hawk. These are well-known celebrities and basically tried to turn A-listers into YouTubers. And I think there's always been this discrepancy between what people inside the company hope and wish for the platform to be and what it really is.
MICAH LOEWINGER One conversation around YouTube that I don't feel has really caught up to where it needs to be is like around kids content. The platform radically altered how kids watch and what they watch.
MARK BERGEN Because of the Children's Online Privacy Act, they didn't want to reach viewers under 13. And so they built this app, YouTube kids designed to be like this playground for kids under 13.
MICAH LOEWINGER This was a discrete app that was kind of like a walled off version of the site, or at least that's how it was marketed.
MARK BERGEN Right. A lot of parents assumed that meant that they were curating the videos and they weren't. Children were watching unsupervised in the main app. People were going to YouTube and searching for Frozen. They were searching for Spider-Man. They're searching for Elsa. And so you had a lot of creators just rushing to make content related to this popular trend. And then there were a lot of channels that started to take it to the very strange directions, either live action or animation. And they put Elsa and Spider-Man in sexual situations. Elsa-gate was a name for it. After that, YouTube in the fall of 2017 took a pretty extreme action and just like deleted thousands of channels and videos.
MICAH LOEWINGER I almost feel like the problem is more pernicious and more subtle than disturbing violent videos that your kid may or may not ever see. YouTube heavily rewards a certain kind of kid's content if you pull up social blade dot com or one of these sites that ranks YouTubers. If you go on that list, the largest American channel by subscriber count is Cocomelon.
[MUSIC PLAYS 'COCOMELON"]
MICAH LOEWINGER A nursery rhymes channel.
[CLIP]
COCOMELON "Shoes and shoes. It's time to wear your shoes." [END CLIP]
MICAH LOEWINGER If you keep going down that list, there are tons of other kids channels. Like Nastya.
MICAH LOEWINGER Like nasty.
[CLIP]
YOUTUBE Hi Nastya, I'm ready for a sleepover. [END CLIP]
MICAH LOEWINGER Kids Diana Show. Vlad and Nicky. Some of the biggest channels on YouTube period are kids channels. ]
MARK BERGEN That's totally right. They built the world's biggest kid's entertainment service, really without trying without acknowledging it for a long time. I mean, one thing that's important to remember is that American television does have rules and regulations around kids content. Right. There's a certain amount of educational programing that has to happen. You can't have promotional materials inside the programs. You have to make it very evident and clear when there's a commercial and when it's not. None of that exists on YouTube. And know there are ten criticisms of some of the most popular channels on YouTube that they are actually running 15, 20 minute long commercials.
[CLIP]
PARENT This video features Ryan's world toys that Ryan helped create. Is this Ryan's robot? Well, you can move all the joints, so that's really cool. [END CLIP]
MARK BERGEN YouTube kids, it's changed pretty dramatically because they were regulated from the Federal Trade Commission in 2019.
MICAH LOEWINGER They were fined $170 million.
MARK BERGEN The largest fine ever. And that was for violating COPPA.
MICAH LOEWINGER That's the Children's Online Privacy Protection Act.
MARK BERGEN You off a lot of those popular channels. I think the major point is they're very understudied and under scrutinized. I struggle to find researchers who spend their time with childhood development and psychology expertize that like watch a lot of these popular YouTubers and unpack really what's happening in the videos. And I think that's something that really needs to change since there's an entire generation that's being raised not on television, but on YouTube.
MICAH LOEWINGER In his book, Mark Bergen writes about this phrase that was often repeated inside the company. Joke, Threat, Obvious, which explains the three phases of growth in a successful startup. Early on, YouTube was perceived as a joke. People in the press and in Silicon Valley would refer to it as the site where people go to watch videos of dogs, skateboarding or whatever. Nowadays, skipping ahead, YouTube is obvious. It's obviously the place where long form video lives. But in that middle phase, YouTube was considered a threat to so many different kinds of people. Copyright holders, it was sued by Viacom for $1,000,000,000. It was a threat to parents, as we've discussed, a threat to advertisers, which we'll get to in a minute and a threat to the news media. Bergen describes the moment that TV news realized that YouTube could deliver something it couldn't. What he describes as YouTube's Edward R Murrow moment.
MARK BERGEN Television wasn't really considered like a serious medium until Murrow started to showed this, like, very visceral footage of the Korean War.
[CLIP]
EDWARD R MURROW This is Korea. This is the front. Just there? No man's land begins. And on the ridges over there, the enemy positions can be clearly seen. [END CLIP]
MARK BERGEN YouTube and social media had that same effect during the Iranian Revolution in 2009. People were taking the grainy cell phone footage of the protests in Iran, and it was coming out on YouTube, not on cable TV.
MICAH LOEWINGER And you mentioned this moment of a CNN producer calling YouTube and asking, like how they'd gotten all this footage from Iran.
MARK BERGEN Right. So much of YouTube's expansion globally in their first few years was fighting to stay alive. Thailand, Turkey, Pakistan threatened or at times blacked out YouTube and the company back then had a much more aggressive stance on like opposing the demands of government, even from the U.S. government.
MICAH LOEWINGER YouTube was confronted with a responsibility that it seems like it maybe never meant to have – which is deciding which kinds of speech should be kept up. You wrote about this meeting in 2016 where YouTube CEO Susan Wojcicki just was bombarded with complaints from female creators on the platform about the amount of harassment they received in the comment section, which we all know can be a special pit of hell. And also harassment from other YouTubers. In 2019, the company rolled out stricter moderation policies aimed at reducing this type of misogyny. But even this month, the Center for Countering Digital Hate, a British nonprofit, found that harassment against women on the platform is still pretty rampant.
MARK BERGEN What was really interesting about that harassment policy is like they kind of initially wrote in this loophole and we cannot allow criticism and potentially offensive things being said about public figures. But then, you know, YouTube as a platform was invented, though it turn anyone into a public figure.
MICAH LOEWINGER Anyone who turns the camera on themselves is a public figure.
MARK BERGEN That's right. They have an exemption for satire. But then in their rulebook, you can't after the post is gone up and say, I was just joking, which has happened all the time. And like YouTube has struggled with this. In their defense, it is a very hard problem to identify what satire and what's bullying. I'm not excusing them like this is a problem that they created and probably a very foreseeable one.
MICAH LOEWINGER The company has had evolving policies around removing content that has extreme violence, depict hate groups, terrorist recruitment videos. But you describe moments where it felt like enforcement was a bit ad hoc.
MARK BERGEN The critical turning point was ISIS. And so in 2014, ISIS was posting a lot of propaganda and extremely violent beheading videos on YouTube and particularly in Europe. Google was just berated for hosting and propagating ISIS propaganda. And so the company in 2017 decided, okay, we're not going to just remove these videos, but we're going to remove the rhetoric behind this and basically remove the ideology. And they took a very strict and strong stance against Islamist terror and ISIS. My reporting shows that there were people inside YouTube that basically were only applying this to one particular radical group for not applying the same tools and policies against, in particular, white nationalists and white supremacists.
MICAH LOEWINGER This is such a classic dynamic in American politics where no one bats an eye at censoring Islamist extremism. But when it comes to, like, our American brand of extremism, it's so much more fraught.
MARK BERGEN YouTube will say that, listen, we're following governments here like they look to the U.K. in U.S. terrorist registries and it's easier. There are actual lists that YouTube follows. This month, in September, YouTube announced that they're finally going to start expanding their definition of violent extremism beyond terrorist registries.
MICAH LOEWINGER The companies reluctance at times to play speech police came to a head with a giant controversy that we now call today the ad-pocalypse. It started when journalists in the U.K. and the U.S. began to document instances in which YouTube's automated ad system had placed commercials on extremist content. For instance, a Wall Street Journal reporter found a Crest advertisement on a video titled A 6000 Year History of the Jew World Order. In effect, Crest was paying the YouTube channel that uploaded that video. Naturally, a lot of companies freaked out.
[CLIP]
NEWS REPORT Major brands like Pepsi, Starbucks and Walmart,.
NEWS REPORT Verizon, Johnson, Johnson, these big companies, they've just found out that their ads are being played before some pretty offensive content and they want it to stop. [END CLIP]
MICAH LOEWINGER The brand said, We're not advertising on YouTube until you fix this. And eventually they did. But the boycott caused two things to happen. YouTube started aggressively monetizing all kinds of videos, in some cases taking ads off of high quality videos that didn't appear to have anything explicit in them. And two, it caused revenue for many creators to plunge.
[CLIP]
YOUTUBER The ad pocalypse.
YOUTUBER There's not enough ads to go around on YouTube for everybody. Many of my videos are making like 20% of what they were just one week ago.
YOUTUBER This event changed the landscape of YouTube, and every creator to this day still feels the backlash. [END CLIP]
MICAH LOEWINGER This triggered a massive crisis of faith.
MARK BERGEN Oh, God, yeah. I mean, that was a year later that there was a troubled YouTuber, came in with a gun and shot their campus because of the policies. So, like, it had real ramifications that like hit home. Its become a little bit more stable for the top tier of YouTube creators. But there are a lot of creators that aren't in that category. They have no guarantee that tomorrow they'll be making the same amount money or any money at all.
MICAH LOEWINGER Toward the end of your book. You pose this question that had been articulated inside the company, which YouTube or maybe put another way, who's YouTube? Meaning, like what version of this site do we want to make? What do you think is so important about that question?
MARK BERGEN For one that speaks to this interesting tension inside the company between what it sees itself and how it actually is? I think it's a bigger question of like, what do we want from this very powerful media platform? One executive at YouTube kind of talks about how they accidentally built this repository for like human memory. Like a human brain. Whose brain and who's collected memory are we uploading into this? Right. It's kind of reflective of all of us.
MICAH LOEWINGER Yeah. Is it a brain? Is it our memory? I almost feel like it's something entirely different. It might shape our behavior, but to see it as, like 1 to 1 library, I feel like that's almost kind of dishonest. And in fact, in the conclusion of your book, you quote one longtime YouTube executive who's responding to like the constant barrage of criticism. This person says, don't blame the mirror. And I'm like: is YouTube a mirror? Do you think it's a mirror?
MARK BERGEN No, I don't think so. I mean, like in the simple version, if it was a mirror and have a lot more porn. You know, it doesn't reflect all of humanity, and we can be thankful. In some ways, it's no longer a mirror to help information. There are certain types of health videos that are no longer allowed on the site, and that's probably good for public health reasons during the pandemic. It is no longer a mirror of all the spectrum of ideology in the world. Like do we want a $30 billion advertising business to be running white supremacy? There's an expression inside you, too. The audience is king, and that gives them this idea that, you know, the algorithm and what's Washington popular is is us. We're the ones dictating the direction to go. And I think that's partially true. But I think something it's my book shows the company plays a very significant role in it, not just what we watch, but what's actually made.
MICAH LOEWINGER Mark, thank you very much.
MARK BERGEN Yeah, thanks for having me. It was a great convo.
MICAH LOEWINGER Mark Bergen is a reporter at Bloomberg and the author of Like Comment Subscribe: Inside YouTube's Chaotic Rise to World Domination. YouTube may not be a mirror, but when I look at it, I do see something grim staring back at me. And it's not my made for radio face. It's an attention economy that's grown to an incomprehensible scale while journalism is faltering. I see videos of a teenage gamer in his bedroom reaching more viewers than a deeply reported article in The New York Times. And I'm not complaining about that. My industry could learn from YouTube – how to build broader communities for what we provide. We once treated it as a joke and still treat it as a threat. Maybe it's time to embrace the obvious.
BROOKE GLADSTONE Micah Loewinger is OTMs correspondent.
And that's the show! On the Media is produced by Eloise Blondiau, Molly Schwartz, Rebecca Clarke-Callender, Candice Wang and Susanne Gaber with help from Temi George. Our technical director is Jennifer Munson, our engineers this week for Andrew Nervano and Adrien Lily. Katya Rogers is our executive producer. On the Media is a production of WNYC Studios. I'm Brooke Gladstone.