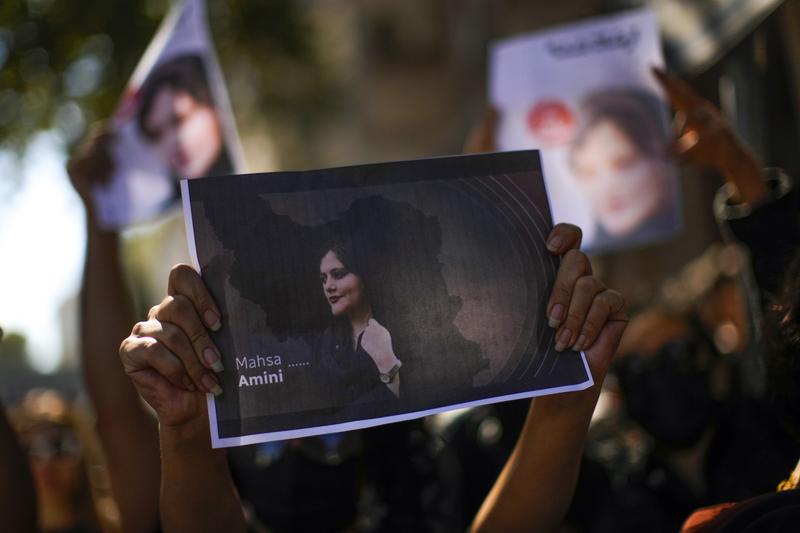 Transcript
FATEMEH SHAMS People come to the street and make bonfires with veils. That is not just a political and religious taboo. It's also a cultural taboo.
BROOKE GLADSTONE But when international coverage frames the protests in Iran as simply anti-hijab, it misses the point. From WNYC in New York, this is On the Media. I'm Brooke Gladstone. Also this week, how a toxic Internet forum terrorized folks by mining their freely available data and hounding them on and off line.
BEN COLLINS Those places can exist and be armies. And then the speech of regular people in this country, citizens of this country, is quashed because they can't fight the army.
BROOKE GLADSTONE Plus, the once and future YouTube.
YOUTUBER This is how I start my make up routine. Sometimes I pluck my eyebrows, I pick at my skin first. I don't know why I do that, but we're going to skip that part.
BROOKE GLADSTONE That from silly videos to total media domination. It's all coming up after this.
[END OF BILLBOARD]
BROOKE GLADSTONE From WNYC in New York, this is On the Media. I'm Brooke Gladstone. Micah Loewinger is joining me this week, but first, this:.
[CLIP].
[ROARING PROTESTORS]
NEWS REPORT Huge protest in Iran over the death of 22-year-old Masha Amini, who died after being arrested by Iran's morality police.
NEWS REPORT Iranian authorities saying she was arrested for allegedly violating the country's strictly enforced Islamic dress code. [END CLIP]
BROOKE GLADSTONE On Wednesday, Iran's president Ebrahim Raisi, addressed the nation on live TV nearly two weeks after Mahsa Amini's death. He condemned the chaos on the streets, and when asked about possible legal reforms...
[CLIP]
NEWS REPORT Mr. Raisi said, "Sure, we're open to reform, but we're not open to changing our values." [END CLIP]
BROOKE GLADSTONE One human rights group claimed that roughly 76 peaceful protesters have been killed by security forces but continue to fire into crowds and beat and harass people.
[CLIP]
NEWS REPORT Taking off their head coverings and waving them in the air. This is defiance in Iran, and women are leading the charge. Some are even burning their hijabs, their mandatory head coverings, in protest. [END CLIP]
BROOKE GLADSTONE As the protests continue to unfold. One sensitive question hangs in the air. Will this current wave of protests be any different from the ones that came before? Fatemeh Shams, a Persian poet and professor of Persian literature at the University of Pennsylvania, is among many who say this could be a George Floyd moment for Iran.
FATEMEH SHAMS It took a 17 minute video to go viral for the people to rush to the streets and create that historic moment in the United States and across the world, in fact, with the picture of Mahsa Amini. There is a similar pattern in the sense that there is a hundred years of struggle for women's rights behind it. And there were similar moments in the past four decades, in fact, where women were subject to state violence and police brutality over and over and over again. We have been watching these videos coming out of Iran, and this particular picture was just the watershed moment. It's a moment of mobilization and unity because a lot of Iranians feel that Mahsa could be their daughter, Mahsa could be their sister, Mahsa could be their mother.
BROOKE GLADSTONE So on June 20th, 2009, there was another killing that galvanized protests in Iran. And that was the death of 26 year old Neda Agha-Soltan, shot by a government sniper on the sidelines of a peaceful protest for fair elections known as the Green Movement. You were at the protests that followed her death. And I just wonder, are there any analogies that we can draw between these two women and the movements they've spawned?
FATEMEH SHAMS Yes. Back in 2009, Neda Agha Soltan was coming back from her music school with her music teacher and found themselves in the middle of the protests. A seemingly apolitical woman randomly shot her eyes rolling towards the camera while she's dying. And then the video going viral. There is also this element of innocence that you can see in the face of both women killed in cold blood that has played an extremely important role in mobilizing and triggering the protests. In the case of Mahsa Amini, I would also add that she is not just the middle-class Tehrani woman coming back from her music school. She's coming from a border city of the Kurdish province of Iran, one of the most deprived, neglected provinces since the victory of the revolution. Discriminated against for being part of an ethnic minority, for being part of a religious minority. So she's traveling to Tehran with her brother, and she is only in the capital city for a few days and coming out of the metro station and suddenly being stopped by the morality police. These details add to this brutality. Of course, media plays an extremely important role in the George Floyd moment and also in Mahsa Amini moment. The reason that these two are being compared is because they really have become the face of a much more complicated civil rights movement.
BROOKE GLADSTONE You suggested that if Neda hadn't been killed brutally, the Green Movement would have gone in a different direction. Same thing if Mahsa's death hadn't been documented – which is why the Internet has been so crucial in all of this.
FATEMEH SHAMS Absolutely. Over the past 13 years, since the rise of the Green Movement, Iranian citizens have become remarkably smart with their smartphones. They know that recording scenes of violence, scenes of oppression and posting it on the social media will get their voice out. This is something that did not exist before the rise of the Green Movement. The televization of the death of Neda Agha-Soltan was basically the reason for not just triggering the nationwide protests but also raising awareness in the international community. And in the past 13 years, every single time that there is an uprising, that there is a riot, normal, ordinary Iranian citizens take up their phones and start filming.
BROOKE GLADSTONE That's why the government has worked in the last more than a decade to really get a grip on it.
FATEMEH SHAMS When Neda Agha-Soltan was killed, they tried for months, in fact, and years to manipulate and distort the story of her killing. They accused that doctor who rushed to Neda's body trying to revive her. They tried to arrest him. He had to flee the country, accused him of being the agent of the West to go there and assassinate her. Nobody, of course, believed it. And they are doing the exact same thing with the death of my Mahsa Amini. The person who broke that story was Nilufer Hamidi, an Iranian woman journalist who courageously rushed to Castro Hospital in Tehran and interviewed Mahsa's father, took those pictures and broke the story. And she's in custody at the moment. The government panicked and tried to give a distorted image of what happened.
BROOKE GLADSTONE Yeah, I mean, even literally a distorted image, right?
FATEMEH SHAMS Yeah. So they published this heavily edited CCTV footage in which she collapses suddenly in the middle of the police station and say that she had a health condition and she was not beaten on the head. Two things here that was very important. One, the brave action of Nilufer Hamidi, the Iranian journalist who went to the hospital, interviewed Mahsa's father, and he said that my daughter, she was a perfectly healthy woman. And these claims that she had brain surgery, she had a heart attack, these are all just lies. Well, Nilufer Hamidi was arrested after that. The second proof that discredits the government's claim was published by BBC Persian, in which a former Iranian Revolutionary Guard officer confirms based on the news that has been leaked out of the system, the cause for Mahsa's death has been several blows on the head. Brain injury, basically.
BROOKE GLADSTONE In both Neda's and Mahsa's case, the government moved swiftly to crack down on any public display of grief, any memorial or a funeral. What is the significance of that historically?
FATEMEH SHAMS Yes. And Thursday, the woman journalist, Elahe Mohammadi, who went to Mahsa's funeral and covered the funeral, has been also arrested. During the 1980s where there was mass executions of the political prisoners. The bodies were not even given back to the families. They were all dumped in mass graves. It happened in 2009, Neda's funeral and other people who were killed in those days and also during the 2021 protests. In the build up to the 1979 revolution, when the revolutionary protesters were in the streets marching against the monarchy, when one or two protesters were getting killed in a city, the 40th-day anniversary of their death -- protesters of another major city would actually take to the streets. Then other two protesters would get killed, and the same pattern and the same chain of protests would happen across the country.
BROOKE GLADSTONE Every 40th day.
FATEMEH SHAMS Exactly. Exactly.
BROOKE GLADSTONE Wow.
FATEMEH SHAMS We saw in 1979. Streets were the main scene where the revolutionary movement actually managed to succeed at the end. The government is very well aware of the fact that if they let the streets to be filled by the protesters, there is a potential for another revolution, because what we have right now is a revolutionary movement.
BROOKE GLADSTONE You really think so? There was wave after wave of violent repression since the protests against the fraudulent elections in 2009, the Green Movement. Back then, you were a writer and activist, a student at Tehran University. You took part in the protests before fleeing the country. In a recent piece in the AP, you claimed that this time is different. But why? How?
FATEMEH SHAMS So I'll tell you why. One of the main features of any revolution is when there is a fundamental shift in the norms and values of the people who live under a given government. What we see today in the streets of Iran is basically the manifestation of that fundamental shift. Over the past 44 years, there have been, as you mentioned, and rightly so, there have been a chain of riots, protests and economic and political grievances. But in neither of these protests, we see this fundamental shift, but also action against the state. People come to the street and make bonfires with veils. That is a red line, not just a political and religious taboo. It's also a cultural taboo. At no time, Iranian women actually took to the streets to burn what they consider to be the symbol of oppression.
BROOKE GLADSTONE But you've said that it's really not about hijab.
FATEMEH SHAMS This is about compulsory hijab. This is about gaining control and ownership over women's body. This is in the heart of this revolutionary episode. Because the Iranian women and men who are protesting today know that the Islamic Republic is not ready for that transformation. The current president gave an interview about the ongoing protests, saying that our values have not changed, that the treatment of women should change, but our values are still the same. And when he says that the values are still the same, it means the values of the protesters is completely in contrast with the values of the government. And that's exactly what a revolution looks like.
BROOKE GLADSTONE You, among many people, have observed that women are in the forefront of the current protests, more visible than they were 13 years ago, as organizers, leaders, and symbols as they publicly burn their hijabs and pay for that political expression in blood. You also say that the new generation of young women have a different imagination altogether from your generation, that even in your imagination, you didn't see a day where we could make bonfires with veils.
FATEMEH SHAMS My generation was born and raised during the most oppressive decade after the revolution under extreme political and economic pressures. Also during the postwar decade, in the 1990s, where Iran was coming out of an eight-year bloody war and the death of the state patriarch. There was the rise of the reformist movement in mid 1990s and then at the end of the 1990s we had to also face this agonizing terror and fear of murder of secular intellectuals and writers. So for us, life was a matter of basic and minimum survival. We could not even imagine a day that basic rights would be at the forefront of a social movement. Then the reformist president, Mohammad Khatami, came to power. There was hope for change. But the woman's right was always the follow up. The follow up of a revolution, the after effects of the revolution, the after effects of a social movement. But this revolutionary episode is also about a generational change. It's about those children who were born during the 2000s. This generation is different. You know, they are much more exposed to the outside world through technologies.
BROOKE GLADSTONE Things that an earlier generation of women and men tolerated as just a part of life is no longer tolerable.
FATEMEH SHAMS Exactly. Their symbols and their ideas and their belief and their norms is entirely different. And I think they found the courage to take to the streets and the people of my generation, those who are trying to understand what's going on right now, all of us are just taken by surprise and we really just hit our heart in respect.
BROOKE GLADSTONE A lot of correspondents from Western news organizations aren't there because it is so very dangerous. Who is directing the story really for us and how is it getting out and what are we getting wrong?
FATEMEH SHAMS You know, the way that this story has been framed in the Western media is that, first of all, I think one point should be that abolition of the compulsory hijab is at the heart of this movement. The far right media in the West have framed this as an attack on Islam. They are framing the story in a way that could potentially harm those who live in the West as Muslims and especially veiled Muslim women who feel threatened by the ongoing protests in Iran. What should be clarified here in the Western media is that this is not an attack on Islam. This is not an attack on hijab as a belief. What is fought for here is freedom of choice, not the hijab itself. There are millions of women in Iran who believe in a hijab, who observe hijab. And if this movement is successful, they will still continue to live with hijab. And none of those people who are in the street have any problem with this. Iran is a Muslim society and in the past couple of weeks we see that mothers are coming out with their daughters in the street. A veiled mother with their daughter without a scarf. So this is, you know, a shared cause. This is a shared pain. This is about suppression and oppression of women and stripping them of their basic rights. So I think that this has to be clarified in the media in the West and frame this story in a way that Muslim women in the West also feel comfortable to stand in solidarity with their sisters inside Iran in order to get their rights back from the government.
BROOKE GLADSTONE Fatemeh, thank you very much.
FATEMEH SHAMS Thank you. Thank you for your time.
BROOKE GLADSTONE Fatemeh Shams is a Persian poet and a professor of Persian literature at the University of Pennsylvania.